Don't Miss this Epic Costa Rica Farm Tour!
Hey there! This post may contain affiliate links, which means I'll receive a commission if you purchase through my link, at no extra cost to you. Please see my legal page for more details.
The Costa Rica Farm Tour at this Eco Lodge near La Fortuna should not be missed. I spent three months living in Costa Rica, and this tour was one of my favorite experiences for so many reasons, including the pretty awesome rubber boots that were provided.
Finca Luna Nueva is a regenerative farm and eco lodge about a 25-minute drive from La Fortuna. When you stay with the kind folks of Finca, you are giving new meaning to the phrase "farm-to-table". Almost everything you eat and drink will be prepared from the crops surrounding your eco hut!
This Costa Rica farm tour is captured in the below video. Time stamps are listed. I hope you enjoy it as much as my friend Lizz and I did. I also hope you get to see it for yourself one day. (Travel logistics are also below.)
Costa Rica Farm Tour Video
An organic farm focusing on ginger since 1994, Finca Luna Nueva is in the process of switching its primary crop to cacao. The farm has 86 acres of land and 60 percent of that land is protected rainforest.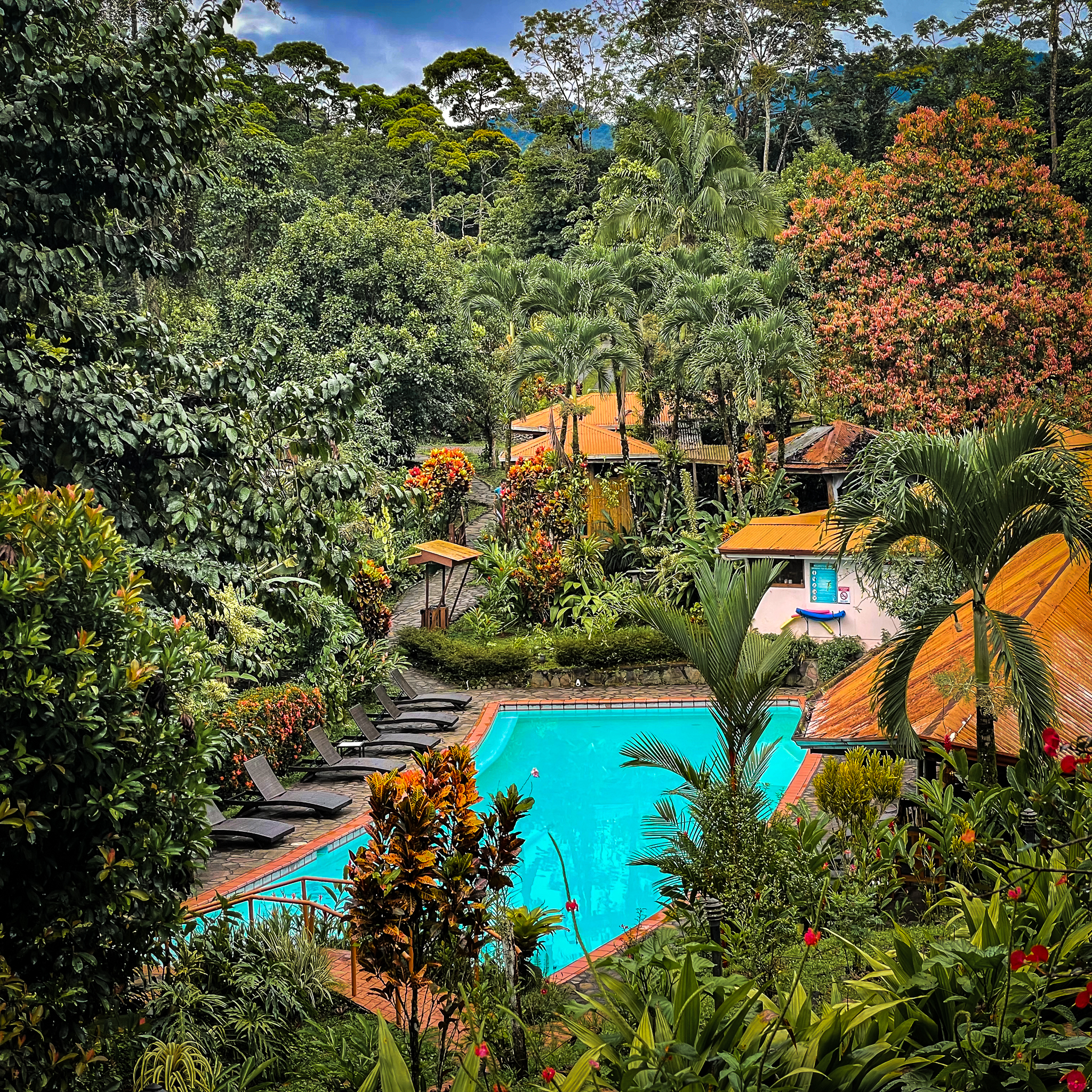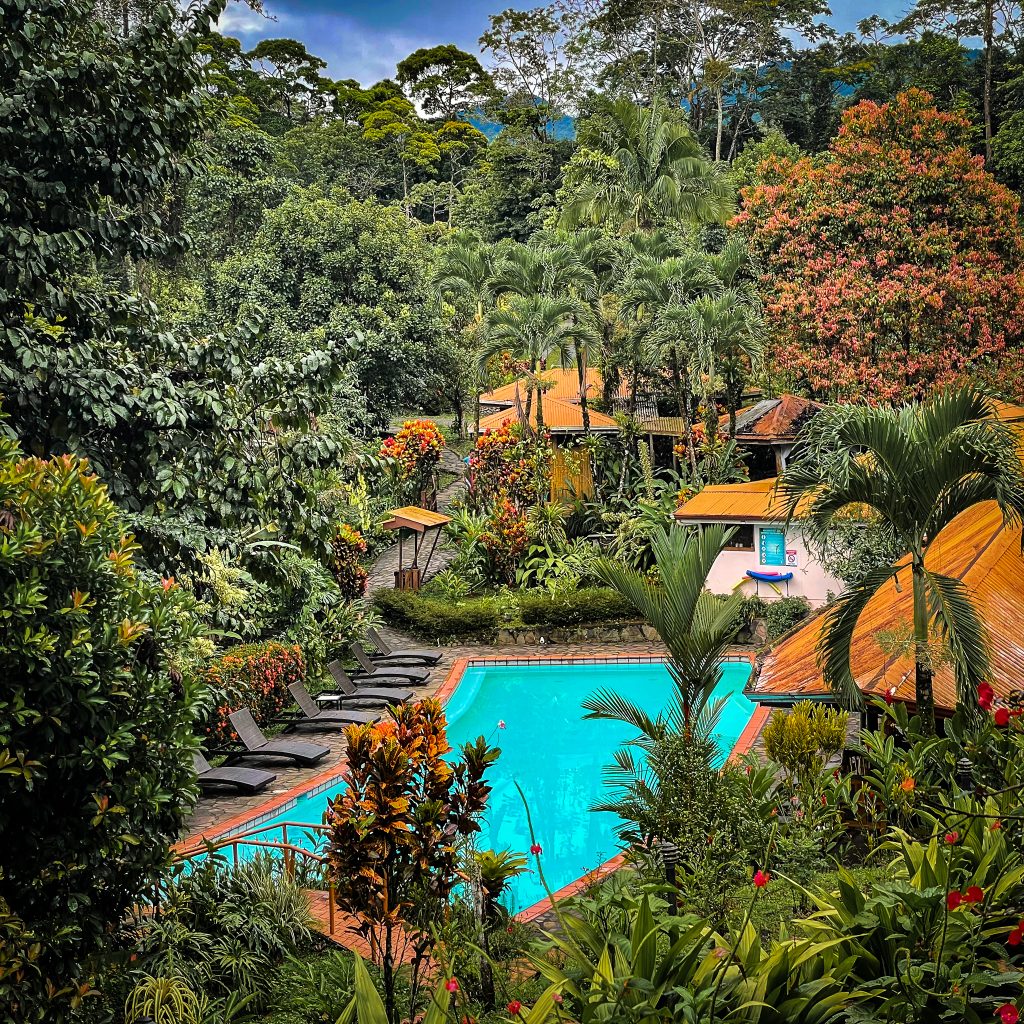 When you wander the property here, or even while you're simply lounging in the pool, you're surrounded by nature and…sloths! Check out the baby mama sloth with her baby that we saw just as we set out for our Costa Rica farm tour!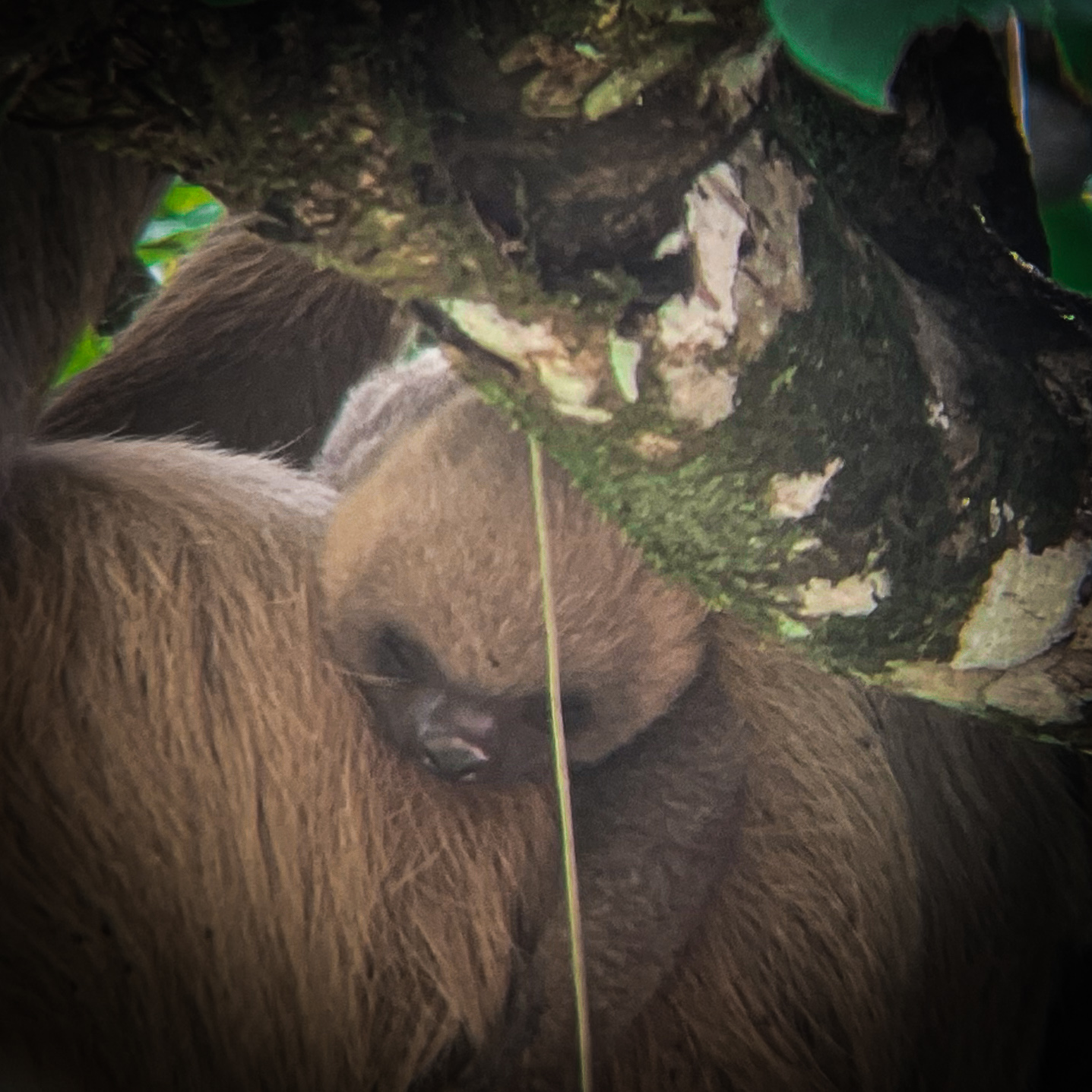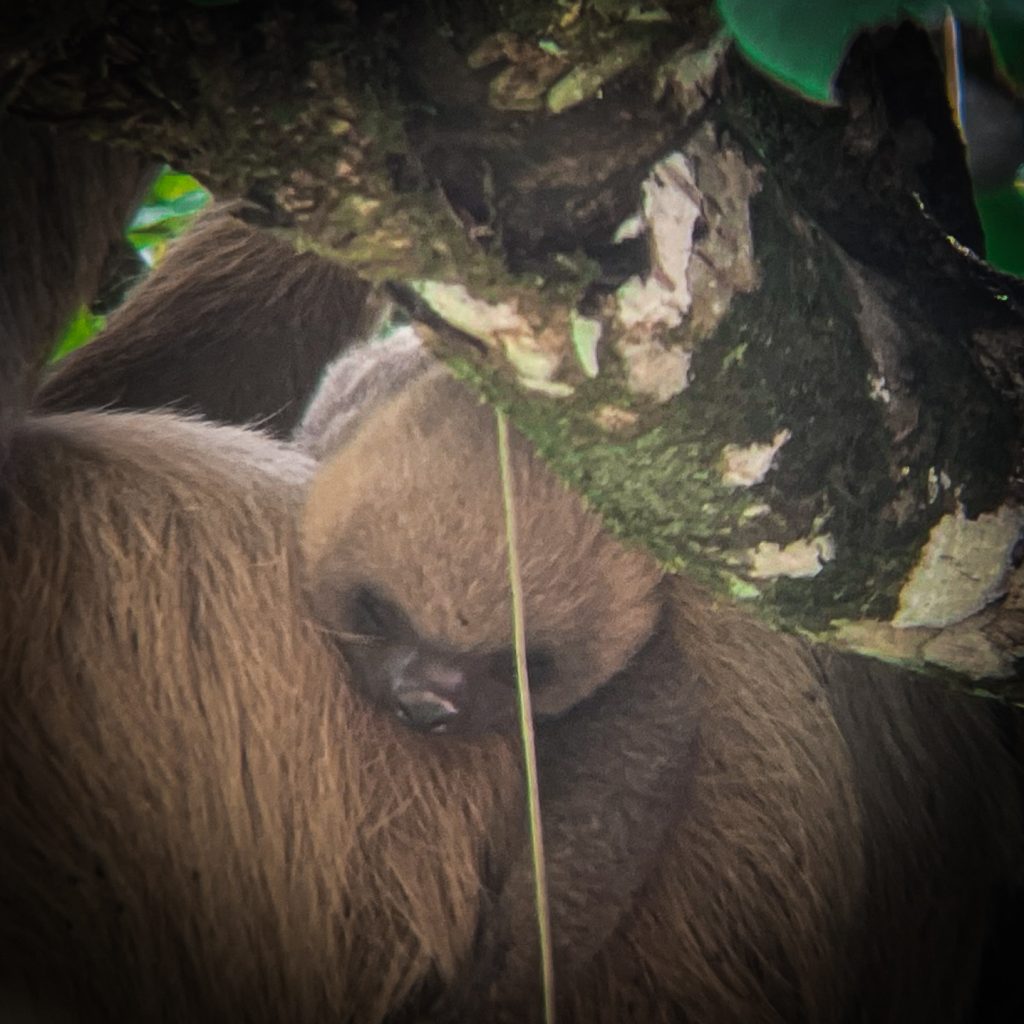 What You'll Learn on this Costa Rica Farm Tour
Why regenerative farming is so important for Costa Rica (and the world). For instance, our tour guide told us how the use of chemical fertilizers is stripping our food of the necessary minerals we need. That means we eat more food for fewer nutrients.
Which plant is a natural (and powerful!) aphrodisiac?
How cacao is harvested, fermented, and roasted.
How "Miracle Fruit" has compounds that block the sour receptors of our tongues
Why eating termites is good for your health
The benefits of stingless bees
How to harvest nutmeg
Which plant will stick to you like sandpaper
How to make a natural mosquito repellant
How to fertilize (and harvest) organic vanilla and the terrifying truth behind (some) imitation vanilla!
(For more explanation, check the video above!)
What You'll Taste on the Tour
It will depend on the season, of course, but we tasted:
Cacao
Pepper seeds
Louis Louis (just try to eat it without making a sour face!)
Termites (yep, you read that right!) Would you do it?!
A "salad" with three ingredients that you will pick
Know Before You Go
The Costa Rica Farm Tour at Finca is 1.5 hours and $25 for on-site guests or $39 for day visitors. I highly recommend staying here for at least two days because there is so much to do on the farm! You can also use this as your hub for experiencing the adventures of La Fortuna and the surrounding area.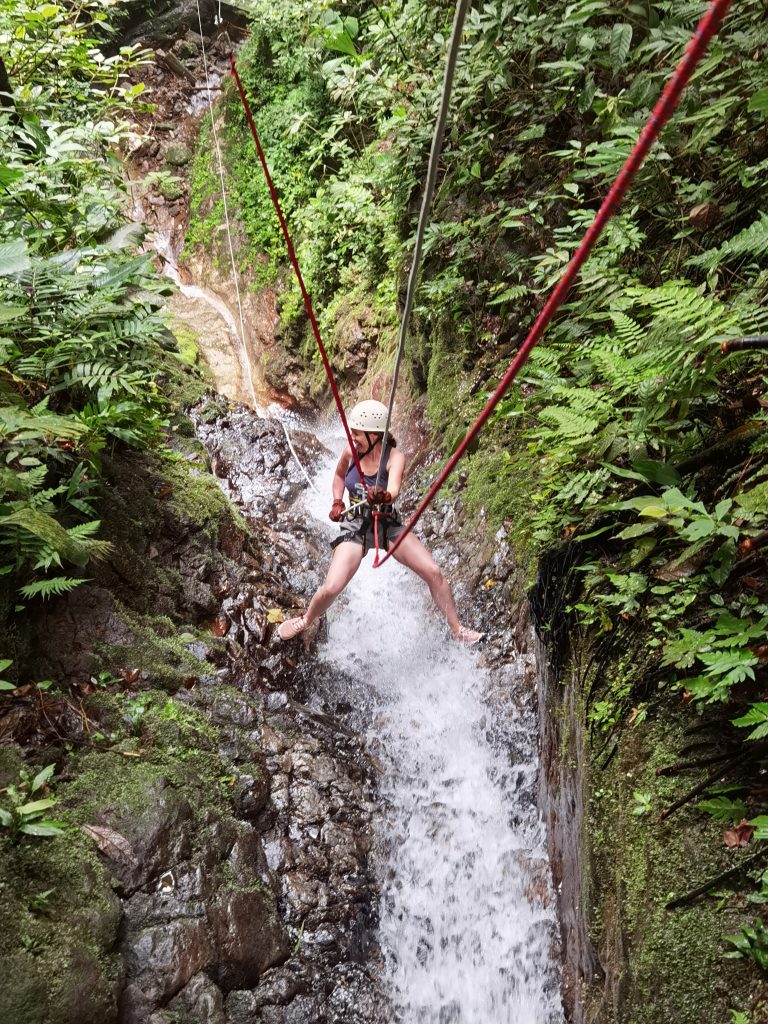 For example, we booked an excellent canyoning tour with the front desk. Here are some of the offsite adventures the guides at Finca can help you arrange.
You can arrange accommodations directly with Finca Luna Nueva or with Booking.com. I stayed in the Earth Bag House and just loved it.
Traveling to Finca Luna Nueva
Finca Luna Nueva is about a 25-minute drive from La Fortuna, which is the adventure center of Costa Rica. It's easiest to rent a car and drive around Costa Rica.
However, if you're like me, and you avoid driving at all costs, you can arrange a shuttle to La Fortuna. We then negotiated a $30 ride to Finca with our shuttle driver (after he parked the bus). A taxi from town would have been about $40.
I hope you enjoyed this video and post. Please don't miss this Costa Rica farm tour when you go! Pura Vida!
About the Author
Hi! I'm Jen!
I'm a freelance writer and travel blogger who quit my nine-to-five after my fiancé, Jeff, died of cancer at the age of 40. When he died, I realized that life is just too short to delay our dreams. Since my dream was to travel and write, I now travel and write full-time. Today I wear hiking boots instead of heels and collect experiences instead of things.
You might like