Camino de Santiago Packing List: The Do's and the Don'ts
Hey there! This post may contain affiliate links, which means I'll receive a commission if you purchase through my link, at no extra cost to you. Please see my legal page for more details.
This Camino de Santiago packing list may just be the best one around. Bold statement, I know. But when you get really familiar with what you should not pack on a 500-mile pilgrimage across Spain, you can speak with confidence about what you should pack.
And let me tell you, I made some serious mistakes when I first packed my backpack!
Let's just say that I learned the hard way so that you don't have to!
When I set out to walk across Spain, I was completely unprepared. Comically so. But my walking partner, Lizz, was very prepared, and then we joined up with another woman who was, perhaps, overly prepared (if that's possible), and yet another woman who was less prepared than even me (if that's possible).
The end result of our combined experiences is one seriously awesome Camino de Santiago packing list.
Let's dive in!
Camino de Santiago backpacks: the do's and don'ts
Let's start with one of the most important packing decisions you can make on the Camino: your choice of backpack.
The best Camino de Santiago backpack…
We saw all kinds of bags on the Camino and Lizz and I both absolutely love the bags that we each lived out of for 35 days. But, hands down, we are awarding, Lizz's bag the blue ribbon when walking the Camino de Santiago. She walked with the Deuter Futura 28-liter backpack.
More on her bag below, but first here's what I loved and hated about my bag.
I walked with the CamelBak H.A.W.G Hydration Pack with 100oz (3.0L) Mil-Spec Crux Reservoir.
Lizz walked with the Deuter Futura 28-liter backpack.
Lizz swears by this bag and, after walking 500 miles with Lizz and that backpack, I completely agree. Here's what she loved:
Again: It's super important to get fitted for the right backpack! Bring in a printed copy of my Camino de Santiago packing list when you go to look at bags. The packing list includes the key elements to look for when choosing a backpack.
Do the same when choosing your shoes! Which brings me to…
What kind of shoes should make your Camino de Santiago packing list?
Oh, the great shoe debate!
Many meals are spent on the Camino de Santiago debating shoe and foot-care strategies with other pilgrims. By the time we walked into Santiago, we had definite ideas of what shoes would make our Camino de Santiago packing list for our next pilgrimage. (Spoiler alert: They were not the shoes we packed.)
My feet were a particular issue for me. I spend hundreds of dollars at pharmacies along the route:
Also, I plan to write up an entire foot-care post soon (I bet you can't wait to hear about that needle and thread, yikes!), but the easiest way to avoid needing that foot-care post is to get the right shoes for you.
The shoes we packed on our first Camino pilgrimage (the don'ts):
Lizz did her research and purchased trail runners because the Camino de Santiago often winds through wooded areas, which are perfect conditions for trail shoes. As per usual, I did no research at all but felt pretty confident in my trusty, old waterproof hiking boots.
Here's why we were wrong:
The shoes we will pack on our next Camino pilgrimage (the do's)
When I set out on the Camino again (in August 2022!!), these are the shoes that will make my Camino de Santiago packing list.
Note: Every foot has a different need. It's super important to test your shoes!
I skipped the important "step" of testing my shoes and I really regretted it. Check it out:
Now let's dive into the reason behind the do's for our Camino shoes!
Do pack one pair of waterproof boots:
I left my old boots in Santiago and immediately went in search of new kicks when I got home. At REI, I tested a number of different shoes before deciding on the Oboz Sapphire Mid BDry Hiking Boots.
Here is the men's version: The Oboz Bridger Mid BDry Hiking Boots. And here are the Oboz from Amazon.
I want to reiterate that the shoes you choose might be different than what worked for me. Every foot has a different need.
With that said: I. LOVE. These. Boots.
The insoles provide great arch support and they aren't SO waterproof that ALL moisture (read: sweat) is trapped in your boots and on your feet. They are beautifully breathable but still waterproof. I've waded through small streams and my feet stayed dry.
I've hiked countless times in these boots with no blisters at all!
But walking in them for 500 miles is a whole other story. That's why I would alternate my boots with another more lightweight pair of shoes if I were to walk the Camino again.
Do pack one pair of lightweight trail runners
Over dinner at the end of your day on the Camino, you will read ahead about the next day's Camino stage. That's when you'll find out whether you're in for a day of pavement or trails. If you've got a trail day ahead of you, a pair of Altra Trail Running shoes like the ones Lizz wore is the way to go. Here they are at Amazon.
Here's the men's version of the Altra Lone Peak 6 Trail Running Shoes at REI. And at Amazon.
Lizz loved her Altras on the Camino but she needed something more sturdy for pavement days.
On the other hand, while my boots protected my feet on pavement, I needed a pair of lighter-weight, breathable shoes for trail days and for hot days when my feet were throbbing from their numerous sweat-induced blisters.
Remember you can always switch your shoes in the middle of your stage, too. If you're walking on pavement, wear your boots. When the trail loops back into the trees, sit down and swap out the boots for your trail runners.
Do pack one pair of shower shoes
I realize that carrying three pairs of shoes might seem like an indulgence, but I really think it's necessary. The shower shoes can be old flip-flops that you have kicking around your closet. If they can fold up inside your other shoes that's a bonus.
I ended up tying my $5 shower shoes sole-to-sole to whatever pair of shoes I wasn't wearing and strapping both to my backpack.
When selecting your shower shoes, remember that you might end up wearing these at night. Your feet will want a break from any kind of "real" shoes and they'll love the time spent without socks while you're relaxing with a glass of wine after a day of walking.
Lizz wore the Skechers sandals below both at night and in the shower. They dried quickly and gave her feet both the break they needed and the arch support they required. (Skechers sandals for women/Skechers sandals for men.)
These shoes are a little heavier and require more space than a throwaway pair of flip-flops, so keep that in mind if you are going with my three-shoe approach. For me, the flip-flops were enough at night. But go with the Skechers shower + night sandals if you need more support.
SOCKS! A crucial item on your Camino de Santiago packing list
Yes, socks are getting their very own section in this blog post just like backpacks and shoes. I believe socks belong right at the top of your Camino de Santiago packing list.
To avoid blisters, it's crucial to have dry socks on your feet. This is one of those lessons that I learned the hard way. By the end of our pilgrimage, I would swap my socks nearly every time we took a rest, putting them on the back of my bag to dry while I walked.
Seriously, socks were so important to me on the Camino that I started hoarding them! When we would go into a big town, I would stop at the outdoor store and stock up, sticking them into every available inch of space in my bag and pockets.
How many pairs of socks and what kind to pack?
Here's why:
Yep, you're going to want socks for under your socks! I didn't have these until our over-prepared hiking buddy showed up with extras and gave me two pairs. This is the only thing that finally allowed the blisters on my toes to begin to heal because – once the liners were in place – my hiking socks were rubbing against the silk liners instead of against my skin.
I paid it forward and gave one of my pairs of precious silk liners to another pilgrim who was also suffering from blisters.
Because I had so much trouble with blisters in between my toes, I will also try toe sock liners when I walk the Camino again along with Injini toe socks. (Here are the socks from Amazon).
You need two sets of liners so you can swap them out for dry liners when you change your socks. You might wear your liners out (I did), but you can stop at a Decathlon (or another outdoor store) in one of the larger cities along your route to stock up.
Two pairs of Merino Wool Lightweight Hiking socks (short) for warmer walking days and one pair of Merino Wool Hiking Socks (long) for colder walking days and nighttime.
Because I changed my socks more than most pilgrims due to my blister issues, I also carried three extra pairs of hiking socks that I picked up along the way. But if you start with three pairs of merino wool socks and two pairs of liners and get the right shoes for your feet, you won't turn into a sock hoarder like me:
The Camino clothing do's and don'ts
First things first, throw fashion right out the window. One day Lizz took a picture of me so we could laugh later at how I went from fashionista to, well, not even close. This is what she got:
In my defense, all of my clothes were in the wash, and that glow-in-the-dark hip bag was one of the most important things I packed since it served as my wallet. I needed to keep my feet dry at all times, hence the socks and sandals.
But, yeah. Fashion. Out. The. Window.
The essential clothing items for your Camino de Santiago packing list
One lightweight rain shell with hood
You want this to be lightweight so that it will roll up really small, and you want it to have zips in the armpits (pit zips!) because it's super warm in that shell even when it's raining.
Being from the rainy Pacific Northwest, I got the jacket thing right on the Camino. This is the rain shell I wore and loved. Here is the men's rain shell.
Here's that rain shell in action:
As I prepare for my next Camino, I've opted to take a cooler rain shell, since I'll be walking a warmer route (rather than the cooler coastal route), and I'll be walking in August. Here's the rain shell that I'm taking. Here it is available directly from the North Face. I'll update the list upon return to let you know how it goes!
Here's that more lightweight rain shell for men. Or here on Amazon.
One warm, packable fleece or puffy jacket for cool days & nights
We walked the Camino in August and September and we were prepared for extreme heat. But on the coastal route, most of the time, we needed our jackets in the mornings and the evenings.
The puffy polyester jacket I wore is no longer in production, but that's because there are way better jackets on the market now. Like Patagonia's Nano Puff® line of jackets. Warm, windproof, and water-resistant, this jacket is made from post-consumer recycled polyester, it's fair-trade certified AND it packs into a tiny pouch. Here is the Nano Puff from REI.
Here is the men's version of the Nano Puff® jacket from Patagonia. And the Nano Puff from REI.
One long-sleeved, lightweight pullover or zip-up hoodie
Most mornings, I wore a super lightweight pullover that dried really fast. Much like this moisture-wicking, sun-shielding hoodie.
There are some advantages to a zip-up hoodie like the Deviator Hoody by Outdoor Research. It dries fast and the insulated front pairs with breathable material on the arms and back. It's perfect for keeping warm while standing still, but it doesn't turn into a sweatbox when you're moving.
The advantage to the zip-up is that it's easier to slip out of it when you have a backpack strapped on. But if you think you will have any trouble with chafing, consider a pullover to avoid the zipper. (I'm sticking with my pullover.)
Here's the men's moisture-wicking, sun-shielding pullover and the men's Deviator Hoody by Outdoor Research:
Two pairs of quick-dry pants (and possibly one pair of shorts)
I packed one pair of calf-length, quick-drying hiking pants and one pair of long yoga pants. I basically lived in the hiking pants because the yoga pants took too long to dry after washing. I preferred walking in lightweight long pants for sun protection and for branch/thorn protection on wooded trails. I wouldn't pack the yoga pants again. I would pack two pairs of pants and one pair of shorts (if you can fit them). Here's the plan next time:
Two quick-dry, moisture-wicking shirts for hiking
I brought two tank tops for hiking and I wish I would have brought one tank top and one t-shirt. (I ended up wearing my nighttime t-shirt quite a bit out on the trail.)
For women
Here's what I would bring now: One Patagonia Capilene Cool Trail Tank Top and one Patagonia Capilene Cool Trail Shirt.
The base layer is pretty important. You want it to be moisture-wicking and soft. The Capilene Cool Trail shirts are made to feel like cotton, but they are made with moisture-wicking, odor-controlling polyester. There are no itchy tags at the neck and they have a locker loop for easy drying. (This is actually key because it can be hard to find places to hang your drying clothes at some of the albergues (pilgrim hostels) where you will stay on the trail.
I'm also going to bring this lightweight crop top from Beyond Yoga. Quick-dry with a built-in bra, I think it will be a good addition to my Camino wardrobe. Here it is from REI.
For men:
I would bring two different colors of the Patagonia Capilene Cool Trail Shirt.
This moisture-wicking base layer is odor-controlling with underarm gussets that allow for breathability. The soft fabric reduces chafing and there are no itchy tags inside the shirt. The locker loop allows you to easily hang the shirt when it's drying. This will come in handy in the albergues and pilgrim hostels where drying space can be hard to find.
One pair of nighttime shorts/pants
If you're hiking in warmer months, consider shorts for sleeping and lounging in dormitory-style albergues. If you're hiking in cooler months, bring long pants that will keep you warm but will roll up small for packing.
Just keep in mind that you will probably end up wearing your sleeping clothes more than you expect. You will often wear them to dinner both in the albergues and out in restaurants. And there will be days when everything is dirty, so you wear your nighttime pants and t-shirt on the trail. For this reason, I recommend quick-dry clothes even for bedtime. That being said, comfort is the number one priority in this particular item on your Camino do Santiago packing list.
One nighttime/sleeping shirt
The same advice applies here for your evening tee. Think comfort but also quick drying. Consider something fun that reminds you of home. I brought my "Wander with Love" shirt, which is my signature sign-off on all emails. I ended up wearing it quite a bit out on the trail, too.
Because it wasn't quick-dry, I won't bring it on the next pilgrimage. This time I have three, quick-dry shirts for hiking and I'll simply wear whichever one is clean for sleeping.
Underwear for your Camino de Santiago packing list
For men:
The key is to find quick-drying, moisture-wicking underwear that is also close in style to what you are used to wearing. If you are comfortable hiking in boxer briefs, don't suddenly switch to briefs for the Camino.
Here are a few pairs of men's underwear with the right quick-drying, moisture-wicking, chafe-resisting qualities that you want. You'll want to pack two to three pairs:
For women:
Two to three pairs of quick-dry, hiking underwear. I brought two pairs and this worked just fine because we did laundry nearly every day. On a day when we didn't do laundry, I hand-washed my underwear.
In your daily life, if you usually wear thongs, then I recommend bringing thongs for the Camino, too. I usually wear thongs and switched to a bikini-style on the Camino and this drove me insane.
The Smartwool Merino 140 lace thong underwear is what I would walk in (also here from Amazon). Soft, lightweight, and built to manage moisture and odor. Plus with less fabric, the thong is going to dry faster and be a bit less obvious hanging from the back of your backpack!
On the flip side, if you usually wear bikini-style underwear then don't switch to a thong for the Camino. The Smartwool Merino Bikini Underwear will still dry fast and this underwear is made with smooth stitching to reduce the risk of chafing.
The same logic holds true for the two sports bras you should put on your Camino de Santiago packing list. If you usually wear a certain kind of sports bra, this isn't the time to switch it up.
I brought two sports bras, one with thin straps, one with thick straps, and one tank-top with a built-in bra. The tank with a built-in bra took too long to dry. The bra with the thick straps competed for space on my shoulders with my backpack straps. The winner was the thin-strapped sports bra.
I recommend the Janji Groundwork Pace Sports Bra. There are no adjusting clips on the straps that will promote chafing and it's a moisture-wicking fabric with breathable mesh lining.
A hat or buff are a must for your Camino de Santiago packing list
I say they are a must, but I admit that I didn't wear either. A hat is a really good way to protect yourself from the sun and, if I wore one, I may have been able to skip the extra face lotion with sunblock that I had to carry. Hats just drive me nuts. But most people do wear one.
Lizz likes the REI packable cap. You can pack it up small, it's moisture-wicking with ventilation and a sweatband.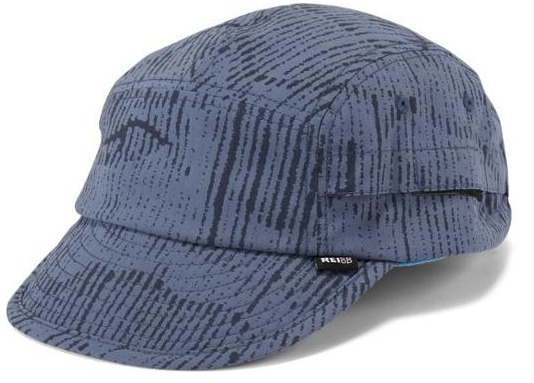 I also did not walk with a buff and I do regret that. Lizz wore hers almost every day either around her neck or on her head to protect against sun and dripping sweat.
I like the Buff Original Multifunctional Headwear, made with a quick-drying polyester that shields against sun rays. (It's also made out of single-use plastic bottles, which helps me with my crusade against plastic water bottles!)
Should you add a swimsuit to your Camino de Santiago packing list?
If you are walking a route that traces the coastline as I did (the Camino del Norte route), then absolutely yes. We loved jumping into the water after a long day of hiking, especially after day one on the Camino:
Just grab a swimsuit that folds up really small. Guys, you might be able to double your board shorts as your evening wear. This brings me to:
Should you bring something special to wear in the evenings on the Camino?
It's a luxury and definitely optional. You can always just wear whatever is clean in your backpack. But I loved the sporty dress that I brought for dinners and for walking around town. For the next pilgrimage, I'm bringing this nighttime dress from Beyond Yoga. And Lizz loved her sporty skirt (she was devastated when someone stole it while it was drying on a clothesline at a public campground).
It was so nice to get out of hiking clothes sometimes.
Just make sure that whatever you bring for evenings will roll up really small for packing at the bottom of your bag.
Essential documents for your Camino de Santiago packing list
Essential items for your Camino de Santiago packing list
Essentials for women
Essential foot care items on the Camino de Santiago
I detail my blister kit in the video below. Watching this makes my feet hurt all over again!
Toiletries for your Camino de Santiago packing list
Keep your essential toiletries super simple. As you can see with all of the above necessities, your backpack is filling up quickly. I have some optional items considered "luxury" items that I also brought along with me, but if you can get away with just this minimalist list, then you are winning the Camino!
Electronics for your Camino de Santiago packing list
Optional items for your Camino de Santiago packing list
Just consider weight and space carefully when weighing whether you need these items. We did carry all of these items in our backpacks, though we split them up between us to distribute weight. The last item was especially crucial for our pilgrimage.
Camino costs and how to save
If you are thinking: "My goodness! I need to buy a whole lot of gear!" I sympathize. Your gear is the most expensive part of the Camino except, perhaps, any international travel to get to Spain.
Consider browsing used-gear sites. This could save you some cash and it's a sustainable way to shop, too.
I love GearTrade where you can buy gently used gear. Or even sell your gently used items!
REI also has a used gear catalog and members can trade in gently used gear for REI gift cards!
This post will help you find affordable hiking clothes and gear.
I've also created a Camino Cost Calculator so that you can determine your costs depending on your route and walking style.
All of the above resources are included in these printable Camino de Santiago packing lists:
Did I forget something? Was there a crucial item that you couldn't live without on the Camino or another trekking adventure? Did something on my list surprise you? Comment below and let me know!