A Mad Cool Festival Review 2022
Hey there! This post may contain affiliate links, which means I'll receive a commission if you purchase through my link, at no extra cost to you. Please see my legal page for more details.
You know you've been to the Mad Cool Festival when you wake up in your Madrid hotel room at noon with your pillow covered in glitter and sparkles.
In fairness, this particular festival in Madrid doesn't start until 6:00 in the evening at the earliest, and it doesn't wrap up until close to dawn.
The idea is you sleep all day and then dance the night away!
While this idea might sound daunting, the Mad Cool Festival line-up inspires me to hop a flight to Madrid – with dancing shoes in tow.


Mad Cool Festival Review 2022: Wild Fun (don't mind the shit show)
After a three-year hiatus, the Mad Cool festival was back in July 2022 with a "killer" line-up. I say "killer" because The Killers absolutely rocked the place!
Now five days instead of three, and with a crowd size that has, at least, doubled, the vibe is really different. I wish I could give the fest the same stellar review that I gave it after 2019, but there were some infrastructure issues that made the festival really difficult at times.
While this isn't a scathing review, it isn't raving anymore, either.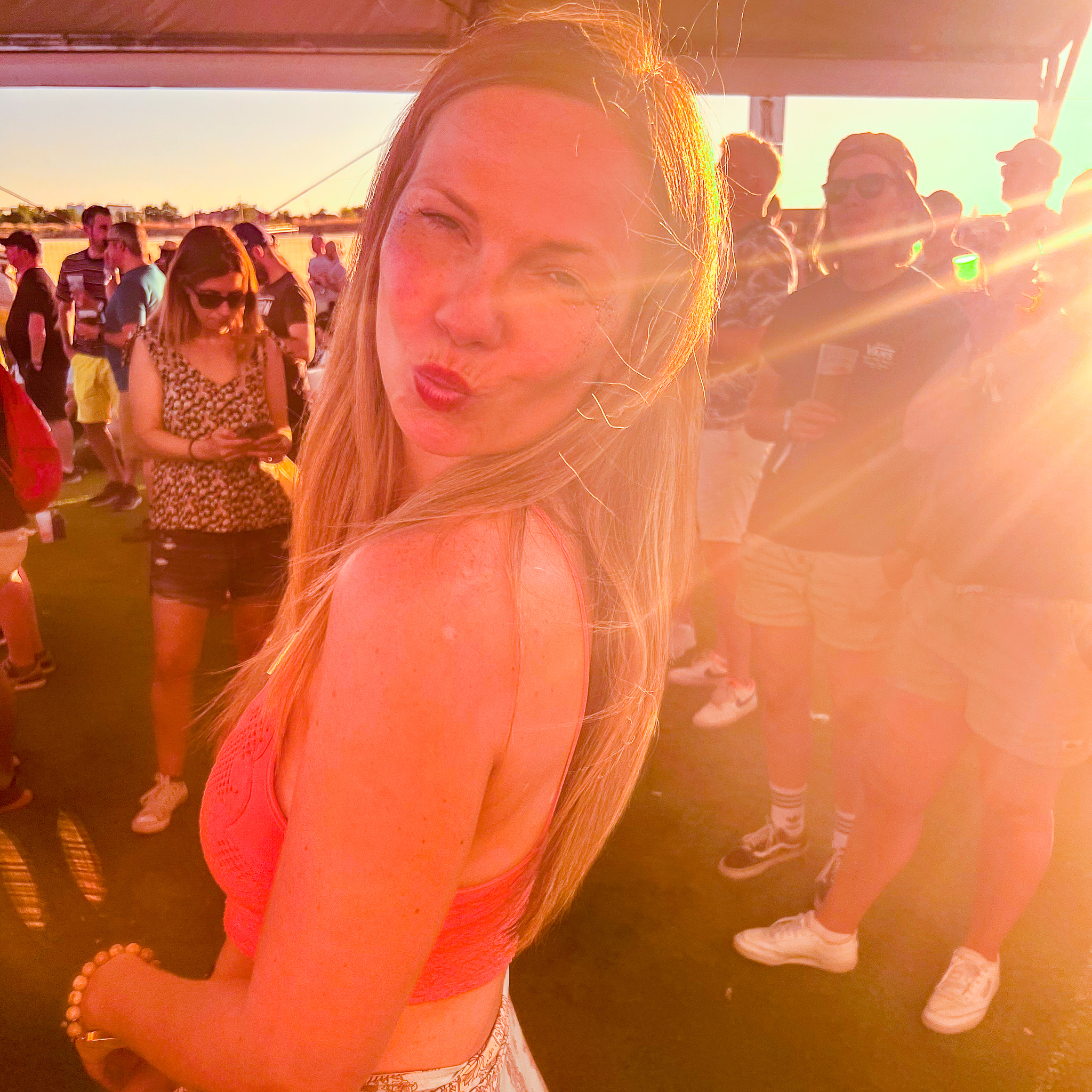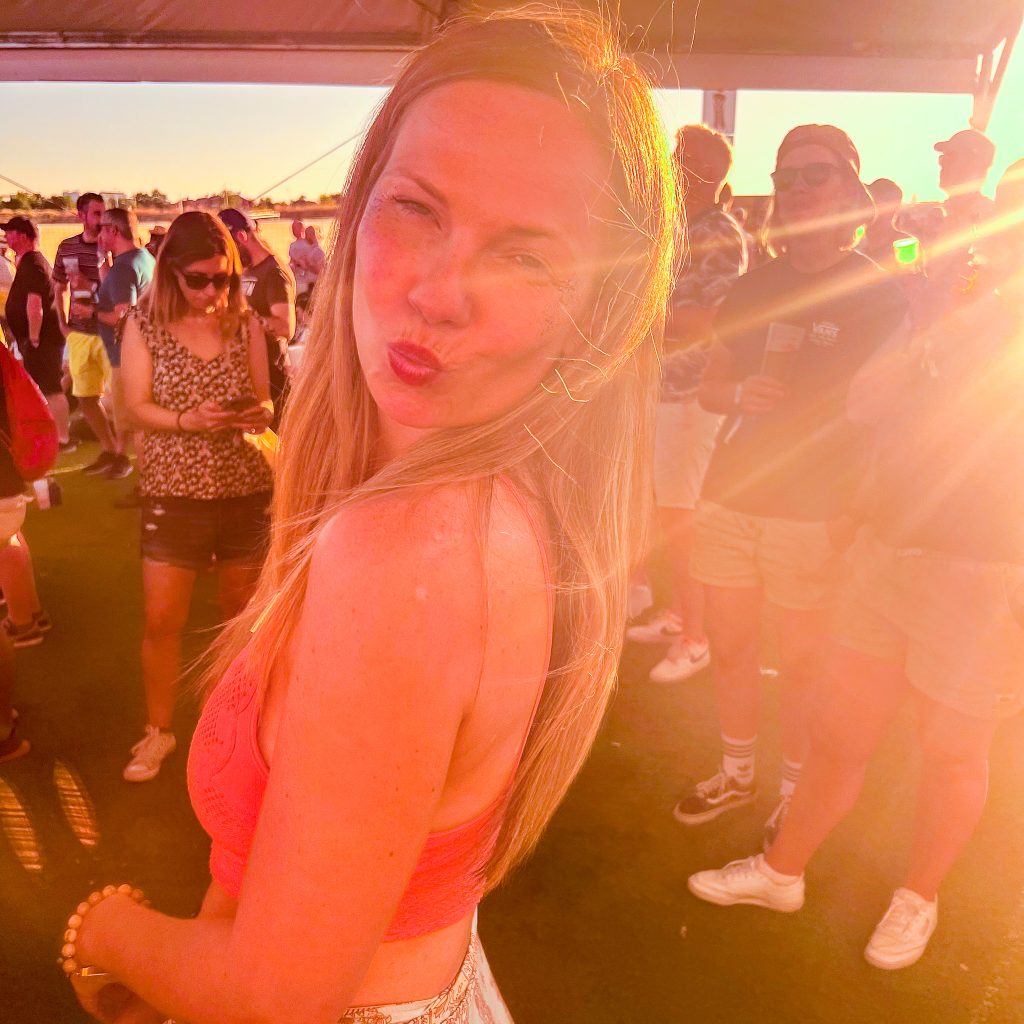 I attended days two, three, and four of the festival, and the infrastructure was, at times, strained to the point of being laughable. Did we still have fun? You bet. Just check the Mad Cool Festival tips at the end of this post to make sure you are prepared!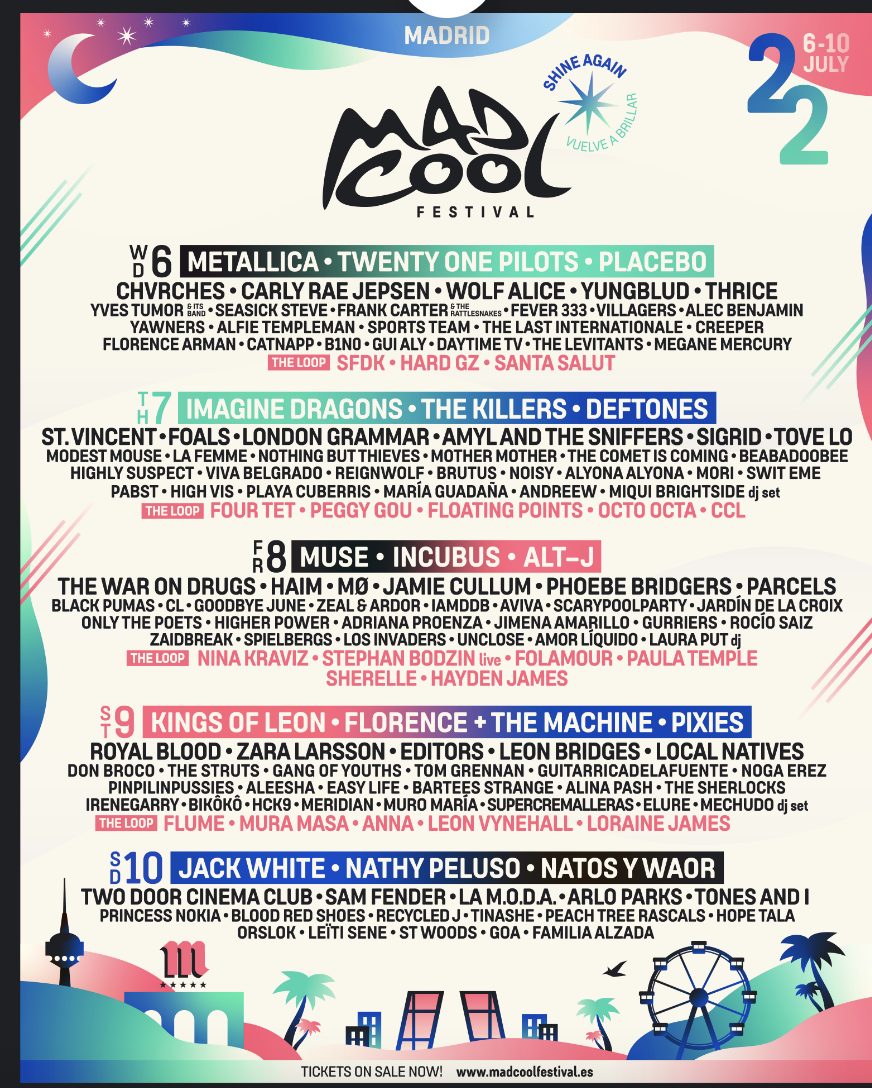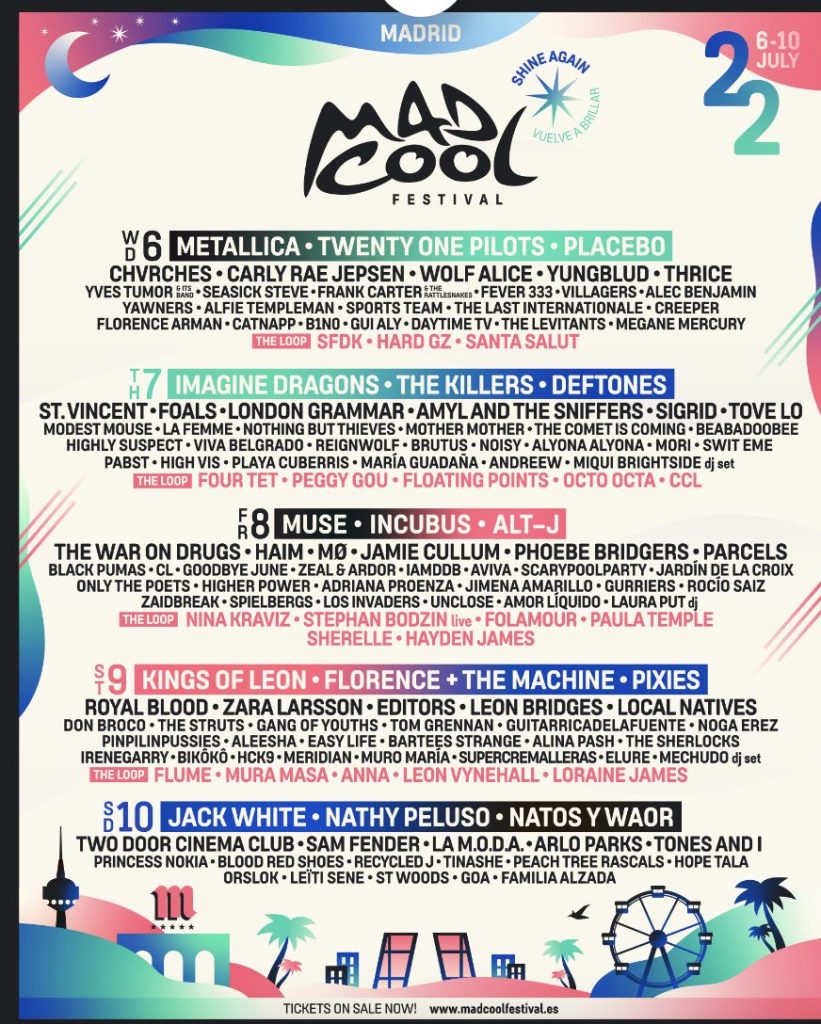 Mad Cool Festival: The Fun Part
There were four of us attending the Mad Cool Festival 2022: the same beautiful, sparkly Sarah from the 2019 fest, plus new additions Abbey, and Lizzie.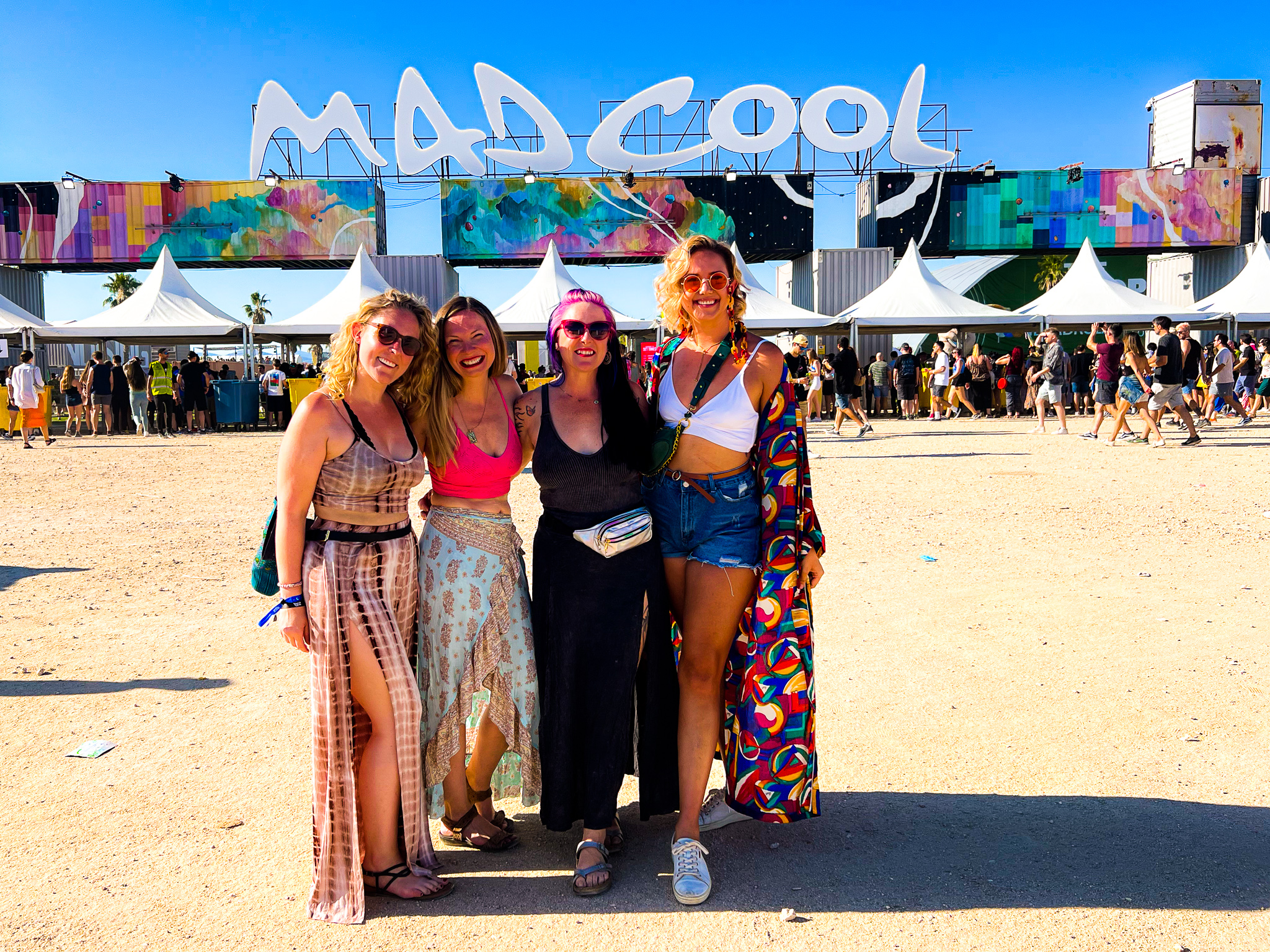 All four of us traveled from America to attend the fest. It was so much fun to experience live music again and to soak up that festival vibe that attendees to the Mad Cool Festival always bring.
Highlights for us were The Killers and Florence and the Machine. Plus, we met one of the bands while dancing the night away, and they turned out to be really good! If you get a chance to see the band HCK9…do it!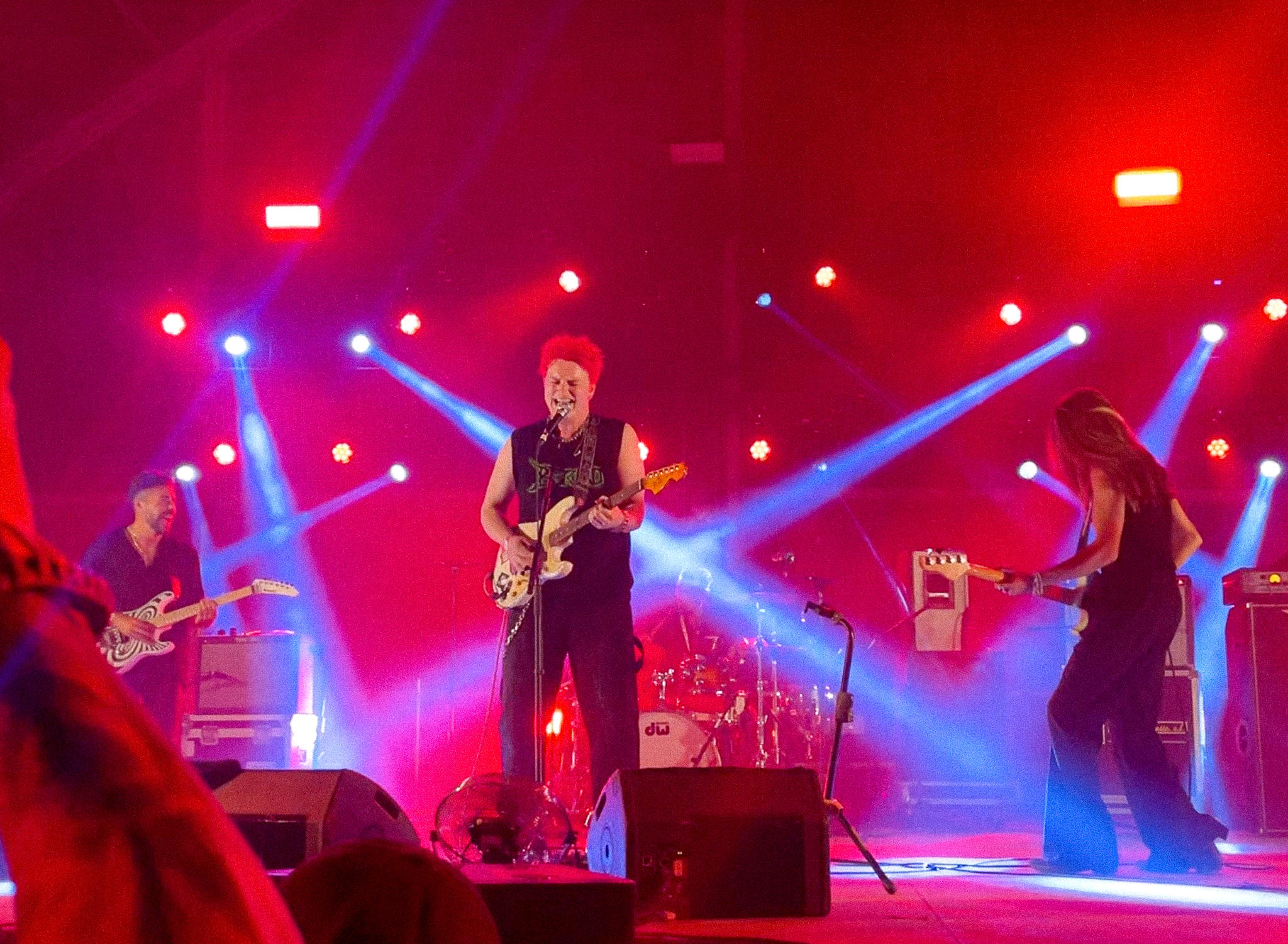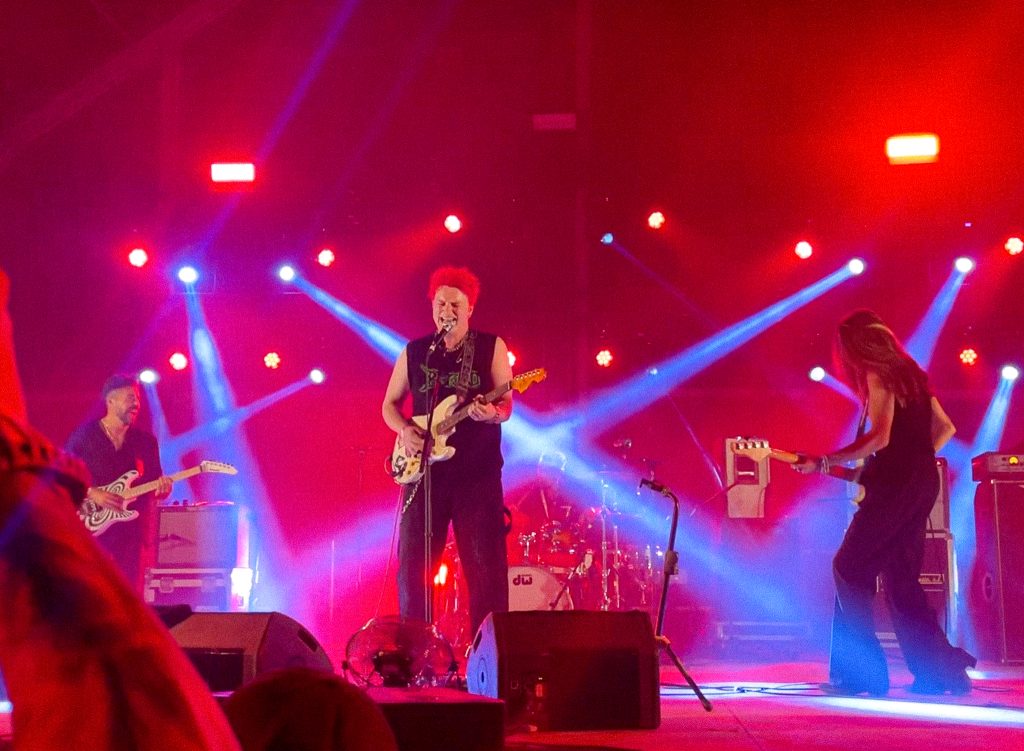 The Mad Cool Festival Bracelet "Fun"
The concept behind the Mad Cool Festival bracelet is a good one. The festival is cashless and the bracelets serve as your entry ticket and your payment method throughout the fest.
Unfortunately, there are some logistical issues that need to be smoothed out. All four of us had some stress getting our bracelets before the festival, and emailing either Fest Ticket or Mad Cool turned out to be a complete waste of time.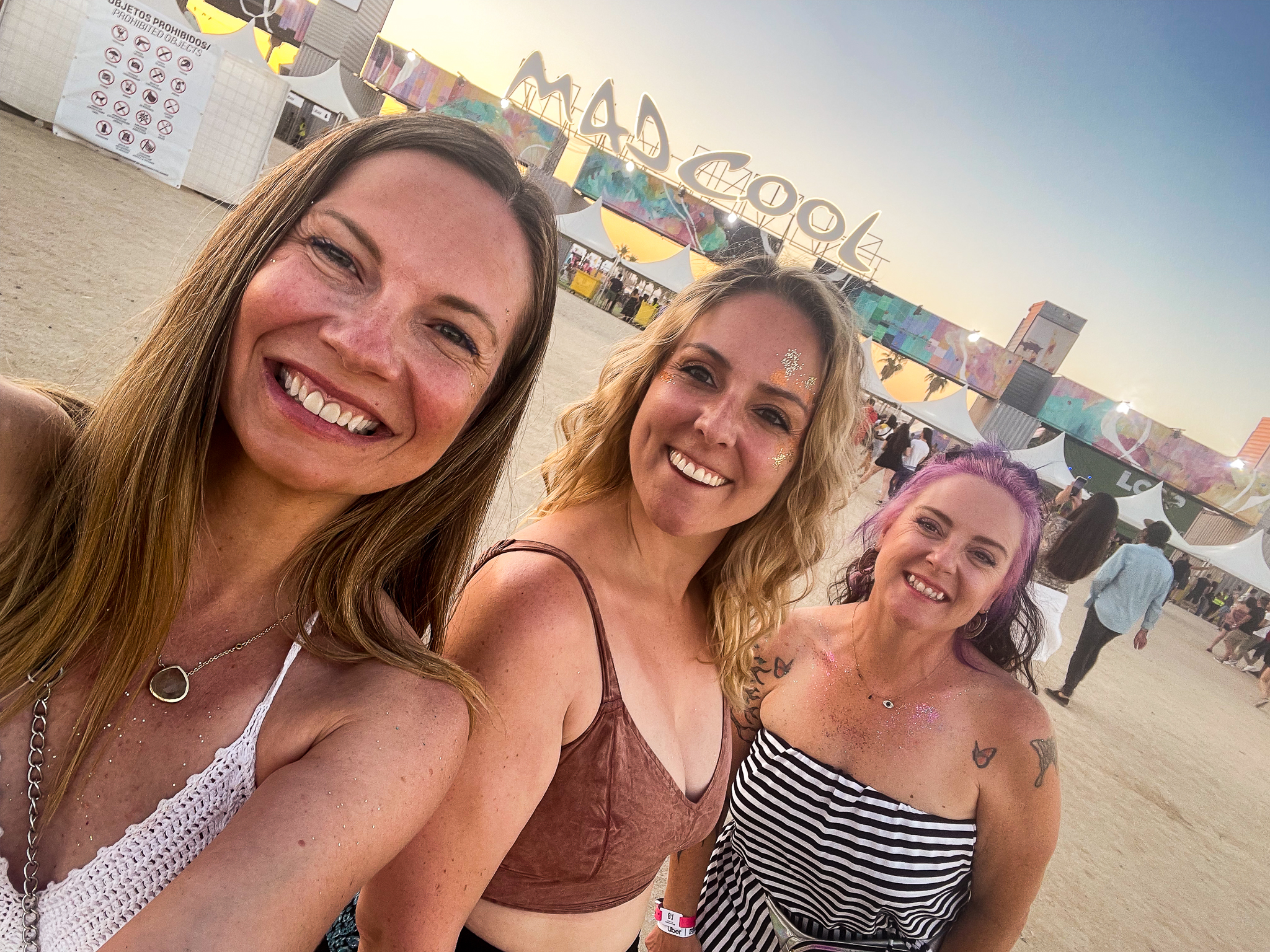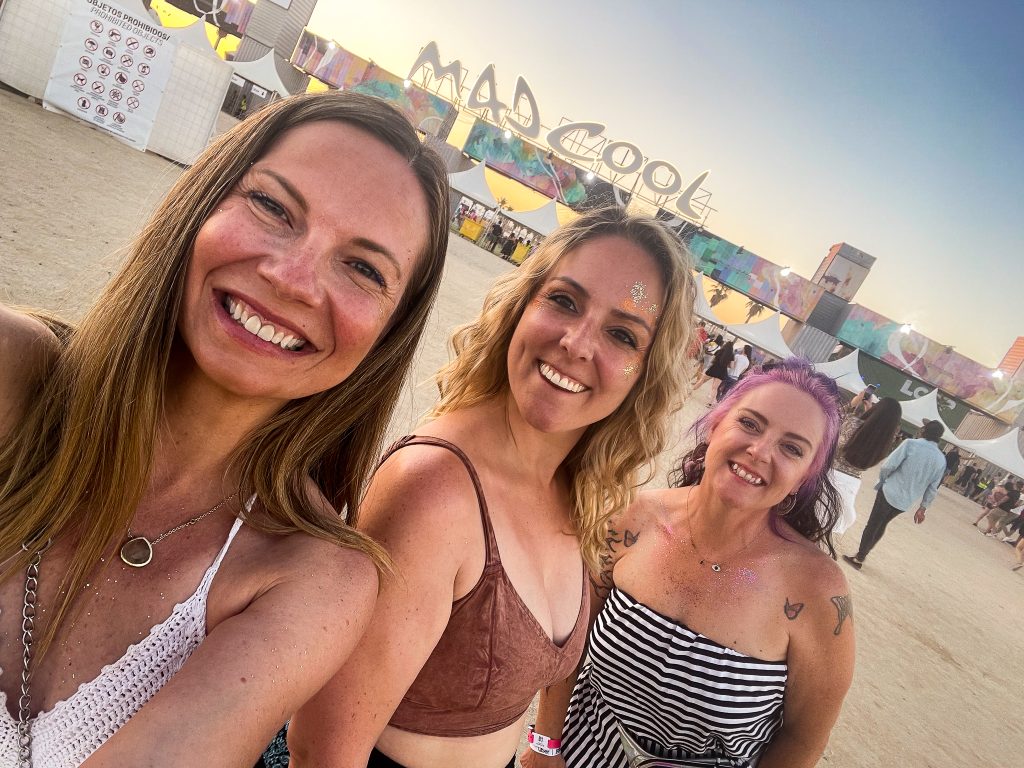 So, for one reason or another, each of us had to bring both the wristbands and our e-tickets to the wristband tent before we could access the entry point. To their credit, the festival workers fixed the glitch really quickly.
That would be a compliment for the festival if it weren't for the insanely rude man staffing the wristband queue. At the time we walked through, there wasn't a queue at all, so we started to duck the airport-style ropes they had strung out for when the line gets seriously long (and I hear the wristband lines did get really long).
A festival worker saw us doing this and started shouting at us. Fine. Fair enough. Technically we were breaking the rules and we should have been walking through the maze of empty ropes. But that wasn't good enough for him. He actually made us turn around, walk all the way back, and then walk the line maze again. (Keep in mind that there was no queue either ahead of us or behind us.)
It was a weird power trip that sort of symbolizes how terrible the infrastructure of the festival is this year. Here is the ONLY smooth part of the Mad Cool Festival for us so far, and there is a power-tripping man hollering and attempting to humiliate us. (We just laughed and took a picture of him.)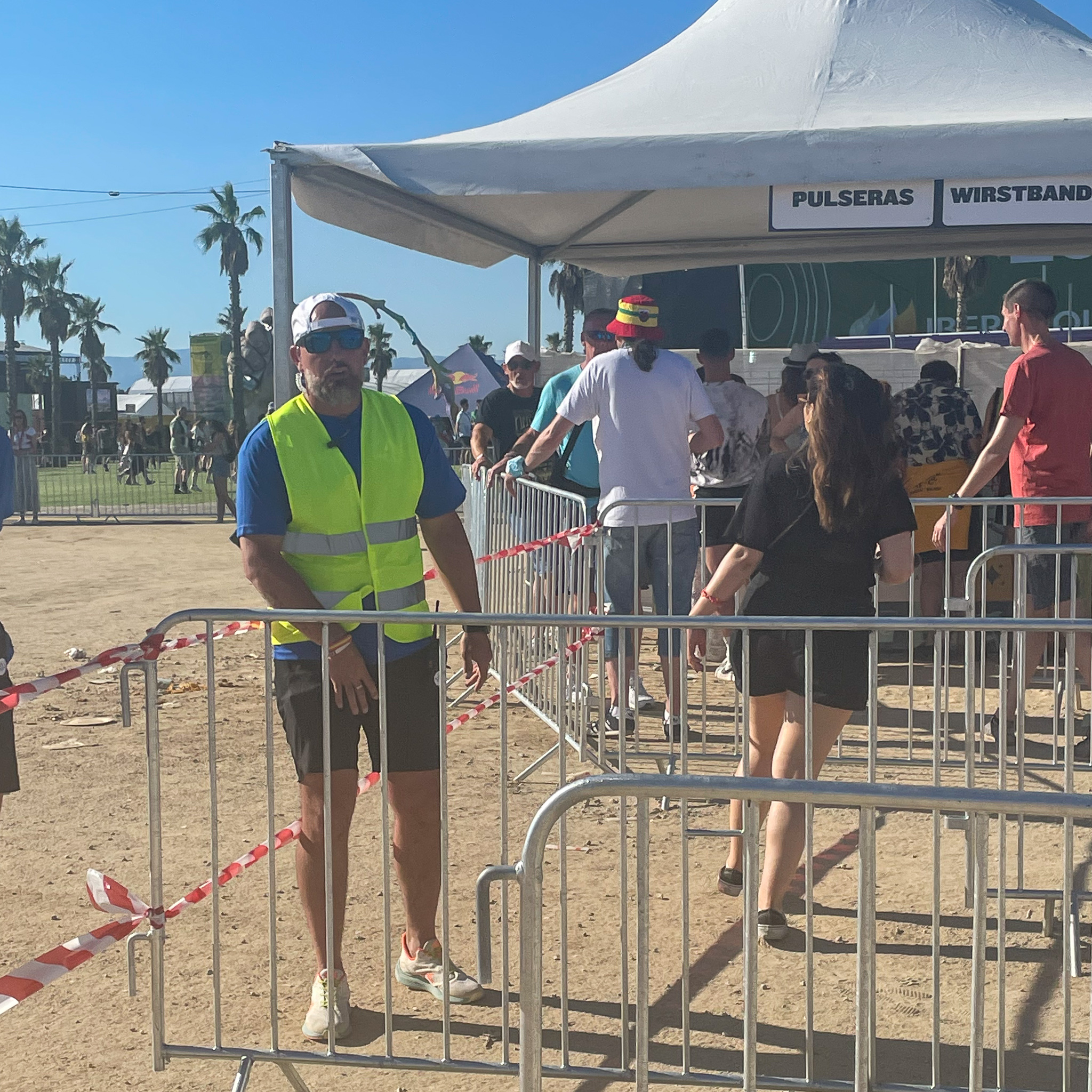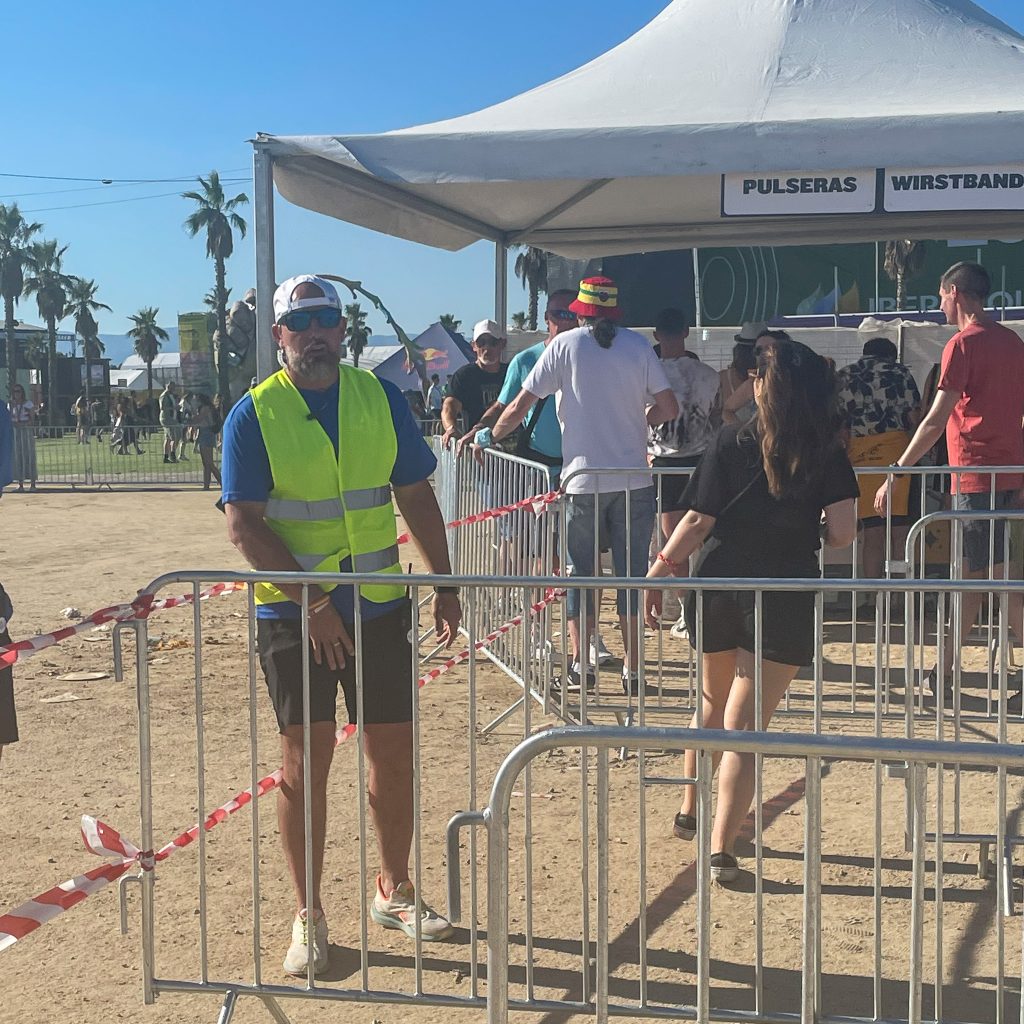 The Mad Cool Festival is Cashless
Mad Cool has gone cashless, so you use your wristband rather than cash or card. A good idea in principle, however, you have to stand in long lines to top off your wristband. I hear we are lucky, because the whole system went down on day one, leaving everyone unable to purchase anything for a time.
No beer at a festival? Come on Mad Cool.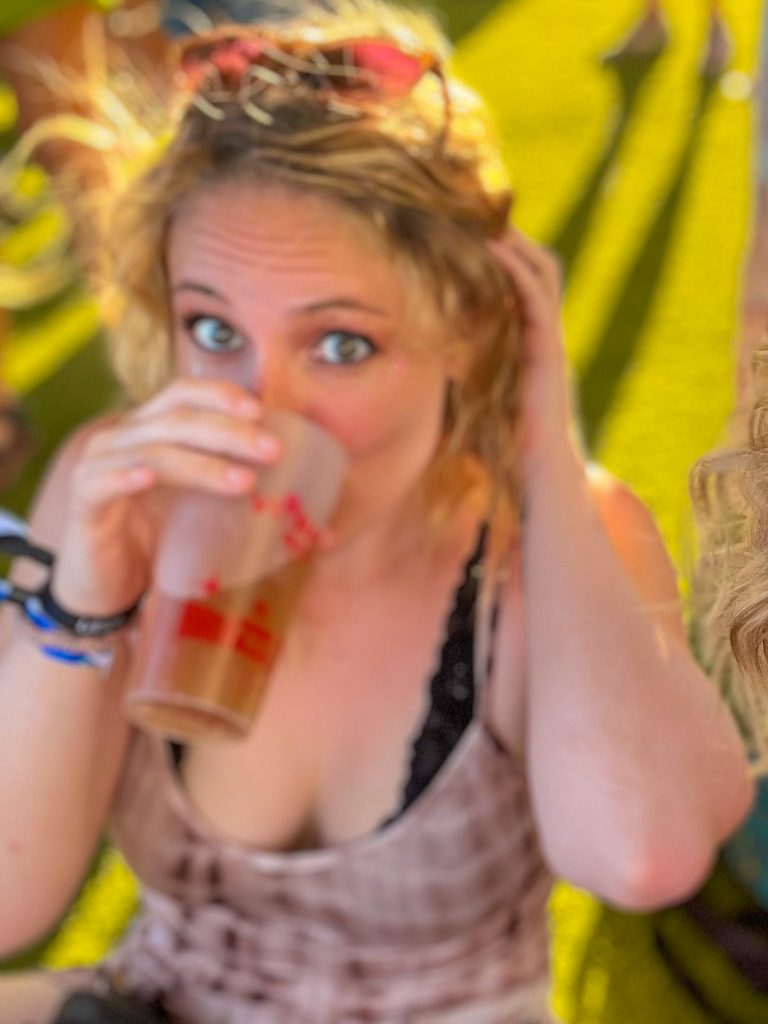 On day two, we didn't have any issues using the wristbands. Just long lines to top them off. On day three, we learned to bypass the first top-off stand and find one farther in the back where lines were shorter and moved quickly.
Unused cash of two euros or more can be refunded after the festival. If it is less than that, you don't get a refund and it is bonus bucks for Mad Cool. AND…each day has a different wristband. So you have to go through this every single day. HOWEVER, you can use your previous unused cash on a previous day's bracelet any day of the festival.
There is an online system to top-off your wristbands, but you have to do it before 1pm on the day of the festival. And we could never get it work.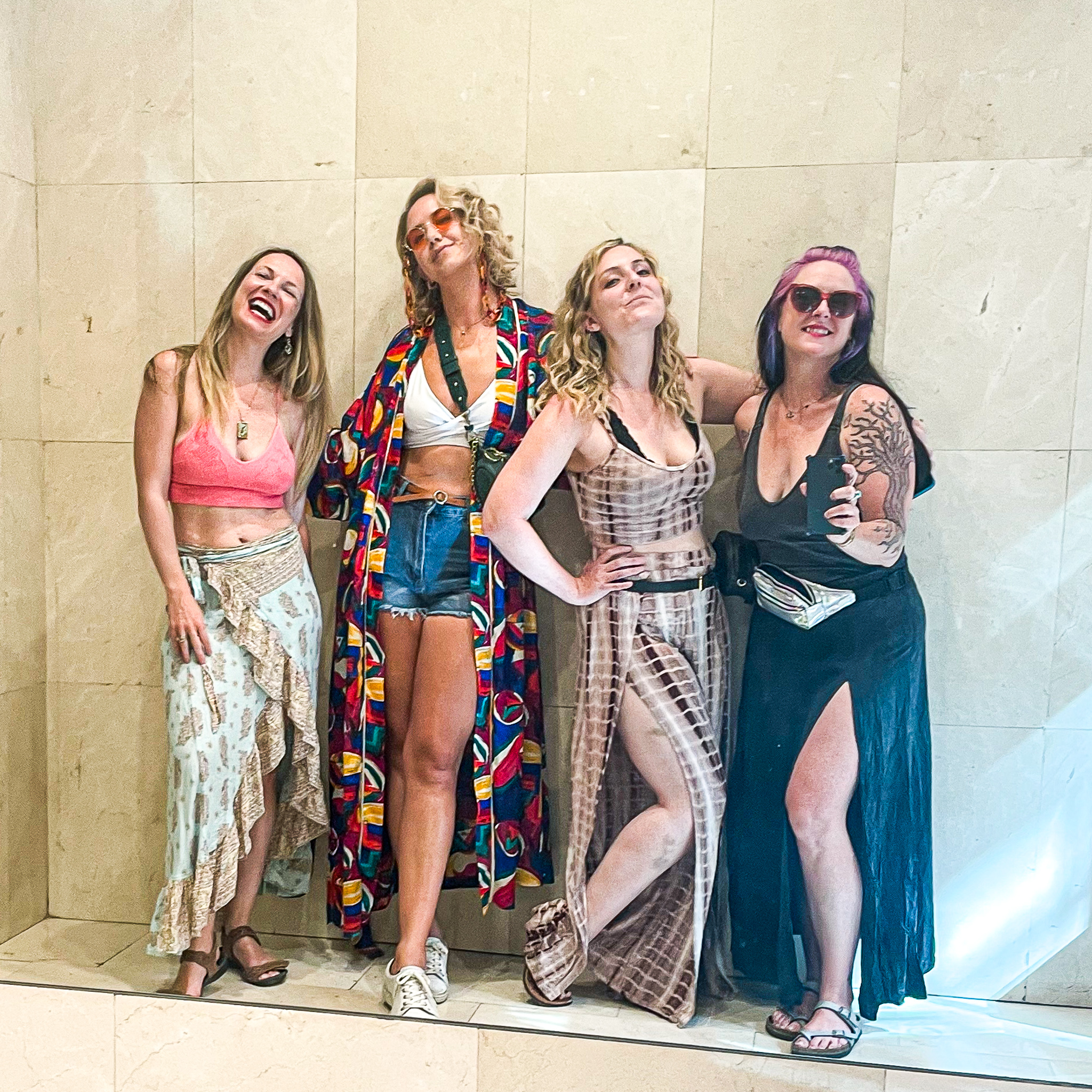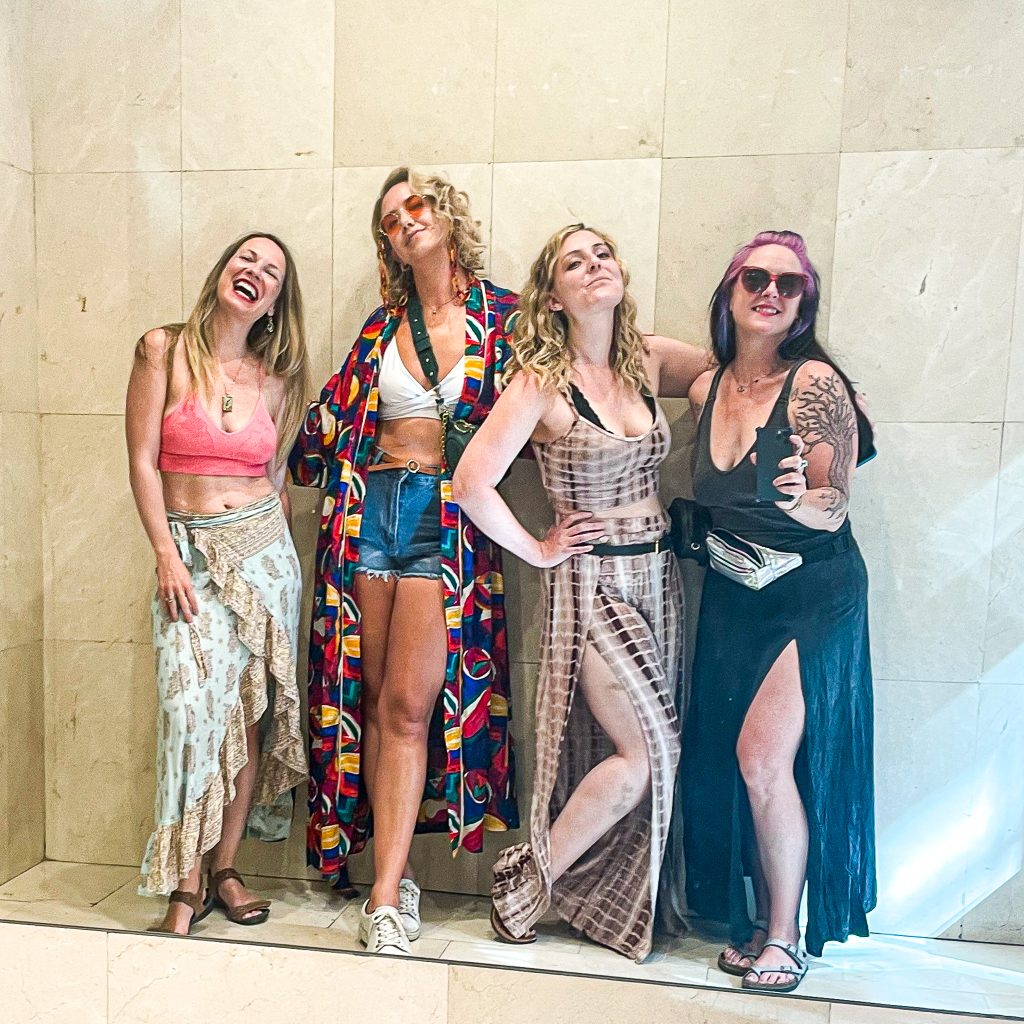 Mad Cool Festival Review: No Longer a Sustainable Festival
The sadest change for me for the 2022 Mad Cool Festival was the lack of sustainability. In 2019, the last time the festival ran, I wrote about how I was able to attend the Mad Cool Festival sustainably. In 2022, not so much.
Look, I know festivals are generally not sustainable. I get that. All I care about is that I can follow my own sustainability practices within the festival rules. Mad Cool 2022 didn't allow for that. I was forced to use far more plastic than I'm comfortable using.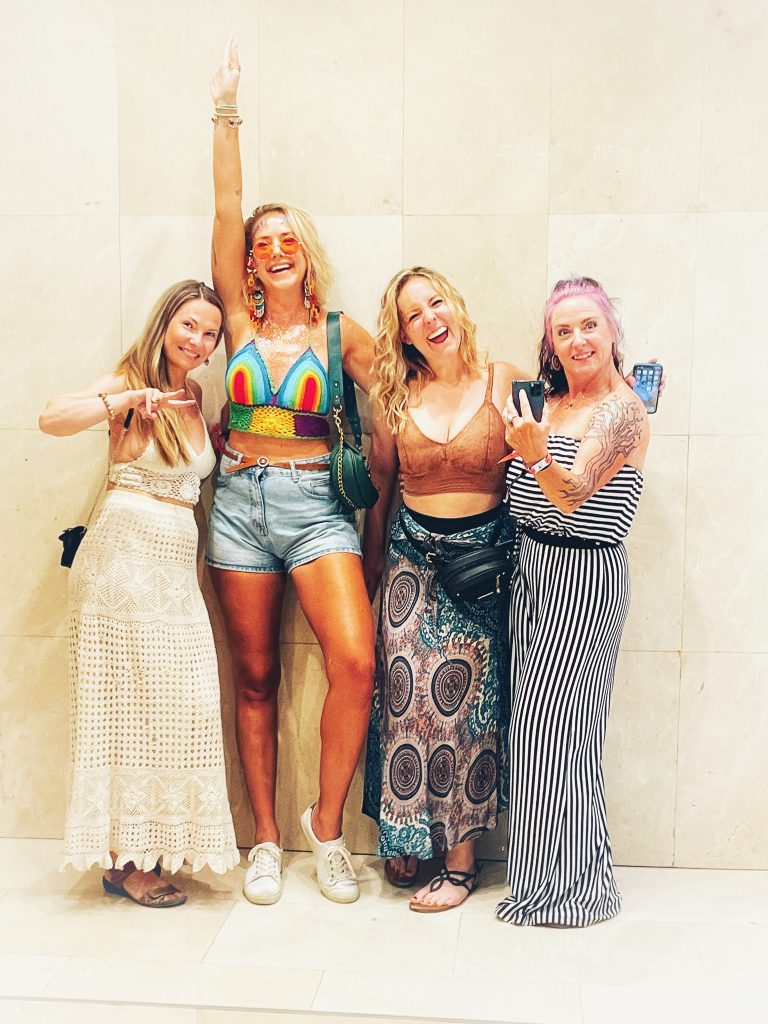 I was stopped twice for my empty water bottle at the security checkpoints. To their credit, the guards let me through after I explained that I don't use plastic, but it's still clear that you are not supposed to bring your own water bottle. Not that it matters. The festival continually ran out of water, so you couldn't fill up anyway.
Also, my efforts to keep the same beer cup were completely thwarted. My cup was simply thrown away numerous times in front of my eyes, despite clearly stating (in English and Spanish) that I wanted to re-use it because I never use single-use plastic.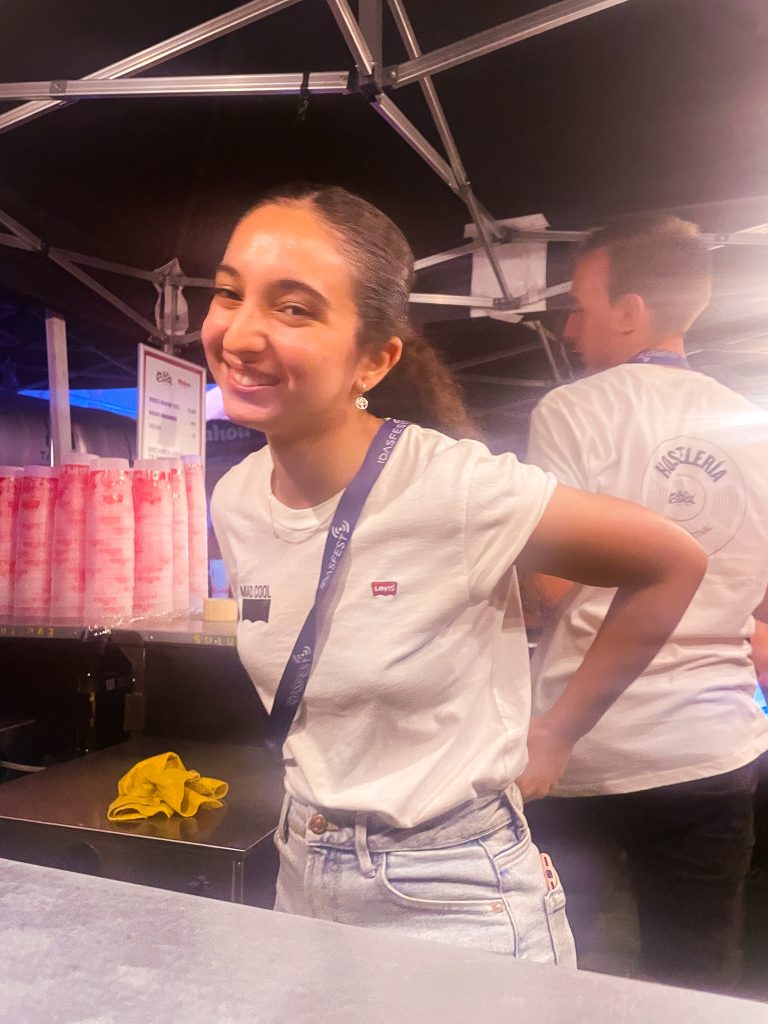 We asked multiple times if they are recycling the cups. The answer was always, no.
While the food vendors are (mostly) using paper rather than plastic, there was also no clear recycling for the paper and plastic used for food. Recycling bins were poorly labeled and everyone was just using them as regular garbage/landfill bins.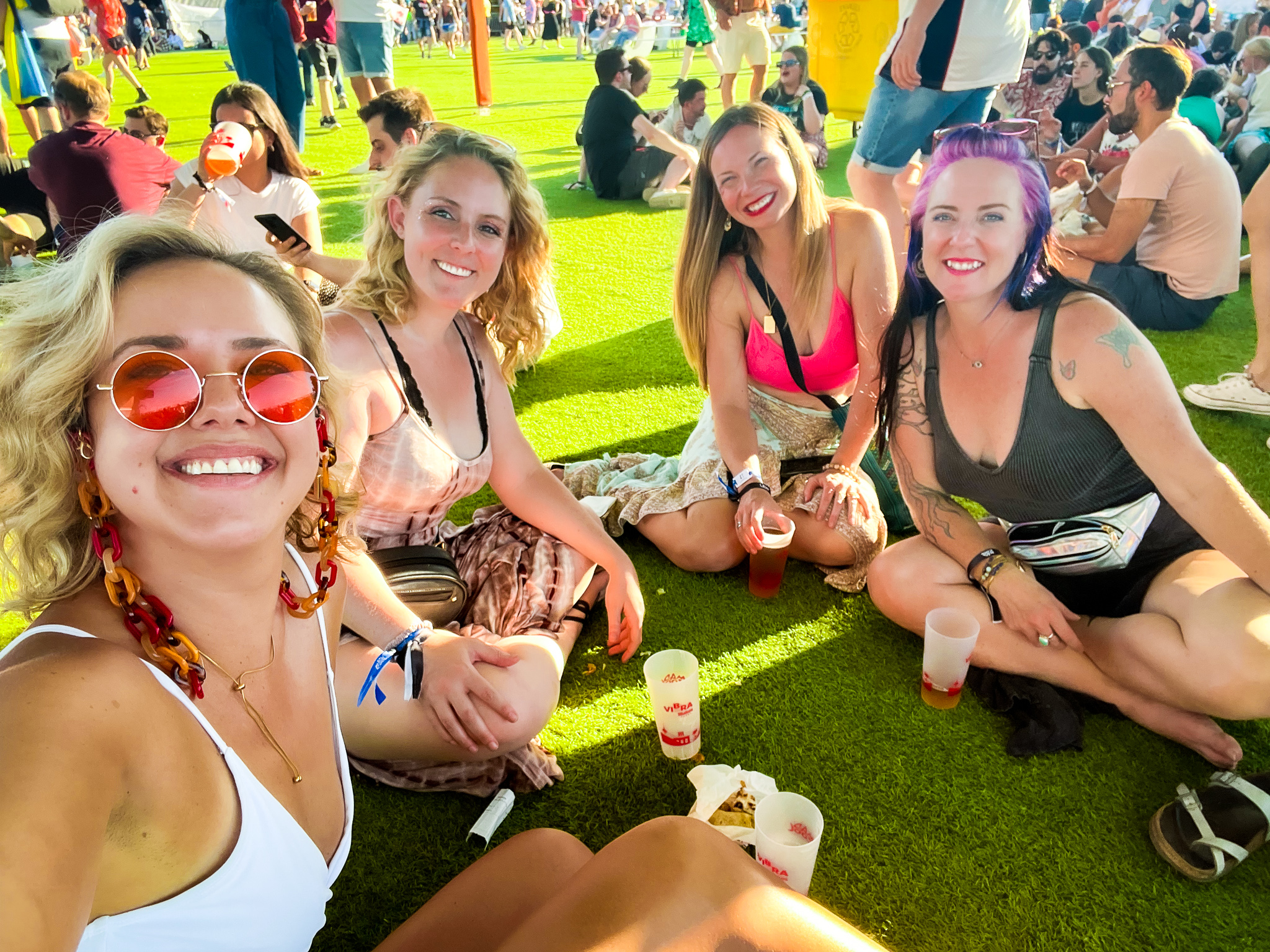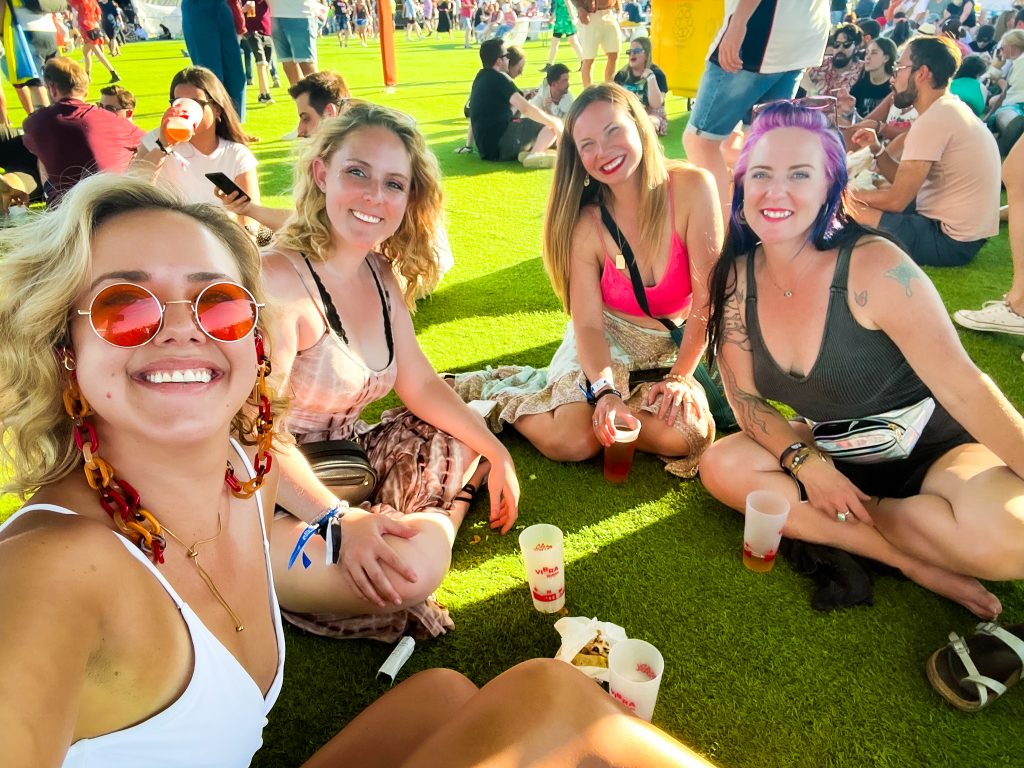 The Mad Cool Festival in 2022 was, sadly, an environmental disaster. Again, most festivals are hard on the environment. For me, the issue is when a festival won't allow me to reduce my own footprint. In 2019, the Mad Cool Festival crushed it. The Mad Cool Festival 2022 has some work to do on sustainability.
Then there are the Bathrooms
At the last Mad Cool festival in 2019, we didn't love the condition of the bathrooms, but lines moved quickly and we simply learned to bring our own toilet paper (or Kula Cloths). On day two of Mad Cool 2022, the lines for the ladies were insanely long, and the bathrooms were in really bad condition.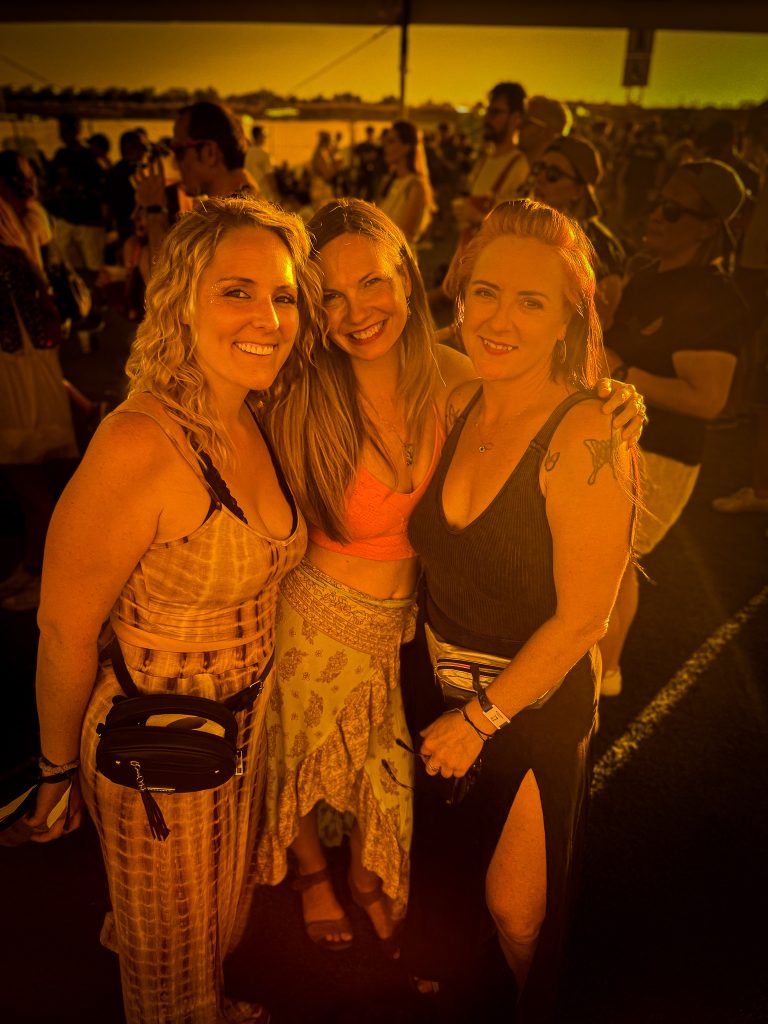 Also, the only place to get water is at the same station where people are washing their hands (unless, of course, you buy water in a plastic bottle, which I'm unwilling to do).
It's gross at best. Worse, though, the festival kept running out of water at the hand-washing stations since we were all filling up our cups and water bottles. (I'm sure you can guess at this point that the festival was also tapped out on hand sanitizer.)
On days three and four there was an improvement. There was more water and the bathrooms were kept far cleaner.
Mad Cool Festival Review: Trying to Go Home is a TOTAL Shit Show
I'm not sure I can recommend staying at the fest long enough tonight to see the final band play. The problem is that, if you do stay until the last band takes the stage, the lines home for Uber, Taxi, or shuttle are hours long.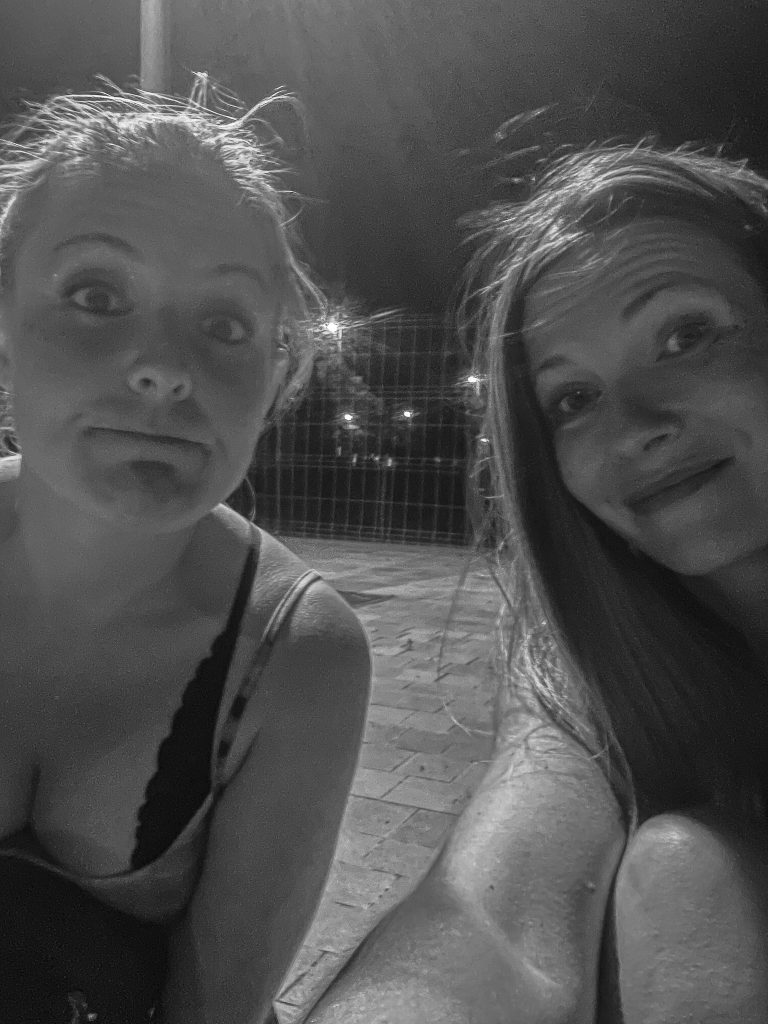 Some friends had better luck walking 15 minutes to the Metra where special trains are running in the morning hours for the Mad Cool Festival. My friends took that special train and then a taxi from where it stopped. They beat those of us waiting on the shuttle by a good hour.
But the night I got on the Metra, it got stuck in seriously crowded and hot conditions. People were passing out on the train!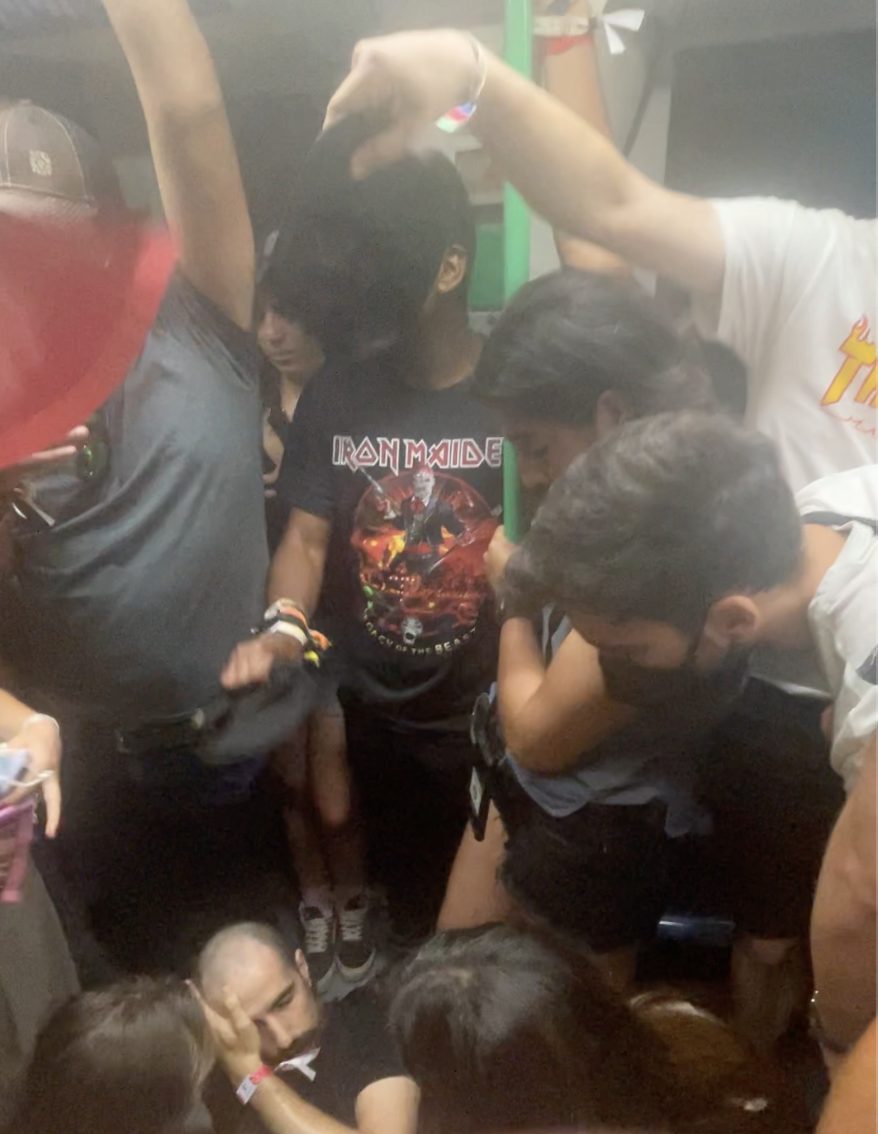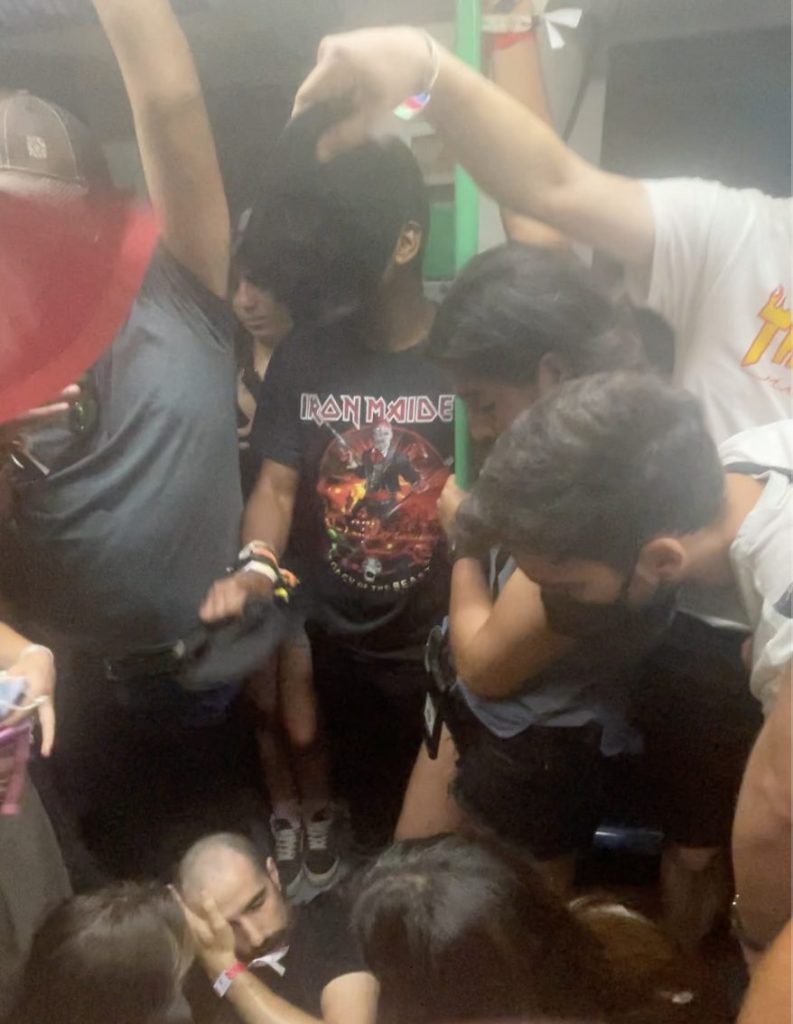 We found that the best way to get home is to 1. Leave early 2. Walk to the Metra and use the app Cabify from there (don't get on that crazy train!)
The Mad Cool Music is Amazing!
The musicians are still incredible at Mad Cool, and the layout of the stages is really great. Despite all the infrastructure issues, we did have a really good time dancing the night away.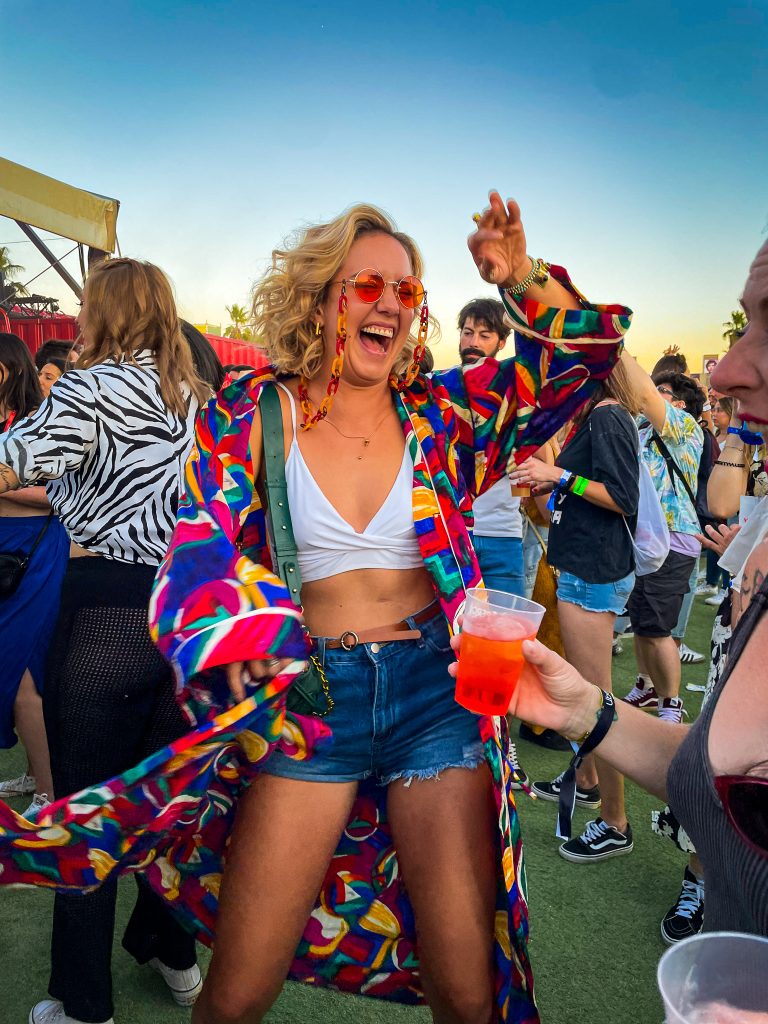 I mean, there are so many people that you are sometimes laughably far from the stage, but if you really want to see a band, you just get there early and grab a good spot.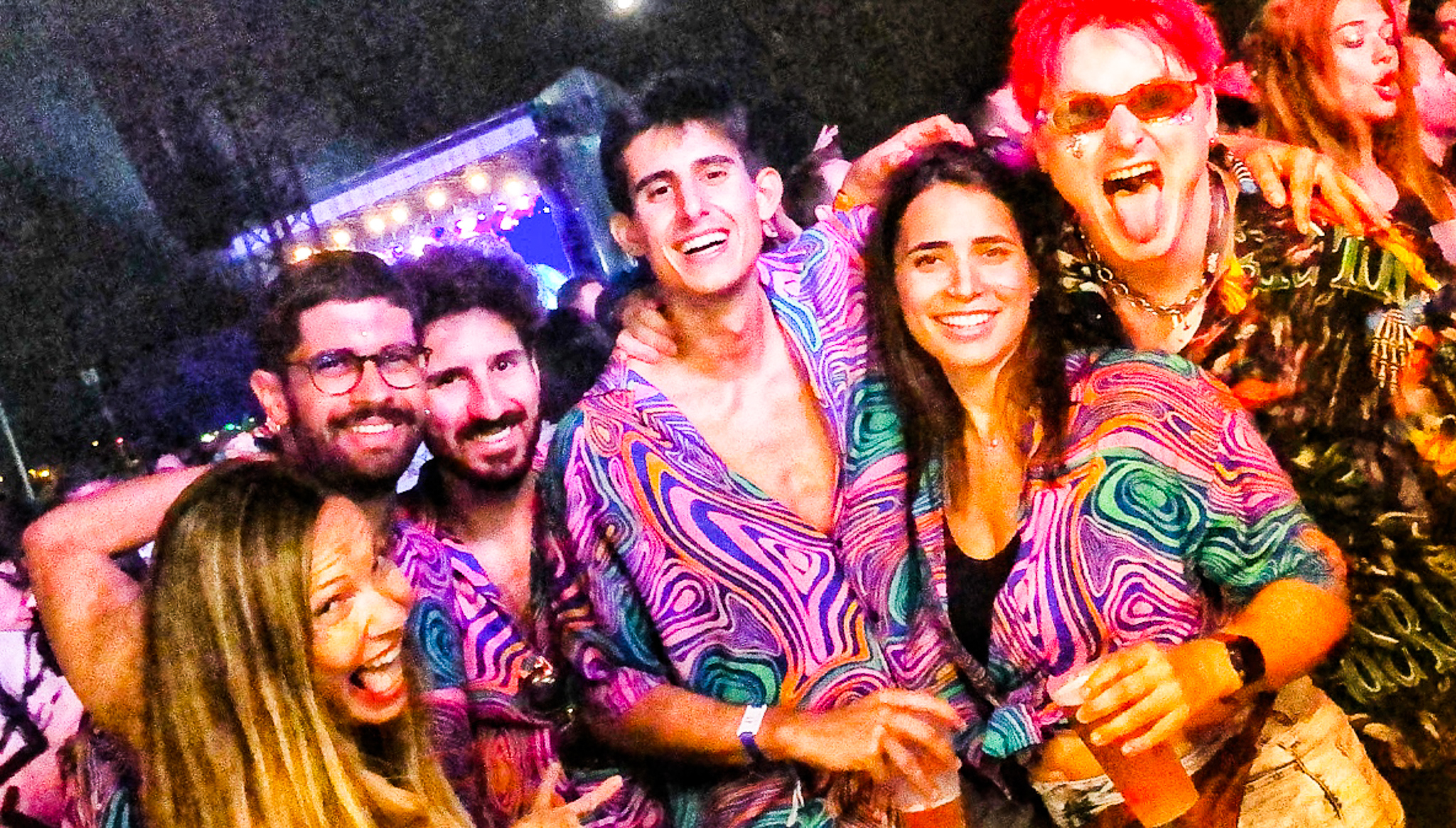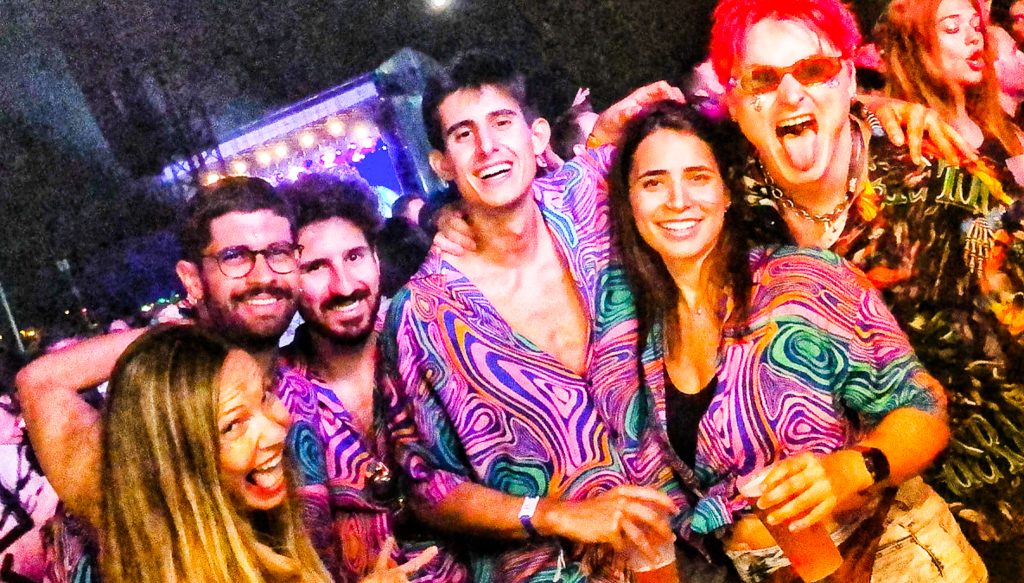 In short, Mad Cool Festival 2022 wasn't as smooth as 2019 (see my 2019 Mad Cool Festival Review below), but it was still a LOT of fun.
Check out my festival tips here to avoid some of the infrastructure glitches.
Mad Cool Festival Review (2019)
I was not alone in my festival adventure in Madrid. The story of the Mad Cool festival stars my friend Sarah, a schoolteacher from Chicago, who knows how to rock – and knows how to rock sparkles like a champ.
Let's Get this Mad Cool Festival Party Started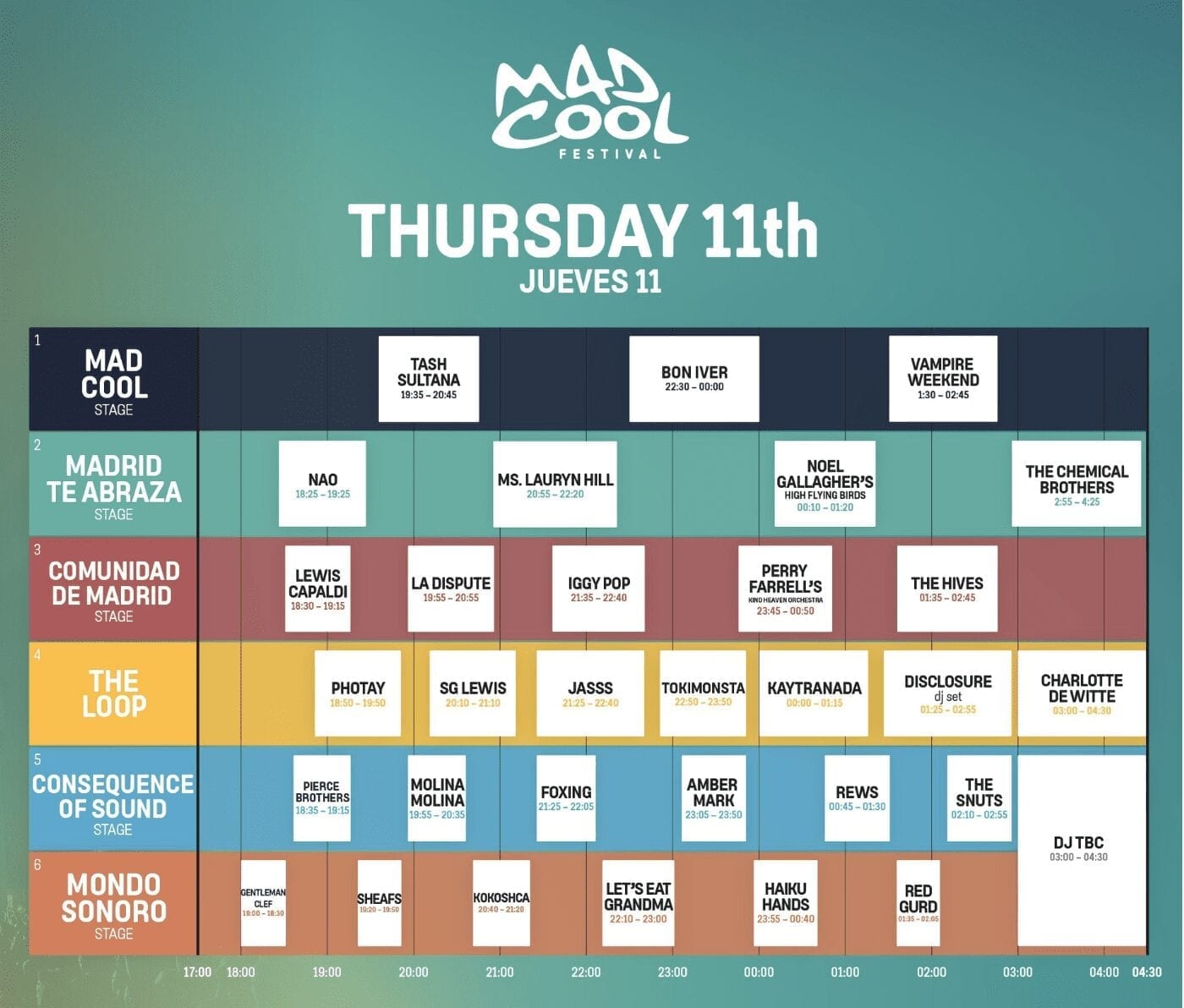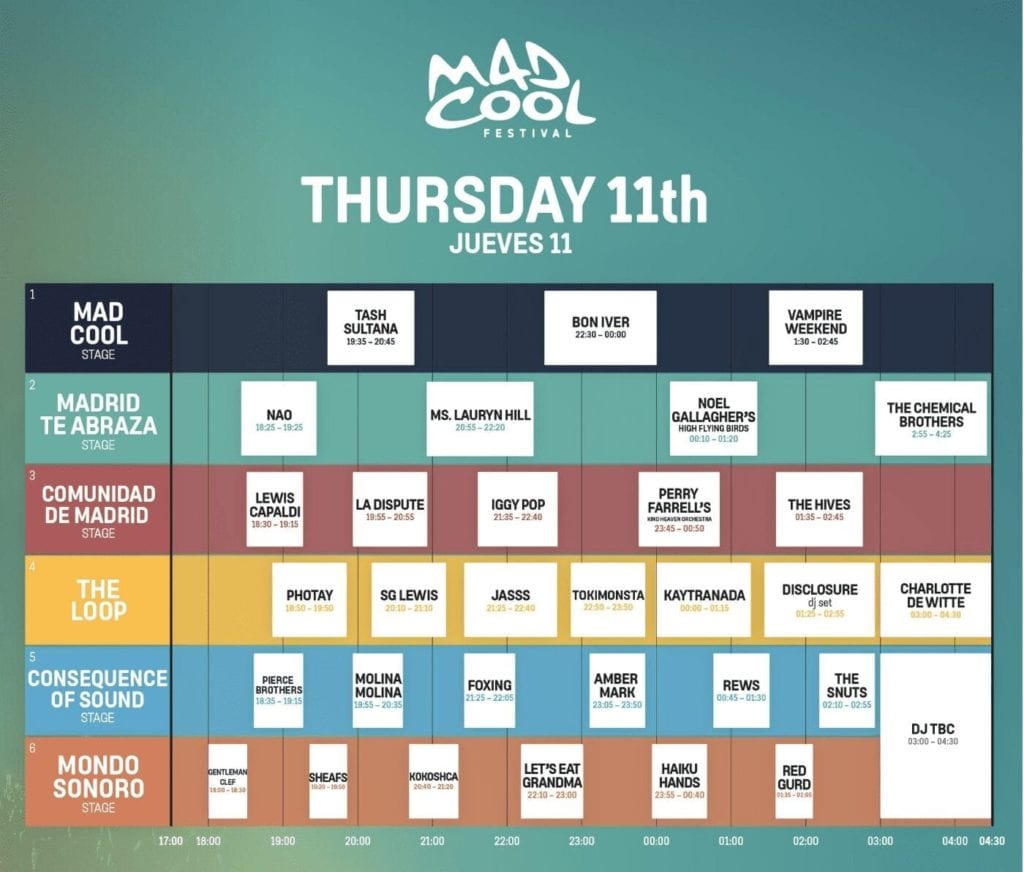 We arrived on Thursday afternoon with just enough time to wash the travel day off of us before we set out to catch Lewis Capaldi's set. The Scottish-born singer writes heart-wrenching songs that are also, somehow, dance-y. He even pointed this out, saying something like: "this song is going to sound happy, but believe me, it's f*cking sad like the rest of them."
True, the song is sad, but it got everyone dancing and, between the dancing interspersed with laughter at Capaldi's hilariously raunchy commentary, we almost forgot about the 95-degree Madrid heat. Almost.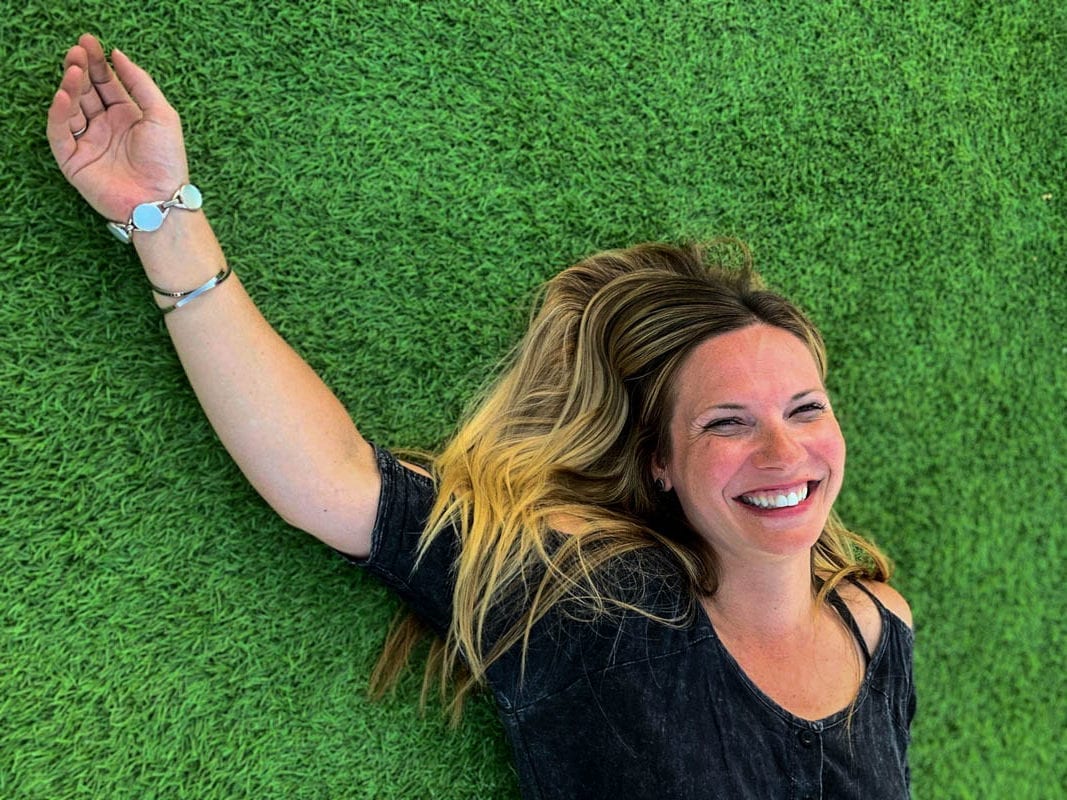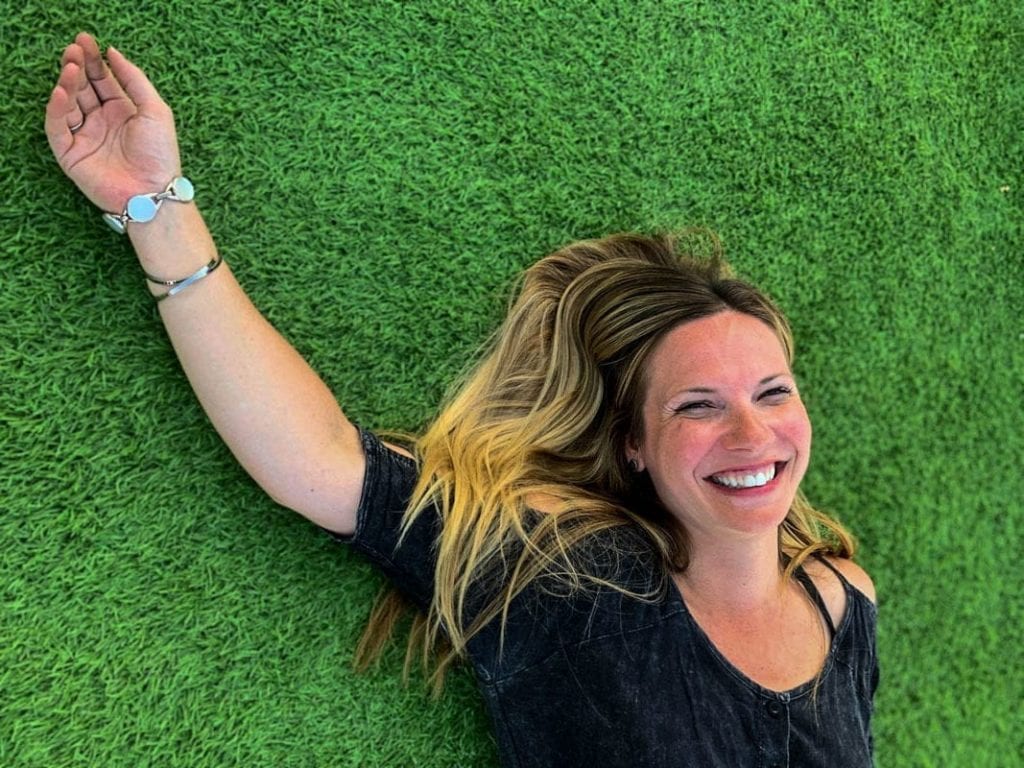 We listened to Tash Sultana from a distance while sprawled out in a shady spot. We scarfed down delicious food bought from a huge selection of street-food carts and stands, including vegan and vegetarian options. I was relieved to find that most of the food stands opted for paper instead of plastic and I was able to maintain my plastic-free status throughout the festival. I would rate this a sustainable festival!
I was relieved because the 2018 festival received some pretty harsh reviews. There was, apparently, limited shade during (yet another) heatwave, technology failures that left people standing in line for ages to get inside, and most terrifying for me, no ability to bring in reusable water bottles (gasp!)
This year there was an abundance of shade, fake grass that staved off the standard festival mud, smooth lines, and no issue with my water bottle or the readily available refill stations with potable water.
Whew! Because you know I was going to throw down if forced to buy a plastic, single-use water bottle.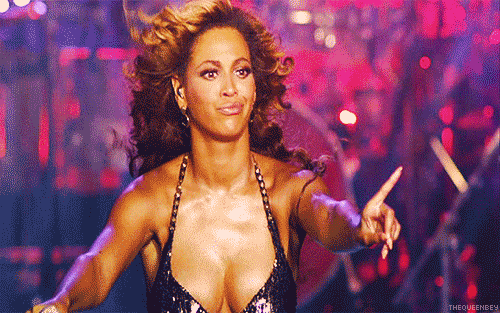 Thoroughly refueled, we caught DJ Molina who had the place jamming before Ms. Lauryn Hill took the stage in some kind of winter-white frock that made me sweat just looking at her.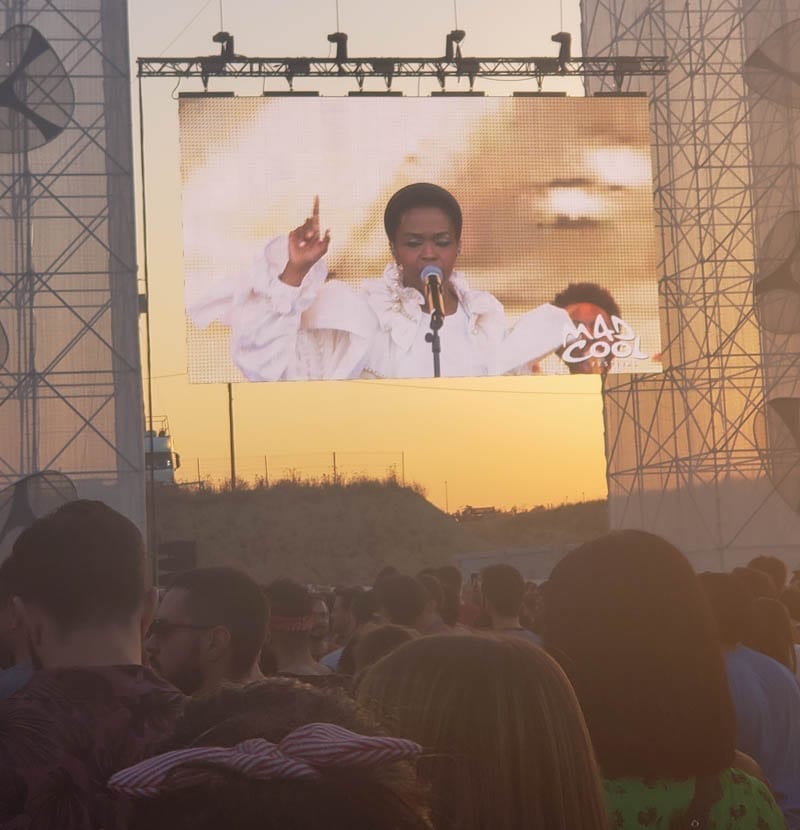 Honestly, the high-octane atmosphere took a tumble as we all hoped she would take off that space suit and pick up the tempo, so we headed for Iggy Pop. BUT…we got distracted by the free sparkles offered by Sephora. So, we listened to Iggy Pop while we got sufficiently glitter bombed.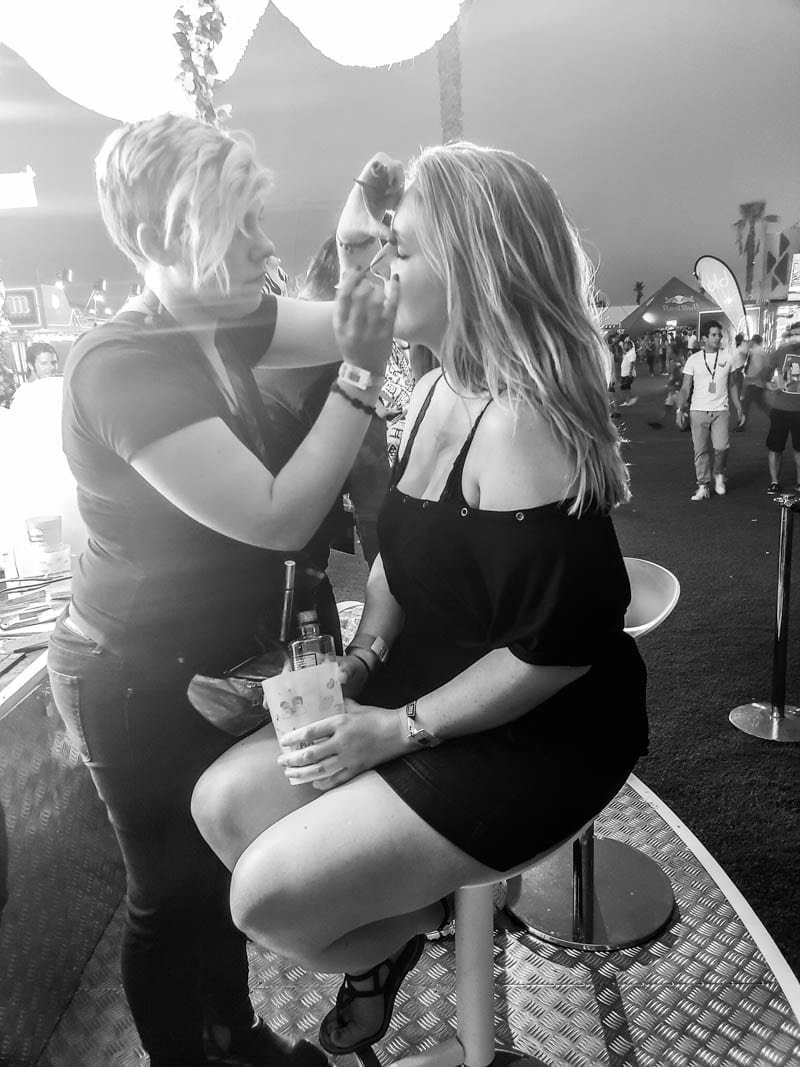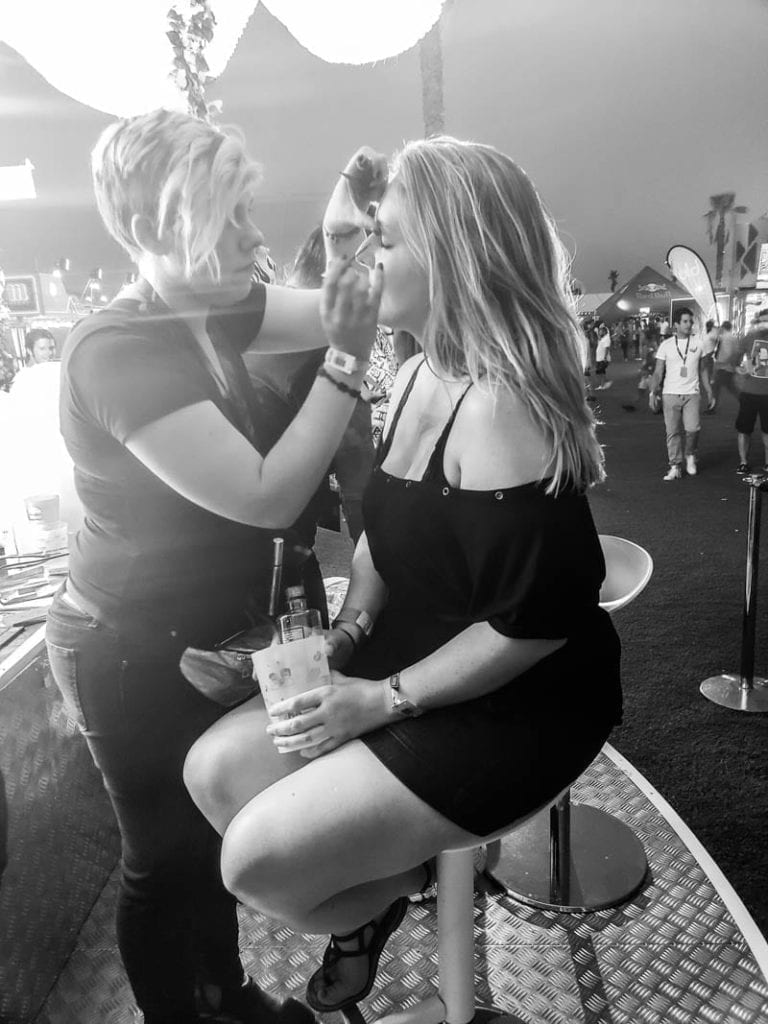 After that, it was time to chill in the grass and listen to Bon Iver. This is one of the bands that brought me to Madrid.
My late fiancé, Jeff, listened to Bon Iver regularly and, once, during those beautiful pre-cancer days of dating, he gave me a "homework assignment" of listening to two full albums in their entirety "For Emma, Forever Ago" and "Bon Iver" in order.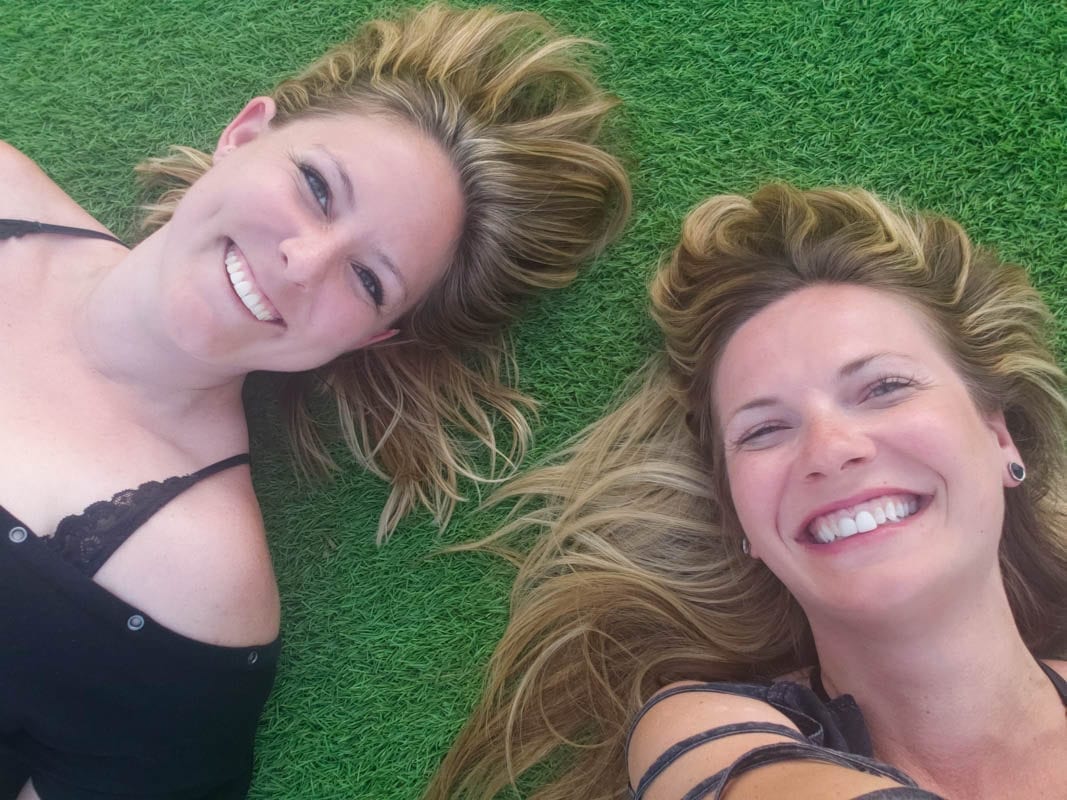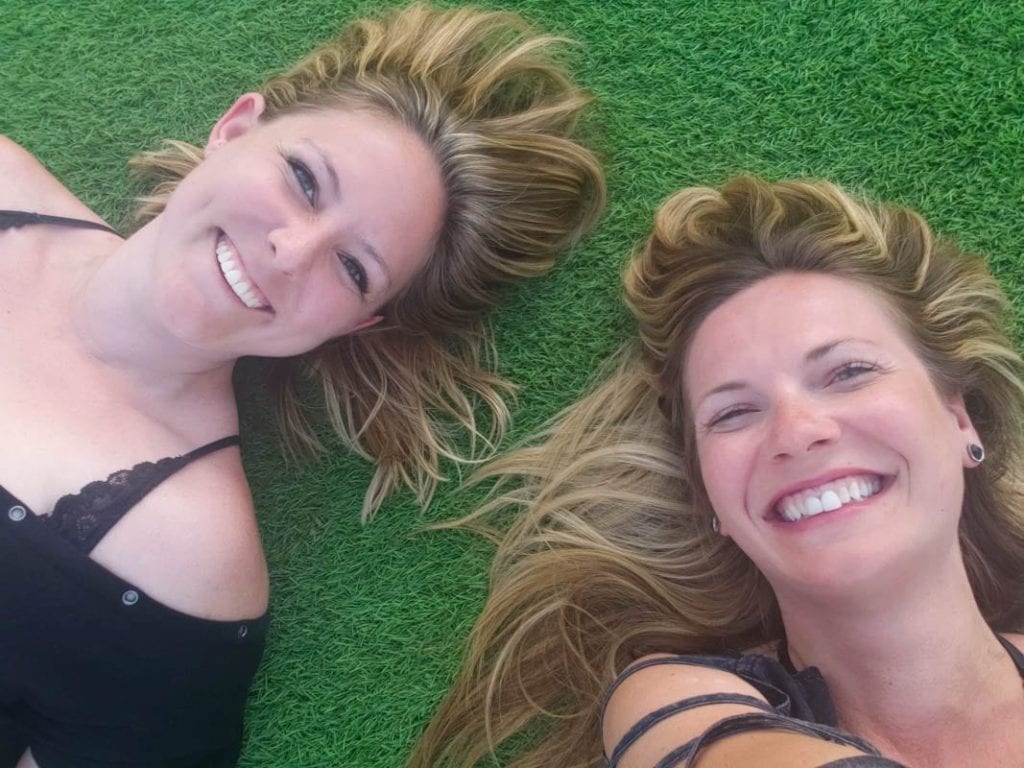 We stayed in our chill position on the fake grass to listen to Noel Gallagher, wandered a little to hear a bit of the Rews, and then made sure our dancing shoes were strapped on tight for the band Vampire Weekend.
Good thing too, because Vampire Weekend crushed it.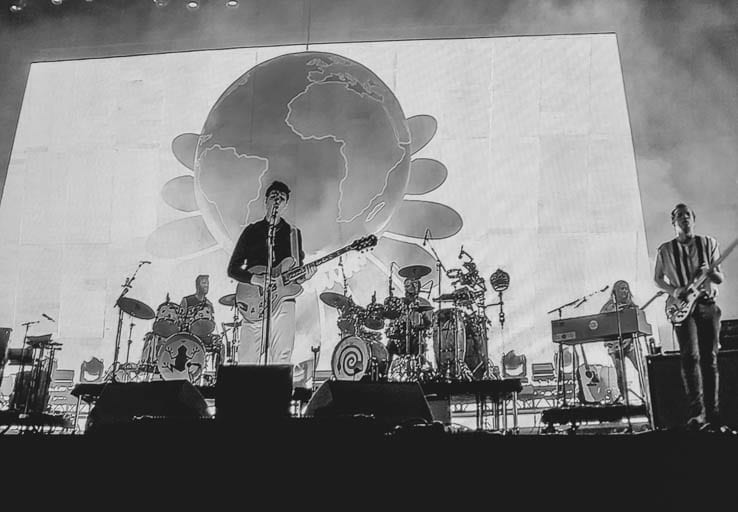 This is another band that Jeff turned me on to. He once sent me the song "Unbelievers" in a playlist and, in turn, we added it to the playlist for his celebration of life.
"Girl, you and I will die unbelievers
Bound to the tracks of the train
I'm not excited, but should I be?
Is this the fate that half of the world has planned for me? "
They played "Unbelievers" as their third song and just never let the tempo drop from there. It was the highlight of the festival for me.
We really wanted to see Chemical Brothers, but it was 3:00 in the morning and, well, we had danced our glitter off. We opted for an "early" night instead.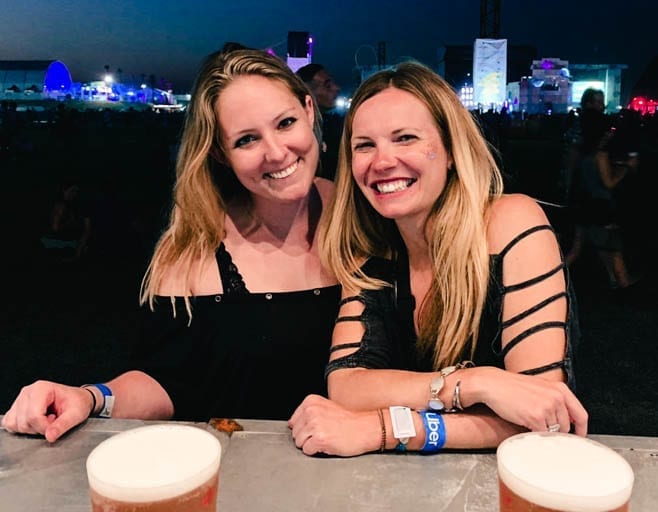 Festival Day Two: Round Two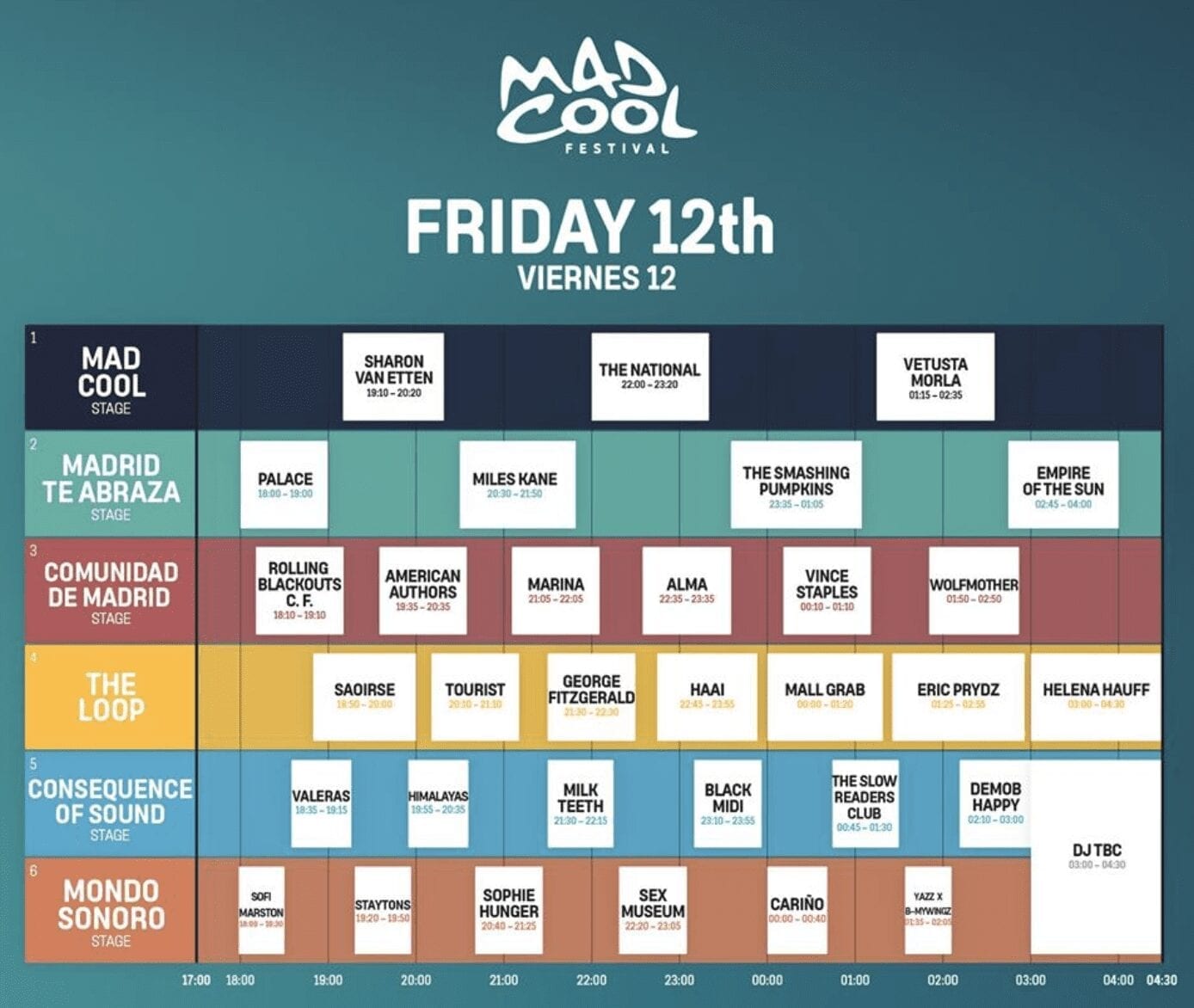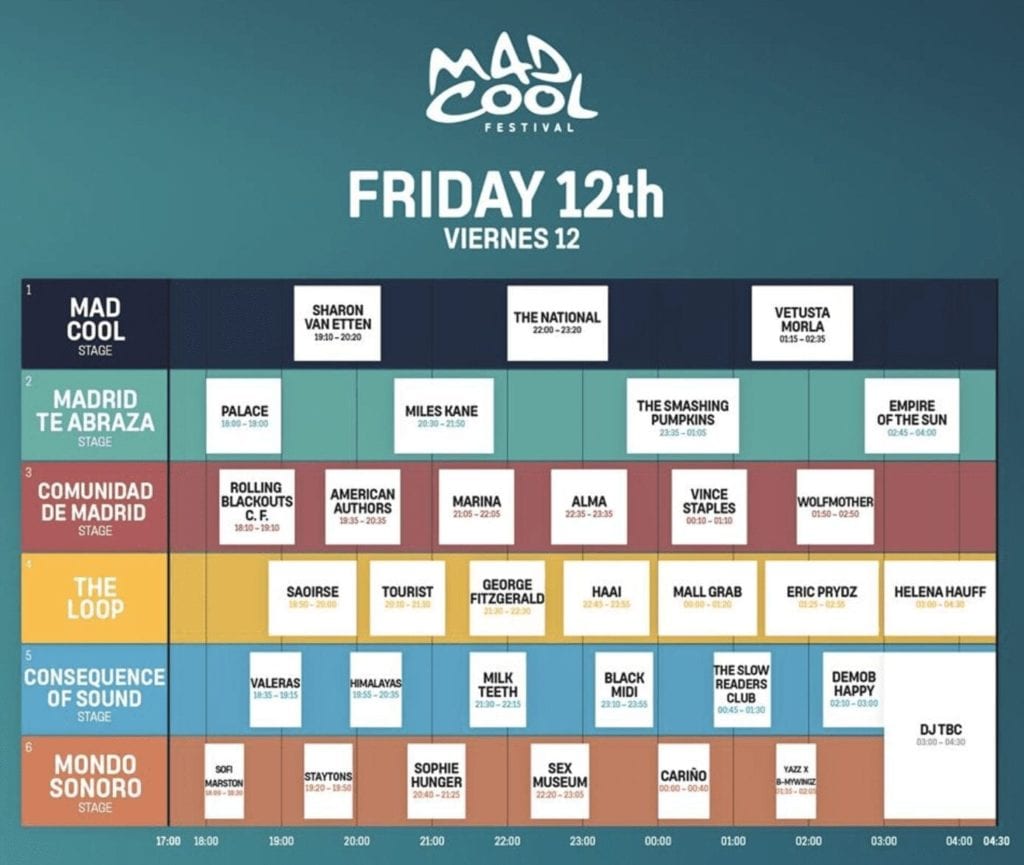 With a bit more time to get ready for Day Two, we applied our own color-coordinated sparkles and decals and set out with a fresh coat of sunscreen. Luckily on Day Two, the sun stayed tucked behind a hazy cloud cover and dancing came a little easier to all.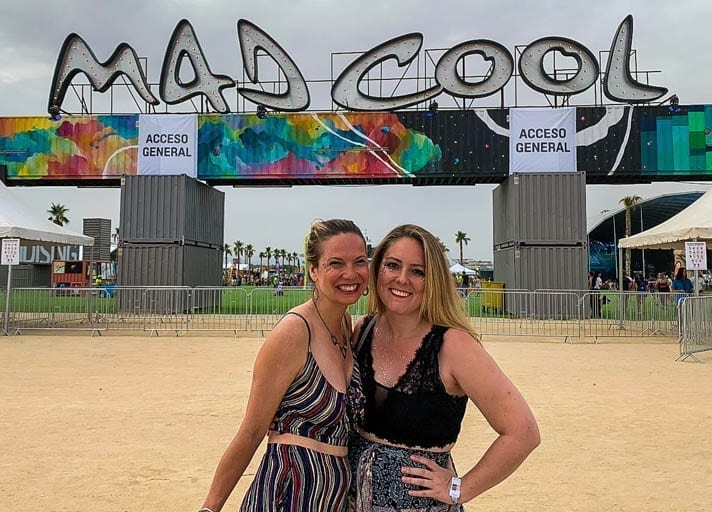 Sharon Van Etten is the perfect act to jump-start day two of a festival. The tired, sunburned, three-day bracelet wearers stretched out on the fake grass, listening to the soothing melodies. We did the same before stopping by Miles Kane.
Then Sarah said, "you know, I'd really like to see Marina," which turned out to be some of the best eight words ever said to me.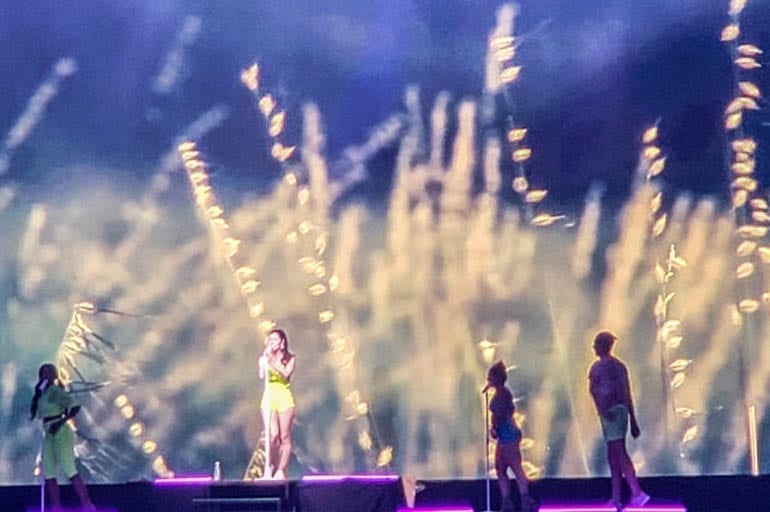 Some of Marina's lyrics ("I'm not afraid of God / I am afraid of Man") intrigued me almost as much as the Greek Barbi Doll strutting across the stage in a lime-green swimsuit circa 1950. Unlike Ms. Lauryn Hill, Marina couldn't be bothered with the heat, ditching her pink jean jacket even though she knew her bra would show every time she turned around.
You go girl.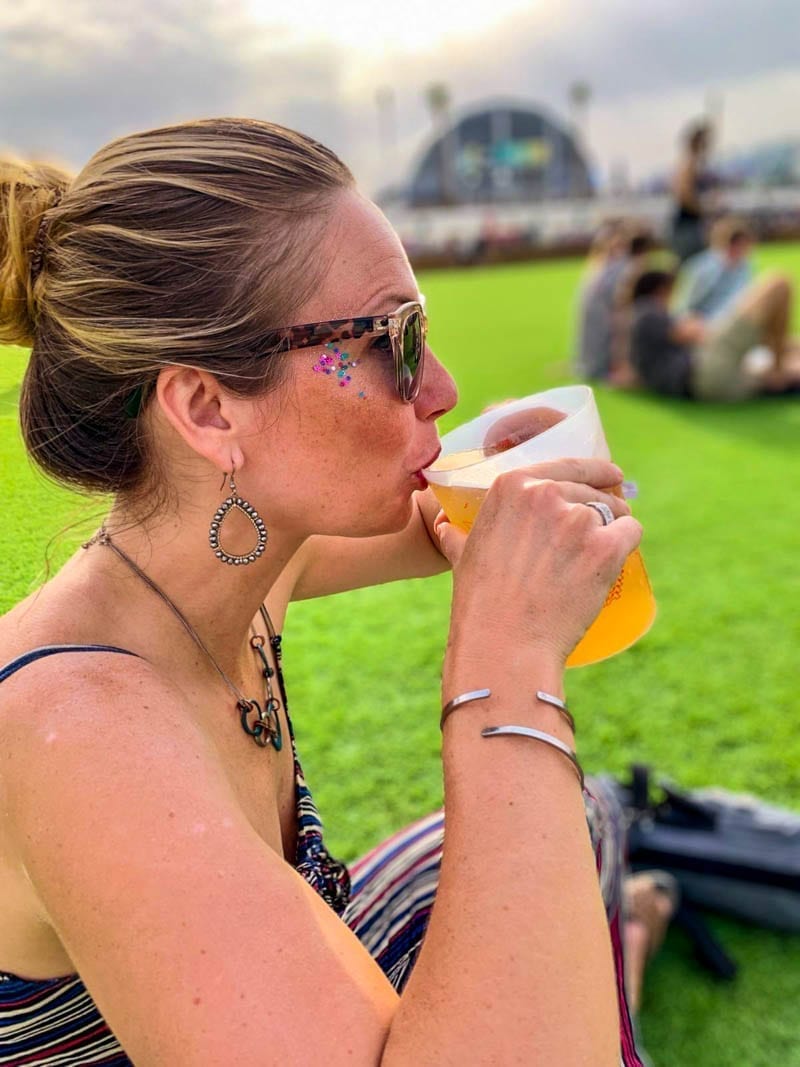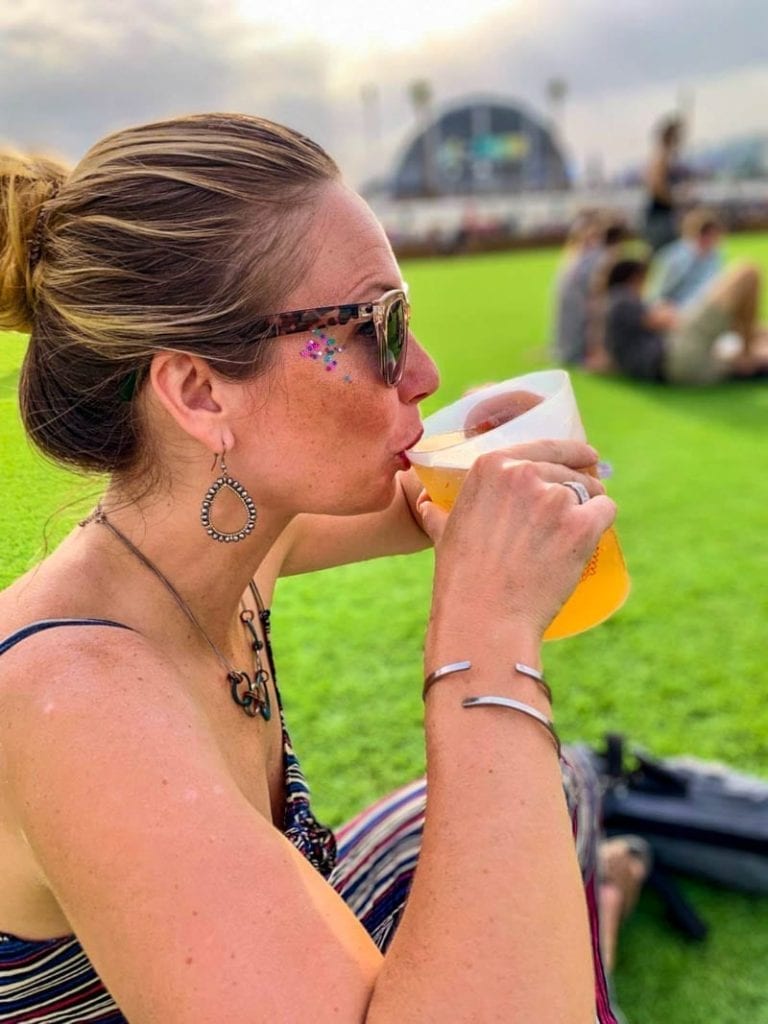 Then we were off to see The National, which was just plain disappointing. At first, it was cool that the lead singer Matt Berninger kept plunging into the crowd while he sang but, as he would lose his microphone, or fall off a divider, or even get mauled by the crowd to the point that security had to intervene, it just got old.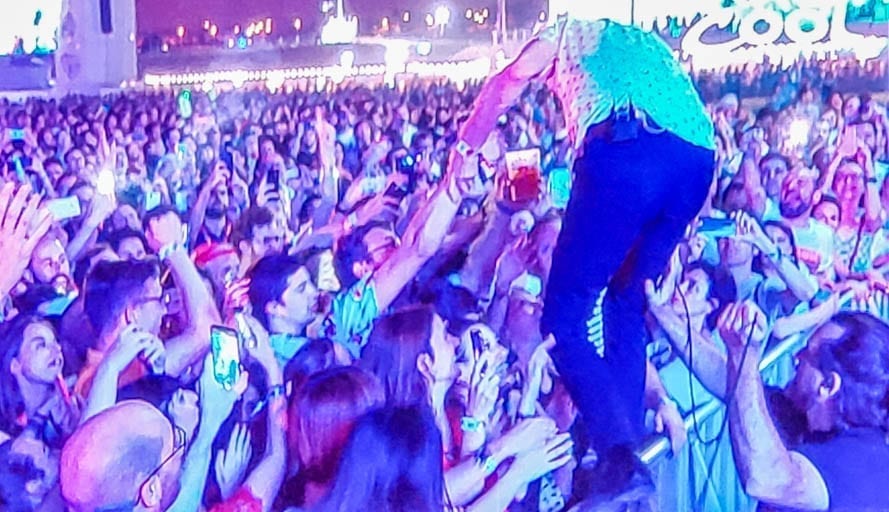 I stuck it out (until the band abruptly left the stage for good after the above-mentioned security incident) because this was another of Jeff's bands. I shouldn't have because they didn't play either of the songs that had meaning for me ("I Need my Girl" and "Fireproof"), but you can't win them all.
We did win with Smashing Pumpkins, though.
It seemed the whole festival turned out to see the Pumpkins rock Madrid and the crowd swayed peacefully beneath a shimmering cloud of marijuana.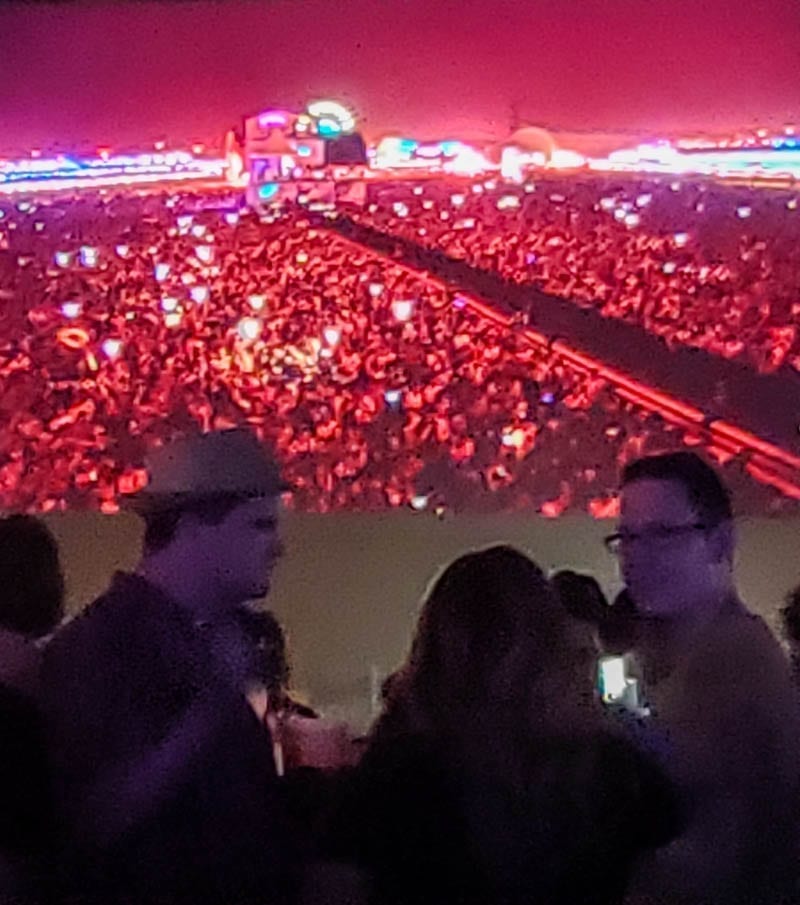 "Today is the greatest
Day I've ever known
Can't wait for tomorrow
I might not have that long"
-Smashing Pumpkins "Today"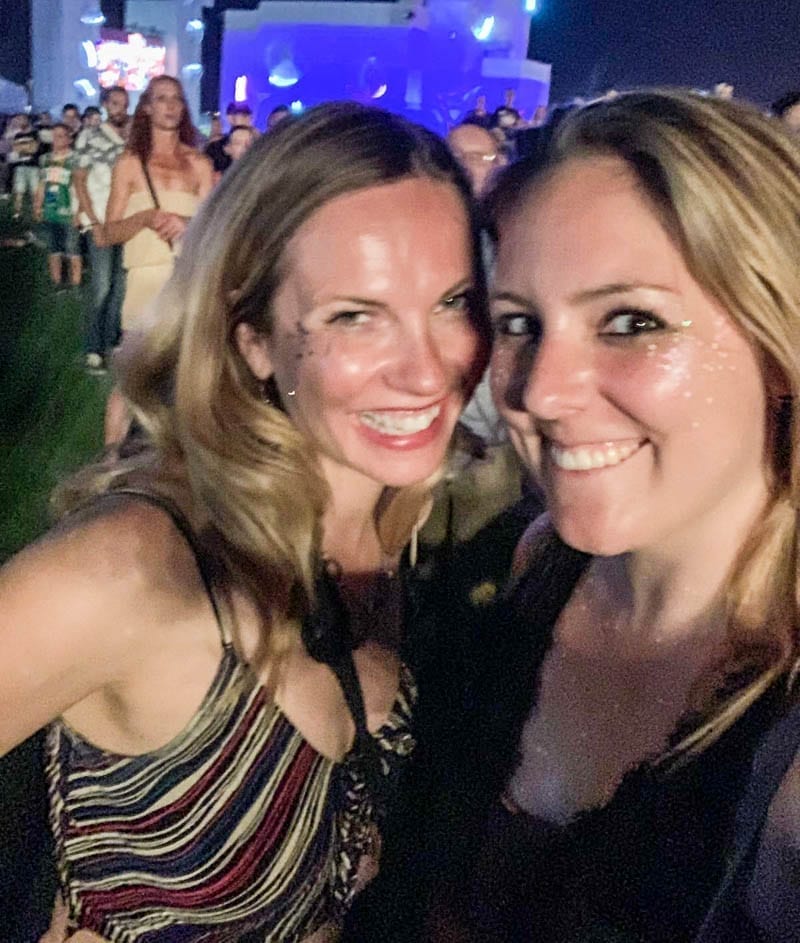 We did catch one of the late-night bands on Friday, staying for Wolf Mother until that 3:00 in the morning witching hour approached. We skipped out on Empire of the Sun and headed for home.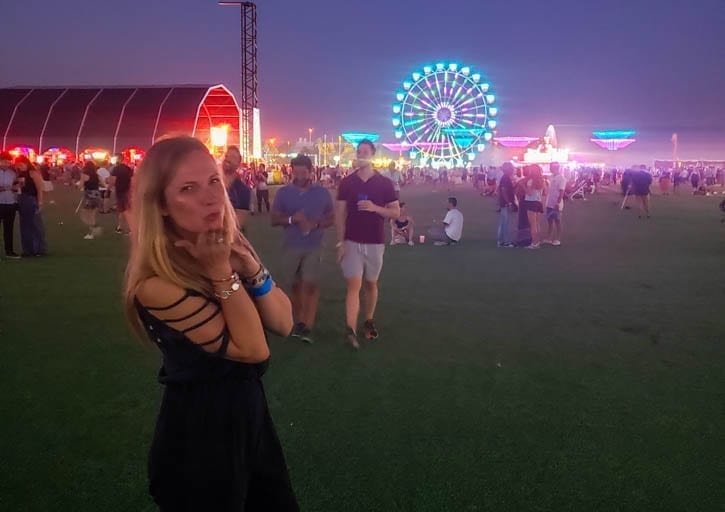 We wanted a day to explore Madrid, so we did not attend the festival on Day Three, missing out on, among others, The Cure. But as far as I can tell, the Mad Cool Festival has worked out the beginner kinks and now provides an expertly run festival experience with a stellar lineup.
Fest Quick Tips:
Don't stress if your bracelet doesn't come in time. Access your Mad Cool portal and put your e-ticket on your phone. You'll have to wait in line, but it moves fast.
Riding Uber to the festival gets you an automatic "fast-lane" Uber bracelet for an easier and faster entry and departure in the wee hours.
There is a shuttle from the festival but the lines are really long if you leave after the last band.
To skip long lines when leaving, depart just before the second-to-last band ends. You'll likely find a near-empty Uber area that even includes a lounge with Wifi! (Leave later, though, and it's a shit show.)
If the Uber lines are long, download Cabify and walk all the way past the shuttle lines to where the roads are open. Or walk to the Metra and order Cabify from there.
There are special Metra trains running into the city center, but they are really crowded. I would avoid them.
Wear sunscreen. Lots of it. With the addition of larger crowds, it's harder to find shade.
Don't forget your sunglasses.
Bring a reusable water bottle and use the refill stations. (This didn't work for Mad Cool Festival 2022, unfortunately).
Try to re-use the same beer cup for the whole festival.
Fuel up to soak up all the beer. The food truck lines get insanely long, so go early.
Don't forget your sustainable sparkles!
Dance the night away!
Planning to attend? Save this Mad Cool Festival Review for later!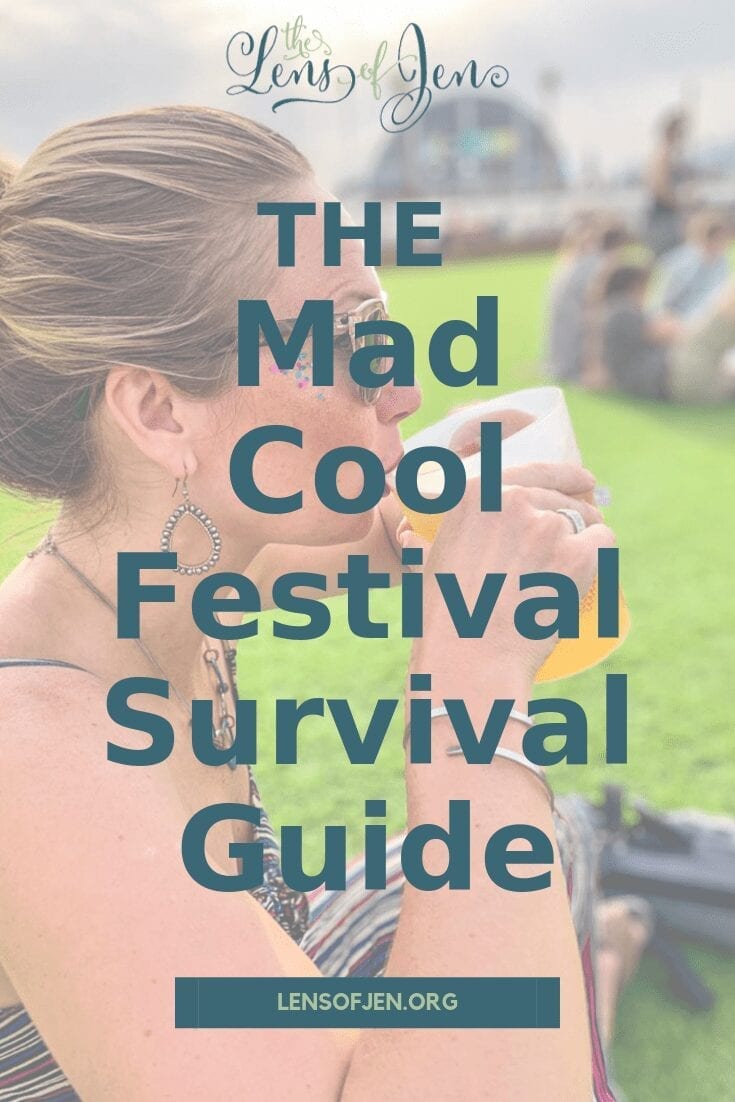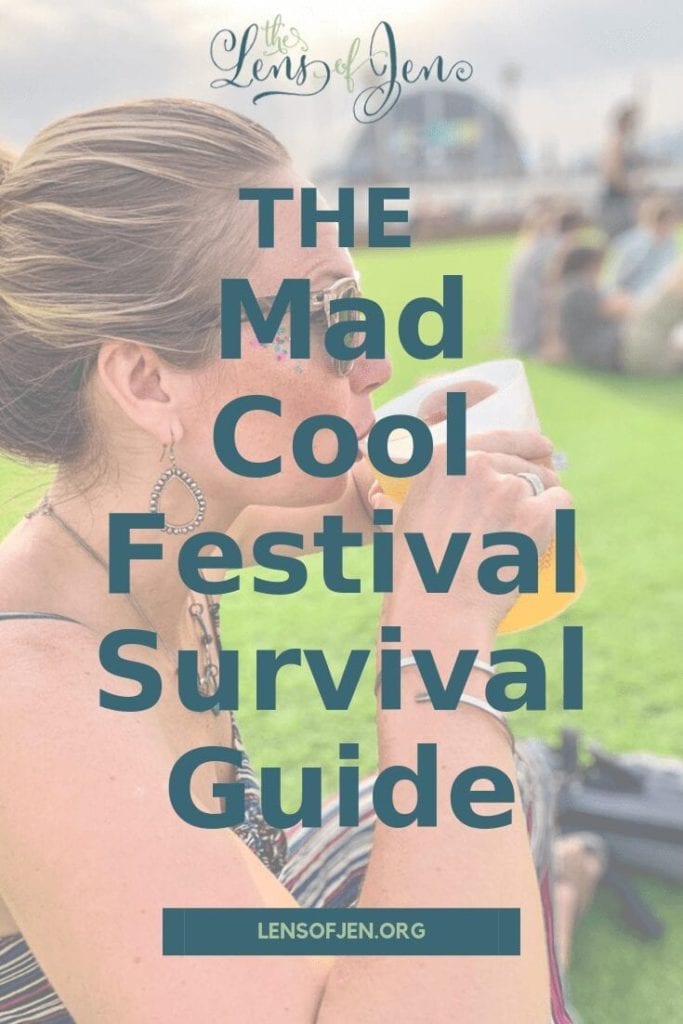 About the Author
Hi! I'm Jen!
I'm a freelance writer and travel blogger who quit my nine-to-five after my fiancé, Jeff, died of cancer at the age of 40. When he died, I realized that life is just too short to delay our dreams. Since my dream was to travel and write, I now travel and write full-time. Today I wear hiking boots instead of heels and collect experiences instead of things.
You might like