Camino de Santiago Cost Calculator
Hey there! This post may contain affiliate links, which means I'll receive a commission if you purchase through my link, at no extra cost to you. Please see my legal page for more details.
Here it is, your Camino de Santiago cost calculator: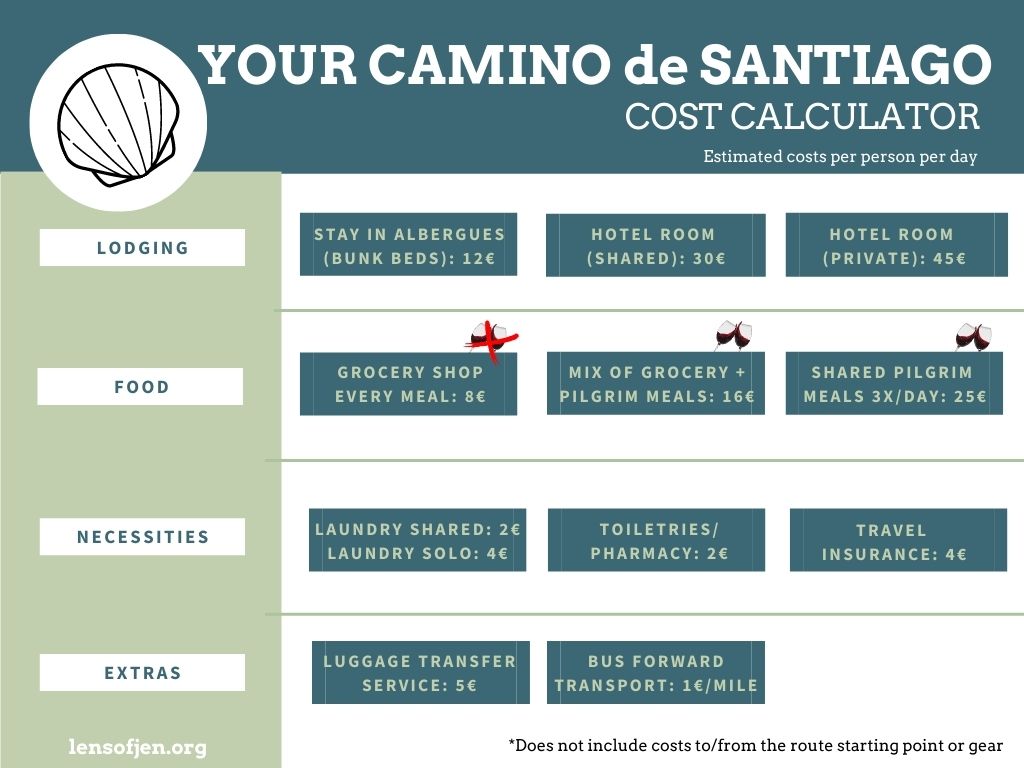 Of course, your costs are going to vary depending on how you plan to walk the Camino and where you plan to walk the Camino.
Related: Your Complete Camino de Santiago Packing List (with costs)
Let's dive in!
First step: calculate how many days you have to walk the Camino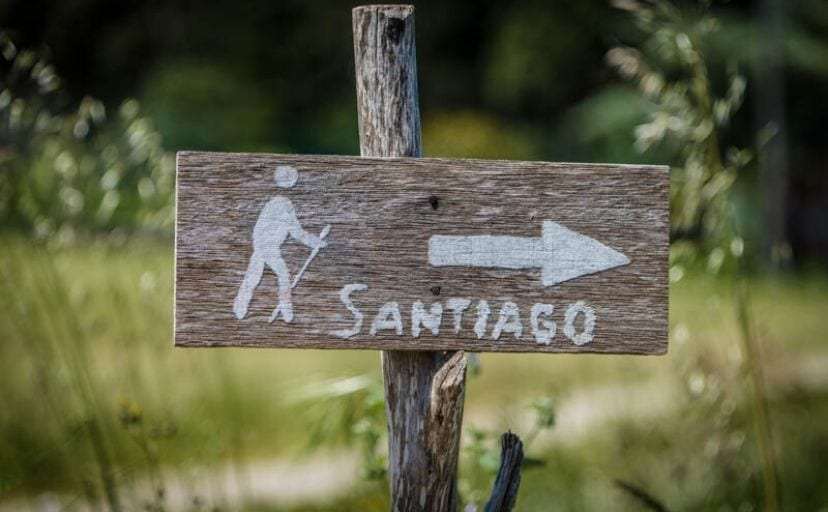 The best possible scenario is that you don't have a set end date and, if that's the case, skip straight to step two.
Like me, though, you probably have a set amount of time to walk your pilgrimage before real-life reclaims you again.
If that's the case, here's how to determine how many walking days you have:
Calculate at least one day to recoup after traveling to your starting point (if you are already in Europe) and at least two days if you will be dealing with jet lag.
Calculate at least two rest days in Santiago de Compostela for relaxation, pedicures, standing in line for your Compostela (a certificate for walking the Camino), and long celebratory dinners with your fellow pilgrims.
Calculate rest days along the route. Remember that your body will demand rest days. If you can budget the time, try to plan one rest day for every seven walking days. I budgeted only three rest days for my 35-day pilgrimage and, therefore, ended up walking through food poisoning and a bladder infection. I wish I had planned to rest more.
Now you can figure out how many walking days you have to walk: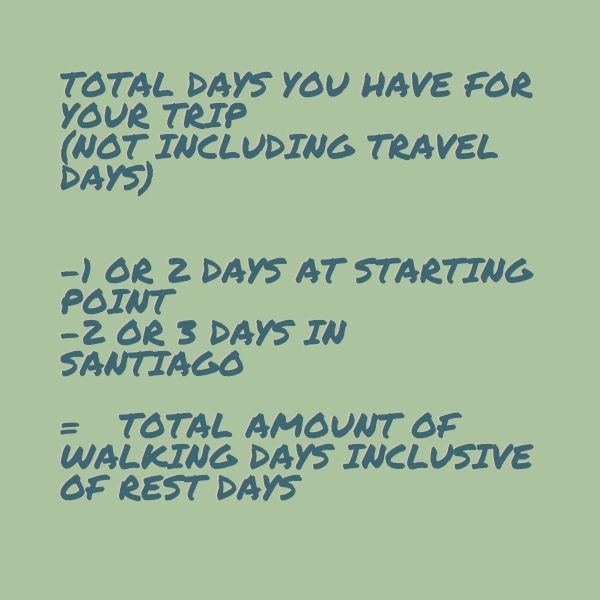 After this calculation, I knew I had 35 days total, including rest days, to walk my pilgrimage which would end in Santiago.
Those 35 days did not include two days at my starting point to rest up and prepare and two days in Santiago to relax and celebrate before I needed to be back on a plane bound for the real world.


(Note: I wish I had taken three days in Santiago and I really wish I had walked on to Finisterre.)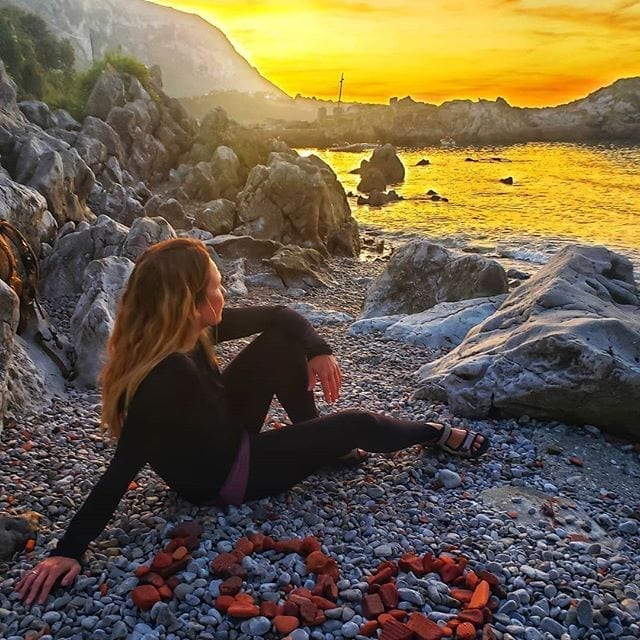 Second step: choose your Camino de Santiago endpoint, say what?
For some walkers, Santiago de Compostela – and its towering cathedral said to be the burial place of Saint James – does not mark the end of their pilgrimage.
No, Santiago is just a nice place to relax, celebrate with friends met along the route, and obtain a certificate for walking before moving on to Cape Finisterre or the "end of the world".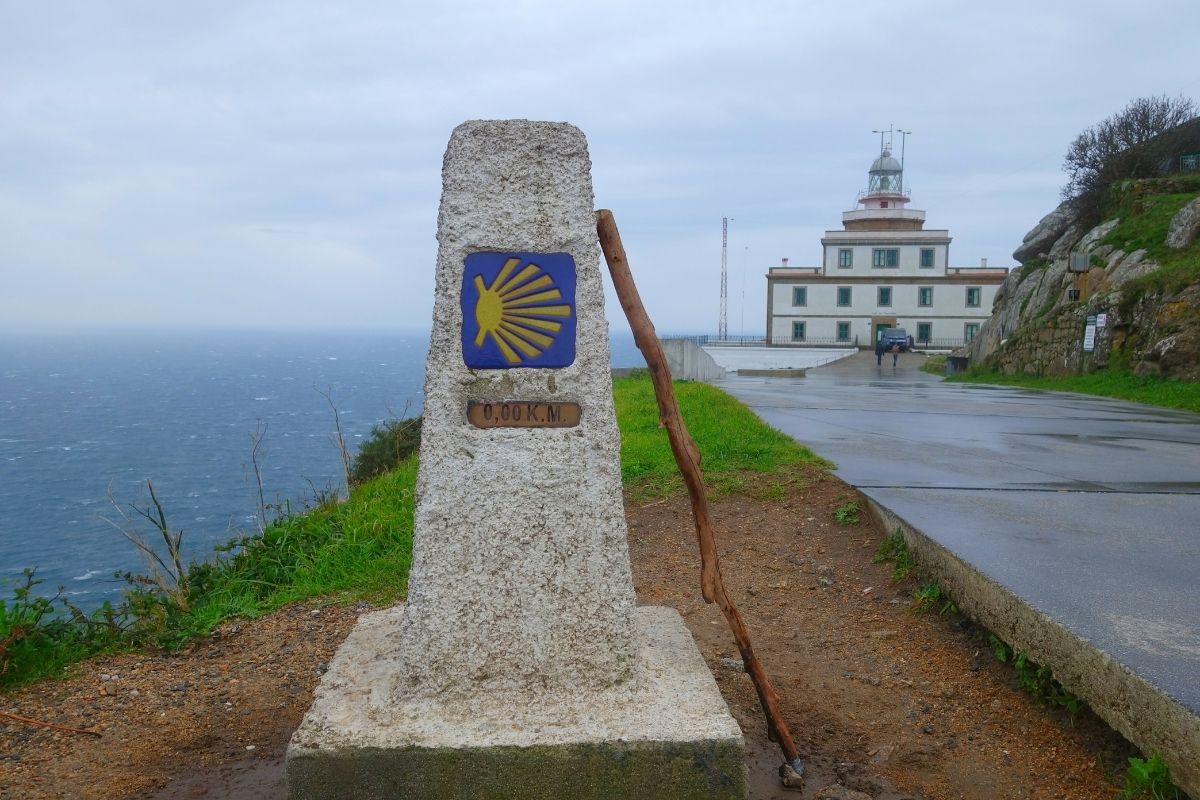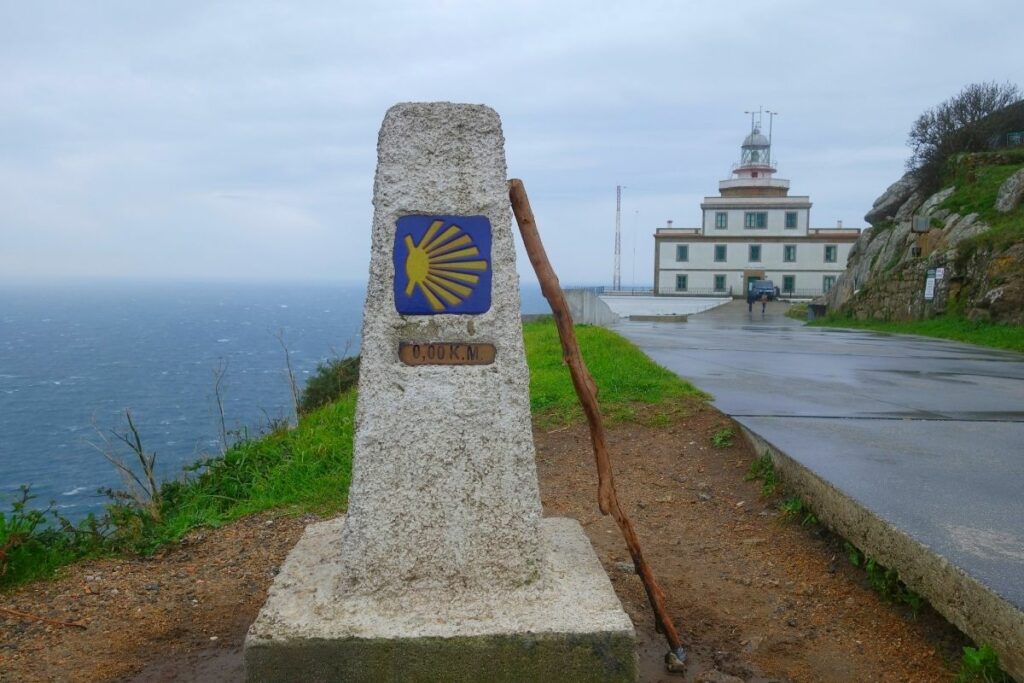 Cape Finisterre (or Fisterra) was the end of the known world in the Middle Ages, so it holds a special significance, and many pilgrims, even way back when, continued on to Finisterre after reaching Santiago.
The extended pilgrimage to Cape Finisterre takes three rushed days or four comfortable ones. I think it's important to decide ahead of time if you are going to walk to Santiago or to Finisterre for reasons beyond just time and budget.
The most important reason is that there is a mental end to your pilgrimage.
When I started my pilgrimage, I didn't know about the extension to Finisterre. So the destination I walked toward for 35 days was always Santiago, and when I jubilantly limped into Santiago (it is possible to limp jubilantly on the Camino!), I just couldn't imagine walking three or four more days.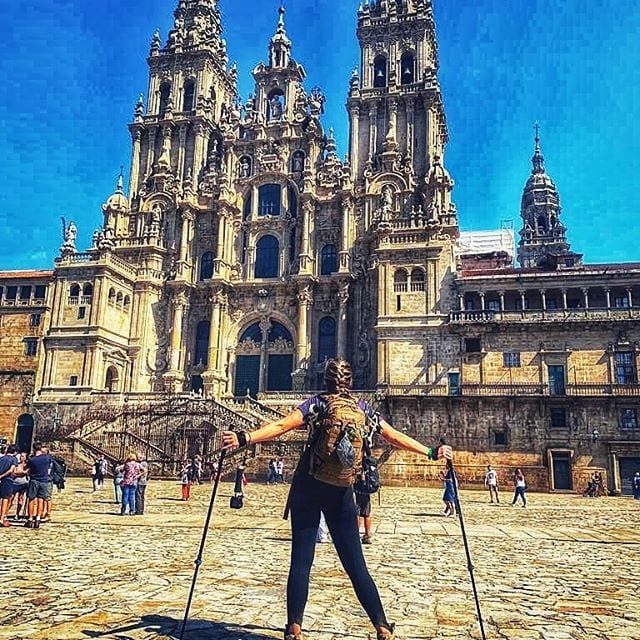 But if I was always walking toward Finisterre, I would have continued on after Santiago just as I did every other day of my 35-day pilgrimage. It's a mental game this walking thing!
Third step: Choose your Camino de Santiago route
Now that you have an idea of how many days you have for your pilgrimage, it's time to choose your route.
Even if you choose a route that will take you more days than you have to give, you can start from anywhere you like (that's step five!)
Routes of the Camino de Santiago with estimated time it will take to walk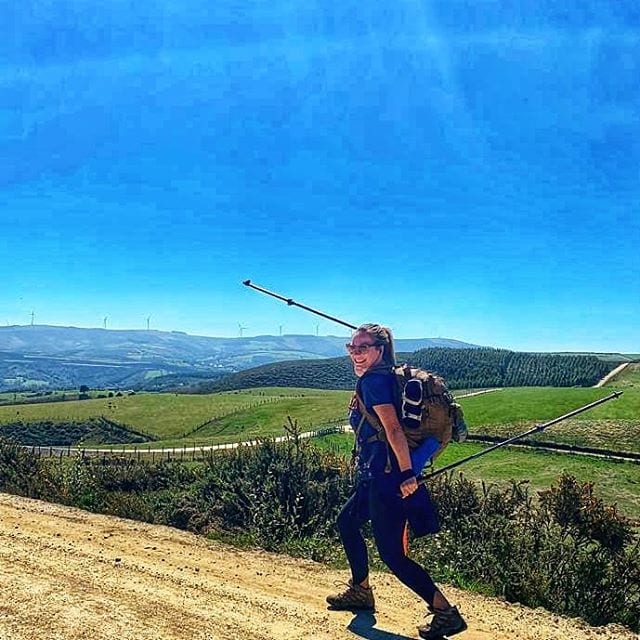 These are the most well-known full routes with mileage/kilometers and estimated time to walk based on walking 15 miles or 24 kilometers per day.
Camino Frances from St Jean Pied de Port, France to Santiago de Compostela, Spain
485 miles/780 kilometers
Estimated days: 32 walking days + five rest days = 37 days
This is the most popular (and populated) of the Camino routes
Also called the French Way, the Way of St. James or, simply, "The Way"
Camino del Norte from Irún, Spain to Santiago de Compostela, Spain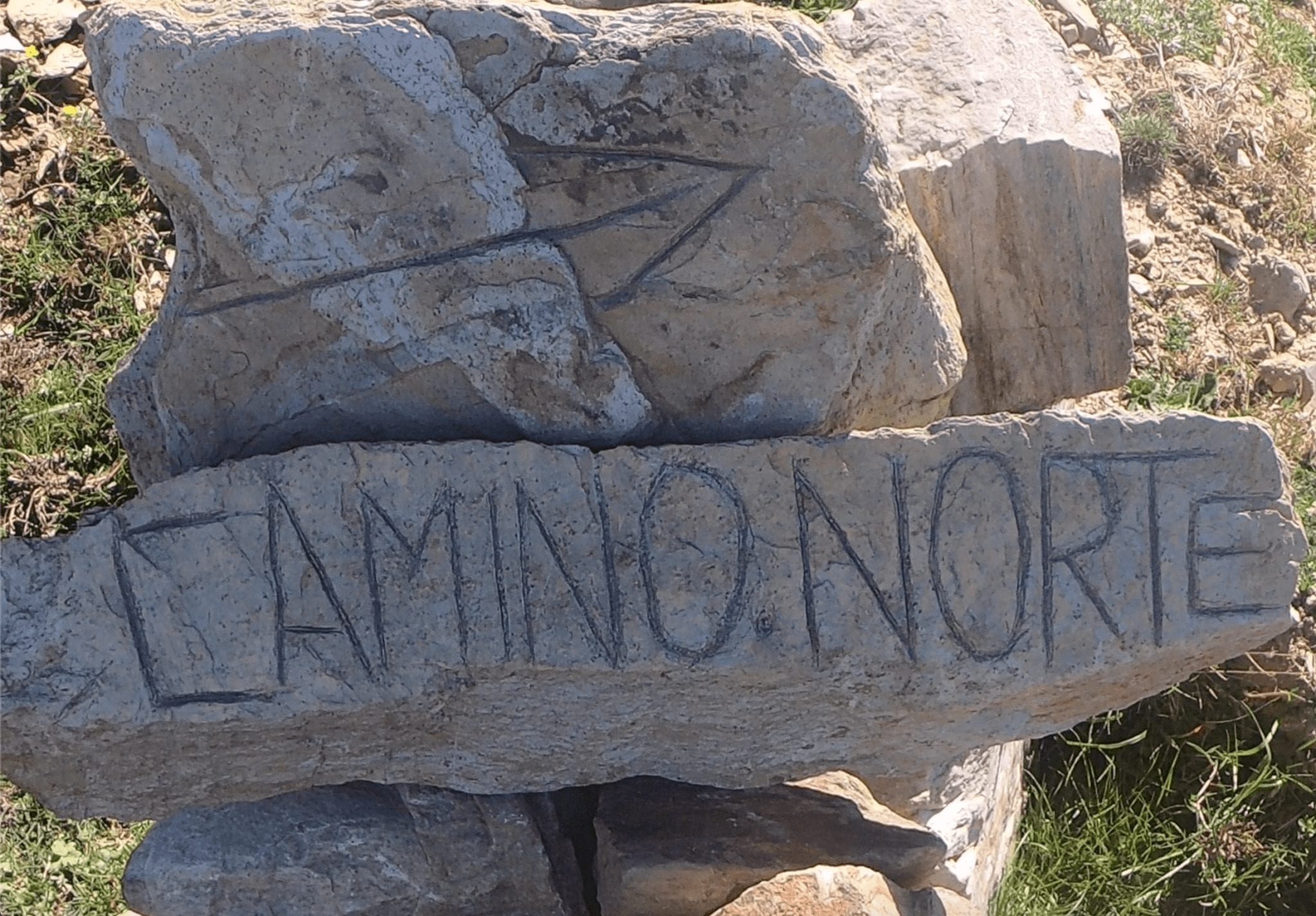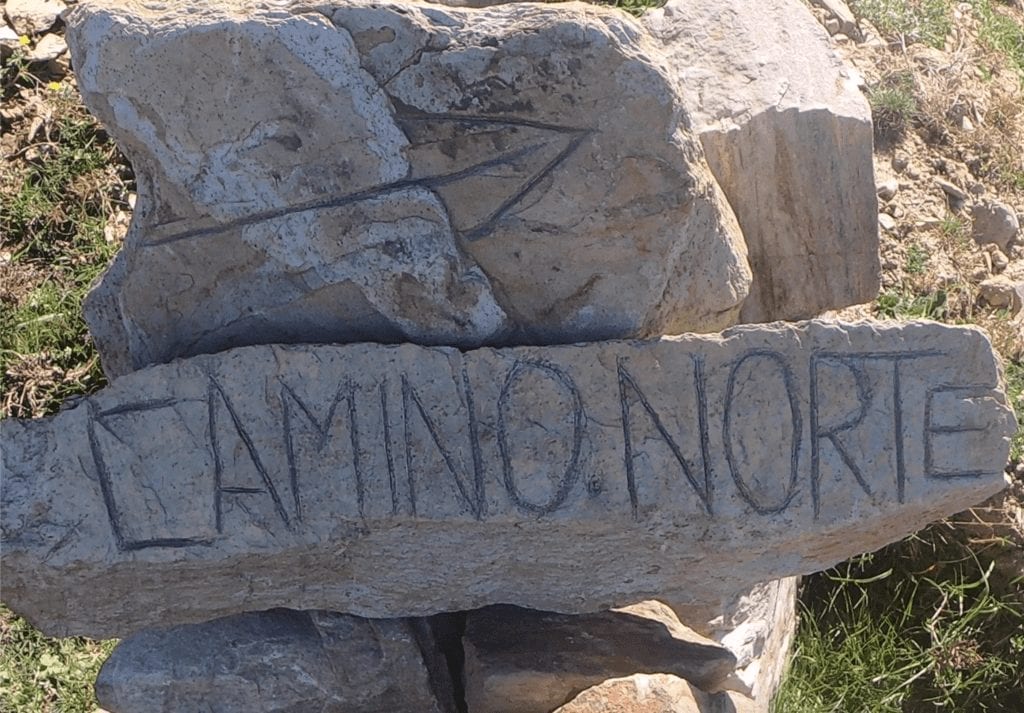 512 miles/824 kilometers
Estimated days: 34 walking days + five rest days = 39 days
This is a less populated route that follows the coastline and goes through Basque Country, Cantabria, Asturias and Galicia
Also called the northern route and sometimes called the foodie route
Camino Portugues from Lisbon, Portugal to Santiago de Compostela, Spain
385 miles/620 kilometers
Estimated days: 26 walking days + three rest days = 29 days
This is the second most popular Camino route.
Many people start in Porto, which is a 174-mile/280-kilometer journey to Santiago that would take an estimated 12 walking days
Also called the Portuguese Way
Camino Primitivo from Oviedo, Spain to Santiago de Compostela, Spain
194 miles/313 kilometers
Estimated days: 13 walking days + 1 rest day = 14 days
This is said to be the first route ever walked by the first pilgrim to Santiago. Some say you should always go through Oviedo on a pilgrimage
You can detour to the Primitivo from the Norte (I did this)
Camino Ingles from Ferrol, Spain to Santiago de Compostela, Spain
73 miles/118 kilometers
Estimated days: 5 walking days
To earn your Compostela Certificate, you must walk 100 kilometers, making this a popular route for those with limited time or physical ability to walk
Choosing your route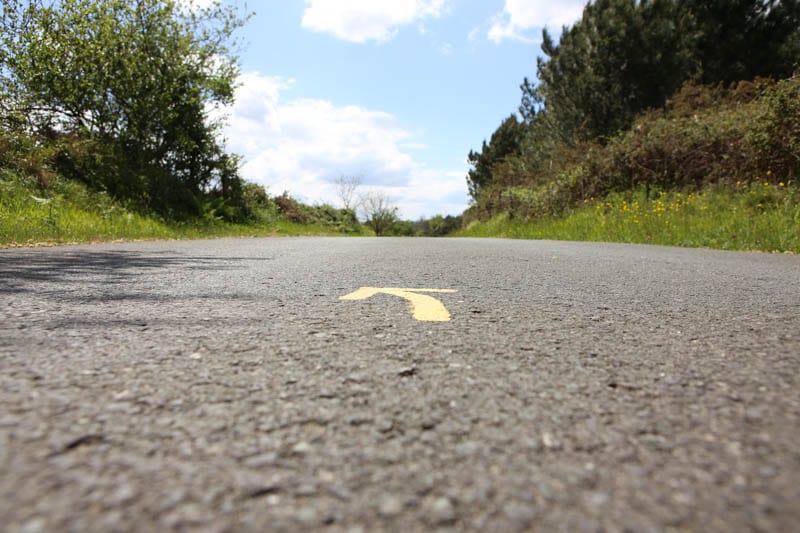 There is a ton of information out there about the different Camino routes, including my own day-by-day account of walking the Camino del Norte, so I'll just tell you how I chose my route.
I knew I had 35 days, so I could choose pretty much any route. I was interested in the detour to Oviedo and the Camino Primitivo, intrigued by the ability to see four different regions of Spain and intoxicated by the idea of diving into the sea after a long day's walk (which I only did once on the very first day).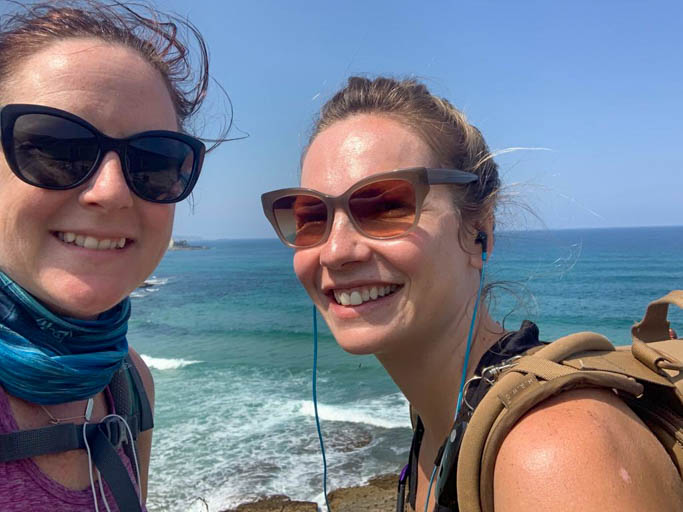 That's why I chose the Camino del Norte. If the Camino is calling you, read up on the routes, and, I guarantee, one of them will speak to you.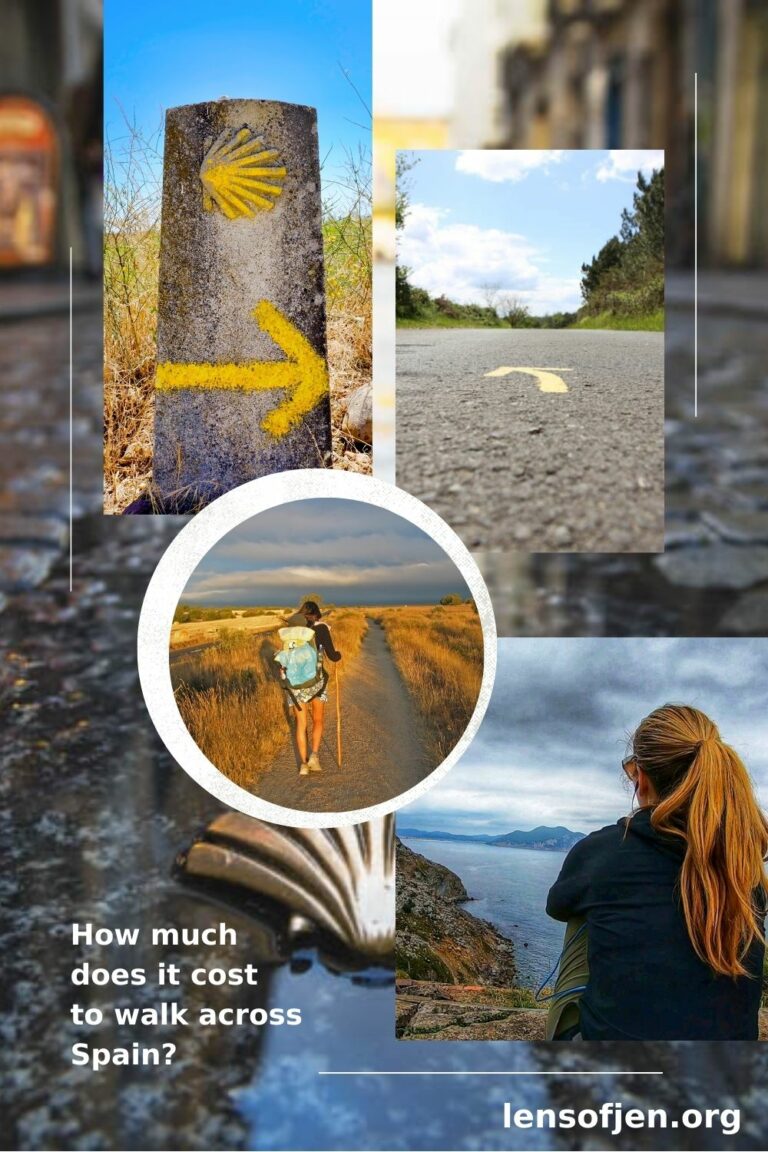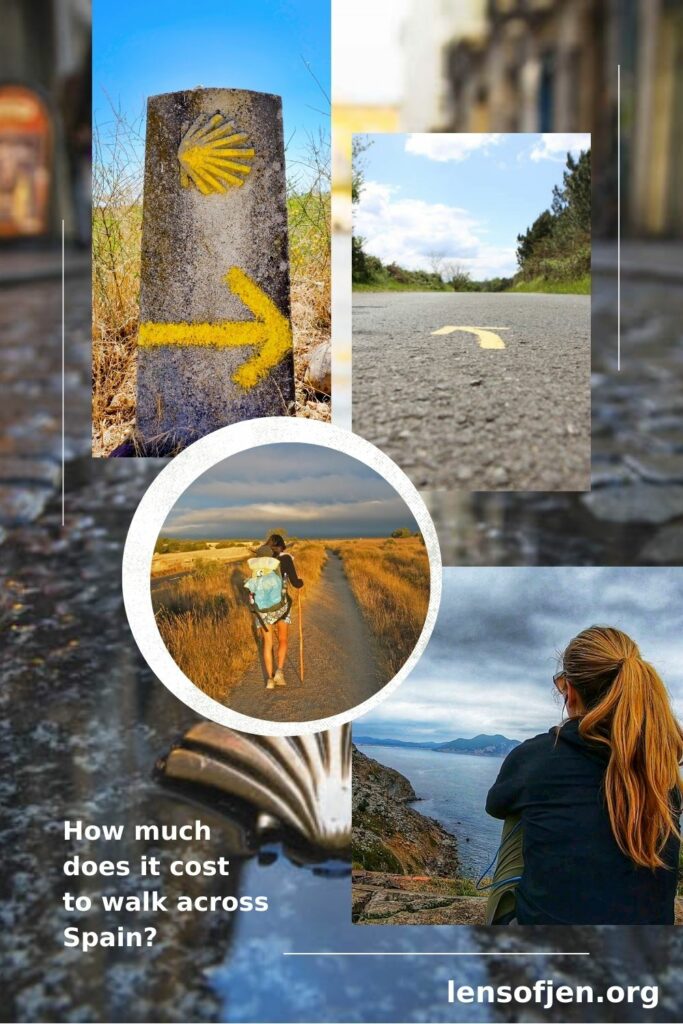 Fourth step: calculate your estimated walking pace
This can be hard to do, especially if you are anything like me and you don't do any training beforehand (not necessarily recommended!)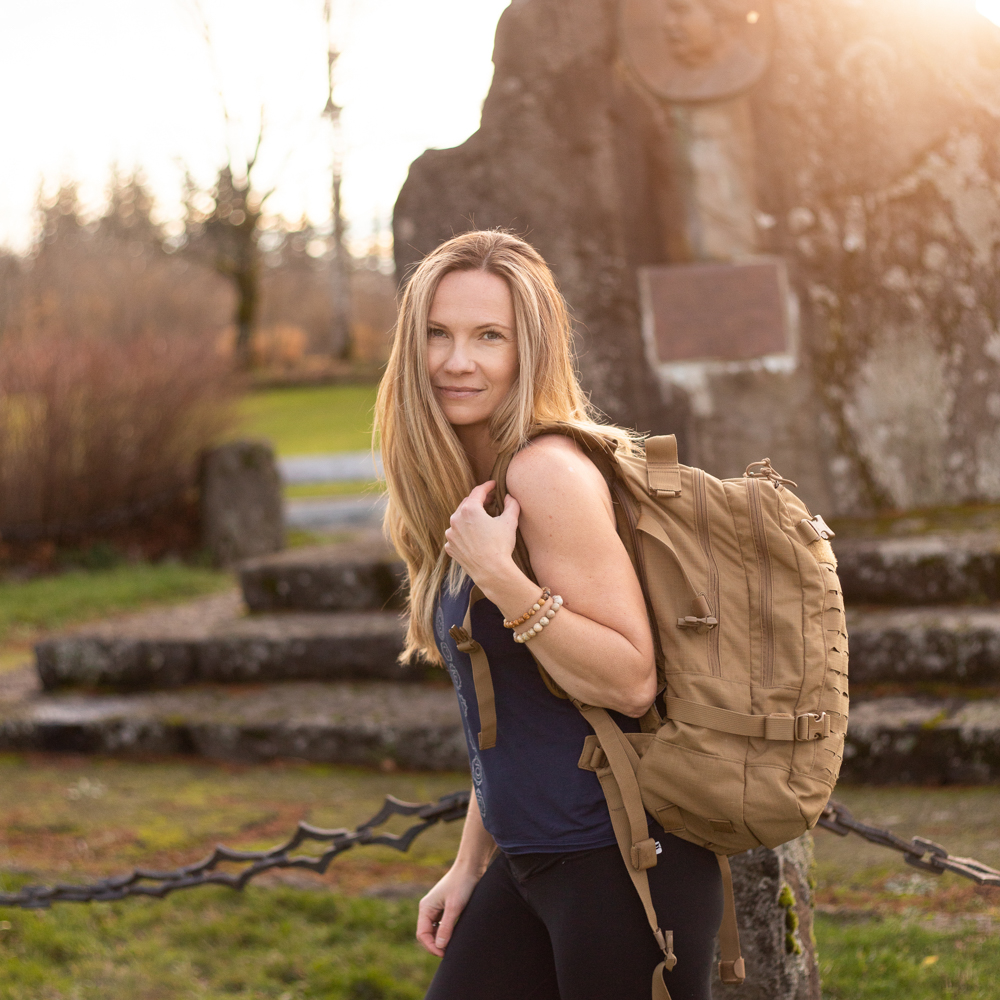 Most of the guide books will estimate the length of time it will take you to walk a route using a 15- or 16-mile-per-day calculation with a rest day every seven days.
When I first looked at that estimation, I was pretty nervous about the idea of walking an average of 16 miles a day, so I shortened my daily mileage expectation to 15 miles per day. That turned out to be pretty spot on.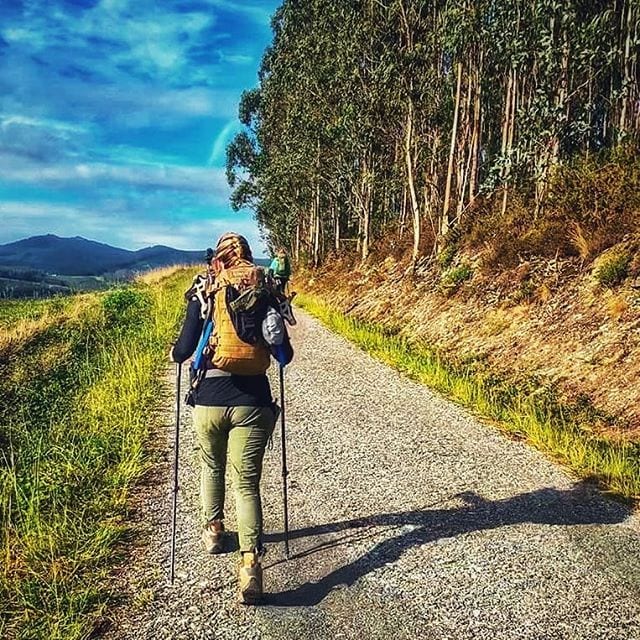 The fewest miles that I walked in a day on the Camino de Santiago were eight (I had food poisoning that day, ugh), and the most miles I walked in a day were 22. The sweet spot for me was 12-15 miles per day.
Fifth step: find your starting point
Now that you know the number of walking days you have, your average daily pace, your endpoint, and your route, you can figure out where you should start to comfortably walk your pilgrimage!
I knew I wanted to walk the Camino del Norte (512 miles), and I knew I had 35 days, including rest days, to do it. And I anticipated a 15-mile-per-day walking pace.
With five rest days, I would need to walk 450 miles in 30 walking days. Tracing the route backward, I decided to start in the beautiful town of San Sebastian, shaving off the first stage of the route from Irún (which is a notoriously difficult, uphill stage).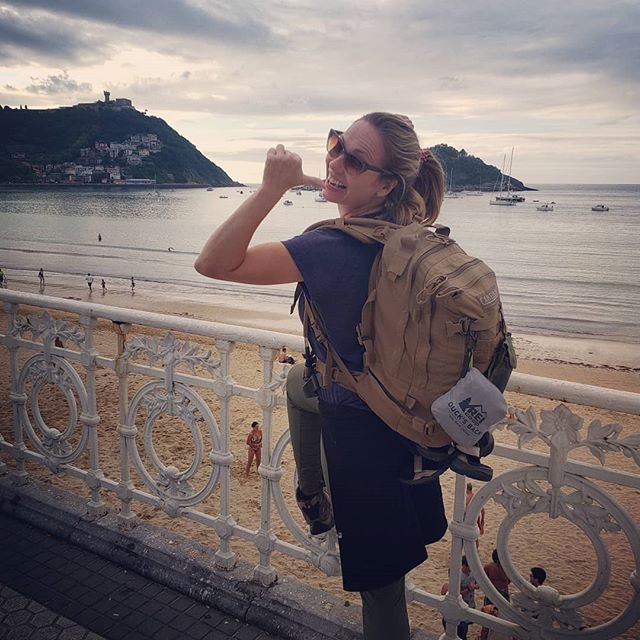 From San Sebastian, the Camino del Norte is still 494 miles long, so I knew that I would either need to take fewer rest days, bus forward, or some combination of both.
In Camino parlance, "busing forward" means taking a bus, train or taxi forward along the route.
In the end, I took three rest days, walked 440 miles, and bused forward about 54 miles. (It's slightly more because I took the detour to Oviedo and walked the Camino Primitivo before going back to the Camino del Norte.)
As you plan, remember that there is no shame in busing forward when you need to do it!
That being said, you should plan to walk every kilometer of the last 100. This is how you earn your Compostela certificate. The powers that be check for two stamps on each day of the last 100 kilometers that you walk before handing over your certificate.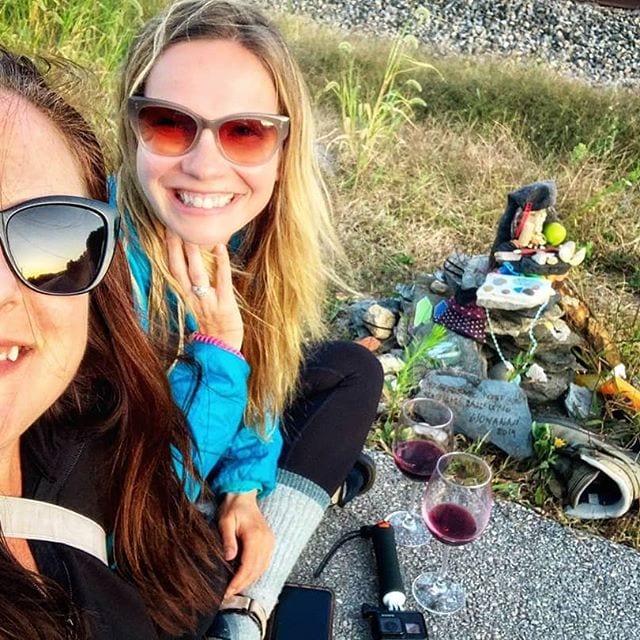 Sixth step: Camino de Santiago cost calculation explained
Now it's time to calculate your Camino de Santiago costs!
The cost of lodging along the Camino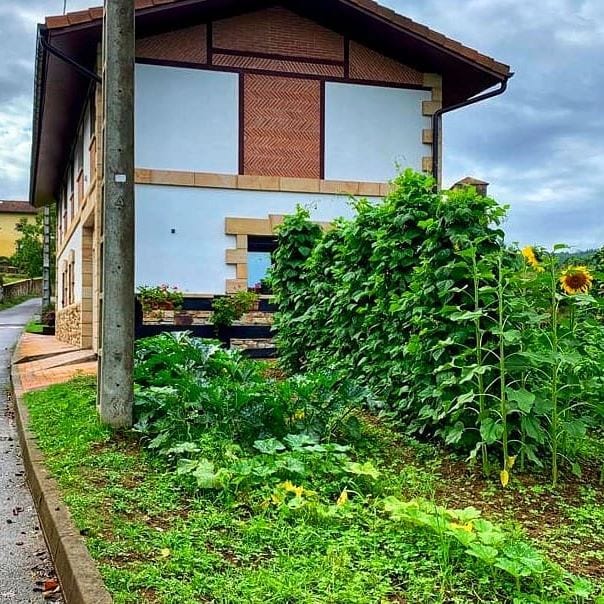 You won't know exactly where you'll be staying each night, but chances are that you'll stay in a pilgrim hostel called an albergue. Most albergues are first-come, first-served and a night's stay costs between 5 euro and 15 euro per night (sometimes 20 euro for a fancy albergue or a room without bunks). Sometimes there is simply a suggested donation.
I personally paid more for lodging because I sometimes opted out of the albergues and chose to stay in hotels or apartments for rent instead of hostels. I was walking with someone and splitting a room with her using Booking.com the day of our stay came to around 20 euro in smaller towns and between 30-40 euro in cities.
Opting out of the albergue for a night means you miss out on some of the Camino culture of shared meals with pilgrims. But it also gave me some much-needed sleep without creaking bunks and snoring strangers around me.
I would say that I was about 50/50, staying in albergues half of the time and hotels half of the time.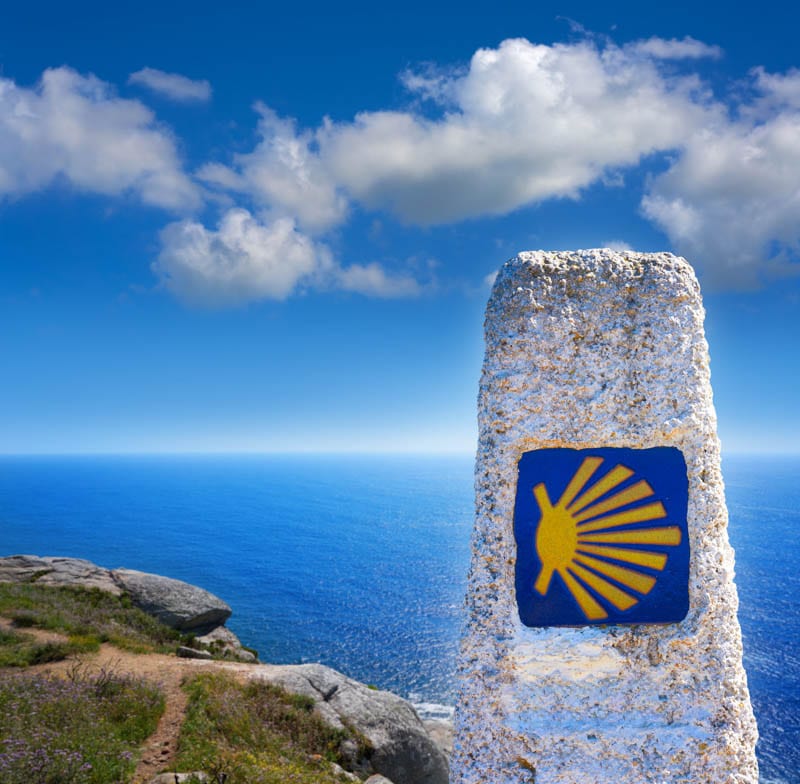 Doing it that way, my total hotel costs averaged 25 euro per day while walking, but not including the extra night that I stayed before my Camino started and after it ended.
Those nights were my most costly nights because both San Sebastian and Santiago are more expensive cities and I opted not to stay in an albergue since the etiquette is to stay in an albergue for just one night.
My total lodging cost – all included – was 975 euros.
Tips for keeping your Camino de Santiago lodging cost low
You can keep your lodging costs much lower than mine! Here's how:
Check for the cheapest albergue (use the Buen Camino App) at the end of your stage and "bed race" to get there, meaning that you'll guarantee yourself a bunk by beating out all of the other pilgrims to the destination.
If you do choose to stay in a hotel instead of an albergue, opt not to stay in larger cities. My overnight stays in San Sebastian, Oviedo, Llanes (where I took a rest day and stayed two nights), and Santiago were the most expensive nights on my pilgrimage.
Sharing rooms in hotels will also alleviate costs. Most of the nights, I shared space with my walking partner, but we chose to stay in our rooms a couple of times, and those were also more expensive nights. (But, man, I needed that long bath with nobody waiting for the bathroom!)
Of course, you can also opt to carry your own sleeping bag and tent, but that adds a lot of weight and some hassle because, depending on your route, it's hard to find legal camping sites.
The cost of food along the Camino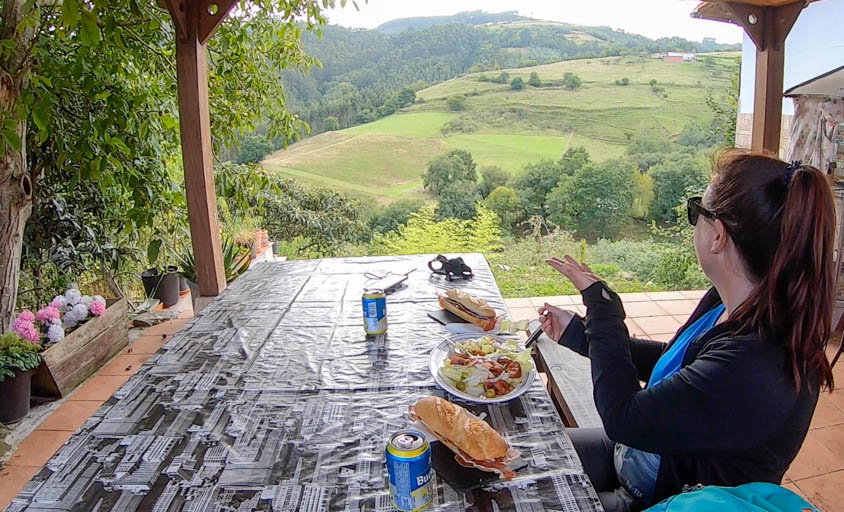 My standard day of eating on the Camino de Santiago included breakfast at the albergue for three euro, a pilgrim lunch for 10 euro (includes three courses and a bottle of wine if you want it!), and a shared dinner at the albergue for 10-12 euro (also includes wine!)
Now, not everyone wants three courses and a bottle of wine for lunch every day, and I certainly didn't opt for that at every stage. But, more days than not, I did lounge with my walking buddy over a pilgrim lunch before continuing on.
At dinnertime, we would sometimes skip the heavy meal and stock up on vegetables and fruit at the grocery store but, more often than not, we would pour the wine and pass the carbs with the other pilgrims.
It was also easy to find pilgrim dinners close to the albergues if they weren't serving that night.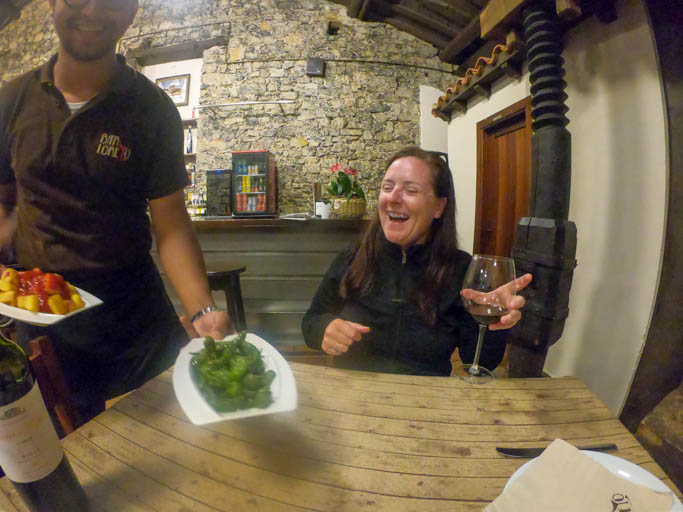 In the end, my average food costs were 16 euro per walking day for a total of 560 euro. It should be noted that this includes alcohol, and I drank a lot – I mean a lot – of wine along the route, which upped my personal Camino de Santiago cost calculator!
Tips for keeping your Camino de Santiago food costs low
Obviously cutting out the wine is going to decrease that food budget for you!
Shop at the grocery store for your meals or, at least, lunch (if you're OK carrying your lunch with you in your backpack). It's always a good idea to have a little bit of food in your pack, but you'll have to decide whether that's "emergency" rations for when you get really hungry or your daily lunch supply.
If you opt to cook dinner, share with walking mates.
Your Camino de Santiago Cost Calculator:
Here's your Camino de Santiago cost calculator again now that you know how to use it: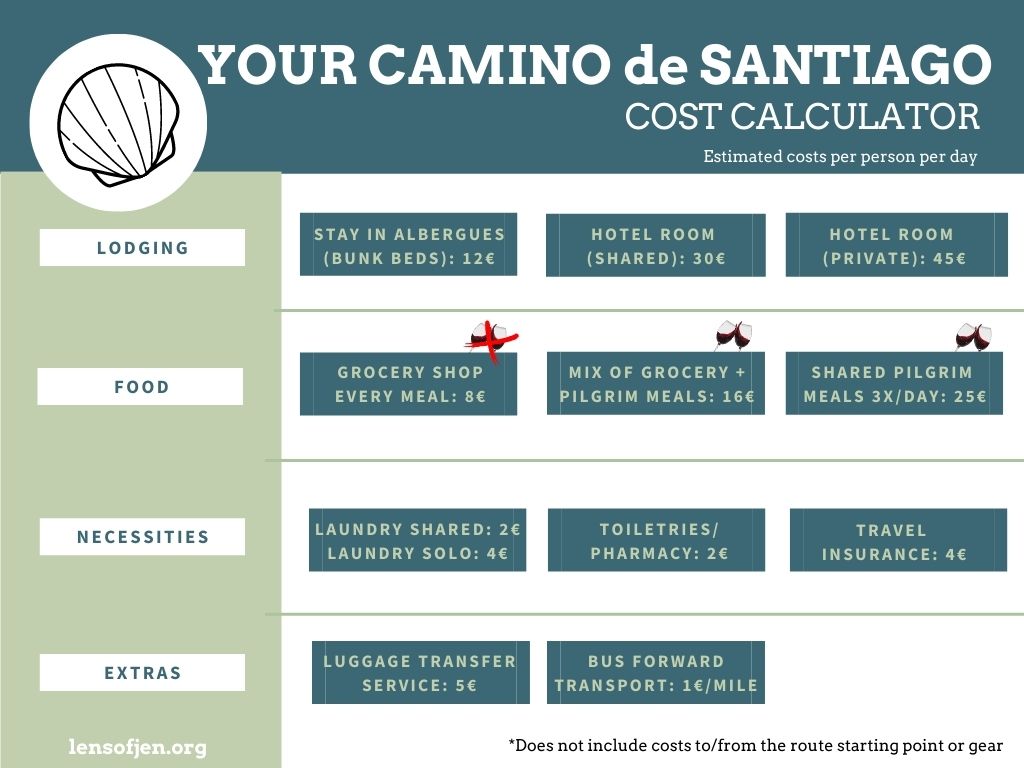 So choose your walking style and multiply by the number of days you will spend walking. Allocate a bit of extra for lodging on the front end and back end of your pilgrimage.
I am erring on the side of budgeting MORE per day because you may have unexpected expenses. For instance, I did not expect to spend more than 150 euros at pharmacies along the route thanks to the relentless blisters on my feet!
While it's important to calculate your estimated costs depending on YOUR pilgrimage style if it's helpful to know my total cost breakdown, it looks like this:
Lodging = 975 euro
Food = 560 euro
Travel Insurance = 130 euro
Laundry = 65 euro
2 bus tickets/1 train ticket/1 cab = 70 euro (try not to hire a cab to reduce this cost)
Pharmacy = 150 euro (yikes!)
Total = 1,950 euro
This Camino de Santiago cost calculator does not include costs for getting to and from the route and for walking gear.
For my travel insurance, I used World Nomads: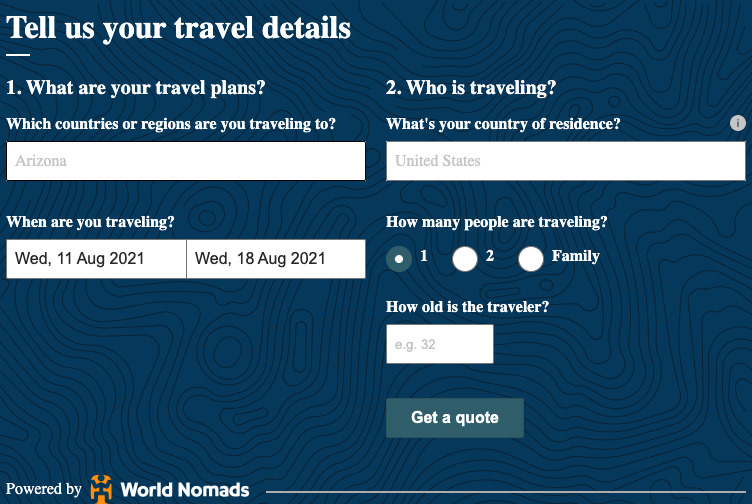 Beyond the life-changing journey that is walking the Camino, I also found it to be an extremely cost-effective way to see Spain, and I was far from the most frugal pilgrim on the route.
Thank you for reading! Buen Camino!
About the Author
Hi! I'm Jen!
I'm a freelance writer and travel blogger who quit my nine-to-five after my fiancé, Jeff, died of cancer at the age of 40. When he died, I realized that life is just too short to delay our dreams. Since my dream was to travel and write, I now travel and write full-time. Today I wear hiking boots instead of heels and collect experiences instead of things.
Additional Camino Resources