Day 18 on the Norte: Llanes to Ribadesella
Hey there! This post may contain affiliate links, which means I'll receive a commission if you purchase through my link, at no extra cost to you. Please see my legal page for more details.
The Day We Hit 200 Miles…and the Day I Threw Up at a Church
Most days on the Camino de Santiago come with challenges wrapped up in reward. For all of the pain, it is well worth it for the beauty and the feeling of accomplishment.
Day 18 on our 500-mile walk on the Camino del Norte was no different. We hit a huge milestone of 200 miles walked. BUT…it isn't easy to walk with food poisoning.
It's not often that you know the exact moment that you got food poisoning. But I sure do.
I really wanted those refried beans and I waited, while Lizz gave up and ate her fajitas without them. When they finally arrived at the table, they tasted a little bit funny, but I ate them all anyway. MISTAKE.
I woke up on Day 18 on the Camino de Santiago feeling funny. At first, I thought it was because the party in Llanes had thumped on below our window until past dawn, giving us no opportunity for restful sleep; I soon learned it was a lot more than lack of sleep that ailed me.
I rarely throw up, so when my stomach forced me to hover over the toilet bowl that morning, I knew something was wrong. But I fought back the urge to lose my dinner and geared up for another day of walking.
I was excited for the day, too, because we had realized something very cool the day before: We would hit 200 miles walked on Day 18 and we would hit that milestone on a beach called Playa de Poo.
Tossing My Cookies in a Town Called Poo
I made it four miles before I could no longer fight back the need to throw up. I'll spare you the details, but I found a dumpster outside of the church in the town called Poo and left those fajitas behind.
I felt a little better after that, well enough, anyway, to pull off a handstand on the beach at the place where we hit 200 miles walked, and well enough to note the irony of getting seriously sick in a town called Poo.
I didn't make it too much farther, though. I really needed a nap to sleep off the food poisoning and, with very little notice given to Lizz, I collapsed into the first sunny, grassy nook I could find and used my backpack as a pillow. Lizz wandered down to the beach, periodically checking in on me, but I slept for a solid two hours completely oblivious to the world.
So oblivious, in fact, that I didn't realize that I was sleeping in someone's grassy driveway. The owners of the driveway were rather nice about this, but they did wake me up at some point – a sign that it was time to get moving.
Bussing Forward on the Camino del Norte
Get moving, that is, straight to the bus stop. Lizz had mapped out a route to Ribadesella by way of a bus and, while I didn't want to give up on the day, there was little choice – I just couldn't walk.
In Ribadesella, I basically crawled up the (many) stairs to our hotel and crawled into bed without any food at all.
The next day I would wake up feeling refreshed, ready to walk, and ready to be astounded by the beauty of Ribadesella.
Where to Stay in Ribadesella
Lessons Learned on the Camino del Norte:
There are some days when you really need your walking buddy. Day 18 was one of those days for me. While I felt terrible to ruin Lizz's day on the Camino, I was so grateful to her for finding a bus and a hotel while I suffered from food poisoning.
Tips from a Post-Camino del Note Perspective:
Some days you have to bus forward. It's not a shameful thing. It's just part of your individual journey along the Camino de Santiago.
Our Pilgrimage Stats After Day 18 on the Camino del Norte: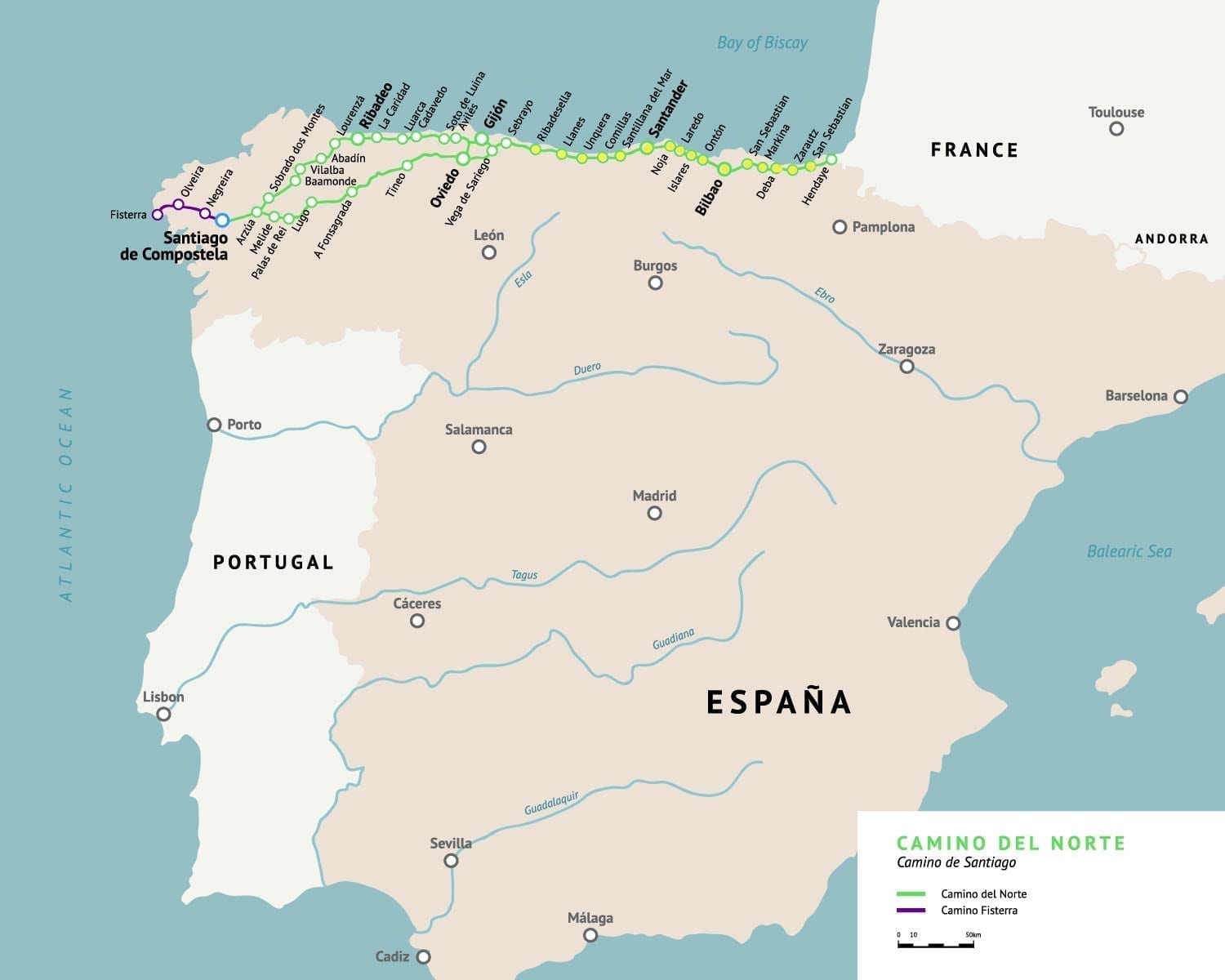 Stage Miles: 19
Actual Miles Walked: 7 (and every step was painful)
Bus forward Miles: 14
Total Miles Walked So Far: 204 (328 kilometers)
Additional Camino Resources