Day 19 on the Norte: Ribadesella to Colunga
Hey there! This post may contain affiliate links, which means I'll receive a commission if you purchase through my link, at no extra cost to you. Please see my legal page for more details.
The Day We Made it Halfway to Santiago
There are a few major milestones when walking the Camino de Santiago. And one of them is the halfway point. This was a day for quiet reflection for us as we walked our way toward our goal of Santiago.
For me, it was also a turning point. It was really Day 19 of walking the Camino del Norte when my body – or maybe it was my mind – started to accept the adventure.
All Better Now!
Luckily my bout with food poisoning was only a 24-hour affair, and I woke up on Day 19 ready to walk. The first thing I saw was the beautiful sunrise out of our window.
I would have loved to spend more time in Ribadesella since I had seen nothing but my pillow the night before, but it wasn't to be on this trip through Spain. We had places to walk toward!
Halfway to Santiago: A Major Milestone on the Camino del Norte
Today we hit the halfway point. We stopped to mark the milestone, spelling out the accomplishment in stones on the path, before kicking them off the path so that the cyclists wouldn't hit them.
We walked along the coastline in silence on this day; both Lizz and I were lost in our own thoughts.
I didn't know it yet, but this was the turning point for me. Before this day, my body hadn't given in to the rigors of the daily walk yet. In retrospect, it seems that the food poisoning was the last protest my body really made.
From this point on, things would become easier for me. My body would go into straight-up survival mode, giving in to the reality of walking over mountains and along coastlines for 12 to 22 miles every day. It will begin to conserve all of its resources so that I would move on what felt like autopilot, needing less food, less water, and less sleep.
From here on out, Lizz and I would stick to the stages that we would map out; we would easily walk 20 miles without comment; we would settle into our pilgrimage.
Maybe it was my body that finally accepted the Camino or maybe, as Lizz points out here, it was my mind that fell into acceptance.
Lessons Learned on the Camino del Norte:
After a tough day on the Camino, everything is better in the morning.
Tips from a Post-Camino Del Norte Perspective:
There is a point on the Camino when the body or the mind, or a combination of both, accept the realities of the Camino and everything gets easier. For me, everything got better on Day 19 and the halfway point to Santiago.
Our Pilgrimage Stats After Day 19 on the Camino del Norte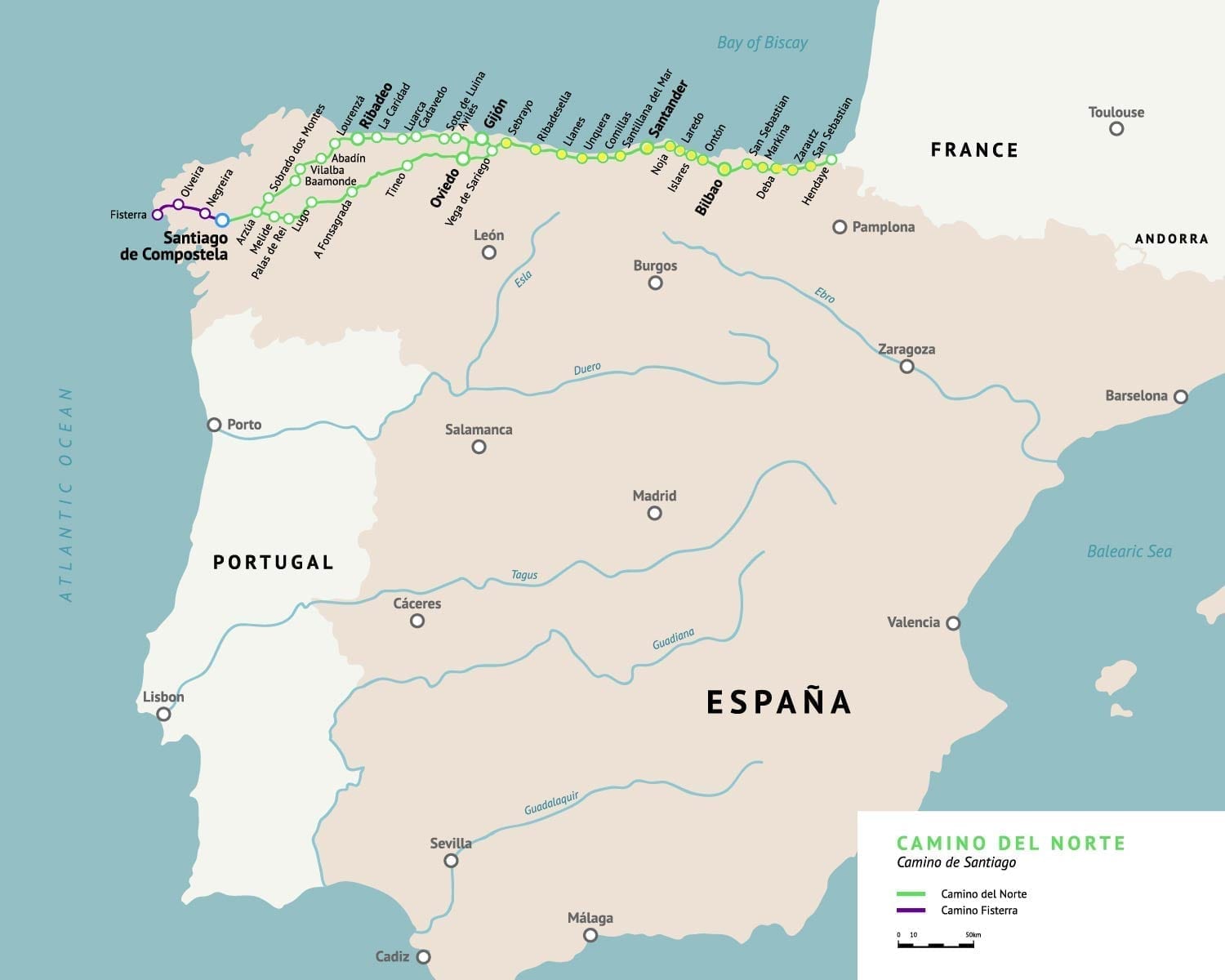 Stage Miles: 13
Actual Miles Walked: 14 (22.5 kilometers)
Bus forward Miles: 0
Total Miles Walked So Far: 218 (350 kilometers – halfway there!)
Where to Stay in Colunga
Additional Camino Resources