Walking the Camino del Norte: A Rest Day in Llanes
Hey there! This post may contain affiliate links, which means I'll receive a commission if you purchase through my link, at no extra cost to you. Please see my legal page for more details.
The Day When We Learned How to Drink Cider in Asturias
Part of the fun and the challenge of walking the Camino de Santiago in the summertime is the parties. As we walked out of northern Spain's Basque Country and into Asturias it seemed that the sound of techno music and the accompanying parties seemed to fade into the dusty miles behind us.
Until Llanes, that is.
There's Always a Party in Spain!
We were anticipating a night of sleep without alarm clocks. And as much as we enjoyed the experience of sharing our pilgrimage with other pilgrims at the sanctuaries of albergues, we were excited to have our own hotel room in an attic space in downtown Llanes where we would sleep without the sounds and smells of communal living: the constant creaking of bunk beds, the low rumble of synchronized snoring, and the musty smell of dirty clothes and farting men.
When I opened my eyes that morning, though, it was far too early. The only window in our room was a skylight built into the slanted, attic-like ceiling, and I could see that it was still dark outside. But the sounds from the main street below us were unmistakable.
Llanes was getting ready for a party.
Lizz was also awake in the twin bed beside me. "Sounds like another party," she said with more amusement than irritation. Somewhere along the Camino de Santiago, we had given up on the idea of a complete night of sleep.
We hadn't joined in on the fun of one of Spain's endless, seemingly spontaneous parties since Day 5 in Bilbao when we rode every ride at a festival until 2:00 in the morning. We were due for a little fun!
How to Pour Cider in Spain's Northern Region of Asturias
Back in our albergue in Vidiago, before our peaceful table of pilgrims was interrupted by the slurring solo artist, we had learned from a fellow pilgrim and native of Asturias the trick to drinking cider in this region. Because you don't just pour cider here in Spain's northern region of Asturias; oh no. Pouring cider is a ritual that must be respected.
First of all, never order a glass of cider. Order a bottle of cider in Asturias. Always.
A small amount of cider is then poured tableside into a glass from way up high so that the combination of five types of fermented apples hits the glass with a splash that provides just the right amount of foam and bubbles from the previously flat liquid containing six percent alcohol.
You drink the small amount slowly, nodding to the server and the bottle when you're ready for another small amount to be poured into your glass from way up high.
If there are dregs left in your glass, it's OK to dump the sediment. Many establishments in Asturias have sawdust on the ground to collect the cider that is spilled or dumped along with the dregs.
Our pilgrim friend taught us that the saying in Asturias is something like: "What you take from the Earth, you give back to the Earth."
Celebrating Asturias
We watched the parades go by and briefly joined the dance party alongside other pilgrims who mingled with locals in a shared celebration of…well we never found out what we were celebrating exactly. We were there in early September, which is close to Asturias Day, so we went ahead and celebrated the region and its cider. Lots of cider.
After a day of dancing, we went in search of a quiet restaurant that would serve something different than the food we had enjoyed over the last 17 days. Meaning, the last thing we wanted to see were french fries.
We found a Mexican restaurant and dove into our fajitas. This meal would remain Lizz's favorite dinner along the Camino route. I, on the other hand, would come to very much regret this meal.
Lessons Learned on the Camino del Norte:
In the region of Asturias, cider is ordered by the bottle, poured from up high at the table, sipped slowly, and dregs are poured out onto the ground as a symbolic gift back to the Earth. It's a ritual that is close to performance art and quite enjoyable when done correctly.
Tips from a Post-Camino del Norte Perspective:
Never eat Mexican food in Span. Never. Seriously, don't do it.
Our Pilgrimage Stats After Day 17 on the Camino del Norte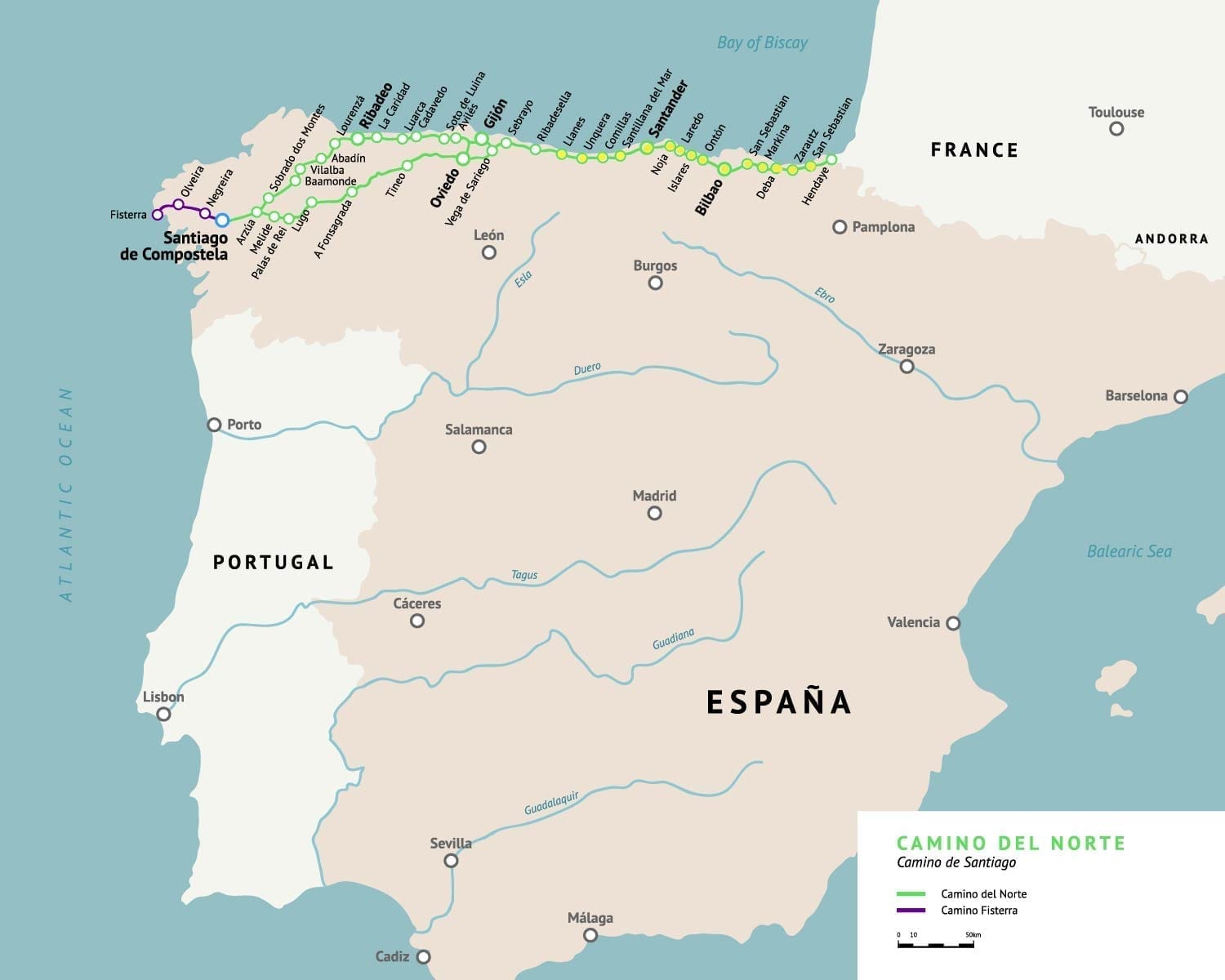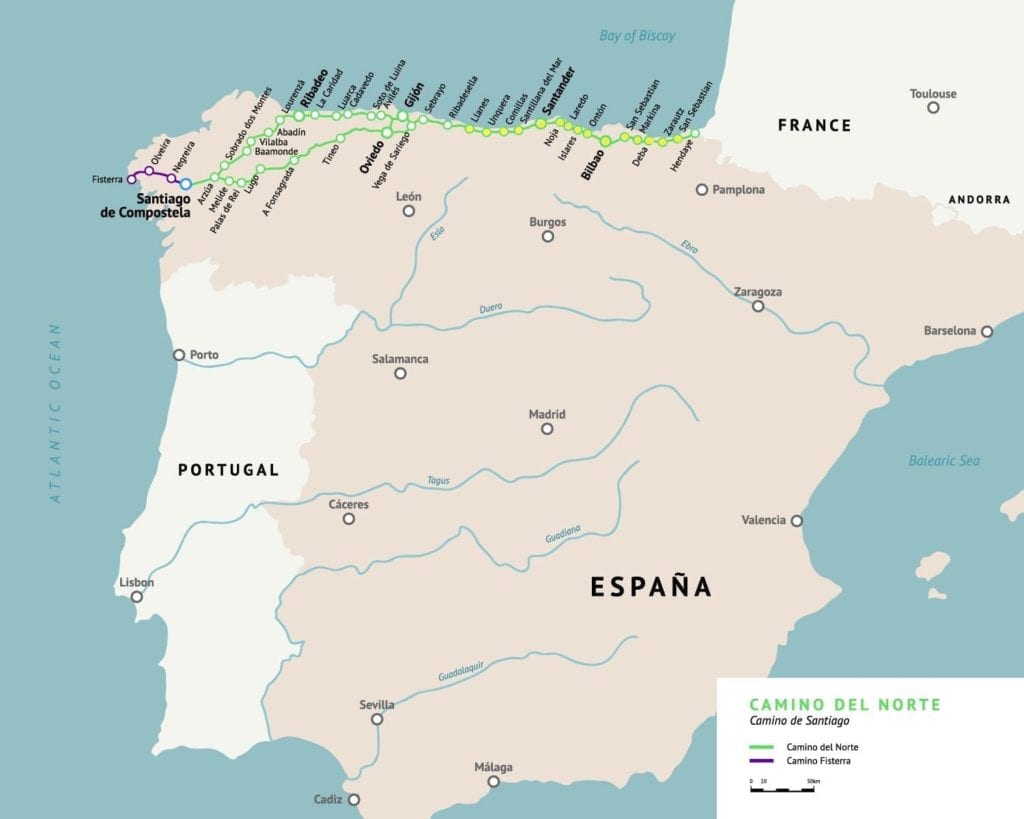 Stage Miles: 0
Actual Miles Walked: 0
Miles Danced: Many
Total Miles Walked So Far: We will hit 200 miles on Day 18!
Additional Camino Resources