Day 5 on the Norte: Mendata to Guernica to Bilbao
Hey there! This post may contain affiliate links, which means I'll receive a commission if you purchase through my link, at no extra cost to you. Please see my legal page for more details.
We woke up on Day Five of walking the Camino del Norte feeling well-rested and relaxed and ready to walk from Mendata to Guernica to Bilbao.
Only we weren't exactly going to walk the whole way!
Let's dive in!
The Day We Went to a Carnival:
Setting out from Mendata to Guernica to Bilbao
Because we were in the attic far above the commotion of the albergue, we didn't hear everyone heading to the communal table for breakfast, and, remarkably, not one of the four of us set an alarm!
We were downstairs for the 07:00 breakfast by 07:15, but that was too late. There wasn't a drop of coffee or a crumb of bread left. Lesson learned. (The albergue owner did find us a bit of bread when we asked.)
But we weren't stressing about sustenance as much on this day because we knew that we had to walk just six miles to Guernica where we would indulge in a long, leisurely pilgrim lunch before taking a bus to the major Basque city of Bilbao.


From our perch on the albergue porch overlooking a valley, we waved goodbye to Marlena and Alicia, who we were now calling the "cookie girls" for their habit of busting out boxes of cookies from their backpacks whenever anybody got hungry.
Lizz and I had planned to wait out the morning rain and set out at about 10:00, but we quickly learned that this is a no-go in an albergue where you should leave by 08:00 so the operators can clean and get ready for the next group of pilgrims.


The owner politely kicked us out, and we rushed to pack our bags. This is when we learned that we had finally gotten good at packing our bags in a hurry! It also helped that we had mastered the "spinner" (an electric device popular on the Camino for wringing out clothes before putting them out to dry) the night before and all of our clothes were actually dry as a result.
You Know You're on a Pilgrimage When Walking Six Miles Through the Mountains is Easy
We breezed into Guernica early and had to wait for the restaurants to open for their lunchtime pilgrim menus. (In Spain, lunch starts at 13:00 and at 15:00 everything closes for a couple of hours.) This gave us time to book a hostel in Bilbao and sort out the bus schedule.
Our bodies felt great and we were getting good at booking rooms on the fly.
With all of our "chores" done for the day, we kept the wine flowing at lunch and cheerfully reflected on the week. "This is really the greatest adventure of my life," Lizz said at one point. A big statement considering this is a woman who has served 21 years in the United States Navy and lived all over the world!
Busing Forward: A Tradition on the Camino de Santiago
Because it takes about five weeks – not including rest days – to walk the Camino del Norte, we knew that the 35 days that we had to walk was just shy of what we needed, so we were on the lookout for places to bus forward. The guide books suggested we wouldn't miss much in terms of views if we bused to Bilbao, so this day – from Markina to Guernica to Bilbao – was the day to bus forward.
We hopped a bus and arrived in Bilbao just in time for, you guessed it, another party! The whole city seemed to be dancing.
We were warned at the bus station that we were headed for another festival and this time we decided to dive right in.
An Unexpected Carnival on the Camino del Norte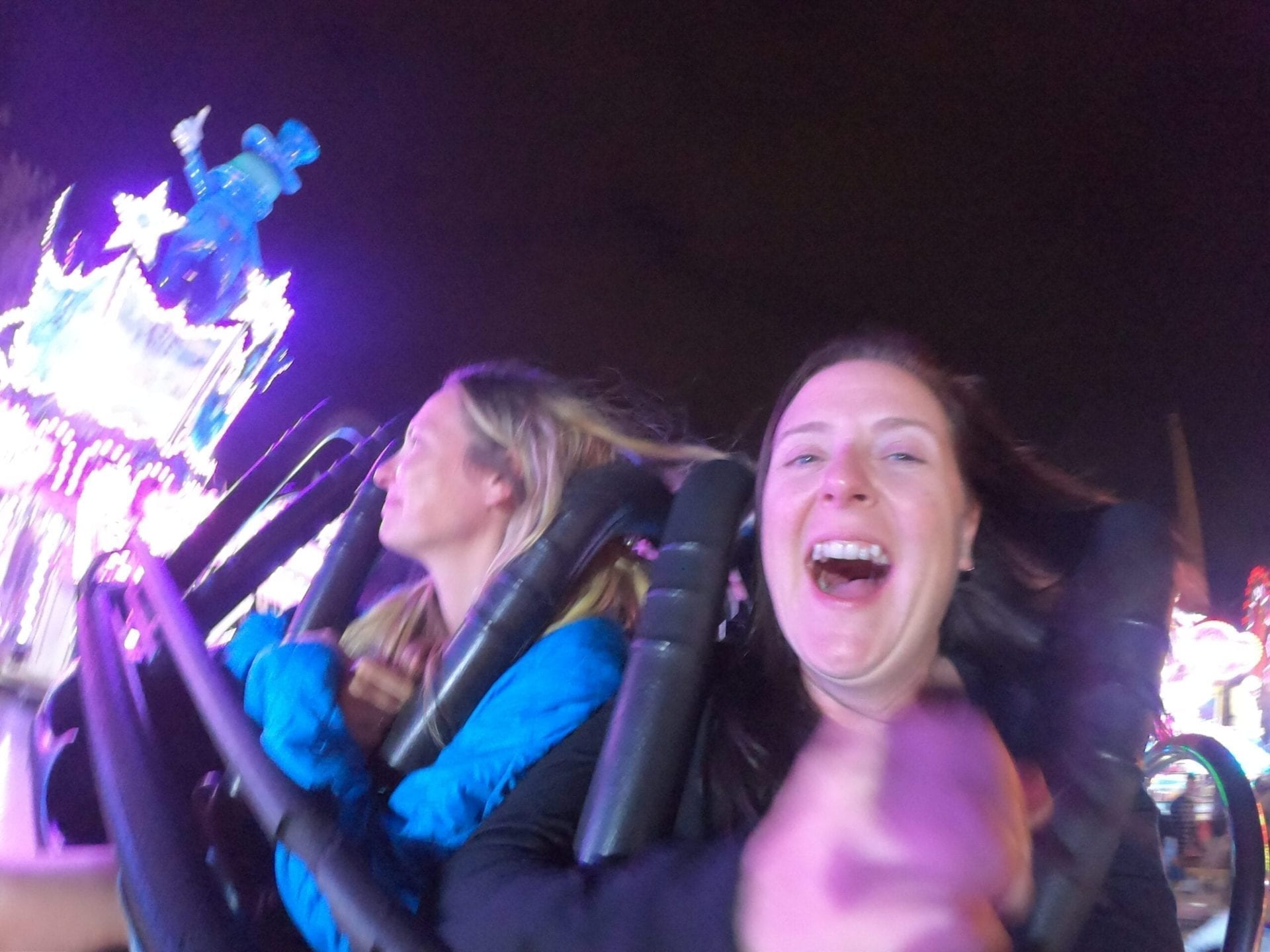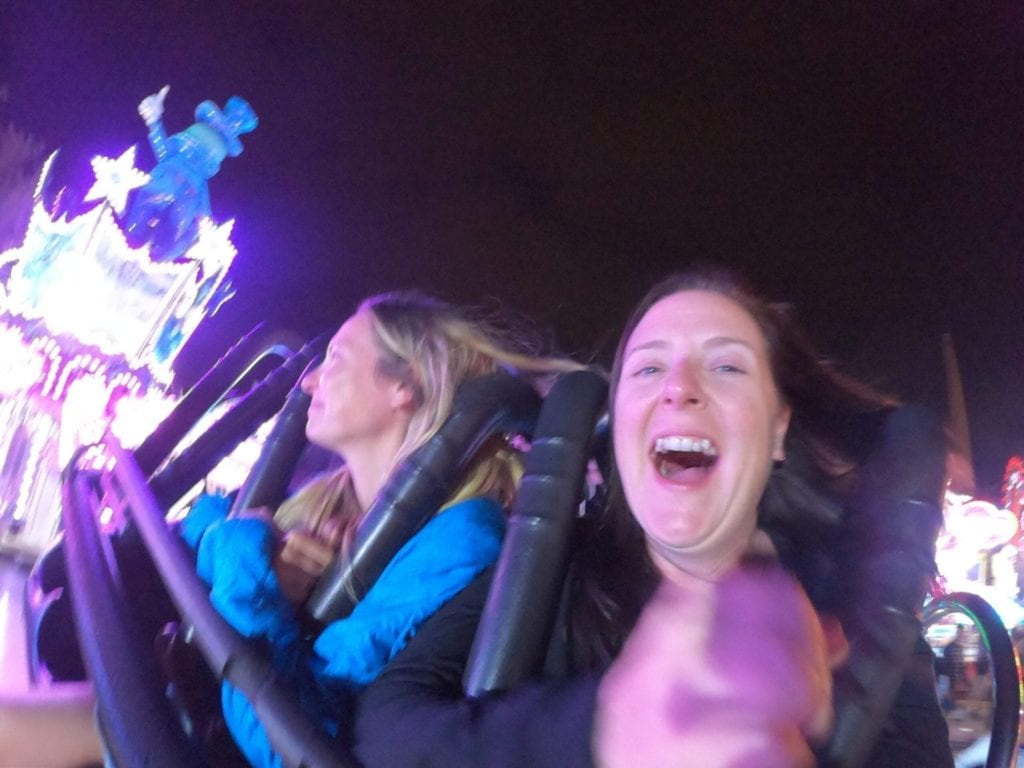 I thought this meant that we would hit the clubs, but Lizz had something else in mind. She wanted to try every ride – EVERY ride – at the carnival near our hostel. I'm not much of a carnival person, but I have to admit that I had an absolute blast. We didn't drag ourselves home until the early hours of the morning.
It helped that we were staying in a regular hostel so everybody was out late and it really helped that we didn't need to check out until noon the next day.
Just as we felt like we were really falling into a Camino groove, we decided to break the routine by staying out light and partying with the locals. But that's OK. Sometimes you've just gotta dance.
Where to stay in Bilbao
It's interesting how you can sometimes get separated from your pilgrimage in the larger cities. You sometimes end up staying in hostels or hotels instead of albergues, eating fancier meals instead of pilgrim fare, and…going to carnivals. Ha.
We stayed in the All Iron Hostel for 20 euros and loved the late checkout after the carnival. Sometimes it's nice to be a tourist and not just a pilgrim.
Here are other places to stay around Bilbao:


Lessons Learned on the Camino del Norte Mendata to Guernica to Bilbao:
If breakfast is at 07:00 in an albergue, show up at 06:55. Being late may mean missing breakfast.
You should leave an albergue by 08:00. There aren't very many that are set up for lounging in the morning – a fact that Lizz and I may change if we set up our own albergue!
It takes about five days to become an expert at packing your bag. You might be impossibly inept at packing that backpack until suddenly everything clicks.
Carnivals aren't that bad. But some of those rides leave bruises!
It is best, though, not to go commando in a skirt at a carnival. Here's the thing, you wash ALL of your clothes when you come across a real washer and dryer, which is what I did before the carnival. So, my clothes were still drying when we set out – including all of my underwear. Not wise, folks. Not wise.
Hostels and albergues with plug-ins inside the lockers for phones and Go-Pros are the best things. Ever.
Tips from a Post-Camino del Norte Perspective:
Never be ashamed of busing forward. For all kinds of logistical and physical reasons, pilgrims take buses, trains, and taxis all over the route. Widely called "busing forward," regardless of the transportation used, it's part of almost every pilgrimage.
Our Camino del Norte Pilgrimage Stats After Day Five: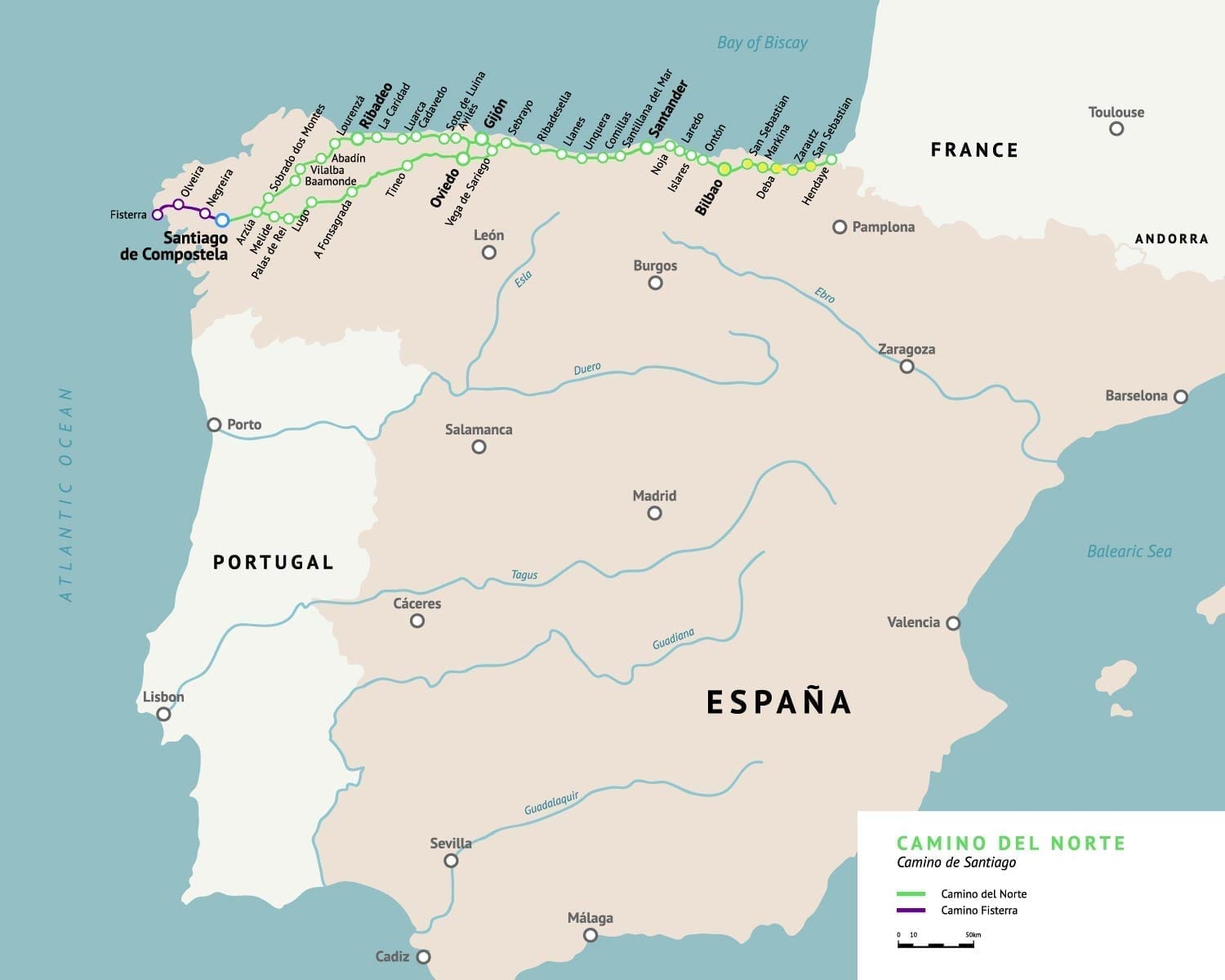 Stage Miles: 23
Actual Miles Walked: 9 (14.4 kilometers)
Bus forward Miles: 14
Total Miles Walked So Far: 67 (108 kilometers)
Additional Camino Resources
About the Author
Hi! I'm Jen!
I'm a freelance writer and travel blogger who quit my nine-to-five after my fiancé, Jeff, died of cancer at the age of 40. When he died, I realized that life is just too short to delay our dreams. Since my dream was to travel and write, I now travel and write full-time. Today I wear hiking boots instead of heels and collect experiences instead of things.