Day 4 on the Camino Norte Route: Markina to Mendata
Hey there! This post may contain affiliate links, which means I'll receive a commission if you purchase through my link, at no extra cost to you. Please see my legal page for more details.
It was raining as we set out from the Pitis Hostel in Markina on the Camino Norte route toward Guernica. But the rain didn't phase us even one bit.
We had slept well – the first good sleep on our pilgrimage. Since there were only fellow pilgrims in the hostel, everyone was in bed early and up and at 'em in the morning. Lizz and I were the last to leave at 07:30.
We would find this to be a common occurrence. We just liked to start later, take our time along the route, and arrive later. And that's OK. Every pilgrim is different and, therefore, every pilgrimage is different.
Let's dive in!
The Day on the Camino Norte Route with a Detour:
We stopped in town for coffee and double-checked our route. While we were mentally preparing to push forward 15 miles to Guernica, we knew that we might stop earlier in a town called Mendata where, rumor had it, the hostel had a washer and a dryer. We had yet to get our clothes completely dry, so this sounded like a heavenly luxury.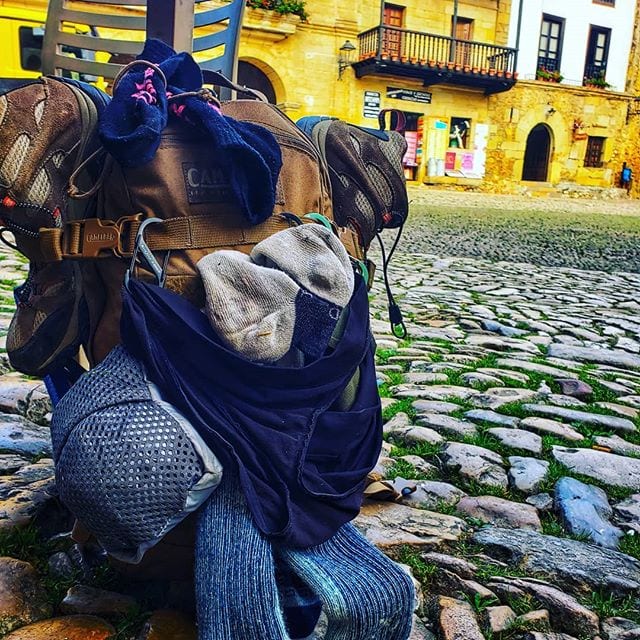 An Epic Detour on the Camino Norte Route


Right out of Mendata, we somehow took a wrong turn. It is not unusual on The Way to be guided by a yellow arrow through personal property or on a rather overgrown pathway. This is understandable considering that much of the waymarking is done by locals on a volunteer basis.
Anyway, we didn't think much of the meandering path we were on until it started to go straight uphill while the overbrush grew higher and higher and the path grew narrower and narrower. About halfway up the hill as I was hacking at the brush with my walking stick to clear a path, I knew we had taken a wrong turn.
I heard Lizz hollering for me, so I waited and watched while she hacked her way toward me. We weren't quite laughing yet. The thorns were ripping into our clothes and we had no idea how much longer this path would lead uphill. One thing we did know: we had gone too far to turn back.


When we finally reached the clearing at the top of the hill, we found ourselves on a farm with a large dog eyeing us. Suddenly, two young women appeared from around a tree in an agitated state. They were clearly pilgrims and they were also clearly lost. Blood dripped from the legs of one woman who had the misfortune of wearing shorts on that thorn-lined detour.
"There are no arrows up here," the girls informed us grimly. We had gone way off route.
We busted out our Buen Camino apps and confirmed that we had taken a rather substantial detour. The problem was that the only way to return to the route was back through that thorny, weedy Hell we had just come through.
That's when the owner of the dog showed up and gamely led us through his land to a shortcut by the river which, he said, would ultimately reconnect us with the Way.
The girls were named Marlena and Alicia and they would turn out to change our Camino in the coming weeks. Maybe the Camino brought us all on that detour for a reason.
The Very Friendly Monk on the Camino Norte Route
Still teamed up with Marlena and Alicia, we walked through the Monastery of Zenarruza in the hopes of finding something to eat. There was no food, but we did encounter a very friendly monk who told us about his sister in America and gave us plenty of unexpected and – as it turns out – much-needed hugs.
Later, over a communal dinner, we would learn from other pilgrims that he hugged most people who came through and that he claims to have a sister or a cousin in every country!
We finally found food in Muntibar at the only little snack place available. Though there was no warning in our guidebooks of a lack of supplies and, though the route appeared dotted with towns, day four was one of the harder days to find food along the Way.
A Slumber Party on the Camino Norte Route
At the snack bar in Muntibar, a fellow pilgrim asked where we planned to stay. We told him that we thought we would stay at the albergue in Mendata, forgetting entirely that we are in a bed race with these folks!
I watched as he conferred with Marlena and Alicia but thought nothing of it. Later, as we continued walking, I listened as Marlena called somewhere asking for "dos camas" but again thought nothing of it since the girls planned to push on farther than Mendata.
Marlena finally took pity on us and let us know that they did intend to stop in Mendata and that they had booked the last two beds at the place where we were heading.
When we all arrived together at the Andiketxe Albergue, Marlena and Alicia actually offered to give up their beds. This was sweet, but we acknowledged that we had gotten beat fair and square in the bed race and prepared to walk on. That's when the nice albergue owner took pity on us and found space.
We lined four mattresses on the floor in the attic and had a little slumber party. It was actually great. We had our own space and far preferred the mattress on the floor to the communal bunk beds below. Win-win!
Our First Communal Dinner on the Camino Norte Route
This was our first official albergue experience.
That night all the pilgrims sat around a large table, and we ate beef cheek, a traditional dish in the Basque Region, and drank wine. We laughed with our fellow pilgrims, some of whom had encountered the very friendly monk, others of whom had encountered the detour, all of whom enjoyed a meal together with fellow pilgrims.
Here's a Better Look at that Epic Detour:
Where to Stay in Mendata
We loved the Andiketxe Albergue! I highly recommend this place if you stop in Mendata. The albergue is right on the route.
If it's full, here are some other hotels and homestays in Mendata:
Lessons Learned on the Camino del Norte from Markina to Mendata:
At this point, we are starting to see that our pilgrimage looks different than that of others. We wake up a little later, sometimes drink a beer for lunch, and take longer breaks. That's OK. Every pilgrimage is different.
Now that we have walked a few days with our walking sticks and learned how to use them, I would never set out without them again. They help me to pace when I am tired and they alleviate some of the weight on my back.
Call ahead for a bed! Though many albergues are first-come-first-served places, some do take reservations. And it doesn't hurt to ask. "Necesito dos camas" became something I said into my phone many times every day!
Tips from a Post-Camino Del Norte Perspective:
It's important to honor your Camino. If you want to wake up late, stay in a city an extra day, take a rest day, walk farther than planned…do it. Honor what your body needs and know that every pilgrim is different and every pilgrimage is different.
Our Camino del Norte Pilgrimage Stats After Day Four: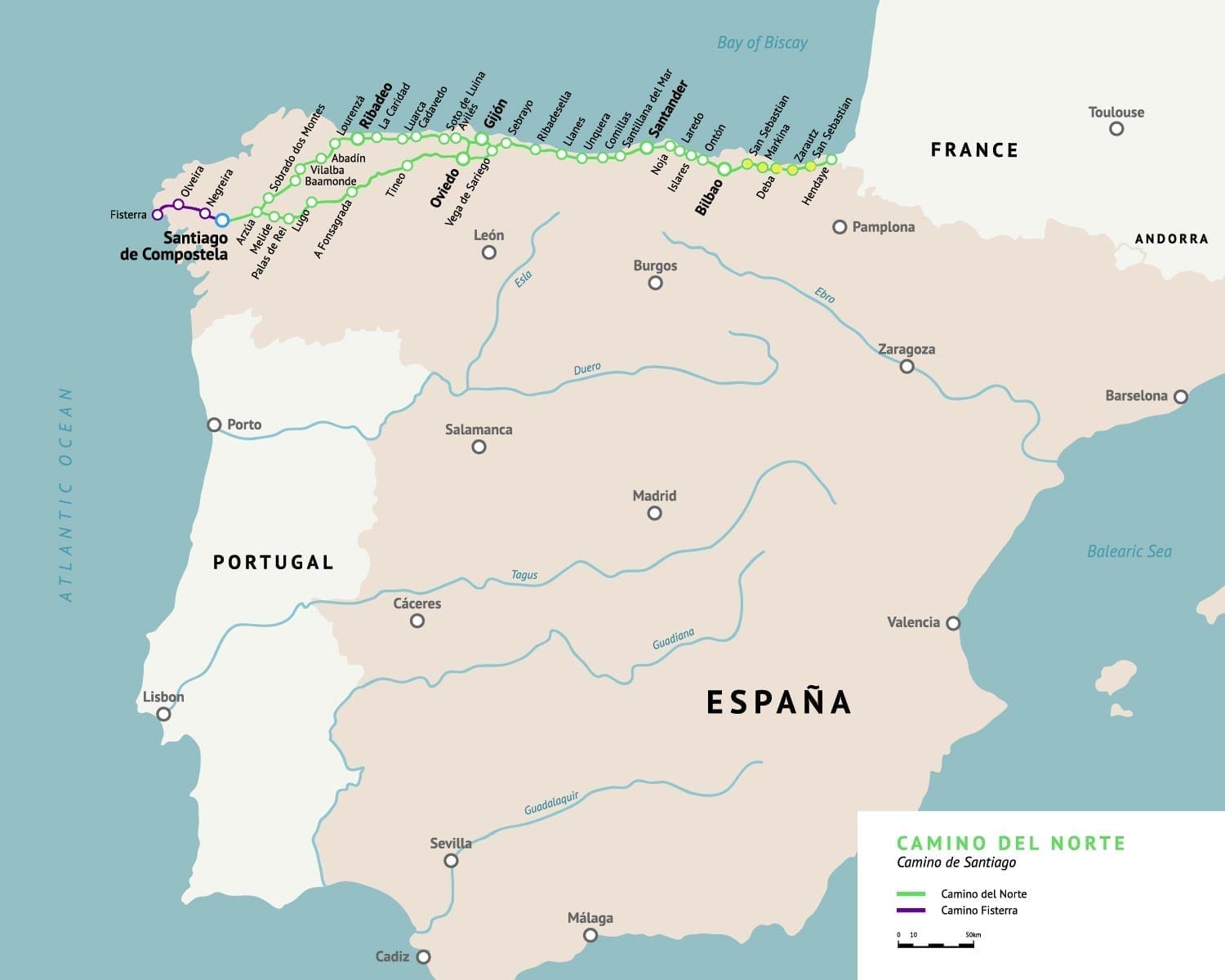 Stage Miles: 10.93
Actual Miles Walked: 12.6 (20.2 kilometers)
Bus forward Miles: 0
Total Miles Walked So Far: 58.8 (94.6 kilometers)
Additional Camino Resources
About the Author
Hi! I'm Jen!
I'm a freelance writer and travel blogger who quit my nine-to-five after my fiancé, Jeff, died of cancer at the age of 40. When he died, I realized that life is just too short to delay our dreams. Since my dream was to travel and write, I now travel and write full-time. Today I wear hiking boots instead of heels and collect experiences instead of things.