Day 3 on the Norte: Deba to Markina
Hey there! This post may contain affiliate links, which means I'll receive a commission if you purchase through my link, at no extra cost to you. Please see my legal page for more details.
Our walk on the Camino del Norte from Deba Markina turned into a beautiful pilgrimage day. BUT…it didn't start out so great.
The Day When the Camino Provided
We were on zero sleep thanks to the raging party of the night before that, naturally, took place beneath our windows. We are pretty convinced that they played the same techno "thump-thump" song ALL. NIGHT. LONG.
When we set out for the bus station at 07:00, the party was still going strong. To top it off, we had reason to be solidly unoptimistic that a bus would come, considering that it was Sunday and nobody in the hostel or in the universe of Internet Gods could tell us anything, whatsoever, about the bus schedule back to Deba. (We had to stay in a place off the route due to a lack of beds in Deba on our Day Two debacle.)
But, while everything on Day Two was a struggle, everything on Day Three was a dream. This was the day when we learned what the saying "the Camino will provide" really means.


The bus showed up just as we walked up and the bus driver waved off our money since it was a holiday (we're still not sure what holiday!), and they were just trying to get all the drunk revelers back home.
Once back in Deba, the city was still in the midst of the party. We found a café that would serve us coffee, but it was beer that was flowing, and the floor was thick with layers of sticky napkins and discarded cups.


That same damn "thump-thump" song was playing, but the café also declined our money, so we shrugged off the noise and the grime and soaked up the caffeine.
We also shrugged off our idea of finding food.
Our guidebooks said that the next stretch of road would have limited food options, so we had hoped to stock up. But there were no food options in hungover Deba beyond the techno-thumping café, so we headed for the trail.
Before we jumped on the Camino, we were thrilled to see Anna (from Day One) who was sitting outside of the public albergue in Deba, which is tucked inside the train station. She stayed there for a five euro donation because she was smart enough to arrive at 13:00 the previous day.
For perspective, we trudged in at 17:00 and had to take a bus 30 minutes out of the city to find a terrible, non-blanketed bed in a noisy hostel with co-ed, communal showers. Lesson learned.
There is Limited Food and Water on the Camino del Norte from Deba to Markina
Lessons learned and all, but we were in a precarious situation setting out on Day Three.
We had no bed booked and we were lucky to arrive in Deba before 8 in the morning, having woken up far away from the city with no sleep and no bus schedule. We needed to move fast.
And we knew we had a 10-mile stretch of road with no provisions – and we had no food on us. If the only option for food – a place in the tiny town of Olatz – was closed (very likely in Spain on a Sunday and on a holiday), we were in a serious bind.
But the Camino does provide. And some days the universe just smiles on you.
The little place in Olatz was open and there we met up with many of the people who we had walked with over the previous days. While we stocked up on food, we learned that many people had slept outside the night before, all while listening to the same "thump-thump" song we heard from our hostel. Though they heard it from beneath a bridge in Deba. Oye.
The singing sounds of noon mass drifted out from beyond the walls of the tiny church across from the snack bar and, as we pressed out from the little social circle surrounding the only food stop on the day's route, we enjoyed a much more pleasant music situation than the previous night!
This would be our longest stretch yet without provisions, but we had sandwiches in our packs and a full water supply – and we were feeling great!
"I'm Just SO Proud of Us"
This was the day when I realized that we were really far from everywhere and everyone. Once we waved goodbye to our friends in Olatz, we didn't see anyone again for hours.
After one very long and very beautiful climb, Lizz experienced her first tears of the trail. As she looked back over the ground she had covered she said, "I'm just so proud of us."
The sky was threatening to cry as well, but the rains held off until just before we reached our destination. The Camino provided every step of the way.
Where to Stay in Markina
Once in Markina, we saw a sign for a pilgrim-focused hostel that we had read about in our guide book called the Pitis Hostel (Address: Karmengo Plaza nº11, 48270 Markina-Xemein Bizkaia).
There didn't seem to be anybody home and it looked a lot more like a restaurant than a hostel, so we shrugged and made to head toward the next option when a woman popped out from the kitchen and said she did, indeed, have "dos camas" (two beds) for us.
We arranged to come back for dinner while another woman walked us to our two bunk beds located up the street. She opted to take the stairs instead of the elevator (we're guessing she didn't want to be in a small space with two sweaty, dripping wet pilgrims!), and we tried to smile as we willed our aching feet up the stairs.
At the top of the stairs, she tried to introduce us to our first "spinner," a spin dryer that whips clothes in a circle to shake out the water that accumulates from washing or from walking in the rain – much like a spin-cycle in a traditional dryer but far more energy-efficient. The language barrier was too thick for us to understand what we were looking at, but we would soon come to love the spinner!
The Pitis Hostel where we stayed in Markina really functions as an albergue, but since the beds are located in a separate building than the communal dining space, it must be called a hostel.
Also, the owner of the Pitis does serve non-pilgrims in her restaurant, something that would not happen in an albergue. We would learn along the route that most pilgrim-focused "hostels" would turn out to be pretty great.
If you want to book in advance, or if the Pitis is already booked, here are a few places to stay in Markina:
Our First Pilgrim Dinner on the Camino del Norte
Since the Pitis Hostel was pilgrim-focused, dinner was a traditional "pilgrim menu," something else that we would come to love. For 10 euro, we chose from a set menu and ended up with soup, delightful chicken, flan for dessert, and a bottle of wine on the table.
We watched as a group of soaking wet German men came in at about 22:00 looking for a bed. This is very late to be contending in the bed race, but these guys had walked about 25 miles (40 kilometers) that day. The Pitis was booked up, but the sweet owner drove the men in her car to the next hostel with available beds.
We swapped stories with other pilgrims at the other tables and truly relaxed for the first time in a long time.
It started to feel like the Camino really would provide.
Walking the Camino de Santiago: Lessons Learned
The pilgrim experience at albergues and pilgrim-exclusive hostels is part of the Camino. Unfortunately, many do not take reservations in advance, so taking part in a "bed race" becomes part of the day. If you are bed racing, it is best to arrive around 13:00, which means an early start.
Listen to your fellow travelers at dinner. Their experiences will help you later. For instance, this is where I first heard of the needle-and-thread-blister technique that would save me down the road. (More on this later!)
The pilgrim menu is everything. Look for it everywhere.
Tips for Walking the Camino del Norte from Deba to Markina
Stock up on food before Deba. We just could NOT find food on any stop in this city, though I recognize I was there for a festival. I just don't trust Deba, though. Stock up on food before passing through.
Did I mention that you should skip Deba if you can?
There are few accommodations on the Camino del Norte from Deba to Markina, so make sure that you have food and water before you leave Deba (even if finding any food, water or hospitality is a challenge).
Our Pilgrimage Stats on the Camino del Norte from Deba to Markina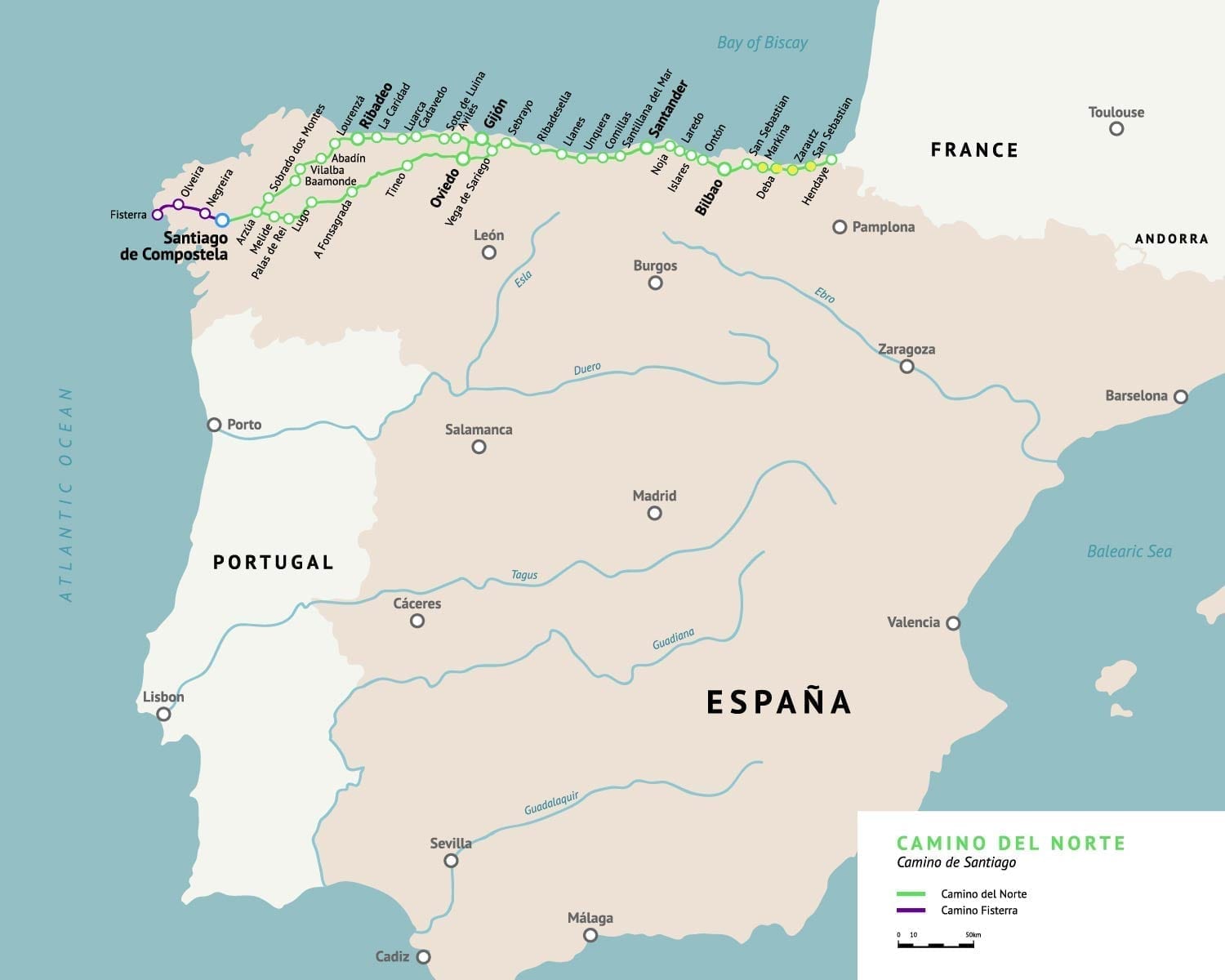 Stage Miles: 14.8
Actual Miles Walked: 16.6 (26.7 kilometers)
Bus forward Miles: 0
Total Miles Walked So Far: 46.2 (74.3 kilometers)
About the Author
Hi! I'm Jen!
I'm a freelance writer and travel blogger who quit my nine-to-five after my fiancé, Jeff, died of cancer at the age of 40. When he died, I realized that life is just too short to delay our dreams. Since my dream was to travel and write, I now travel and write full-time. Today I wear hiking boots instead of heels and collect experiences instead of things.
Additional Camino Resources