San Sebastián to Zarautz: Day 1 on the Camino del Norte
Hey there! This post may contain affiliate links, which means I'll receive a commission if you purchase through my link, at no extra cost to you. Please see my legal page for more details.
We were all anticipation as we set out for our first day of walking the Camino del Norte from San Sebastián to Zarautz. Two utter and complete bundles of nerves and excitement.
Would we be up for the task of walking 14 miles? Would our bags be too heavy? Would we kill each other? We didn't know, but Lizz and I set out feeling absolutely giddy.
Let's get started!
The Day When Our Pilgrimage Journey Began!
Walking from San Sebastián to Zarautz
We set out from our journey from the Koisi Hostel, which I highly recommend for your stay in San Sebastián.
We wouldn't always feel the same way on the same day, but today Lizz and I mirrored each other with our nerves and with our surprise at just how easy the walk was.
(Note: If you walked the previous stage from Irún to San Sebastián the day before, then you already know how difficult that stage is. You might consider resting in beautiful San Sebastián for a day if you have the time. Or booking a room in advance so that you don't have to worry about rushing to find a bed in Zarautz.)
It helped that the stage from San Sebastián to Zarautz is just absolutely gorgeous, winding alongside coastal cliffs and over well-marked dirt paths.
It wasn't all easy, though.
What Was Hard About Walking the Camino Del Norte on the First Day?
Packing our bags in the morning!
By the end of our pilgrimage, we would be up and out the door in 10 minutes flat (check out this extensive Camino de Santiago packing list to see our packing do's and don'ts!)
But on day one of our adventure across Spain, we fumbled about, trying to shove our clothes in our bags and strapping and re-strapping our backup shoes on our packs. It took us forever to get out the door.
"The Camino will Provide"
There is a saying common on the Camino de Santiago that the "Camino will provide," and we saw evidence of that nearly immediately when we finally got out the door.
We didn't yet know how to search for the yellow arrows that serve as waymarking signs for the Camino (a fact that now sounds laughably insane but, hey, we all start somewhere!), so we weren't sure how to actually find the route!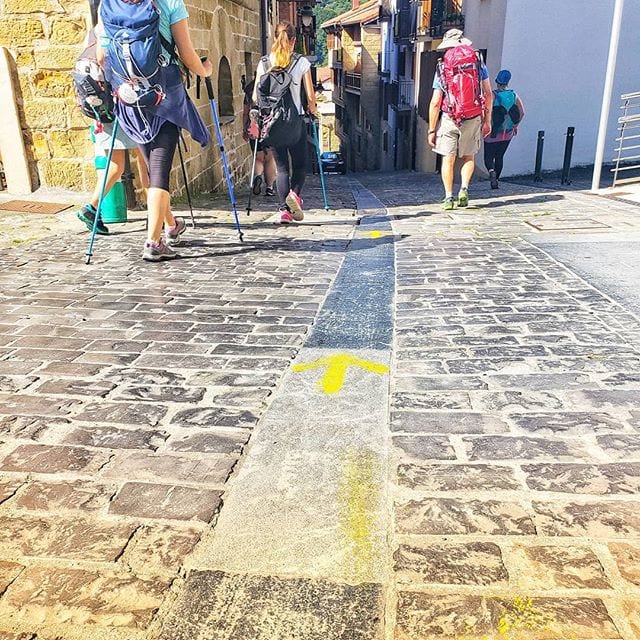 Then along came Anna, dressed just like us and moving at just about our pace. She was clearly walking the Camino, so we lobbed a tentative "Buen Camino?" at her, our first of many greetings using the universal language of the pilgrim.
Anna was also looking for coffee and she knew exactly how to find the route. A native of Catalonia, Anna was fluent in Spanish and even knew a little of the baffling Basque Language called Euskera. She was even a native of the Camino, having walked portions of it in previous years and she was a huge help to us throughout the day as we navigated the learning curve of the Camino.
The Awe of Walking the Camino del Norte from San Sebastián to Zarautz
As we walked, everything seemed amazing. The animals that we saw (see below for a goat on its hind legs plucking fruit from a tree!), the sweeping coastline views, and the fellow walkers with their chiseled legs and massive packs, including sleeping bags and tents.
It was all so much to take in. I must have taken hours of video on the Camino de Santiago on day 1!
By the end of walking the Camino del Norte, I would zip past cows, goats, dogs, and breathtaking views without even noticing. In the final days of walking, it would take a random peacock or an angry cow charging at a fellow walker (this actually happened) to get me to pause.
But on the first day, while walking from San Sebastián to Zarautz, everything was magical. We walked slow and took our time.
Arriving in Zarautz on the Camino del Norte
Even though we knew the saying – that the Camino de Santiago would provide – we booked a room in advance in Zarautz. This would be the hardest part of the Camino for me, wrestling with my Type-A, slightly obsessive need to plan ahead, and the inability to know where you will lay your head down to sleep the next day.
But this time, we knew exactly where we would sleep, so we said goodbye to Anna who was bed racing and needed to get to an albergue stat, and we headed for the beach with our backpacks still strapped on.
That water on my feet felt amazing. Lizz was braver than me and plunged right into the frigid waters, but I just waded in a bit and reflected on what was behind us and tried to imagine what was in store for us.
Then Lizz and I enjoyed the sunset with a live band and our first "Buen Camino" cheers before heading to buy walking sticks (these would prove to be everything) and turning in for an early night.
Lessons Learned Walking the Camino del Norte:
Yellow arrows will guide your way! Look for them all along the route. (But also download the Buen Camino app, which will help when you go off course.)
If you do not have a bed booked in advance, prioritize finding a bed before doing anything else, no matter how tempting that beer might look or that ocean dip might be.
Use the Buen Camino app to look for albergues and to ensure any rented home stays or hotel rooms are close to the Camino route.
Look for albergues or pilgrim-centric hostels. We booked a bed in a hostel where people were partying late into the night, a problem when we needed to get up in the morning. Also, we missed out on the pilgrim culture, which we would soon learn is a beautiful thing.
Do not wash your clothes if there is no "spinner" or dryer. We didn't know what a "spinner" was yet (that lesson comes on Day 4) and we also didn't know that our clothes would not dry overnight without a spinner. We walked with wet clothes strung to our backpacks on Day Two.
When you find a shoe or an item on the road, it has likely fallen off someone's backpack and they will come looking for it. Leave it on the nearest mile-marker post or tie it to a street sign or post in a way that is very clear and obvious.
Tips for Walking the Camino del Norte from San Sebastián to Zarautz
Eat it up on the first day. You may not again feel this kind of giddy excitement or complete awe at what you are doing until you arrive in Santiago. This is the day where everything feels possible. There is no pain yet. Just plain and simple awe. Enjoy it.
On the first day of the Camino de Santiago, you may hesitate to take your backpack off. You will fear that you won't want to put it back on or that it will take you forever to strap it on and off. So, you may stand around with your backpack on when you aren't walking. Forget that. Take your backpack off at literally every opportunity. You will get very good at stripping it off and slinging it on. Might as well start practicing now!
The first week walking the Camino del Norte (the northern route of the Camino de Santiago) involves popular tourist spots. It's harder to find a bed and far more expensive. Plan ahead and consider booking a bed in advance for the first week.
Our Camino del Norte Pilgrimage Stats After Day One: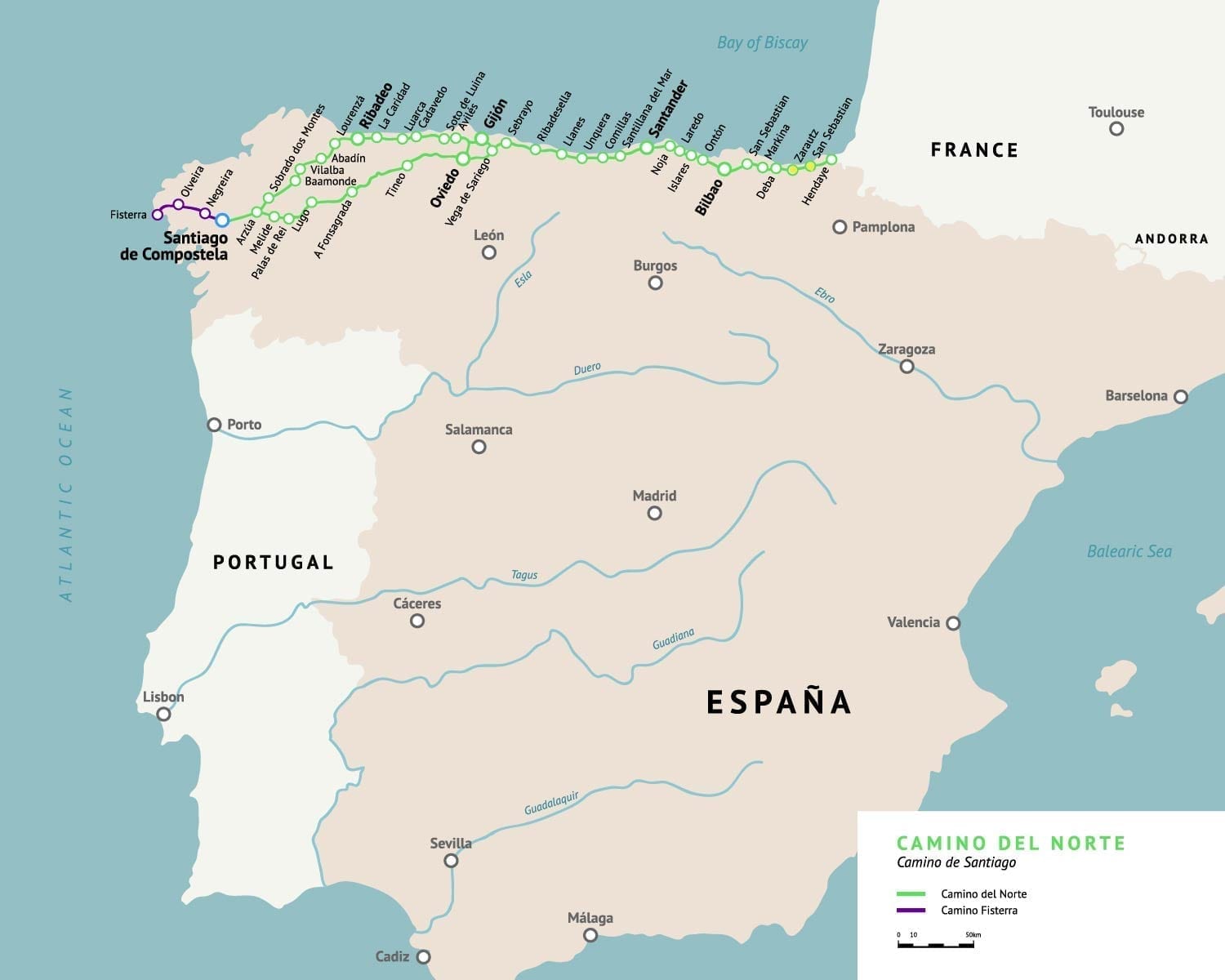 Stage Miles: 13.67 (18.5 kilometers)
Actual Miles Walked: 14.8
Bus forward Miles: 0
Total Miles Walked So Far: 14.8 (23.8 kilometers)
Where to Stay in Zarautz
I don't recommend the place where we stayed. We chose a hostel that had available beds, but it wasn't a pilgrim hostel. Avoid doing that when possible as people stayed up late while we were trying to sleep off our 15-mile day!
Here are some available hotels and apartments for rent. The Buen Camino app will help you with albergues and with ensuring you choose a place that is close to the Camino route.
Note: I really recommend the Koisi Hostel back in San Sebastián! While not an albergue, it's pilgrim friendly with food and bar, and without all the partying that we're about to experience in a terrible hostel experience on Day 2 in Zarautz. There are very few hostels that I will recommend along the route, but Koisi is a good one. Mostly I recommend sticking to albergues or hotels for a treat.
Additional Camino Resources
About the Author
Hi! I'm Jen!
I'm a freelance writer and travel blogger who quit my nine-to-five after my fiancé, Jeff, died of cancer at the age of 40. When he died, I realized that life is just too short to delay our dreams. Since my dream was to travel and write, I now travel and write full-time. Today I wear hiking boots instead of heels and collect experiences instead of things.