The Best Clam Chowder in Cannon Beach, Oregon (Updated 2021)
Hey there! This post may contain affiliate links, which means I'll receive a commission if you purchase through my link, at no extra cost to you. Please see my legal page for more details.
Where can you enjoy the best clam chowder in Cannon Beach? I set out to find out!
The Oregon Coast is famous for its steaming bowls of fresh clam chowder and you can rest assured that you will not find bad chowder anywhere along this wind-whipped coastline. But my favorite place to taste test on the Oregon chowder belt is the beautiful town of Cannon Beach.
Here's what we're exploring:
For a map with available hotels and homestays in Cannon Beach during your stay, visit here.
Let's dive in!
First Taste Test: Mo's (clam chowder with a view)
Google clam chowder in Cannon Beach and you're going to see Mo's, and for good reason. This is a must-stop location for any visit to Cannon Beach with its jaw-dropping views of the famed Haystack Rock and its bread bowls overflowing with clam chowder.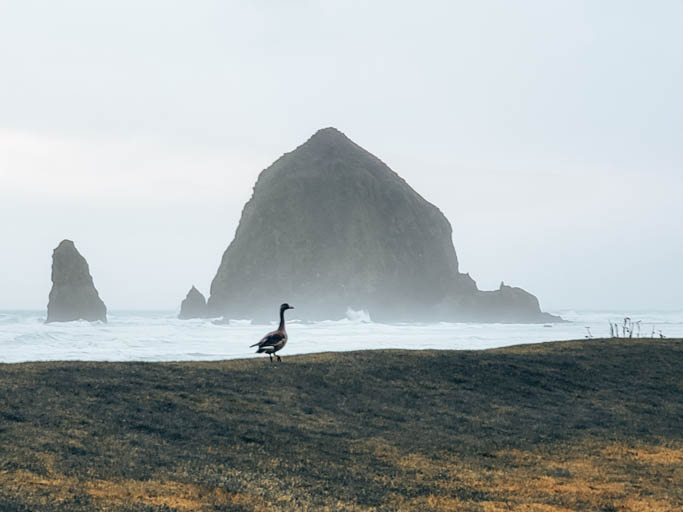 Though I love Mo's, especially for a drink at sunset, their clam chowder was my least favorite of all that I tasted. It is comparatively thin and chewy with clams so uniform in size that I wondered if they came out of a can. No vegetables are added and the spices are sparse except for the crush of salt. There are chunks of bacon, which will be a good thing for some, but not for me since I avoid meat that isn't sustainably sourced and humanely raised.
What the chowder lacks in taste, though, it makes up for in presentation. The bread bowl comes complete, meaning you get to eat even the sawed-off top of the bowl, which comes slathered in butter.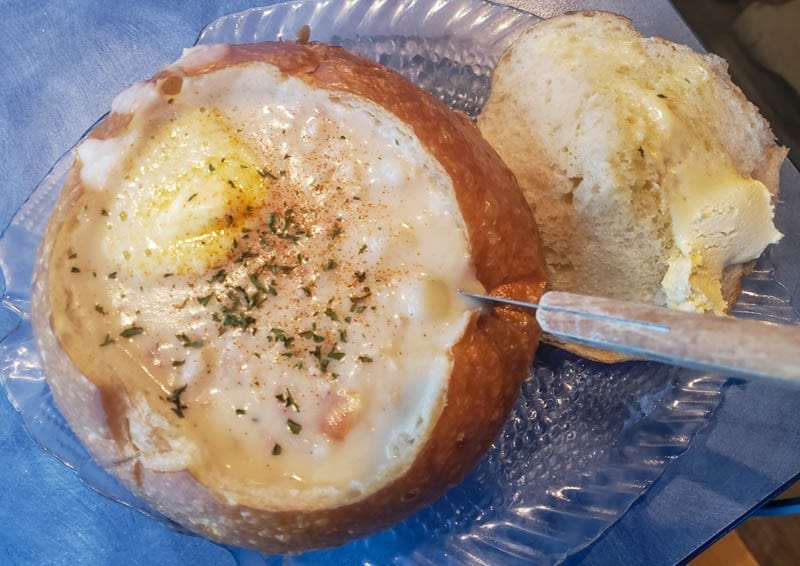 I would actually skip the chowder here and opt for their halibut, which is delicious. And, if nothing else, come for a drink and soak up that view.
Next Up: Warren House Pub for a non-traditional clam chowder in Cannon Beach
When you order the chowder at the Warren House – named for the family that built and lived in the old home turned restaurant during the pioneering Oregon Trail days – you will be warned: "It's the red kind, ok?"
Cannon Beach is known for its New England-style chowder, but the Warren House thwarts tradition and serves Manhattan-style chowder. All of the basic ingredients are the same with the carrots, celery, potatoes, and herbs, but the chowder is a tomato base.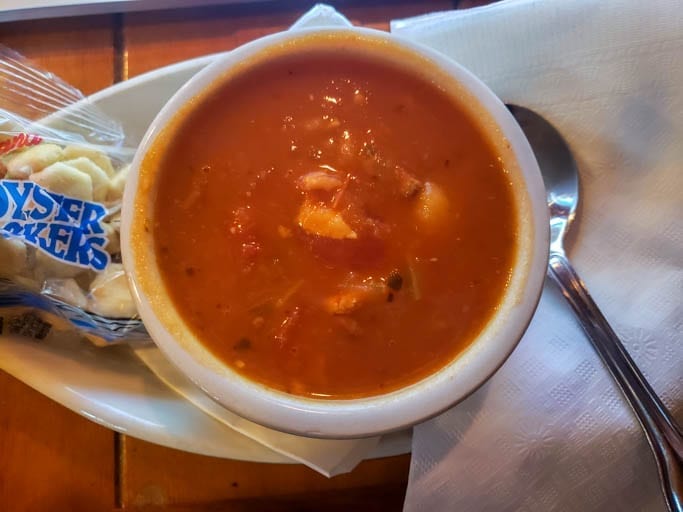 The soup is flavorful, filling, and stomach-warming on a windswept Oregon day, but if you can only have one bowl of chowder when visiting the coast, I would opt for a New England-style bowl.
Checking out the Clam Chowder at Pelican Brewing Company
A sprawling restaurant amidst the quaint mom and pops of Cannon Beach, Pelican Brewing has a different feel to it entirely. The chowder, however, didn't stand apart from the rest. Don't get me wrong, it was a good chowder that I would definitely eat again, but was it the best clam chowder in Cannon Beach? No. There was just nothing that made it unique.
Like many of the rest, the clam chowder here has carrots, lettuce, and bacon. The potatoes here are slightly larger than in other places, which I liked, and I was offered black pepper and Tabasco, which helped substantially to add to the flavor.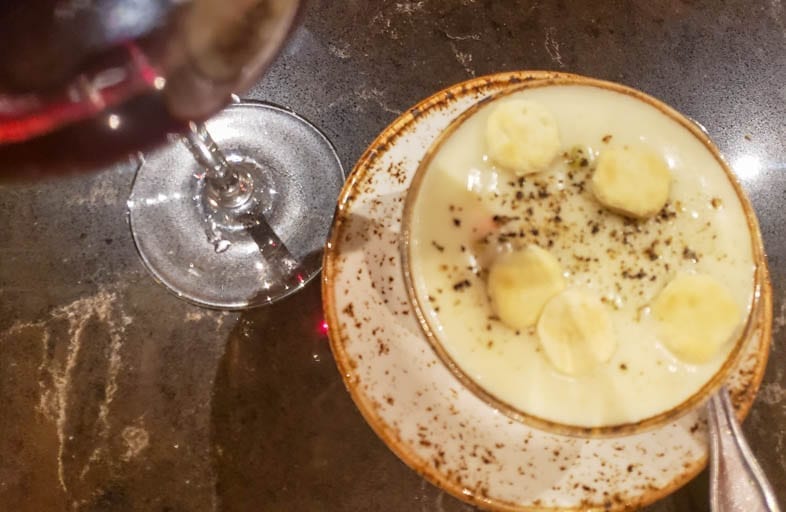 Paired with a Pelican Pilsner or a local pinot noir, the cup of chowder is a tasty Cannon Beach-style evening snack.
Bill's Tavern and Brew House is a local favorite for clam chowder
When you ask Cannon Beach locals which eatery boasts the best clam chowder in town, most will give Bill's an honorable mention even if the chowder at this cozy nook of a place isn't their favorite. Located smack dab on Hemlock Street ("Main Street" for Cannon Beach), this place bustles with locals and tourists alike.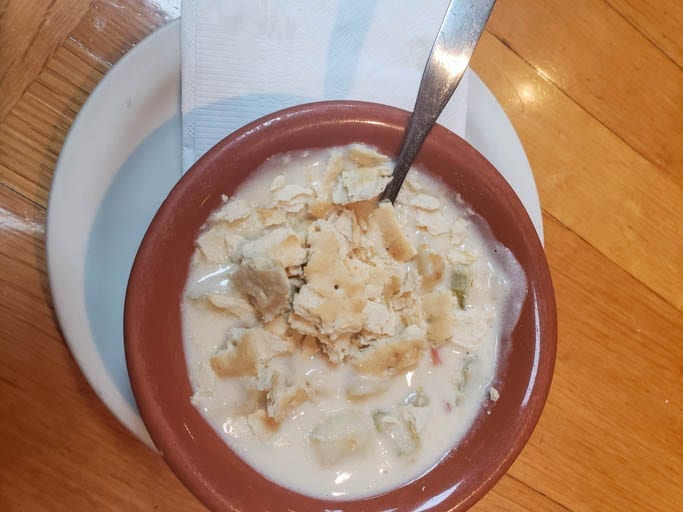 The clam chowder here is served with a side of saltines and the addition of extra chopped celery and carrots to the thick stew adds to the texture. I found the chowder a bit too bland for my liking, so it doesn't rank at the top of my list but, regardless, any visit to Cannon Beach is made better by a stop at Bill's. Especially when that chowder is paired with seasonal beer brewed right upstairs in the onsite brewery.
I ordered the Autumn Session with my cup of chowder.
Morris' Fireside Restaurant is a cozy place for a bowl of clam chowder (CLOSED DURING COVID)
When the clam chowder at Morris' Fireside slipped right off of my spoon, I was a little disappointed with the thin consistency. But this was forgotten entirely when the intense flavor greeted my tongue.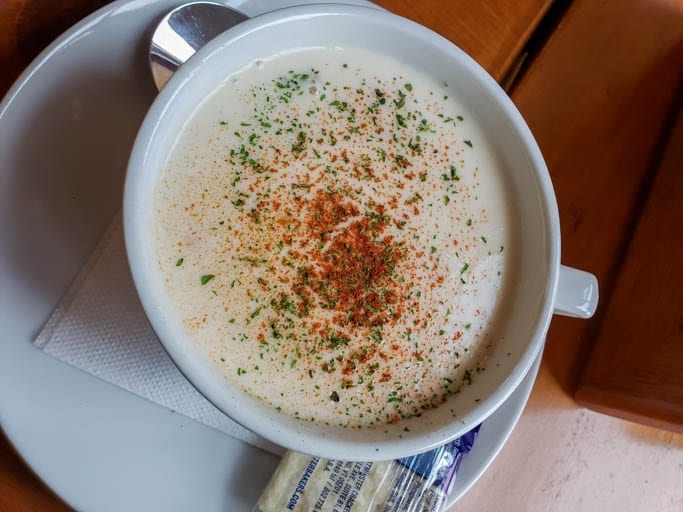 With potatoes, bacon, carrots, and celery, this chowder is set apart from the rest by the crunchiness of the celery that provides a delightful surprise and, of course, those spices. The cooks at Morris' start with a New England Clam Chowder base and add paprika, pepper, and parsley. They have their spice consistency down pat.
A cup of chowder in front of the fireplace in this log-cabin restaurant is a great way to spend a rainy afternoon at the Oregon Coast.
Ecola Seafood Market & Restaurant: In the Running for the best clam chowder in Cannon Beach
Order at the counter at the Ecola Seafood Market and choose from a cup of chowder, a bowl of chowder, a 14-quart bucket of chowder, or, my favorite, a bread bowl of chowder. Bonus points for the offering of a side of garlic bread for dunking.
The chowder here is thick without being chewy and so fresh it is scrape-the-sand-out-of-your-teeth tasty. With huge chunks of celery and carrots to go with the mammoth clams, this is the kind of chowder experience I was looking for.
There is so much texture and so much flavor going on with this chowder that I seriously forgot to add the oyster crackers!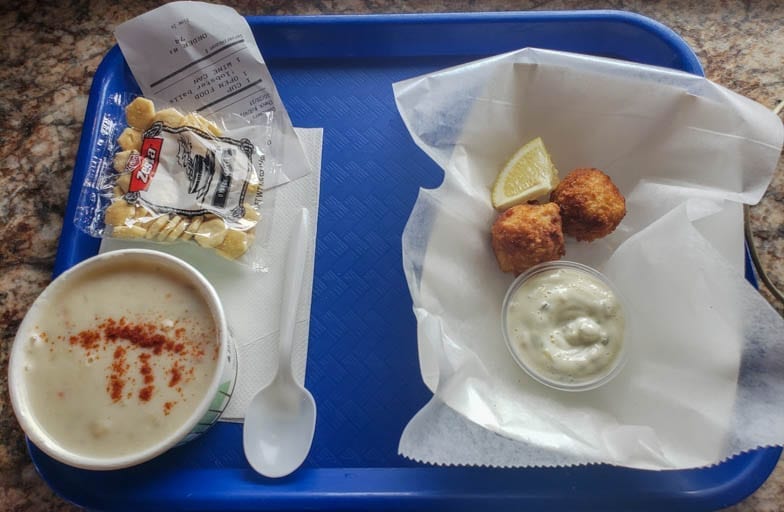 I cannot give the market top marks, though, because of the single-use paper plates, plastic silverware, and plastic condiment containers that abound.
In fact, I was forced to use the first plastic spoon since I vowed to go plastic-free (or as close as possible) nearly a year before I swooned for the clam chowder at the Ecola Seafood Market and Restaurant. (Next time I will bring my own silverware!)
Local Grill & Scoop is the runner up for the best clam chowder in Cannon Beach
The clam chowder here comes in a cup, bowl, or a sourdough bread bowl – and it is a no-joke meal, even if you get the cup.
By far the most filling and robust of all the clam chowder recipes that I tasted in Cannon Beach, the Scoop was the near winner for me. It's definitely a homemade recipe and the owner, David, would not divulge much about the secret recipe.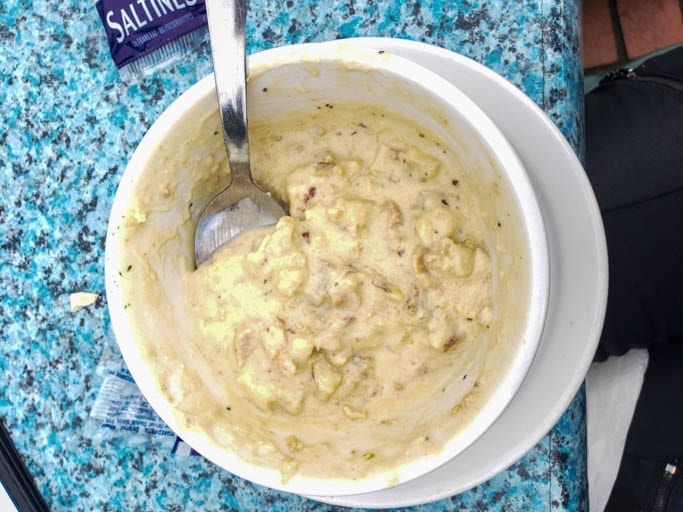 He would tell me that there are potatoes, carrots, bacon, and local bay shrimp – the second fish makes all the difference. As for the spices, there was something about their herb blend that stuck out to me. I know there is parsley and paprika, but he wouldn't tell me the rest – no matter how hard I pressed!
This is a chowder with serious substance that looked just as good as it tasted.
And the WINNER for the BEST Clam Chowder in Cannon Beach is…
The Driftwood!
Besides making me feel completely at home, Driftwood Restaurant and Lounge serves a homemade clam chowder recipe that is a simple, 40-year-old recipe that tastes like home.
No bells and whistles here, just a simple clam chowder with onions, carrots, and potatoes, and topped with a parsley, paprika mix, and a splash of butter.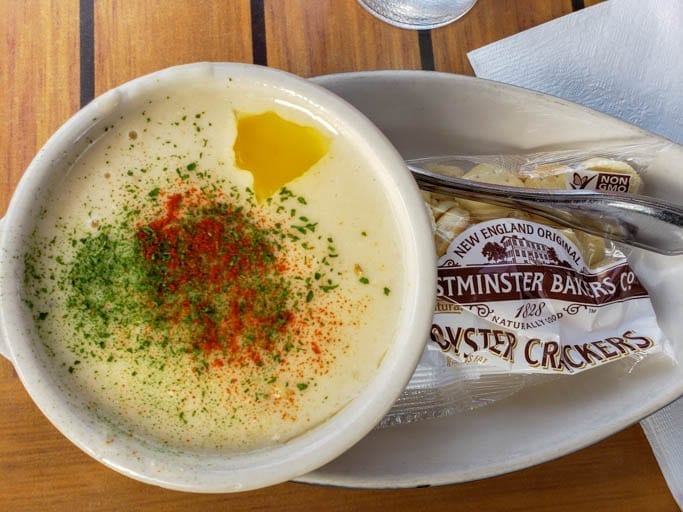 No whistles necessary. This is simple goodness with a side of welcoming local flavor. It's perfection. It is the only clam chowder in Cannon Beach in which I came back for seconds. And that says something when you are on a very filling (and fulfilling) chowder tour!
Where to Stay in Cannon Beach, Oregon
It's often easiest to rent a home in Cannon Beach as locals tend to get out of town when the tourists come in!
Thank you for reading this post about my favorite Oregon Coast beach town!
About the Author
Hi! I'm Jen!
I'm a freelance writer and travel blogger who quit my nine-to-five after my fiancé, Jeff, died of cancer at the age of 40. When he died, I realized that life is just too short to delay our dreams. Since my dream was to travel and write, I now travel and write full-time. Today I wear hiking boots instead of heels and collect experiences instead of things.
You might also like