20 Oregon Coast Road Trip Stops
Hey there! This post may contain affiliate links, which means I'll receive a commission if you purchase through my link, at no extra cost to you. Please see my legal page for more details.
These 20 must-stop locations on an Oregon Coast road trip will take you from the port town of Astoria on the Oregon north coast to the mountainous sand of the Oregon Dunes National Recreation Area on the Oregon central coast.
This would be a 200-mile road trip if you drove from Astoria straight to the Dunes on the Oregon Coast Highway/US 101, but we have 18 beautiful stops in between, don't we! With a couple of detours, this is a 260-mile trip best done in five days (doable in three days).
First stop on this Oregon Coast road trip: Astoria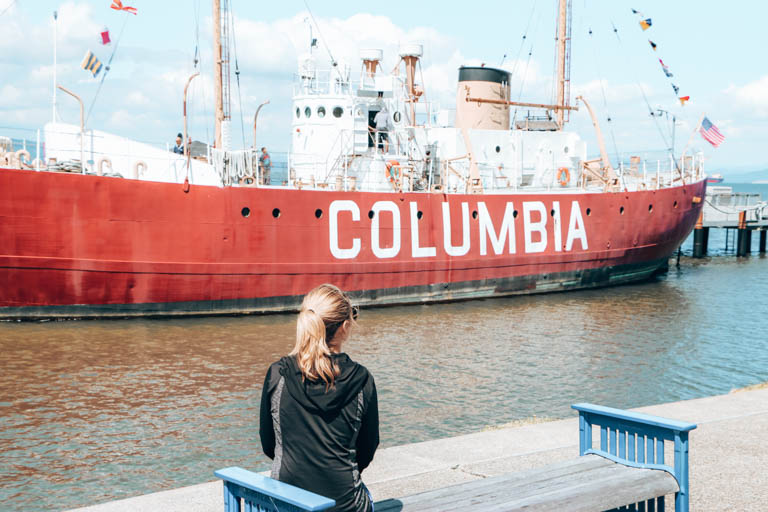 Astoria is nestled on the Columbia River just miles from where the great river meets the Pacific Ocean. Astoria is a two-hour drive from Portland on the Oregon north coast, and, from this town, you can sit in Oregon and look across the water to Washington State.
You can also feel the maritime influence, which is everywhere from the saltwater whipping your face to the huge Columbia River Maritime Museum to the looming presence of the Coast Guard ships.
For all you 80s movie enthusiasts, Astoria is also famous for being the home of The Goonies. The "Goondocks" are in the hills of Astoria where you can see the actual home from the 1985 film (though some of the homeowners in the neighborhood, understandably, don't want us snapping photos on their property).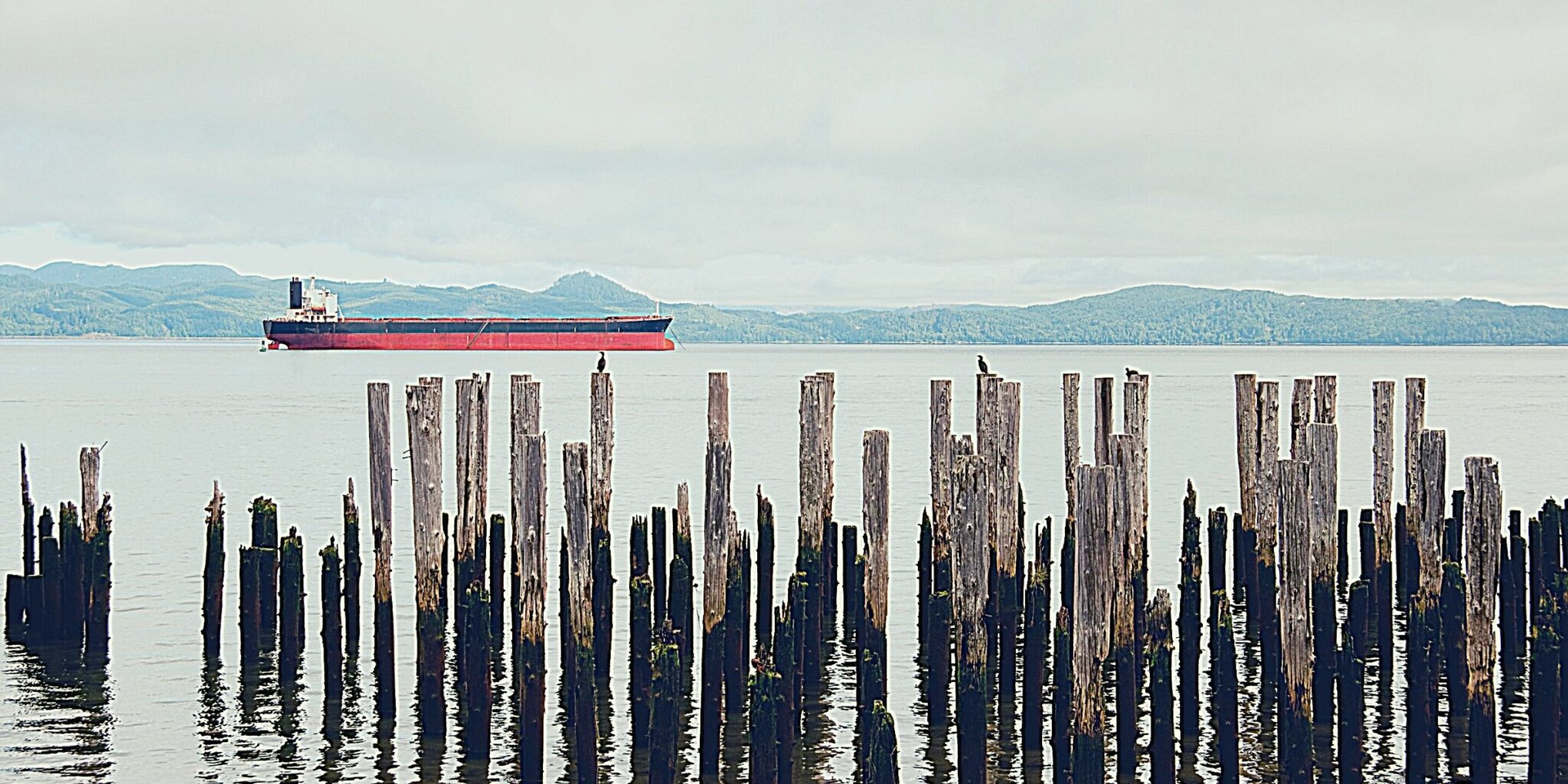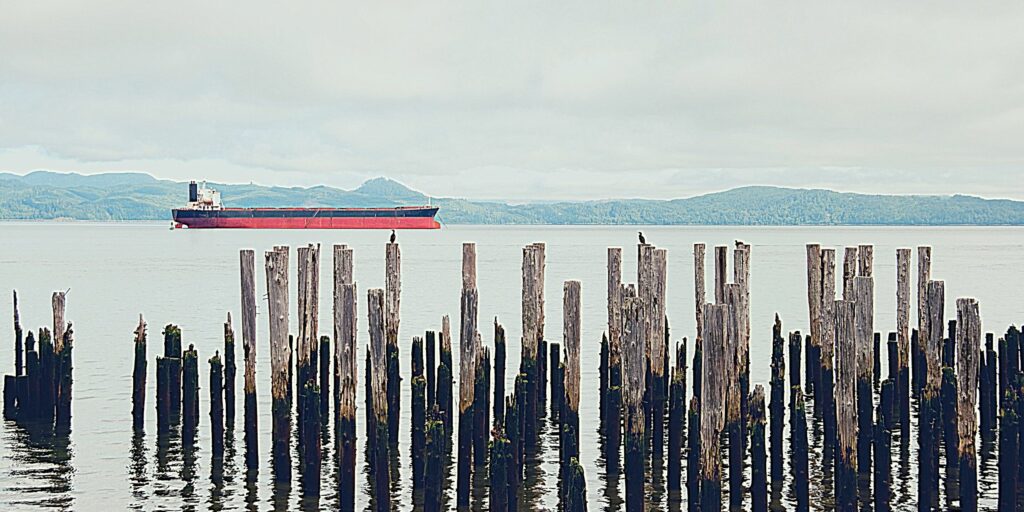 You can, however, take a picture outside of the Clatsop County Jail where Jake Fratelli escaped his cell (now the Oregon Film Museum), and in front of the Flavel House located right across the street. This is where Mikey's dad worked in the film.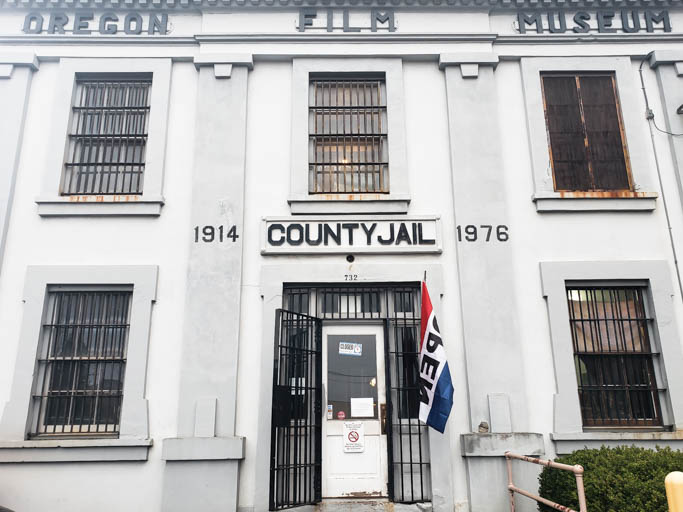 We'll find the beach rocks featured in two infamous scenes in the film on stop number four on this Oregon Coast road trip at Cannon Beach.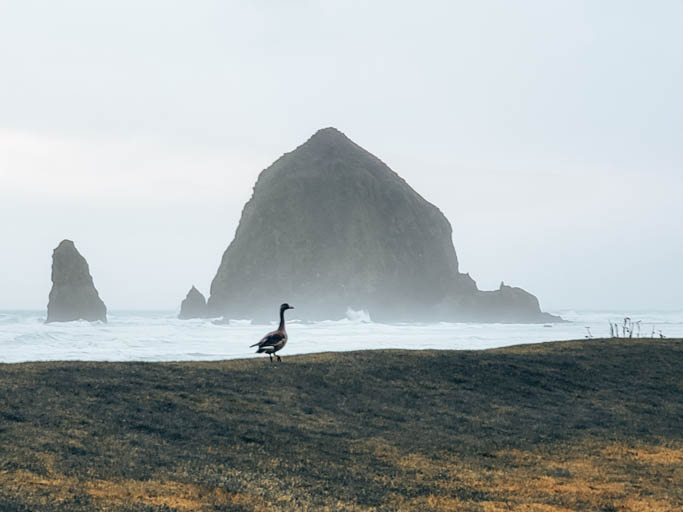 Time: Allow two hours if you are visiting the museum and wandering the town. If you are only doing The Goonies driving tour, then 30 minutes should do it. BUT…please be very careful around The Goonies home. (See below.)
WARNING about the Goondocks: There seems to be some disagreement between the homeowners of The Goonies home and one of the neighbors. Two of the mailboxes at the foot of the gravel drive leading to the home say "walk up!". The sweet little handmade signs are really inviting.
When I went, there was a man at the top of the hill with a dog, and he waved at me. I started to walk up the drive toward him when, out of nowhere, a car whipped out of one of the lower driveways, backed down the driveway, and blocked me.
The woman inside ripped me a new one, pointing at the "private drive" sign. Which is absolutely there…next to the sweet signs inviting you up! When she pointedly got far too close to me with her vehicle, I determined it wasn't worth it for the picture.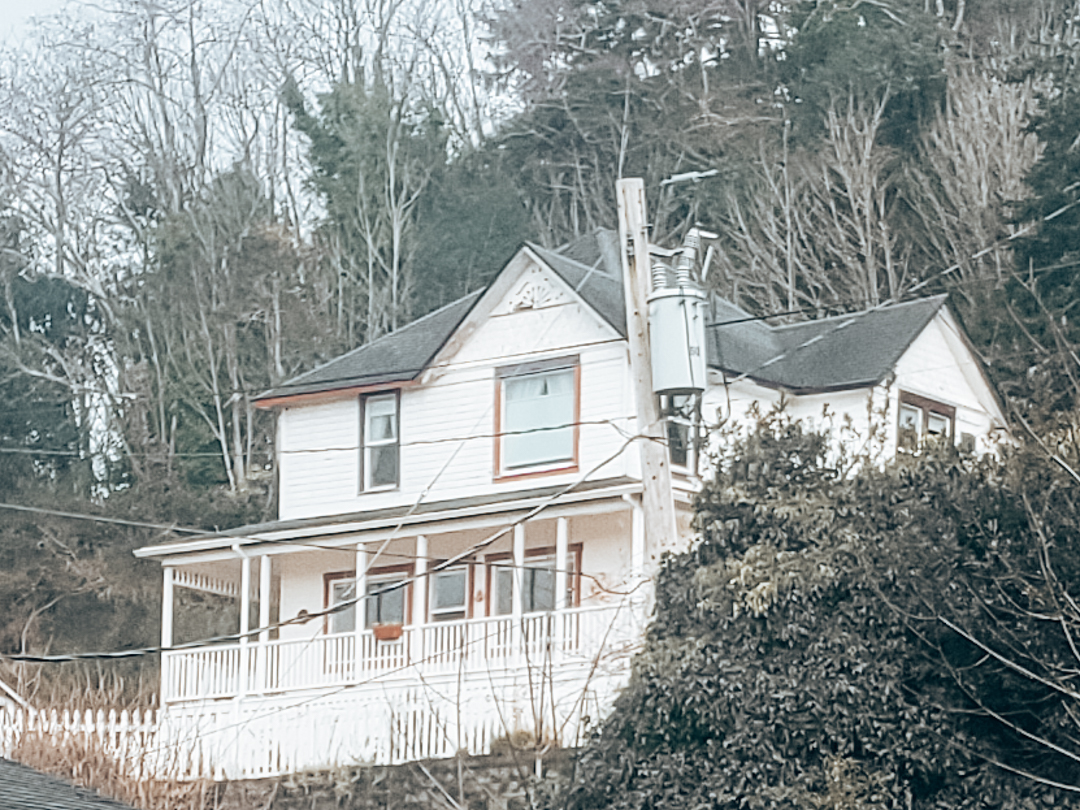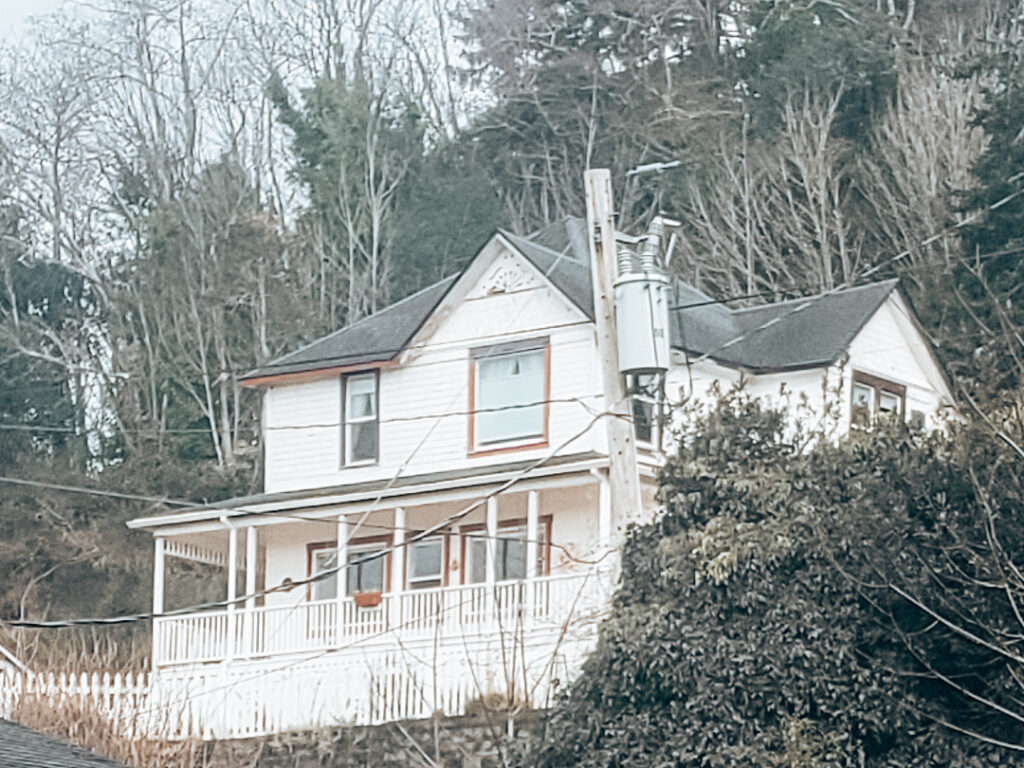 Apparently, the homeowners of the Goonies house have a donation box in front of the house and don't mind a bit if you snap some pictures and leave a few bucks. But I don't know if you want to mess with the angry neighbor. I sure don't.
Best stop for: Lovers of maritime history or the Goonies.
Addresses to know: The Oregon Film Museum/Clatsop County Jail is located at 732 Duane Street, Astoria, OR. The Flavel House is just across the street. The Goondocks are in the hills above town. You can still see Mikey's house (368 38th St.), but don't loiter or linger. The owners have had enough of us movie lovers!
Second stop: Lewis & Clark National Historic Park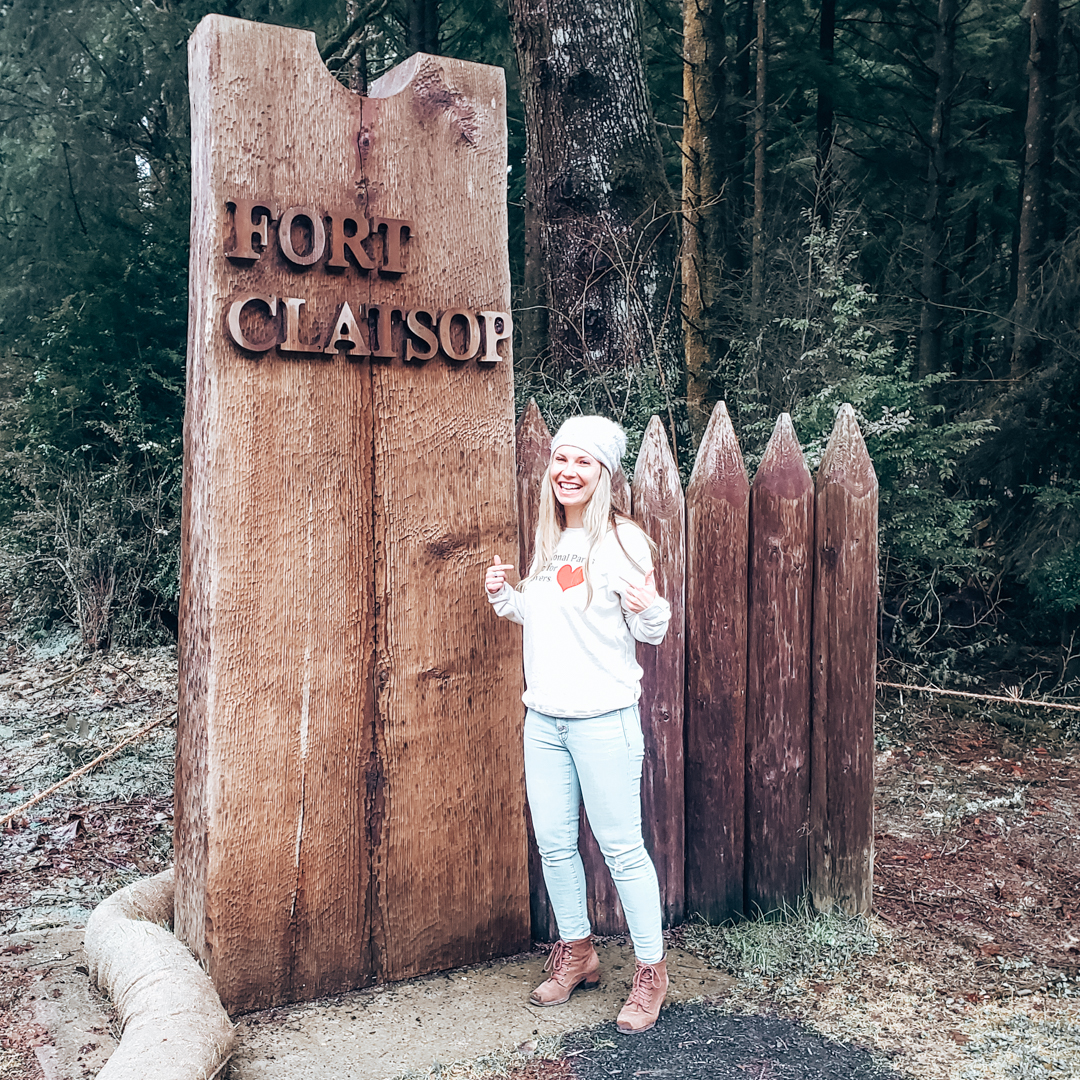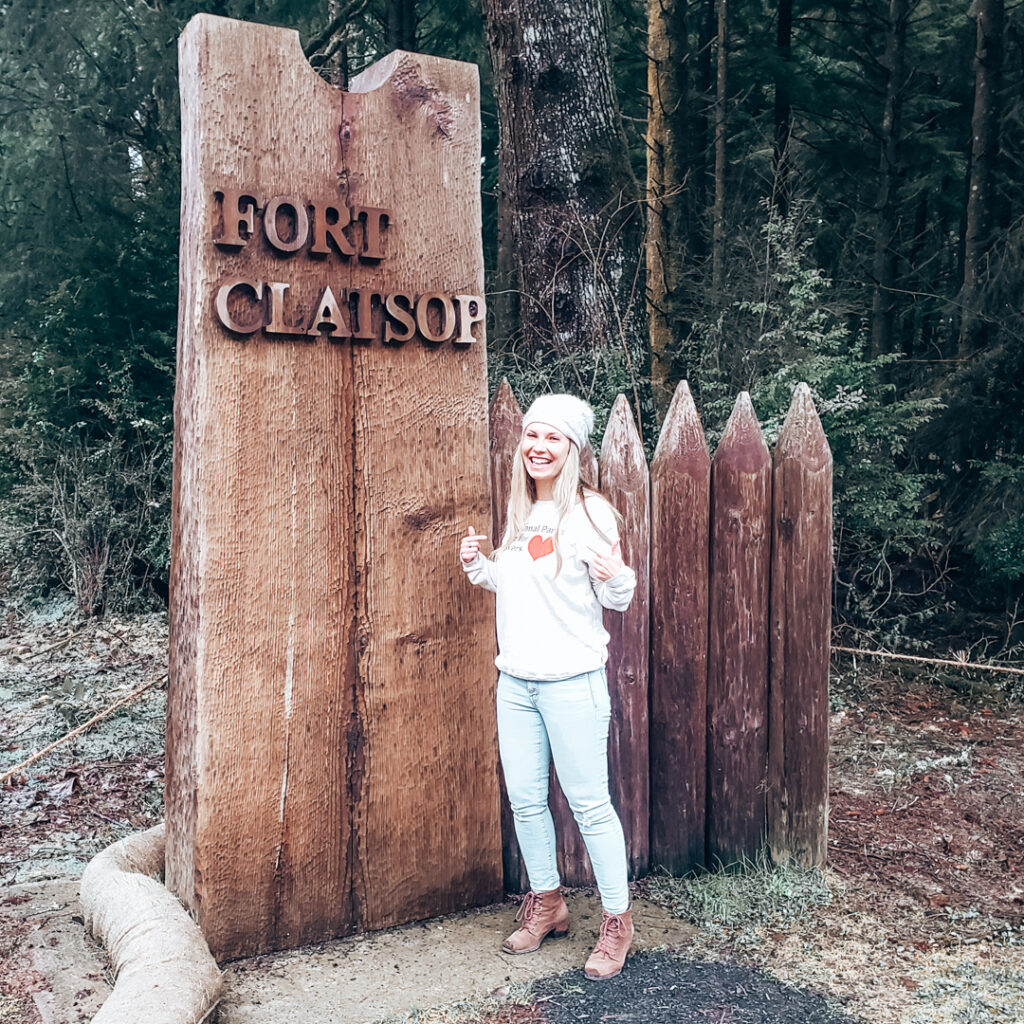 From December of 1805 to March of 1806, the Lewis and Clark explorers camped here on the Oregon north coast at a place they named Fort Clatsop. There is a replica of the fort to explore, and, in the summer months, costumed reenactors roam the grounds.
Pro Tip: Get a Passport to your National Parks if you want to collect stamps when you visit a historic site like this one!
Time: One hour
Best stop for: Lewis and Clark history buffs
Cost: $10 per person. Or free with your Annual America the Beautiful Pass ($80). If you don't have an annual pass, ask about the Oregon Coast Annual Pass ($35), which is for sale at the Fort Clatsop visitors center. This will work for all fee sites on this Oregon Coast road trip.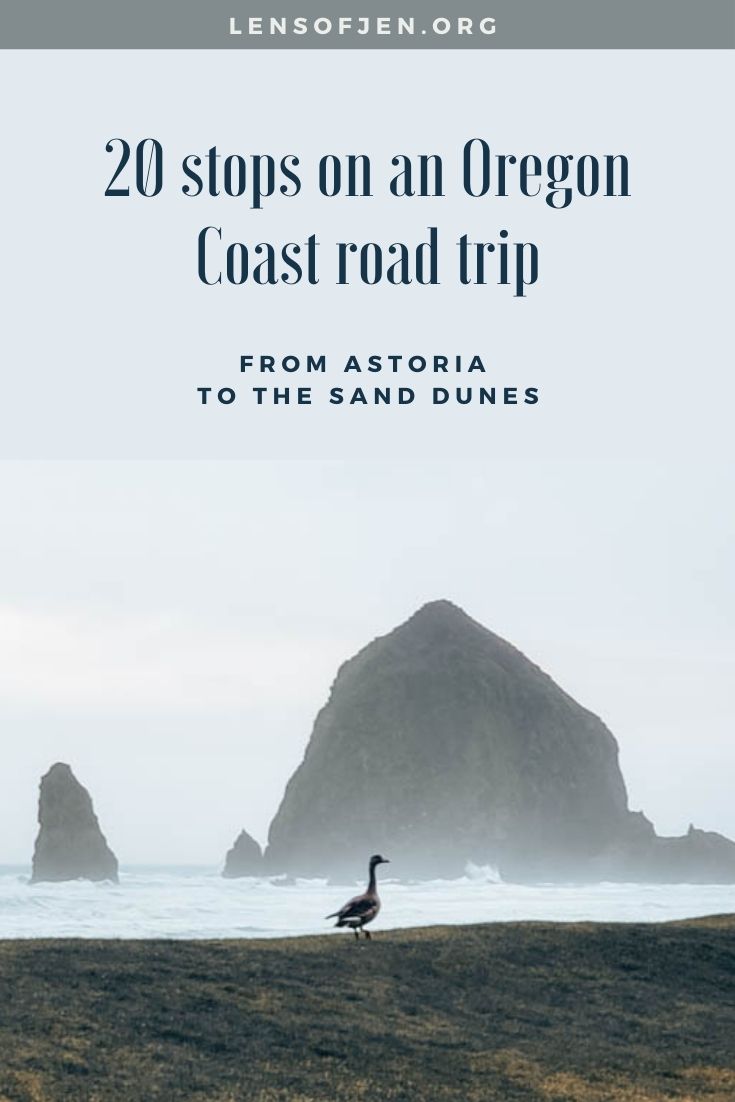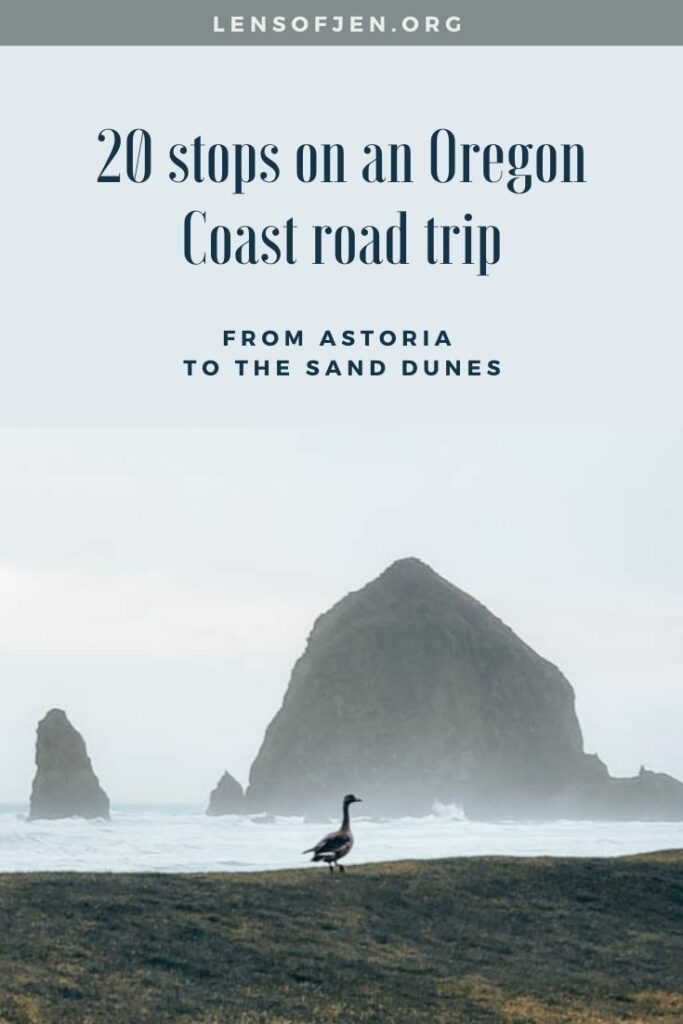 Address: 92345 Fort Clatsop Rd, Astoria, OR 97103
Third stop: Wreck of the Peter Iredale
You will learn at the Maritime Museum in Astoria that the area where the Columbia River meets the Pacific is a treacherous stretch of sea. More than 2,000 ships have sunk in this area. And one of those shipwrecks still sits on the Oregon Coast.
Just 10 miles west of Astoria you will find the remains of the Peter Iredale on this stretch of sea and sand known as the Graveyard of the Pacific on the Oregon north coast.
On October 25, 1906, the Iredale ran ashore at Clatsop Spit during a dense fog. While the crew of 25 never made it to the destination of Portland, nobody was seriously injured in the wreck.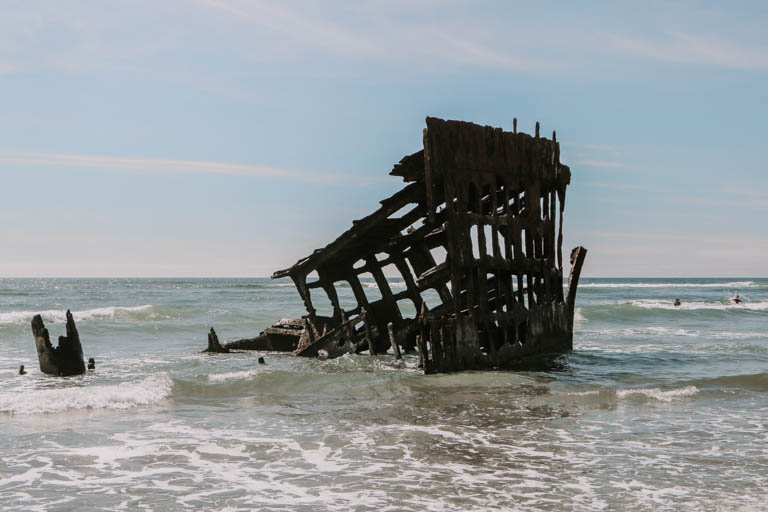 Located within Fort Stevens State Park, the Iredale is completely accessible with a super short walk down a sandy slope. During low-tide, you can walk right up to the ship!
It's especially beautiful at sunset when the light shines through the remains of the ship.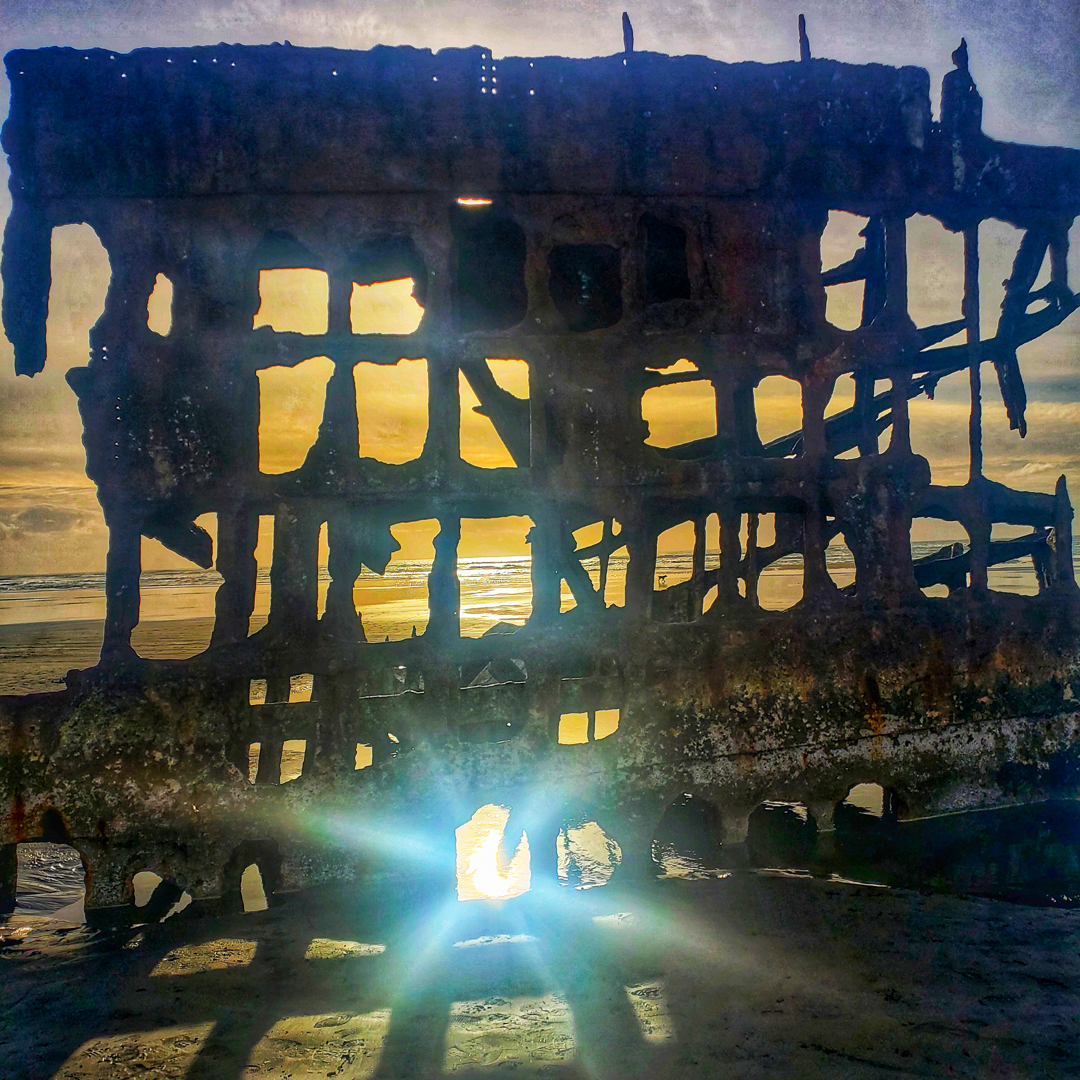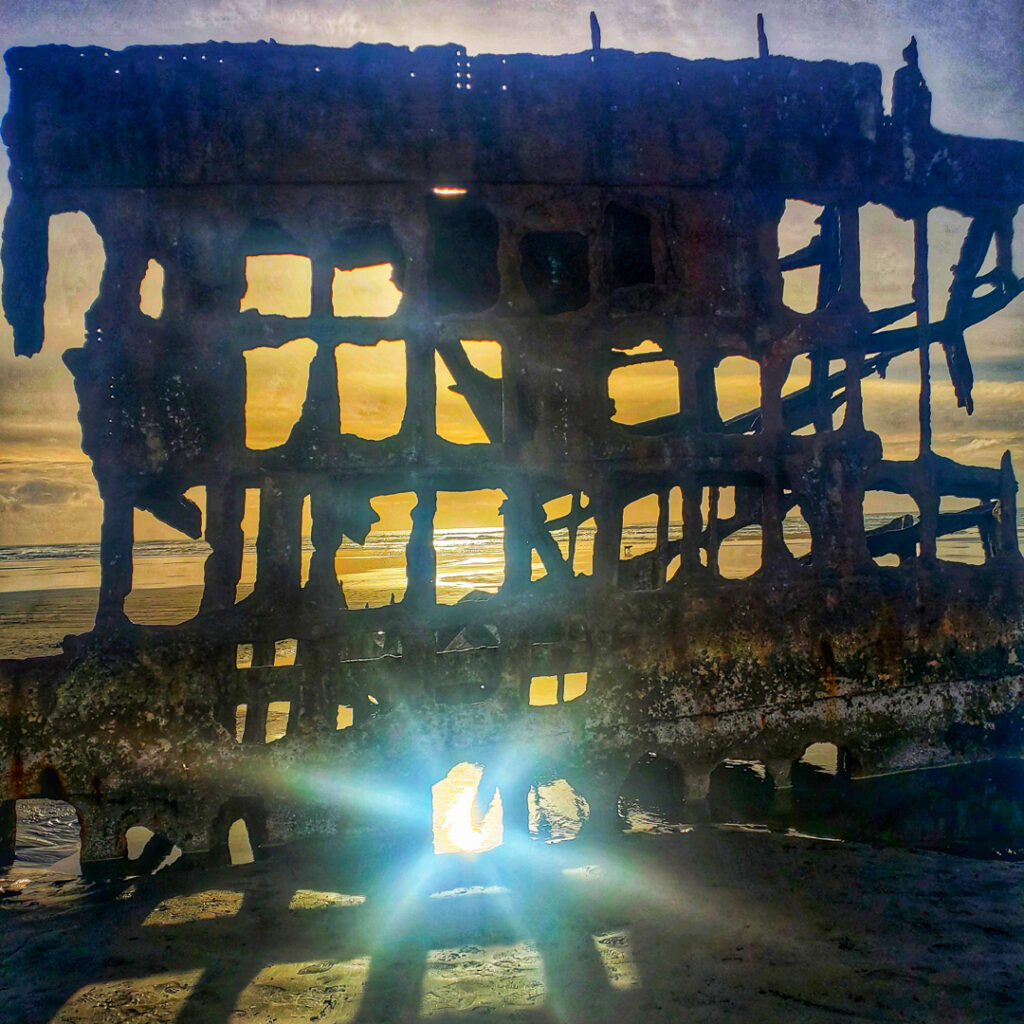 Time: 30 minutes
Best stop for: An Oregon Coast sunset
Address: Peter Iredale Rd, Hammond, OR 97121
Cost: $5 day-use fee
Fourth stop: Seaside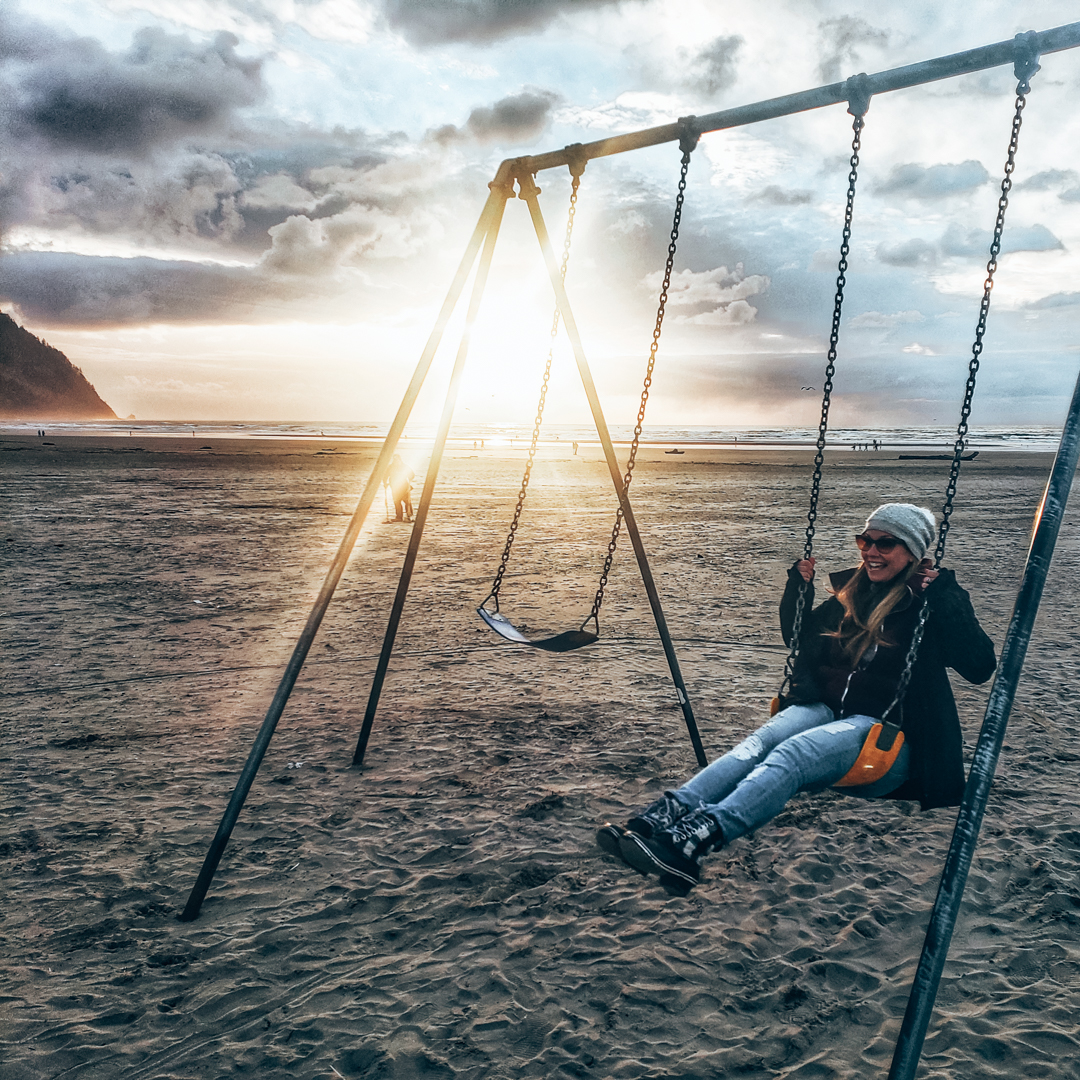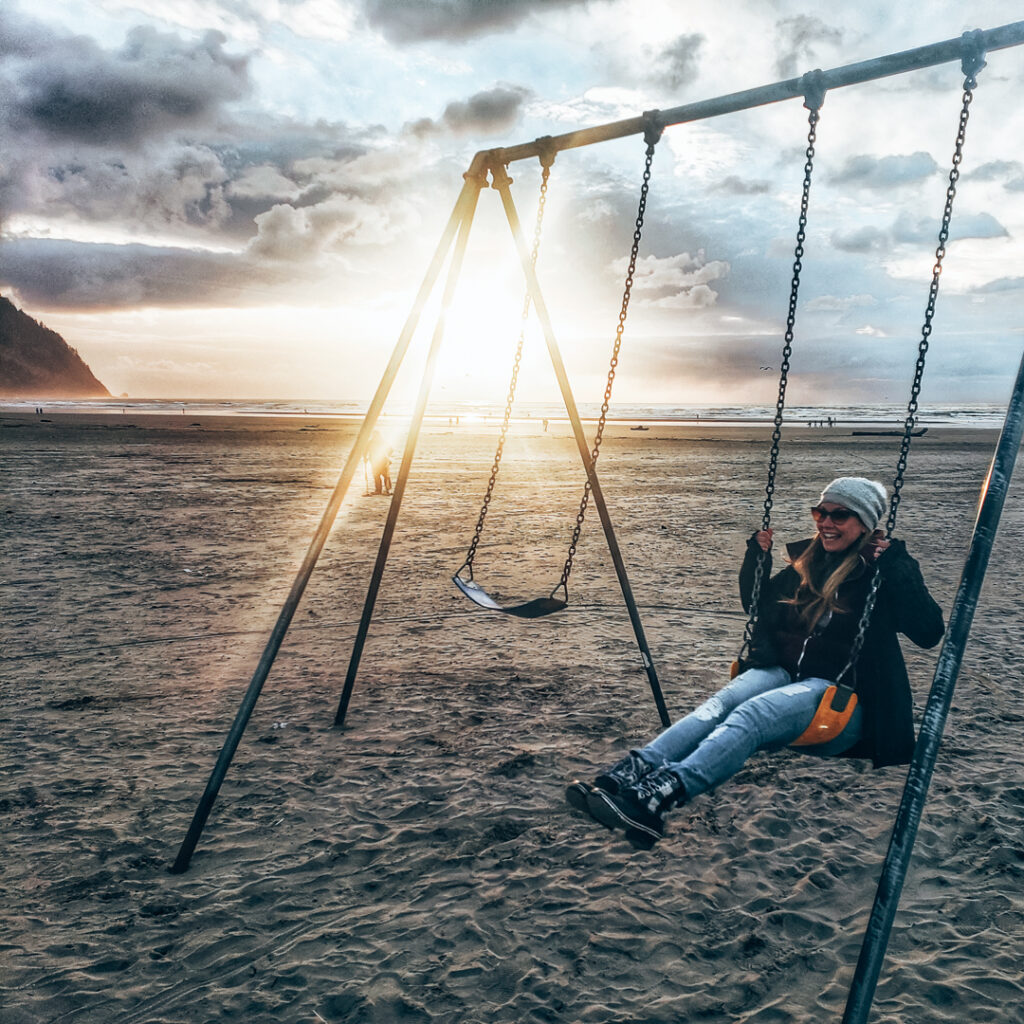 Just 15 miles south of Astoria and a little over an hour drive from Portland sits Seaside, Oregon with its kitschy charm. I have the fondest memories of childhood day trips spent here getting sick on the Tilt-A-Whirl and collecting ribbons of tickets spitting from the gallery of arcade games.
As I got older, my interests shifted to the romantic quiet of beaches farther to the south, but Seaside will always hold a special place in my heart.
Though harder to notice with all of the distractions in Seaside – cars cruising down Broadway, tourists pedaling the Prom on tandem bicycles, the smell of saltwater taffy turning and popcorn popping, music blaring from sidewalk speakers – there is a quiet history here, too.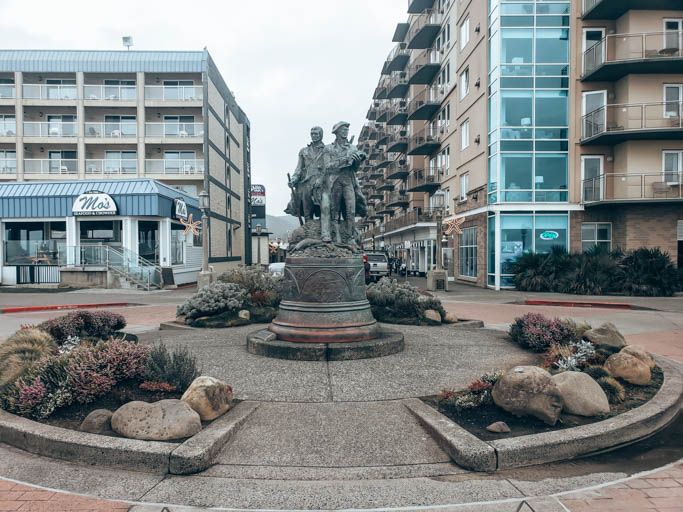 Seaside is designated as the end of the Lewis and Clark Trail, and statues of Meriwether Lewis and William Clark face the sea from the turnabout on Broadway.
Personally, I like to watch Lewis and Clark and all of the passersby with a mimosa from the bar at the famed (chain) chowder house on the Oregon Coast: Mo's (formerly the Shilo Inn). This is a beautiful stop on the Oregon north coast!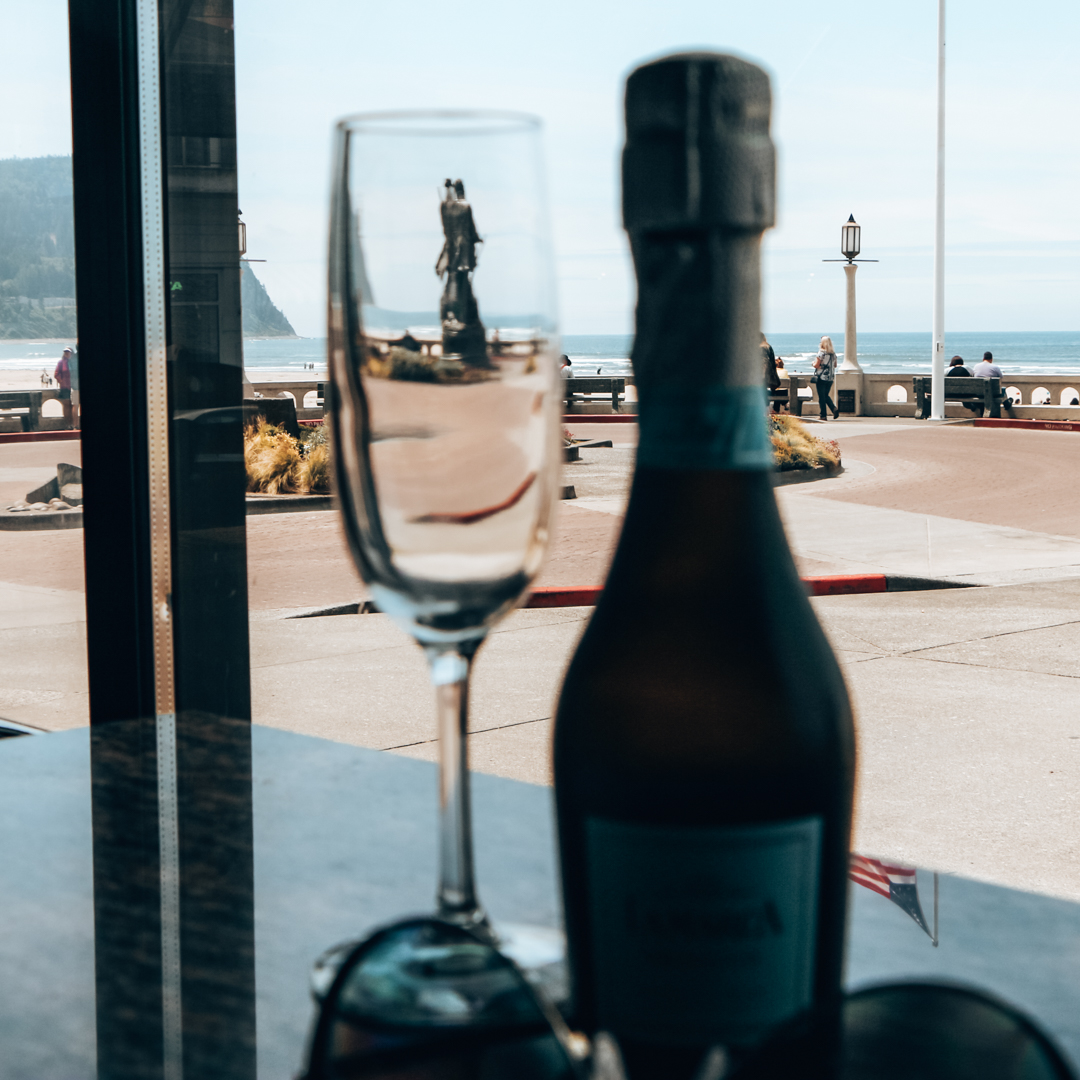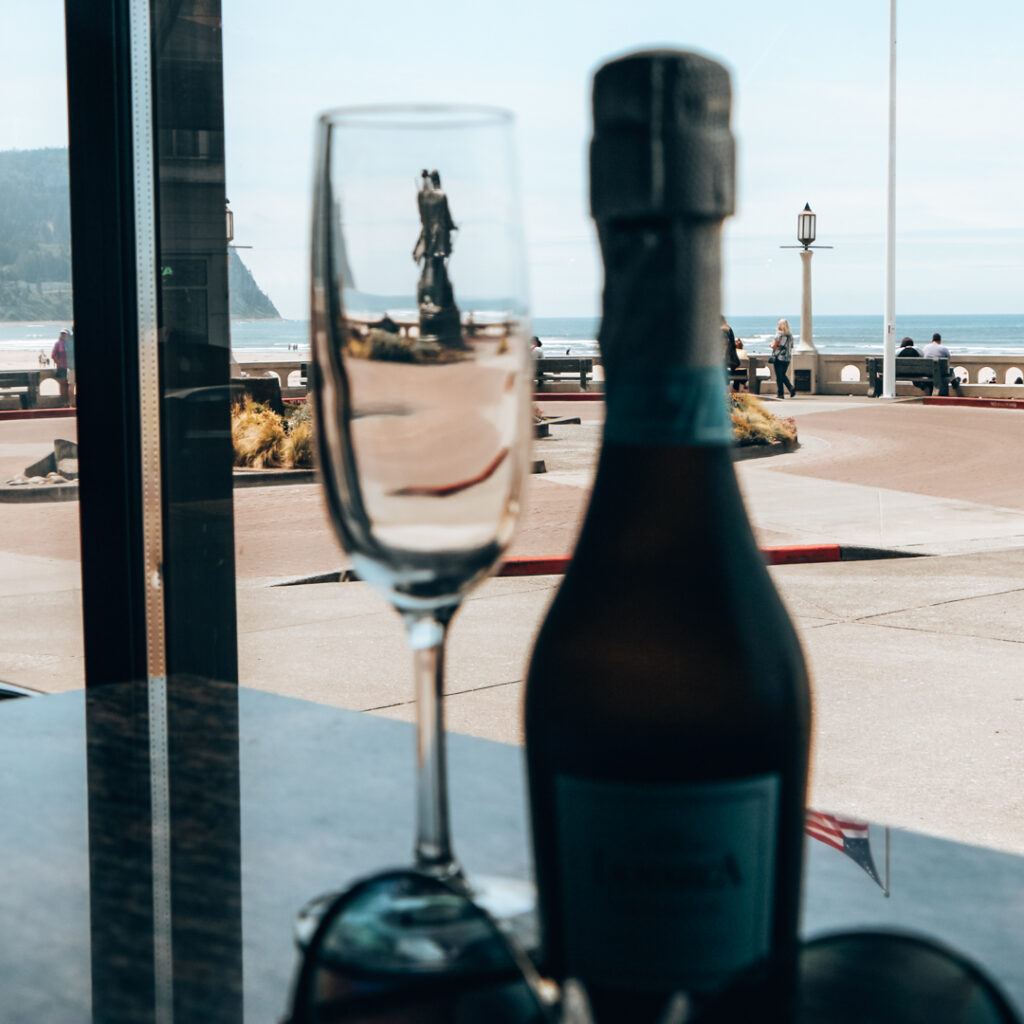 Time: 1.5 hours
Best stop for: Kids
Addresses to know: The turnabout where Broadway meets the Prom is located in front of Mo's at 30 N Prom. There is a parking lot next door for customers. You can also park at the top of Broadway and stroll down to the Prom.
The fifth stop on this Oregon Coast road trip: Cannon Beach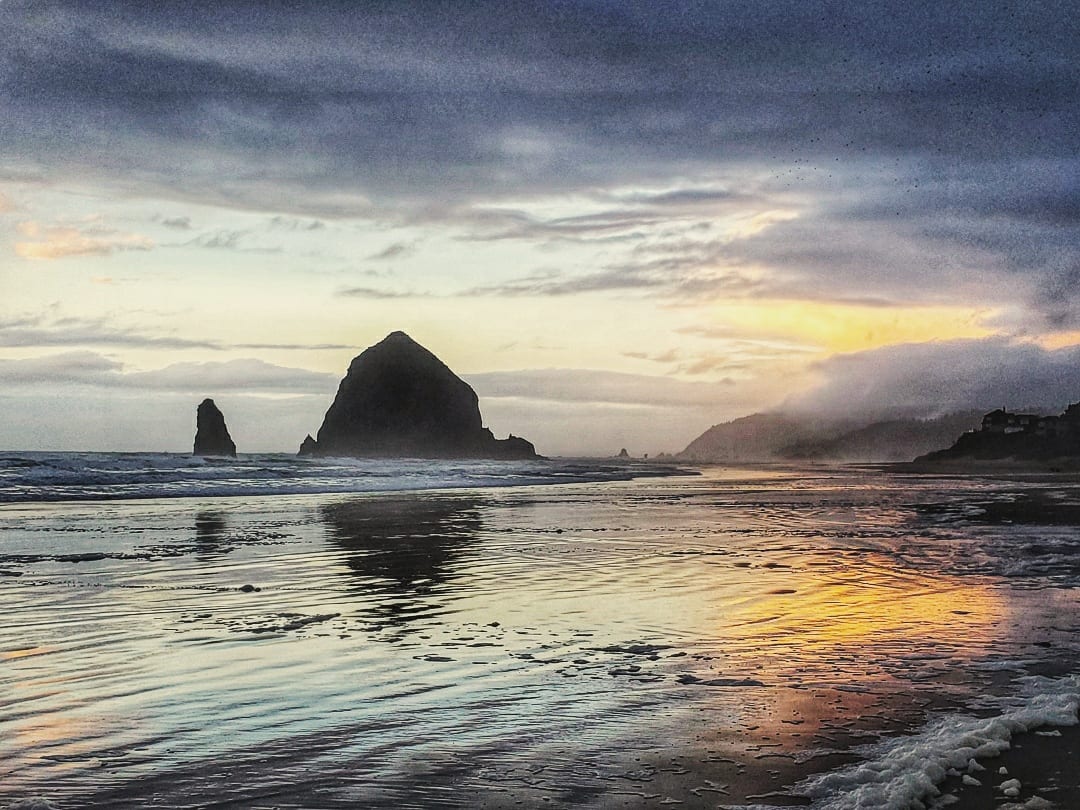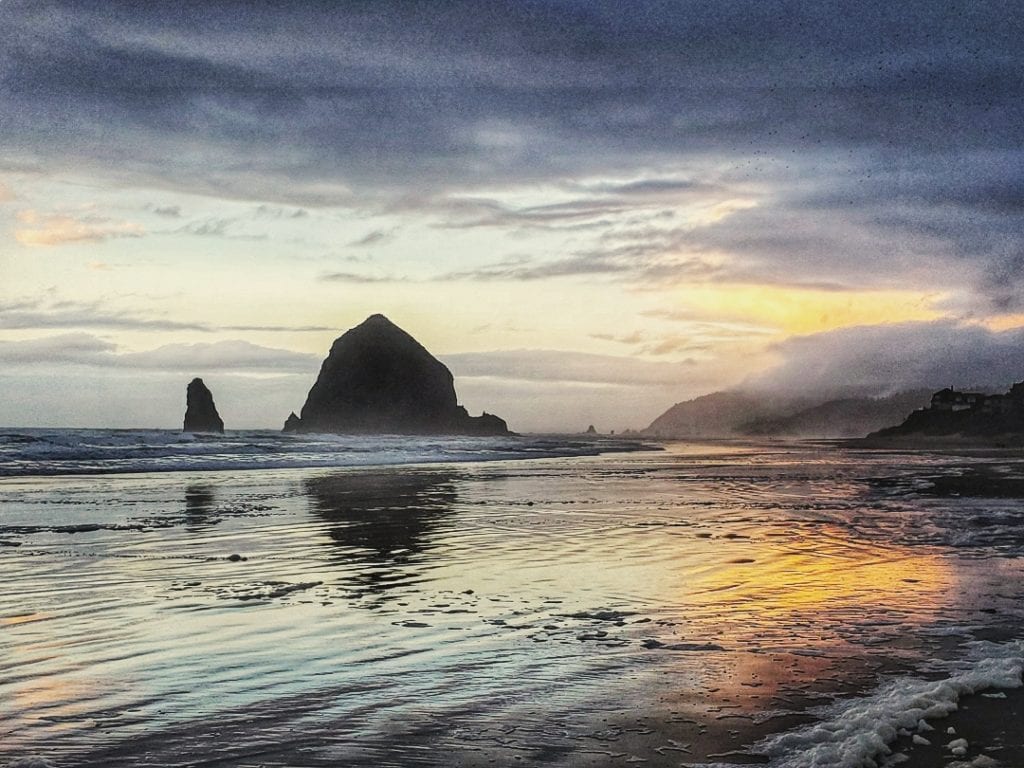 Cannon Beach is my very favorite place on the Oregon Coast. There is just something that draws me here. There are rumors of a creative spirit inhabiting Haystack Rock, and maybe that's it. Whatever the reason, long walks on the beach here are my jam.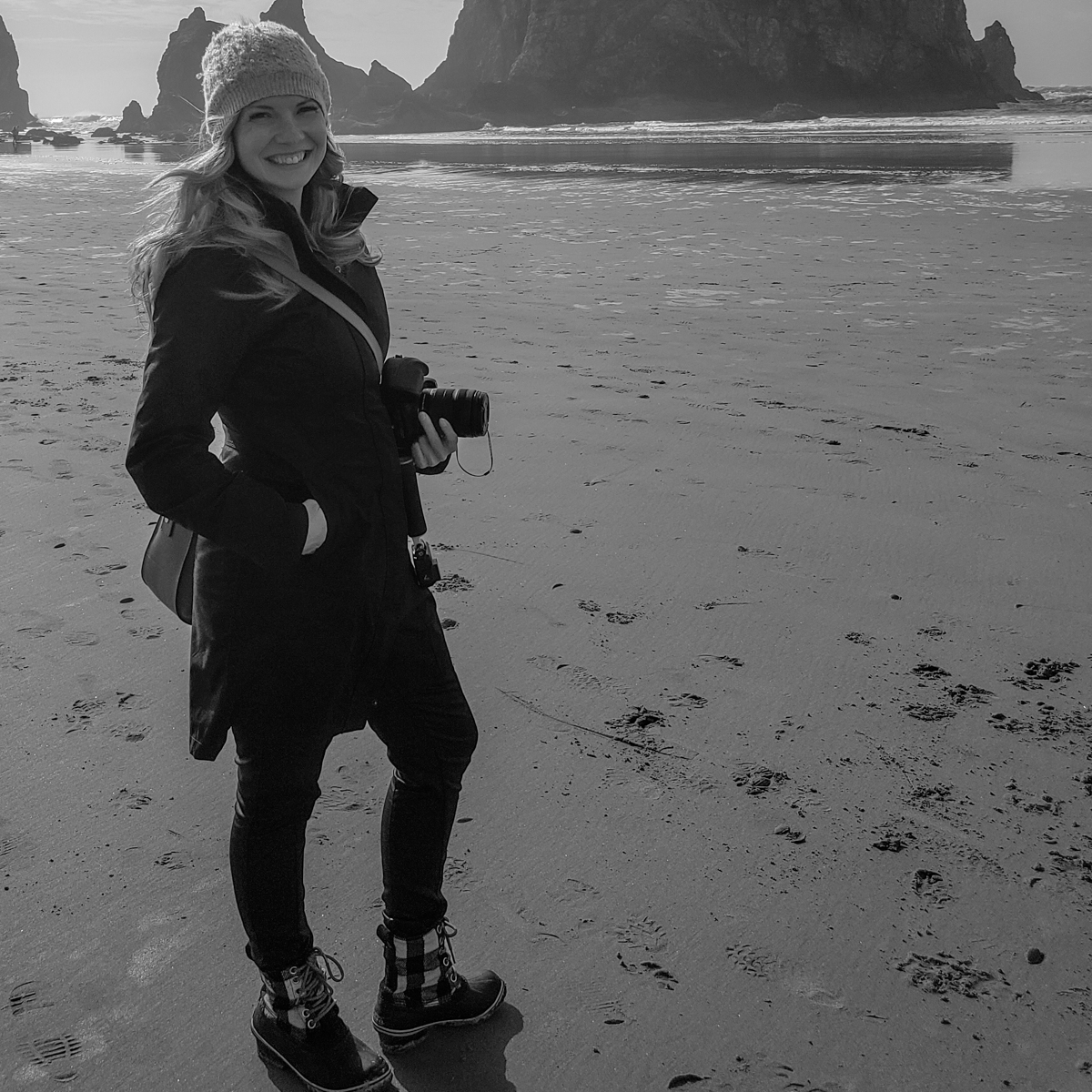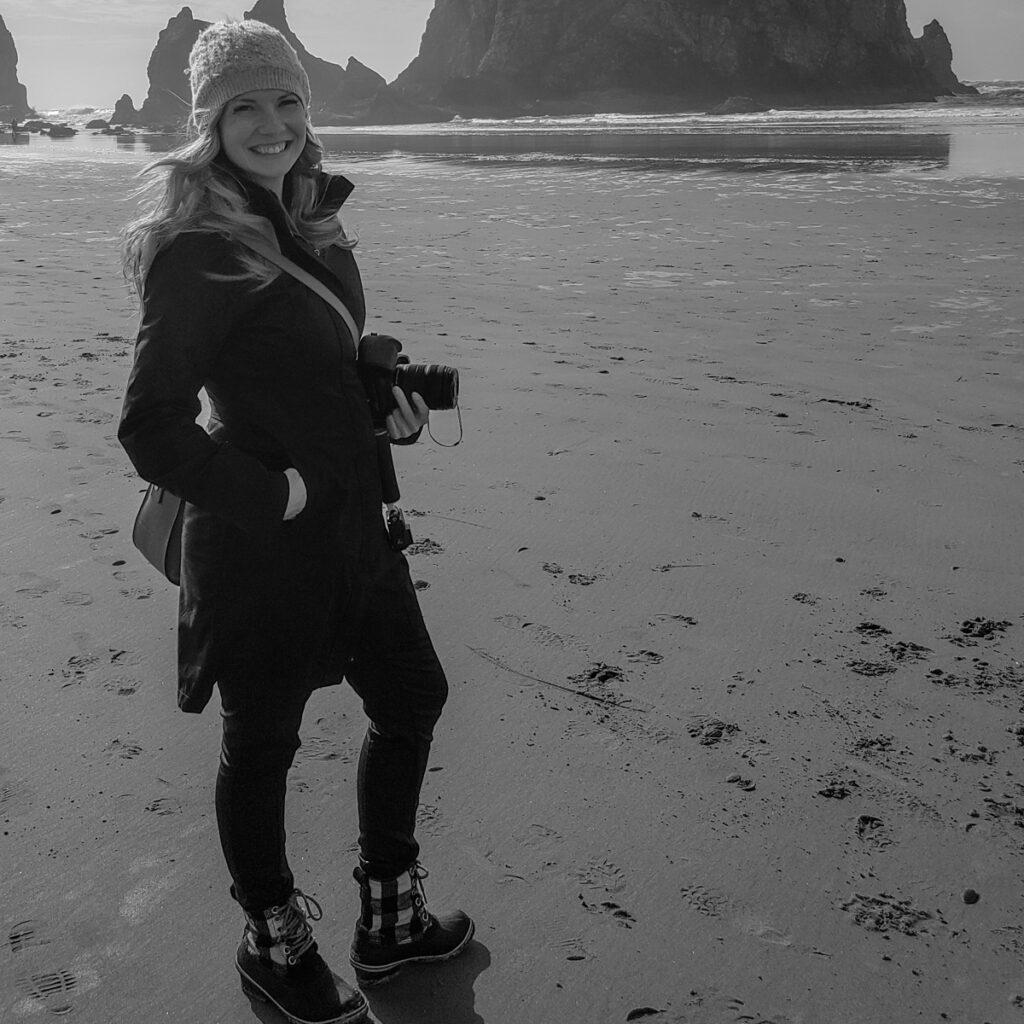 Sunset and sunrise are especially magical times to walk the wide Oregon north coast at Cannon Beach. Low tide is really cool due to the tide pools surrounding Haystack Rock.
When I took my late partner here just before he was diagnosed with cancer, he declared it his happy place. He rented a DVD of the movie Goonies from the hotel desk, microwaved a bag of popcorn, turned on the electric fireplace, and stretched out next to the floor-to-ceiling view of Haystack Rock.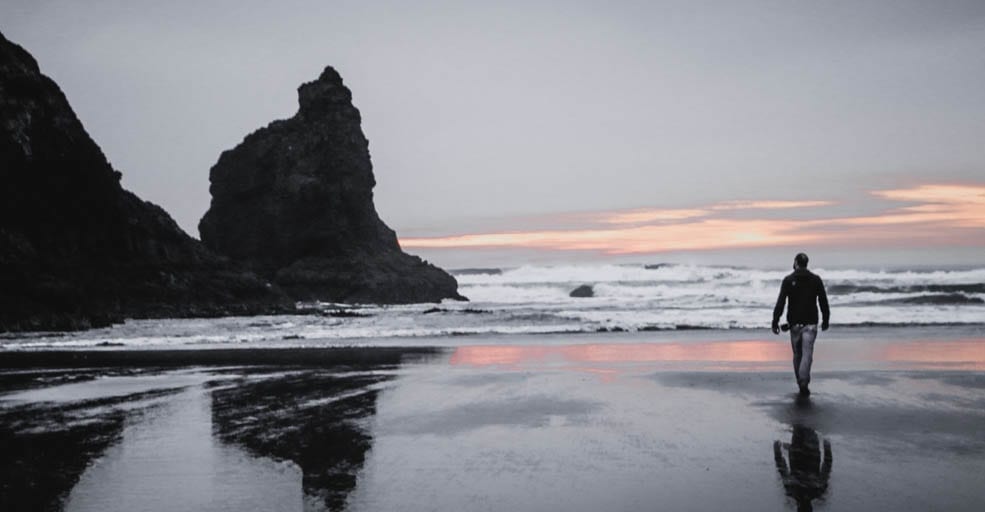 In the mornings, he would open the sliding glass door that led straight to the beach and take long walks to watch the sunrise. This is the place where I chose to spread his ashes on a sunrise walk of my own.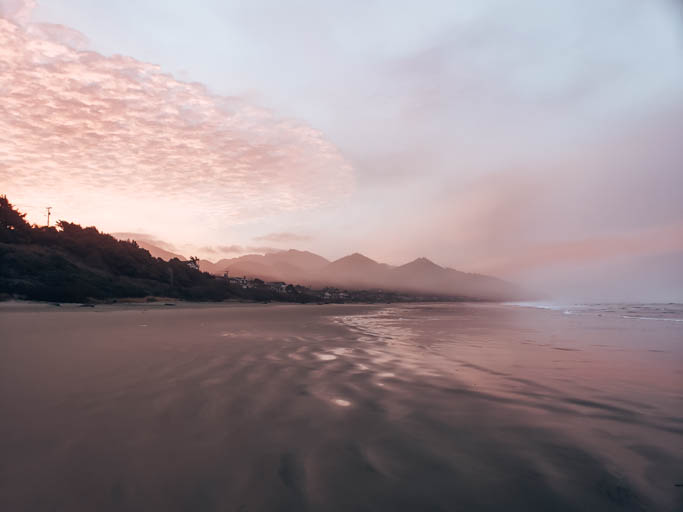 It's also where I recommend you stay for the night on this Oregon Coast road trip. Make sure to look for places with views of the beach as there is nothing like listening to the crashing Pacific Ocean waves at night. The hotel that I describe above is Sandsurf Resort.
When staying at Cannon Beach in the busier summer months, I often use apartment rentals because locals put their homes up for rent and get out of town when the tourists come in.
This map has both apartment rentals and hotels:
There is so much to do in Cannon Beach, and I have a whole post on this sweet little beach town on the Oregon north coast coming soon. For now, here are some tips on where to eat: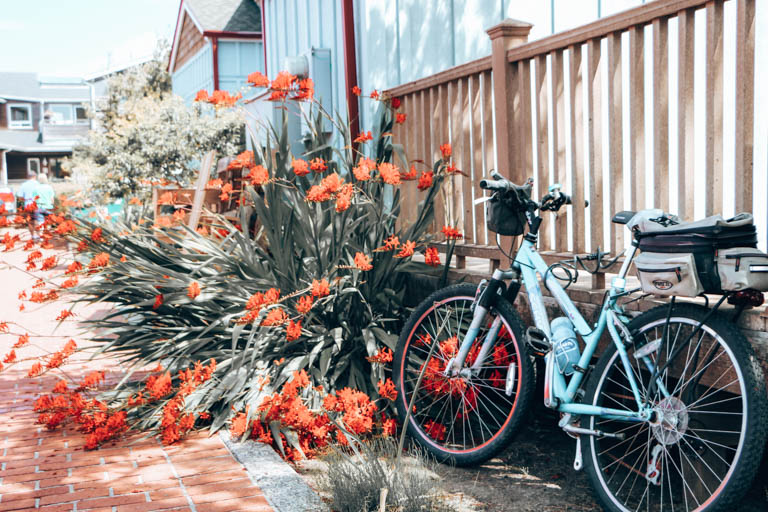 Time: Minimum two hours to walk both the beach and the town
Best stop for: a sunrise walk on the beach
Pro Tip: Catch a happy hour from the deck of Mo's for the best views of Haystack Rock while enjoying a cheap beverage. This is also a good area for public parking if you are not staying the night.
Addresses to know: Mo's is located at 195 W Warren Way. There is a public parking lot across the street.
Stop number six: Rockaway Beach
Haystack Rock at Cannon Beach is just the start of our tour of rock formations on this Oregon Coast road trip! Next up…Rockaway Beach and beautiful views of its iconic Twin Rocks await just 26 miles south.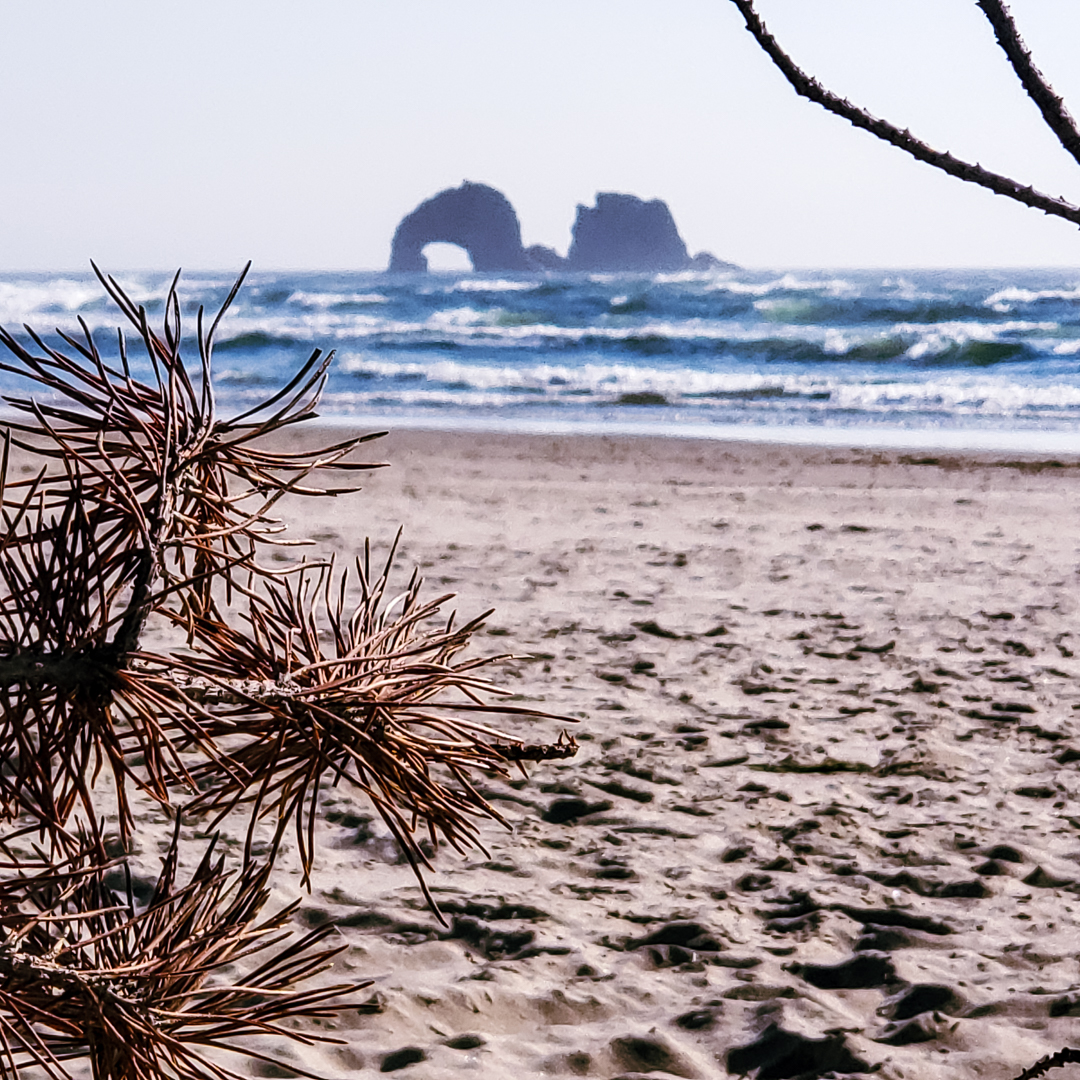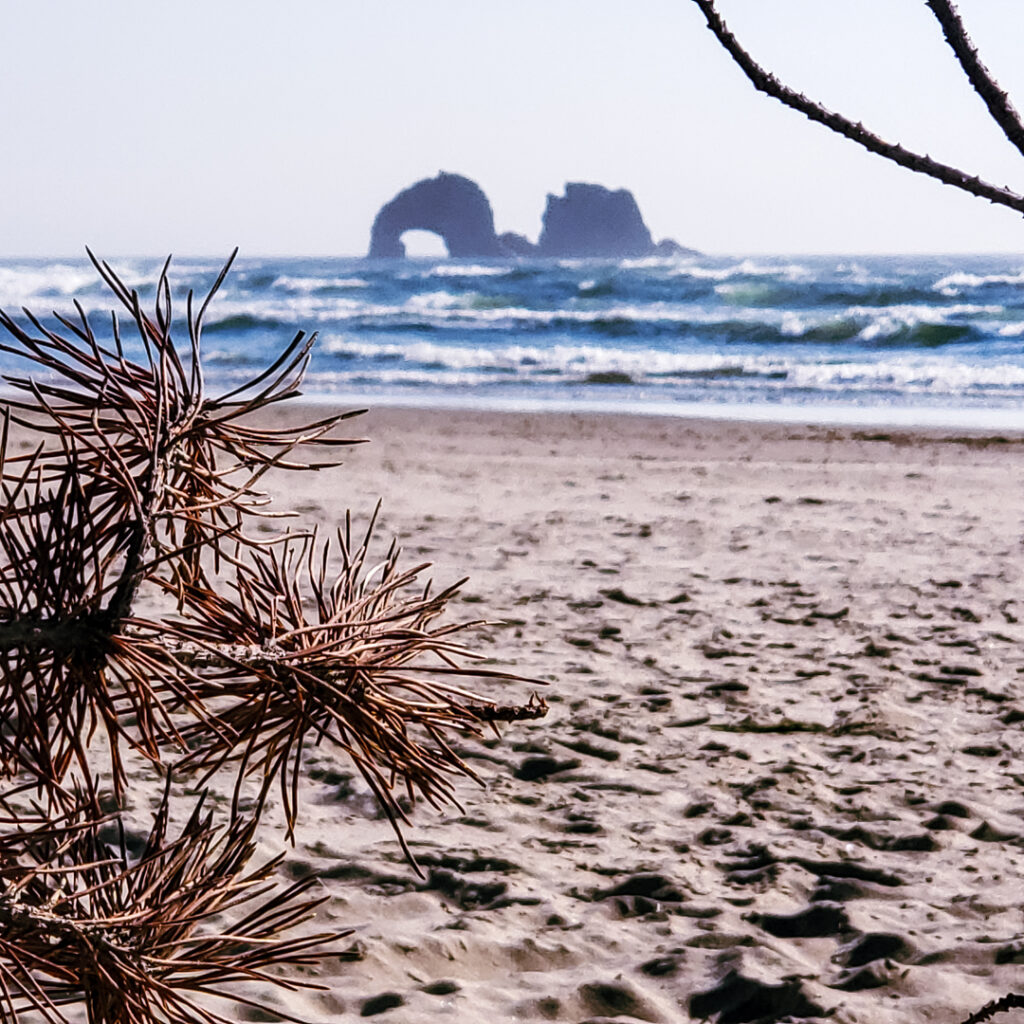 These rock formations were once one, solid rock. But the consistent eroding pressure of the waves created two rocks with enough space between them to fly a helicopter!
The best view of the Twin Rocks is from the Minnehaha Street Beach Access. The good folks at Visit Rockaway Beach have more information on the rocks and the adorable town that surrounds the beach.
Time: 30 minutes
Best stop for: a pre-lunch beach stroll with a view
Addresses to know: Diamond Beach: 443 S Miller St, Rockaway Beach, OR / Minnehaha Street Beach Access: Park at Minnehaha & S. Breaker Ave.
Our seventh stop: Tillamook Creamery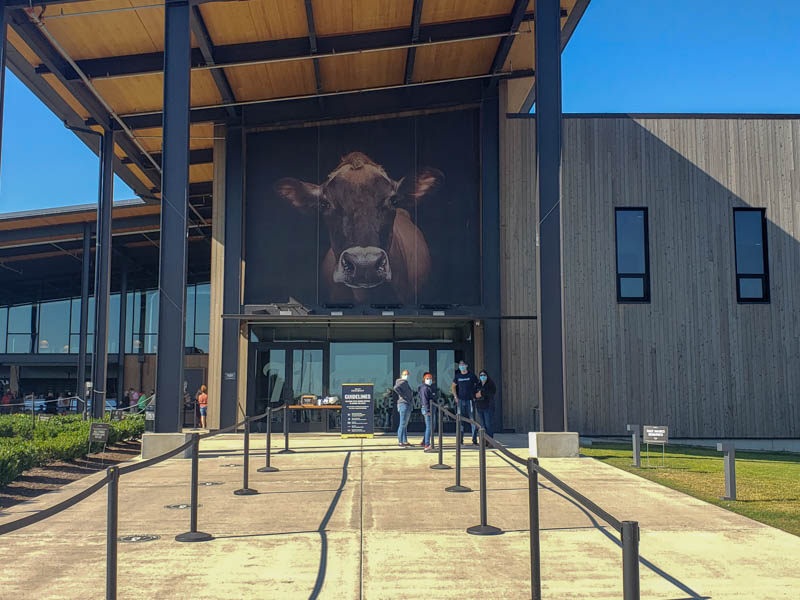 It's lunchtime on our Oregon Coast road trip and there is no better place to stop than the Tillamook Creamery. We're headed 12 miles south with an east-bound detour along the northern edge of Tillamook Bay.
The newly renovated creamery is THE place to eat on the Oregon north coast. The samples of cheese and ice cream is a delightful dairy experience. Due to COVID guidelines, free and self-guided tours of the creamery are not offered as I am writing this. But you can still snag an ice cream cone or cheese samples from an entirely outdoor, socially distanced space.
You can also order a full, to-go lunch from the outdoor hostess. I highly recommend a burger with Tillamook cheese (of course) and cheese curds. (I usually stick to a plant-based diet, but the Tillamook Creamery partners with local farmers who treat their animals with compassion. The Creamery is also a certified B-Corp.)
Time: One hour (more if you are doing the tour)
Pro Tip: This place can get seriously crowded so it's best to visit on a weekday.
Best stop for: CHEEEEESE!!!!
Address: 4165 N Hwy 101, Tillamook, OR
Eighth stop: Cape Meares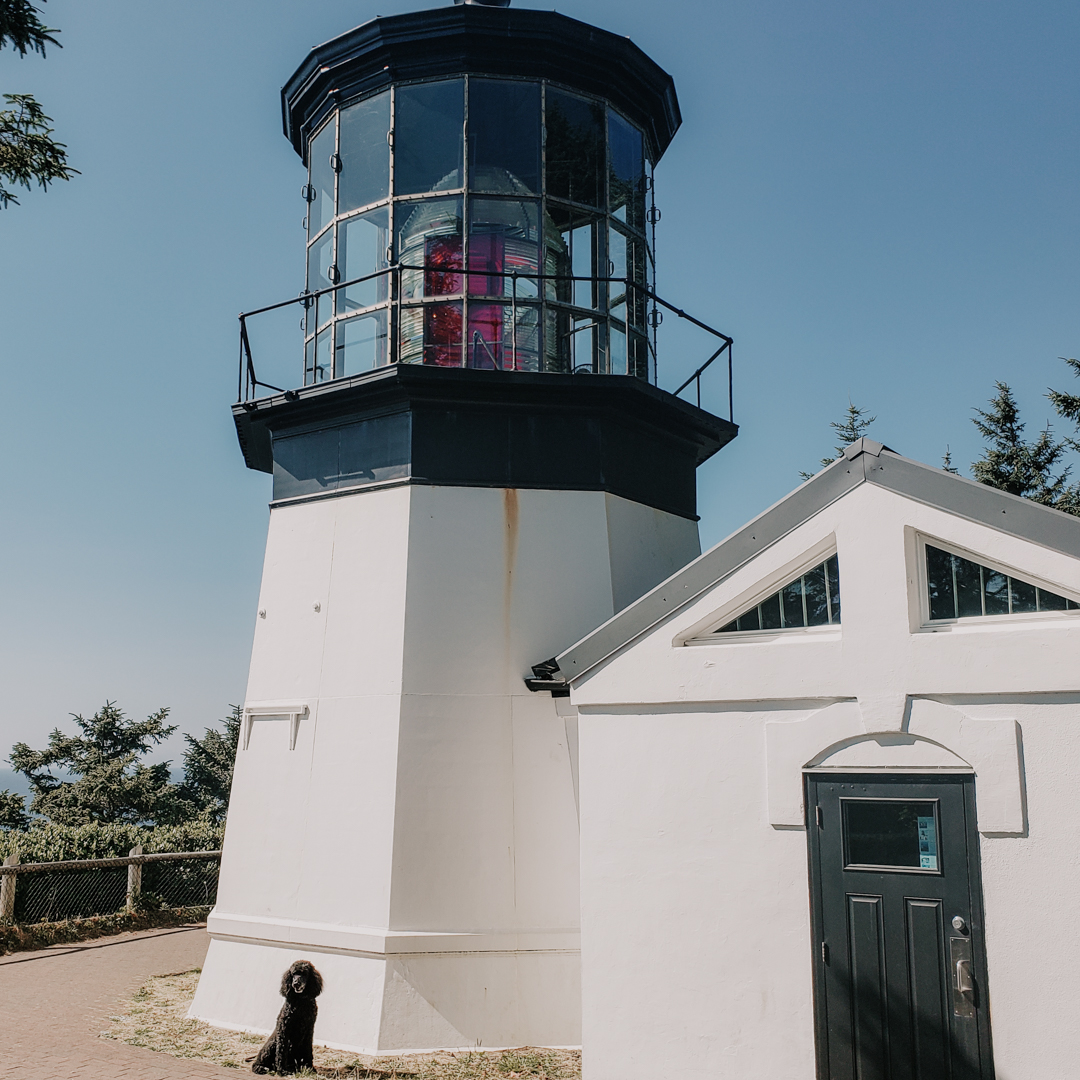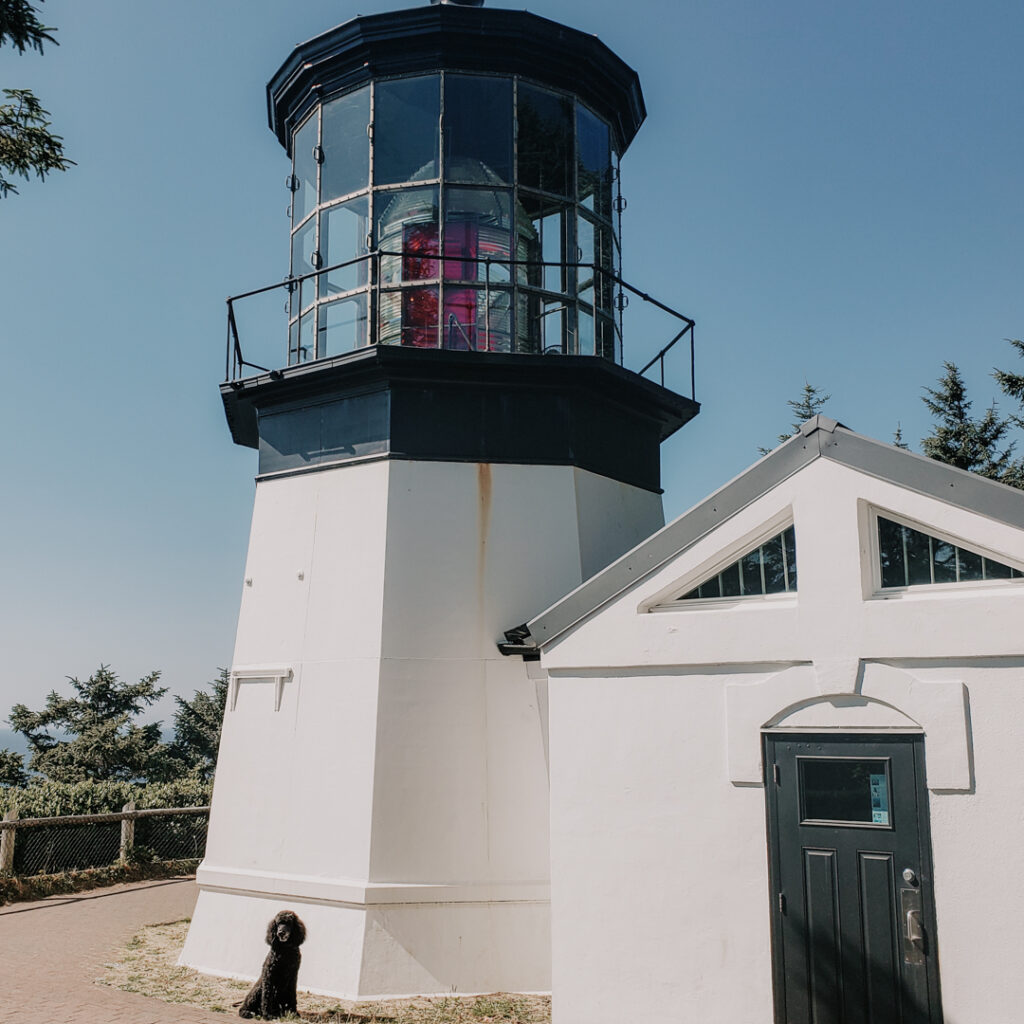 Next up, we're driving the last 10-miles around Tillamook Bay and back to the coast. Here we'll find the first of three capes on the Oregon Coast Three Cape Scenic Route.
At the end of a long pier, you'll find a lighthouse from the 1890s (usually open for tours, but double-check if you're traveling during COVID). There are a few short hikes with beautiful views of the cape and old-growth spruce trees, including an "Octopus Tree".
There are also plenty of little benches with views of the coast and the cape. Maybe even a bald eagle if you're lucky. This is a great place to polish off that burger from the Tillamook Creamery.
Time: One hour
Best stop for: a picnic with a view
Address: 3500 Cape Meares Loop, Tillamook, OR
Stop number nine on an Oregon Coast road trip: Oceanside
Now take the eight-mile Cape Meares Loop to Oceanside. This little town is adorable with its beach cottages perched on a hill overlooking the Pacific Ocean and the Three Rocks National Wildlife Refuge.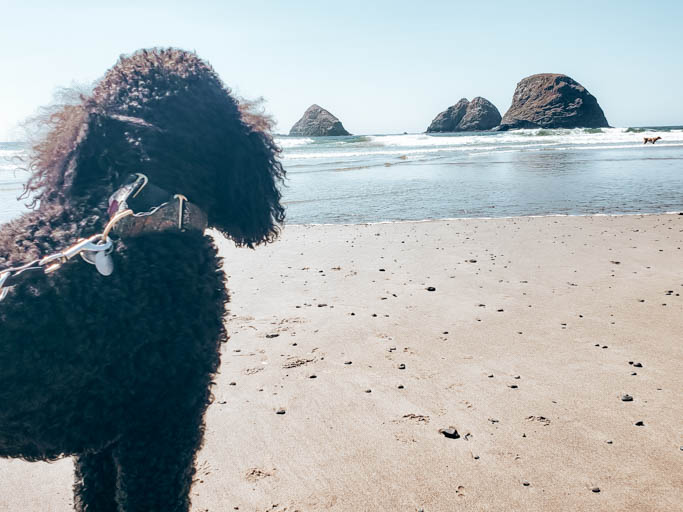 The Three Rocks refuge is the only place on the northern Oregon Coast where Steller Sea Lions breed during the summer months. The rocks also shelter a colony of tufted puffins!
It can be hard to find a place to stay here, but if you're going to do a longer hike at our next stop, then it's worth it to book in advance and find an ocean-facing cottage on the hill in Oceanside.
Time: 30-minutes if you are not staying the night
Best stop for: spotting sea lions
Stop 10: Cape Lookout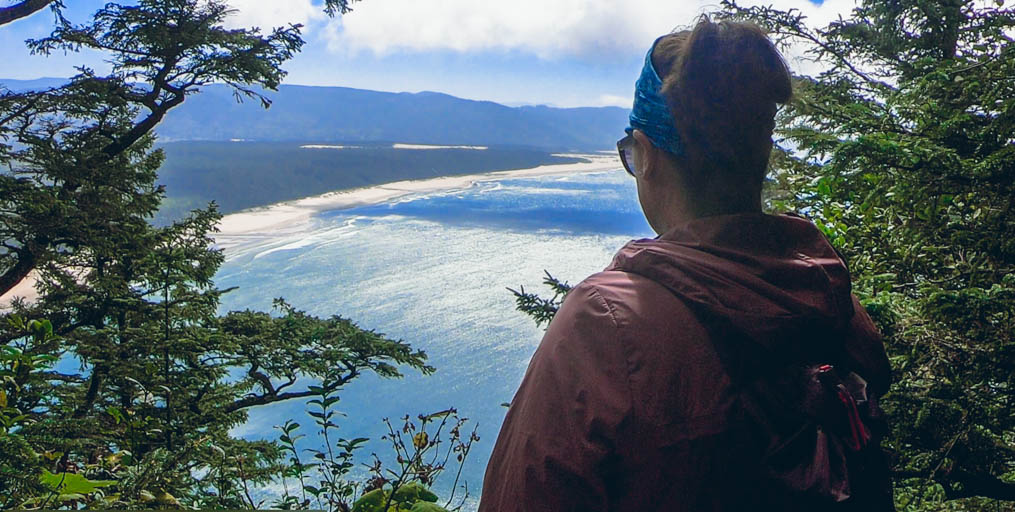 The tenth stop on this road trip and the second cape on the Three Cape Scenic Route is Cape Lookout. There is so much great hiking here!
The 4.7-mile Cape Lookout Trail is an easy out and back along a narrow straight, offering epic views. Make sure to keep an eye out for a plaque honoring the nine airmen killed on Aug. 1, 1943, when their aircraft slammed into Cape Lookout during a routine patrol mission mired by coastal fog.
There is a longer 11-mile hike along Netarts Spit that is on my Oregon hiking list. It is one of the most secluded hikes on the coast and the views of Three Rocks are supposed to be amazing.
If you don't want to hike, the beach surrounding Cape Lookout is also great for a quick stroll. There are picnic tables tucked into the wooded area overlooking the beach as well.
Time: 30 minutes if you aren't hiking. The Cape Lookout Trail took me two hours. If you are aiming for the longer Netarts Spit hike then be sure to procure lodging in Oceanside (see above) or Pacific City. There are also camping sites at Cape Lookout State Park.
Pro Tip: Make sure to check in advance for trail closures. In the winter of 2020 trails were closed due to storm damage.
Best stop for: an epic hike
Cost: $5 day-use fee
Address: Cape Lookout State Park is located at 13000 Whiskey Creek Rd, Tillamook, OR
Oregon Coast road trip stop number 11: Cape Kiwanda State Natural Area
This is the third and final cape on your Three Cape Scenic Route. Just 11 miles south of Cape Lookout, you'll find Cape Kiwanda, the smallest of the capes but also the most active.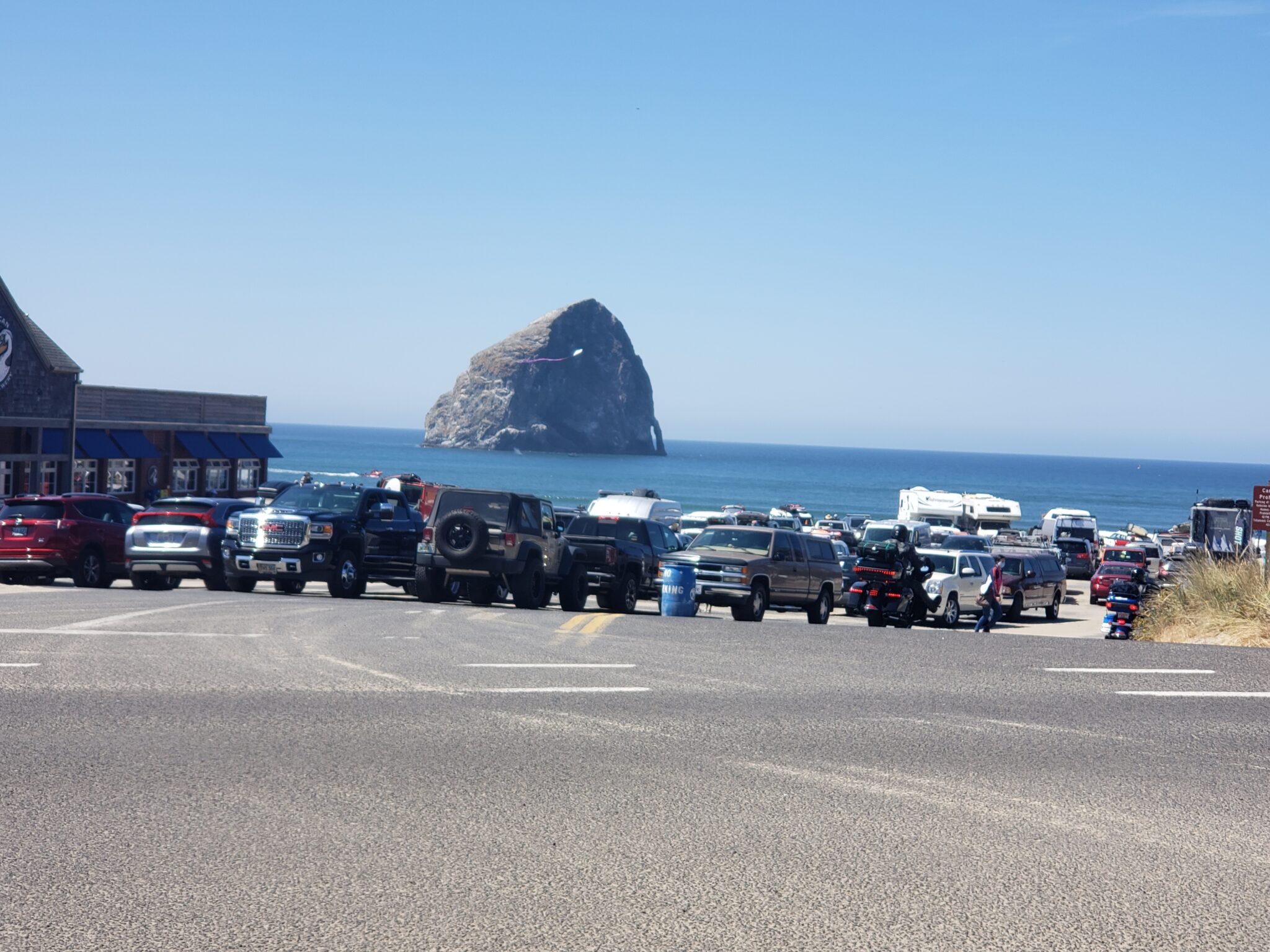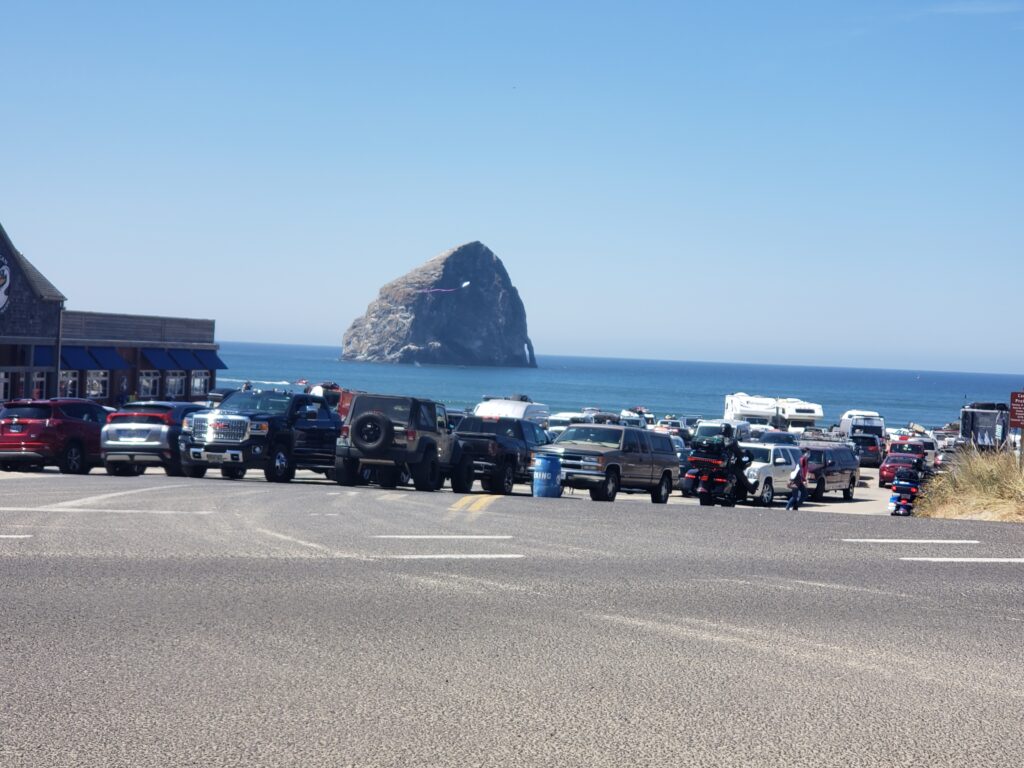 Most active in the sense that the bustling town of Pacific City grew right there next to nature. There are also wind tunnels that whip up some of the best waves around.
This is where we're going to crash for the night on this Oregon Coast road trip.
Pro Tips: Tierra del Mar is a quieter place than the action-packed beach in Pacific City. If you are making a quick stop, there is a parking lot across from Pelican Brewing: 33180 Cape Kiwanda Dr, Pacific City. If Pacific City is all booked up, try Lincoln City, which is just 15 miles west of our next stop.
Best stop for: big waves
Address: Cape Kiwanda State Natural Area, Pacific City, OR
Stop number 12: Drift Creek Falls Trail
Let's hop on the road early for the 30-mile drive to the Drift Creek Falls Trailhead. We're going to head south and then a bit east, taking us off the beach and into the Siuslaw National Forest where a 240-foot suspension bridge nearly crosses over the top of a 75-foot waterfall.
This three-mile out and back hike is full of moss-bound trees and twisted roots leading to the waterfall. It's a fun, mellow hike (unless you don't like heights!)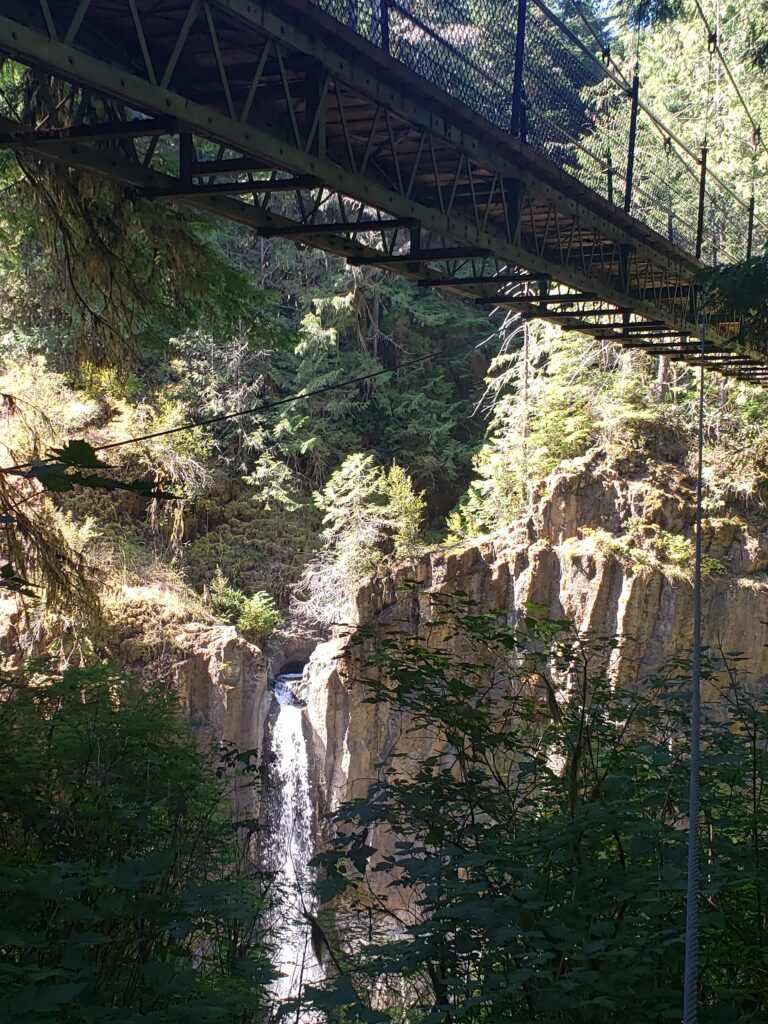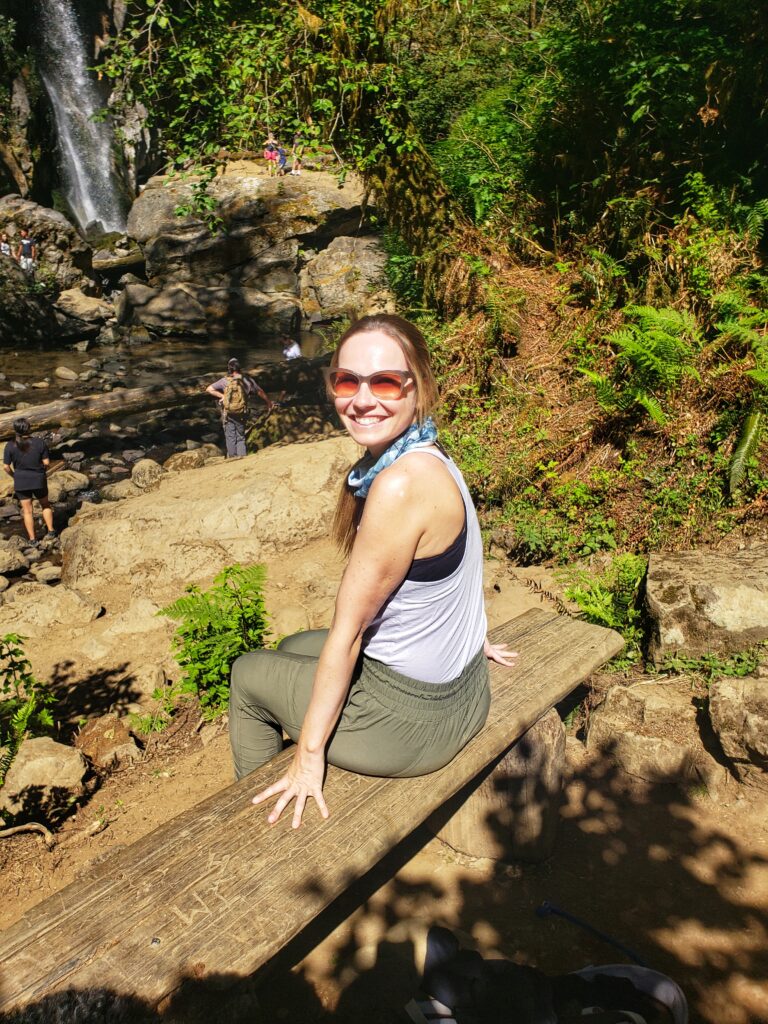 Time: Two hours
Best stop for: people who love a good suspension bridge
Address: BLM Rd 1770, Otis, OR
Cost: $5 day free (covered in the Oregon Coast Pass)
Stop number 13: Depoe Bay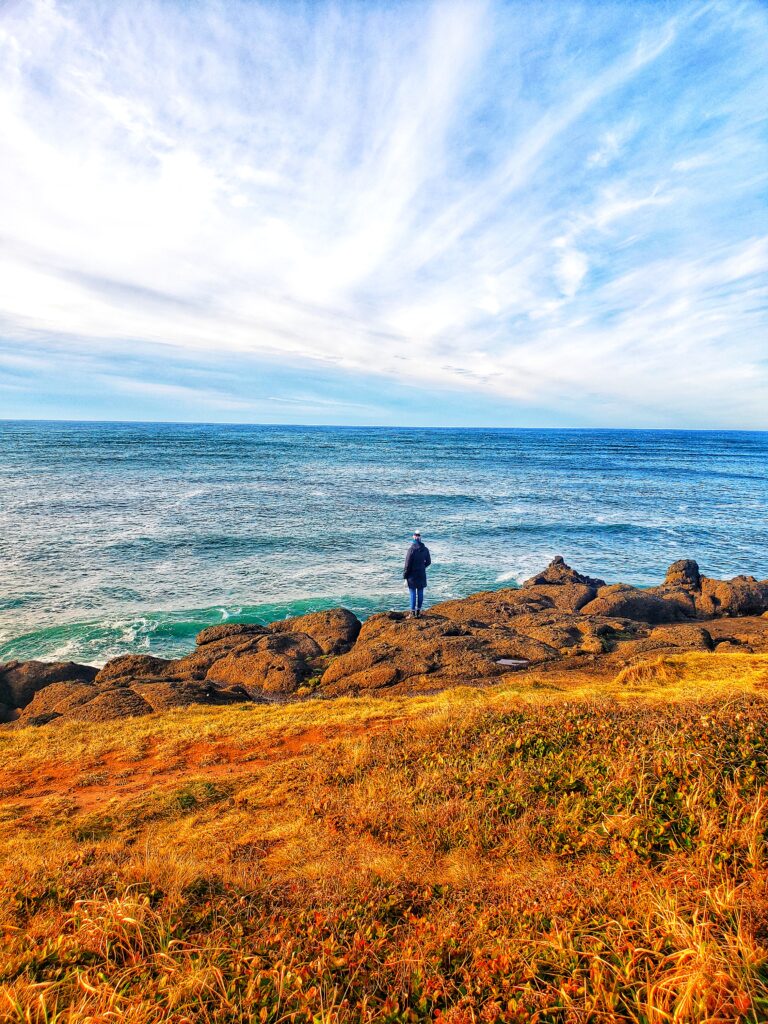 Let's get back to the coast shall we? Depoe Bay is a 20-mile drive southwest from Drift Creek Falls. It's famous for being the whale watching capital of the Oregon Coast and for having the world's smallest harbor.
It's a beautiful place to stay the night, looking for whales and exploring the quaint coastal town.
Time: 30 minutes (but you'll stay longer if you see a whale!)
Best stop for: whale watching
Address: Public parking in Depoe Bay at 380 SE Shell Ave, Depoe Bay, OR
Available homestays and hotels in Depoe Bay:
Stop 14: Cape Foulweather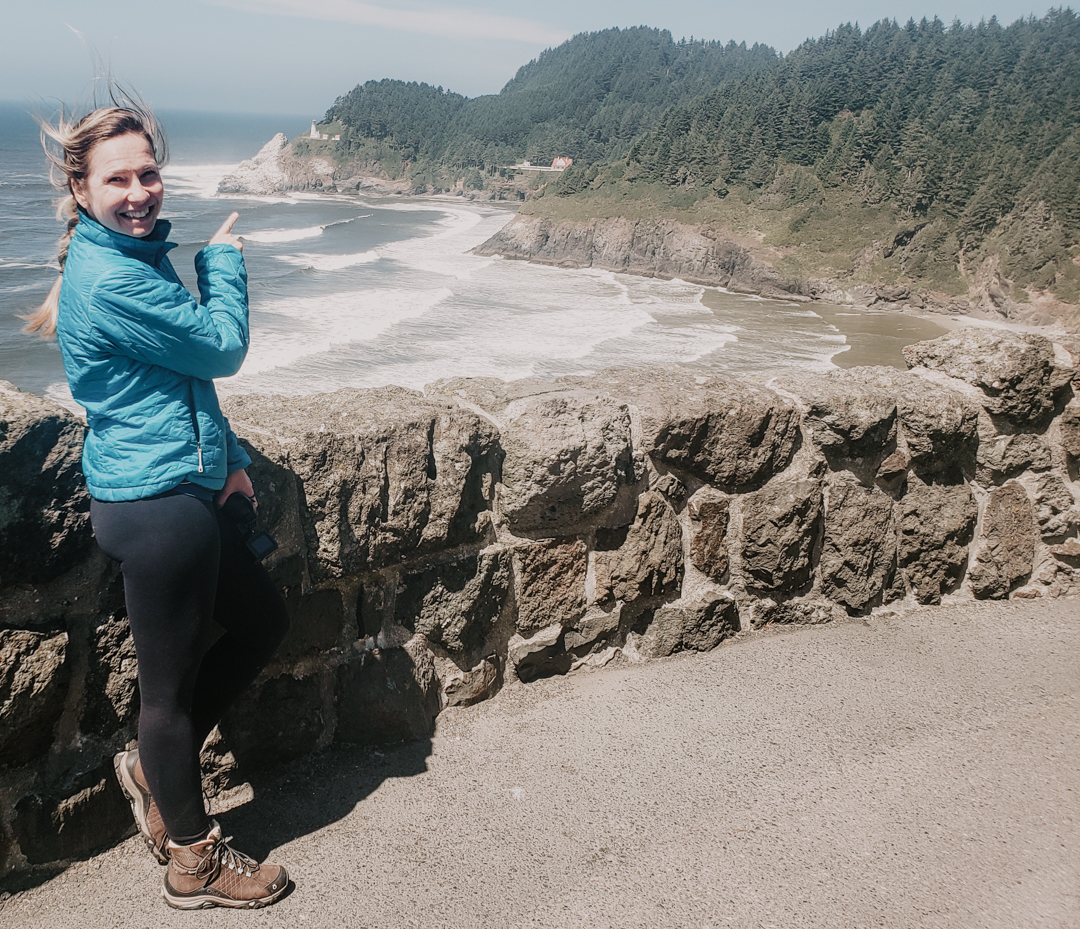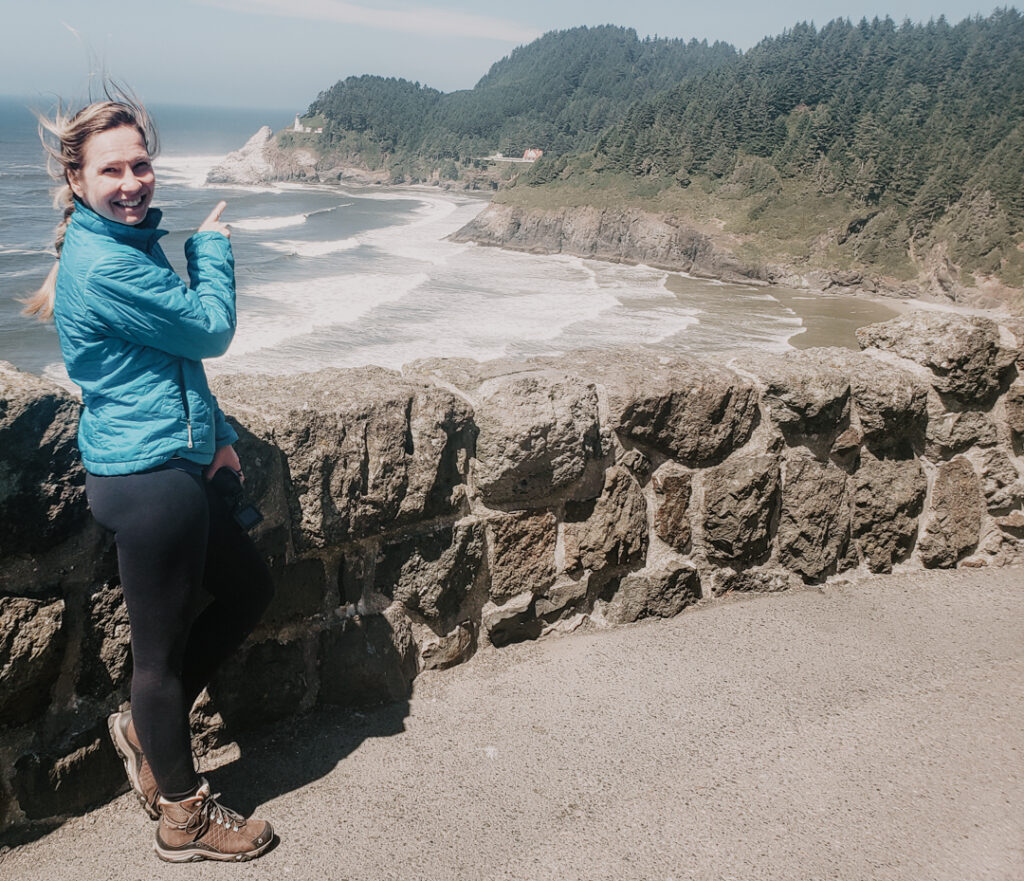 Cape Foulweather gives you its views throughout the 20-mile southern drive from Depoe Bay to Newport, and its name is apt. You will immediately feel the winds that Captain James Cook ran into when he spotted – and named – the cape in 1778.
There are a few stops to make along Cape Foulweather as we move south. There is an observatory and gift shop (closed during the COVID pandemic but the lookout is still a good spot for a photo), Devil's Punchbowl, which is a collapsed sea cave best seen at low tide, and our 15th stop at Yaquina Head Lighthouse.
In the picture above I'm standing south of Yaquina Head (and pointing at the lighthouse) at an overlook along Hwy 101.
Best stop for: geological formations and whipping wind
Addresses to know: Gift shop and observatory: 4905 Otter Crest Loop, Depoe Bay, OR / Devils Punchbowl State Natural Area, Otter Rock, OR
Stop 15: Yaquina Head Lighthouse in Newport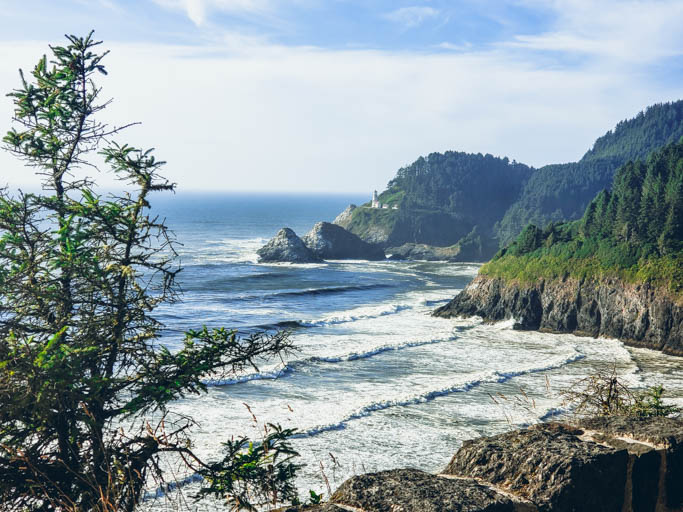 Yaquina Head Lighthouse was once known as the Cape Foulweather Lighthouse. It is the tallest lighthouse in Oregon.
When I visited, I couldn't do a tour of the lighthouse itself (due to COVID), but it was well worth the stop for the views of a family of California Gray Whales frolicking in the choppy waves beneath the headland where the lighthouse stands. There are also outdoor signs describing the history of the lighthouse and the surrounding area.
Best stop for: lighthouse history!
Address: 750 NW Lighthouse Dr, Newport, OR
Pro Tip: If you're really into lighthouses, you can also check out the Yaquina Bay lighthouse at Yaquina Bay State Recreation Site, Newport, OR
Stop number 16: South Beach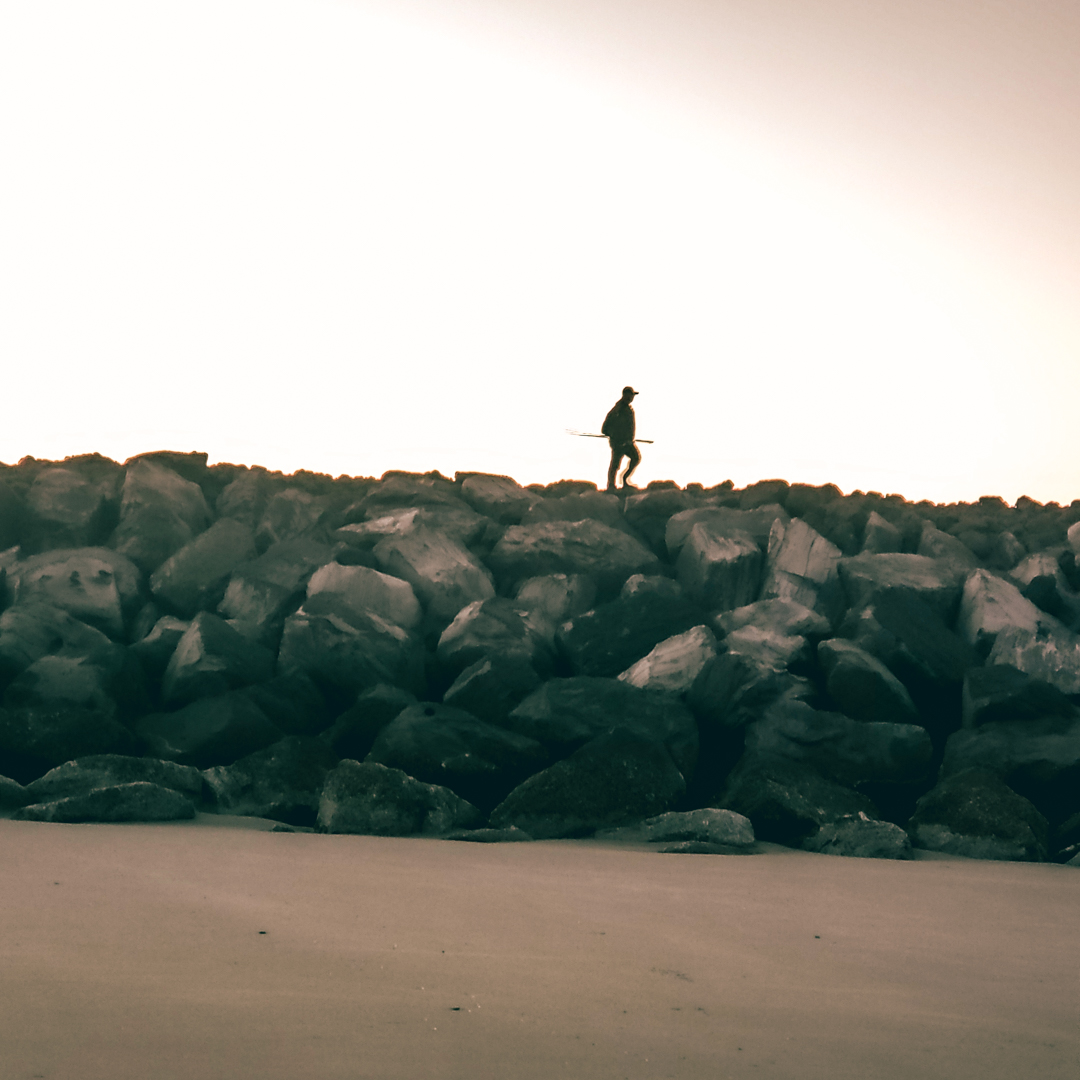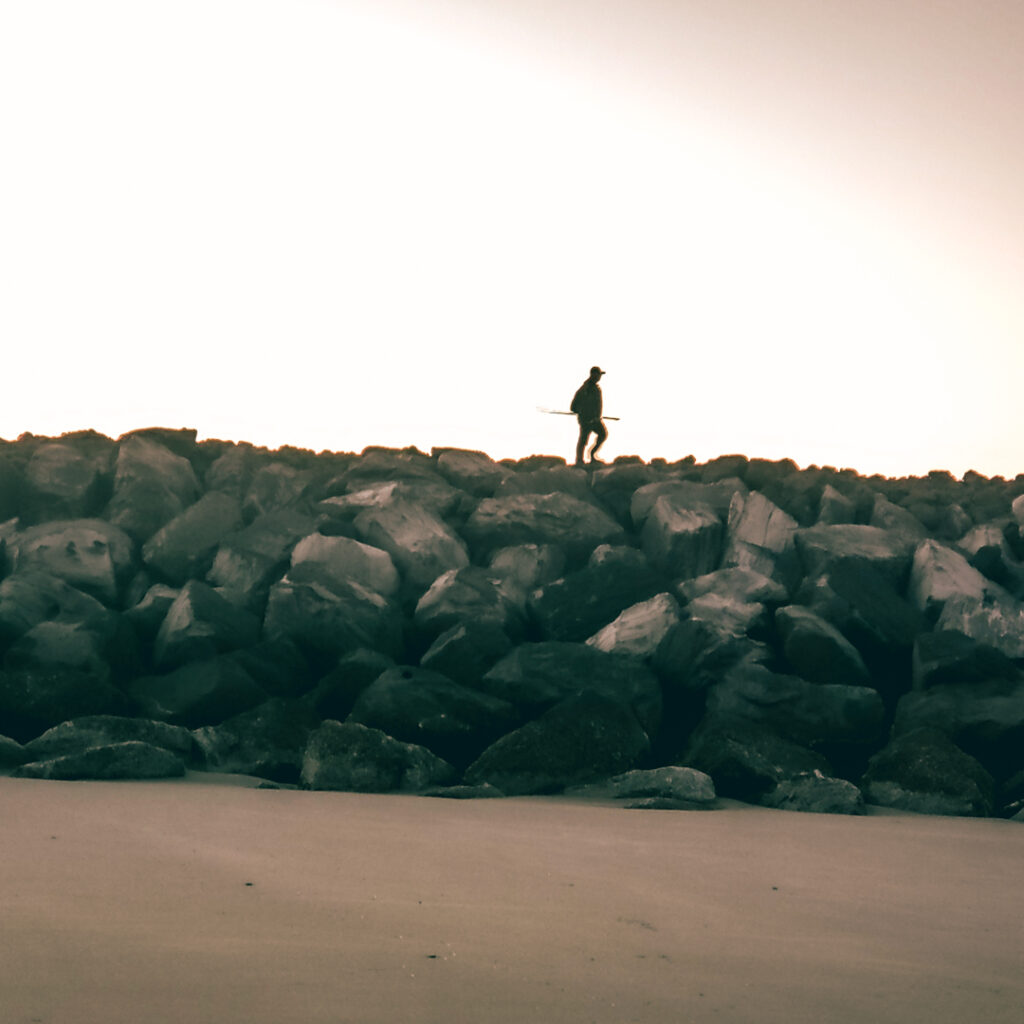 Hungry yet? South Beach has a great restaurant. Not to mention a pretty sweet bridge to drive over on your way out of Newport and into town. The best view of the bridge is on the Newport side at the Rogue Ales Brewery and Headquarters, which is a good place to sip a local beer (though they were only offering indoor seating when I visited).
For some seriously good fish and chips, check out the South Beach Fish Market just over the bridge. You can eat outside on picnic tables after ordering your food inside at the fresh market. Or take your food to-go and eat at South Beach.
Time: Budget at least an hour for eating and checking out South Beach.
Addresses: Rogue Ales Brewery and HQ: 2320 SE Osu Drive, Newport, Or / South Beach Fish Market 3640 S Coast Hwy South Beach, OR
Pro Tip: If you're looking for campsites, South Beach State Park has a great one.
Oregon Coast road trip stop number 17: Seal Rock
If you can make it Seal Rock for sunset, then you won't be sorry. But Seal Rock is actually a really great place to visit any time of day. That being said, you'll be able to explore a bit more during low tide.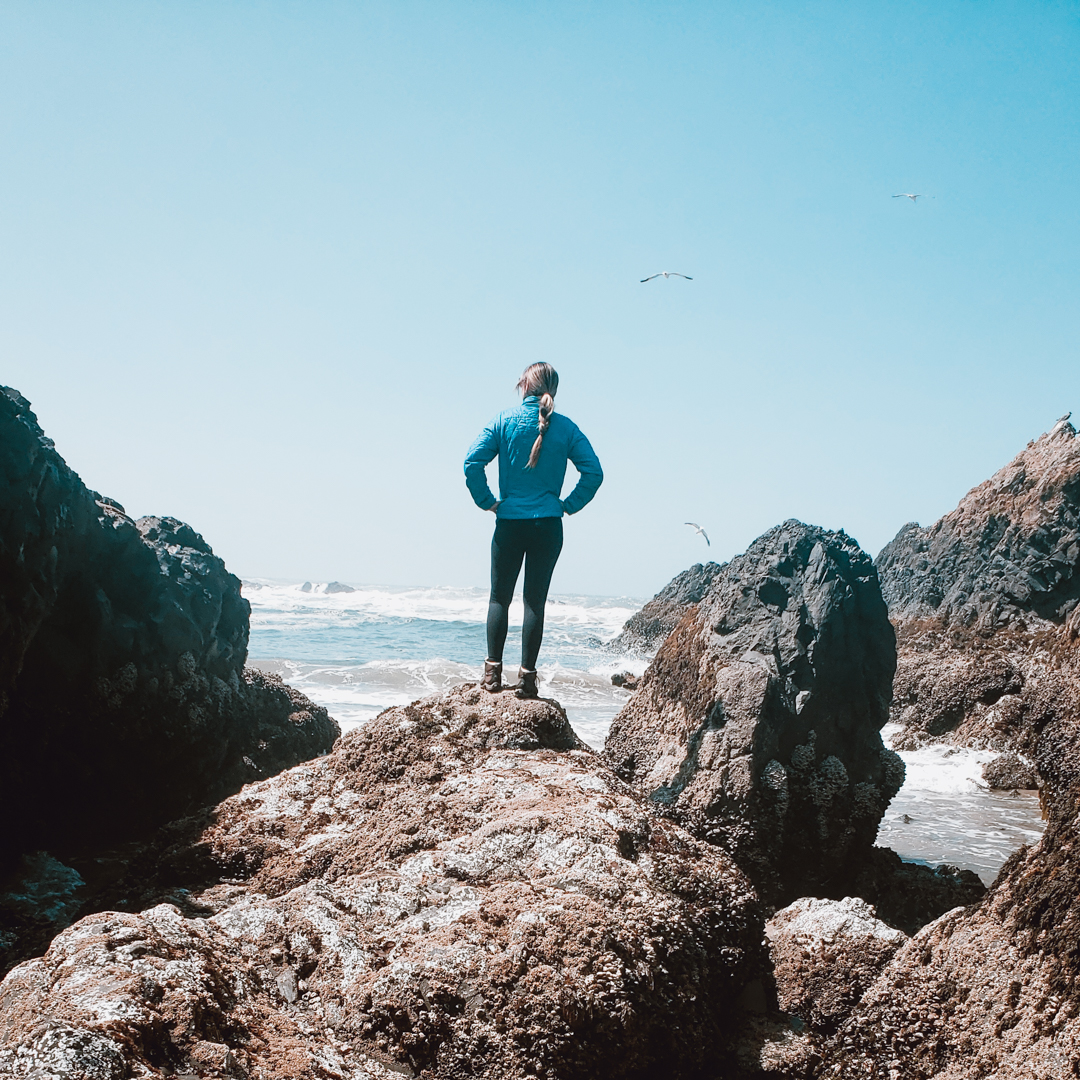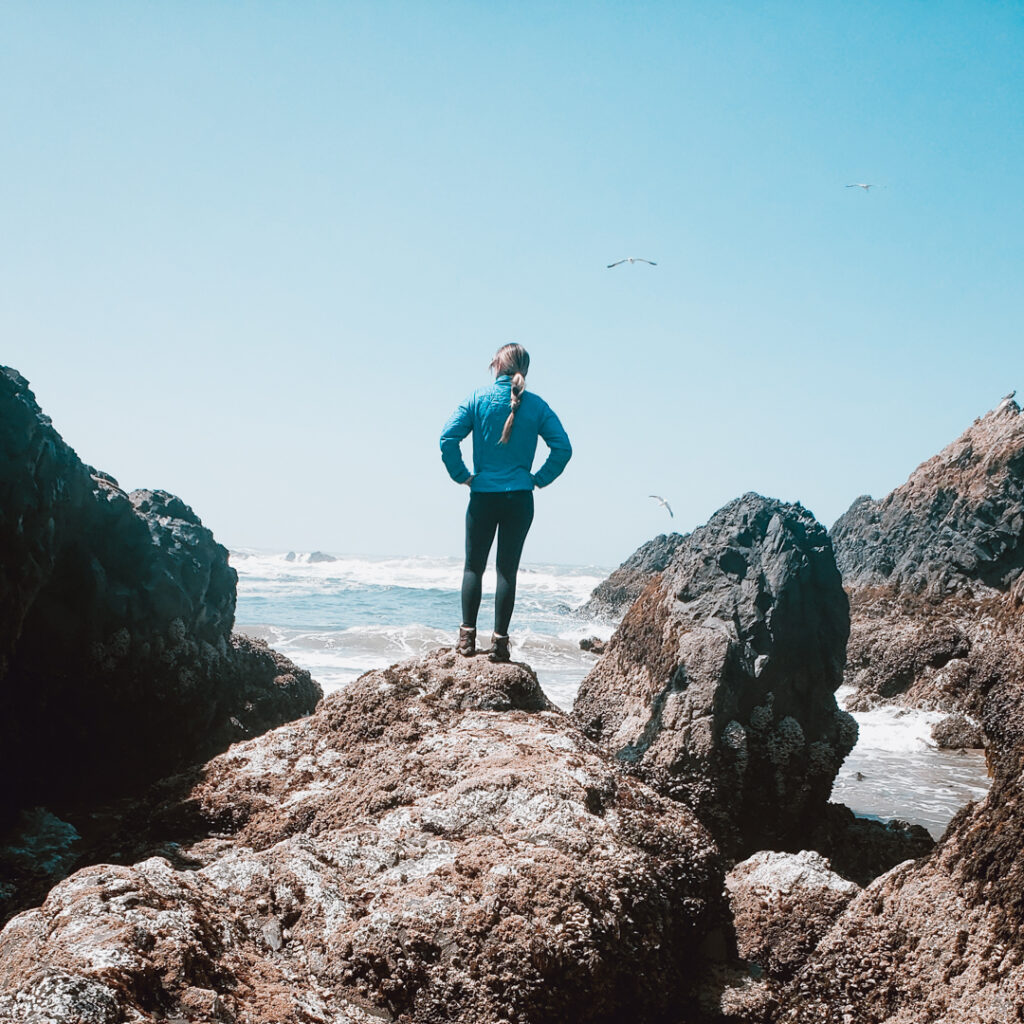 The tide pools here are pretty epic and the bird watching is great, too. Birds tend to flock to the large Elephant Rock that will greet you as walk into this little stretch of sand where ancient rock formations loom over active tide pools.
Best stop for: low tide
Address: State Recreation Site, Seal Rock, OR
Yachats is stop 18 on our coastal road trip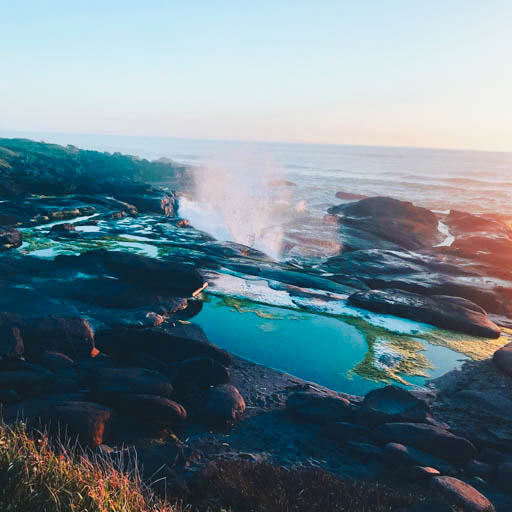 You've earned your rest for the night, and I've got another sweet little coastal town for you. Enjoy a beer outside at Yachats Brewing (closed during the winter months) before checking into a cute little cottage by the sea. That cottage may just be perched on a street with a good-vibes name like Diversity Lane.
Best stop for: a great place to stay on the Oregon Coast
Address: 348 US-101, Yachats, OR
Stop 19: Cape Perpetua
I can't get enough of Cape Perpetua! Here's a quick glimpse of some of its wonders:
If you have time for just a quick stop, then make sure you stop by Thor's Well about an hour before high tide. This collapsed sea cave is seriously one of the coolest things I've seen in all of my explorations across the Pacific Northwest.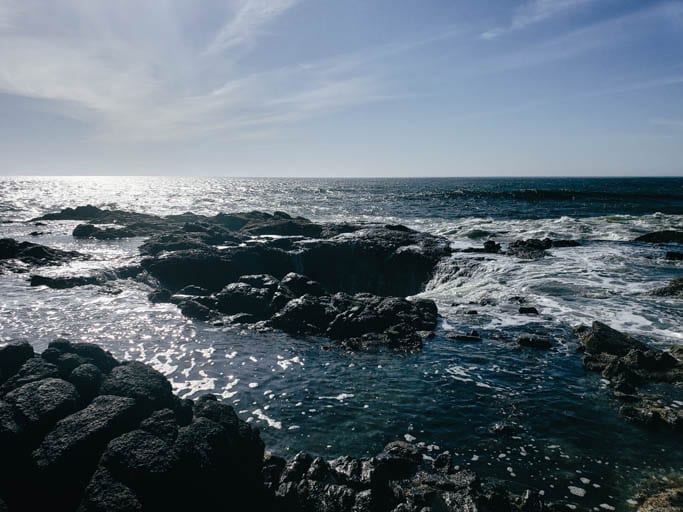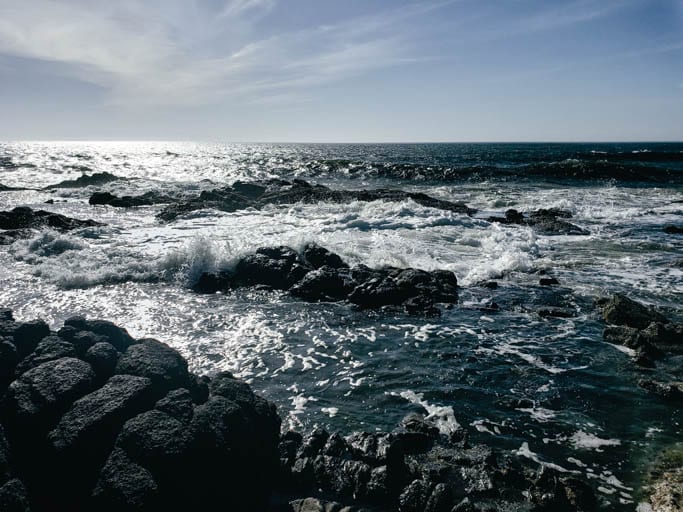 Just to your left when standing at Thor's Well, you'll see the Spouting Horn at Cook's Chasm, which is also amazing around high tide.
You'll also want to drive up to the Cape Perpetua Overlook or, if you have the time, walk there from the visitors center.
Time: Minimum of an hour to explore Thor's Well, the Spouting Horn, and the Overlook. But there is so much to do here that you could spend a full day (and should!)
Best stop for: high-tide wonders
Address: The visitors center is located at 2400 US-101, Yachats, OR. It's closed during COVID, but parking and bathrooms are open.
Cost: $5 day-use fee (covered if you bought your Oregon Coast Pass earlier on the trip)
Final stop on our road trip: Oregon Dunes
The Oregon Dunes are made for kids – and kids at heart. This collision of the ocean, the Suislaw Forest, and miles and miles of sand means unique activities like sand sledding and dune-buggy tours. Even though I really detest sand, I enjoyed wandering through the hills of sand.
Much like Cape Perpetua, this could be its very own blog post. But, since I'm not much of a sand person, I don't have a post planned. I'll go ahead and let the experts at Travel Oregon take you through the nuances of the sand dunes.
Best stop for: Kids (at heart)
Addresses to know: The Oregon Dunes National Recreation Area is a 40-mile stretch along the Oregon Coast from Florence to Coos Bay. The Visitors Center is located at 855 Highway 101 Reedsport, OR. For sandboarding, check out the Sand Master Park in Florence. For dune buggy tours and rentals, check out Sandland Adventures.
If you intend to stay the night here, this map has available homestays and hotels in the area:
That's it! You saw 20 places on the beautiful Pacific Coast stretching from northern to central Oregon.
Make sure to pick up your travel insurance before you go (especially if you are going sandboarding!) I always use World Nomads: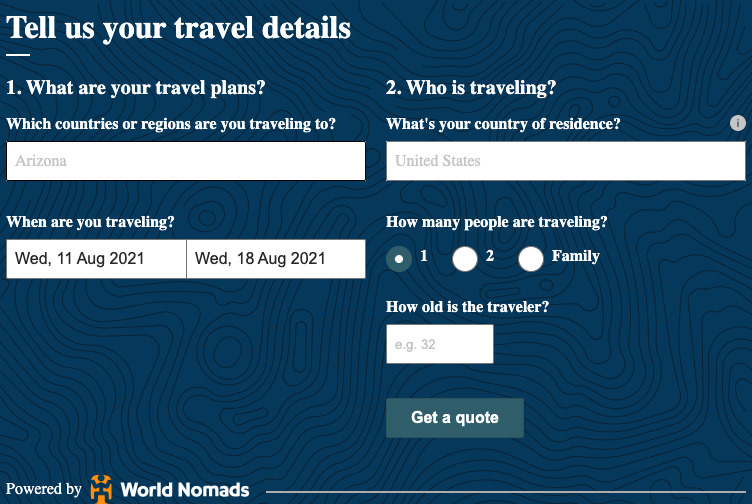 For more Oregon travel ideas, visit here. You might also like National Park travel itineraries and hiking ideas.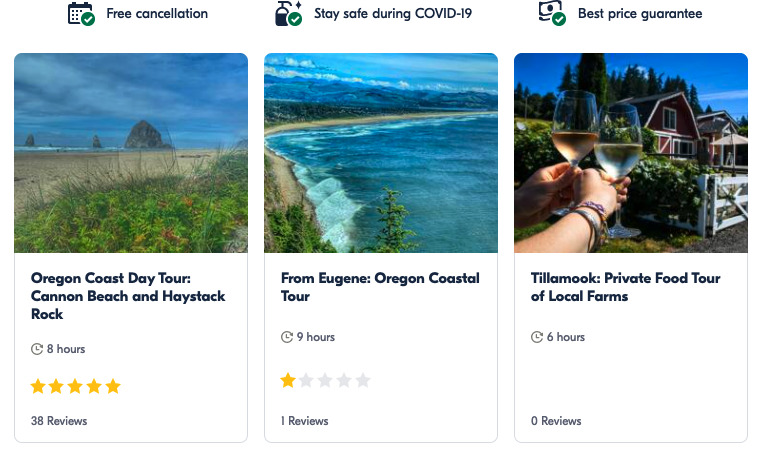 About the Author
Hi! I'm Jen!
I'm a freelance writer and travel blogger who quit my nine-to-five after my fiancé, Jeff, died of cancer at the age of 40. When he died, I realized that life is just too short to delay our dreams. Since my dream was to travel and write, I now travel and write full-time. Today I wear hiking boots instead of heels and collect experiences instead of things.
You might also like