When it Comes to Cancer: Some Days You Cry and Some Days You Dance
Hey there! This post may contain affiliate links, which means I'll receive a commission if you purchase through my link, at no extra cost to you. Please see my legal page for more details.
Two weeks after my boyfriend was diagnosed with advanced esophageal cancer, I sat on the side of a frozen Chicago sidewalk – and I completely lost my mind.
I was surrounded by healthy, cancer-fighting produce that had suddenly burst from the bottom of my grocery bag, and the sight of organic avocados spinning down the icy hill sent me into an utterly unexpected rage.
Some Days You Cry
I threw my stupid, useless, eco-friendly bag into a nearby skateboarding park and let angry, unstoppable tears pour down my face. I remember the noise that I made because the guttural howl actually made the huddled and bundled men who sleep in that park take a few steps away from me.
I still feel that rage sometimes. I tend to take it out on food – once throwing popsicles angrily around my kitchen because I couldn't fit the box into the freezer.
I think it is because food used to be a favorite thing for Jeff and for me. For us. We loved to cook together and to explore new restaurants together. In fact, it was over half-priced wine and a bevy of $1 oysters that we determined that something was really, really wrong with Jeff.
Something is Very Wrong
It was late January and we had hopped into a West Loop bar to warm up. I was telling one of my long-winded stories and settling into a glass of pinot noir when I noticed his eyes watering. He had tossed back an oyster with hot sauce and the thing was just sitting there in his throat. He actually listened to the end of my story before he went to the bathroom to throw up.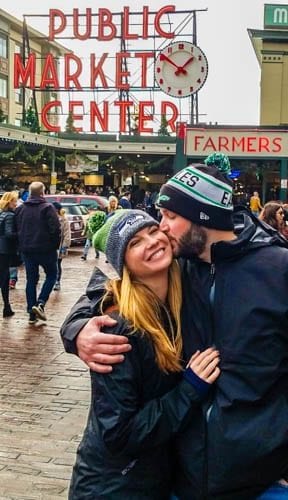 On that day, Jeff was 200 pounds, a good weight for his six-foot-three-inch frame. He was healthy and robust, with the exception of a nagging cough that started over the Holidays.
A week later, Jeff's beloved Eagles won the Super Bowl and he barely saw it happen. Curled beneath a host of blankets and a good 15 pounds lighter from the "flu" he was battling, he held up a victorious fist when the Patriots fatefully fumbled, sweated through the final Hail Mary, ever so briefly relished the long-awaited championship…and he went back to sleep.
The Start of the Doctors Visits
Jeff actually had to advocate and fight to get an endoscopy. At 40 years old, the doctors weren't really concerned about a throat cancer that typically ensnares older men who are drinkers or smokers.
When he did get the endoscopy on Valentine's Day (two weeks after the oyster and 10 days after the Eagles won the Super Bowl), the doctors could barely fit a pediatric scope down his throat. They described the tumor as a pulsating mass, five centimeters in length. It blocked most of his esophagus.
A Whirlwind of Tests
We had never heard the words "you have cancer," so we didn't understand what was coming.
If you had asked me in January about the difference between a CT or PET scan, I would have shrugged, sipped some wine, and tossed back an oyster. Today, we know about endoscopies, biopsies, CT scans, ultrasounds, PET scans, cancer boards, second and third opinions, esophageal stent placements, chemo port placements, PEG (feeding) tube placements, MRI scans, and every type of blood test you can imagine.
Today, we also know that Stage IV means that the cancer is no longer "localized". In Jeff's case, it has metastasized, spreading to the pelvis, spine, and lymph nodes. After three devastating rounds of chemo and a total loss of 55 pounds, we learned this week that his cancer actually doubled down and spread further into his liver, kidneys, and lungs.
Still my Rock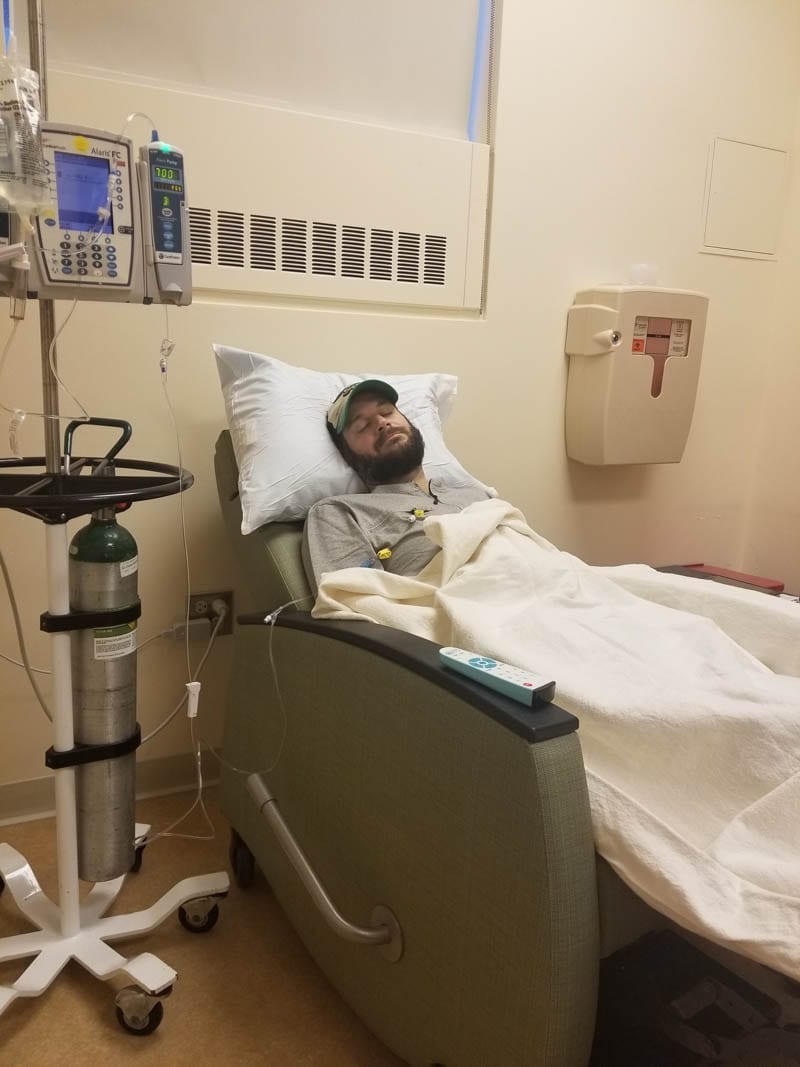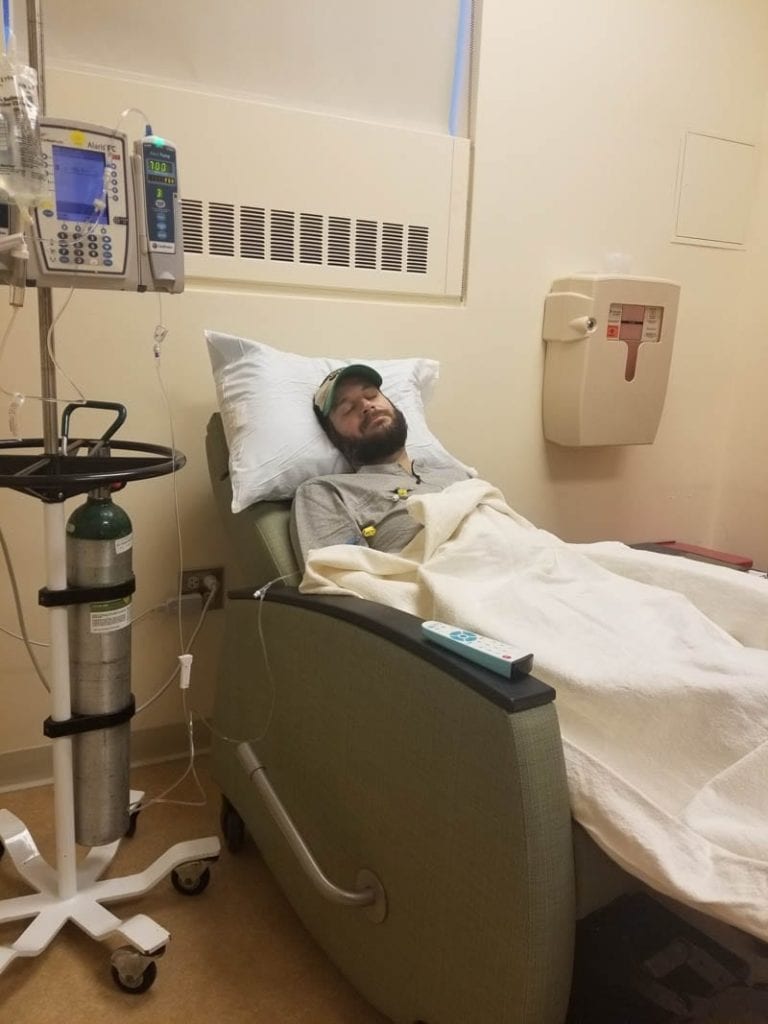 Through it all, Jeff has been unbelievably upbeat – far more concerned about those of us who love him. Though he weighs just 150 pounds now and the chemotherapy leaves him fetal for days at a time, he finds a way to hold me. He still sings in the shower, even when he can't stand up in the shower. He still makes me laugh every, single day. He makes a point to do so.
When Jeff discovered that he was not selected to receive immunotherapy through a clinical trial, I raged about losing the "life lottery." Jeff, on the other hand, said simply "well, what can you do, babe?" And so we moved on.
When Jeff discovered that the next round of chemo would take his curly hair, he simply asked that we call a barber to come over to his hospital room to proactively shave his head and trademark beard. He refuses to let cancer define him.
Sick as he is, Jeff remains my rock.
Some Days You Dance
This isn't the best week for Jeff. He hasn't left the hospital since Monday and he received a shocking setback when he learned that the cancer had grown despite his best efforts. Before entering the hospital, he carved another hole into his belt so that he could keep his pants from falling off his body.
Despite it all, just last Saturday, Jeff woke up humming Dire Straits. So, we woke up the neighbors with some early morning classic rock – and we danced.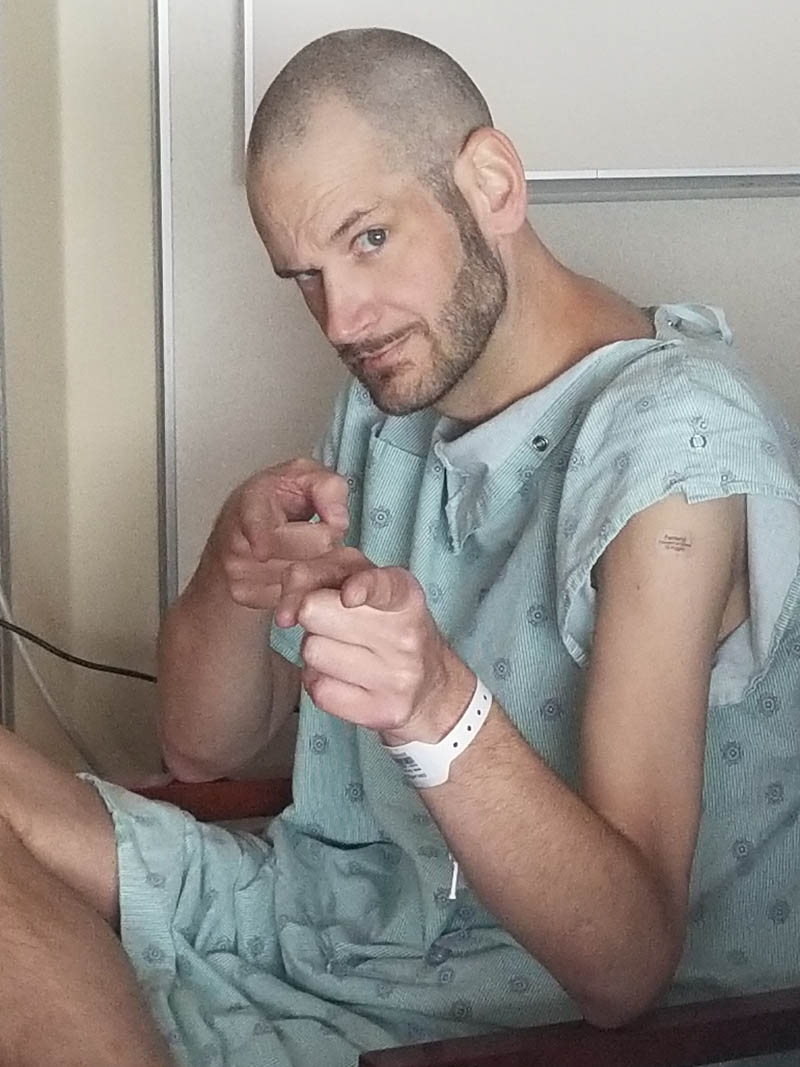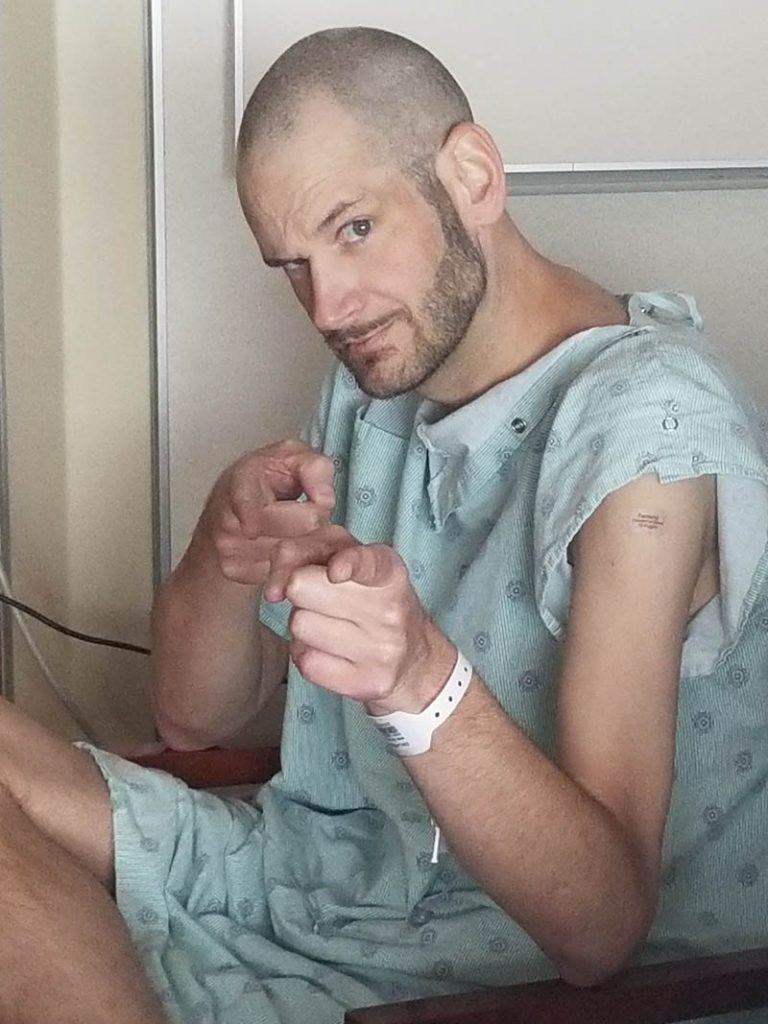 Jeff has a hell of a battle before him, but I know that he will keep laughing and he will keep dancing. Because life is too damn short not to dance.
Postscript: Sometimes You Have to Say Goodbye
UPDATE: Jeff died on June 4, 2018, just four months after his cancer diagnosis and one month after I wrote this post. He talked of dancing and barbequing with friends until the last day. He never wavered in his commitment to life or to his friends. He is an inspiration.
Jeff's family set up the Jeff Elko Memorial Fund to continue the field trips that Jeff once organized for at-risk youth and children with disabilities. It's a beautiful thing to see the kids exploring sled hockey and the disabled adults who aged out of his program participating in goat yoga. He would have laughed and cried. It is a fitting tribute to a man who laughed as easily as he loved.
I have left this raw post untouched in case it helps anyone whose loved one is diagnosed with cancer. Your rage is understandable. There is also a wild amount of post-traumatic growth coming your way.
Here is a post I wrote about the many life lessons that watching Jeff die taught me about life.
My best piece of advice other than making time for yourself and to see a therapist? Find a remote place outdoors where you can scream at the top of your lungs to whomever it is that is listening up there.
For those dealing with the loss of a loved one, please see my page on grieving, and please know that you are not alone in your grief. 
While I am not a therapist, I am here for you if you would like to tell me your story.
About the Author
Hi! I'm Jen!
I'm a freelance writer and travel blogger who quit my nine-to-five after my fiancé, Jeff, died of cancer at the age of 40. When he died, I realized that life is just too short to delay our dreams. Since my dream was to travel and write, I now travel and write full-time. Today I wear hiking boots instead of heels and collect experiences instead of things.
Related posts