Angela's Ashes: Lopsided in Limerick
Hey there! This post may contain affiliate links, which means I'll receive a commission if you purchase through my link, at no extra cost to you. Please see my legal page for more details.
It's strange to find so much beauty in squalor, but that's what "Angela's Ashes" does for you. This aching memoir by Frank McCourt examines desperate poverty through the lens of a boy who is brighter than his surroundings in terms of brains but darker in terms of his "odd manner" and northern Irish looks.
The first-person narration is youthfully revealing. McCourt channels a boy who knows no other life than comparing the cleanliness of fleas to flies yet somehow knows there is more to life than his squalid lane with the steaming outdoor toilet by his front door and the sheep's bladder the neighborhood kids use for a ball.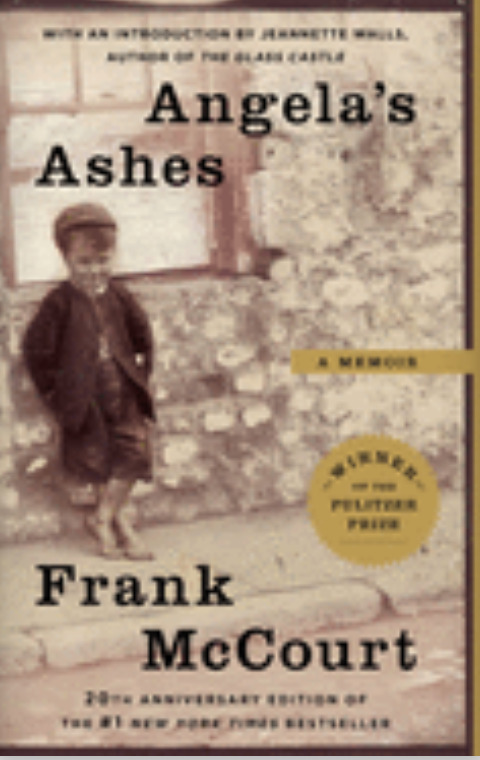 Consistently compared to his alcoholic father who hails from Northern Ireland, a black mark in the lanes of Limerick, we watch little Frankie grow into Frank, and we laugh and cry with him along the way.
I highly recommend the Audible version of Angela's Ashes. It is narrated by the author, and he will have you laughing at his childhood shenanigans and hilarious exchanges with the teachers and priests who don't seem to know what to do with this little boy with a brain.
Plot Summarized
"What class of a spectacle you'd be strolling down the street, lopsided in Limerick." That is the warning that a 13-year-old young Frank McCourt gets when he attempts to leave Ireland on a mission. A doctor tells him that a camel will rip his shoulder off and leave him walking lopsided through Limerick.
While it's a hilarious exchange, it's telling for this kid who gets shut down every time he seeks more from life.
As the oldest boy in an impoverished Irish Catholic family with an alcoholic father, Frank – Francis – doesn't have much of a chance. His siblings seem to contract fatal diseases by the moment and Frank, himself, nearly dies of typhoid at the age of 11. But Frank has a brain on him.
In his neighborhood, a brain means one is destined for the priesthood. But Frank is singularly focused on getting to America where he is sure he can earn double the wages that his father pisses away on pints and patriotic songs.
The beauty of Angela's Ashes lies in the narration. There is a raw humor in the perspective of a boy who goes from implicitly trusting his destitute, uneducated parents to one who hides beneath a neighbor's window to hear Shakespeare on the shortwave.
"Shakespeare is like mashed potatoes, you can never get enough of him," Frank says.
The frustrating truth is that his father is nearly worthless, spending the rare dollar he receives on beer while his kids starve and die. Yet he teaches young Frank the ability to tell – and how to appreciate – a good story.
This appreciation leads Frank to devour the stories of the saints in the library, leading his family (and the neighborhood librarian) to believe he is as devout as he is voracious. But it's really the stories that drive this young reader, and it's probably a good thing for his backside that he kept his humorous interpretation of religious lore to himself!
It's certainly a good thing for all book lovers that Frank McCourt eventually divulges his thoughts in the pages of Angela's Ashes.
While I wish I could shake the father in this tale, I am grateful to him for giving his son the skills of storytelling. If not for the drunken songs and tall tales of a worthless dad, we may never get Angela's Ashes, which rose from the shit-lined stairs in a shack in Limerick.
Who Should Read Angela's Ashes
If you're looking to write a memoir, read Angela's Ashes. The way that McCourt dives deeply into this own character and reveals both the integrity and the underbelly of himself and his community – the desperate neighborhood around him – is a lesson in storytelling.
That's why I read this book, but anybody who is looking for a good story will love Angela's Ashes.
About Author Frank McCourt
Spoiler alert, McCourt does make it to America and his memoir would eventually go on to earn a Pulitzer Prize. His brothers and mother follow him, eventually, to New York City.
McCourt was drafted in the Korean War and then used his GI Bill to talk his way into New York University. This might sound crazy, but it won't after you read about the tenacity of a young Frank McCourt.
Buy Angela's Ashes from an Independent Bookseller

If you are looking to support independent booksellers, please consider purchasing from Bookshop, an online bookstore that is doing amazing things for independent bookstores. By using this link to purchase Angela's Ashes, ten percent of your purchase will support independent bookstores. You can also choose to support your favorite bookstore rather than the larger pool of independent shops.


Bookshop gives away 75 percent of its profits to independent booksellers, authors, and book reviewers like me. This is my personalized online storefront on Bookshop.
Thank you for keeping the book community thriving!
About the Author
Hi! I'm Jen!
I'm a freelance writer and travel blogger who quit my nine-to-five after my fiancé, Jeff, died of cancer at the age of 40. When he died, I realized that life is just too short to delay our dreams. Since my dream was to travel and write, I now travel and write full-time. Today I wear hiking boots instead of heels and collect experiences instead of things.