Visiting Cape Perpetua on the Oregon Coast
Hey there! This post may contain affiliate links, which means I'll receive a commission if you purchase through my link, at no extra cost to you. Please see my legal page for more details.
Thinking of visiting Cape Perpetua? You won't regret it!
Where else can you find an old-growth forest suspended above the highest car-accessible viewpoint on the Oregon Coast?
Just outside of Yachats on Oregon's central coast and tucked into the Siuslaw National Forest, the Cape Perpetua Scenic Area promises ridiculous views, coastal trails, spouting rock formations, a collapsed coastal cave, and unfettered access to nature.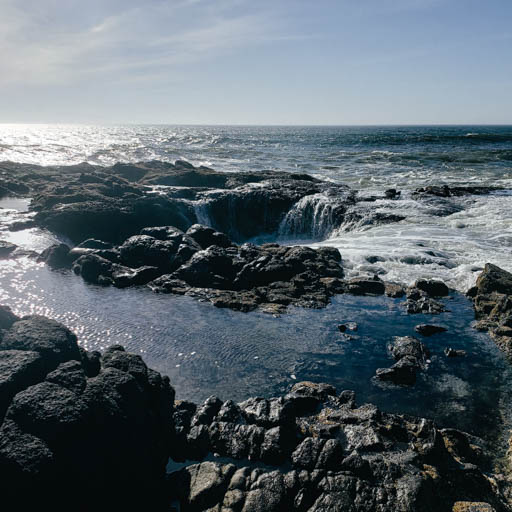 The Cape was named by Captain James Cook who set eyes on the rugged headland on March 7, 1778, the same date the 3rd-century Christian martyr Saint Perpetua was put to death in the ancient city of Carthage.
All of the following natural attractions of Cape Perpetua are easily reached by driving and taking short walks but, if you're able, I highly recommend the well-marked and less-traveled trail system in the area.
Here's what we're exploring:
Visit here for a map of available homestays and hotels to stay in when visiting Cape Perpetua.
Let's dive in!
The Cape Perpetua Overlook via Saint Perpetua National Recreation Trail
Sure, this is the highest overlook on the Oregon Coast that is accessible by car, but why drive when you can walk?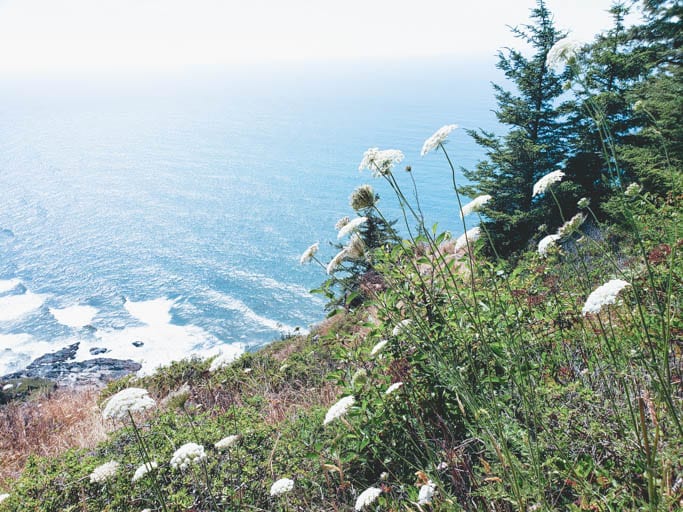 Park at the Cape Perpetua Visitor Center and snag a trail map. Here you will find the Saint Perpetua National Recreation Trail, a beautiful and quiet trail with switchbacks climbing through an old-growth forest and leading to the Cape Perpetua Overlook some 800 feet above the lava fingers that jut and disrupt the wild surf of the Pacific Ocean below.
It's a moderately difficult hike of 2.8 miles round trip from the Visitor Center and a 700-foot elevation gain, but the effort will make you appreciate the sweeping coastline views that much more.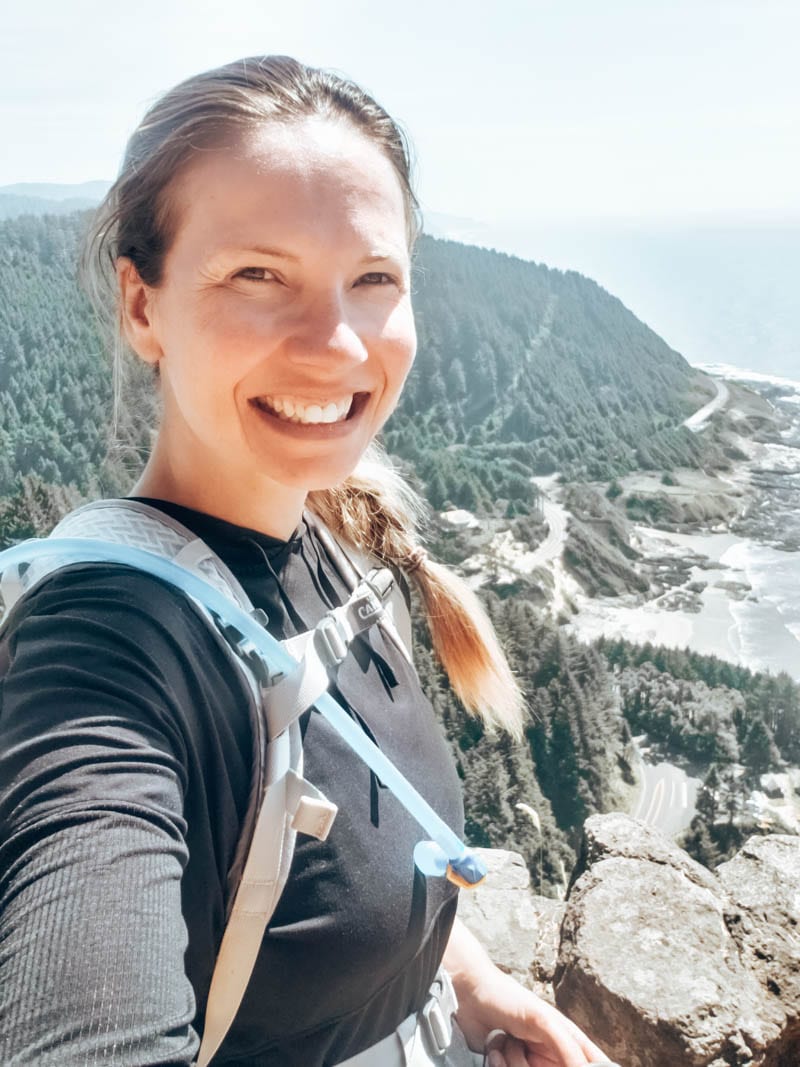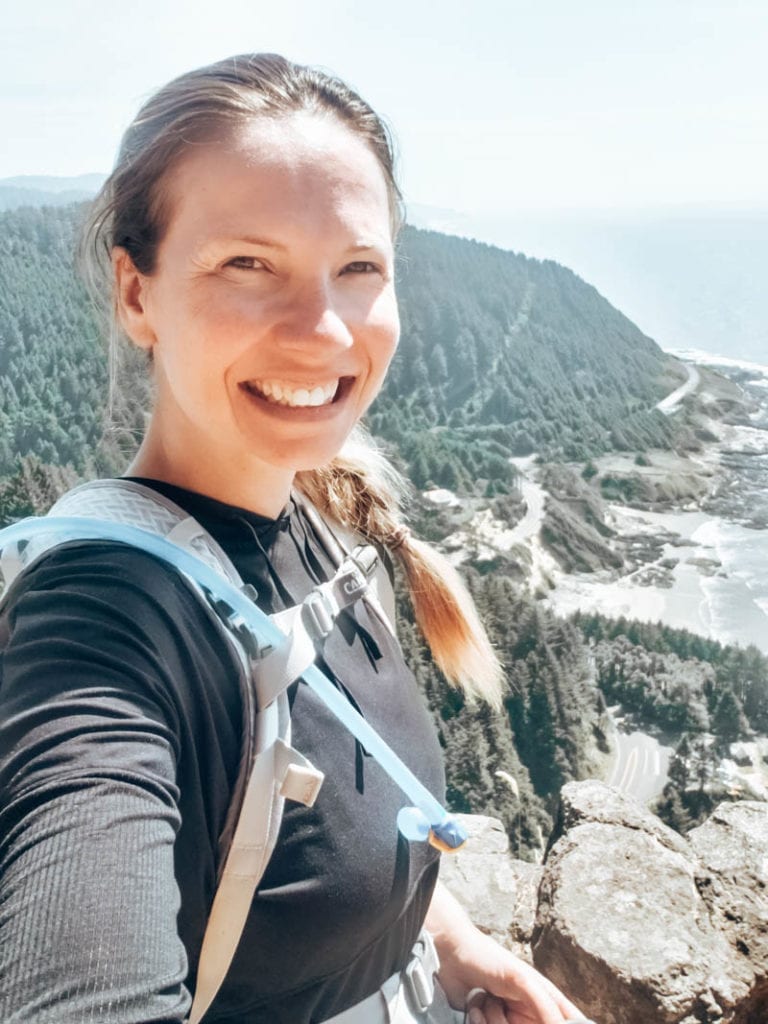 Of course, you can also drive! You'll find parking and an easy walk to the Cape Perpetua Stone Shelter (see below).
Visiting Cape Perpetua's Stone Shelter
Once you've taken in the views at the top, find the Whispering Spruce Trail and walk 0.2 miles to the rock shelter built in the 1930s by the young men of President Franklin D. Roosevelt's Civilian Conservation Corps.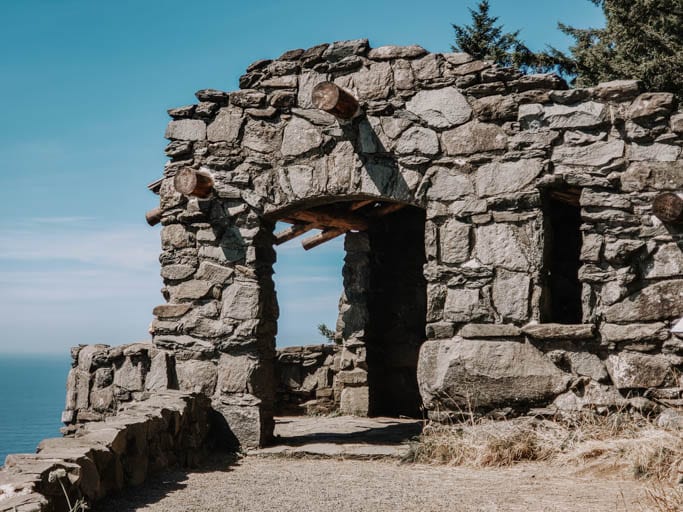 Then it's time to turn around and head back to the Visitors Center via the Whispering Spruce and Saint Perpetua trails.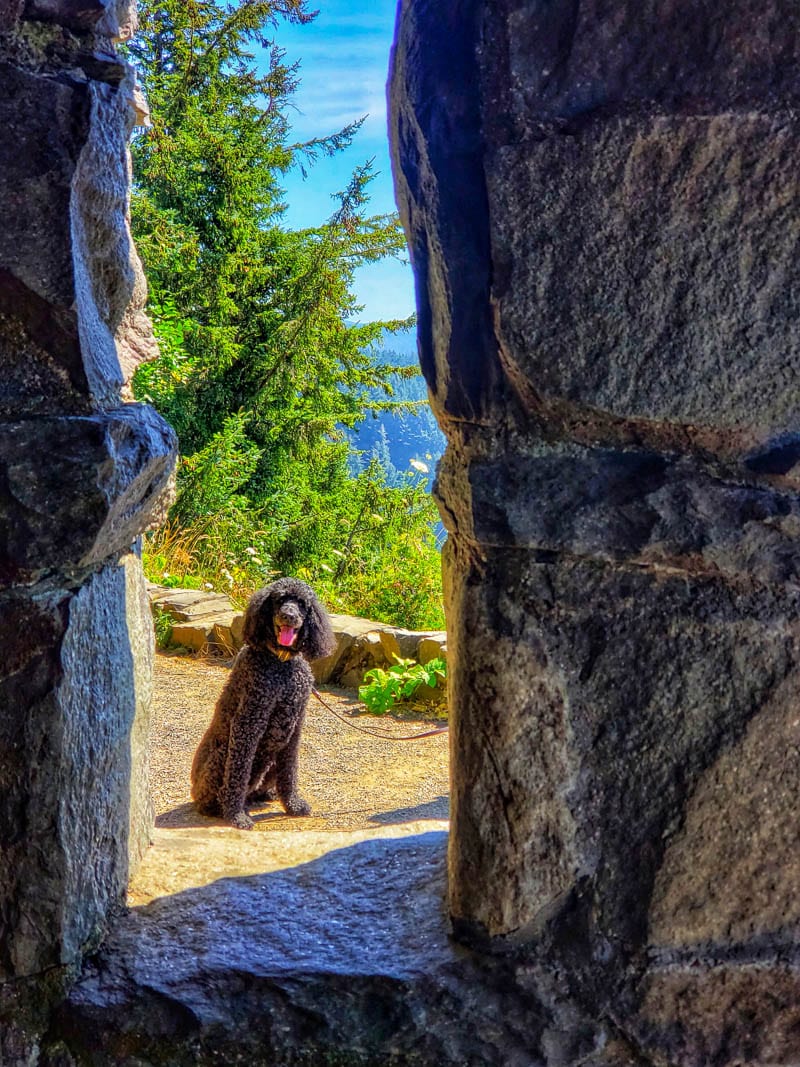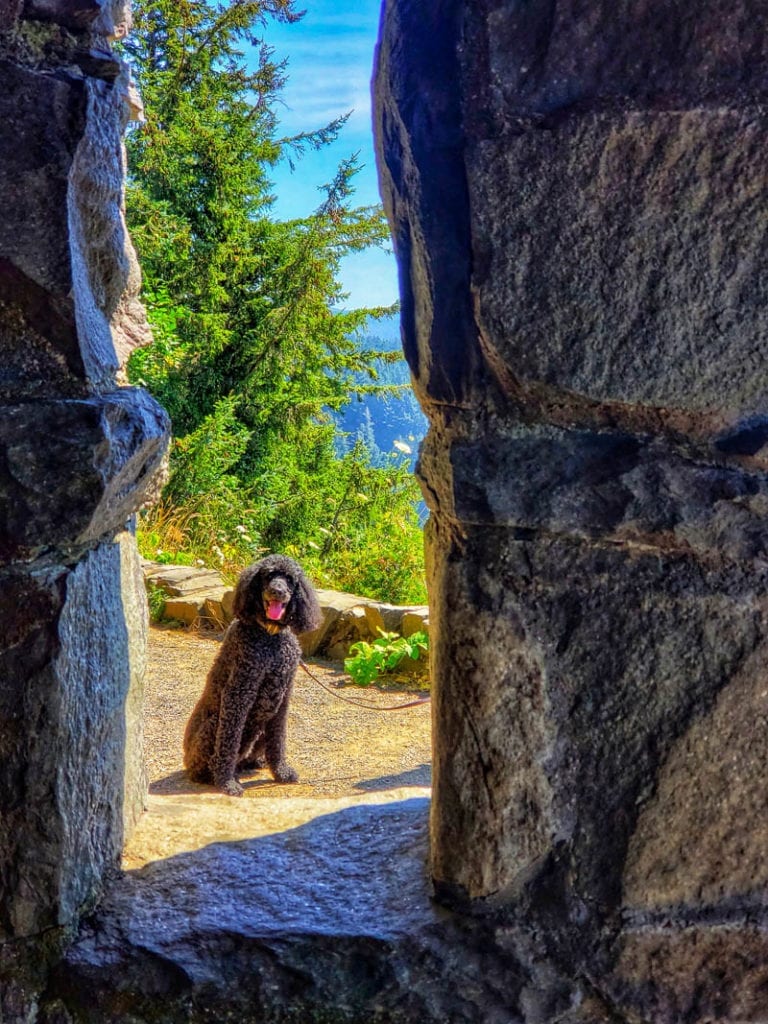 Visiting Cape Perpetua's Spouting Horn (at Cook's Chasm)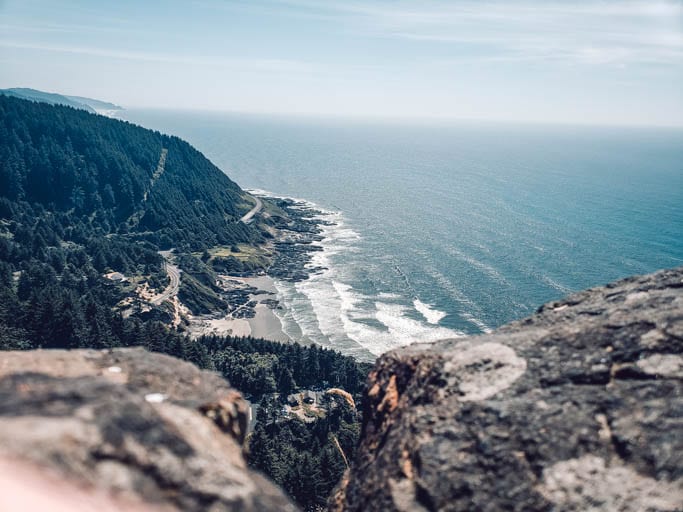 Back at the Saint Perpetua Visitors Center, find Captain Cook Trail (0.8 miles round trip) and check out the tide pools before watching the water spray from the Spouting Horn at Cook's Chasm.
This is an ocean geyser where the pressure from seawater and air builds until the water explodes from a hole in the rock.
The best time to visit the Spouting Horn is at high tide and the best time to visit the tide pools is at low tide.
Thor's Well is Cape Perpetua's Star Attraction
From the Spouting Horn, look to your right at the natural phenomenon of Thor's Well.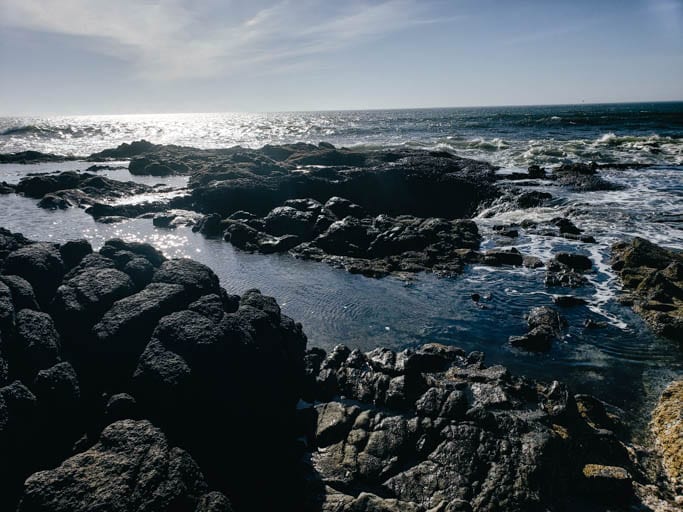 This is what I mean when I write that Cape Perpetua provides unfettered access to nature. You can pick your way over the basalt rocks, walk right up to this collapsed sea cave, and watch the water funnel in from the ocean and down to the bottom of the deep hole before shooting out in violet bursts that can reach as high as 20 feet.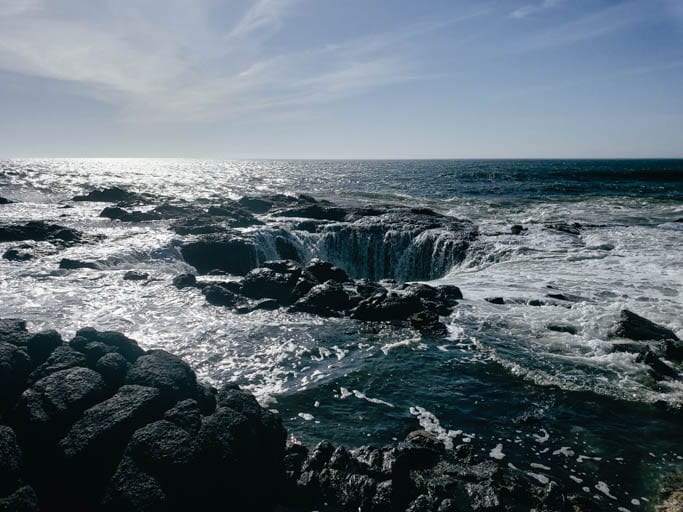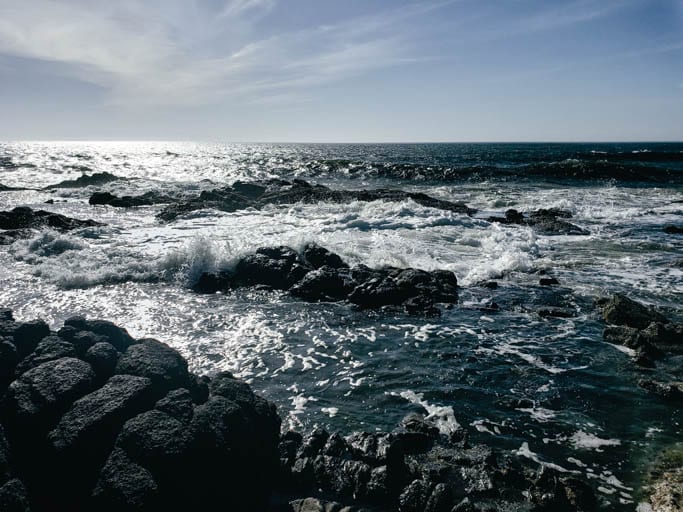 It's important to use extreme caution at Thor's Well. Keep an eye out for sneaky waves that can sweep a person into the well, which is also called the "Gate to Hell". I grew up one hour from the Oregon Coast and this remains one of the coolest things I've ever seen in my years of exploration here. But I'm going to say it again: Be careful.
Thor's Well offers up its best showtimes from about an hour before high tide until about an hour after high tide.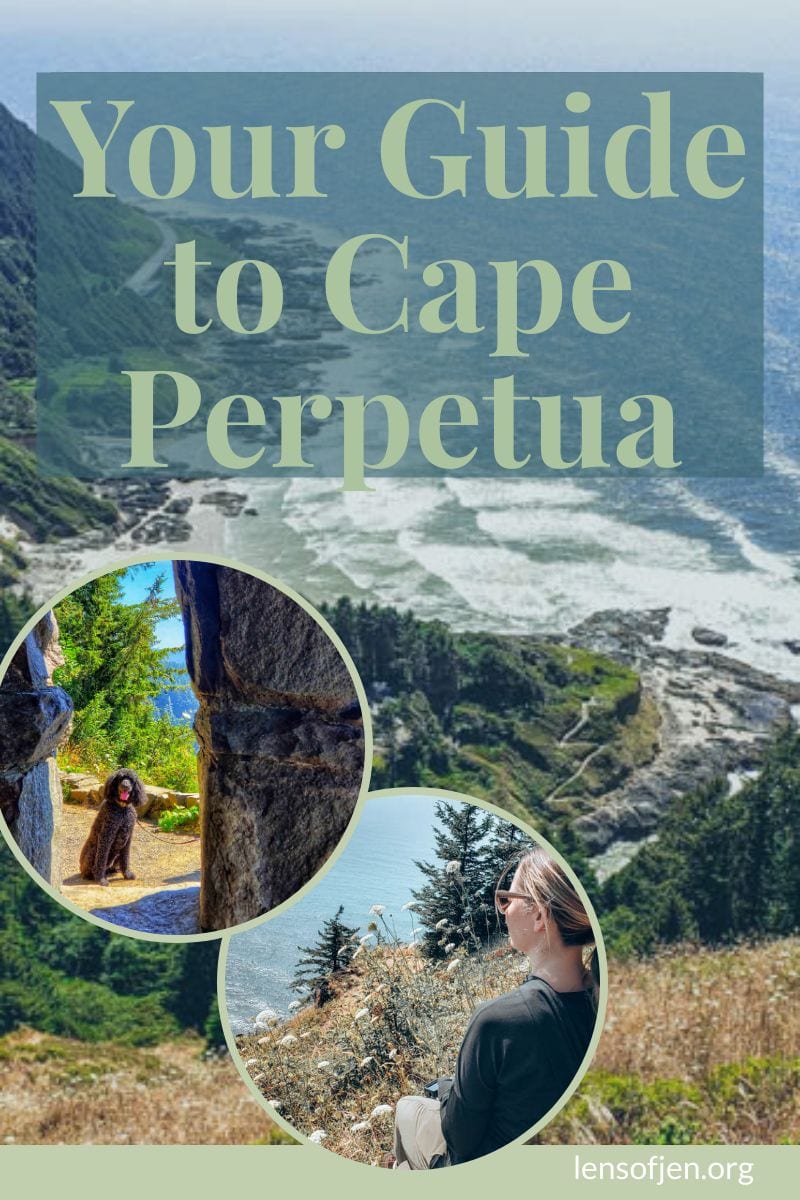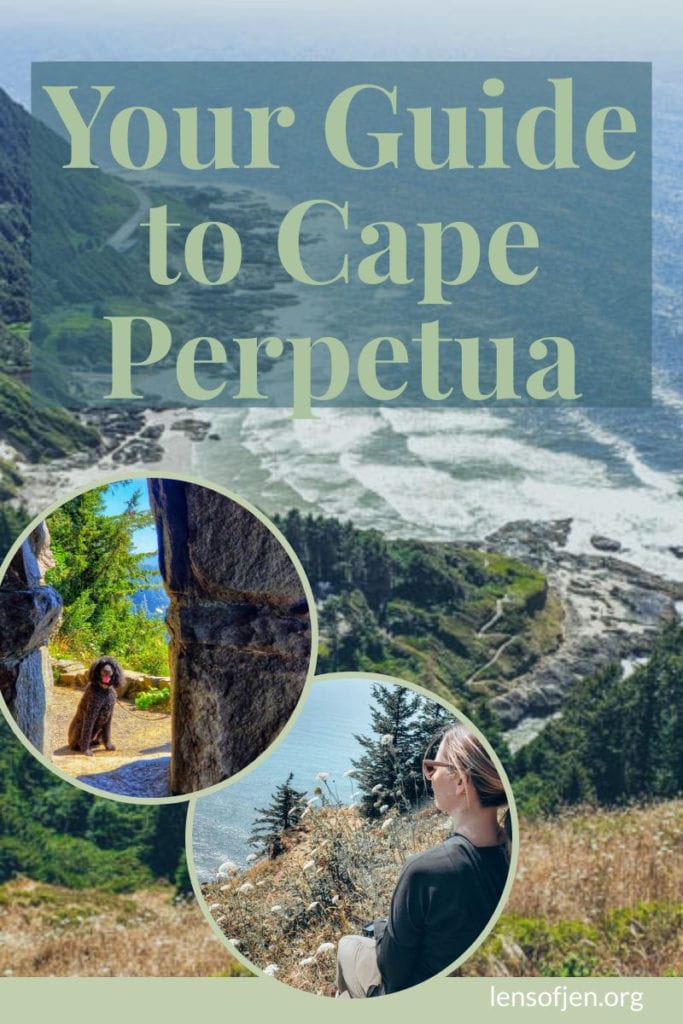 Visiting Cape Perpetua's Quietest Attraction: Cape Cove
So many people miss this hidden beach because they head back to the Cape Perpetua Visitor Center Parking lot and drive to the next stop at Devil's Churn.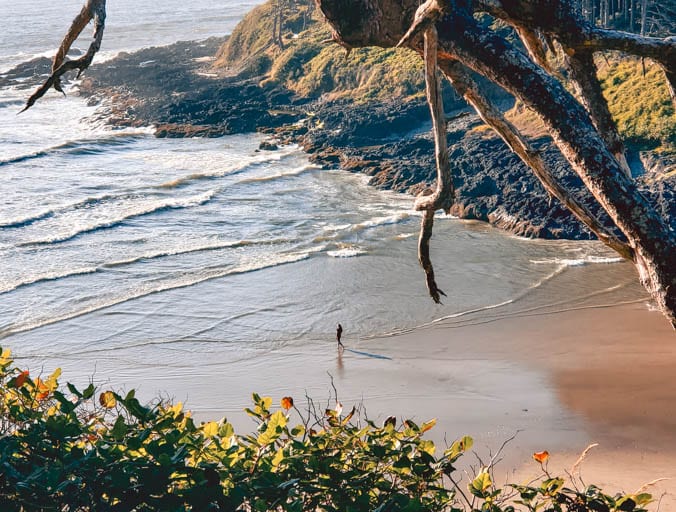 But you don't want to miss this little piece of heaven hiding between the Gate to Hell and Devil's Churn!
Instead of driving, trace your steps back over the Captain Cook Trail until it meets the Cape Cove Trail. Follow it for 0.3 miles. You can stay on the trail and enjoy the overlook of this quiet cove, or head down to the beach where you may just be the only person in sight.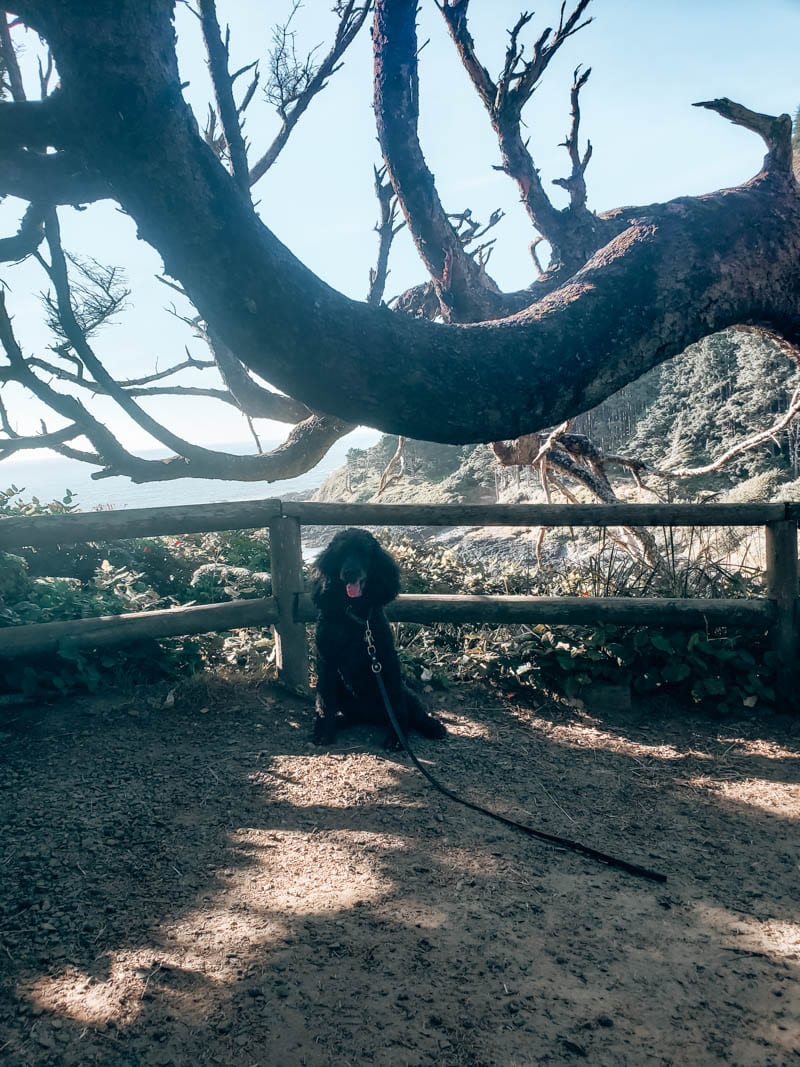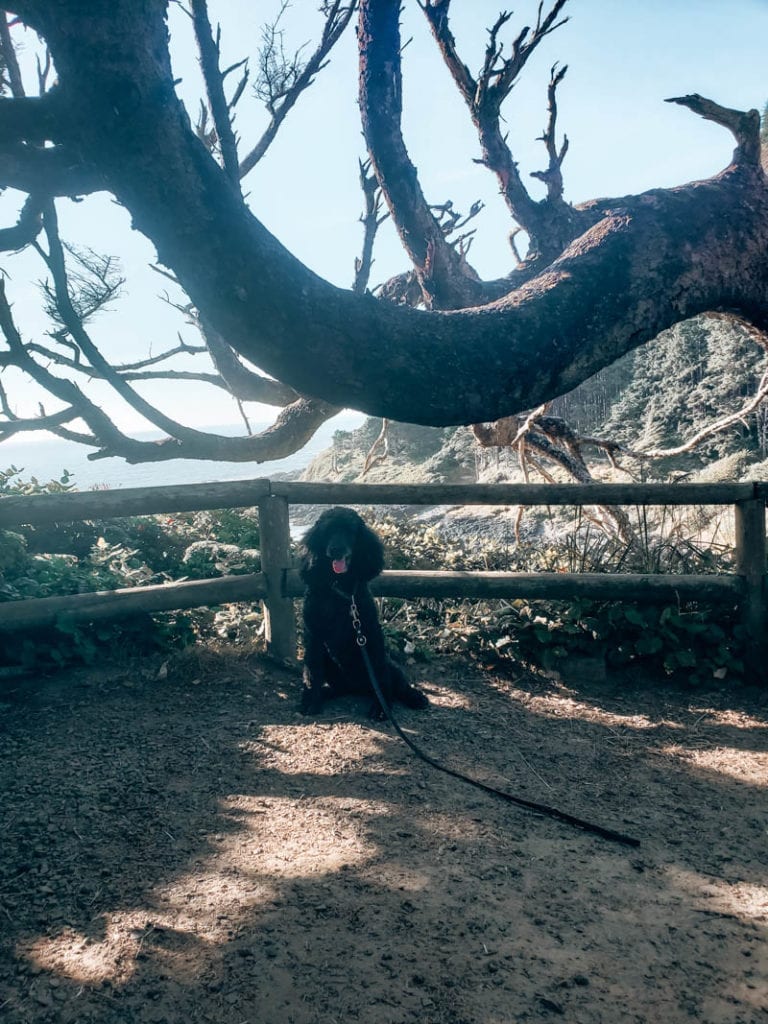 From here, follow the Trail of the Restless Waters 0.2 miles to Devil's Churn.
Devil's Churn is a Must-See When Visiting Cape Perpetua
This narrow inlet is fun to watch when waves rush into it. You can get really close to the churn if you take the stairs and perch on the rocks to watch nature's show. Best viewed at high tide or during a storm. (Be really careful to avoid the waves if the water is rushing too high onto the rocks.)
After you get your National Parks Passport stamped at the little information center in the Devil's Churn parking lot, retrace your steps for a half-mile back to the Cape Perpetua Visitor Center. Job well done!
Logistics for Visiting Cape Perpetua
Where is the Cape Perpetua Visitor Center?
Address: 2400 US-101, Yachats, OR 97498
The visitors center is located two miles south of Yachats and just a three-hour drive from Portland.
$5 per vehicle day-use fee (Or use your National Forest Recreation Pass, Northwest Forest Pass, or National Park Service Pass)
Where is the Devil's Churn Day Use Area
Just a 0.2-mile drive north of the Cape Perpetua Visitor Center, the small parking lot at Devil's Churn also has a little information center where you can get a Cape Perpetua cancellation stamp for your National Parks Passport.
It has its own $5 per vehicle day-use fee if you don't have one of the accepted passes (National Forest Recreation Pass, Northwest Forest Pass, or National Park Service Pass).
Visiting Cape Perpetua During the COVID-19 Pandemic
Maps are still available at the Devil's Churn Information Center and at kiosks outside the Cape Perpetua Visitor Center, which was closed during my visit in August 2020. Restrooms were open at both locations with regular cleaning schedules.
I was able to get my National Park Passport stamped with the Cape Perpetua cancellation stamp at the small Devil's Churn Information Center (more like a kiosk), which was still staffed.
You can also print a Cape Perpetua trail map using this link.
Where to Stay Near Cape Perpetua
The nearby town of Yachats is somewhat sleepy and entirely adorable. If you can find a coveted Inn or home for rent within Yachats, do it!
Here is a map of homestays and hotels nearby:
Camping at or Near Cape Perpetua
Cape Perpetua Campground
Camping here would be ideal! If you take the Saint Perpetua Trail, you will walk right past the Cape Perpetua Campground. They do not take reservations in advance, so it's a risk to get in. But worth it if you make it!
South Beach State Park Campground
The South Beach State Park campgrounds are 30 minutes north of Cape Perpetua near Newport. You can book up to 30 days in advance here.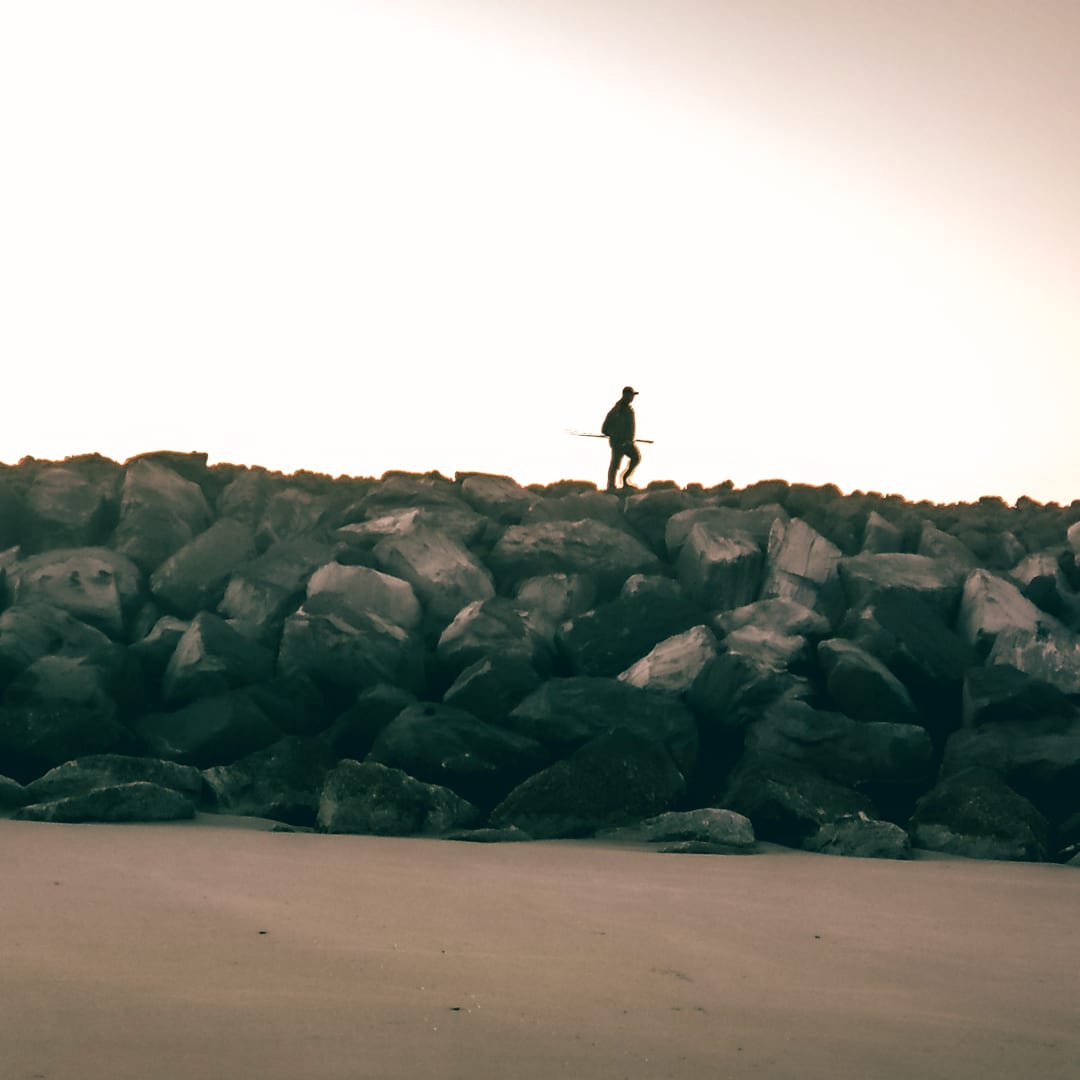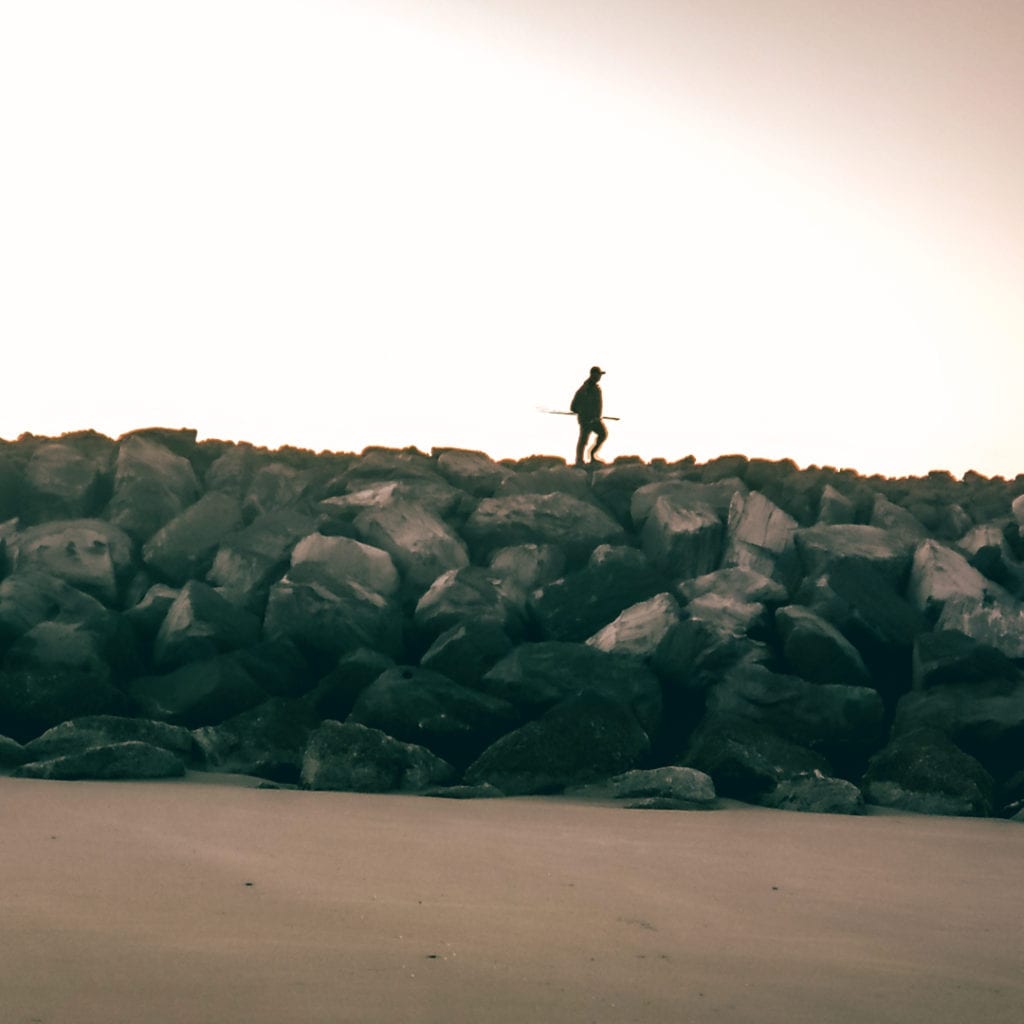 I stayed here for four nights in August 2020 and it was a great experience. The RV zone is separated from the tent zone, bathrooms are clean, and a park in the middle of the campgrounds serves as a communal gathering space for all.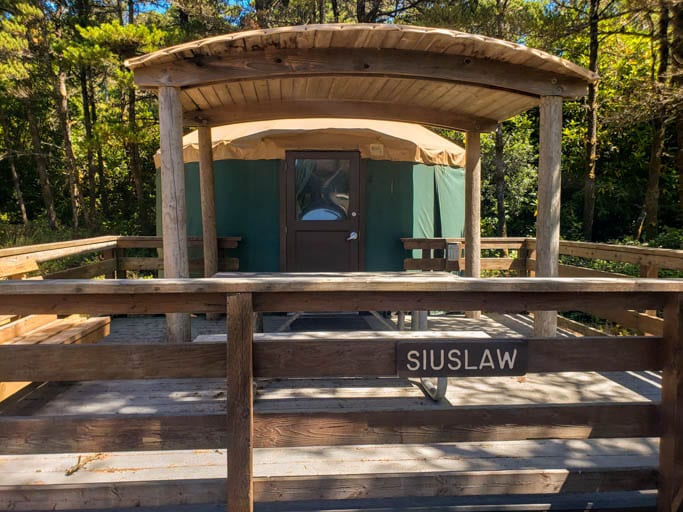 Most showers were closed due to COVID-19 and you couldn't rent any of the awesome yurts, but it was still a great place to stay.
Dogs are welcomed.
Hipcamp
It can be hard to find a place to stay on the Oregon Coast during the high season (June – mid-September), even if you're just looking for a little spot to put your tent.
If the campgrounds are booked and you don't want to risk the first-come, first-served thing, try Hipcamp! This is a site where people rent out space on their property for cheap. I've found this to be a really fun, communal experience where you can often sit around the campfire swapping stories.
For $10 off your HipCamp experience, use this code: JENNF43A44
What's the Best Time to Visit Cape Perpetua?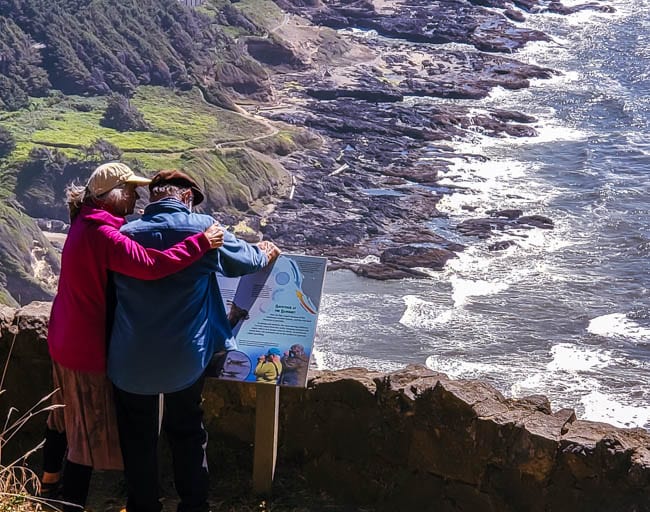 Most people are going to tell you the summertime is the best season to visit Cape Perpetua and the Oregon Coast in general…but not me.
I grew up here and I often avoid the Oregon coast in the summer. I LOVE the coast literally every other time of the year when few people come and the rain whips up the waters.
That being said, the coastal weather isn't for everyone.
If you're looking for warm(er) weather on the Oregon Coast, visit between July and early September.
Thank you for reading this post about beautiful Cape Perpetua on the Oregon Coast!
About the Author
Hi! I'm Jen!
I'm a freelance writer and travel blogger who quit my nine-to-five after my fiancé, Jeff, died of cancer at the age of 40. When he died, I realized that life is just too short to delay our dreams. Since my dream was to travel and write, I now travel and write full-time. Today I wear hiking boots instead of heels and collect experiences instead of things.
You might like
You might like