Day 2 on the Norte from Zarautz to Deba
Hey there! This post may contain affiliate links, which means I'll receive a commission if you purchase through my link, at no extra cost to you. Please see my legal page for more details.
Walking the Camino del Norte stage from Zarautz to Deba was rough for us.
Not because the beautiful coastal views and moderate hills and slopes were all that challenging. Mostly because Day Two on the Camino de Santiago is a really hard day.
Writing from a post-Camino perspective, this was my hardest day of walking – with the exception of the day when I had food poisoning. Our bodies ached from the 15 miles we walked the previous day, and we woke up in a hostel that was friendly to pilgrims, but not exclusive to pilgrims.
Big mistake. Huge.
Be Prepared for Day Two on the Camino de Santiago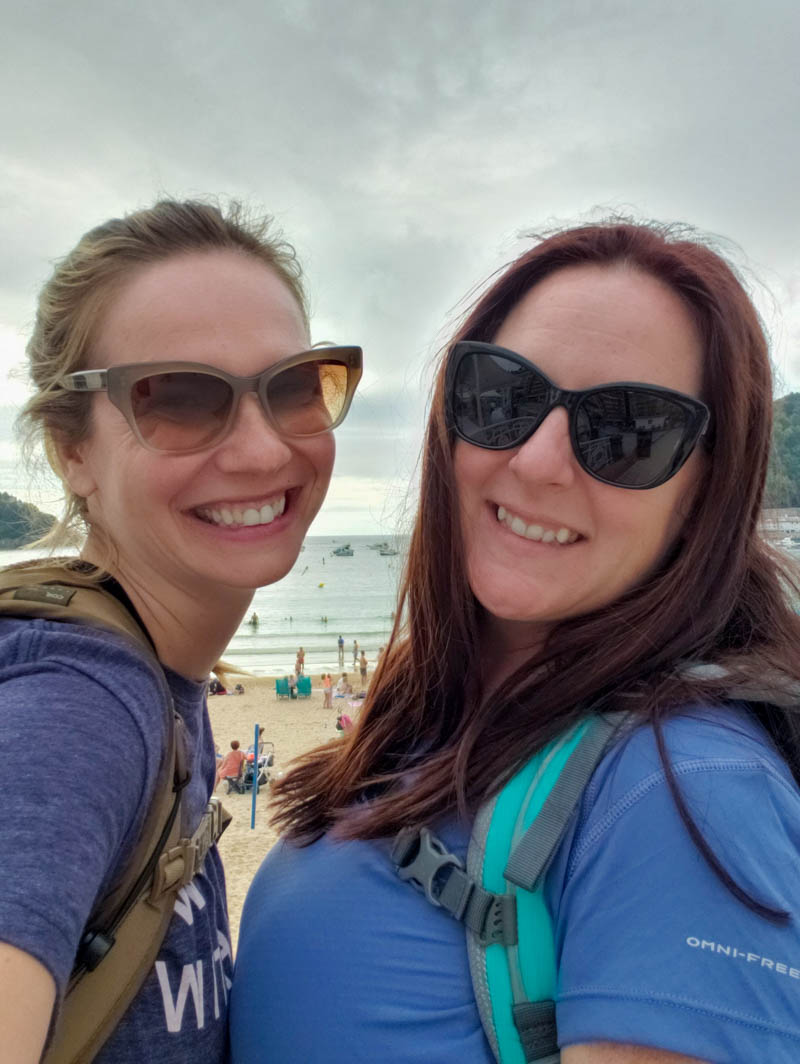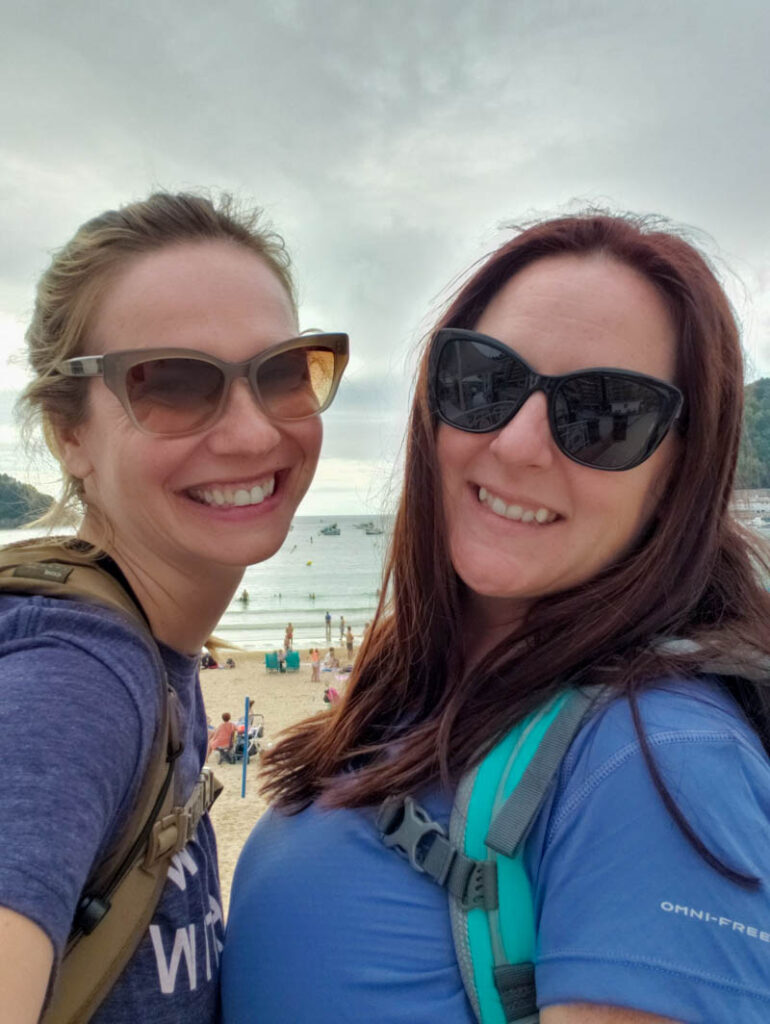 No matter what Camino de Santiago route you choose, unless you're a serious hiker, your body will probably ache on Day Two. You're asking a lot of your feet, your shoulders, your whole body. And while I can guarantee that there will be a time when your body accepts that long-distance walking is part of everyday life, Day Two on the Camino del Norte from Zarautz to Deba was not that day for us!
The Day When We Nearly Turned Back:
Important: Find pilgrim-exclusive accommodations when walking the Camino del Norte
Hostels that are pilgrim-only are called albergues and they bring together walkers in a shared experience of pain and joy.
There are communal dinners at night and breakfasts in the morning, shared bottles of wine with stories swapped from the trail, and there is always someone who can provide a bit of Compeed, which is the go-to blister-prevention aid on the Camino de Santiago. Also, everyone is in bed by 22:00 and out the door by 08:00 the next day.
While our hostel in Zarautz provided us with the stamp that you get at every stop in your Camino Credentials, the place was filled with the sounds of partying late into the night.
Come morning, Lizz and I found that the communal toilet was clogged, something that is a serious issue because, as we were about to learn, when you walk a lot, you need the bathroom…a lot.
With the combination of our clothes that were still dripping wet and our need to linger at the café next door to use the facilities multiple times, we got a later jump than desired on Day Two of walking the Camino del Norte.
Getting lost on the Camino del Norte from Zarautz to Deba
We would get lost multiple times walking the Camino del Norte, and we would come to handle it with laughter – even crawling under barbed wire and walking along train tracks with a smile. But this first time, on our way out of Zarautz, we were annoyed.
There are often multiple routes that are considered "the Camino" and on Day Two we wanted to take the flatter coastal detour on the Camino del Norte rather than the more beautiful and mountainous "official" route.
But every time we headed for the coastal detour, a well-meaning local pointed us back toward the traditional route, and rather than following our gut and our maps, we ended up walking straight uphill.
I told Lizz that this is the way the universe pointed us, and we should just embrace it, but we were both so achy that it took us weeks to laugh at this "wrong" turn that took us on the more difficult official Camino route.
I also felt the first sign of "hot spots" on my feet, though I didn't yet know what hot spots were. (For the novice hiker like myself, hot spots are blisters starting to form. They should never be ignored!)


Fueling up for a Camino del Norte climb
We found a lovely little spot for lunch right on the route in Zumaia where we ate pintxos and sucked down smoothies before setting out on the brutal climb out of Zumaia– right in the thick of the afternoon heat. The hot August sun pelted us as it bounced off the pavement and into our faces.
If we had gotten an earlier start, we probably would have enjoyed the climb to Itziar a lot more. This climb was a beautiful, forested, shaded walk. But we were too sore, hot, and angry to enjoy it.
Arriving in Deba and Losing the Bed Race
From Itziar it was straight downhill into Deba where there are actual elevators into the town!
But it really was downhill into Deba in a metaphorical sense, too.
This was our first day in which we engaged in the "bed race," racing to the limited beds available in pilgrim-exclusive albergues rather than booking in advance – and we failed miserably. We showed up at the tourist office late in the afternoon and the man behind the counter actually laughed when we asked about a room.
There was a huge festival going on in Deba, which included a bullfight that was taking place right when we arrived in town. Residents dressed in blue bandanas flowed from every restaurant and pub toward the bullfighting ring and the beer flowed just as freely.
On any other day, we might have taken in the spectacle with interest and enjoyed a beer. Instead, we slumped into the only restaurant that would open its doors to pilgrims and begged them to open the kitchen while we waited for a bus that – in two hour's time – would take us to the nearby town of Ondarroa, which was the only place that had two beds.
The party in Ondarroa was also going full-steam ahead. We walked past the revelers and climbed the stairs to the hostel which, just like the night before, was pilgrim-friendly but not pilgrim-exclusive.


This was our first and only experience with co-ed, communal showers. I showered way in the corner…which was also by the drain.
Big mistake. Huge.
The filthy water puddled around my feet and Lizz, a veteran of the U.S. Navy, had a good laugh at my expense.
The party thumped on below and was still going strong when we left at 07:00 the next day. In the meantime, we held pillows over our heads to drown out the sound and used tablecloths for blankets since none were provided. (The sleep sack in our comprehensive Camino packing guide is a must.)
All would start to look up on Day Three on the Camino del Norte, but there is no doubt that Day Two was a bitch.
Walking the Camino de Santiago: Lessons Learned
When you feel a hot spot…STOP. Put on Compeed, moleskin, or a bandaid. Change your socks to ensure your feet stay dry. You do not want that hot spot turning into a blister. Trust me.
Do not travel the Camino de Santiago without a sleep sack. These lovely little things pack small and protect against bed bugs as well as dirty blankets. In the case where blankets are not provided, they provide a bit of warmth.
If you are going to join the bed race, meaning you do not have a bed booked in advance, try to get to your destination by 13:00.
Never shower near the drain in a communal shower. Never. Don't do it.
When you walk a lot, you need the bathroom. A lot. Carry a Kula Cloth to help with that (for anyone who squats when they pee).
Always carry a silk sleep sack. The sleep liner is a must at hostels and albergues where blankets and sheets are not guaranteed. It also protects against bed bugs and dirty blankets.
Tips for Walking the Camino del Norte from Zarautz to Deba
Some days are going to be hard. Really hard. In the beginning, the mind won't know how to fight the aches, pains, and doubts. YOUR BODY. WILL. LEARN. Trust in that. We almost turned back when on this stage of the Camino del Norte from Zarautz to Deba, but we are so glad that we stayed for a life-changing journey.
That first tip is especially important in Deba where it is very hard to find a bed during tourist or festival season. Book a bed ahead of time if you are stopping in Deba. Better yet, skip Deba. We found it very unwelcoming to pilgrims. If you are aching and need a shorter day, split the stage and stop in Zumaia. Or if you can push on another three miles/five kilometers, try for Ermita del Calvario.
The walk out of Zumaia is brutal in the midday sun. It would be OK earlier in the day. Get an early jump on this stage of the Camino del Note from Zarautz to Deba.
It's smart to stock up on food in Zumaia. Deba is unpredictable. We found it in the midst of a festival and, while we would run into many festivals throughout Spain, this was not inclusive of pilgrims. We could not find food anywhere. And the next stage is without accommodations.
Pintxos are everywhere along the Camino del Norte. These little sandwiches or small morsels are traditionally meant for social snacking, as in you eat one and then move on to the next bar for another. But when walking the Camino, you won't have time for the social aspect, and – sometimes – these little sandwiches are all you will find. Additionally, as you move away from the tourist areas, the fancy pintxos will get a little less fancy (but they remain just as small). We would tuck the little sandwiches with their hard bread and salty ham into our packs to eat later…and we carried mustard with us to add a bit of flavor. We used the mustard and salty ham trick in Deba when we couldn't find anywhere open to feed a pilgrim.
Where to Stay in Deba
Our friend Anna, from Day One of our pilgrimage, won the bed race and got to Deba in time to stay at the Geltoki Pilgrim Hostel for a 5 euro donation. We found her lounging happily outside of the albergue as we scrambled off the bus the next day, exhausted after a terrible sleep in nearby Ondarroa.
Other friends from our pilgrimage were forced to sleep outside in Deba, huddling together for warmth. Yep. Deba can be tough, especially if there is a festival. Plan in advance for this town. Or be like Anna and get to the albergue before everyone else.
Here are available hotels and home rentals near the Deba albergue:
Our Camino del Norte Pilgrimage Stats After Day Two: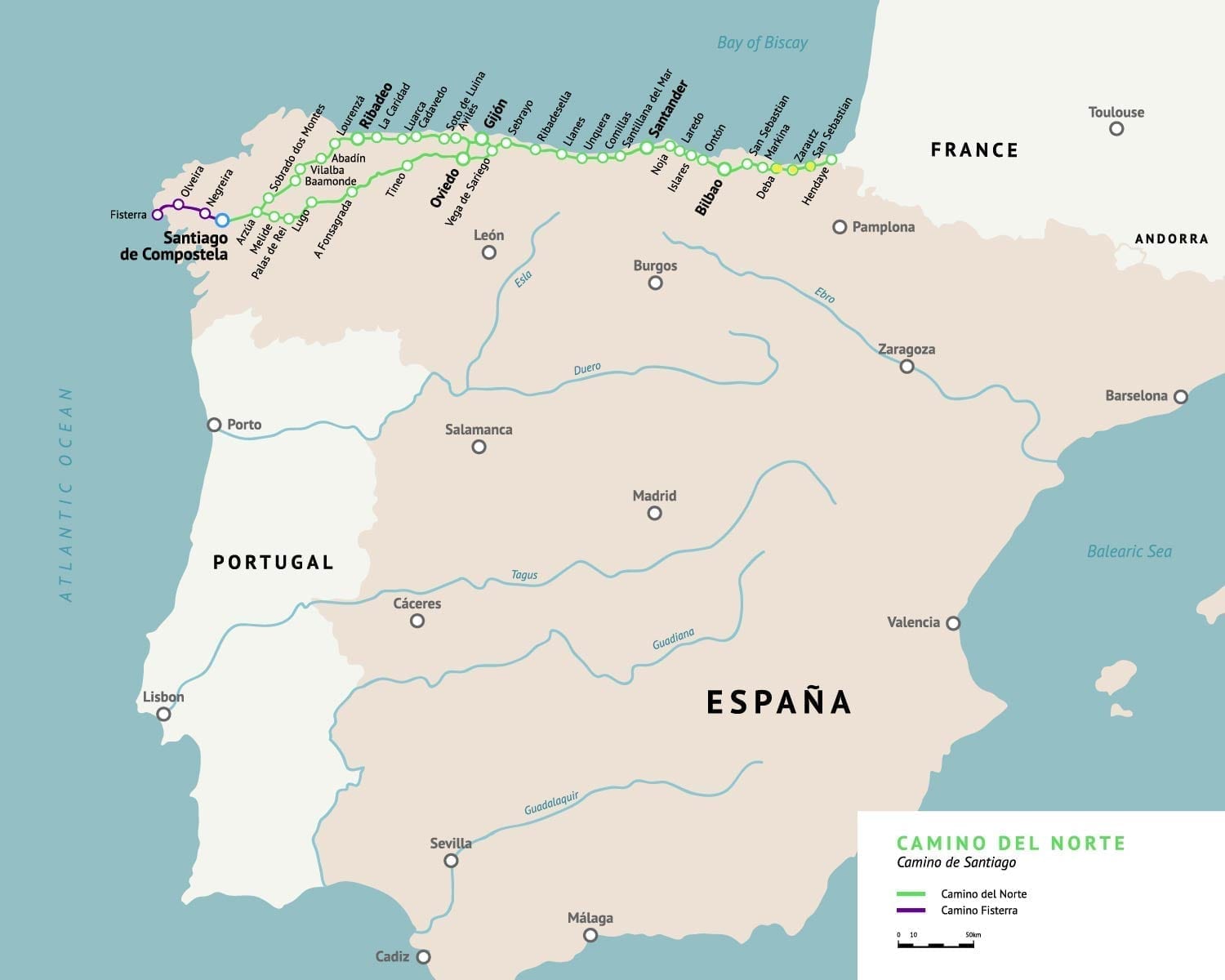 Stage Miles: 13.5
Actual Miles Walked: 14.8 (23.8 kilometers)
Bus forward Miles: 0
Total Miles Walked So Far: 29.6 (47.6 kilometers)
Additional Camino Resources
About the Author
Hi! I'm Jen!
I'm a freelance writer and travel blogger who quit my nine-to-five after my fiancé, Jeff, died of cancer at the age of 40. When he died, I realized that life is just too short to delay our dreams. Since my dream was to travel and write, I now travel and write full-time. Today I wear hiking boots instead of heels and collect experiences instead of things.