Day 15 Norte: Serdio to Vidiago, Barbed Wire, Stinging Nettle and More
Hey there! This post may contain affiliate links, which means I'll receive a commission if you purchase through my link, at no extra cost to you. Please see my legal page for more details.
The day that involved barbed wire, stinging nettle, and railroad tracks!
We set out on Day 15 of walking the Camino del Norte prepared to walk 23 miles all the way to Llanes. But that didn't happen.
Somewhere between crawling under a barbed-wire fence, running into stinging nettle, and walking back to the official route by way of narrow railroad tracks (while praying a train wouldn't come), we decided to stop early.
The "good" news? We would solve the Masturbate-Gate mystery of Day 14.
An Uneasy Sleep for Two Pilgrims
Neither Lizz or I slept well. Understandable given that the unidentified man in the bunk bed next to Lizz had shaken her out of a deep sleep with a solo act that should never be performed in a communal sleeping space.
So, we were up and at 'em early on Day 15 of walking the Camino de Santiago. We were not, however, early enough to get a good look at the masturbator. The culprit was up and out of bed, mingling amongst the men making breakfast in the shared kitchen so that, in the pre-dawn darkness, Lizz couldn't cleanly identify the perpetrator.
An Uneasy Walk on the Camino del Norte
It would be a few days before we would make light of this situation, nicknaming the night and our subsequent investigation "Masturbate-Gate". The morning after, as we walked out of Serdio, it was too soon to laugh, especially since we knew the guy was somewhere just ahead or just behind us, and especially since poor Lizz would shudder every mile or so as the silhouetted image and the accompanying sound of the night before would invade her thoughts.
"I cannot get it out of mind," she lamented.
I was sympathetic. You cannot unsee these things. I did not, however, share Lizz's suspicion that it was the man in the wide-brimmed hat who was walking the Camino with his partner. We had helped the couple get situated in the albergue the previous evening (prior to the incident) and raised our glasses at them as they, too, settled into the picnic tables in Serdio with a bottle of wine.
But Lizz stared dubiously at the man's back as he and his partner walked ahead of us. "It's the belt loops," she said. "That guy last night had belt loops just like those. He used them to pull his pants up." Another shudder.
On the Camino, you do tend to sleep in the clothes you'll be wearing the next day (all the easier to roll out of bed and into your walking shoes), but with his partner in the room and, presumably, nearby? I wasn't so sure.
The couple waved enthusiastically at us from an outdoor café table when we passed by a mile or so later. Lizz shuddered. We kept walking.
A Detour on the Camino del Norte
We had taken our fair share of detours while walking the Camino, especially that epic one that we took on Day 4, so we were careful to check our maps before choosing to head off of the official route. By Day 15, we had also learned that we would much prefer to take unpaved detours, even if that meant longer walks and leaving the comfort of the yellow directional arrows that line the Camino.
Our guide book told us that the official route traced a paved highway but that locals had created an alternative trail along the high cliffs above the coastline. We followed our Buen Camino app and mapped this alternate route…only to find that the yellow arrow on the pavement was painted black, and a once swinging gate was roped closed.
We then made a decision that, in retrospect, was obviously terrible.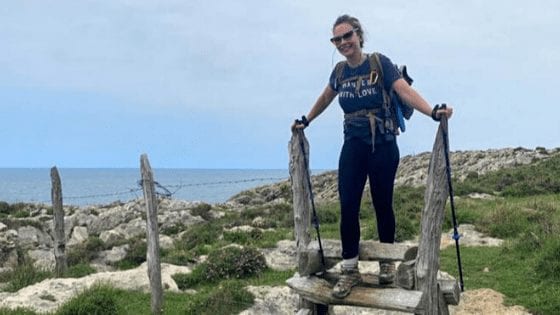 We hopped the fence.
The Barbed-Wire Fiasco: Losing the Path on the Camino del Norte
We traced the coastline and saw some of the most jaw-dropping scenery yet. And then the trail dead-ended right into a cow pasture. We were, most decidedly, inside the pasture with the cows.
There was no way out except to retrace our steps for a couple of miles or crawl underneath a barbed-wire fence.
We opted for the barbed wire, making it out without too many scrapes. Though, it was, at this point, that I noticed how much my hands were stinging. I had brushed against some sort of stinging plant. I hadn't thought much of it at the time, but my hands were slowly growing more and more red and more and more painful.
Beyond the barbed wire, we found train tracks with very little room on either side for an escape if a train came. We were forced to walk actually on the tracks, so we hustled, breathing a sigh of relief only when we found our way back to the official route with its friendly yellow arrows. A paved road had never looked so good!
Bail Out? A Near Moment of Quitting on the Camino del Norte
At this point, my entire body was undergoing a mild allergic reaction. From my fingertips to my toes, my skin stung and itched and screamed. I sat on the side of the road, took my shoes and socks off, unstrapped my walking sticks and gloves and, though I was mostly silent, entered into the midst of a full-on Camino meltdown.
Lizz was quietly checking her phone for a cab company when I slowly put my shoes back on.
"I can walk," I moped. "But 23 miles will not happen today."
Much to my relief, we soon stumbled on an albergue that was not listed in any of our maps, apps or guide books. There was one problem, though. I noticed, with horror, that the suspected masturbator of the night before was seated outside.
We Make an Inelegant Entrance
Much like we had helped him the night before, the suspect directed us toward the check-in and showed us around. I watched Lizz carefully, but she gave no reaction. Unless, of course, you count knocking over all of the walking sticks from the communal bucket.
As soon as he had walked away, I asked Lizz in a whisper if she was OK.
She was. But mostly because, in her haste to ensure we both got beds, and in the curfuffle with the bucket of walking sticks, she hadn't noticed the guy.
Masturbate-Gate Solved: A Camino del Norte Mystery Complete
Once showered and slathered with anti-itch ointments, I felt a lot better. We were just starting to laugh at ourselves for a debacle of a day when I saw Lizz shudder.
For obvious reasons, we had chosen to sit far away from the suspected soloist. We had started to forget about him as we joined in the pilgrim fun with newfound friends, learning how to pour the cider of the region (more on this and Asturias on Day 17!) and swapping stories from our Camino adventures.
But it was impossible for Lizz to entirely forget.
"That's him," she whispered to me definitively. She had caught a glimpse of his back in the dusky evening light and the silhouette confirmed everything for her.
I took a sip of wine and stole a glance. He seemed to be without his partner that evening and, from where I sat, it appeared he was sloppy drunk and chatting up two German women whom I guessed couldn't be older than 21.
Before long, the two girls joined our table in an attempt to escape the suspect, who had grown increasingly loud and increasingly aggressive in his attempts to hit on them. Lizz protectively made space for the girls near her. No one moved to make space for the man who now swayed above us, slurring his way through a racist joke.
Just When You Think a Situation Can't Get More Awkward…
It can.
The suspect's "partner" emerged from somewhere inside. She told him that she could hear him from her bunk and that people were trying to sleep.
That's when he introduced us to his mom. His mom.
I looked at Lizz in horror. She nodded grimly and shuddered.
Without making a scene, Lizz made sure that the German girls were not left alone again with the man who I was now sure was the solo artist and she quietly warned the other pilgrims. For my part, I slipped into the communal room and ensured that Lizz's bed was nowhere near the bunk with the wide-brimmed hat on it.
Where to Stay if You Stop in Vidiago
We stayed at the Hostel El Caserón de Vidiago. Great stop right on the route with in-house restaurant and bar.
Lessons Learned on the Camino del Norte:
Best not to hop fences or ignore blacked out arrows. Seriously though, no matter how recent the publication of your guide book, the locals who keep up the route are providing the most up-to-date information. Our detour was mapped in our book and on our app, but the detour was closed. We chose to ignore the blacked-out arrow and hop a fence, and it turned out to be a dangerous decision.
Tips from a Post-Camino del Norte Perspective:
We never felt unsafe on the Camino, but it's really important to look out for each other and to let someone back home know where you are each night. As we learned on Days 14 and 15, there are inappropriate people everywhere, even on a spiritual pilgrimage.
Our Pilgrimage Stats After Day 15 on the Camino del Norte: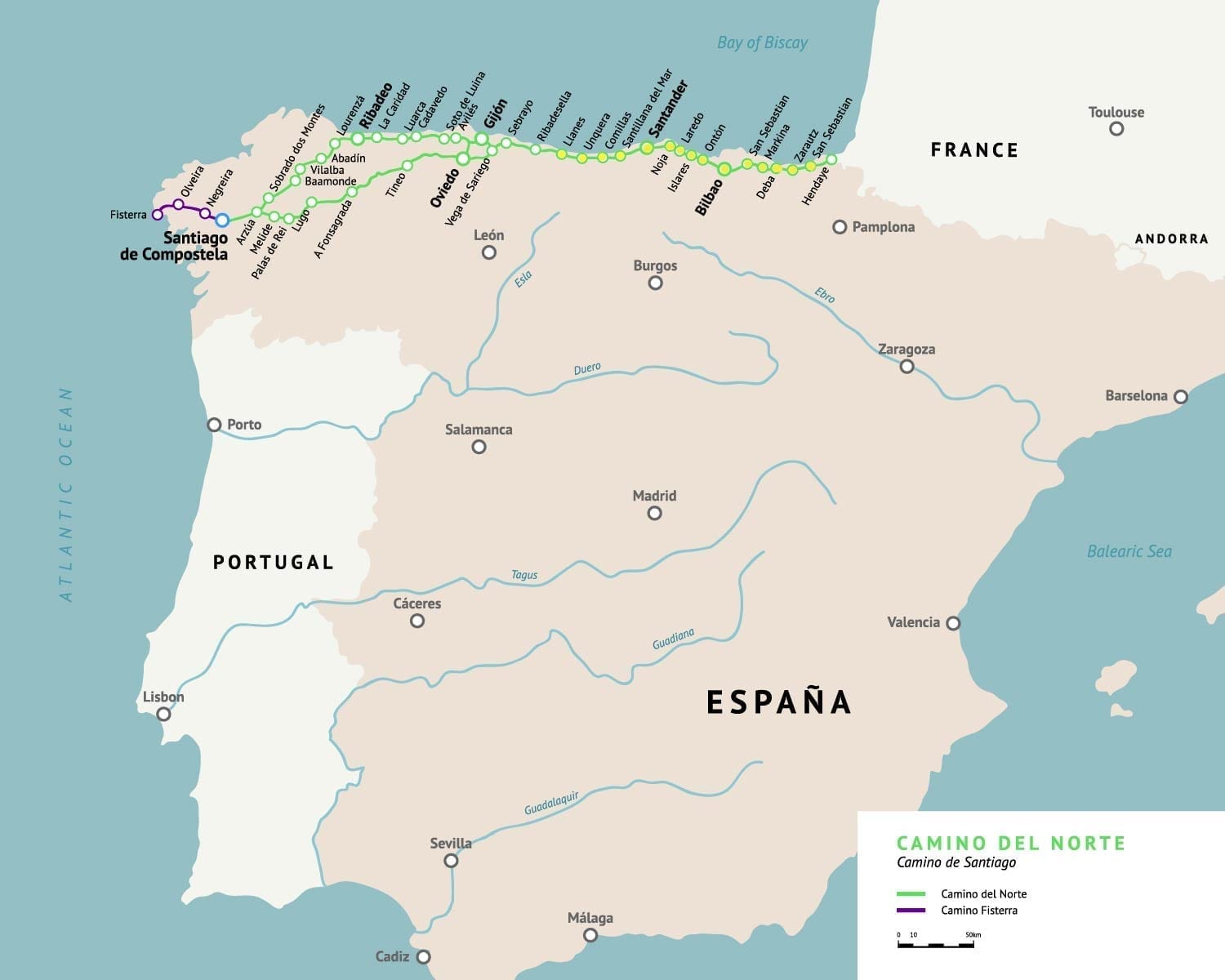 Stage Miles: 14
Actual Miles Walked: 15 (24 kilometers)
Bus forward Miles: 0
Total Miles Walked So Far: 188 (303 kilometers)
Additional Camino Resources
About the Author
Hi! I'm Jen!
I'm a freelance writer and travel blogger who quit my nine-to-five after my fiancé, Jeff, died of cancer at the age of 40. When he died, I realized that life is just too short to delay our dreams. Since my dream was to travel and write, I now travel and write full-time. Today I wear hiking boots instead of heels and collect experiences instead of things.