Day 14 on the Norte: Comillas to Serdio
Hey there! This post may contain affiliate links, which means I'll receive a commission if you purchase through my link, at no extra cost to you. Please see my legal page for more details.
The day we followed a sign and walked right into…masturbate-gate.
Yeah, you read that right.
I was finally able to put my hiking boots back on my feet on Day 14 of walking the Camino del Norte. After pushing my hiking sandals beyond their limits over 30 miles and through two painful days, the pain in my right Achilles finally let up and, despite starting the day threading my blisters with needle and thread, the blister pain eased as well.
Though my walking partner started Day 14 hurting a little, Lizz powered through, and we saw our best walking pace and our best walking stretch of our entire 500-mile trek.
And then at the public albergue that night, things got weird. Really weird.
Comillas Will Be Comillas. Forever and Ever. Amen.
Our guidebook warned us about the motto of Comillas, indicating that this little town would not change its ways for anyone. Not for pilgrims or tourists or pilgrims trying to be tourists.
We didn't think much of it until we tried to go to the villa designed by Antoni Gaudí and found it closed. Then we tried to go to the Palacio de Sobrellano and found it closed. Then we tried to go to a café and found it, you guessed it, closed.
We meandered through the steep staircases carved into the hills of the town until we found a place actually open for coffee before settling onto a bench in front of the palace while we watched the tourists line up – all waiting for the moment that the huge wrought-iron gate would finally swing open.
We found the town charming in an obstinate sort of way, though it is the only place where we stayed overnight where we could not find anywhere to stamp our Camino credentials. In the end, though, it didn't matter much to us. We had plenty of stamps and we had some walking to do!
A Pilgrim Menu to LOVE on the Camino del Norte
At this point on our pilgrimage, Lizz and I had developed a love-hate relationship with pilgrim menus. On the one hand, it was awesome to pay 10 or 12 euros and receive three courses and a bottle of wine. On the other hand, we didn't often need three courses or a bottle of wine, especially since the choices were generally heavy (think lasagna for the first course and a plate full of meat for the second).
In this case, as we walked into the beautiful fishing village of San Vicente de la Barquera and settled into a table with a view of the Bay of Biscay, we told the smiling server to fill up our glasses with local white wine and we were pleased to find fresh vegetable options on the menu.
We even ordered dessert, fried milk (a specialty of the area) for Lizz and cheesecake for me. That same friendly server had pretended not to know English for the entirety of our meal until the desserts came out. At this point, he revealed his fluency while playfully laughing at Lizz for choosing fried milk over cheesecake.
Completely satisfied with our lovely lunch at Restaurante La Sarda, we set off.
A Camino del Norte Walk to Remember
Though the walk from San Vicente de la Barquera up to Serdio was an intense four-mile climb, it felt more like a mile on flat ground. We couldn't believe it when we looked at our mileage and saw that we had cruised four miles in record pace. We were just feeling good that day.
We meant to continue on to Colombres, but I looked up and saw a sign.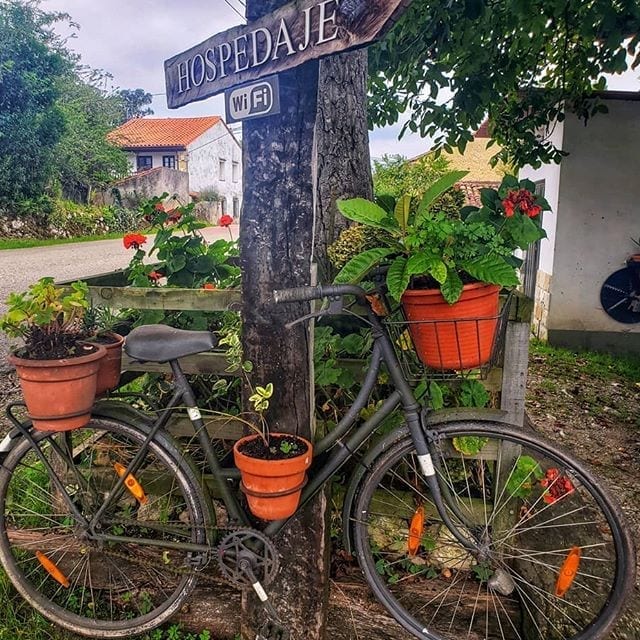 You see, I take pictures of bicycles everywhere I travel and there just hadn't been many opportunities for bike pictures on the Camino. And there definitely weren't many opportunities for wifi. So a place to stay with both a bicycle and wifi? Well, we stopped our walk right there and got ourselves two bunks in the public albergue for six euro.
A Pilgrim Menu to Forget. But a Dinner to Always Remember.
It turns out the wifi was terrible (not surprising), so I couldn't load my daily YouTube video. With our laundry done and drying on the clothesline at the albergue and no video to work on, we found ourselves with an entire afternoon to kill.
We wandered to the nearby restaurant (perhaps the only restaurant in tiny Serdio) and found a picnic table near the outdoor fire pit. From there, we watched the pilgrims walk by. Some kept walking, but others saw what we saw in Serdio. They hung up their walking sticks for the night and joined us at the picnic tables, cracking peanuts and tossing the shells into the communal bowls.
The pilgrim menu was exactly what we were used to, heavy on the meat and potatoes, but for ten euro including a bottle of wine, we weren't complaining. The company and the atmosphere were everything we needed to rejuvenate our minds, bodies, and souls that day.
We left the restaurant and headed back to our bunks for an early night, feeling content and happy.
That's When it Happened
Lizz and I both had top bunks that evening. We crawled up onto our respective mattresses, waved good night from across the dark room filled with softly snoring pilgrims, and promptly fell asleep.
Sometime later, Lizz's dreams were interrupted by a muffled but incessant noise. And my dreams were interrupted by the sound of Lizz's voice saying, "No, sir. NO."
Now Lizz was in the Navy for 21 years. When I met her, she was stationed at the Great Lakes Recruit Training Command, meaning Lizz was once a boot camp instructor in the U.S. Navy.
What I'm trying to say here is that Lizz was not speaking quietly.
I sat straight up in bed, peering across the dark space trying to make sense of the shapes in the bunks opposite mine. Lizz would tell me later that it was good that I couldn't see what she was seeing. For a fleeting moment, I actually thought I might have dreamed Lizz's voice. That is until she spoke again.
There was a rustling sound as I stared in frozen horror at the dark shape that was Lizz sitting up across from me. Later Lizz would laugh at the way she could see my mane of wild blonde hair framed in the light seeping in from under the doorway. She was not laughing at that moment, though.
I heard rather than saw her lay back down and I followed her lead.
My phone instantly buzzed with a text message from Lizz who wrote:
"You have to be kidding me."
"Was he masturbating?" I wrote back, incredulous.
"Yes." A definitive one-word answer that unsettled me even though I had pretty much deduced the scenario.
We both returned to a far more uneasy sleep.
And so it is that Day 14 remains one of our best days and best evenings on the Camino, but the night remains one that, unfortunately, we may never forget.
Stay tuned for Day 15 as we set out on a mission to discover who it was in the bunk next to Lizz.
Where to stay if you stop in Serdio
Here's the albergue where we stopped in Serdio. It was a nice place and totally not the fault of the albergue for the guest's terrible behavior.
Lessons Learned on the Camino del Norte:
As you walk to more remote areas, the bed race is not as intense. But the wifi is nonexistent.
Always order the cheesecake over the fried milk.
Tips from a Post-Camino del Norte Perspective:
We rarely encountered rude or inappropriate people at the albergues, but there was the masturbator of Day 14 and the walking-stick thieves of Day 22. Albergue proprietors will fiercely protect their pilgrims if notified of an issue in the morning. I say in the morning, though, because they typically don't stay onsite in the evening.
Our Pilgrimage Stats After day 14 on the Camino del Norte: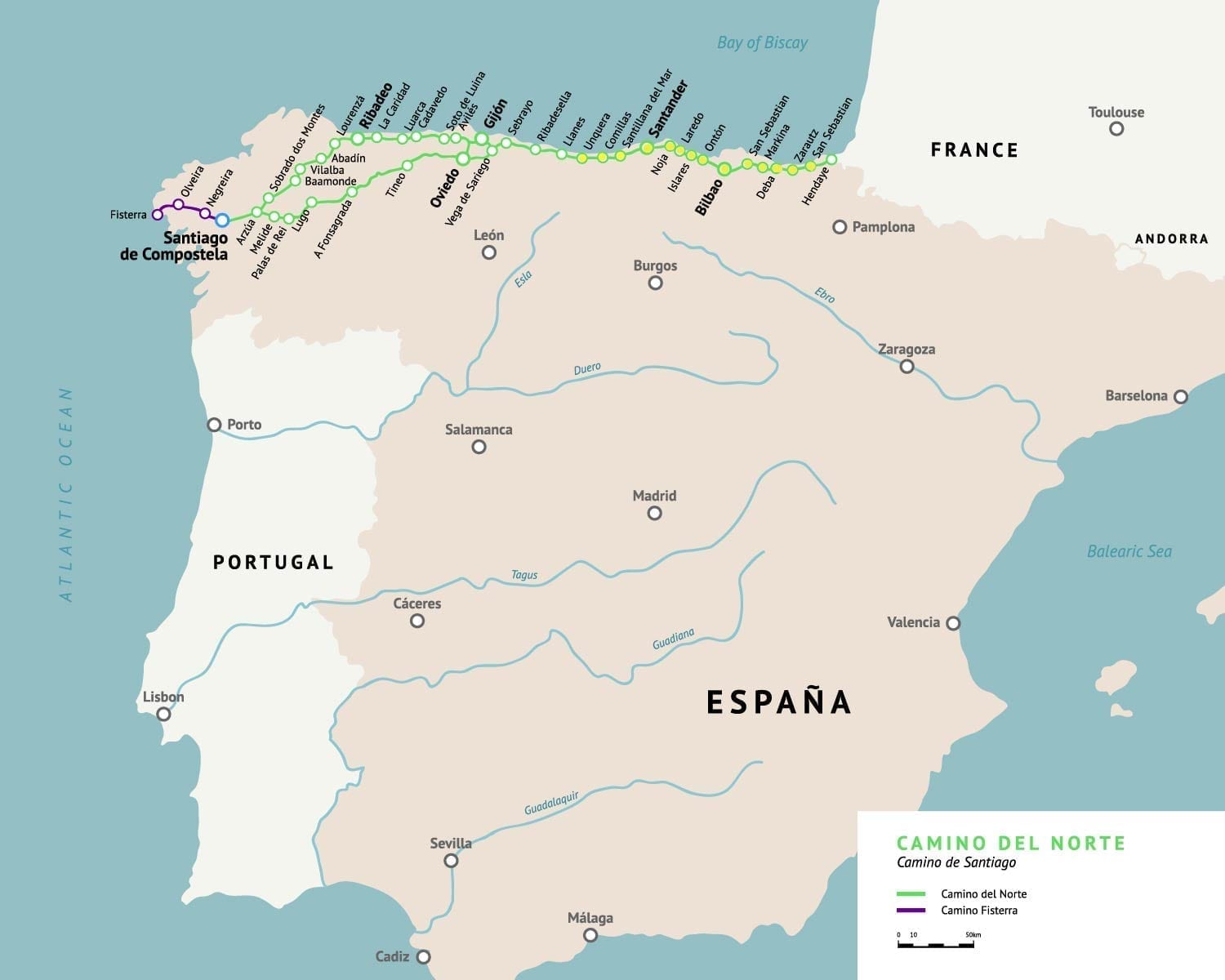 Stage Miles: 12
Actual Miles Walked: 13 (21 kilometers)
Bus forward Miles: 0
Total Miles Walked So Far: 173 (278 kilometers)