The Camino Primitivo Detour: Pola de Siero to Oviedo (Day 22: Stick-gate!)
Hey there! This post may contain affiliate links, which means I'll receive a commission if you purchase through my link, at no extra cost to you. Please see my legal page for more details.
The Camino Primitivo detour from our chosen route on the Camino del Norte started out so promising. But when we woke up on our first morning on the Camino Primitivo, we found our walking sticks missing.
We were devastated.
But then a new friend offered to help us hunt down the thieves, and we set out on a Nancy-Drew-style adventure on the Camino de Santiago.
The Day Someone Stole Our Walking Sticks:
The Camino and Albergue Etiquette
In an albergue, all boots and walking sticks are often kept in a communal storage room near the hostel's entrance. Albergue operators don't want all the mud, dirt, and sweaty-shoe smell tracked into the living space, so there is usually a mudroom.
It doesn't matter what route you are on, whether the Camino del Norte, the Camino Frances, or this detour on the Camino Primitivo, you can count on one thing: nobody steals from the communal storage room.
For a fellow pilgrim to abscond with another pilgrim's shoes or sticks is something close to stealing the presents out of the back of Santa's sleigh.
But, on Day 22 of our pilgrimage, I walked into the communal space and stared at the bucket that had once contained our walking sticks. Our shiny blue, adjustable sticks with their attached blister-preventing gloves were nowhere to be found. Left in their place were two crooked sticks – like actual sticks from the woods.
I poked my head out from the walk-in closet and called out to Lizz:
Lizz was instantly in the doorway, confirming that we had, indeed, left our sticks in the bucket. She nearly turned over the shelves searching for our missing sticks.
Lizz laughs easily and it's tough to bring her spirits down, but I remembered her horror when we had accidentally locked our sticks in a hotel lobby before locking ourselves out. She wasn't laughing about our missing sticks. Not. At. All.
While Lizz ransacked the closet, I told Roberto, the friendly albergue operator with whom we had sipped wine the evening before, that our sticks were gone. This involved a lot of miming to bridge our language barrier, but between my exaggerated walk with fake walking sticks, and the destructive noises coming from the communal closet, Roberto grasped the issue.
He mimed to me the motion of someone driving a vehicle, spun on his heel, and ran for the door.
A NASCAR Ride on the Camino Primitivo
Before long, Lizz and I were seated in Roberto's car while he careened along the Camino. When we saw a man and a woman walking with sticks that looked just like ours, he slowed the car to a crawl and drove past the culprits while we stared at our beautiful sticks in the hands of two perfect strangers.
As soon as Roberto pulled over, Lizz was out of the car and rounding the corner at a dead run. Roberto called to me to stay put, trying to explain in his broken English that if we waited, the thieves would be forced to walk right by the car. But it was too late, Lizz was already around the corner, fast approaching two known thieves who were carrying, let's all remember, sticks.
I followed and, by the time I rounded the corner, Lizz was holding two pairs of walking sticks while two very embarrassed pilgrims walked away from her and toward my camera. Naturally, I stuck my camera in their faces.
An Honest Mistake on the Camino?
I like to believe the best in people. I really do. The stick thieves told Lizz that they didn't think anyone was left in the albergue. This is a possibility, considering that Roberto had given Lizz and me a private room and that we – as usual – slept later than the other pilgrims, emerging as most people were leaving.
EXCEPT.
Except our shoes were in that communal room as well. Two pairs of shoes, sitting alone on the shelves next to two pairs of walking sticks. Those pilgrims would have had to ignore our shoes while they gathered their own shoes from the very same shelves.
In the end, we decided to believe them.
You can see our debate about this in our post-pilgrimage discussion on YouTube here:
Stickgate and a Camino Primitivo Detour Complete
We ended up having breakfast with Roberto, who had driven to the first café on the route in order to watch the thieves walk by (without sticks).


This day would turn out to be my favorite day on the Camino. Better even than the day when we finally arrived in Santiago.
We could not stop laughing at how Roberto had whisked us into his car and took off down the Camino at NASCAR-like speeds, or how Lizz had run toward two strangers carrying sticks without any concern for her own safety. The real threat, she said, was facing miles of walking without her sticks.
That night in Oviedo, perhaps because we were still on a Stickgate high, we splurged on an expensive dinner out at a restaurant with real vegetables. We then stayed out way too late at an Irish Pub, indulging in being a tourist for the night.


The evening was a perfect ending to our short time on the Camino Primitivo and a day that will forever be my fondest memory of the Camino de Santiago. It just goes to show that the Camino will provide.
Lessons Learned on the Camino de Santiago
It's best not to drink the night away at an Irish Pub when you're supposed to walk a lot of miles the next day. BUT…sometimes you have to let your hair down – even on the Camino de Santiago.
There just isn't much you can do if someone decides to steal from the communal room in an albergue. However, it is nearly unheard of. Furthermore, you will run into the same pilgrims over and over again, so it is likely that any stolen item will be returned to its rightful owner in time. It is best to trust in your fellow pilgrims and trust that, if something does go missing, the Camino will provide.
This is one of those days where we learned that travel insurance is key! I used World Nomads while on the Camino del Norte.
Tips for taking the Camino Primitivo Detour
One of the biggest decisions you will make when walking the Camino del Norte is whether to take the Camino Primitivo detour to Oviedo. It does take an extra day or so, so it's a big decision. But we don't regret doing it. We did have to "bus forward" to get our day back (we took a train out of Oviedo). I would say do it! You'll find a change of scenery refreshing at this point. And Oviedo is a beautiful city with so much to see!
If you choose to take the Camino Primitivo detour to Oviedo, most pilgrims will walk to Avilés, which is not part of the traditional Camino but gets you back on the Camino del Norte and Stage 19. Right back on track. This means you will miss the coastal town of Gijón. For us, we had seen enough coast (it is possible to get tired of coastline after a while!) and we wanted to spend a day being tourists in Oviedo.
Where to Stay in Oviedo
We stayed in a hotel in the city center, right near the Cathedral. We used Booking.com to reserve our room at the last minute. Sometimes it's just nice to have a room rather than a bunk, especially in the bigger cities when you might want to have a night out on the town.
Our hotel was OK, but you can find many options for hotels and home rentals here:
Our Pilgrimage Stats After Day 22 on the Camino de Santiago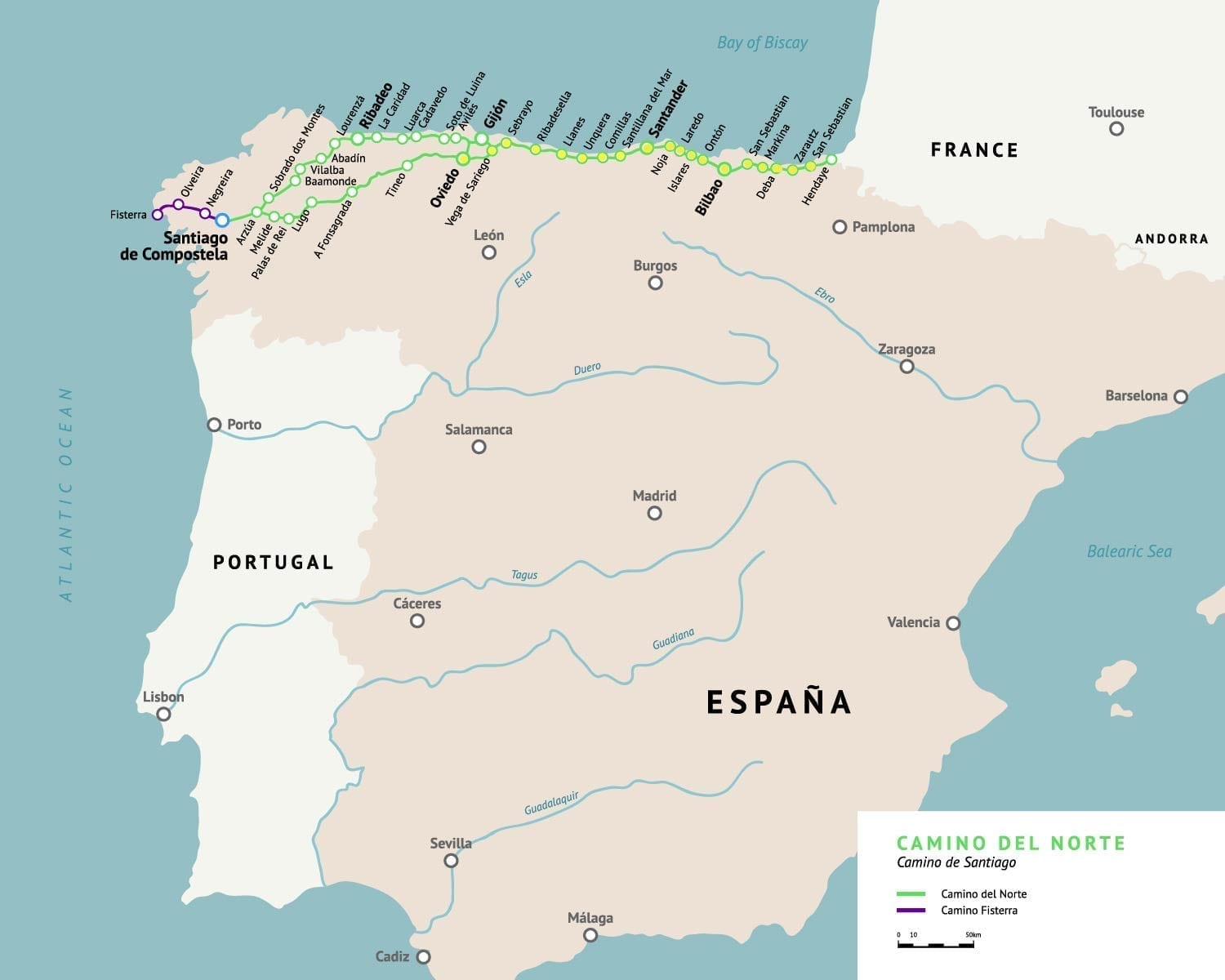 (Offstage detour) Miles: 10
Actual Miles Walked: 10
Bus forward Miles: 1 (thanks to Roberto and his car!)
Total Miles Walked So Far: 261 (419 kilometers)
Additional Resources for Walking the Camino de Santiago
Additional Camino Resources
About the Author
Hi! I'm Jen!
I'm a freelance writer and travel blogger who quit my nine-to-five after my fiancé, Jeff, died of cancer at the age of 40. When he died, I realized that life is just too short to delay our dreams. Since my dream was to travel and write, I now travel and write full-time. Today I wear hiking boots instead of heels and collect experiences instead of things.