Detour to the Camino Primitivo, Day 21 from Villaviciosa to Pola de Siero
Hey there! This post may contain affiliate links, which means I'll receive a commission if you purchase through my link, at no extra cost to you. Please see my legal page for more details.
We decided to leave the Camino del Norte on Day 21 of our pilgrimage in order to join the Camino Primitivo to Oviedo and its historic cathedral.
This is one of the biggest decisions you'll make when walking the Camino del Norte. You can continue on the traditional northern route to the coastal town of Gijón or take the detour and head for Oviedo – the place where it all began.
The Day We Left the Camino Norte for the Primitivo
The Original Pilgrimage
It is said that the very first pilgrimage to Santiago de Compostela was taken by King Alfonso II the Chaste in the 9th century when he left the city of Oviedo to see for himself whether the bones of Saint James were really discovered in Santiago.
His route marks today's Camino Primitivo. It is another route to Santiago and one that many pilgrims over time have detoured to see. The town of Oviedo grew to accommodate the pilgrims who came to see where it all began, building a pilgrims' hospital in 1075.
There are a few different reasons that pilgrims historically walked days out of their way to see Oviedo. One reason is to see San Salvador de Oviedo, a church where the holy arc is believed to contain pieces of the True Cross as well as remnants from the actual Crown of Thorns.
Another reason is that in 1222, Alfonso IX, king of León and Galicia, actually ordered all pilgrims to pass through Oviedo on their way to Santiago. It is rumored that the royal decree was a fake; regardless, I like to think of it as the first effective tourism campaign.
A campaign that is working nearly 800 years later, as evidenced by the turn that Lizz and I took to the south, away from Gijón and the Camino del Norte and toward the Camino Primitivo and Oviedo, following the detour of so many pilgrims before us.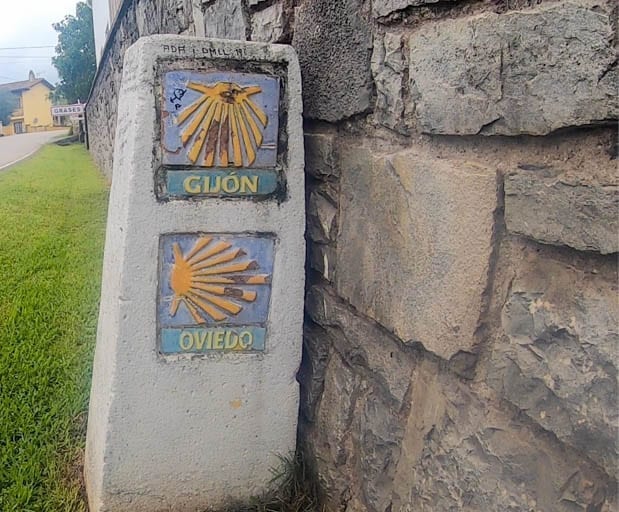 The Religious Heart of Asturias
After taking our detour on the Camino Primitivo to Oviedo, we took another detour toward a monastery that has stood as the religious center of Asturias since 893. The Oratory of San Salvador is a beautiful site and well worth the hike downhill and the subsequent climb back up. But don't expect food.
Lizz and I were pretty hungry and hoping that the restaurant at the monastery would be open, but no such luck. The nuns did sell us some cookies, which sustained us for a time. It's funny, though, we always find food on the route when the guide books warn that there will be no food, and we tend to go hungry when both the guide book and the map indicate there will be restaurants.
At any rate, still munching on our cookies, we found a small grocery store and pulled together a makeshift lunch of crackers and cheese before heading on to Pola de Siero.
New Friends on the Camino Primitivo to Oviedo
One of the drawbacks of taking a new route is that you'll miss your friends from the old route. But we were excited to make new friends and that's just what we did when we arrived in Pola de Siero, exhausted after clocking our first 20-mile day.
Before long, a man named Roberto turned up at the Pola de Siero albergue, unlocking the massive doors, and even giving us our own private room in the sparkling clean establishment.
We tucked our sticks and boots into the communal storage room, waved at the few pilgrims who were nestled into their bunks, and went across the street for a drink. After checking to be sure that everyone was cared for at the albergue, Roberto joined us at the bar.
Little did we know that the three of us would join together the very next morning to solve a Camino mystery!
Where to Stay in Pola de Siero
Please stay at the municipal albergue in Pola de Siero! Say hello from Jen and Lizz to our friend Roberto if he is still there. It was seven euros when we stayed. In 2019, there were very few people who chose to take this detour, so plenty of beds were available.
Lessons Learned on the Camino de Santiago
Make friends with your albergue operators. Many of them operate their albergue for the love of the Camino and not for a profit. Plus, you never know when they will put you in their car and race you along the Camino in pursuit of thieves!
Tips for Walking the Camino Primitivo to Oviedo
The detour to the Oratory of San Salvador is worth it. But don't expect there to be food. Bring extra provisions with you on Camino Primitivo Stage 1 from Sebrayo to Pola de Siero.
Our Pilgrimage Stats After Day 21 on the Camino del Norte: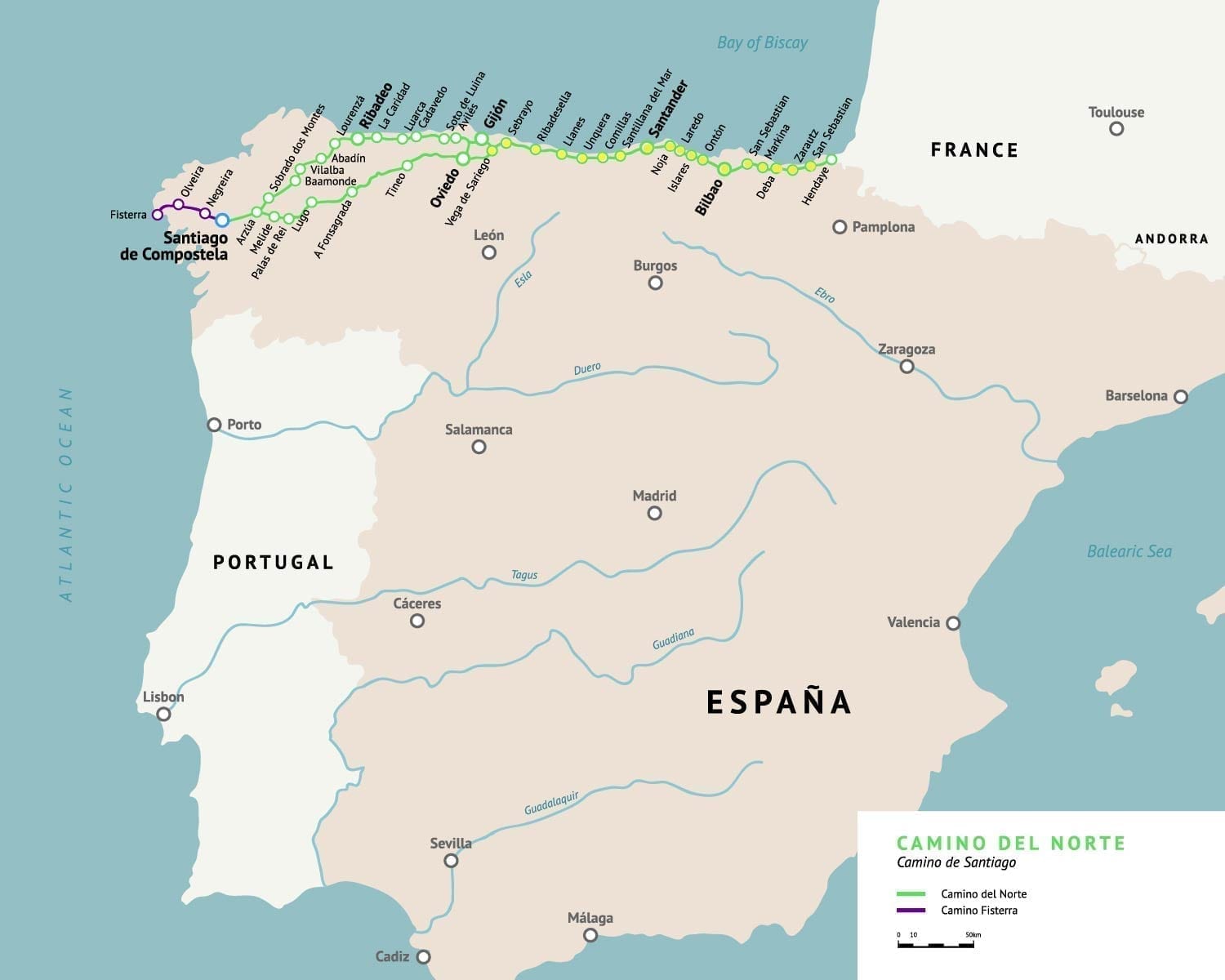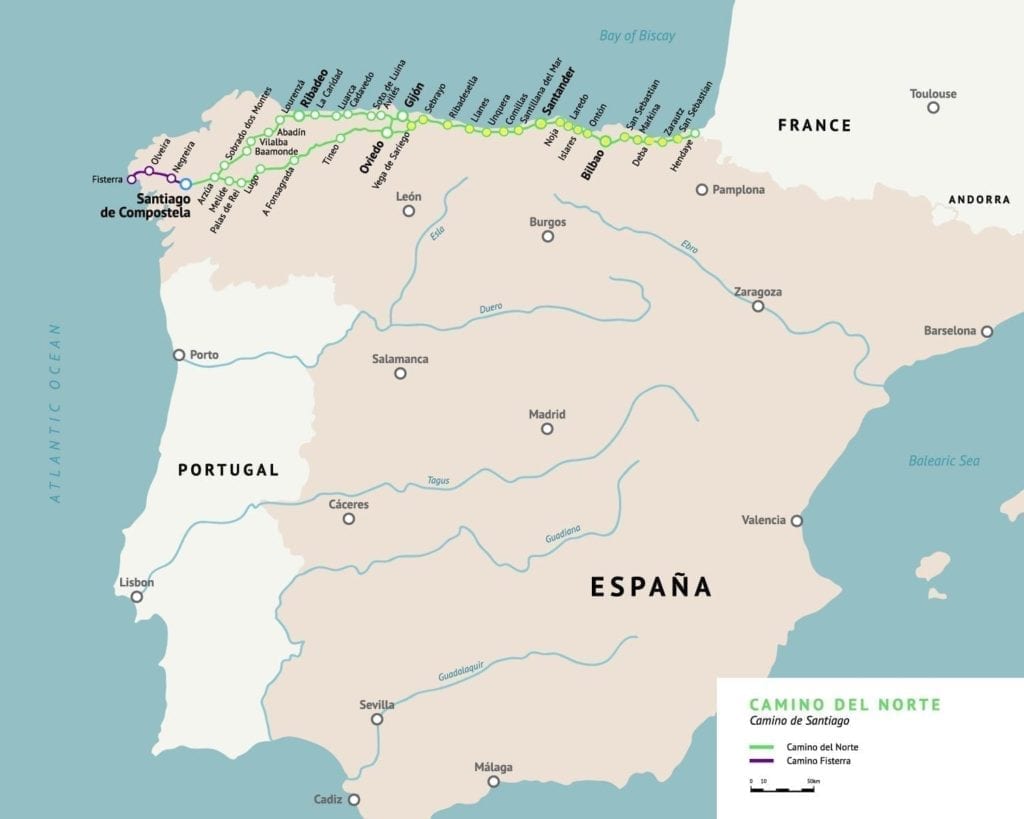 Stage Miles: 17 (off-stage detour miles)
Actual Miles Walked: 20 (32 kilometers)
Bus forward Miles: 0
Total Miles Walked So Far: 250 (402 kilometers)
Additional Camino Resources
About the Author
Hi! I'm Jen!
I'm a freelance writer and travel blogger who quit my nine-to-five after my fiancé, Jeff, died of cancer at the age of 40. When he died, I realized that life is just too short to delay our dreams. Since my dream was to travel and write, I now travel and write full-time. Today I wear hiking boots instead of heels and collect experiences instead of things.