A Rest Day on the Camino Primitivo: Exploring Oviedo
Hey there! This post may contain affiliate links, which means I'll receive a commission if you purchase through my link, at no extra cost to you. Please see my legal page for more details.
We woke up on Day 23 of our pilgrimage on the Camino de Santiago with absolutely no motivation to walk. Exploring Oviedo seemed like a much better choice!
That's the thing about walking the Camino: it's your pilgrimage. If you feel like being a tourist for the day then you should absolutely be a tourist for the day.
And that's exactly what we did in the beautiful pilgrim destination of Oviedo. We were tourists.
Exploring Oviedo as a Pilgrim
I say that Oviedo is a pilgrim destination because – since the 9th Century – pilgrims on their way to Santiago have diverted to Oviedo, which is the origin of the first pilgrimage to Santiago. Also, the cathedral in Oviedo is said to contain remnants of both the True Cross and the Crown of Thorns.
Unfortunately when the line to get inside the Oviedo Cathedral looked similar to the line to see the Mona Lisa at the Louvre in Paris.
Lizz and I took one look at the tour guides waving flowers on sticks and wrangling sweaty tourists who scrambled over one another to get a better spot in line – and we went the other way.
We wandered around Oviedo, watching the dancing and listening to the street performers before making our way to the train station.
Returing to the Camino del Norte
On this impromptu rest day spent exploring Oviedo (in which we still logged five tourist miles!) we planned the rest of our stages on the Camino del Norte.
Our plan had always been to get back to the Camino del Norte after our detour to Oviedo. Since the detour cost us a day, we needed to make up for some mileage in order to get to Santiago on schedule. So, we got back to the Camino del Norte by way of a long train ride to Cadavedo, rejoining the Camino del Norte at Stage 21.
(If you choose to detour on the Camino Primitivo to Oviedo, you will likely walk from Oviedo to Aviles, rejoining the Camino del Norte at Stage 20: Aviles to Soto de Luiña.)
Where to Stay in Cadavedo
Once in Cadavedo, we stopped by a grocery store before checking into our hotel that had a full kitchen – and we cooked dinner for the first time in more than 23 days.
We used Booking.com to reserve the Apartamentos Casa Carin. I highly recommend this place if you're stopping in Cadavedo. It's just so nice to cook for yourself at this point in your pilgrimage!
While we cooked dinner, we waited in anticipation for Lizz's friend Margo to arrive. Margo had made the trip from sunny San Diego to northern Spain so that she could walk with us for a whole week. And we couldn't wait to see what she thought about the Camino.
We also dealt with some nerves because, if all went as planned, we were enjoying what would be our last rest day until we reached Santiago.
Lessons Learned on the Camino de Santiago
When you feel compelled to spend more time in a city rather than walk, do it. It's OK. It's your pilgrimage.
It's OK to bus forward. On our pilgrimage, we took two buses, one cab, and one train ride. There is no shame in bussing forward, especially when you have to arrive in Santiago by a specific date.
Somewhere around the halfway point, consider staying in a place with a kitchen where you can cook. You may actually miss cooking your own food by this point!
Our Pilgrimage Stats After day 23 on the Camino del Norte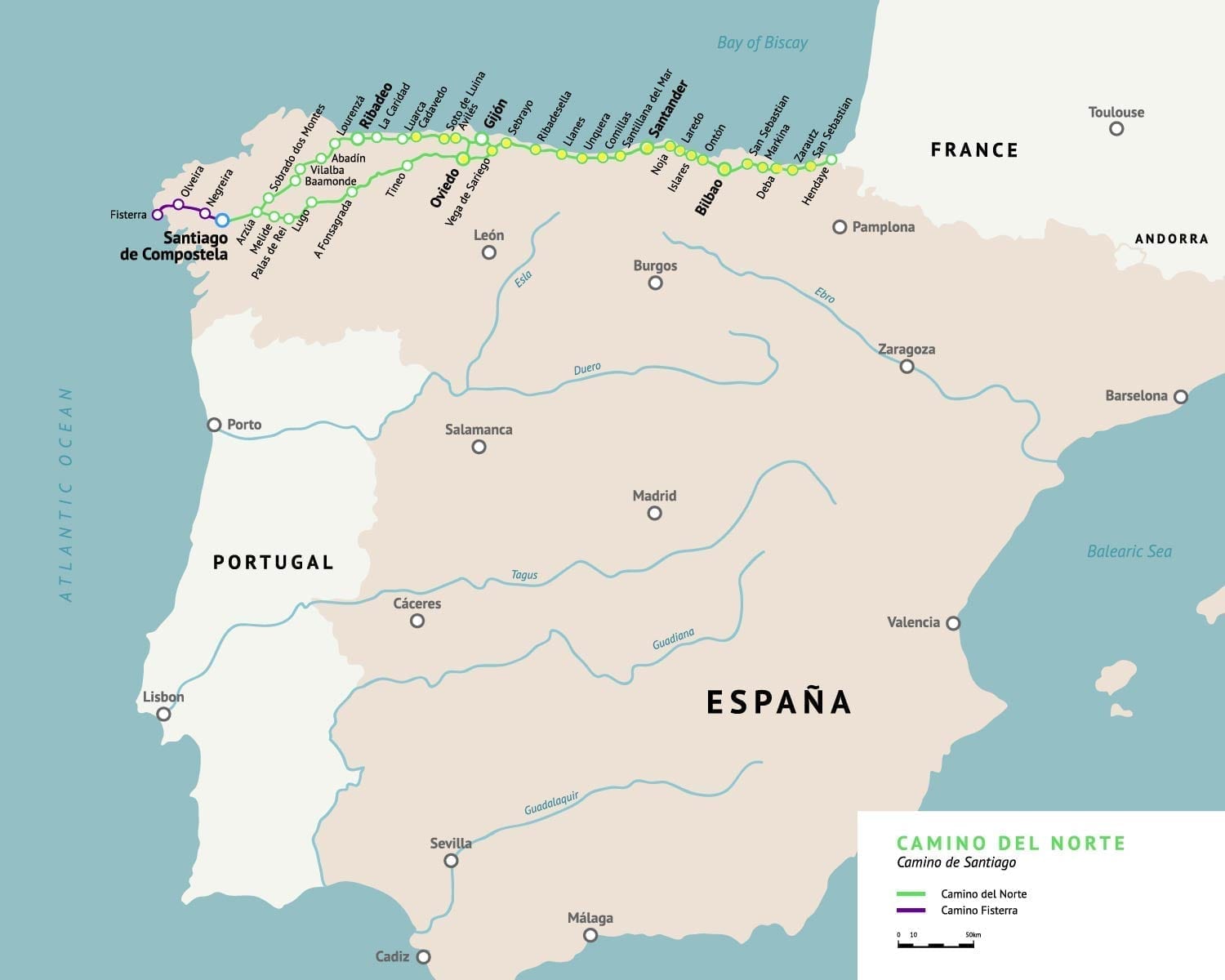 Stage Miles: 55
Actual Miles Walked: 5 (tourist miles rather than stage miles but they still count!)
Bus forward Miles: 55 (train)
Total Miles Walked So Far: 266 (428 kilometers)
Additional Camino Resources
About the Author
Hi! I'm Jen!
I'm a freelance writer and travel blogger who quit my nine-to-five after my fiancé, Jeff, died of cancer at the age of 40. When he died, I realized that life is just too short to delay our dreams. Since my dream was to travel and write, I now travel and write full-time. Today I wear hiking boots instead of heels and collect experiences instead of things.