Day 10 on the Norte: Islares to Laredo
Hey there! This post may contain affiliate links, which means I'll receive a commission if you purchase through my link, at no extra cost to you. Please see my legal page for more details.
After a rest day, I set out on Day 10 of our pilgrimage on the Camino del Norte from Islares to Laredo with all kinds of spunk and pep. And Lizz wanted to punch me right in the face.
You see, she was still hurting from that paved shortcut we took on day eight, and – despite the day off – her feet were barking at her from the very first step.
She didn't say anything until we sat down for a very late lunch but, in retrospect, Lizz wasn't her usual upbeat self as we set out on Day 10:
Let's dive in!
First: There is NOTHING open on Sunday on the Camino del Norte. Nothing.
On our first Sunday on the Camino de Santiago, we couldn't find food, but we figured that was because there was a huge dance party going on across Basque Country that overflowed from a raucous Saturday night right into Sunday morning.
It turns out, though, that nothing is ever open in Spain on a Sunday (outside of the major cities). I actually really appreciate this about the lifestyle in Spain (and France, too), but it does require some advance planning. Always stock up on food on Saturday. Lesson learned!
We did finally find a little bar that would provide us with the standard dry ham sandwiches, which we scarfed down like it was a homemade meal with a side of ranch dressing (I really missed ranch dressing during my worldwide travels!) Thank goodness for the jar of mustard that Lizz packed in her bag!
Walking Alone on the Camino del Norte
Until this point, Lizz and I walked every step together, but we parted ways on Day 10 for a few hours. Lizz revealed at lunch that her feet were making her miserable and our guidebook told us that the next hours would be paved and ugly. She opted to take the fastest route from Google Maps and I opted to follow the official Camino route.


It was a little sad waving goodbye to Lizz, but it was probably good for us in the long wrong. We would – from here on out – honor our own pace (well, mostly). There would be many miles that I would walk far behind Lizz and many miles that she would walk far behind me. It's really day-by-day out there on the Camino de Santiago – as I would learn the hard way on Day 11.
Sometimes Your Camino Guide Book Lies
Lie is a harsh word since it's impossible to keep up with the changes to the route on the Camino. The Way is maintained by volunteers and locals and sometimes the route needs to change. That must be what happened here because the ugly and paved description from the guidebook couldn't have been further from the truth.
While Lizz tried to avoid pavement by taking a shorter (paved) route, I walked into the woods and cruised along coastlines for three beautiful hours.
On my own, I felt no guilt about stopping to sit for a long meditation (with my shoes off of course).


The Trinitarian Sisters along the Camino del Norte from Islares to Laredo
I was able to sit for a long time because I was no longer in a bed race. Lizz messaged that she had reserved us both a bed at the albergue run by the Trinitarian Sisters, so I was free to meander along the paths, meditate and scratch this dog's belly.
I was glad to reunite with Lizz after meeting the nuns and paying my 10 euro donation for a bunk. We had an early dinner and Lizz talked about her disappointment that her feet had pulled her off the trail.
For the record, Lizz would never stop again. She would walk 340 more miles through the pain of her feet and – one day – she would walk 22 miles with a hangover.
Lizz is a beast. And she wisely listened to her body on Day 10.
Where to Stay in Laredo
Staying at the Monasterio Monjas Trinitarias (address: C. San Francisco, 24, 39770 Laredo, Cantabria, Spain) is a really cool experience on the Camino del Norte. You'll be with the Trinitarian sisters for a 10 euro donation. There is a communal breakfast in the morning with other pilgrims, and the restaurant options for dinner are plentiful and close.
If you don't get a bed in time to stay with the sisters, here are some available hotels and homestays in Laredo:
Lessons Learned on the Camino del Norte:
Sunday, Sunday, Sunday: No supermarkets and few cafes will be open on Sunday. Plan ahead on Saturday.
Sometimes you walk alone even when you come with a buddy. That's OK. In fact, that's encouraged. Listen to your body and walk the pace that you need – not what anybody else needs. It's YOUR pilgrimage.
Tips from a Post-Camino del Norte Perspective:
Don't be embarrassed if you need to stop or take a shorter route. You are walking across Spain. This shit isn't going to be easy!
Our Pilgrimage Stats After Stage Nine from Islares to Laredo: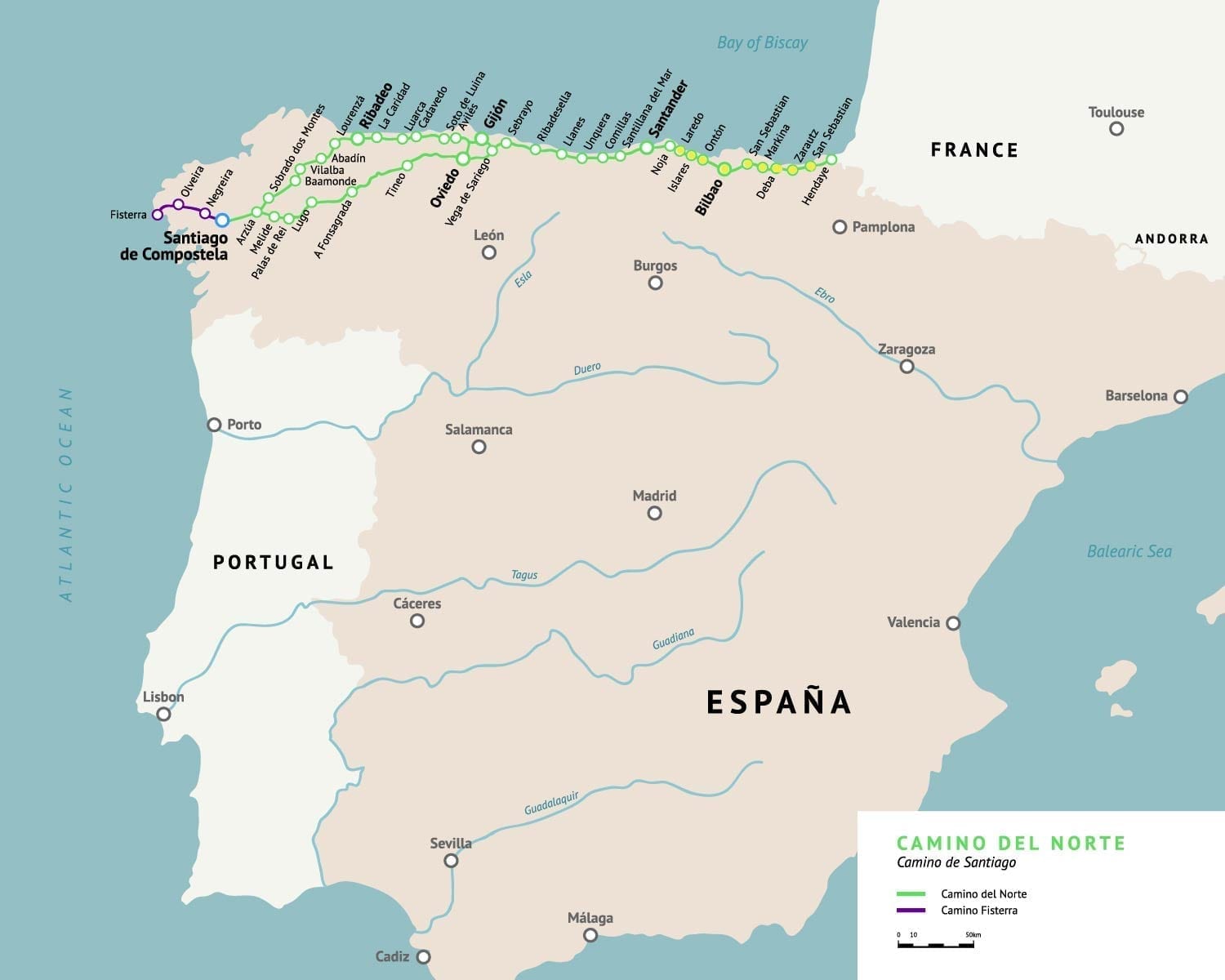 Stage Miles: 15
Actual Miles Walked: 15 (24 kilometers)
Bus forward Miles: 0
Total Miles Walked So Far: 115 (185 kilometers)
Additional Camino Resources
About the Author
Hi! I'm Jen!
I'm a freelance writer and travel blogger who quit my nine-to-five after my fiancé, Jeff, died of cancer at the age of 40. When he died, I realized that life is just too short to delay our dreams. Since my dream was to travel and write, I now travel and write full-time. Today I wear hiking boots instead of heels and collect experiences instead of things.