Day 11 on the Norte: Laredo to San Miguel de Meruelo
Hey there! This post may contain affiliate links, which means I'll receive a commission if you purchase through my link, at no extra cost to you. Please see my legal page for more details.
Day 11 and stage 10 of walking the Camino del Norte from Laredo to San Miguel de Meruelo started strong with a blessing from the Trinitarian Sisters in the beautiful church next to the albergue that the nuns maintain in Laredo.
The sisters wished us all a good life and a good pilgrimage and I set out feeling strong and inspired.
But things got a little rough for me after that. Especially when sand got involved.
Let's dive in!
The Day with the Blessing…and the Sand:
I first noticed the pain in my feet as we walked along the beach in Laredo to the ferry that would carry us to Santoña where our real walk would begin. The guide books described this as a short walk, but it wasn't short for me that morning. I kept wondering where is this ferry, anyway?
Despite the new pain in my feet, the walk was made more pleasant by the conversation. We had found our German friends from the epic detour of Day 4 over breakfast with the Sisters and the four of us ladies strolled along the beach talking about life, religion, philosophy, and even politics.
ALL the Blisters on this Walk from Laredo to San Miguel de Meruelo
After the little ferry carried us to the start of The Way in Santoña, we had a decision to make. Go the longer coastal route or take the inland road. We opted for the longer coastal route but before we started up the wooded pathway, I had to change my shoes. In the short walk alone, I had developed two new blisters on my left heel, which I blamed on running out of hike goo that morning. But even more worrisome was the pressing pain in my right Achilles heel.
I stripped off my sweaty hiking boots and put my walking sandals on before turning my attention to our friend Marlena who needed some moleskin and Compeed for a blister that was hurting her. With our feet feeling moderately better, we set out on what turned out to be a beautiful scramble along rocky cliffs towering above the waves.
Then Came the Sand: A Mistake Made on Stage 10 from Laredo to San Miguel de Meruelo
At some point, the uphill scramble turned downhill toward the beach.
I already have a dubious relationship with sand and beaches. But placing my sandaled feet into the sand was a terrible idea, given the number of blisters I had and the amount of sticky Compeed and duct tape holding it all together. I should have stopped and covered my feet with socks but, instead, I jumped from the rocky cliff onto the sandy beach.


As we walked along the beach toward our lunch destination of hastily halved melons while seated on the ground next to the waves, I could feel the sand scratching at my wounds and I could feel my mood turning decidedly south.
It wasn't just me that was hurting. Our other friend Alicia was covered in blisters and she was experiencing what would be her worst day on the Camino. The only person feeling good, in fact, was Lizz who upon waking up at the Sisters' House in Laredo had searched for a cab to carry her to our intended destination of Güemes but had decided at the last minute to walk after all. A good thing too since she paced us all that day.


That's What Friends on the Camino are for
As our walk from Laredo to San Miguel de Meruelo turned away from the coastline and into the cornfields, it was increasingly obvious that neither Alicia nor I were going to make it to Güemes. We saw signs for a new albergue some five miles short of Güemes and set a goal to make it there.
Lizz and Marlena went ahead while I trudged along with Alicia trudging behind me somewhere. Soon I saw Lizz and Marlena coming toward me and I had the horrible thought that the albergue was closed.
Instead, these lovely humans were walking back to us. They had dropped their bags at the albergue and were coming back to heave our bags onto their own tired shoulders. While Alicia and I both refused to give up our bags, Lizz and Marlena walking with us during those last painful steps was a huge help.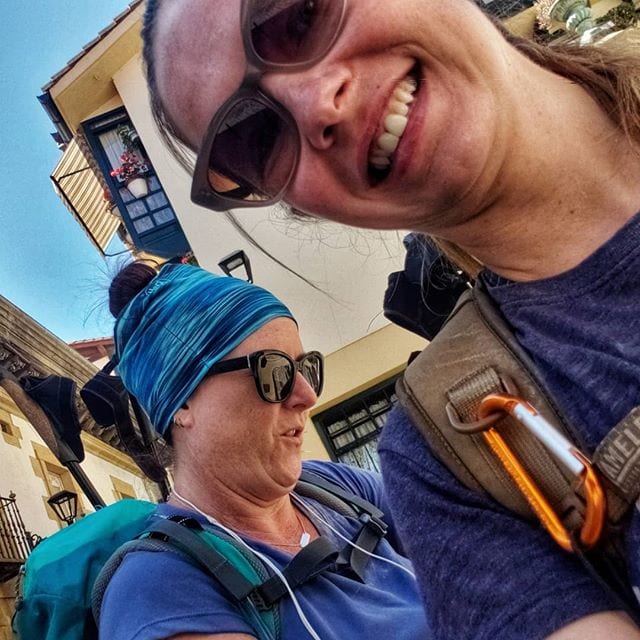 "I Wanted to Punch You in the Face"
The Albergue RiCa turned out to be absolutely beautiful and we arrived in time to watch the sunset before the skies opened up, dumping rain.
Over our communal dinner that included vegetables (we were just realizing how much we missed vegetables at this point on the Camino) while the rain hammered the roof, I told Lizz that I couldn't believe the difference between how great I felt the day before and how horrible I felt that day.
Lizz said she felt the same way – only in reverse – and revealed that my cheerful attitude on Day 10 (the day that would turn out to be Lizz's worst day on the Camino) had inspired violent thoughts in her.
"I wanted," she revealed, "to punch you right in your face."
We laughed together at the realization that there was no way to know how we might feel from one day to the next and agreed that the only way to get through 25 more days on the Camino de Santiago would be to hold each other up.
Lessons Learned on the Camino del Norte:
Under no circumstances should you put blistered, duct-taped feet into sand. Ever.
Teamwork makes the Camino work.
Tips from a Post-Camino Perspective:
Some days you will feel amazing. Some days you will feel like crawling to your destination. Forgive the bad days, embrace the good ones. Honor them both.
Our Pilgrimage Stats After Stage 10 on the Camino del Norte from Laredo to San Miguel de Meruelo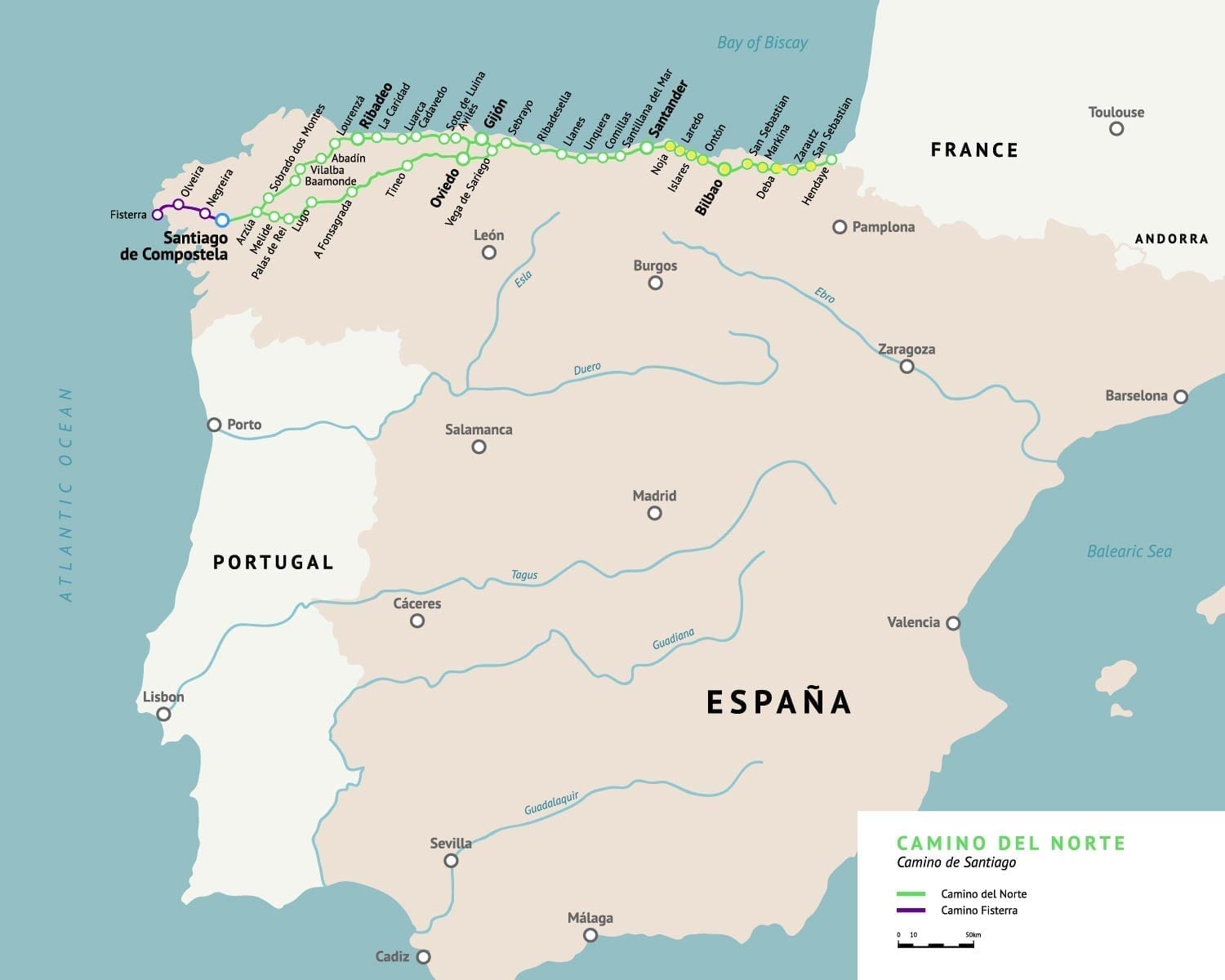 Stage Miles: 12
Actual Miles Walked: 13 (21 kilometers)
Bus forward Miles: 0
Total Miles Walked So Far: 128 (206 kilometers)
Where to stay in San Miguel de Meruelo
If you stop early on your way to Guemes, you won't regret a stay at the RiCa Albergue (Address: FC64+XQ San Miguel de Meruelo, Spain), however, I hear that they, sadly, did not survive the pandemic.
Here are other places to stay in San Miguel de Meruelo:


If you continue on to Guemes, the Albergue La Cabana del Abuelo Peuto is supposed to be a really great stop with communal dinners and post-dinner songs.
Additional Camino Resources
About the Author
Hi! I'm Jen!
I'm a freelance writer and travel blogger who quit my nine-to-five after my fiancé, Jeff, died of cancer at the age of 40. When he died, I realized that life is just too short to delay our dreams. Since my dream was to travel and write, I now travel and write full-time. Today I wear hiking boots instead of heels and collect experiences instead of things.