Day 12 on the Norte Route: San Miguel de Meruelo to Santander
Hey there! This post may contain affiliate links, which means I'll receive a commission if you purchase through my link, at no extra cost to you. Please see my legal page for more details.
The Day We Discovered Reindeer Grease:
We opted for a longer route along the Camino del Norte on Day 12, opting for sweeping coastal views and meandering paths instead of the shorter paved way. My feet hurt, but I see this day as the one where I really started to learn to compartmentalize pain and move forward anyway.
This is not something that cannot be taught through words – it's just something that is learned individually by every pilgrim on the Camino de Santiago.
A Camino del Norte Blister Conundrum
Before leaving on Day 12 from San Miguel de Meruelo to Santander, I had to apply the needle and thread technique to my right heel. Then there was the blister between my toes on the left foot that developed thanks to the use of my hiking sandals. Then there was the Achilles on the right foot that was hurting too much to wear my hiking boots, necessitating the hiking sandals. A conundrum, indeed.
Our German friends bussed forward due to their foot pain (we didn't know it on Day 12 but they would be back to join our Camino again!), but they left for us a German antidote to pain, a lotion in which the closest translation is "reindeer grease". On Day 12 we used it like hike goo before we set out, but we would learn to apply it at night. It would soon become our favorite part of every night – outside of our chilled red wine at the end of every hike.
At this point, I had a choice, I could dwell on the pain…or I could just walk. And so I walked.
So Much Beauty on the Camino del Norte
This would go down as one of the most beautiful days. No picture or video could capture the sweeping coastal views.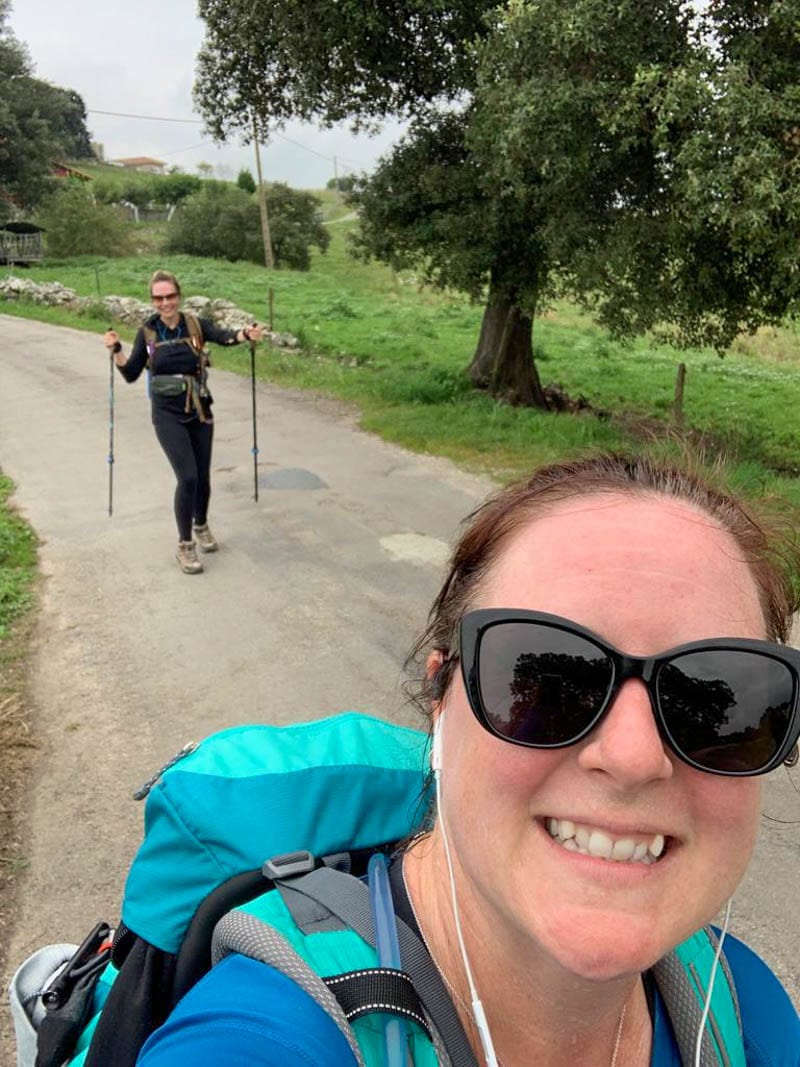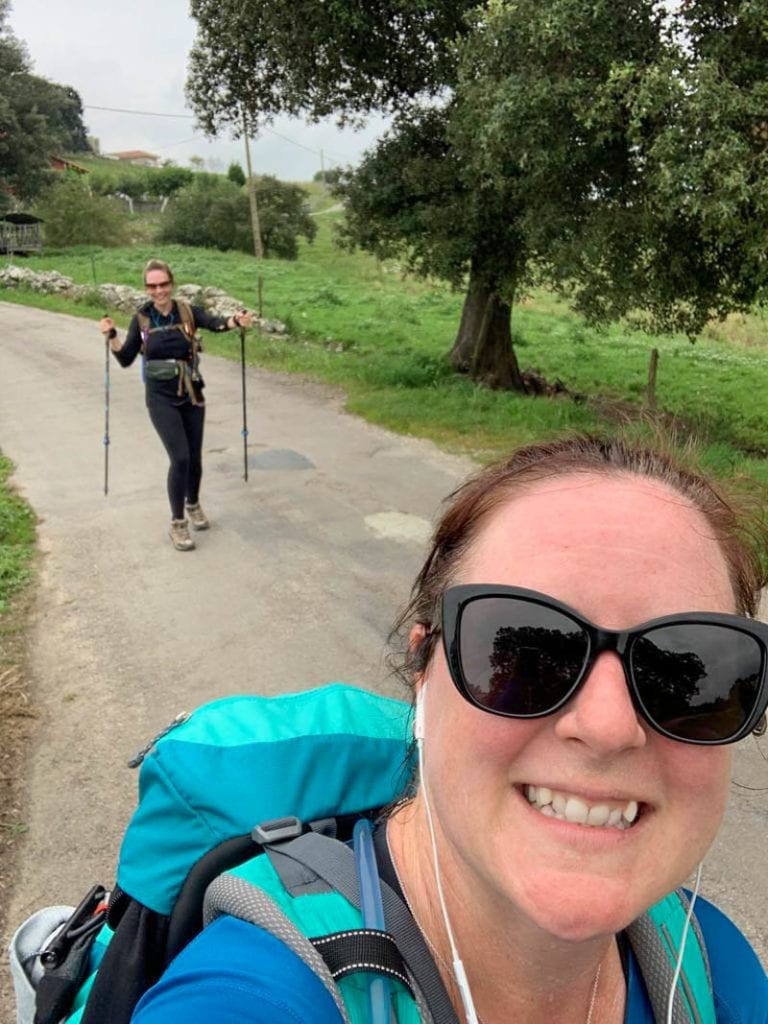 Ferries on the Camino del Norte Have Many Stops!
We were happy but tired when we reached the ferry dock that would take us to Santander, the capital city of Cantabria. Good thing we were happy since we hopped off the ferry too early, not realizing that the boat is like a bus with multiple stops.
It took hours, but we made it. Luckily, we had booked a hotel room in advance in the big city and we were not bed racing on Day 12.
Most importantly, though, this was the day when my body became an afterthought. Yep, it hurts. It's going to hurt. Learn to move on.
Well, Almost.
The Enduring Pain of Blisters on the Camino del Norte
I was all ready to go out on the town with Lizz – we were in a big city again! – until I unwrapped my feet from the various bandages, duct tape, and Compeed holding my feet together. It was bad. Really bad. I spent the night soaking my feet in the tub and drinking the wine that Lizz went out and brought home for me. While it all began on Day 12, it would be Day 13 when I actually stared down the pain – and won.
Where to stay in Santander
This is one of those big cities on the trail where you can find many albergues on your Buen Camino app or spring for a hotel. We opted for a hotel where I rested up.
Lessons Learned on the Camino del Norte:
Ferries have multiple stops…don't just get off at the first one.
Reindeer grease is everything. Apply at night. Use Hike Goo in the morning.
Tips from a Post-Camino del Norte Perspective:
At some point, every pilgrim will move beyond the pain. For me, it happened between Day 12 and Day 13. There will be pain, but it will not consume you for the entire pilgrimage. There will be a day when you compartmentalize your pain and move forward into the mental stage of the Camino de Santiago.
Our Pilgrimage Stats After Day 12 on the Camino del Norte: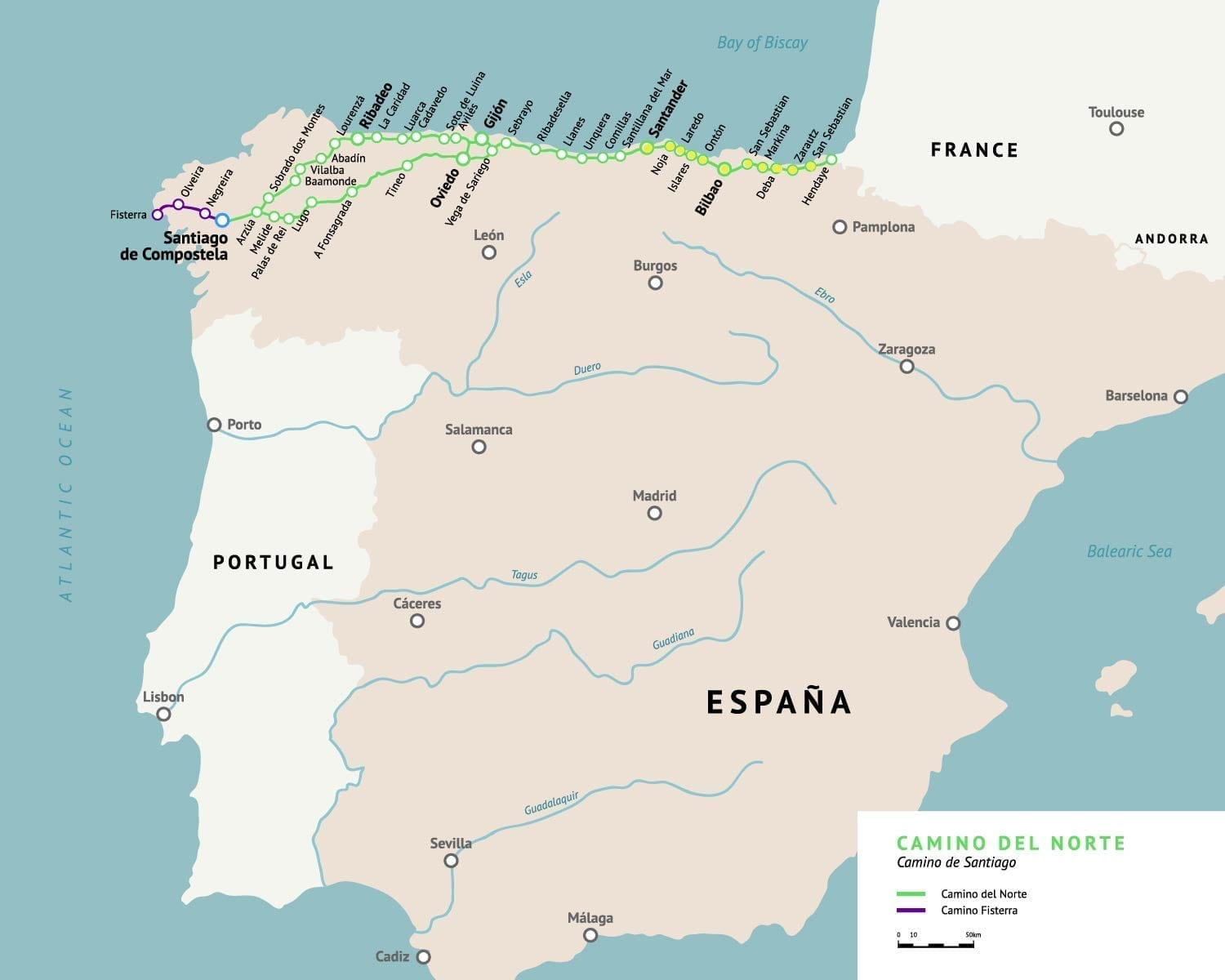 Stage Miles: 11
Actual Miles Walked: 15 (24 kilometers)
Bus forward Miles: 0 (Unless you count the ferry?)
Total Miles Walked So Far: 145 (233 kilometers)
Additional Camino Resources
About the Author
Hi! I'm Jen!
I'm a freelance writer and travel blogger who quit my nine-to-five after my fiancé, Jeff, died of cancer at the age of 40. When he died, I realized that life is just too short to delay our dreams. Since my dream was to travel and write, I now travel and write full-time. Today I wear hiking boots instead of heels and collect experiences instead of things.