Day 8 on Norte: Pobeña to Islares
Hey there! This post may contain affiliate links, which means I'll receive a commission if you purchase through my link, at no extra cost to you. Please see my legal page for more details.
We hit a major milestone on stage eight of walking the Camino del Norte from Pobeña to Islares.
Just as we reached our destination at a beachside campsite in Islares, we finished our 100th mile walked.
But mile 99 might have been the hardest mile yet.
Let's dive in:
The Day We Hit 100 Miles Walked:
We decided to take a shortcut on The Way on stage eight from Pobeña to Islares. It shaved off eight miles from the daily stage and allowed us to make up for a bit of lost time during the first week when we covered less ground than we would in each of the upcoming four weeks.
In fact, our pace had already seen a vast improvement, exemplified by the fact that we arrived at the port town of Castro-Urdiales ahead of our estimated lunchtime arrival. But a sweet little café with a name that called to Lizz served us a late breakfast rather than the lunch we had planned.
While we left that morning from a hotel that held signs for me (the Gustav Klimpt paintings of Day 7 that brought me back to Vienna), our arrival in Castro Urdiales at the Kraken Restaurante held signs for Lizz.
Lizz, a 21-year veteran of the U.S. Navy explained to me about the sea beast called Kraken that terrorizes sailors in Navy lore. The sailors, she told me, follow King Neptune, the god of the sea, for safety.
The Last Mile is Sometimes the Hardest Mile on a Pilgrimage
Before getting on the road again, I stopped at the pharmacy and went on a straight-up Compeed SPREE to aid my blister-riddled feet.
What we hadn't yet learned on Day 8 is that the Camino del Norte – the northern route of the Camino de Santiago – involves a lot of paved roads. And our shortcut took us on an extra bit of pavement, which happened to be the bit of pavement that finally set Lizz's feet into a tailspin.
Lizz opted for trail runners, which largely protected her feet from the blisters that my water-proof hiking boots cursed me with once my feet began to sweat. But her made-for-trail shoes didn't protect her when we walked for miles on pavement and the arches of her feet screamed at her with every paved step.


While I was covered in blisters, the pavement didn't phase me. Tradeoffs.
On the 99th mile, Lizz struggled. She acknowledged, though, that it was only because it was the last mile. Somehow, the last mile before reaching the destination is always the hardest. (Except on the last day.)


Reaching 100 Miles Walked on the Camino del Norte from Pobeña to Islares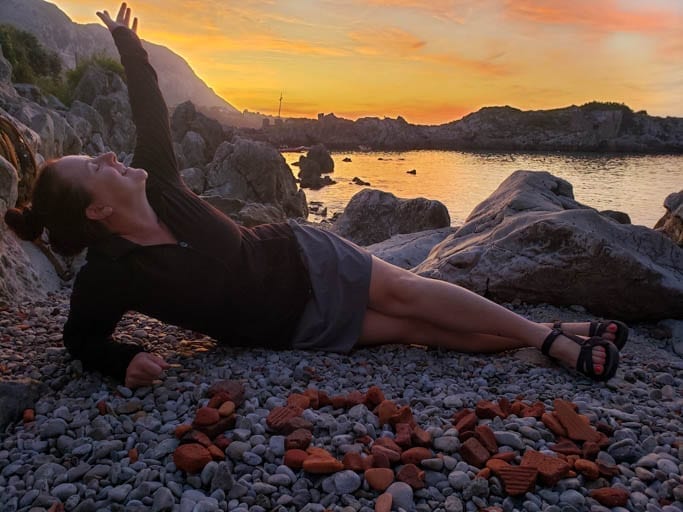 That milestone came at the moment we reached our destination. Before celebrating, we secured the last two beds in a tent at Camping Playa Arenillas (a great place to spend the night for 12 euros but takes no advanced reservations).
Then we headed to the beach where we found actual stones to mark the milestone.
On this day, I wrote down that I was so proud of us and that the real world felt 100 miles behind us while we face only the mile before us.
Lessons Learned on the Camino del Norte:
The last mile is always the hardest mile.
Your clothes will rarely be dry in the morning and you will get very used to walking with underwear and socks strapped to your backpack.
In order to avoid pavement, the tradeoff may be to walk more miles. Longer walking days can be worth it to save your feet, especially if you're in trail shoes.
You will develop a new definition of dirty. Like "Oh, I only sweated through that shirt once? It's totally fine."
Tips from a Post-Camino Perspective:
Take a rest day when your body asks for it. We decided at the end of Day 8 to take a rest on Day 9 even though we were slightly behind schedule. We just needed it. And that's OK.
Our Pilgrimage Stats After Day 8 from Pobeña to Islares: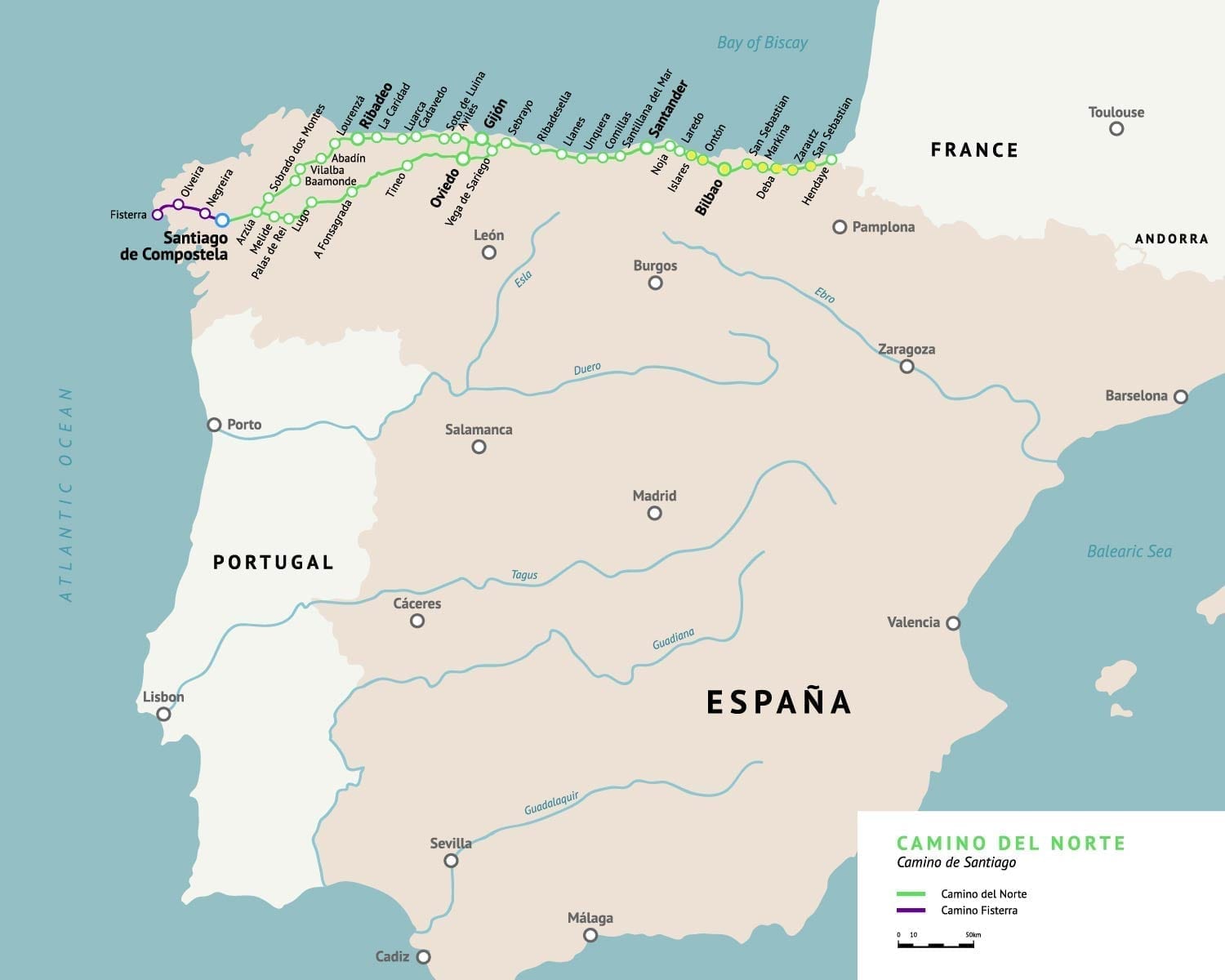 Stage Miles: 20
Actual Miles Walked: 12 (19 kilometers)
Bus forward Miles: 0
Total Miles Walked So Far: 100 (161 kilometers)
Additional Camino Resources
About the Author
Hi! I'm Jen!
I'm a freelance writer and travel blogger who quit my nine-to-five after my fiancé, Jeff, died of cancer at the age of 40. When he died, I realized that life is just too short to delay our dreams. Since my dream was to travel and write, I now travel and write full-time. Today I wear hiking boots instead of heels and collect experiences instead of things.