Day 7 on the Camino del Norte: Portugalete to Pobeña
Hey there! This post may contain affiliate links, which means I'll receive a commission if you purchase through my link, at no extra cost to you. Please see my legal page for more details.
The Camino del Norte – or northern Camino route – turns back toward the coast on this stage from Portugalete to Pobeña.
It felt so good to see the water and feel that breeze again!
The Day We Left Basque Country:
Our bodies felt great on this day, but my feet really hurt. New blisters just kept developing. At this point, I am learning that it is really important for me to keep my feet very dry, but I didn't yet have a strategy to do that. I stopped at a pharmacy on the route and stocked up on Compeed, foot powder, and other blister-fighting devices.
I didn't know it on Day 7, but this would be the beginning of a foot-care routine that would cause me to get up 20 minutes earlier every morning to get my feet ready for the day.
The Stage from Portugalete to Pobeña Winds Back to the Beach
When we found the beach again we relaxed for a while at Playa de la Arena.
Since we had some trouble booking at the traditional stage-end of Pobeña, we kept walking to a hotel just beyond there and just shy of Ontón. It ended up being a really cool destination because it was literally on the border between Basque Country and Cantabria.
A Note on Basque Country
This brings me to the intrigue of Basque Country.
I loved walking past the sometimes shocking – and always passionately political – graffiti, postings, and signs that we walked past throughout the region. Though both Basque Country and Cantabria are autonomous regions, the Basque people have a long history, much like in Catalonia (where Barcelona is located), of seeking true independence.


Some people may remember Basque Country from the armed attempt of the ETA to define independence, earning the dubious designation of a terrorist organization before disbanding. The issue still divides Spain as former ETA members are still in prison all across the country.
With its own language and flag, Basque Country feels like its own country even without the signs that defiantly remind us Pilgrims walking through that we are not walking in Spain.
Basque Country stretches across the border of Spain and France, so my hybrid Spanish and French worked well during the first week on the Camino del Norte. Of course, it didn't work as well as the native language that is the primary tongue of the region, but I didn't have a chance in Hell of learning Euskera, which is the oldest language in Europe and has no connection to any language currently spoken in the world.
(I did learn "bide ona," which means buen camino in Euskera.)
So, yeah, our hotel right on the border between the two regions was pretty cool. Of course, though, it was – as always seemed to be the case – at the top of a hill!


A Room of One's Own
We booked in advance this time around both because we heard the beds were booking up fast due to the ongoing festivals and because we needed our own rooms. After a week in bunk beds, it was time for some space for ourselves.
We stayed at the Hotel el Haya and splurged, spending 50 euro for the luxury of a private room.
Once we made it to the hotel, I took the longest shower I have ever taken – no exaggeration. And then Lizz and I walked across the border for our first dinner in Cantabria.
If you want to stay in Pobeña, you may need to book early if it's a festival season (which seems to be all the time along the Camino del Norte!)
Here are some places to check out:
On the Right Path on the Camino del Norte
When we returned, I took a moment to take in the paintings hanging in the hotel. If you have followed my journey, you know that both Gustav Klimt and sunflowers represent a sign for me from my partner who died of cancer in 2018.
I had to smile at what seemed like a strong sign as we spent our last night in the Basque Country and started out for Day 8 – the day we would hit 100 miles walked!
Lessons Learned on the Camino del Norte from Portugalete to Pobeña:
Keep your feet as dry as possible at all times.
If you lost something, it is in your bag – somewhere. We had so few things and so few places to put them, but somehow we were always looking for something. And nine times out of ten, we found it…in the backpack.
Tips from a Post-Camino del Norte Perspective:
For me, it was key to have a break from the bunk beds every now and again. A night in my own room or with just my walking partner would keep me refreshed for the wonderful nights shared with pilgrims in albergues (the downside of which is bunk beds and snoring, farting humans).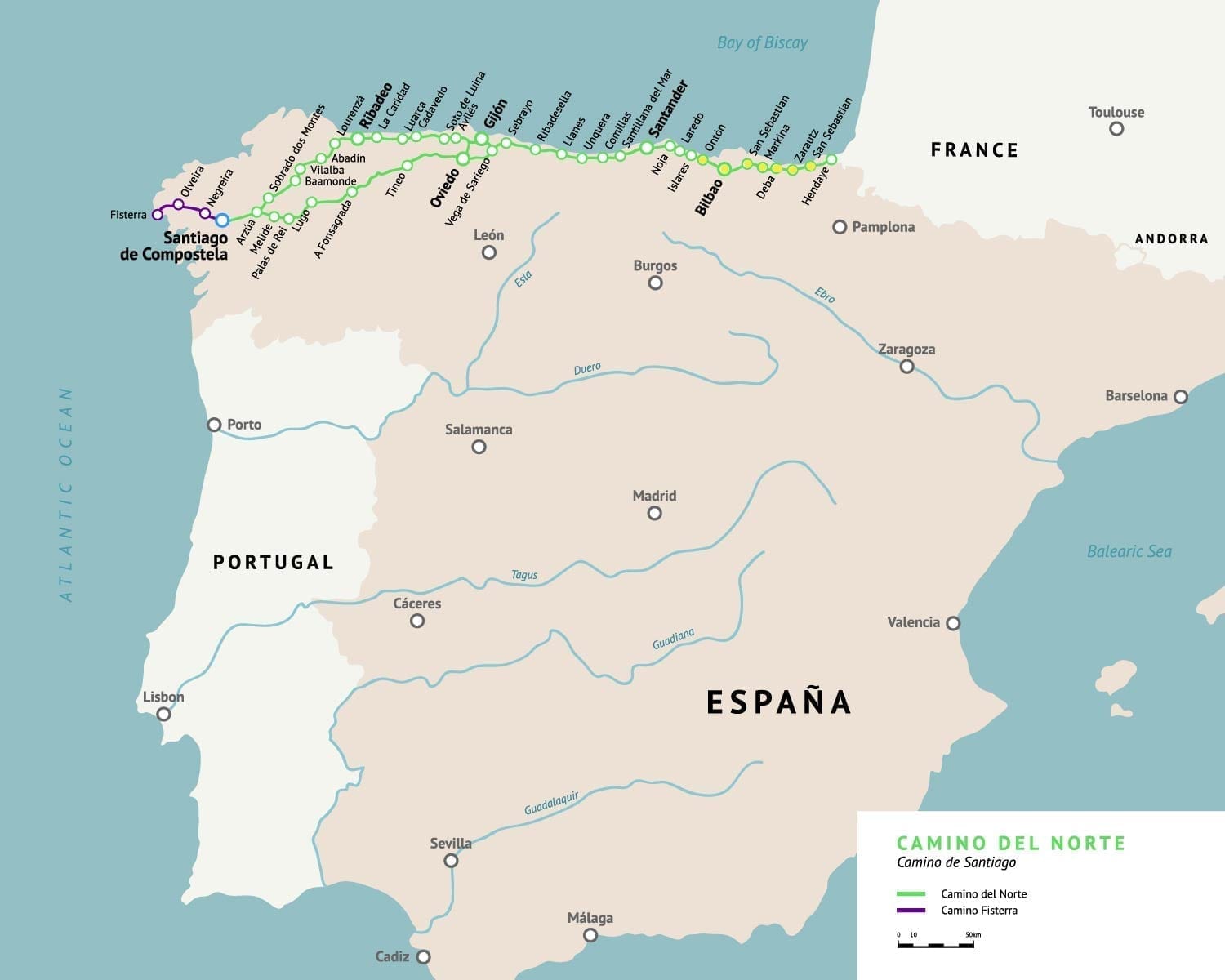 Our Pilgrimage Stats After Day 7 on the Camino del Norte:
Stage Miles: 8
Actual Miles Walked: 10 (16 kilometers)
Bus forward Miles: 0
Total Miles Walked So Far: 89 (143 kilometers)
Additional Camino Resources
About the Author
Hi! I'm Jen!
I'm a freelance writer and travel blogger who quit my nine-to-five after my fiancé, Jeff, died of cancer at the age of 40. When he died, I realized that life is just too short to delay our dreams. Since my dream was to travel and write, I now travel and write full-time. Today I wear hiking boots instead of heels and collect experiences instead of things.