Day 6 on the Norte: Bilbao to Portugalete
Hey there! This post may contain affiliate links, which means I'll receive a commission if you purchase through my link, at no extra cost to you. Please see my legal page for more details.
Our guidebook advised us that this stretch of the Camino del Norte from Bilbao to Portugalete was boring and ugly, so we did what most people do when they go on a long walk…we put it in Google Maps!
The Day We Went on a Camino del Norte Pub Crawl from Bilbao to Portugalete:
By going off of "The Way," we took a more direct route that allowed us to sleep in a bit (let's be honest, we needed that after our Day 5 night out!) and allowed us to see a bit more of Bilbao. We strolled along the riverwalk next to the beautiful Nervión River for much of the day, taking in the views of the Bilbao Guggenheim Museum and the kayakers paddling away beneath us.
You. Will. Get to Know Your Body. Too Well!
A major lesson learned on the Camino is that you will definitely get to know your body. There was more than one reason that I needed to take a more direct route on this day. Beyond the night out before, I found at this point on my pilgrimage that I had to go to the bathroom about every 45 minutes.
Since the official route was going to take us a longer way but not necessarily through wooded areas where it's easy to duck behind a bush, I needed to stay in civilization on this day from Bilbao to Portugalete. The result was a café walk turned pub crawl by the end of the day.
This allowed me to stop at a bathroom and rest my aching feet, which had officially developed the first set of blisters that would haunt me for the next couple of weeks.


The Needle-and-Thread-Trick Really Works!
The second lesson we would learn on this day is that the tip we learned from our fellow pilgrims about threading blisters really works! What in the heck do I mean by threading a blister? I mean if a blister is filled with fluid, the best way to remove that fluid is to take a sanitized needle with a bit of thread all the way through it. Pull it through, let it drain, but leave the thread. This way, it won't fill up again. Bandage up that blister and feel the relief!
I did this at one of our café stops. Which is another thing: When we first set out, we wouldn't take our shoes off at a public place. Forget it. Take your shoes off at every opportunity. Maybe don't walk around inside with the shoes off, but still, take them off. Always.
We thought we were going to take a long bridge to the other side of the river and Old Town Portugalete, but there was a man waiting to shuffle us onto a ferry. We paid our euro (80 cents actually, but we gave the helpful man our change) and, on the other side of the river, we found ourselves right back on The Way.
After a flat, easy walk along the river all day, we laughed as we started immediately climbing uphill to get to our albergue in Portugalete. We had learned at this point that our bed will always be located at the top of the steepest hill in town!
After an easy dinner in Old Town, we were refreshed and ready to get back on the trails.


Lessons Learned on the Camino del Norte:
You will get to know your body very well. It will do things to you that you don't expect. But you will learn its intricacies.
Take needle and thread for your blisters. True story. It works.
Take your shoes off at every opportunity.
Your bed will always be at the top of a hill. Always.
Tips from a Post-Camino del Norte Perspective:
You don't always have to stay on The Way. You can go your own way at times and still be walking the Camino.
Our Camino del Norte Pilgrimage Stats After Day Six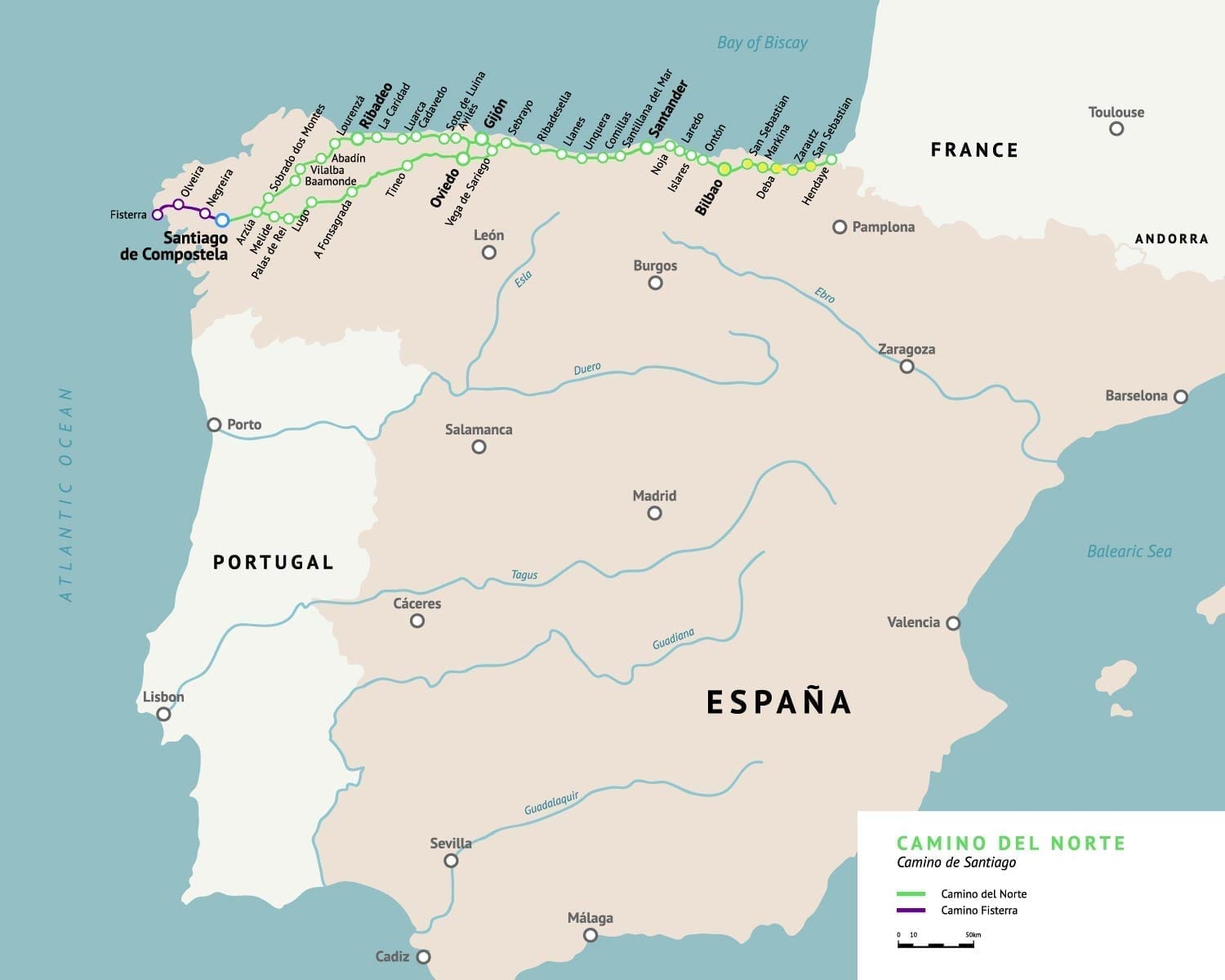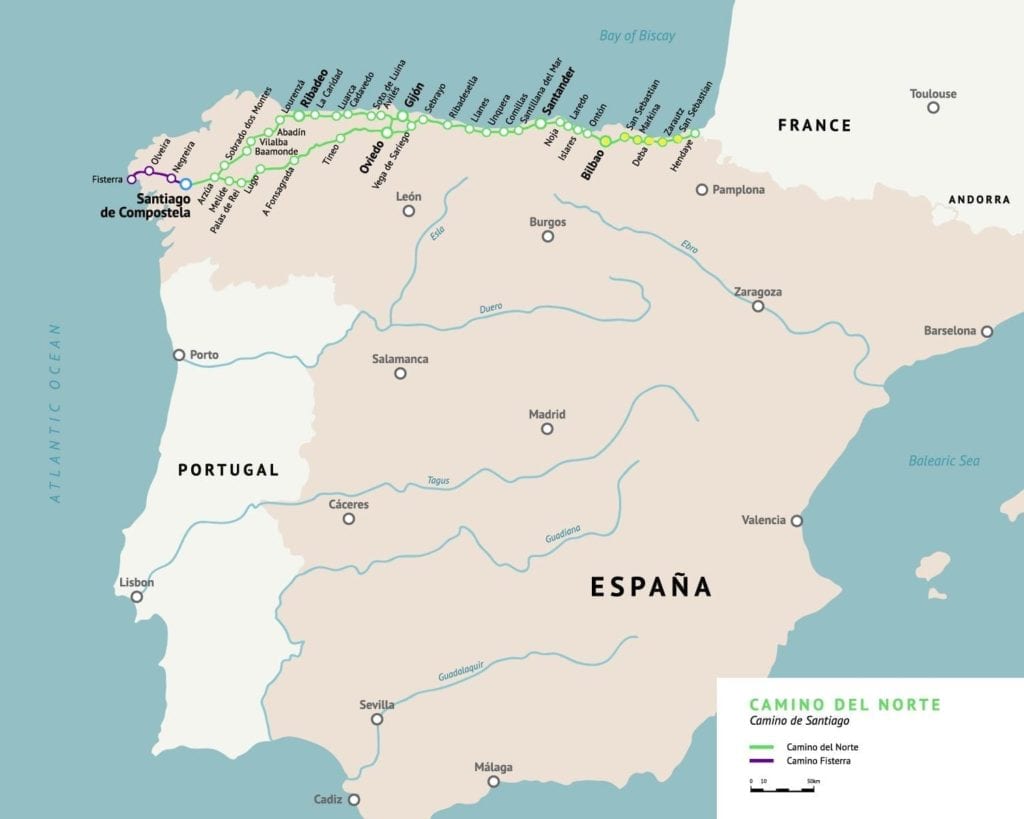 Stage Miles: 12.5
Actual Miles Walked: 11 (17.7 kilometers)
Bus forward Miles: 0
Total Miles Walked So Far: 78 (126 kilometers)
Where to Stay in Portugalete
Additional Camino Resources
About the Author
Hi! I'm Jen!
I'm a freelance writer and travel blogger who quit my nine-to-five after my fiancé, Jeff, died of cancer at the age of 40. When he died, I realized that life is just too short to delay our dreams. Since my dream was to travel and write, I now travel and write full-time. Today I wear hiking boots instead of heels and collect experiences instead of things.