Walking the Camino del Norte: Arriving in Santiago de Compostela
Hey there! This post may contain affiliate links, which means I'll receive a commission if you purchase through my link, at no extra cost to you. Please see my legal page for more details.
The day we completed our pilgrimage on the Camino de Santiago was surreal. We couldn't believe we were heading out on the last day, the 35th day of our pilgrimage, and that that we would arrive in Santiago de Compostela that very afternoon.
We woke up in Pedrouzo giddy with excitement and literally skipping toward Santiago.
While we skipped and counted down the kilometers to our final destination, we also took some time to reflect.
Leaving Your Burden Behind: A Camino Tradition
The Camino de Santiago is full of tradition and symbolism. But there is one tradition that literally weighed us down as we walked.
You see, pilgrims often carry a rock from home in their backpack as they walk. The small rock symbolizes a burden. And, somewhere along The Way, pilgrims leave their burdens behind.
On the Camino Frances, the most popular route, there is a specific place where pilgrims leave their burden. But on the Camino del Norte, there is not a designated spot.
Instead, rocks are piled on top of mile markers and signs all along the route. Pilgrims on the Camino del Norte do not touch the rocks. They leave those rocks right as they were left, respecting the burden left behind by a fellow pilgrim on the route.
And as we neared Santiago, it was time to leave our burdens behind.
Bye, Bye Burdens: Hello Santiago
It was emotional to set down that rock from my hometown of Vancouver, Wash. A small, smooth rock that my dad had handed me as I packed up my bags.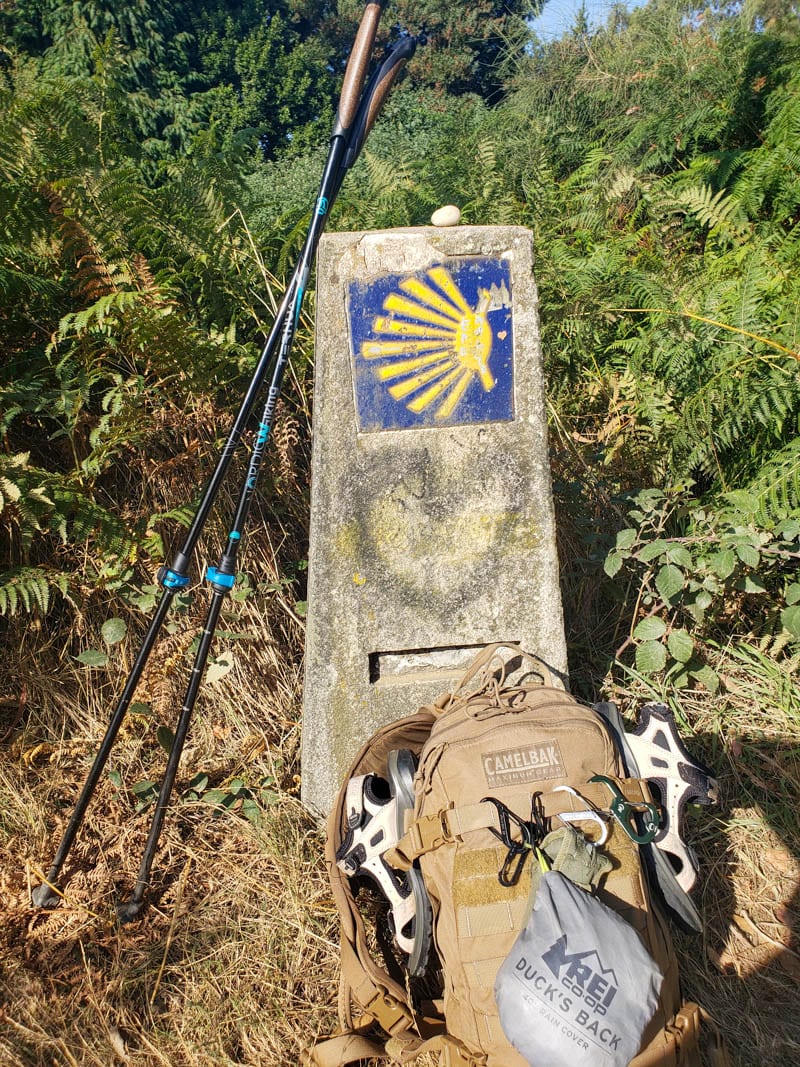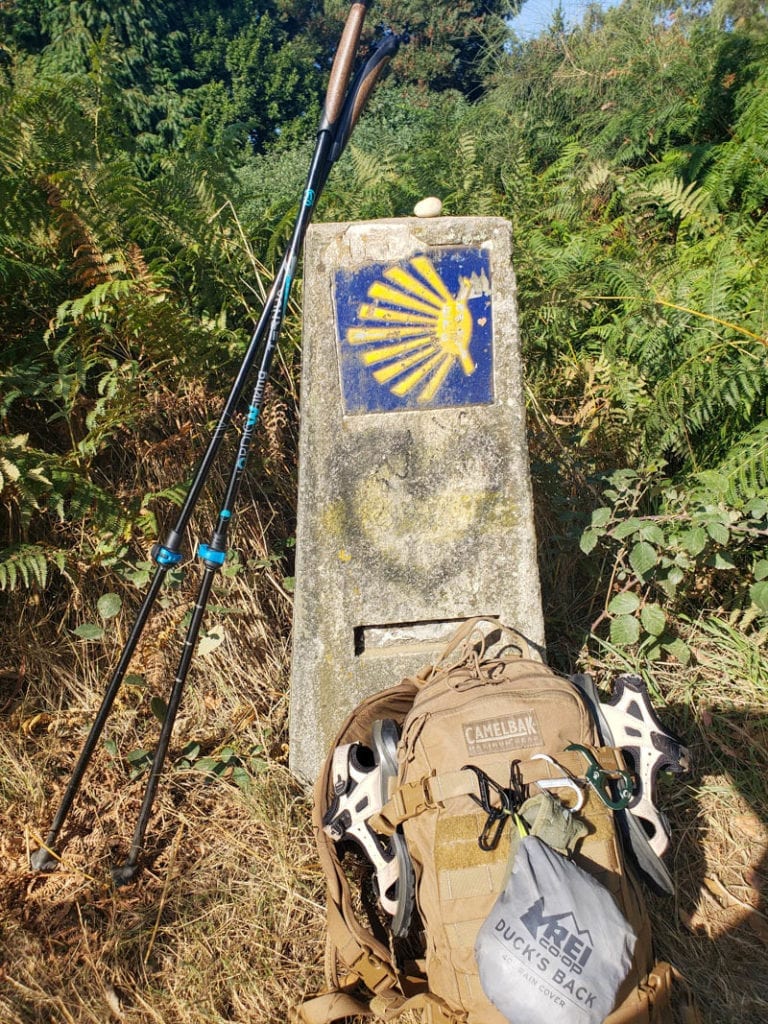 I had chosen to carry with me on the Camino del Norte my guilt over the death of my partner. I carried my guilt for not realizing how quickly he would go; for not, somehow, doing more to help him as cancer ravaged his body; for being irrationally angry at him for leaving me. I carried my survivor guilt. I carried all of my guilt every step of the way.
And then 10 kilometers outside of Santiago de Compostela, I set down my rock on a mile marker where no other burdens yet sat. I set down my guilt for good; I left my burden behind.
It Was Finally Time to End Our Journey on the Camino del Norte
Some people feel overwhelmed with emotion when they arrive in Santiago de Compostela; others feel disappointed.
I felt numb.
Lizz and I both broke down a little as we neared the cathedral where all pilgrimages along the Camino de Santiago end, swallowing back some tears as we realized that we had really done it. But then, in true Lizz and Jen fashion, we got lost.
It was strange, the path was so well marked for so many miles, and then when you arrive in Santiago, the arrows are hard to find. Our emotions subsided as we pulled out our phones and used Google maps to navigate that last kilometer.
But then we finally walked into the cathedral square where we were surrounded by celebrating pilgrims who, like us, discarded their backpacks and wandered through the square giving hugs and high fives.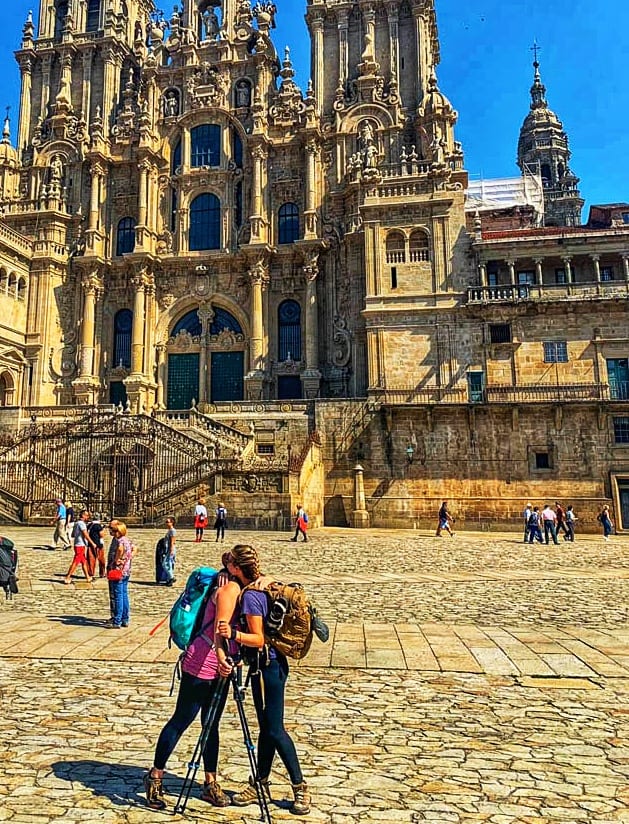 We sat and just stared at the Cathedral of Santiago de Compostela, trying to comprehend what we had just accomplished. We were speechless.
Walking the Camino del Norte Forever Changed Us
Arriving in Santiago marked the end of our physical journey, a 35-day pilgrimage along the Camino del Norte. The Camino tested our bodies and pushed our minds beyond the breaking point and, yet, we still stood there in Santiago.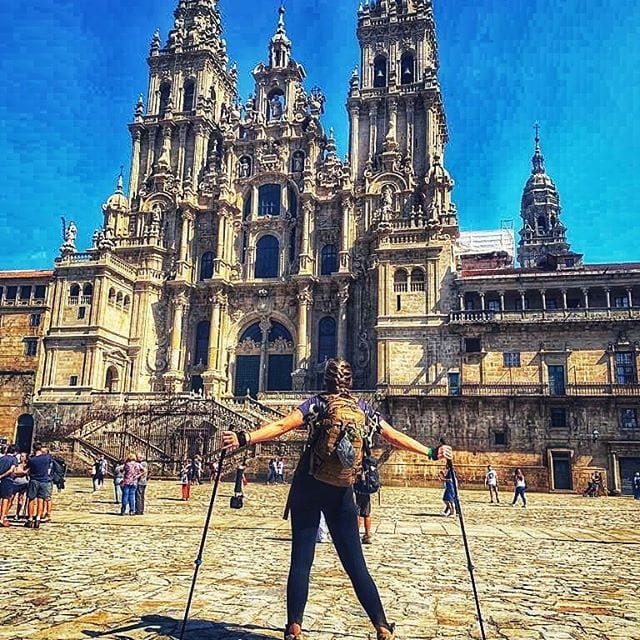 We had seen the breaking point, accepted it, shared in it, laughed through it, and walked past it.
Lizz and I will never again face a burden that we can't shoulder, carry for a little while, and then leave behind.
I hope you've enjoyed taking this journey with us on the Camino del Norte. Please reach out to me if you have any questions about walking the Camino de Santiago. I would love to help you.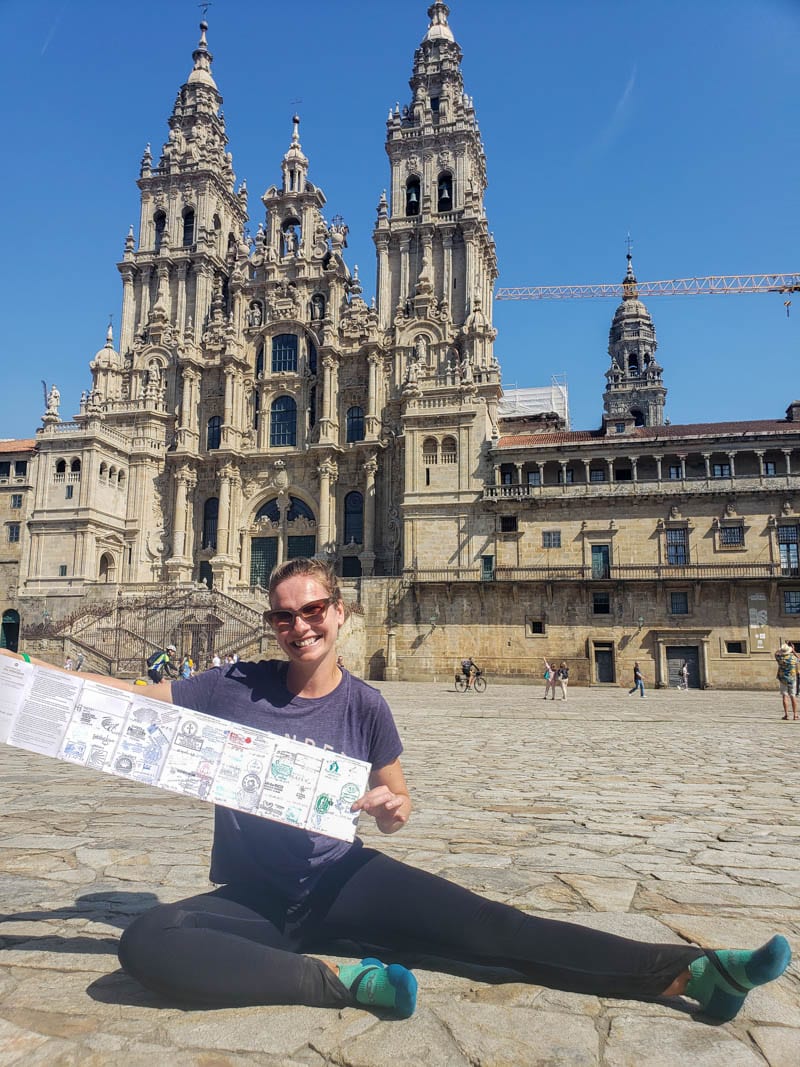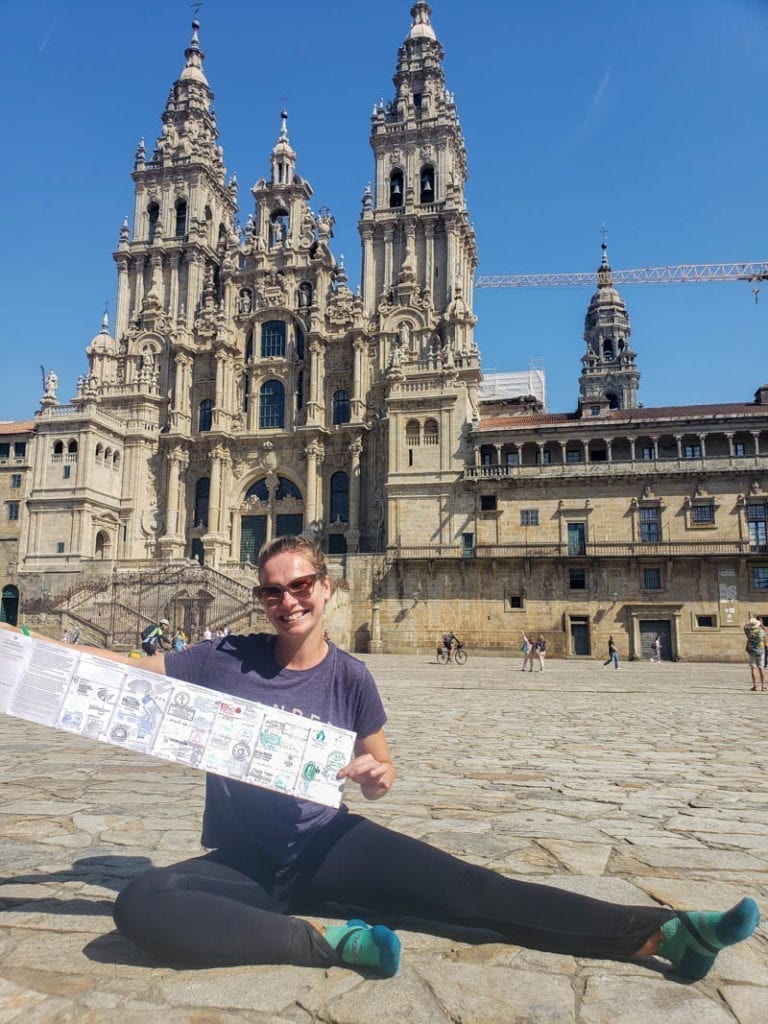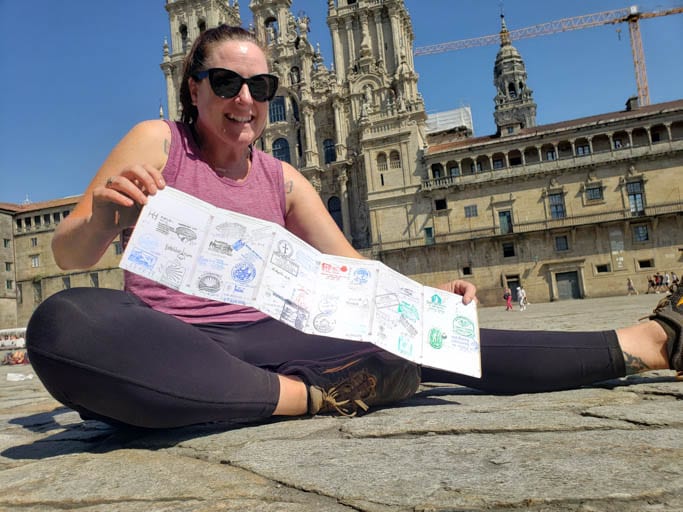 Where to Stay in Santiago
We stayed in a rented apartment in Santiago. Here's a map of available accommodations:
Lessons Learned on the Camino del Norte
Walking the Camino de Santiago will forever change you.
Tips from a Post Camino del Norte Perspective
Staying in Pedrouzo is a good call. The relatively short walk to Santiago is beautiful, level, and perfect for reflection. You will arrive in Santiago tired, but still skipping.
A lot of pilgrims continue on past the cathedral and to Cape Finisterre (Fistera) where the "0" mile marker sits on the coastline, the very coastline that was believed to be the end of the world in medieval times. It adds three to four days onto the walk and, at the time, Lizz and I couldn't imagine continuing on even one more mile. But if I could do it over again, I would continue on to Finisterre, without a doubt. Since I'm not Catholic or particularly religious, the special mile marker on the coast would mean more to me, I think. I do plan to walk to Finisterre one day.
Take your time assimilating back into the real world. You will need the time to adjust.
Our Final Camino del Norte Stats: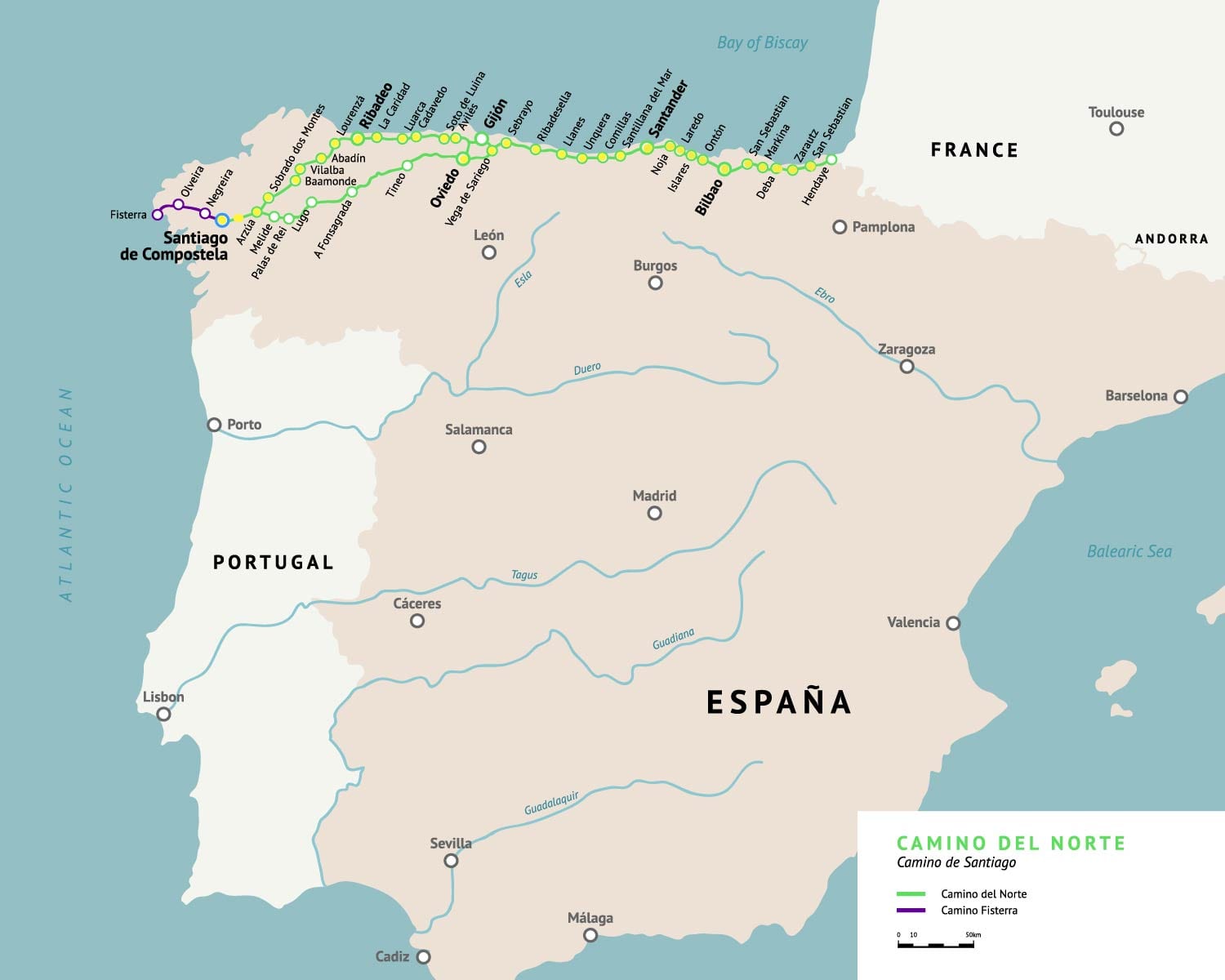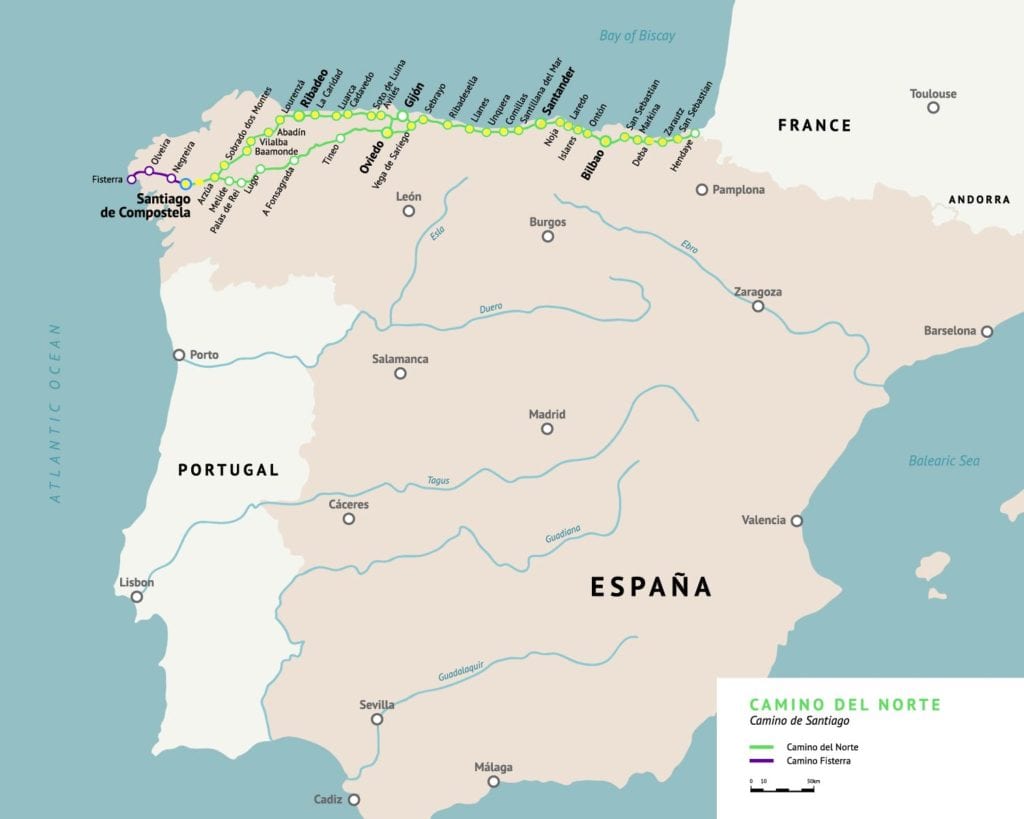 Stage Miles: 12
Actual Miles Walked: 15 (24 kilometers)
Bus forward Miles: 0
Total Miles Walked: 440 (708 kilometers)
Miles to go: 0
Additional Camino Resources
About the Author
Hi! I'm Jen!
I'm a freelance writer and travel blogger who quit my nine-to-five after my fiancé, Jeff, died of cancer at the age of 40. When he died, I realized that life is just too short to delay our dreams. Since my dream was to travel and write, I now travel and write full-time. Today I wear hiking boots instead of heels and collect experiences instead of things.