Old Market in Siem Reap before the Khmer New Year
Hey there! This post may contain affiliate links, which means I'll receive a commission if you purchase through my link, at no extra cost to you. Please see my legal page for more details.
Visiting Old Market in Siem Reap is an absolute must. And if you're lucky enough to visit before the Cambodian New Year begins, you are really in luck.
On any visit to the Old Market in Siem Reap, you will find delightfully colorful blankets stretched across the dust to build the fruit, vegetable, and meat stalls, which are separated only by the small children of the different stall owners standing and waving.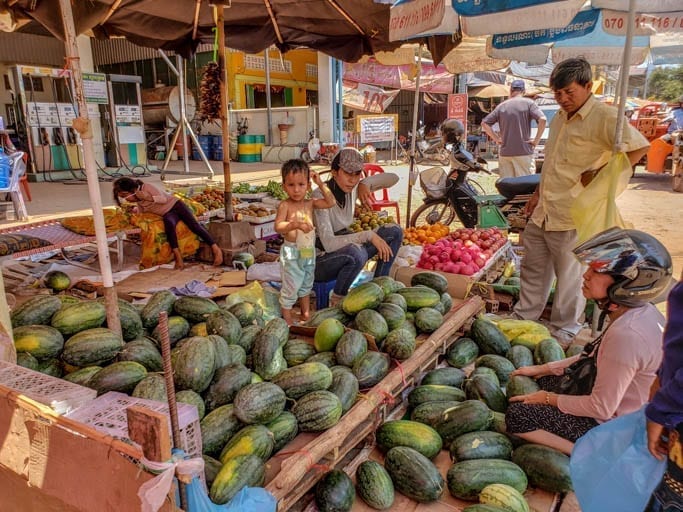 Patrons jump gamely out of the way of scooters that creep through the market with baskets full of fresh fish, chicken, and oranges bound for delivery to various restaurants.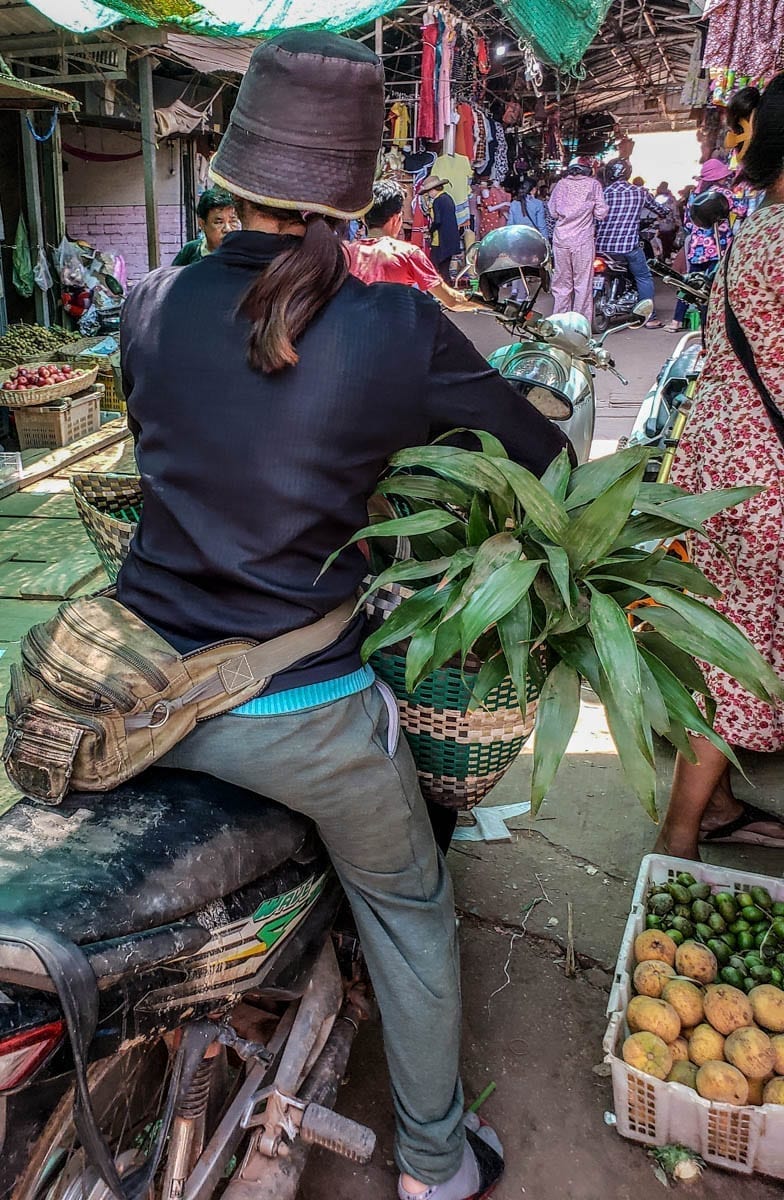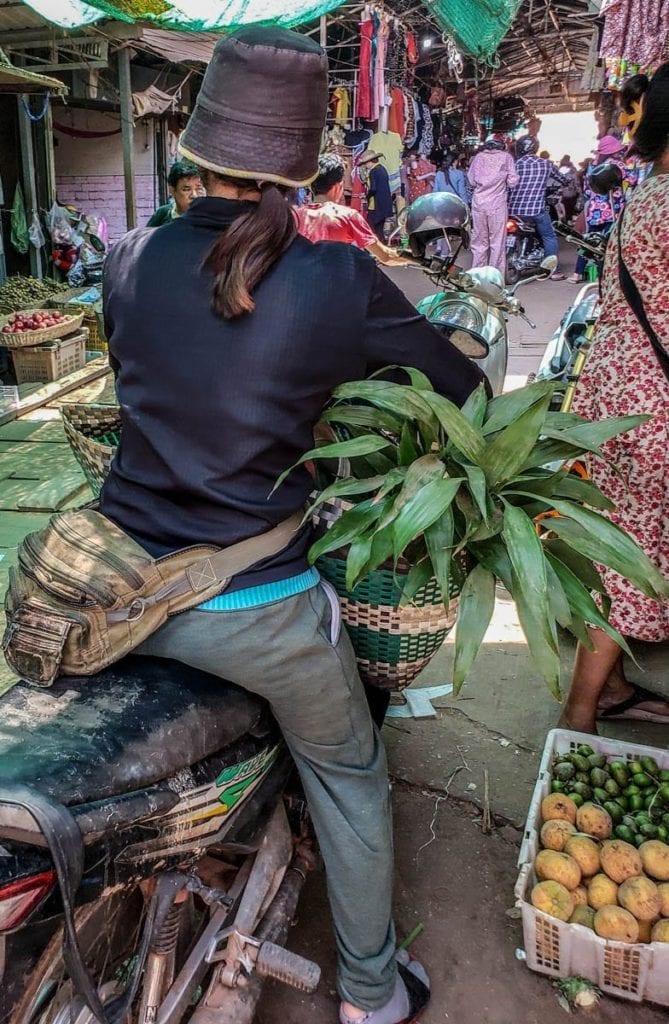 They squat next to blankets and barter over mounds of mangosteen, ignoring the tickle from sugar cane stalks that brush the back of legs as they zoom by from their precarious position stretched across a passing scooter.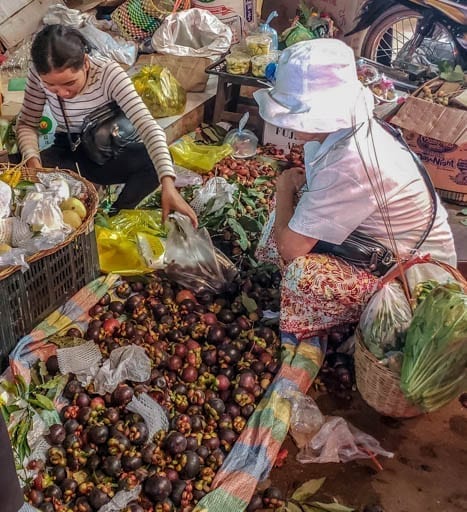 Disclosure: This post may contain affiliate links, which keep this blog running. Affiliate links provide me a small commission when you book – at no cost to you. Every effort is made to ensure affiliate partners are vetted for sustainable, humane, and ethical operations.
Visiting Old Market in Siem Reap Before the Cambodian New Year
Oh, but if you're able to visit Old Market before the Khmer New Year, you are in for an especially interesting tangle of sights and smells.
Everything will shut down for three days as families, neighborhoods, and villages throw parties – and talcum powder. That's right, a tradition here is to toss talcum powder and wash it off with good old-fashioned water fights using the brightly colored water guns for sale at every market.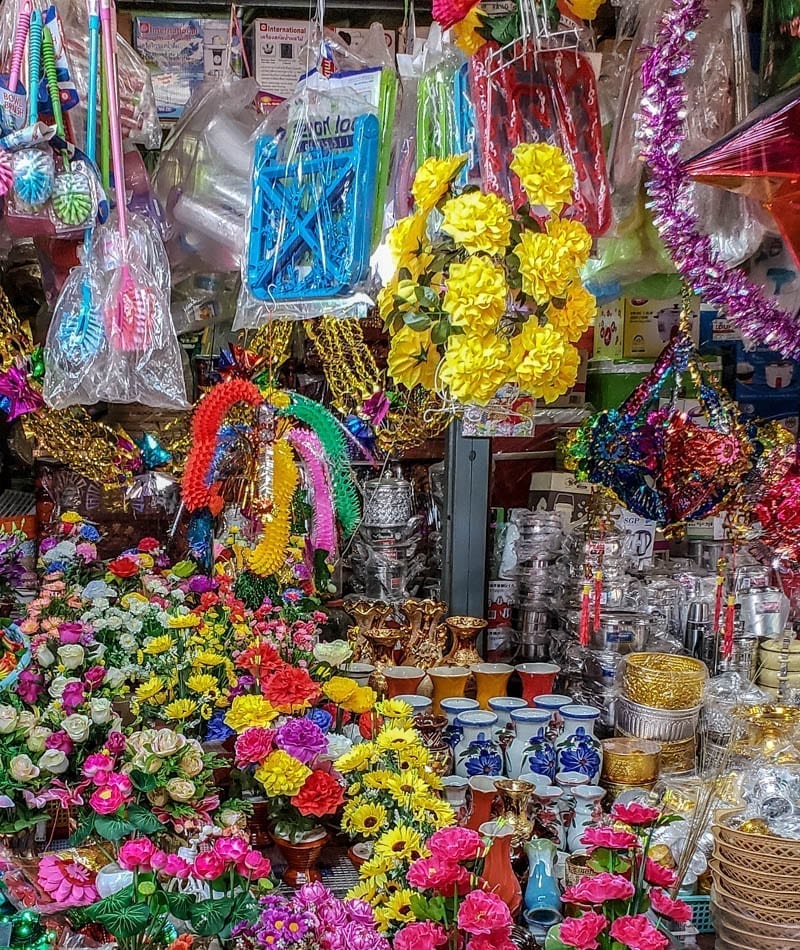 Also for sale at the market on New Year's Eve are sparkling stars and streamers that hang over the stalls and bump against the fresh flowers.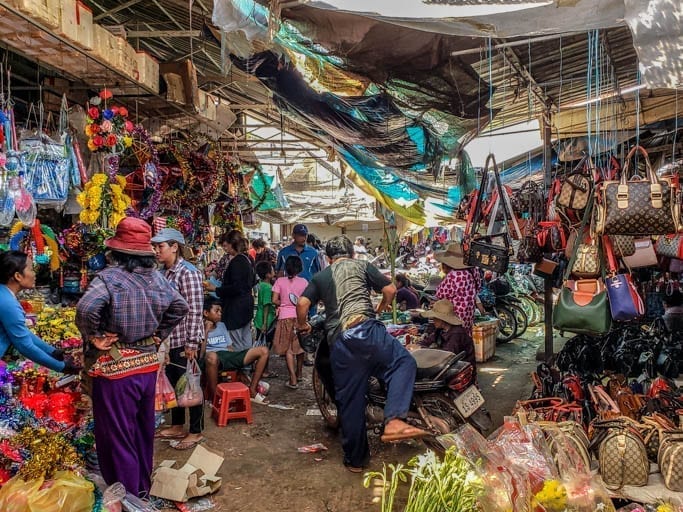 It's sort of like a grocery store before a holiday with overflowing carts lining the aisle. It's no different here. It's just that the pile of fresh fish for sale is a bit taller, the heap of guts not for sale a bit more pungent, the scooters a bit more weighed down – and there are sparkling stars overseeing it all.
The scooters need to stop a bit more often – as they make their repeated delivery trips from market to restaurant – to fill up on petrol that is poured from recycled Pepsi bottles that are stored next to tables full of snails sparkling in the morning sun.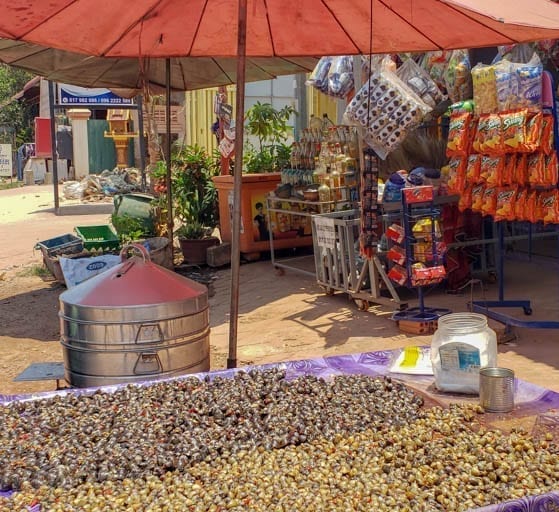 And, of course, more sugar cane stalk is needed for mashing into the sweet and colorful sugar cane juice that is sipped at special meals. And the market noise is just a bit more elevated as everyone prepares for three days of celebrations.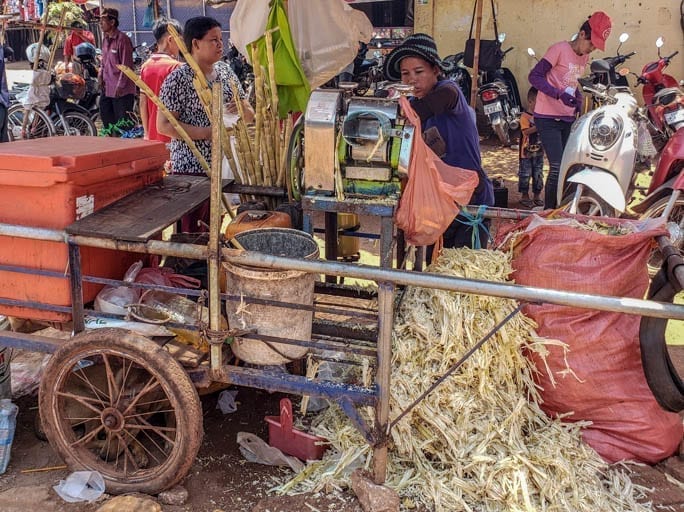 When you visit Siem Reap, you must visit Old Market. And, if you are lucky enough to do it during the Khmer New Year, I will be forever jealous of your experience.
Where to stay near the Old Market in Siem Reap:


About the Author
Hi! I'm Jen!
I'm a freelance writer and travel blogger who quit my nine-to-five after my fiancé, Jeff, died of cancer at the age of 40. When he died, I realized that life is just too short to delay our dreams. Since my dream was to travel and write, I now travel and write full-time. Today I wear hiking boots instead of heels and collect experiences instead of things.
You might like