Full Moon Party in Thailand: The Do's and Don'ts
Hey there! This post may contain affiliate links, which means I'll receive a commission if you purchase through my link, at no extra cost to you. Please see my legal page for more details.
Your survival guide for the Full Moon Party in Thailand is right here!
"Have you even been to Thailand if you haven't been to a Full Moon Party?"
This was the question posed to me sometime around dawn, as the sun threatened to break the horizon, ushering away the moon and the last of the revelers on Haad Rin Beach.
"I think so," I said, swaying to the beat of the music still thumping behind me and gazing out toward the oncoming daylight. "But you certainly missed something."
Now, I don't mean to imply that I was always gung-ho about the legendary Full Moon Party on Thailand's Koh Phangan. I wasn't. I was doing something absolutely terrifying for me. I was going to a party. ALONE. Serious gulp.
That brings me to my first Full-Moon Party "do":
DO go to the Full Moon Party in Thailand Even if You're Traveling Alone
Let's be clear, this is an all-night rave with drunken tourists drinking out of communal buckets of booze. You need to take extra precautions to keep yourself safe. For instance, skip the communal buckets of booze. (And check the safety tips at the bottom of this post.)
But don't be worried that you won't make friends. You will! I am still friends with some of this crew right here: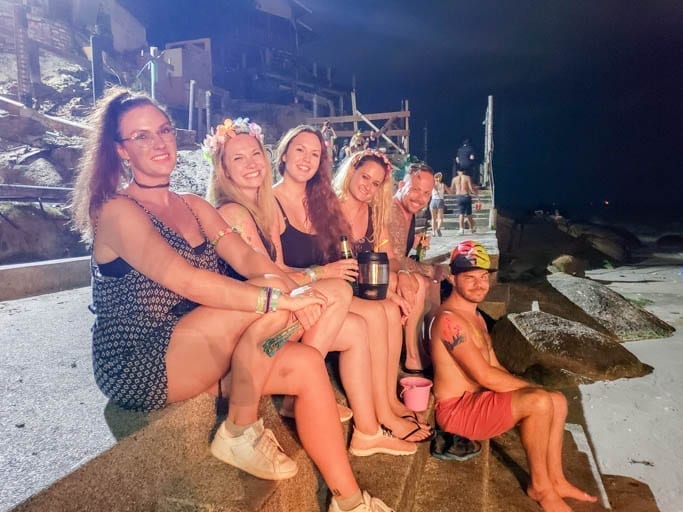 Do Paint Your Body in Neon Paint
It's part of the fun of the Full Moon Party! Everyone wears ridiculous amounts of neon and paints their bodies in glow-in-the-dark paint. There are plenty of do-it-yourself roadside tables set up or pay 200 THB (about $6 USD), like I did, for a piece of temporary body art.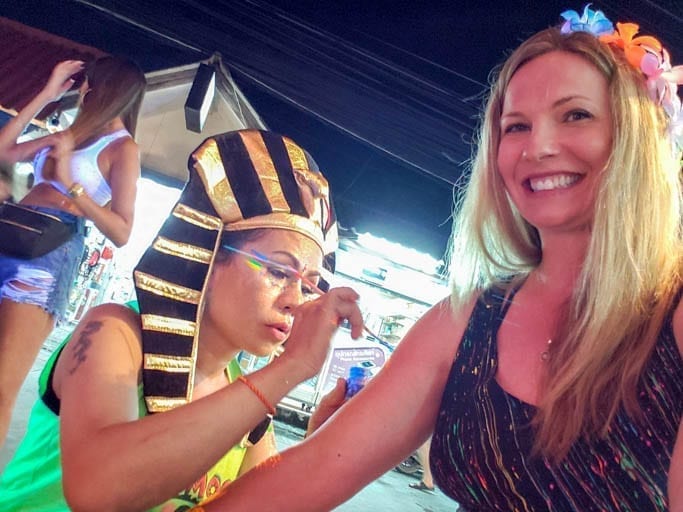 Don't Worry About Buying Neon Clothing for the Full Moon Party in Thailand
I feel a little bad about writing this because the economy of Koh Phangan is dependent on the Full Moon Party, including the families of all of the people with shops selling loads of neon clothing and fringe on the cheap.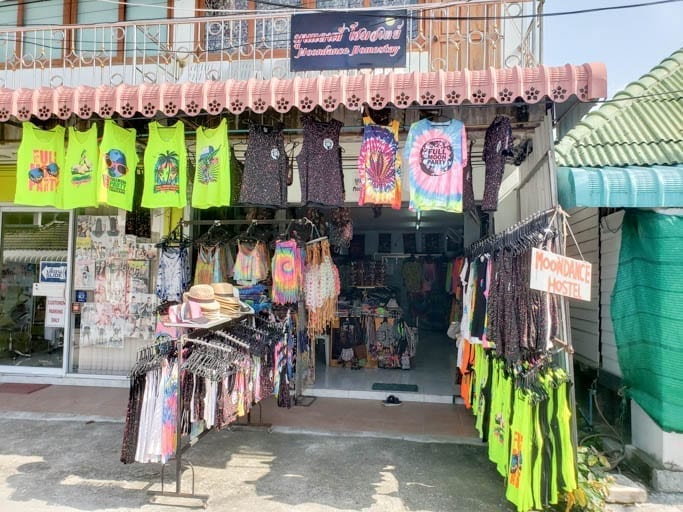 But there will be plenty of newbies (like I was) who will buy those clothes thinking that it matters what you are wearing once the sun goes down. It doesn't.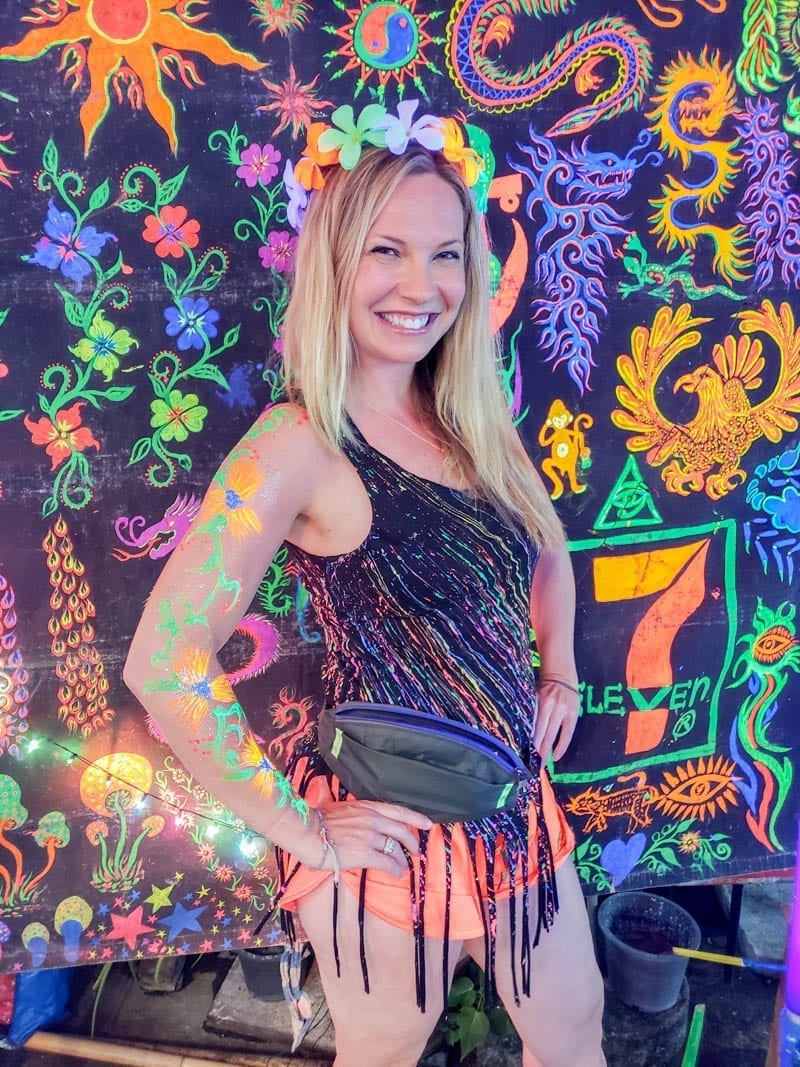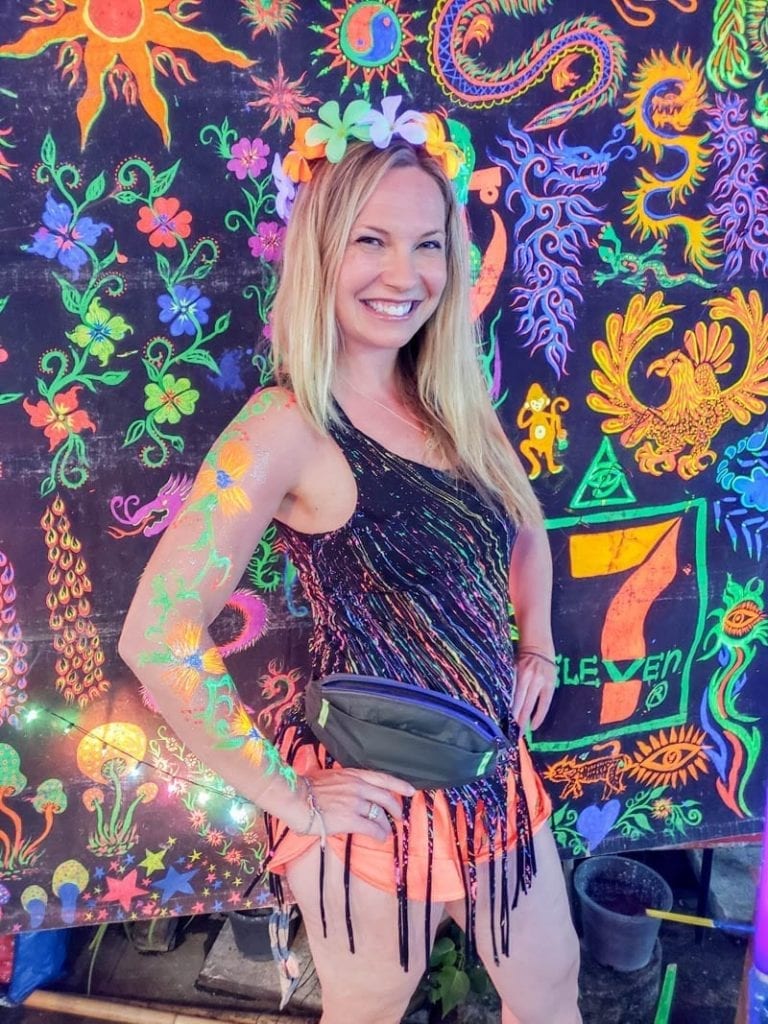 It was actually at the Full Moon party where I was inspired to become a sustainable traveler but, walking into the party, I didn't think twice about the fact that most of those clothes are wasteful and thrown away after just one night of wear.
Do Wear a Fanny Pack for the Full Moon Party in Thailand
If you don't already have a fanny pack (also called a hip bag or bum bag) do buy one before the Full Moon Party. You can see the one that I bought for the party in the picture above, and I seriously wore it everywhere after that in my travels, including when I walked across Spain on the Camino de Santiago.
But the night that it was most convenient was the night of the Full Moon party. All of my cash and my room key went into this zipped bag around my waist so there was very little risk of losing my belongings.
Don't Drink the Communal Buckets of Booze
If you are old enough to drink then you are too old for communal buckets of booze. OK, fine, I may have had a sip from a communal bucket (read my confessions from the Full Moon Party here).
But that's why I can tell you that these are sand buckets, filled with sticky-sweet booze that will give you a terrible hangover, all while providing the dangerous opportunity for someone to slip something into your drink.
Just don't with the communal buckets.
Do Wear Water Shoes or Sneakers
The sand and surf get pretty dirty as the party gets kicking.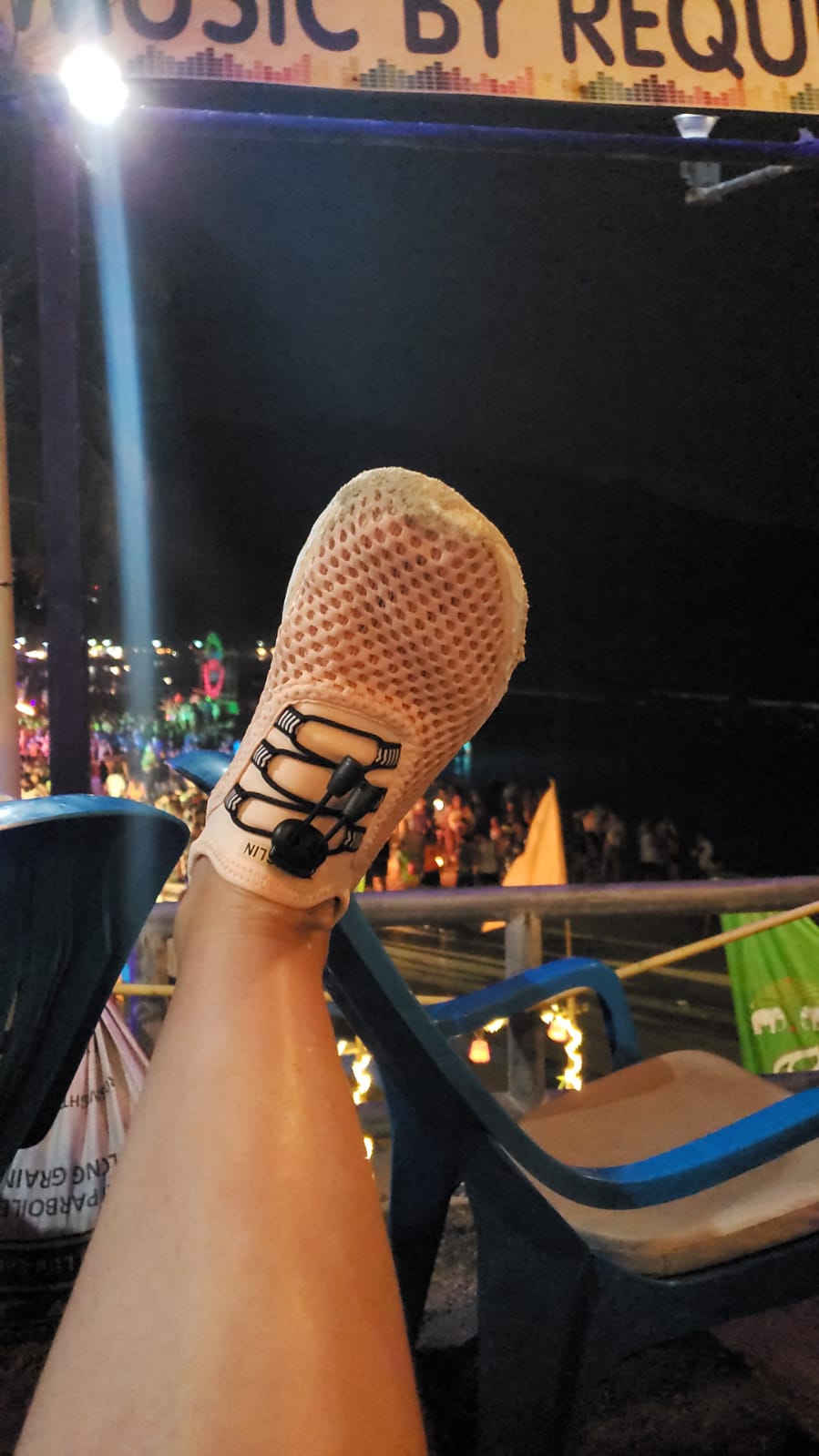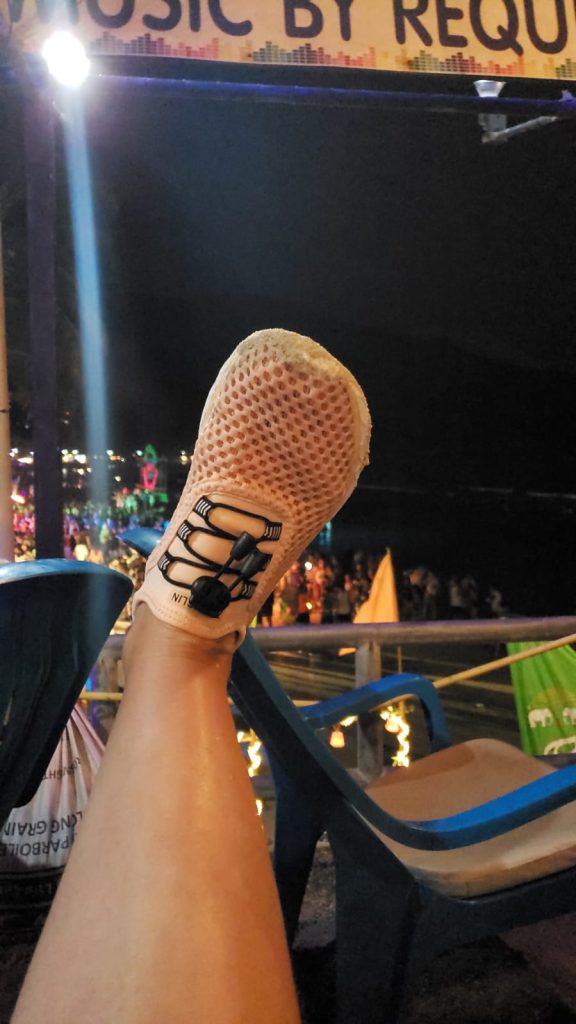 Not to mention the broken glass and embers from burning jump ropes and limbo sticks. Which brings me too…
Don't Jump a Burning Jump Rope or Perform the Limbo Beneath a Burning Stick
I am cursing because I actually have to write this. I can't tell you how many people I watched get seriously injured because they drank a sticky-sweet bucket of booze and then decided it was a good idea to recreate with fucking flames. Flames!
It's cool to watch, though. Not going to lie:
This is where to watch for the best (and quiet view):
Do Start Your Night at the Quiet Spot at the North End of Haad Rin Beach
It was called Rock Bar & Restaurant when I was there, and it was a quiet restaurant on a hilltop overlooking the madness. This is where I sipped my first beer and watched the flame jumping. It's also where I met the friends that I would spend the rest of the evening dancing with.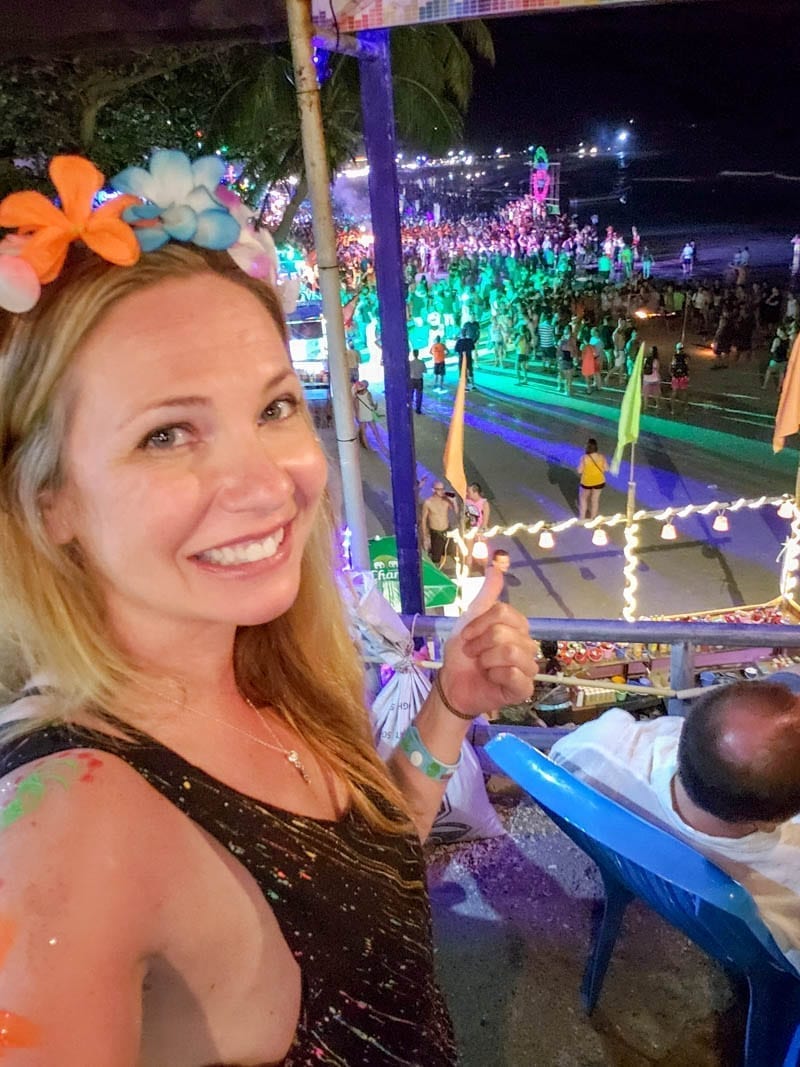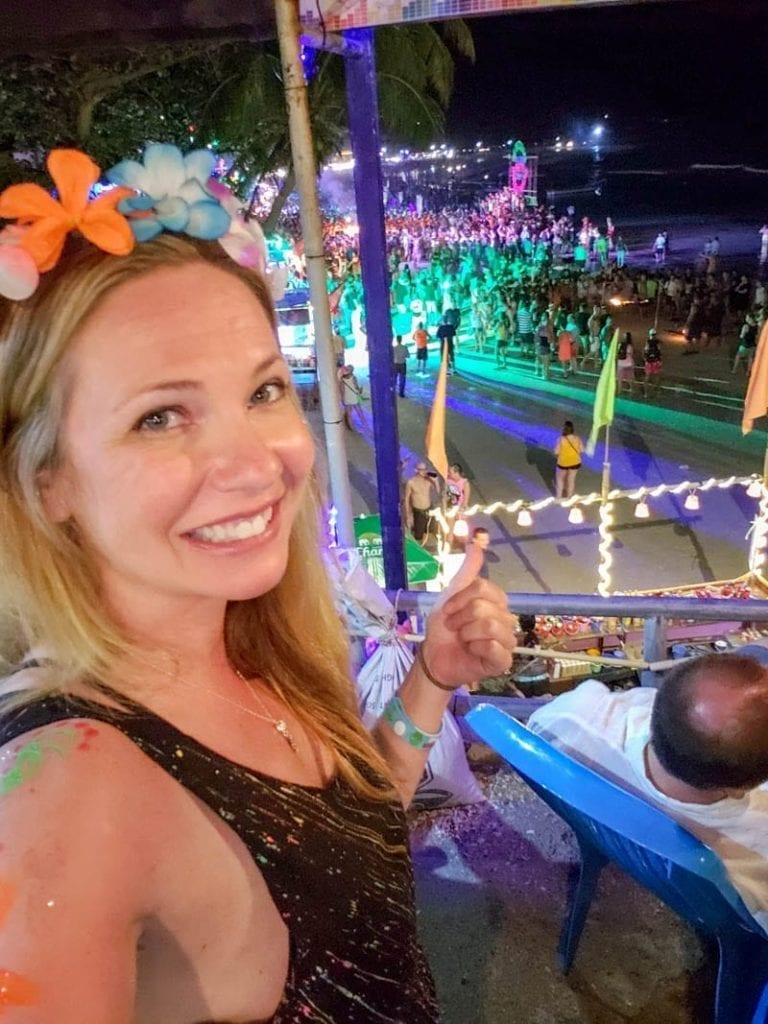 Do Walk the Length of the Beach at the Full Moon Party
It will take you a while. There is a LOT to take in on that walk. But there are stages and stages with different types of music just jamming. Take it all in. Dance. Let loose.
But…
Don't Do Drugs
When you get to the end of the beach, you'll find "Mellow Mountain". Remember this picture with my friends?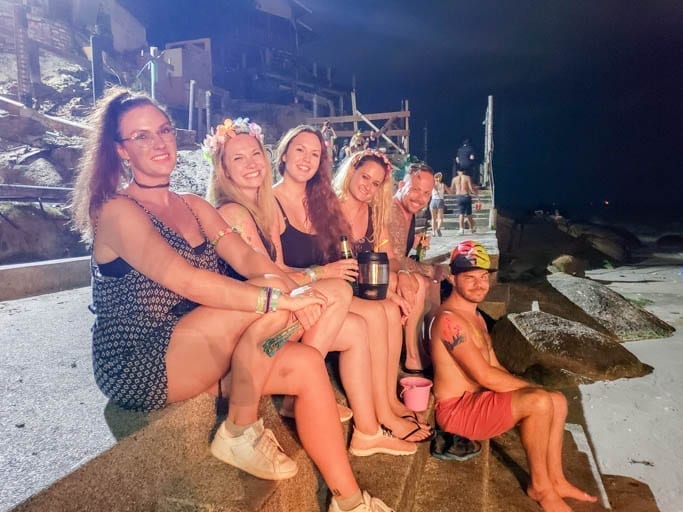 That's Mellow Mountain. If it's anything like the scene when I was there, just up the stairs to our left, you will find a seriously dilapidated, abandoned building with people selling mushroom shakes on the sly.
At the Full Moon Party, there are a lot of, what we in the states call, undercover cops. Be really careful. I also think this is one place where drugs, in general, are a bad idea. As much fun as this party is, you should keep your wits about you.
Pro tip: There are bathrooms inside Mellow Mountain
Do Book Your Room in Advance
It's more expensive to book your room in advance during the Full Moon Party. But it's well worth it. Honestly, I saw so many people trying to find places to stay. Too stressful. If you have the means, I would pay a bit extra and book in advance. Keep in mind that "a bit extra" in Thailand is still pretty cheap.
I paid $50 USD per night for my room in Koh Phangan, which was outrageously expensive for Thailand. But I walked to and from the party, had my own room, and I didn't worry about my safety. Worth it.
If you are going to try to get a room when you arrive, come early. Like four nights early, minimum.
Don't Stay on a Neighboring Island and Commute to the Full Moon Party
People try to stay on Koh Tao or Koh Sumui and commute in via ferry for the party. They regret it. It's a lot of hassle and, while the ferries are pretty reliable, they don't run all night. Just stay on Koh Phangan.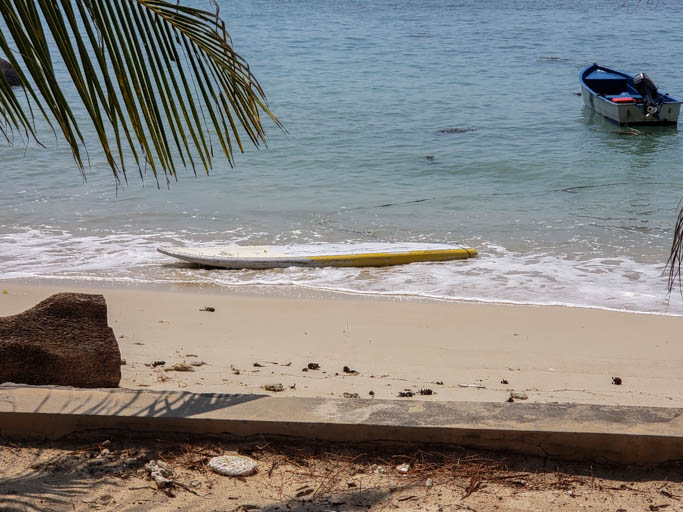 The friends I met at the party did stay at the northern end of Koh Phangan and they took a boat taxi into the party and back at about 03:00. The "taxi" they took back was just an individual who owned a boat. This worked for them, but I don't recommend this tactic for solo travelers. Try to stay within walking distance of Haad Rin Beach.
You will pay more if you book in advance, but you will also preserve your peace of mind. If you are a solo traveler, I recommend booking in advance.
Don't Get Into Bed With Your Neon Paint On!
The hotels will fine you for this. It's pretty common and they are pretty tired of it.
Do Clean Up After the Full Moon Party in Thailand
If you're not sleeping all day the next day, pop over to the beach and help clean up the mess. So many of those plastic bottles and communal buckets end up in the waterways.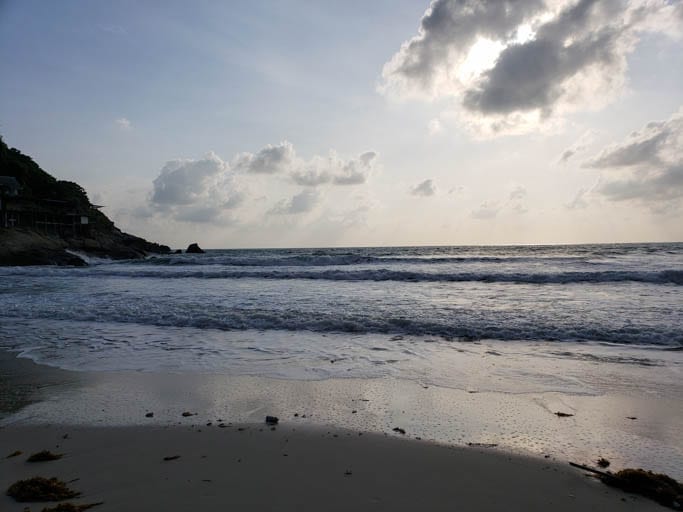 Do's for the Full Moon Party in Thailand
Go to the Full Moon Party if you are traveling solo (but check the below safety tips carefully)
Paint your body in neon
Wear a fanny pack for the Full Moon Party
Wear water shoes or sneakers
Start your night at the quiet north end of the beach
Walk the entire length of the beach at least once
Book your room advance
Stay near Haad Rin Beach and walk to and from the party
Voluntarily clean up after the party
Don'ts for the Full Moon Party in Thailand
Bother to buy neon clothing
Jump a rope of fire or limbo beneath a stick of fire
Do drugs
Stay on one of the neighboring islands like Koh Tao or Koh Sumui and rely on the ferry
Get into your bed without washing off your body paint
Leave your drink unattended
Safety Tips for the Full Moon Party in Thailand
Don't leave your drink unattended
Don't drink from the communal buckets
Stay close to Haad Rin Beach and walk to and from the party
Don't do drugs (if you do buy the mushroom shakes at Mellow Mountain, be very cautious about undercover police officers)
If you are solo traveling, please, please don't opt for the mushroom shakes or any other drugs
If you are solo, make sure someone knows where you are back home
Actually, no matter what, make sure someone knows where you are back home
If you have a group with you, use the buddy system
Keep your cash, room key and phone in a fanny bag or bum bag so that you don't lose it
Don't bring an expensive camera
Wear shoes to protect your feet from broken glass
Stay away from flames in the form of ropes or limbo sticks
I repeat, stay away from flames
Side note: Attending the Full Moon Party literally changed me. It was there on Haad Rin beach, as the sun rose and the revelers danced, that I became a sustainable traveler. When the sun rose I saw the garbage everywhere, and I stopped using single-use plastic entirely. You read my sustainable travel tips here.
About the Author
Hi! I'm Jen!
I'm a freelance writer and travel blogger who quit my nine-to-five after my fiancé, Jeff, died of cancer at the age of 40. When he died, I realized that life is just too short to delay our dreams. Since my dream was to travel and write, I now travel and write full-time. Today I wear hiking boots instead of heels and collect experiences instead of things.