Read this story if you're attending Thailand's Full Moon Party solo and, sort of, dreading it.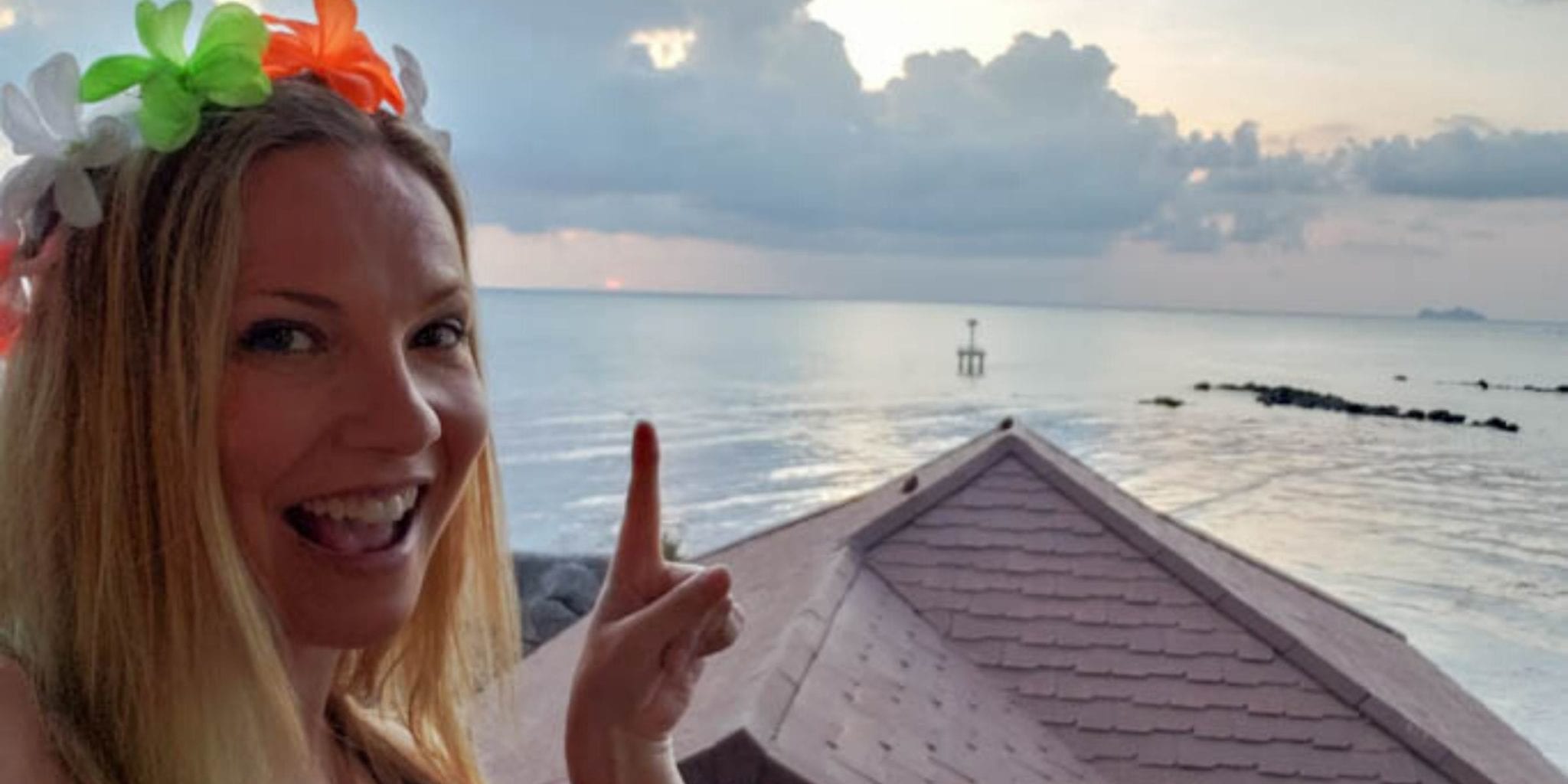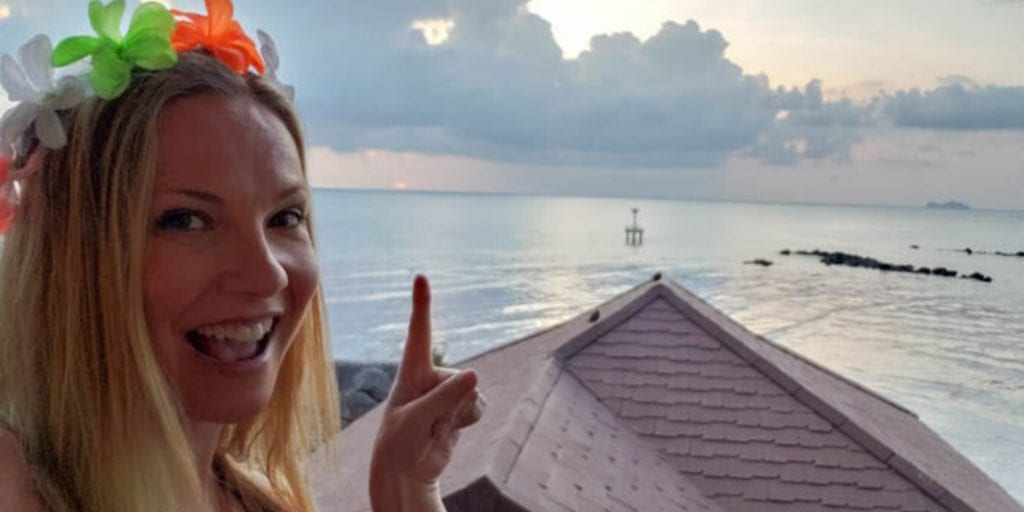 There is a big difference between a drinker and a partier, and I am definitely not the latter. The idea of an all-night rave with drunken tourists drinking out of communal buckets of booze – on dreaded sand of all places– sounded pretty awful, to me.
But my late partner saw the world through neon-colored glasses and he loved to dance. He would have loved the Full Moon Party on Haad Rin Beach on Thailand's Koh Phangan, and I was determined to check it out. Even though I was solo…and terrified.


If you're looking for my post on "Full Moon Party Do's and Don'ts" click here!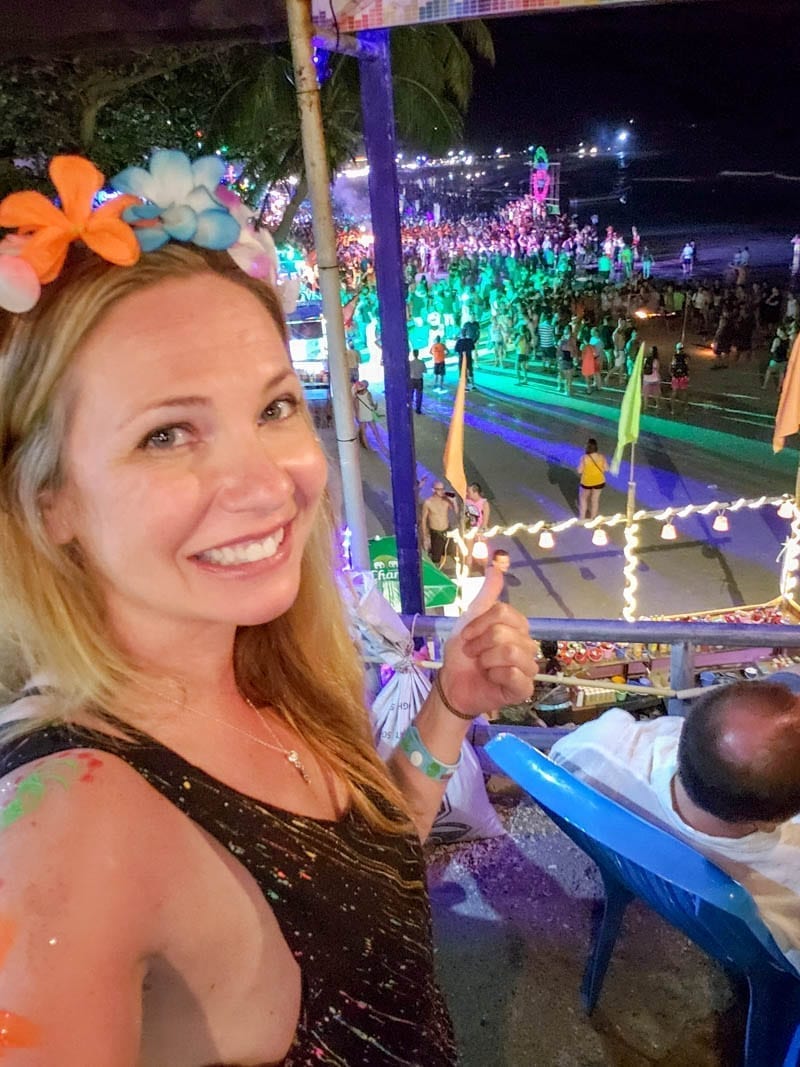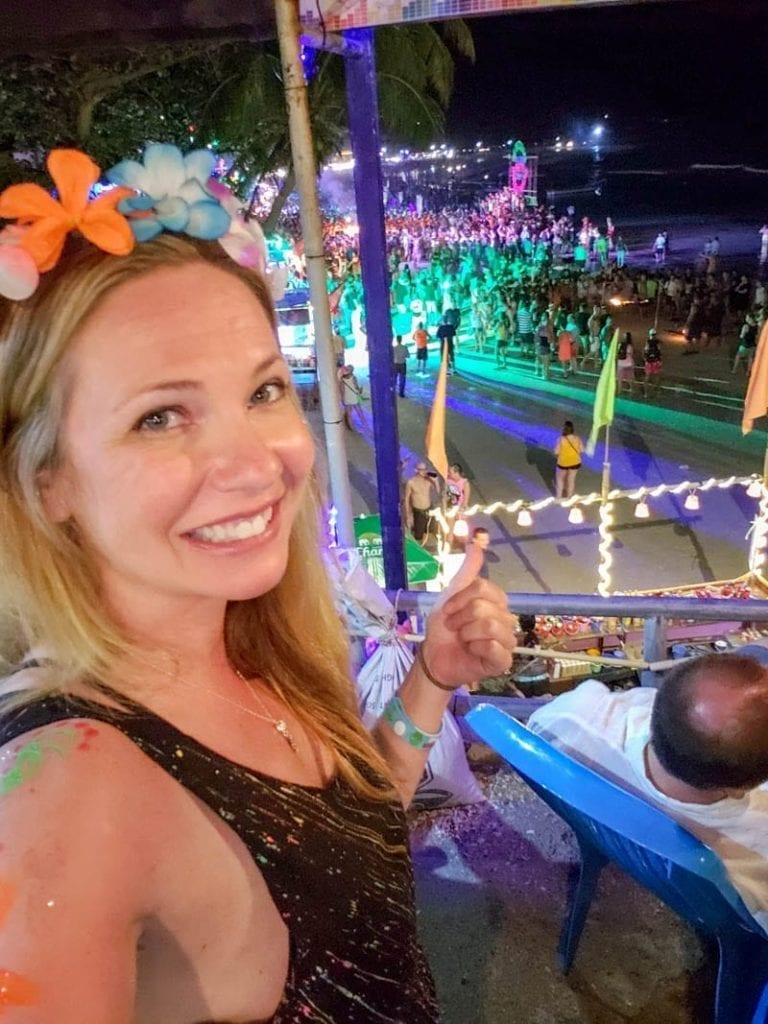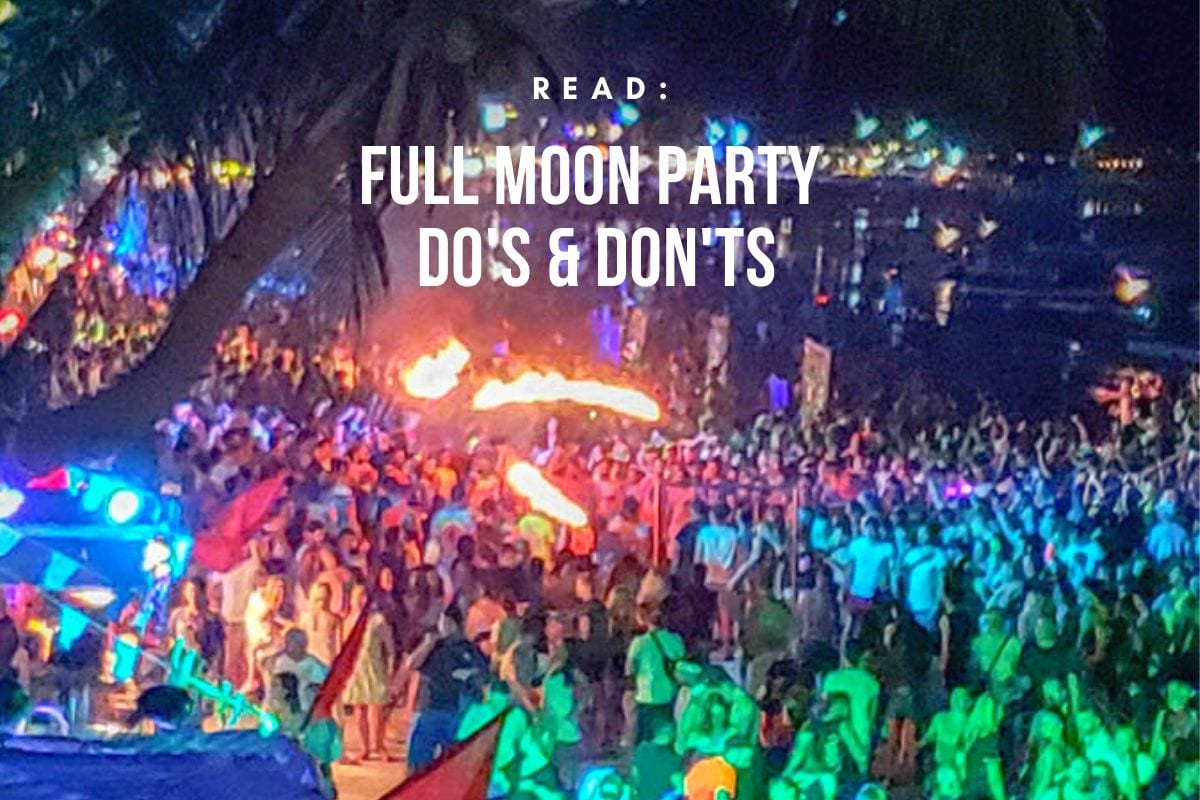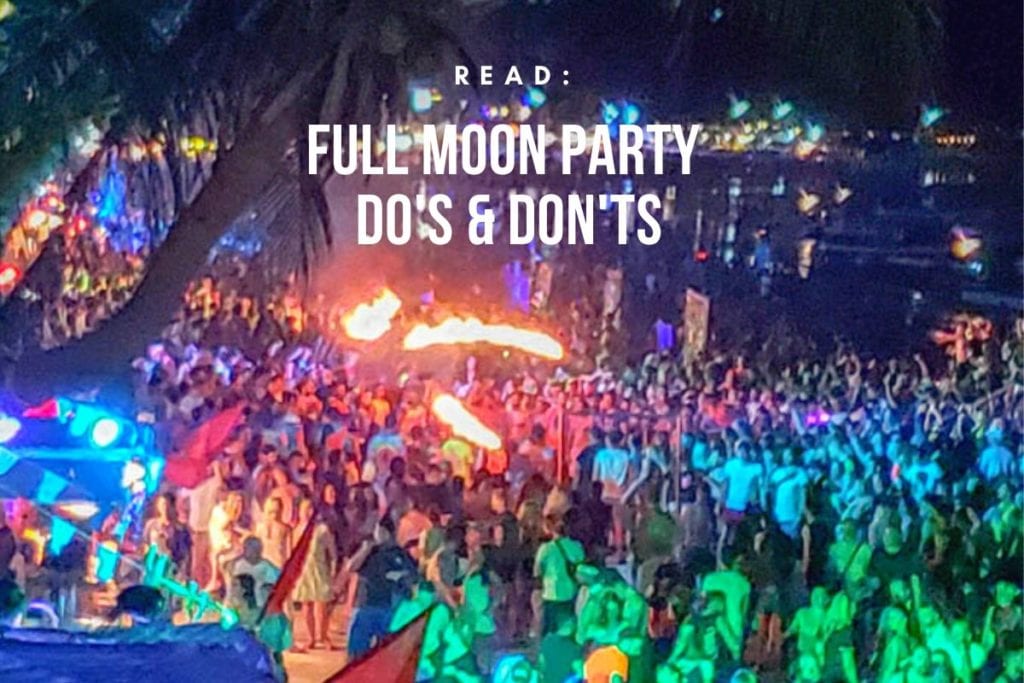 Like everyone who visits Thailand, I kept hearing that there are some musts: visit an elephant sanctuary, attend a cooking class, get scuba certified, and go to a Full-Moon Party.
Well, I thought, since this year is all about stepping out of my comfort zone, I will do it. But I will NOT, under any circumstances, drink out of a communal bucket. That is where I draw the line.
Once on Koh Phangan, my first glimpse of Haad Rin Beach resulted from a (very) wrong turn while I searched for a yoga studio. After loyally following Google Maps across a backyard filled with a family having breakfast (they offered me some fruit), through a hole in a chain-link fence, and up a very steep hill filled with some sort of sticky, thorny plant, I gave up and admitted to being quite lost.
A very nice Thai woman at the top of the hill helped me pick the burs out of my yoga pants and waved me across a rickety porch toward what sounded like water.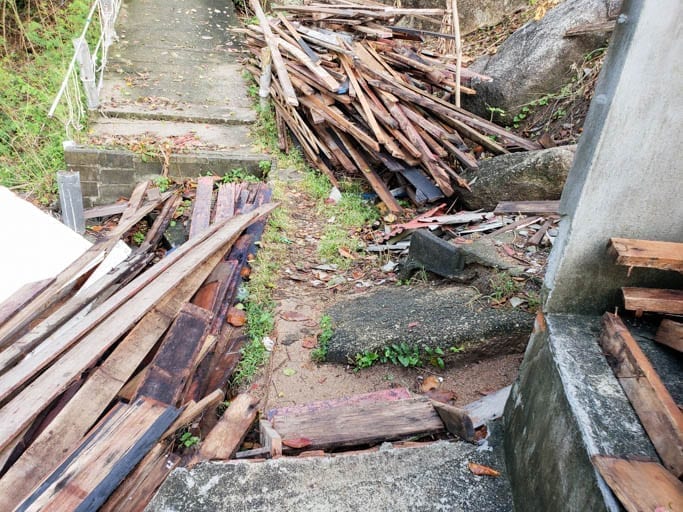 And there it was, Haad Rin Beach looking peaceful, clean – and nothing like a yoga studio.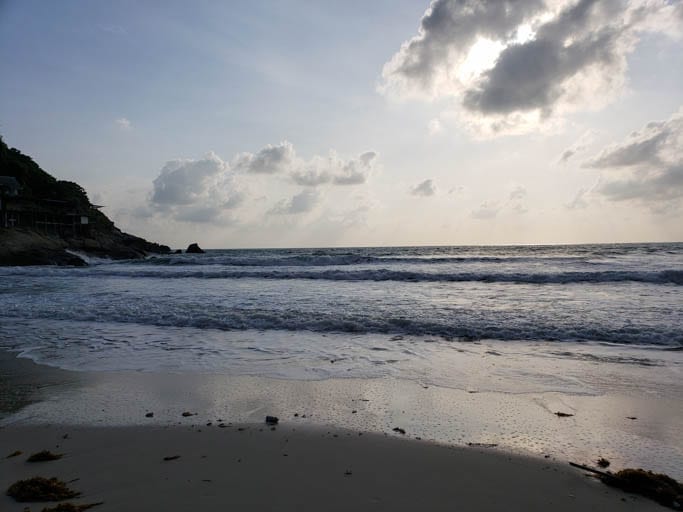 I took the very short walk across the beach and through the streets lined with clothing stores to my hotel (a much more direct route when skipping the back-country detour!) And I picked up my Full-Moon attire along the way.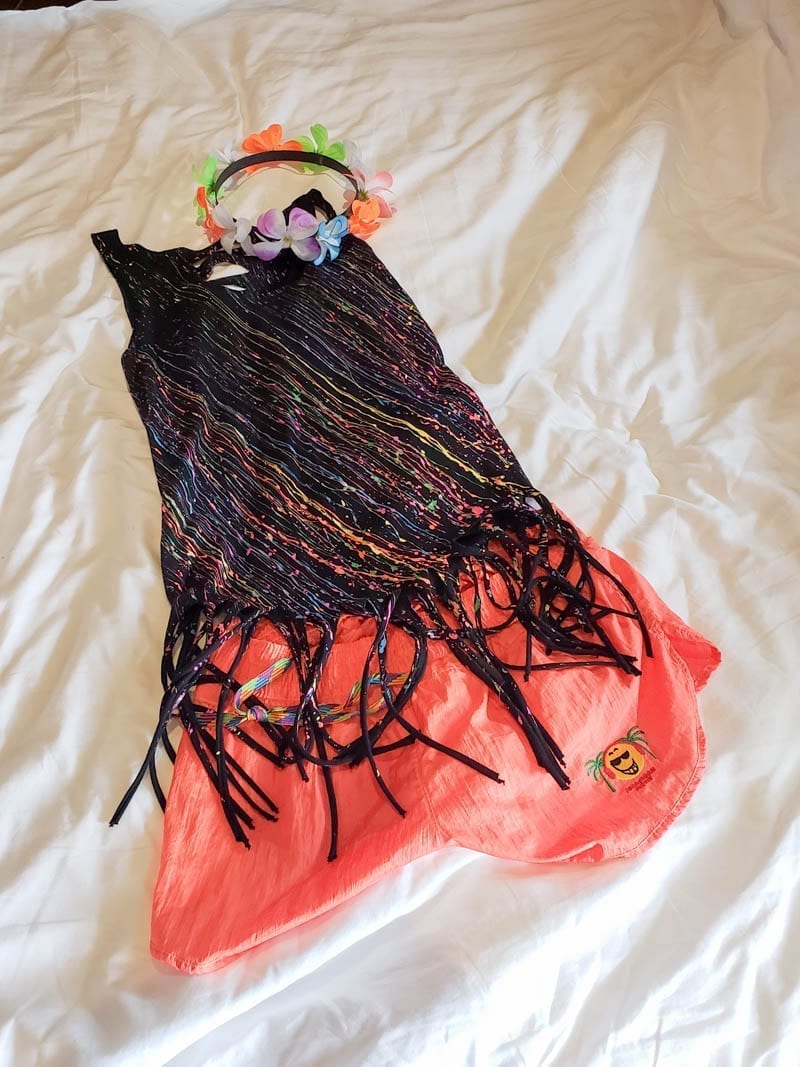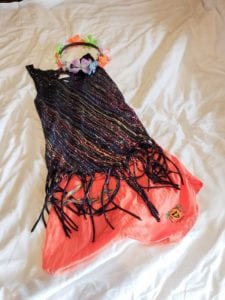 I even found a suitable fanny pack with neon accents (bum bag for those from the part of the world where "fanny" means something very, very different.)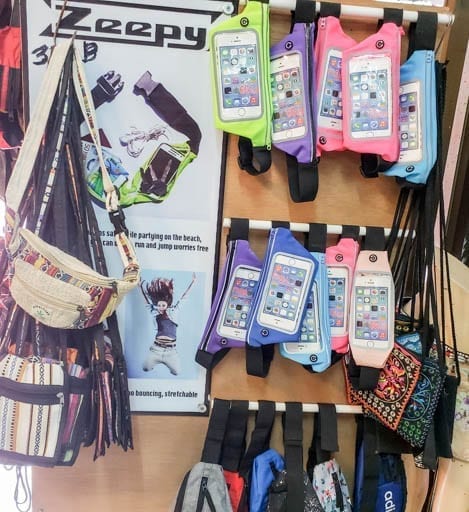 Then it was time to wait for the sun to set and the full moon to rise.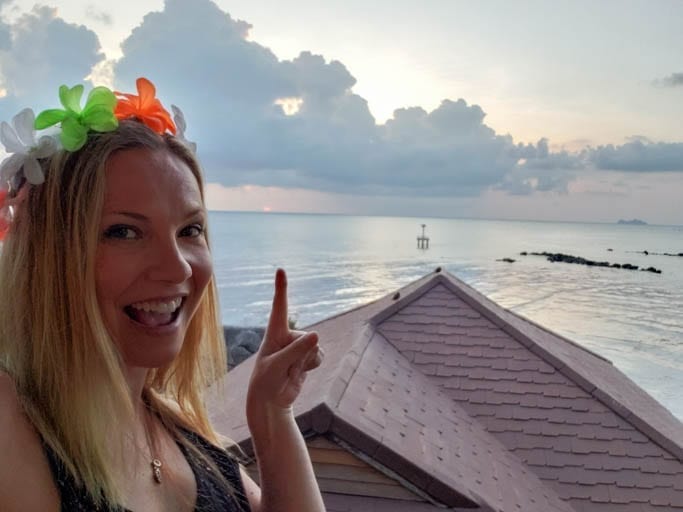 On my walk to the party, I stopped to add a splash of neon paint to my arm.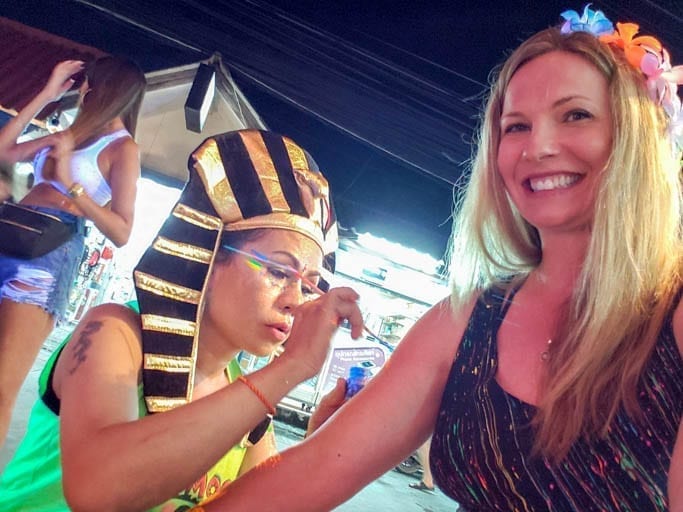 And I was officially ready for Thailand's Full-Moon Party!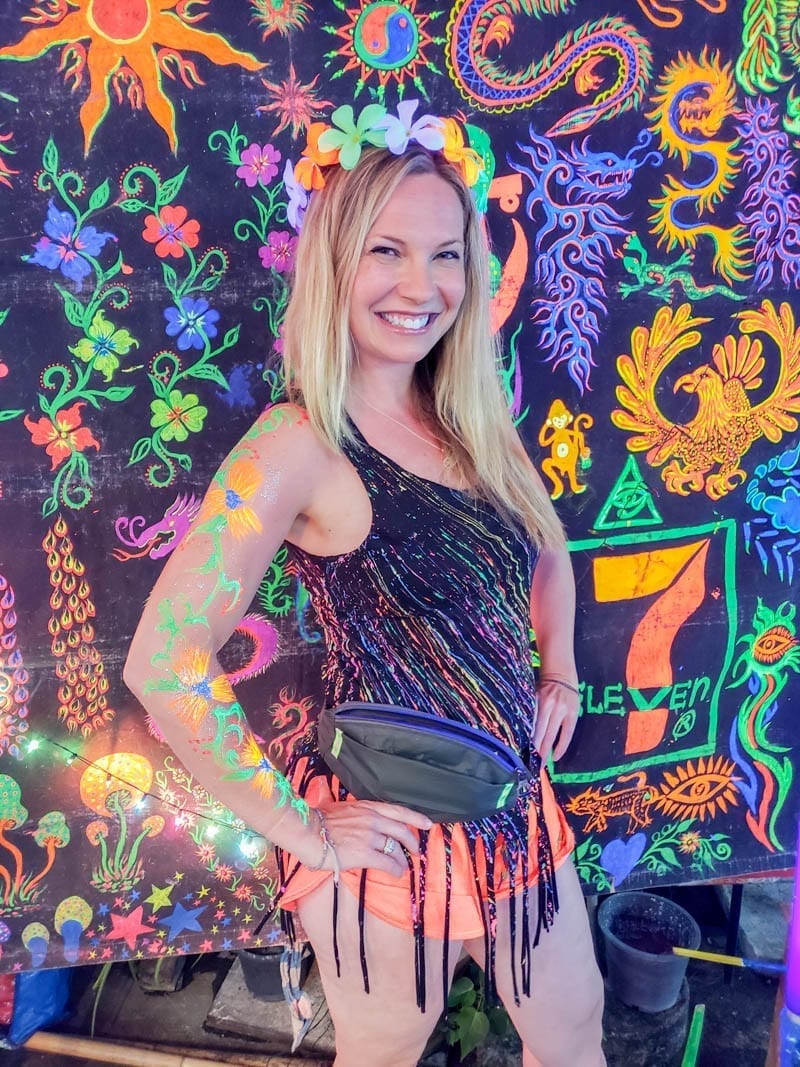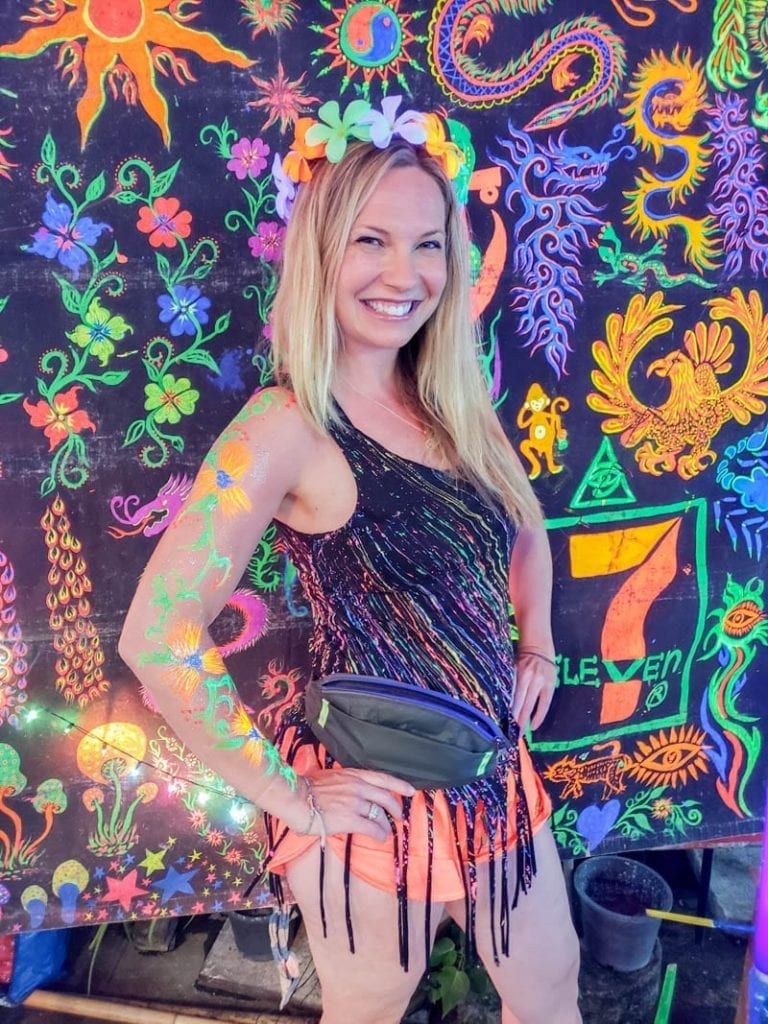 I had heard that the Rock Bar & Restaurant at the north end of the beach allowed for a quieter scene and a place to overlook the madness, and this piece of intelligence proved fruitful. I watched as people jumped over ropes of twirling fire and performed the limbo under sticks full of flames. (Fire and booze seem like a bad combination to me, but who am I to judge?)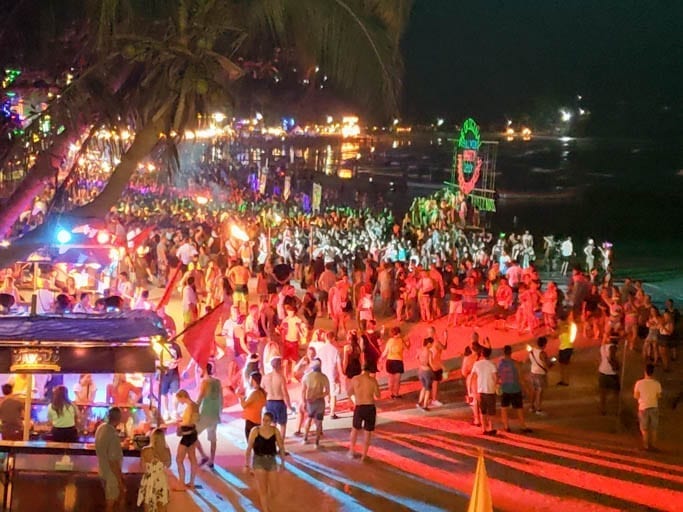 It's at the Rock where I met my Full-Moon crew, teaming up with a Canadian woman named Taz who invited me to join her table.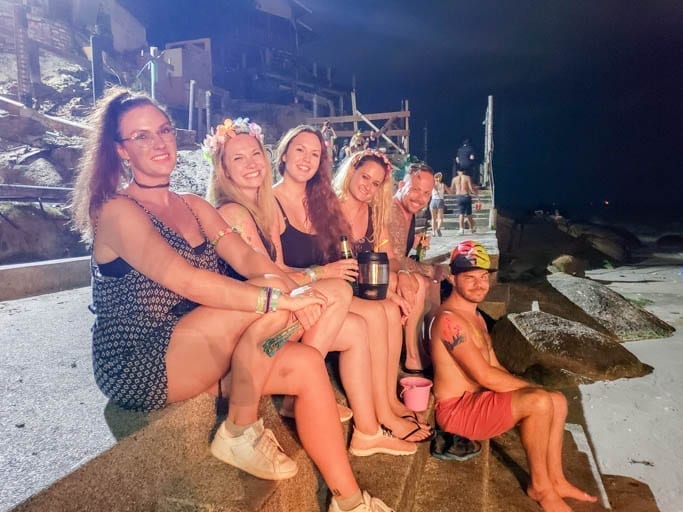 We walked together across the beach, singing 90s rap at one bar and flailing about in some form of failed house dance at the next – laughing all the way. Upon reaching the south end of the beach, I realized that my rickety porch from earlier that day is actually the famed "Mellow Mountain" named for the hallucinogenic shakes sold inside the dilapidated building.
While I did not opt for a mushroom shake…this did happen somewhere around two in the morning.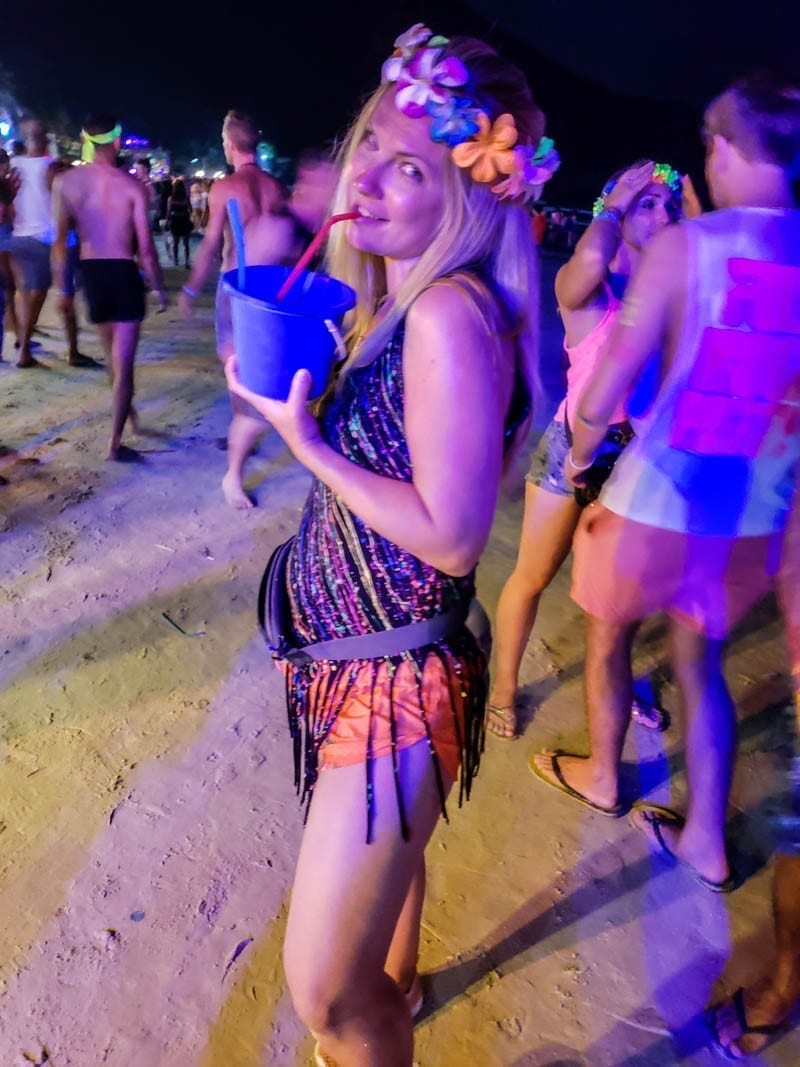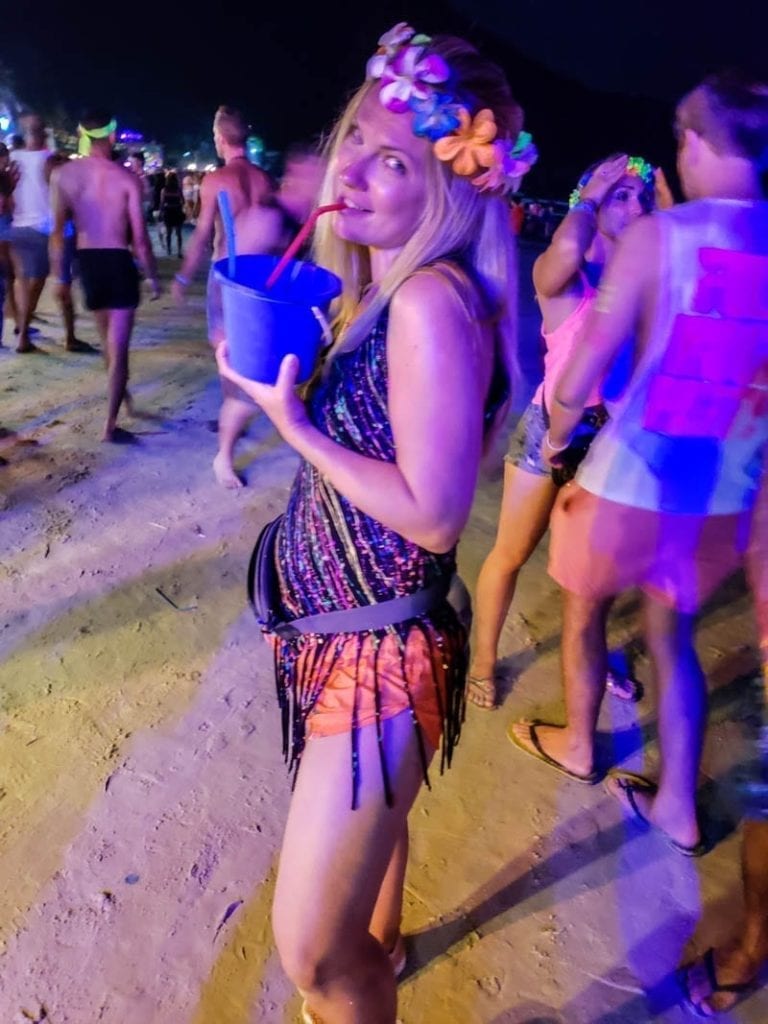 And then – after a night filled with dancing – the sun was somehow already rising.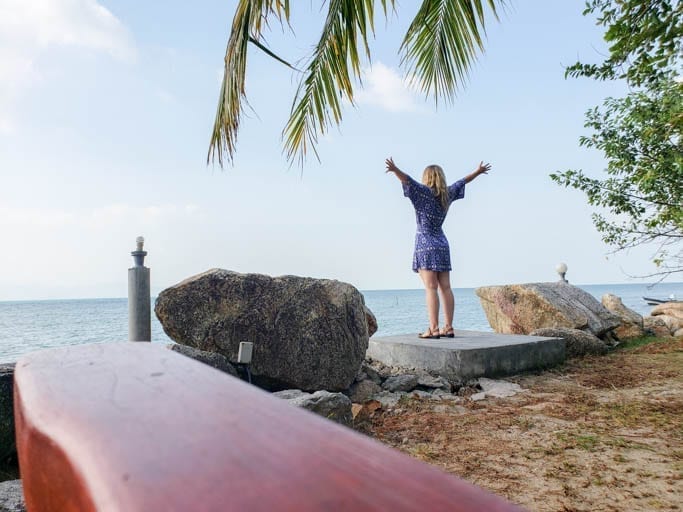 While the Full-Moon party isn't something I need to do every month, the experience taught me to keep my heart open to all experiences. (And it was totally worth the booze-bucket hangover.)
Update 2020: It was here at the Full Moon Party on Koh Phangan in Thailand that I started on my sustainability journey. Read about how the Full Moon Party changed the way I travel here. Or read other life lessons from spending 45-days traveling through Thailand solo.