What To Do in Canggu, Bali
Hey there! This post may contain affiliate links, which means I'll receive a commission if you purchase through my link, at no extra cost to you. Please see my legal page for more details.
When I set out for the beach town of Canggu, just over an hour south of Ubud on Bali's southeastern coast, I didn't have any idea what to do in Canggu.
My whole goal was to go somewhere new with absolutely no plan at all and to say "yes" to any (reasonable) suggestion that came my way. So, when the first person that I met said, "you must learn to surf when in Canggu," I gulped a little.
I have written on this very blog about how I don't love beaches and how I dropped out of scuba-diving school, so I was, naturally, a little nervous that I would be sitting here writing yet another blog post about my dubious relationship with water.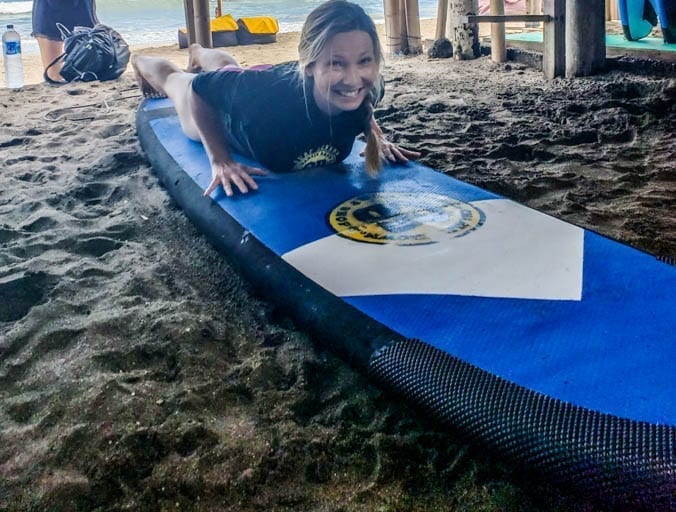 But it turns out that I love being above water! I love the feeling of gliding over the waves. And it was even better with my surfing instructor Luki cheering me on.
Where to Learn to Surf in Canggu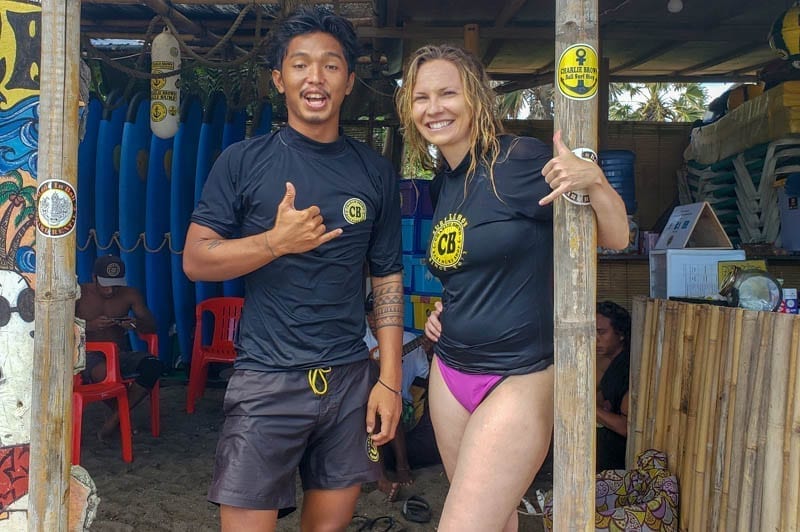 Without one-on-one instruction, I would probably be sitting here typing about the two hours I spent choking on water. Instead, I'm typing away with arms that are still a bit sore from pushing my body into a successful standing position on top of the long and low waves in front of Charlie Brown Bali Surf School.


Luki dragged my board back to the safety of the beach, brought my board out to the waves, held the board for me when I jumped onto it, and pushed me into the waves at just the right moment.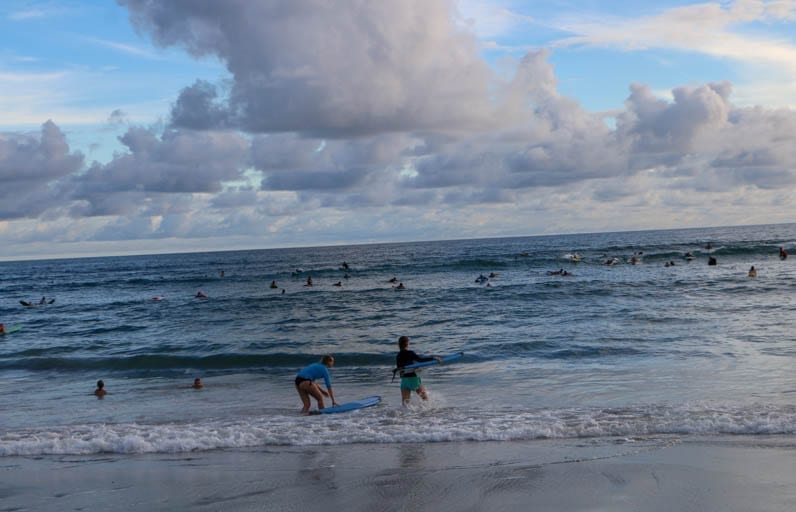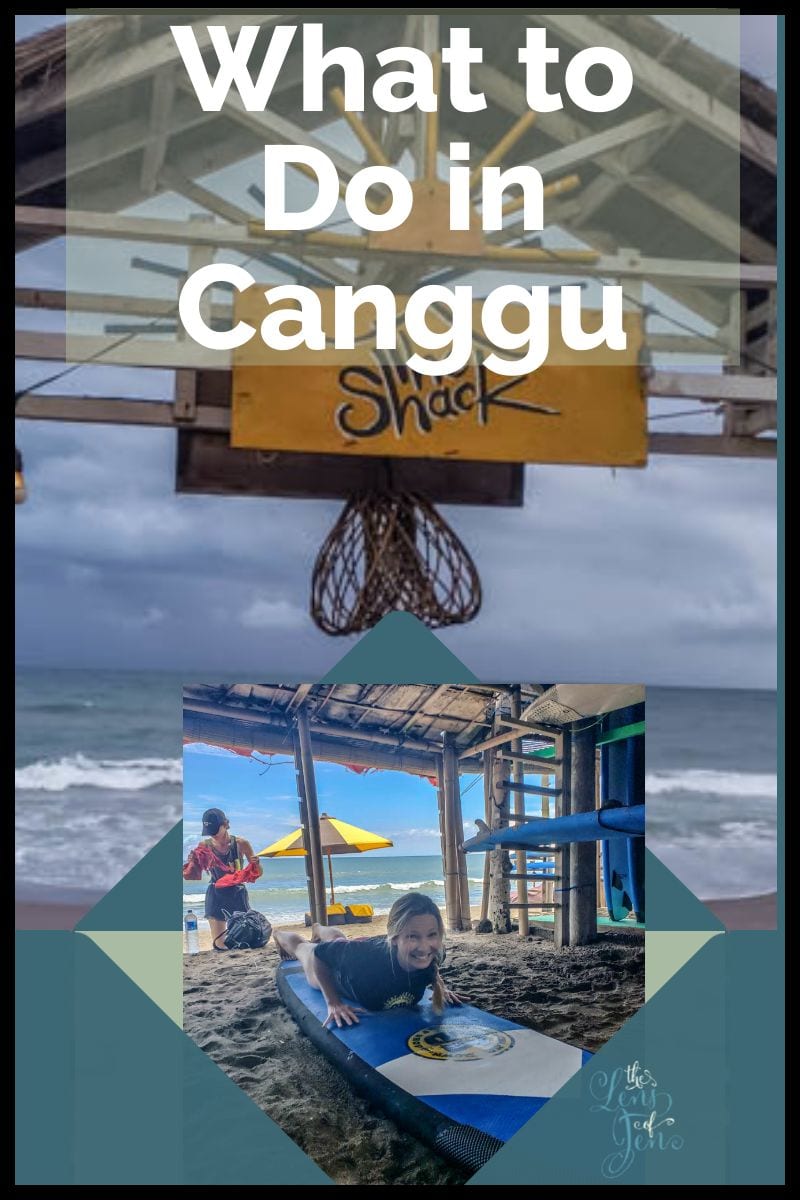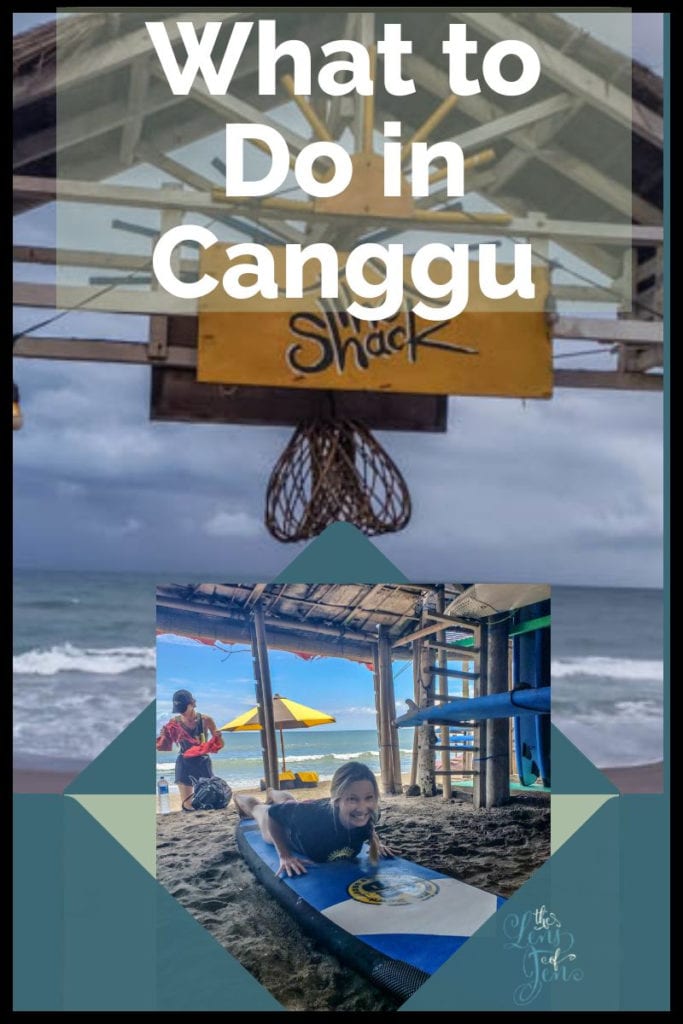 I mean, I was a bit wobbly and I performed my fair share of nose dives, but that's just part of surfing.
Surfing is really a lesson in resilience. Even when you catch a wave just right, you're going to fall at the end. It's all about accepting that nine times out of ten, you're going to fail, but knowing that it's all worth it for that one time in ten that you literally walk on water.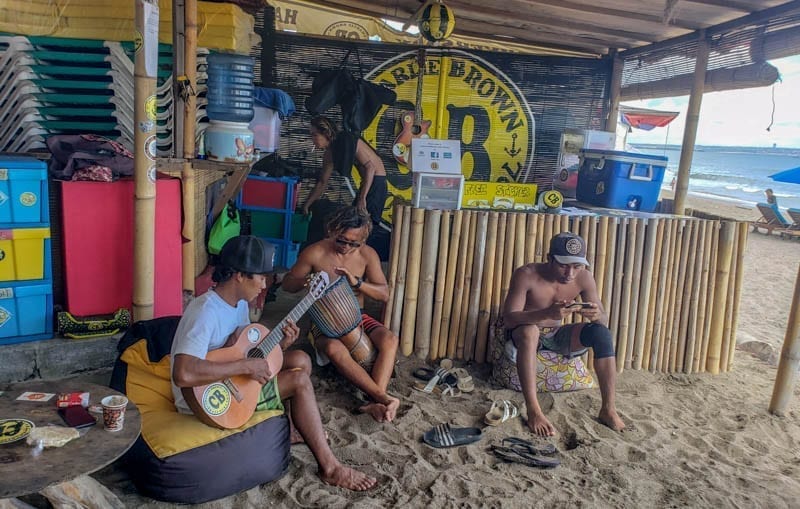 And there is nothing better than relaxing tired limbs while watching the sunset over waves that you feel like you know, and joining in on a little impromptu jam session!
I don't remember what I paid for two hours of one-on-one surfing instruction at Charle Brown Bali Surf School on Batu Bolong Beach, but it was VERY reasonably priced. I do remember that it's cash only.
Transportation in Canggu
The best way to get around Canggu is to rent a scooter. But, if you're like me and you're not quite ready to drive your own scooter, ride-sharing apps are available…but a bit of a challenge in this part of Bali.
There are signs posted all over Canggu banning ride-hailing apps like Grab and Go-Jek (the Asian equivalents to Uber and Lyft) and even Blue Bird Taxis.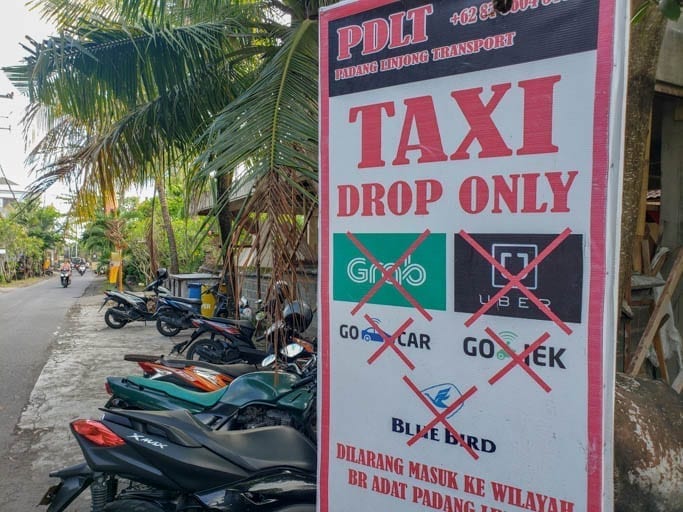 The result is a confusing jumble of legal taxi "stands" in which men will find a scooter or car for you after a bit of haggling. Though scams abound, this system tends to work well most of the time. However, I simply prefer the ease of an app and the upfront rate (that tends to be cheaper anyway).
The man at the reception desk of my accommodations understood my plight and knew how to order me a scooter to a legal pickup point. (The night before, the bartender at the Sedasa drove me on the back of her own scooter when I couldn't find a ride.)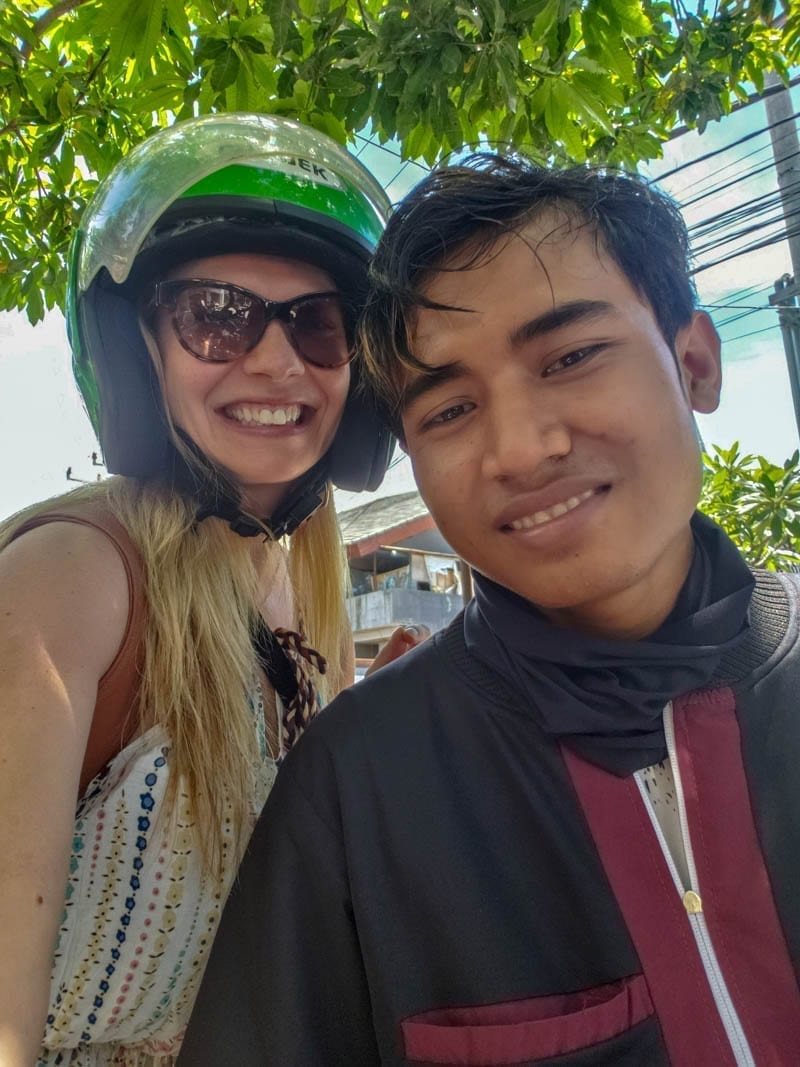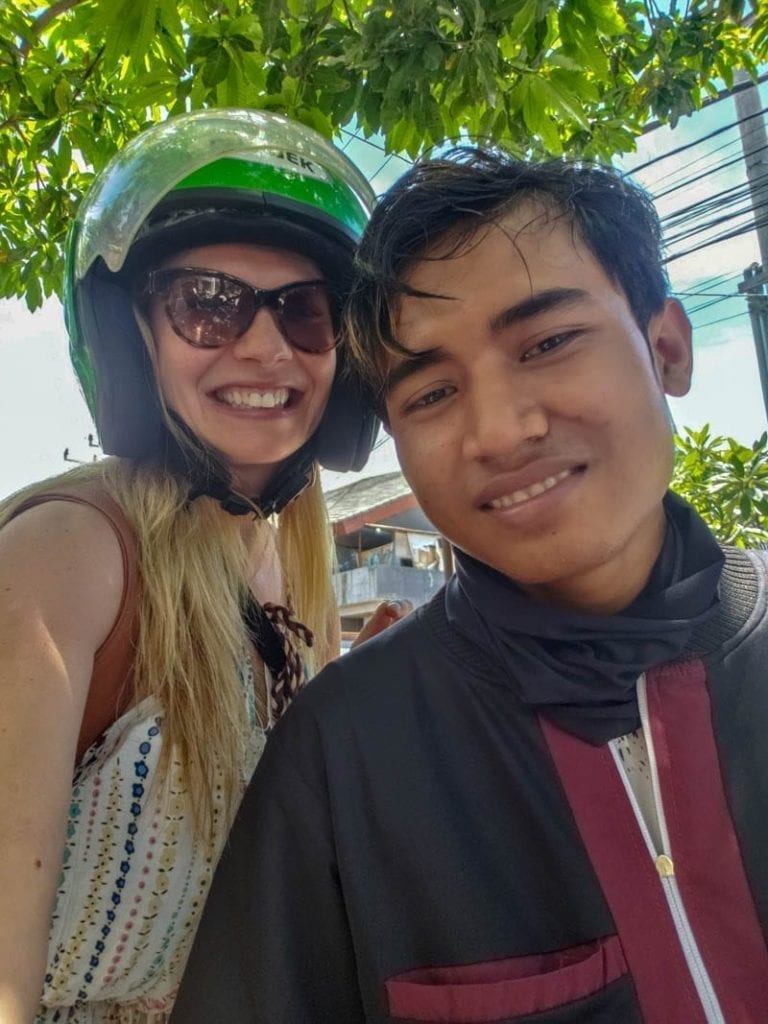 With the help of the front desk at my lodging, I met a Go-Jek driver at a legal pickup point, and in no time (and for less than $1 USD), I was standing in Seminyak, a beach town that is a big brother, of sorts, to the smaller Canggu.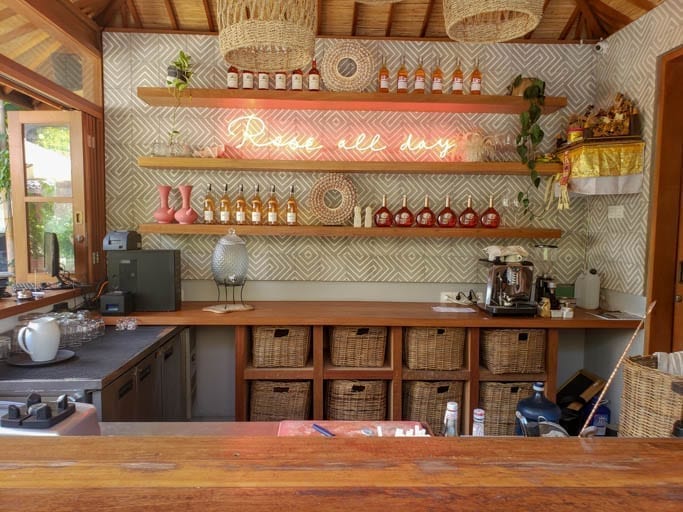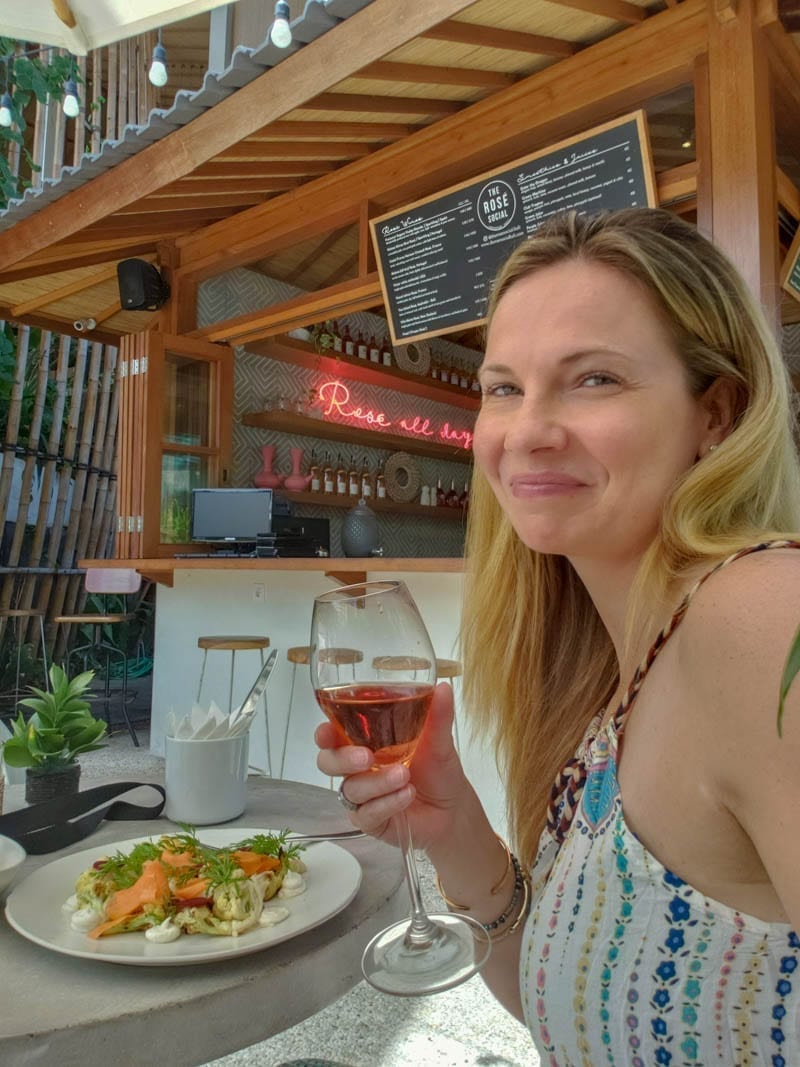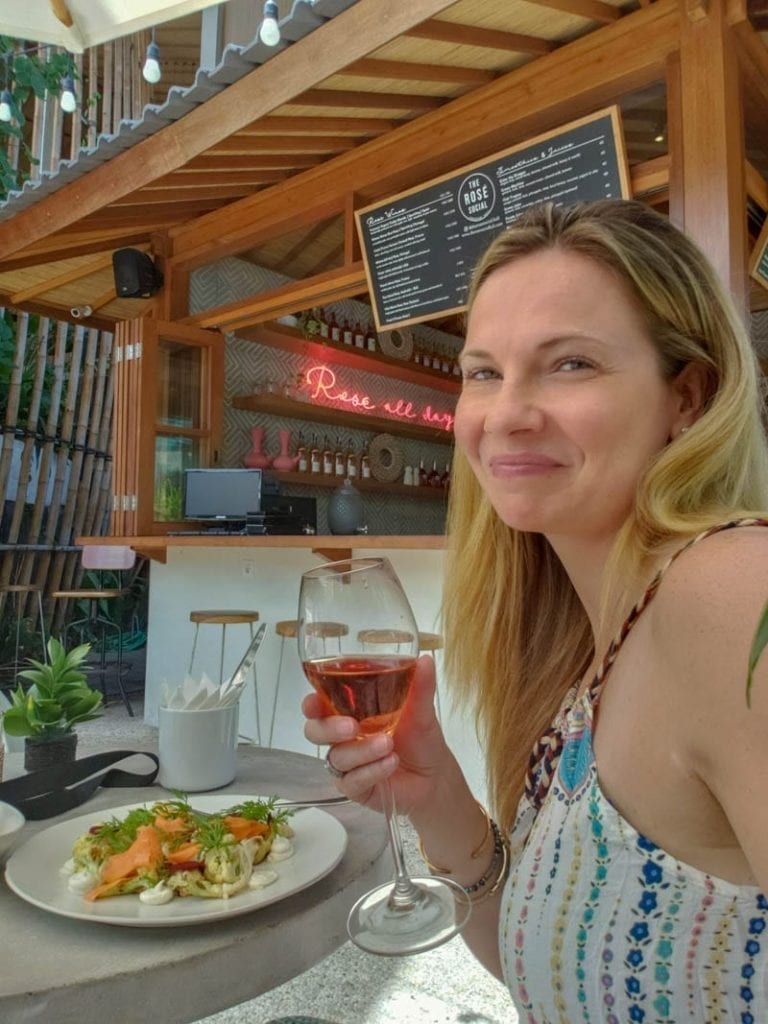 Fueled up on vegetables and rosé, I took a stroll through Seminyak, ducking in and out of the endless shops that line the streets. I stopped at one of the many bars filled with Westerners drinking champagne and Bintang and decided that I missed the quiet, artsy vibe of Canggu.
Where to Watch the Sunset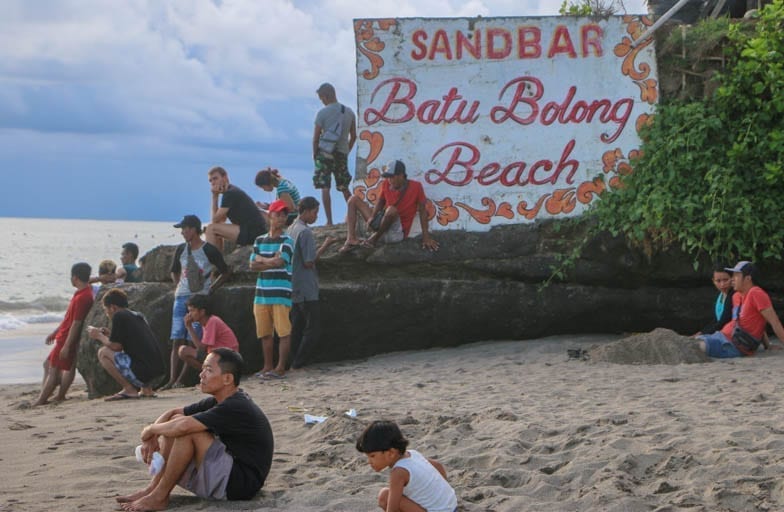 Back at the beach, I found the Sand Bar setting up for a musical open-mic night. While the sun was setting, musicians from all over the world borrowed a guitar and played with the band. This was much more my jam.


Where to Stay in Canggu
I absolutely loved staying at the Sedasa Lodge. It's a little off the beach, but I already mentioned how the bartender, Maha, gave me a ride when I needed one. They are more than willing to help with transportation and any other issues.
They also upgraded my room, which cost about $30 USD per night.
But the service goes further than that! When I left the Sedasa, I found the sweetest of surprises. Maha, the server who had driven me on her scooter, and another Sedasa staff member, Novi, were waiting to send me off with a bunch of sunflowers.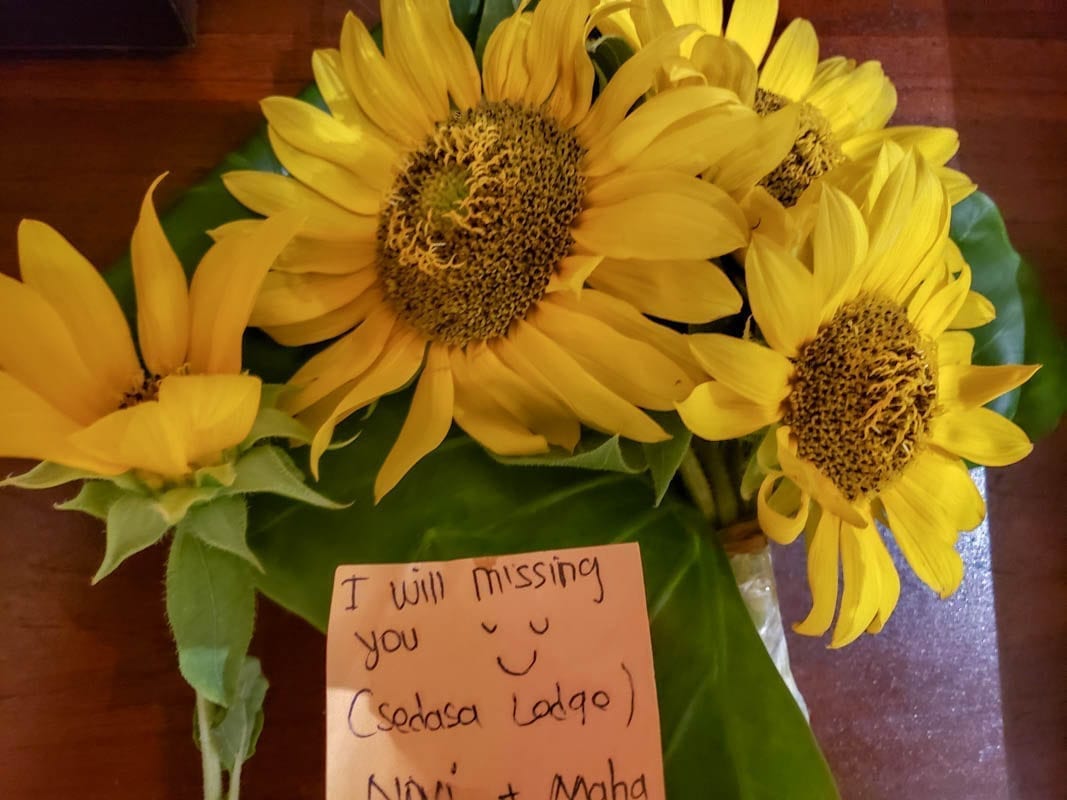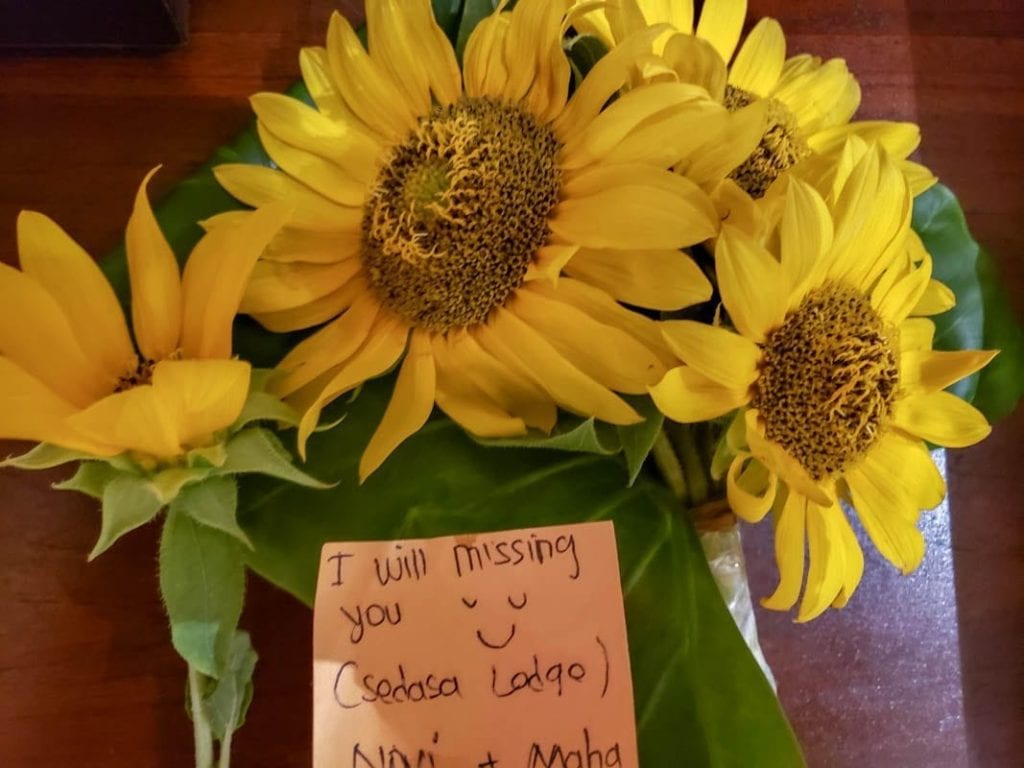 There was no way for these two sweet women to know that sunflowers serve as a guiding sign for me. They were my late partner's favorite flower. I was moved to tears. And I rode back to Ubud with a smile.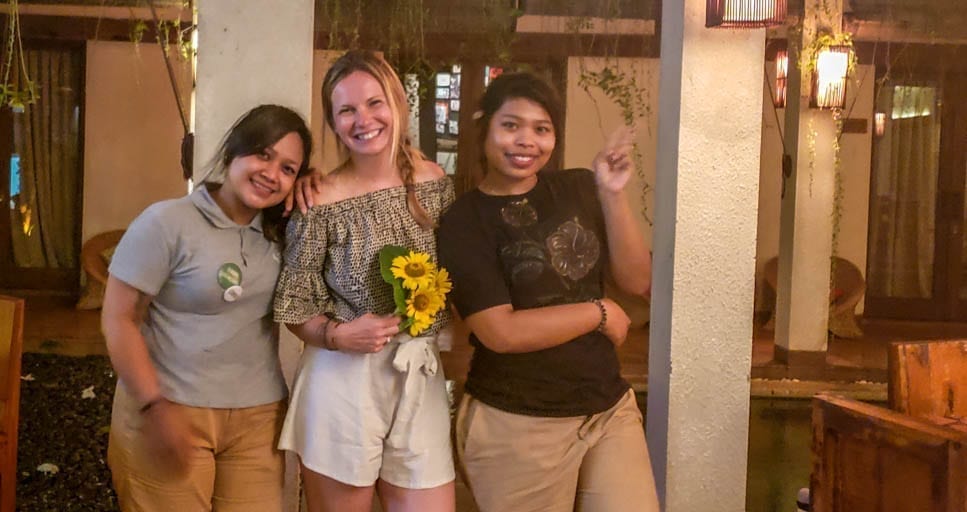 But if you're looking for somewhere else to stay in Canggu, here's a map with available accommodations: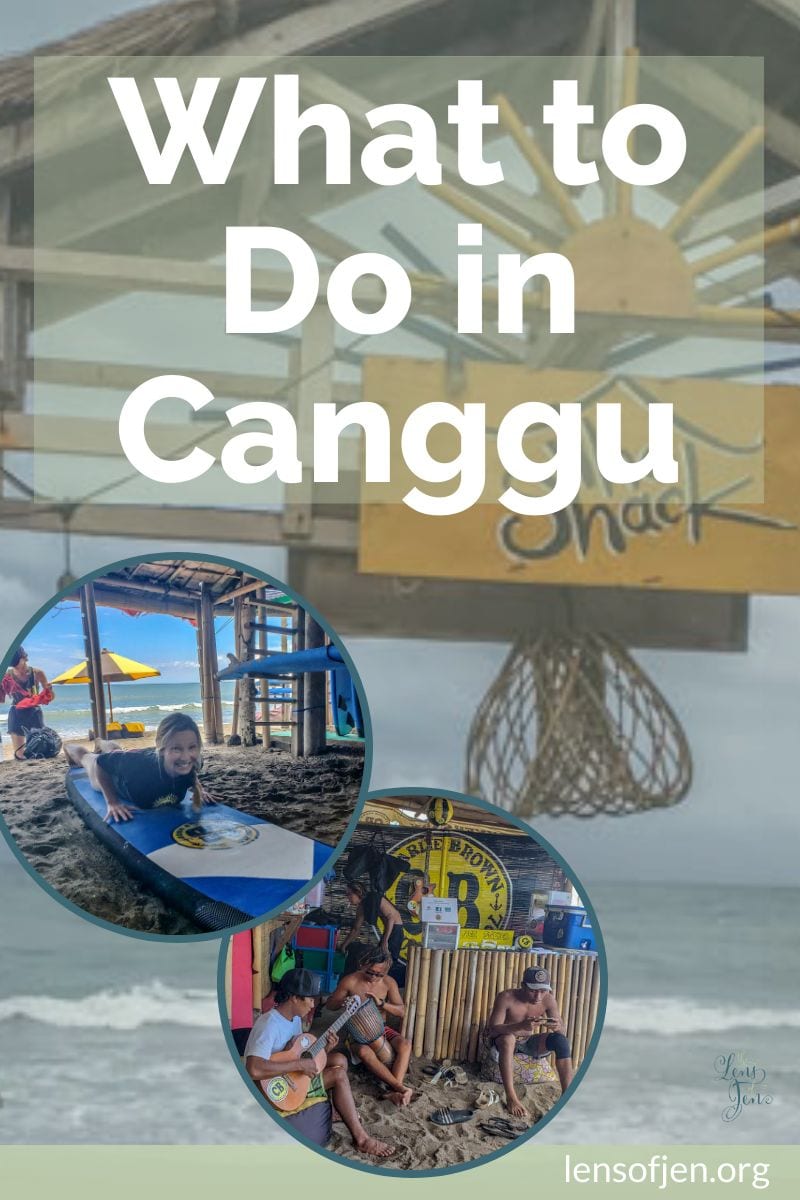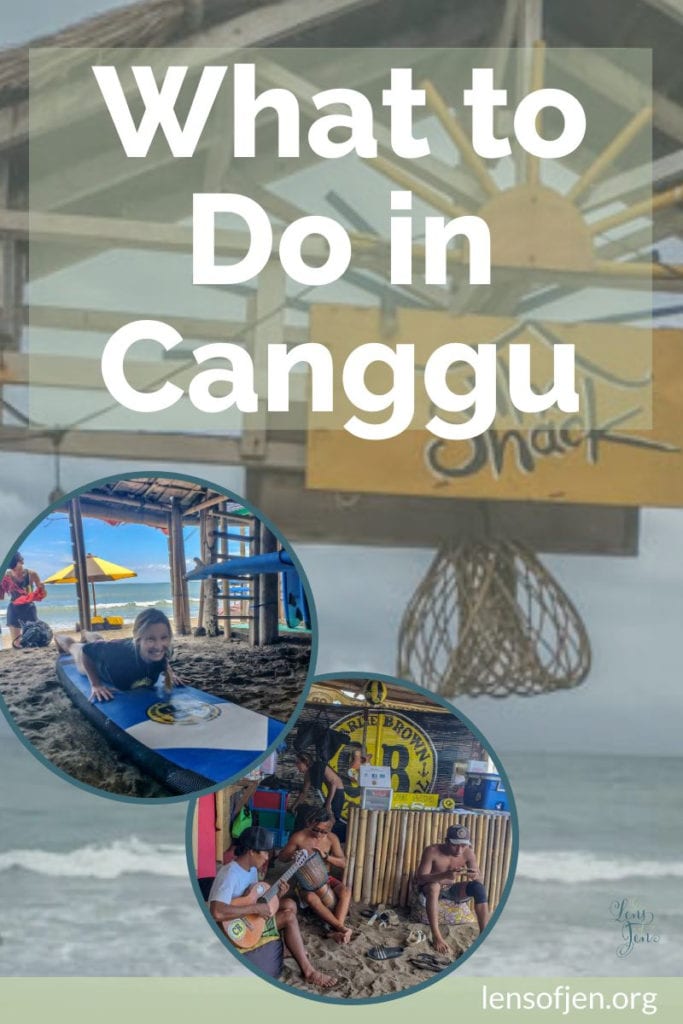 If you liked this post, you'll love my other posts on Indonesia! And please check out my page on seeking more from life and from travel where we do things like head to beach towns in Bali with no plans!
And be sure to check out this free guide to making friends while traveling: