Malaysian Street Food Tour: Part 2
Hey there! This post may contain affiliate links, which means I'll receive a commission if you purchase through my link, at no extra cost to you. Please see my legal page for more details.
Our group of food tourists is dutifully following our guide through the rain of Kuala Lumpur on part two of this Malaysian Street Food Tour.
If you're joining us from Part One of this tour then you know that our guide Fadly has already taken us to street-food stands and local haunts throughout the village of Kampung Baru, tasting satay soaked in peanut sauce, burgers wrapped in egg and doused in Worcestershire sauce, squid stuffed with sticky rice and palm sugar, and cow lung deep-fried and dipped in chili paste.
Now it's time for the farmers' market and the forbidden fruit: Durian!
Let's dive in!
This Malaysian Street Food Tour is Getting WET!
And now as the sun sets and the skies open up, soaking the streets and sending little rivulets of water between the meat stations and produce vendors, Fadly says it's time to learn our way around the farmers' markets of Kuala Lumpur!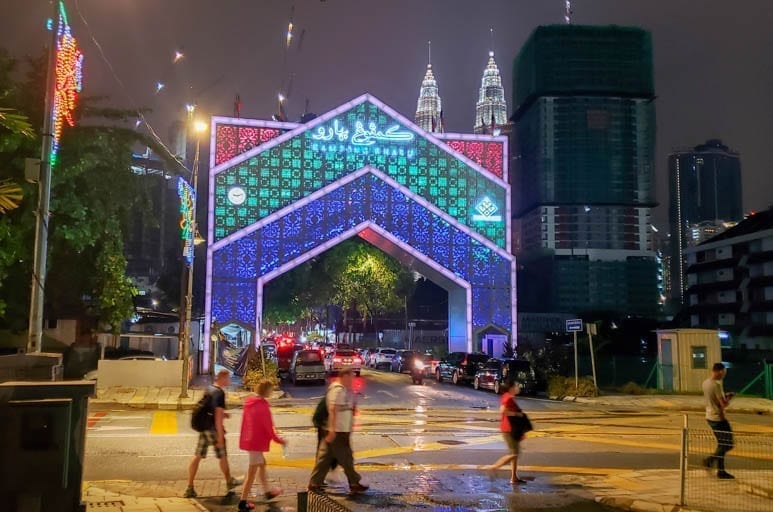 For places to stay near the awesome area of Kampung Baru in Kuala Lumpur:
First Stop on Part 2 of this Malaysian Street Food Tour: the Meat Market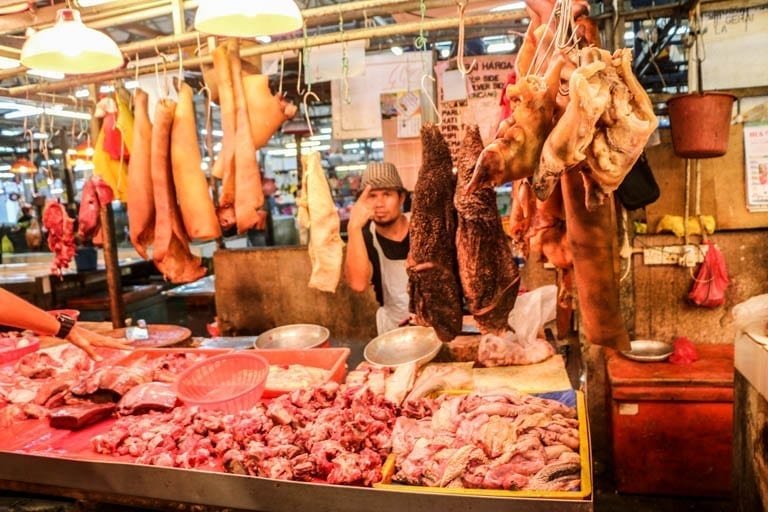 Now, I find most markets fascinating for the cuts of meat and piles of fish that I've never seen and have no idea how to purchase, and this market was no exception. Fadly showed us how to easily navigate the meat stands of Kuala Lumpur.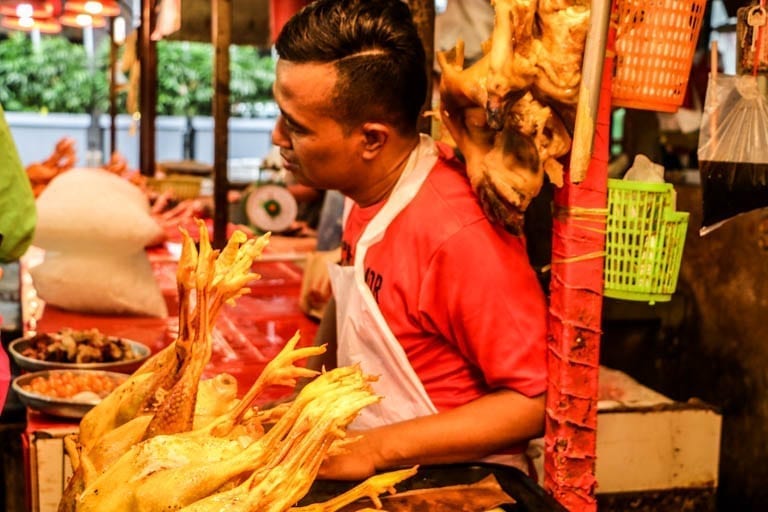 For instance: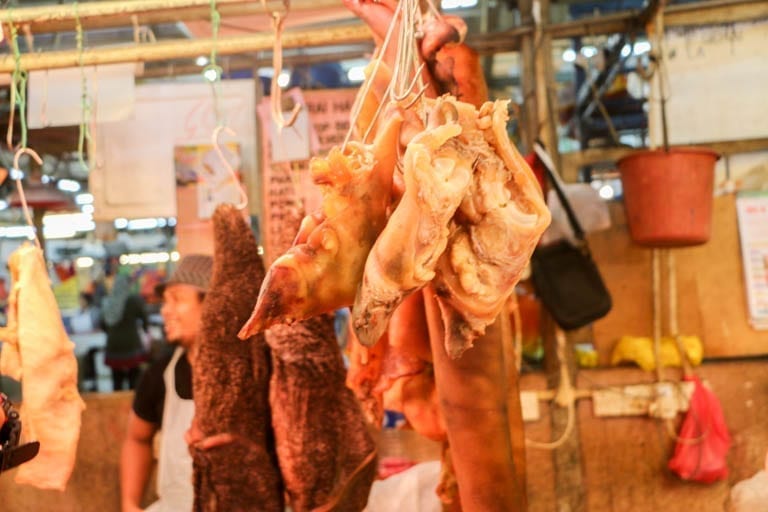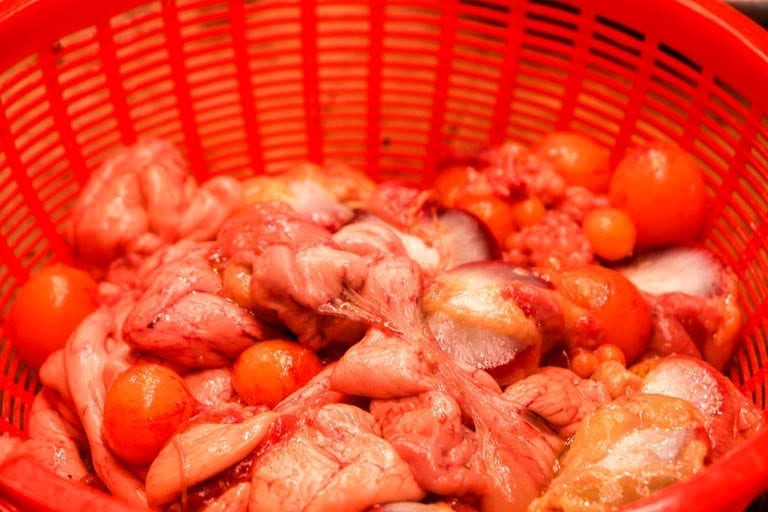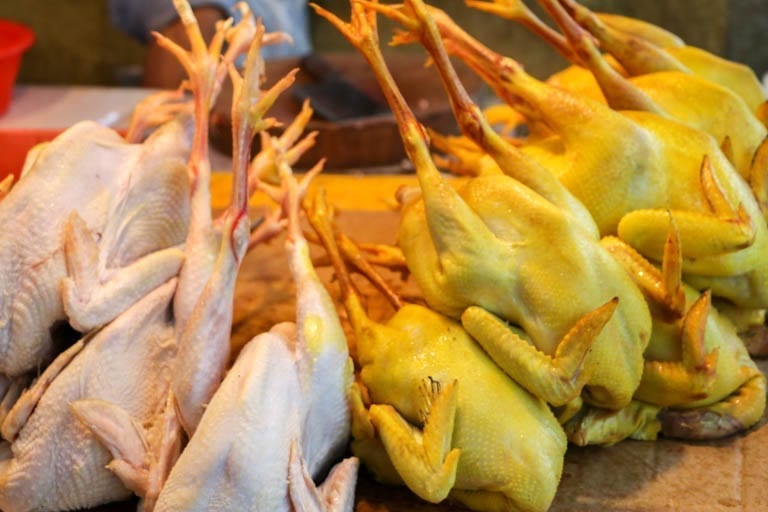 On to the Herbs!
After the meat market, we head for the produce section of the market, even as the rain thickens around us. Fadly rounds up umbrellas and dons a plastic bag for a hat, and – undaunted – we are off!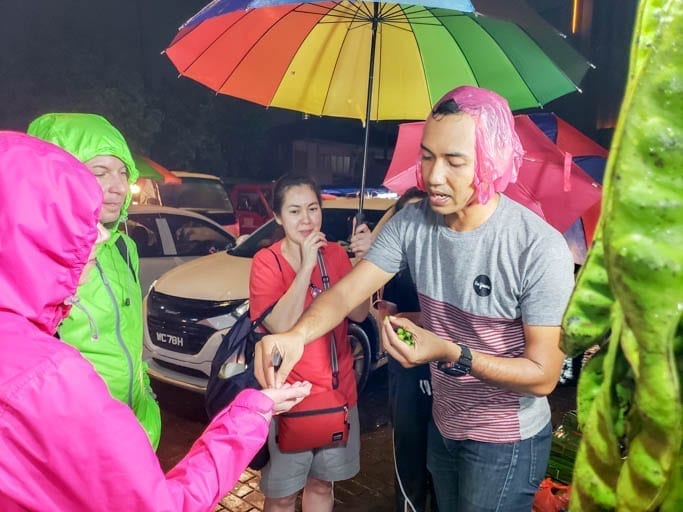 As we learn our herbs, I am especially taken by the fresh lemongrass. I can see why this herb is used in so many of the dishes that we tried that day. It has a light taste, but it lingers.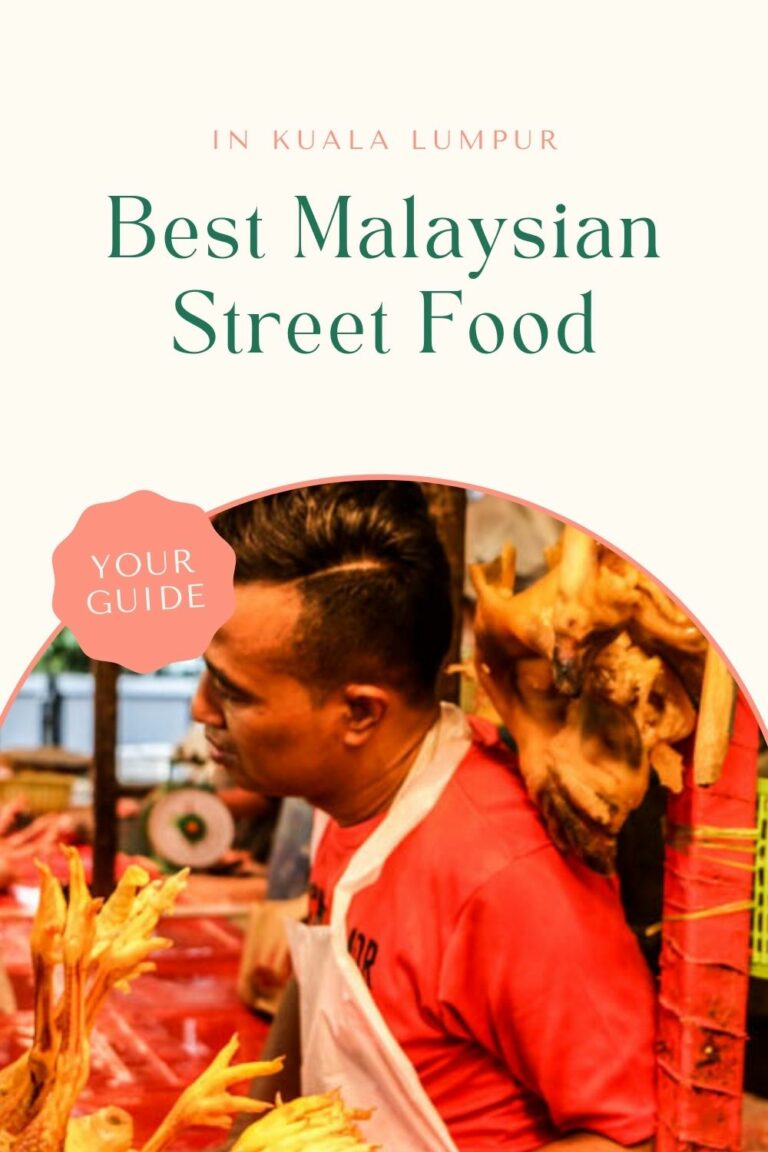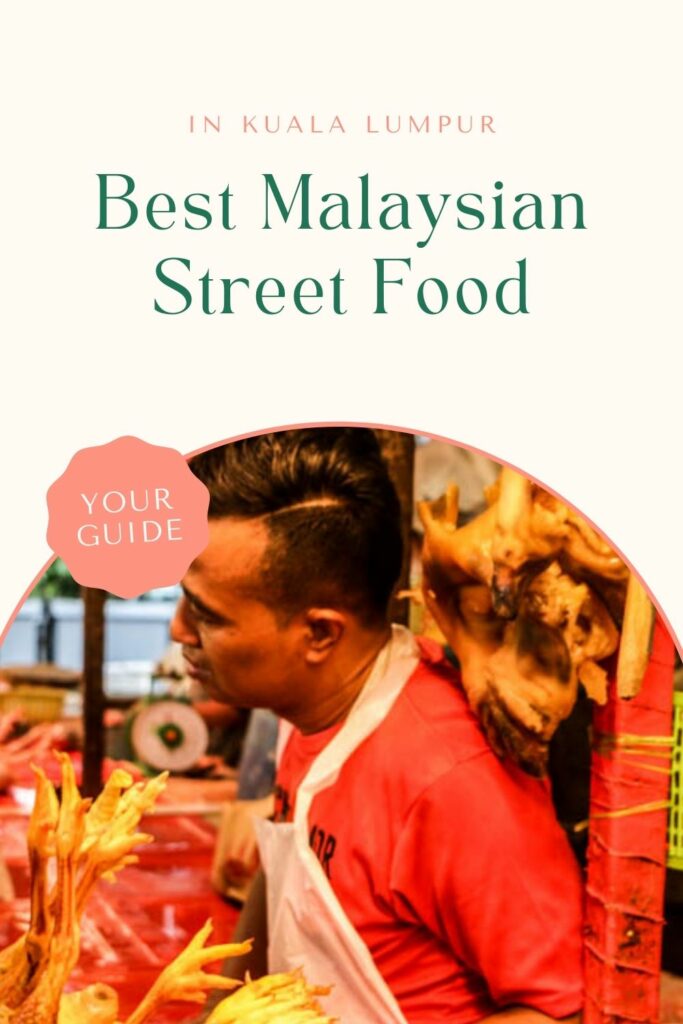 When we reach a stand piled high with coconuts, Fadly explains that the coconut paste used to flavor so many curry and rice dishes in Malaysia is a seriously high-maintenance ingredient.
During his childhood, Fadly knew playtime was over if he saw his mom bring out coconuts. It was time, instead, to start grating, toasting, and pounding the fresh coconut meat into a paste called kerisik. For this reason, pre-made kerisik is a popular ingredient to buy at the market.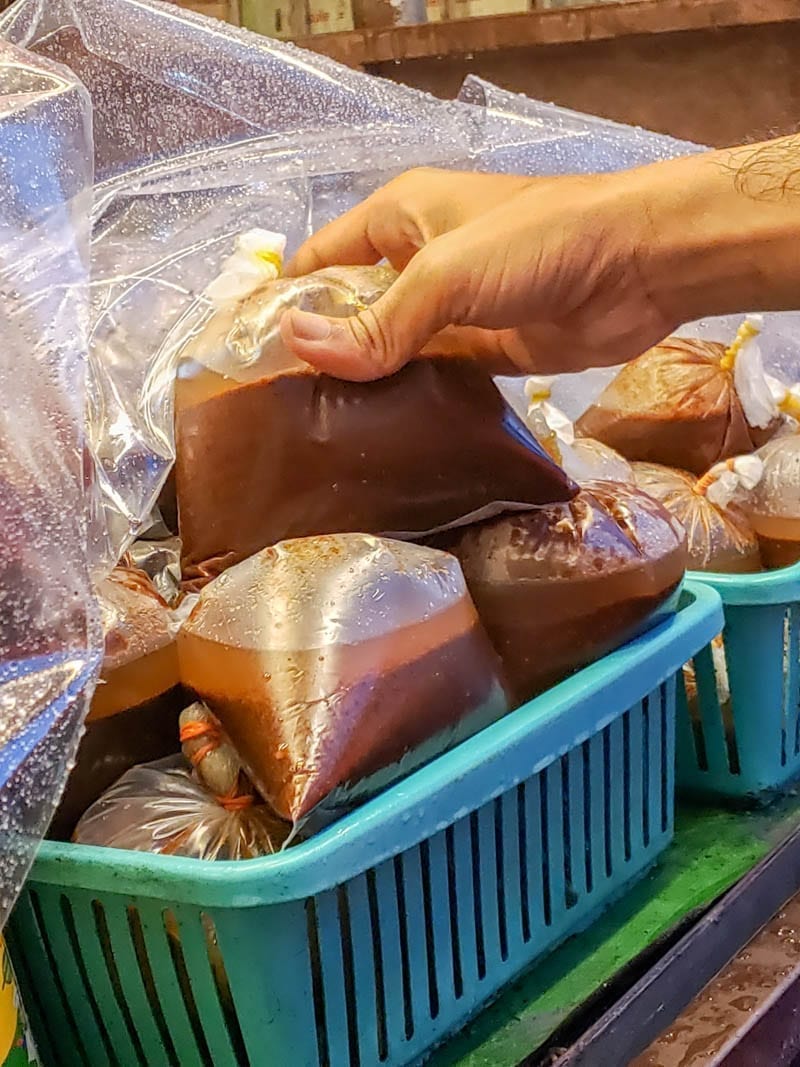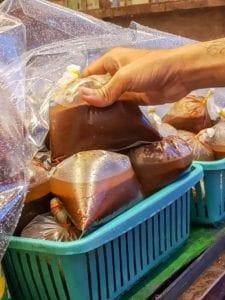 Now it's Time for the Forbidden Fruit(s) of this Malaysian Street Food Tour
At the fruit stands, we try some of the familiar and some of the unknown (but delicious) fruits that I've been devouring in morning fruit salads across Southeast Asia: dragon fruit, star fruit, rambutan, mango, and my favorite, mangosteen.


Digging into mangosteen is no easy task. Its juicy purple shell surrounds a cool, refreshing white fruit that falls apart like segments of an orange. But the purple juices from the fruit's outer protection stains anything for which it comes in contact. This is why hotels throughout Southeast Asia ban this delectable fruit that is known as the "queen of fruits" in the region.
This knowledge solved half of a mystery for me. I couldn't figure out why there were signs like this all over Thailand and Kuala Lumpur: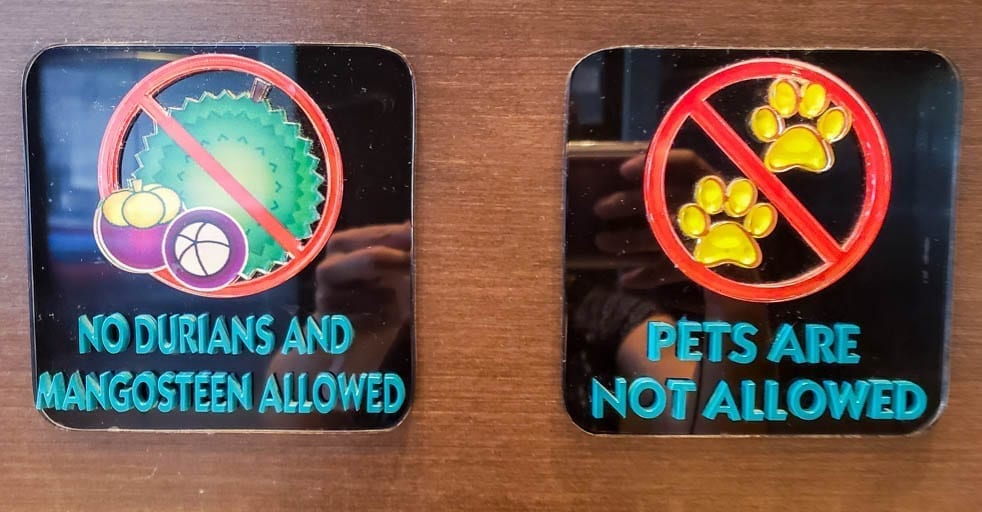 As we rinse purple-stained fingers in a water basin, I understand the ban on mangosteen (which was also banned in the United States for a long time due to concern over importing fruit flies).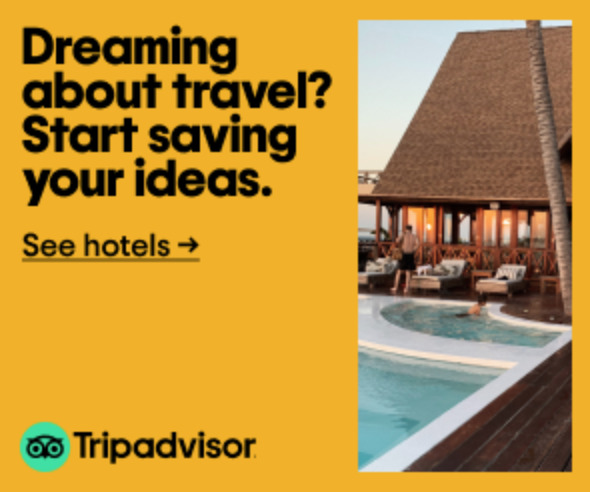 But what about durian? Why were there so many signs banning this fruit?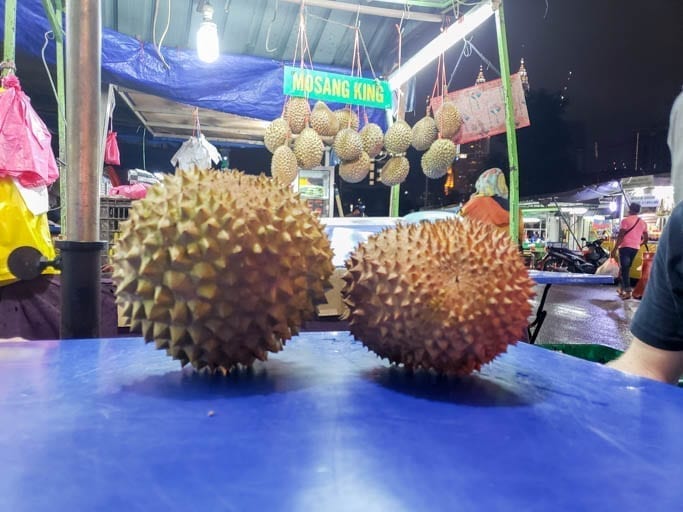 I am about to find out the hard way!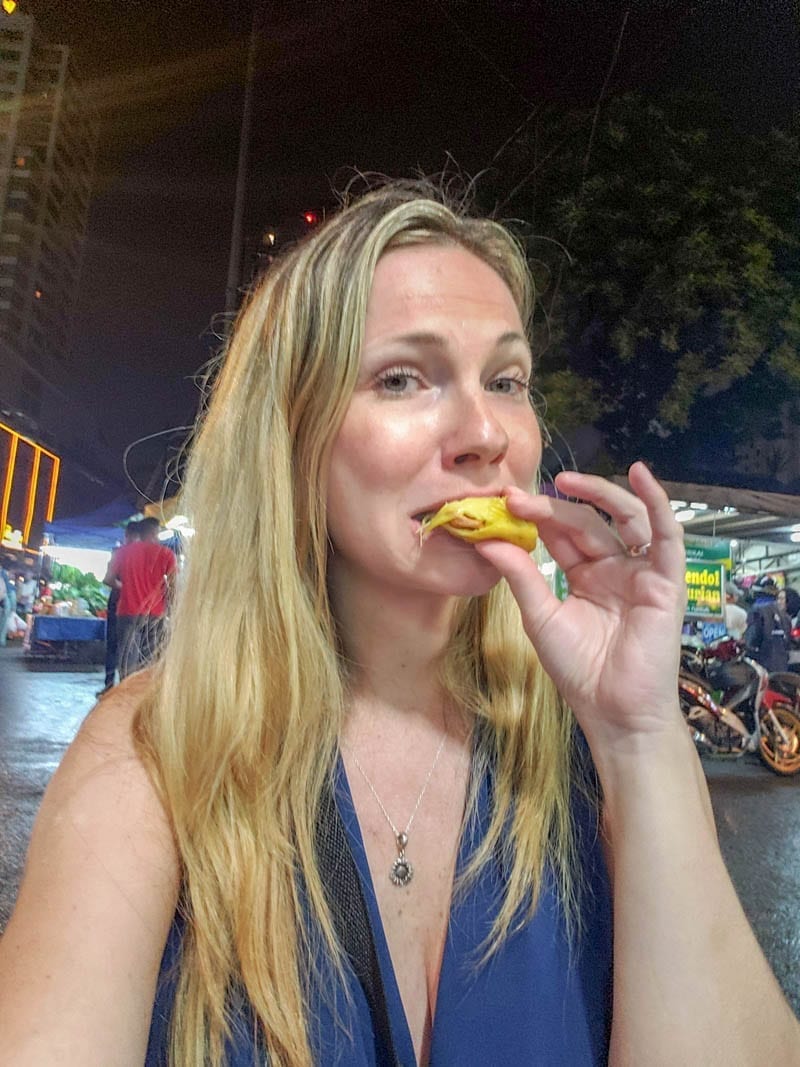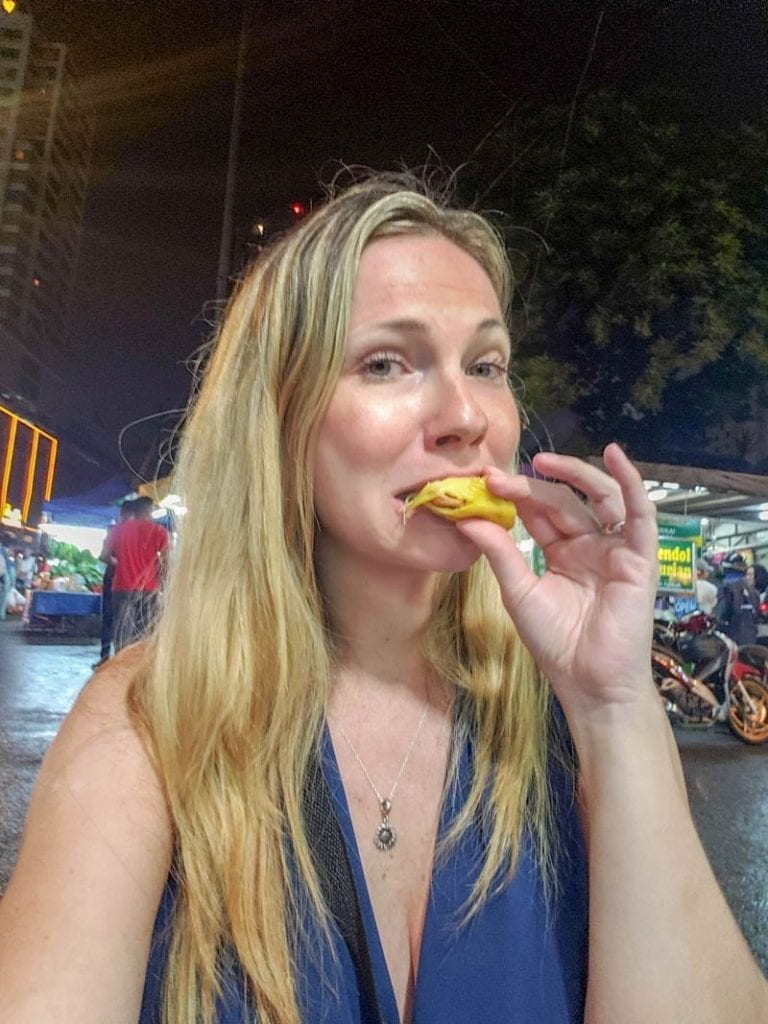 It's the smell, you see
The smell permeates from the durian stand, even though the thick, spiky shells of the fruit. And as Fadly breaks open a durian and hands us each a piece, I seriously think that an entire locker room full of post-game hockey players had just taken off their skates and put their sweat-soaked socks on the table. Some of my fellow foodies smelled stinky cheese but, for me, it was sweaty feet.
Fadly made us promise to take three bites, explaining his logic this way:
To his credit, I did start to like the fruit after the third bite (once I got over the smell). Not so much for my German friends: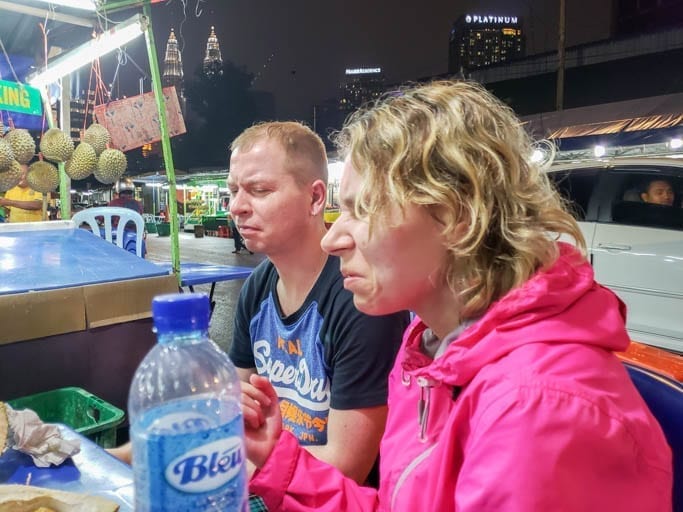 That wraps up this adventure of a Malaysian street food tour through Kuala Lumpur. Now you know how to buy beef knuckles, peel mangosteen, and endure the smell of the durian fruit! Cheers!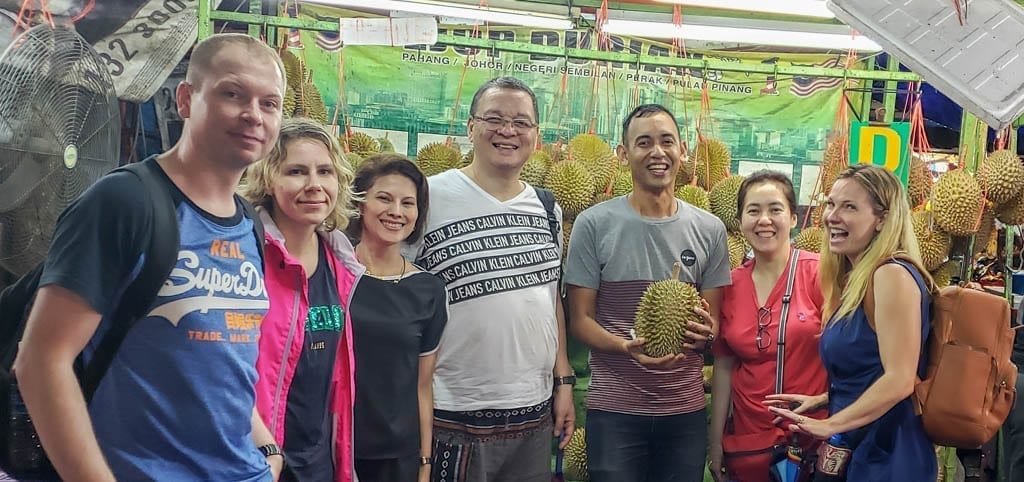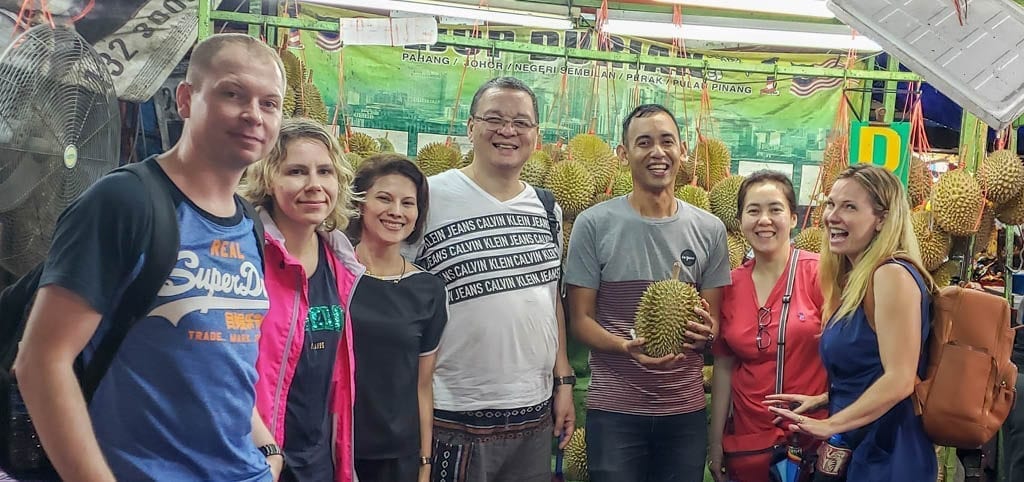 How to Find a Street Food Tour in Kuala Lumpur
I am not sure if Fadly is still giving his Malaysian street food tour in Kuala Lumpur. When I updated this post in August 2021, I couldn't find Fadly's tour.
But I did find these food tour options for you from TripAdvisor!
And here are other activities while in Kuala Lumpur:


About the Author
Hi! I'm Jen!
I'm a freelance writer and travel blogger who quit my nine-to-five after my fiancé, Jeff, died of cancer at the age of 40. When he died, I realized that life is just too short to delay our dreams. Since my dream was to travel and write, I now travel and write full-time. Today I wear hiking boots instead of heels and collect experiences instead of things.
You might also like