Baamonde to Miraz to Sobrado: Days 31 and 32 on the Norte
Hey there! This post may contain affiliate links, which means I'll receive a commission if you purchase through my link, at no extra cost to you. Please see my legal page for more details.
The Day We Lounged and the Night We Nearly Missed Curfew
On days 31 and 32 of the Camino del Norte, we made new friends, joined a communal dinner, picnicked in a field, and almost got locked out of a monastery.
But that wasn't exactly the plan.
No, the stage we planned for Day 31 was from Baamonde to Miraz, an easy nine-mile walk and a distance that was nothing to us by that point on the Camino, which might be why we had a couple of extra drinks on Day 30.
But, well, any distance is long when you wake up on a cot in a crowded albergue with a mouth so dry that you suspect you may have swallowed one of the hostel's disposable sheets.
We got a slow start, waving to our friends as they set out on their walks to Miraz or Baamonde. While we were feeling a little sluggish, we were pleased with the friendships we had forged.
That being said, we were happy to stop for the day when, about a mile out of Miraz, we came upon an unexpected albergue with people lounging in hammocks, playing games of cards, sharing six-packs purchased from an adjoining market, and doing all of the things that looked far more enjoyable than walking one more hungover mile. We immediately checked in.
Since we were told that there would be few options for food or accommodations until Miraz, it was a surprise to find the sparkling new Albergue a Lagoa. We accepted the good fortune and spent an afternoon sunbathing and reading on the large and inviting lawn.
That evening we joined the albergue's communal dinner for pilgrims, sharing carafes of wine, bowls of stew, and plates of pasta, meat and vegetables. I was thrilled to find so many vegetables in one place (it is hard to find vegetables on the Camino del Norte), so I piled my plate with fresh tomatoes, sweet corn and steamed greens, announcing that we had found Camino heaven.
After sharing a warming digestif with a group of Italian pilgrims, we went to bed early in preparation for a 17-mile walk to Sobrado dos Monxes and the famous monastery that doubles as an albergue.
The Sobrado dos Monxes Monastery on the Camino del Norte (Mind the Curfew)
On the morning of day 32, we stocked up on snacks at the market before walking to Miraz where we found many of the friends we had made along the route sipping coffee and filling up on eggs and croissants before the walk to Sobrado.
Alicia joined another group and Lizz and I set out for a 17-mile leisurely stroll, enjoying a picnic in a field before checking into the monastery. Established in 952, the Monastery of Santa Maria of Sobrado started a hospital for pilgrims sometime during the 12th century. The tradition of caring for pilgrims continues today with a pilgrim hostel.
Once settled in, we joined a group of old friends and new friends for a dinner filled with laughter, storytelling and wine. It was so much fun that we almost forgot about the monastery's strict curfew of 22:00.
We sprinted across a courtyard filled with startled diners, slipping through the massive monastic doors at 21:59 just before they slammed shut for the night. We giggled all the way to our bunks, deciding that it was the perfect end to a great day on the Camino de Santiago.
Lessons Learned on the Camino del Norte
When you feel like resting, do it! Your body needs it.
Whatever you do, do not miss curfew at a monastery. You will sleep outside if you do!
Tips from a Post-Camino del Norte Perspective:
While our stay at the monastery and albergue in Sabrado led to one of our favorite stories on the Camino, I wouldn't stay there again. Conditions may have improved but in September of 2019, the pilgrim hostel at the monastery needed a thorough cleaning.
Our Pilgrimage Stats After Day 31 & 32 on the Camino del Norte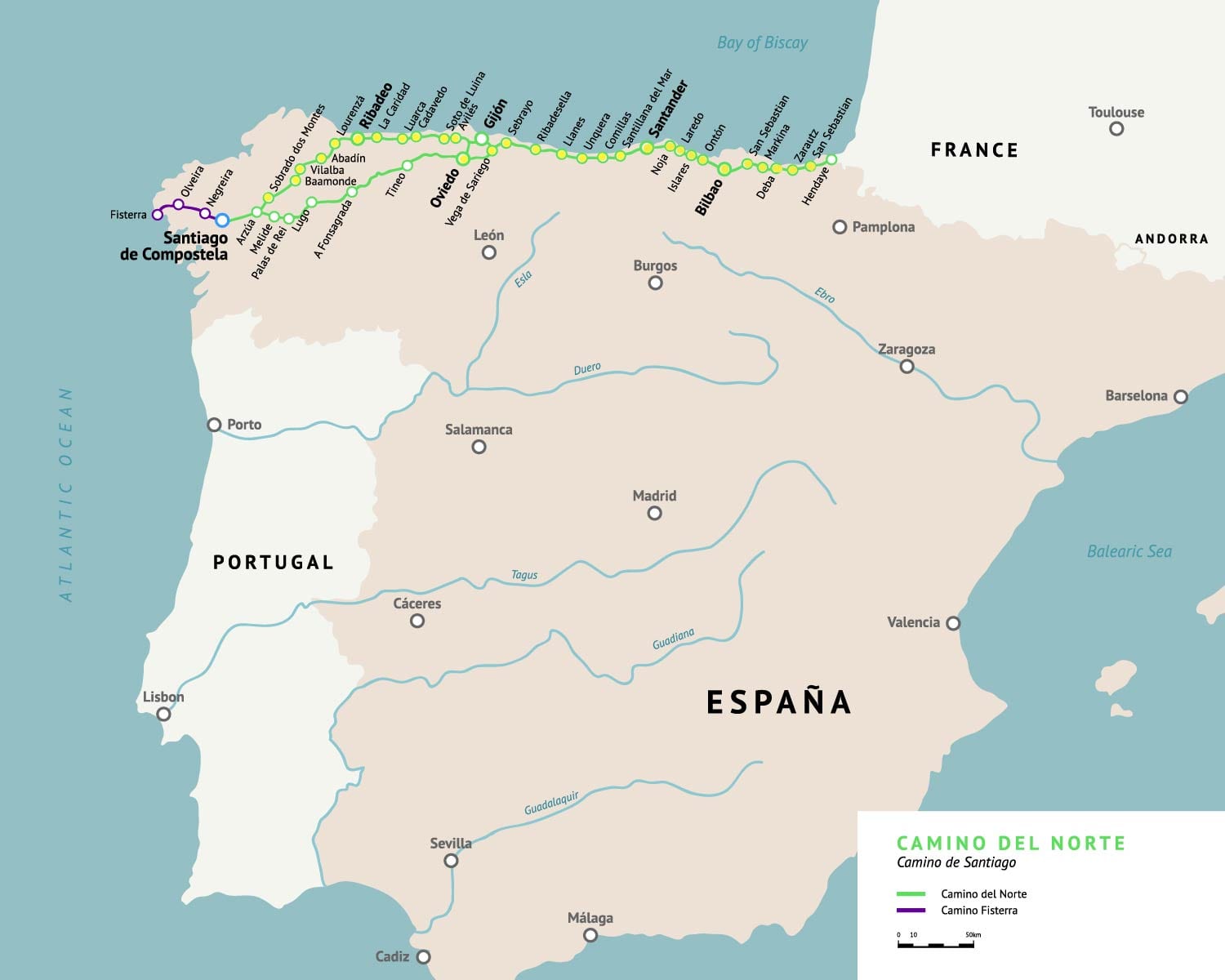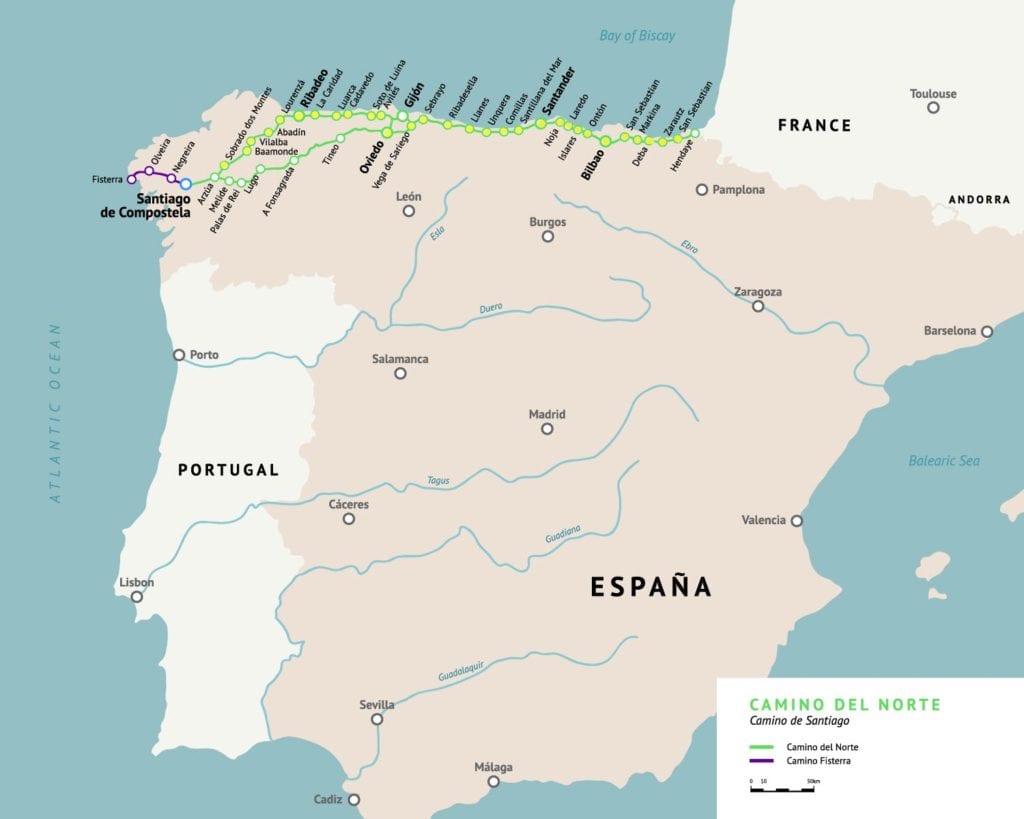 Stage Miles: 25
Actual Miles Walked: 28 (45 kilometers)
Bus forward Miles: 0
Total Miles Walked So Far: 397 (639 kilometers)
Additional Camino Resources
About the Author
Hi! I'm Jen!
I'm a freelance writer and travel blogger who quit my nine-to-five after my fiancé, Jeff, died of cancer at the age of 40. When he died, I realized that life is just too short to delay our dreams. Since my dream was to travel and write, I now travel and write full-time. Today I wear hiking boots instead of heels and collect experiences instead of things.