A Major Milestone on Day 30 on the Camino: Vilalba to Baamonde
Hey there! This post may contain affiliate links, which means I'll receive a commission if you purchase through my link, at no extra cost to you. Please see my legal page for more details.
The Day We Knew We Were Going to Make It to Santiago:
Just down the street from the main albergue in Baamonde is a momentous mile marker: the place that marks 100 kilometers to go.
One hundred kilometers to the finish line. One hundred kilometers to the cathedral square of Santiago de Compostela. One hundred kilometers to the end of our pilgrimage and to an adventure that was already changing us.
And now we knew we were going to make it all the way to Santiago.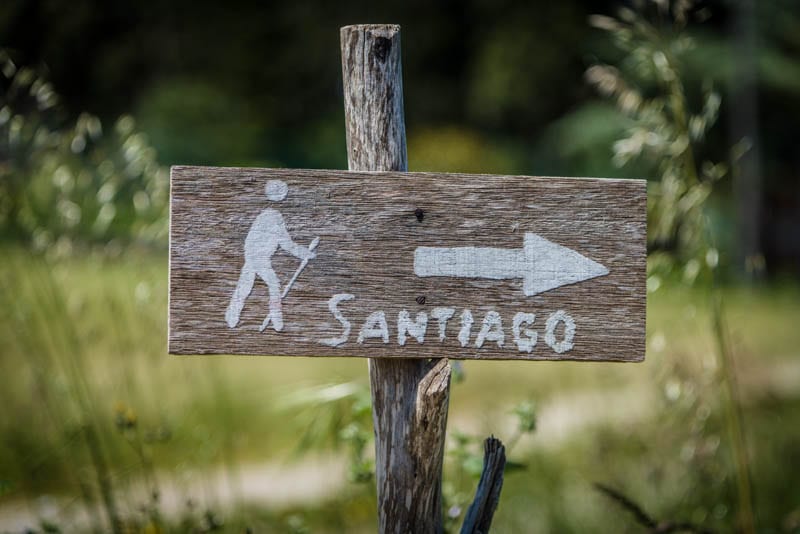 Lizz and I said goodbye to Margo in Vilalba and turned our attention toward Santiago. I mean, Santiago was always the destination, but, until this point, it seemed far away and abstract. But as we walked toward that mile marker, we could imagine the cathedral in the distance.
Alicia continued along with us, but Lizz and I turned completely inward on Day 30. Our "inward" was inclusive of the other because we were nearly one at this point. Our strides matched, we had entire conversations without speaking, and we intuitively knew when the other needed a break – or a drink.
A Roadside Picnic and a Party on the Camino del Norte
We arrived in Baamonde around lunchtime. By day 30 we are walking 12 miles like it was two miles. Our lunch was so long and leisurely that our server gave up on us and closed for siesta, allowing us to stay.
We then borrowed our wine glasses (we left a note!) and headed for the 100-kilometer mark, where we were delighted to find a shrine. People left things behind here. Things of meaning to the Camino.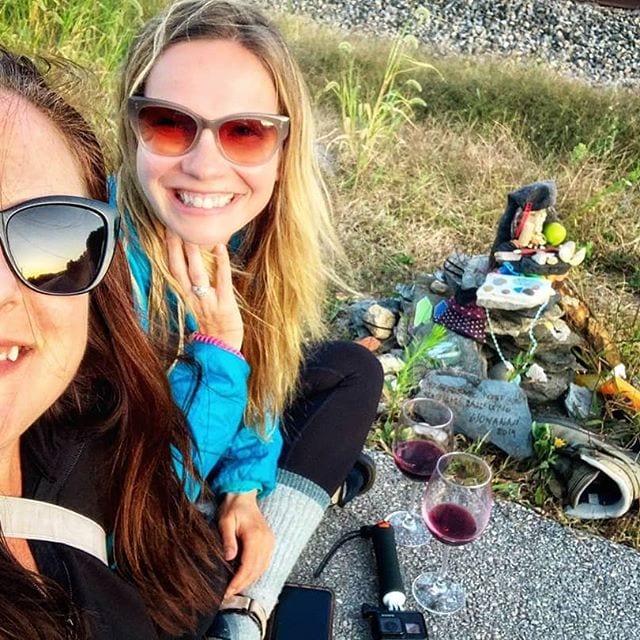 Some of the things in the shrine – socks, shells, clothespins – they won't make sense until you do your pilgrimage. It was like a shrine built of inside jokes. We thought it looked like an excellent place for a picnic, despite the traffic whipping by us.
Why 100 kilometers Matters on the Camino de Santiago
All along the route, every pilgrim carries with them "credentials," a small booklet that must be presented in order to stay at an albergue. The albergue stamps the booklet and it serves as a memory book as well as proof that you actually walked the Camino.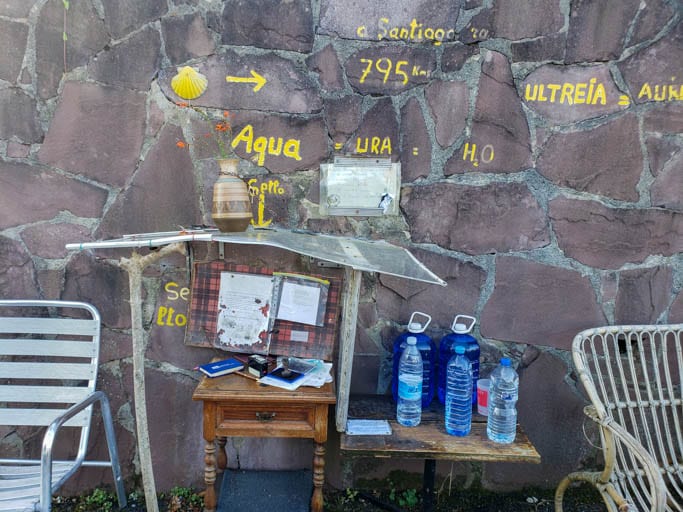 In order to earn the Compostela certificate in Santiago, every pilgrim must present a booklet that shows at least two stamps per day from a spot at least 100 kilometers from Santiago. Many people walk only the last 100 kilometers. Whatever the route and from whatever direction, the 100-kilometer mark is special.
So, naturally, we got good and drunk to celebrate.
Back at the albergue, we recruited other pilgrims to join in our 100-kilometer celebration, and when our party got too noisy, we headed back to the bar (bringing our borrowed glasses with us).
Much to our surprise, Alicia joined us for a drink, the first and only drink we saw her take in the 200 miles she walked with us.
This led to my first Camino hangover on day 31. But it was completely worth it.
Where to Stay in Baamonde:
The Albergue de Peregrinos de Baamonde is the main place to stay in Baamonde. It's just down the street from the shrine and near a restaurant and bar. The albergue itself is just one huge room with 60+ bunks and single beds. There is a common area, but it's pretty bare bones.
We had a really great time here and made a lot of new friends for our last leg of the Camino. Don't expect luxury, but do stay for the pilgrim experience.
Tips from a Post-Camino del Norte Perspective:
Celebrate major mile markers like 100 miles walked or 100 kilometers to go. Think of creative ways to mark the moment. You earned it!
Our Pilgrimage Stats After Day 30 on the Camino del Norte: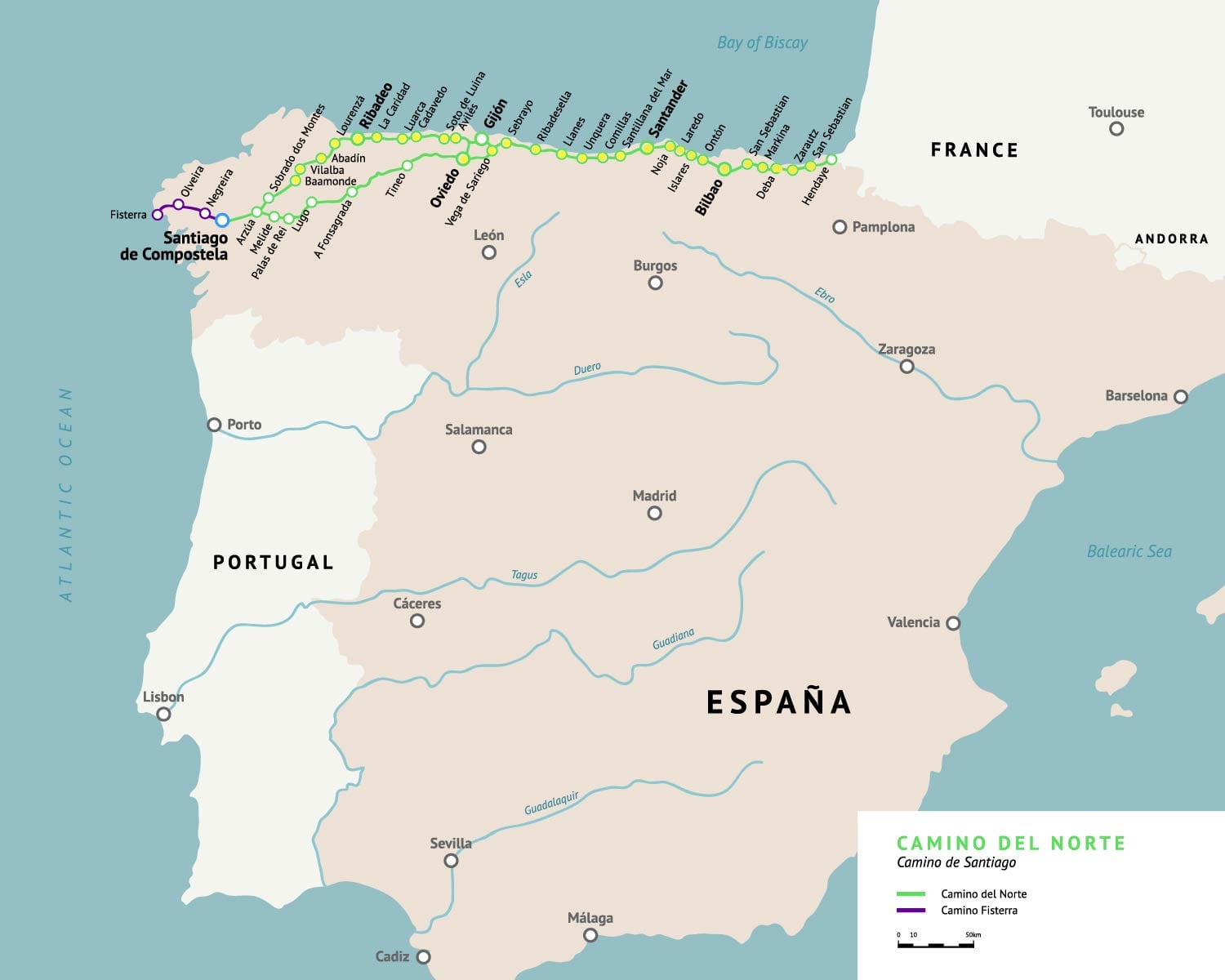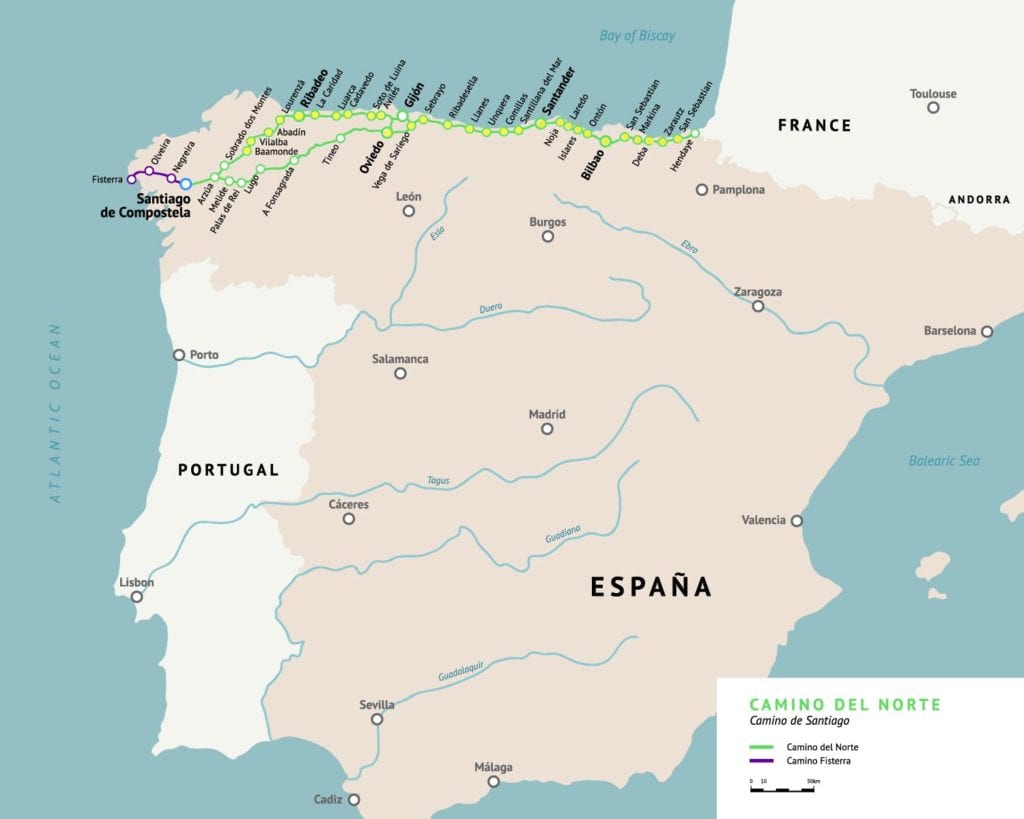 Stage Miles: 12
Actual Miles Walked: 13 (18 kilometers)
Bus forward Miles: 0
Total Miles Walked So Far: 369 (594 kilometers)
Additional Camino Resources
About the Author
Hi! I'm Jen!
I'm a freelance writer and travel blogger who quit my nine-to-five after my fiancé, Jeff, died of cancer at the age of 40. When he died, I realized that life is just too short to delay our dreams. Since my dream was to travel and write, I now travel and write full-time. Today I wear hiking boots instead of heels and collect experiences instead of things.