A Spa Weekend Gone Wrong – and then Right Again
Hey there! This post may contain affiliate links, which means I'll receive a commission if you purchase through my link, at no extra cost to you. Please see my legal page for more details.
When my best friend says she needs a weekend away, I immediately pack my bags.
It's not often that Marlena can get enough time away from work to do laundry let alone travel, so it was understandable that – on this rare getaway weekend – she just wanted to do nothing. That meant no planning or logistics beyond when to go to the spa.
So, we headed two hours north of Chicago to Lake Geneva, Wis., and the Grand Geneva Resort and Spa with the intention of curling up in front of the fireplace with our books and a good bottle of wine.
But when we arrived at the resort, we were told that an "unforeseen circumstance" made our lake-view room unavailable and, unfortunately, because we had arrived later in the evening, the main resort was all sold out. We were sent a quick, five-minute drive down the road to the Timber Ridge Lodge, upgraded to a suite, and assured that shuttles would swoop us up and take us back to the main resort whenever we wished. No problem. Or…so we thought.
Part One: Don't Wake the Moose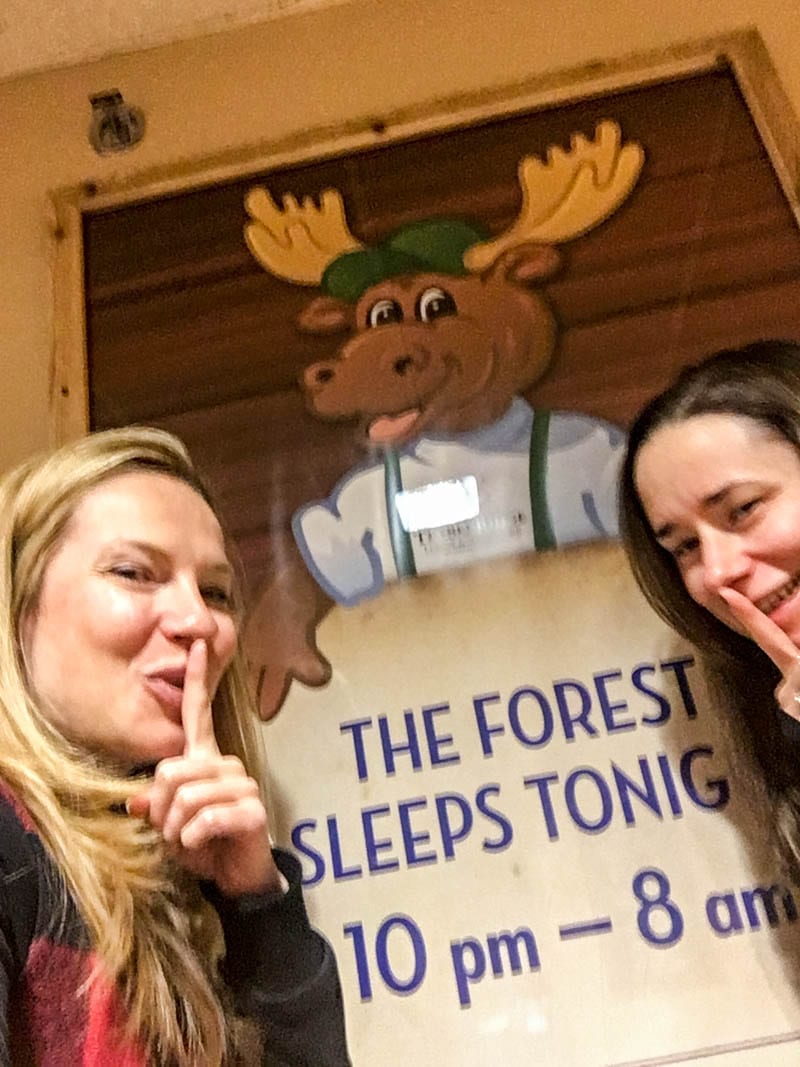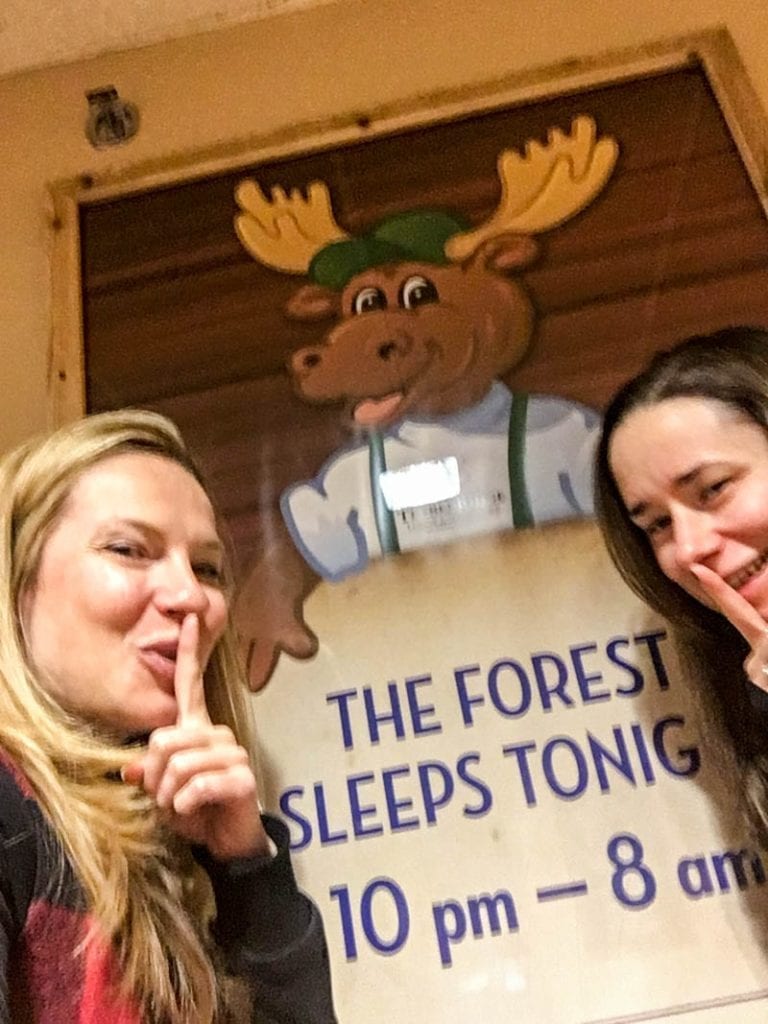 The Timber Ridge Lodge turned out to be the Timber Ridge Lodge and Waterpark. Two omitted keywords that would alert any childless, spa-seeking vacationer to impending disaster. Marlena really needed peace and quiet that weekend, so I debated what to say as she negotiated with Chuck, the kind man behind the counter of our second check-in attempt.
Finally, I simply pointed behind her toward the floor-to-ceiling windows displaying innumerable inner tubes. She squinted with incomprehension at the telltale indoor waterslide, reminiscent of a brightly painted intestine.
Chuck hunched his shoulders and kept his eyes lowered, "Would you like your wristbands for the waterpark?' he said. "Because I do have to ask." We did the only thing we could do. All three of us burst out laughing.
You see, there is a time when you need an indoor waterpark and all of the things that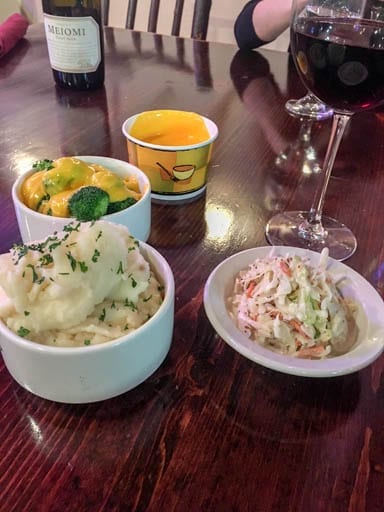 come with it. Suites that are two levels to accommodate a gaggle of excited kids and a separate space for adults. A restaurant with tortilla chips dripping in fake cheese. Multi-colored wristbands to organize the screaming younger kids from the screaming older kids. A sign on each floor with a cartoon moose on it explaining that the "forest sleeps at night" and stating the quiet hours.
This was not that time for us. We needed a view of the lake, deluxe pedicures, a quiet dinner, a bottle of wine, and, most importantly, peace and quiet.
Chuck did give us a free bottle of wine at the restaurant, so we settled into a table at Smokey's Bar-B-Que House with a good pinot noir and a view…of the Lazy River. I cobbled together a dinner of delicious, vegetarian side dishes (complete with fake cheese) and Chuck came by to add a few laughs and to complete our meal when he insisted upon buying us dessert.
Part Two: Peace, quiet and mimosas
As much as we were grateful for Chuck's hospitality, after the alarm clock startled us awake (unexpectedly and unplanned) at the crack of dawn the next morning, we packed our bags. Even at that early hour, the whole waterpark was pulsing with the excitement of getting as much value out of those wristbands as possible – and we genuinely wished them luck as we headed out the door.
Back at the main resort, Marlena attempted to explain to the perplexed woman who had sent us to the "Timber Ridge Lodge" the night before that we have nothing against kids or family time, but that we drove two hours from the city to experience quiet time.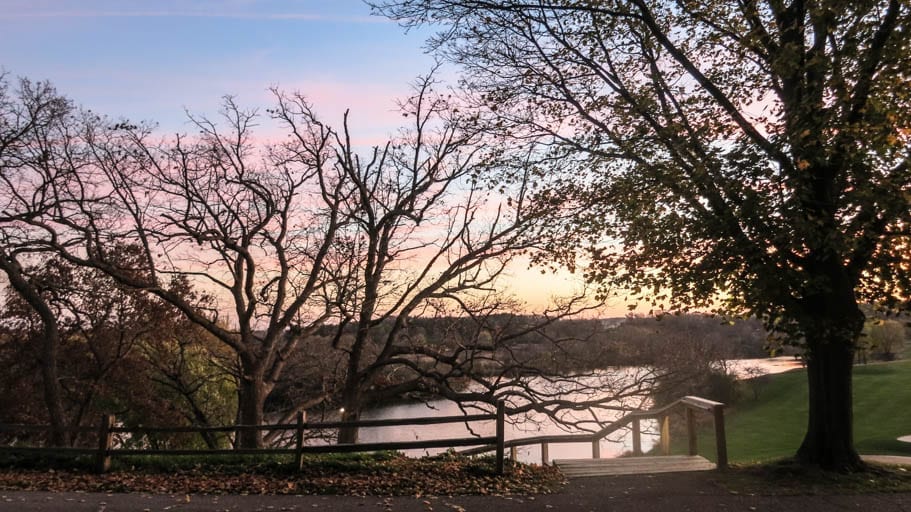 Luckily, once called in, the manager picked found us a beautiful suite with a fireplace and that elusive view of the lake. While they got the room ready, he urged us to head to the spa where – finally – we found peace, quiet…and mimosas.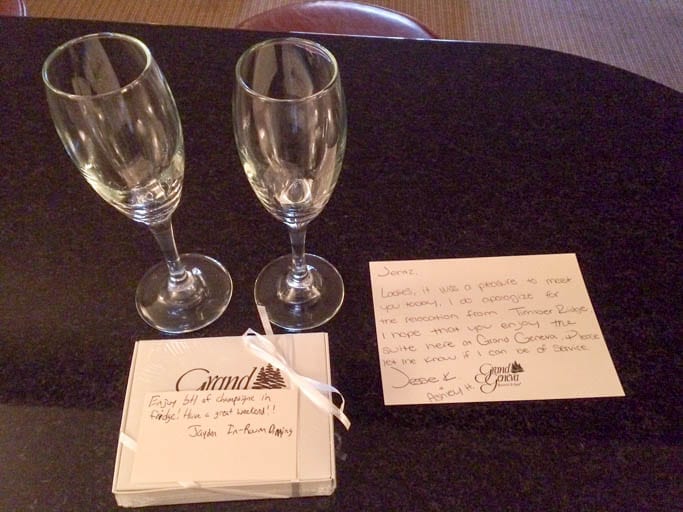 When we did check into our room, we found a bottle of champagne, a box of chocolates, and a sweet note from the staff that erased any memory of waterparks and 5-am-alarm clocks. While it may have taken longer than we hoped, in the end, the team at the Grand Geneva Resort ensured we found the rest and relaxation we were seeking.
Most importantly, we found a lot of laughter along the way and, perhaps, that's what we needed most of all.
About the Author
Hi! I'm Jen!
I'm a freelance writer and travel blogger who quit my nine-to-five after my fiancé, Jeff, died of cancer at the age of 40. When he died, I realized that life is just too short to delay our dreams. Since my dream was to travel and write, I now travel and write full-time. Today I wear hiking boots instead of heels and collect experiences instead of things.