How to Make Sustainable Muesli From Your Pantry
Hey there! This post may contain affiliate links, which means I'll receive a commission if you purchase through my link, at no extra cost to you. Please see my legal page for more details.
You probably already have the ingredients for this super easy sustainable muesli from the stash of goods already in your pantry. The best news is that this cereal is as healthy as it is delicious – and sustainable too!
I always loved it when my mom made this breakfast because she managed to make a healthy cereal at home without buying a box with a plastic bag inside of it.
Watch as my mom combines ingredients in her pantry to make this delicious homemade muesli that is both sustainable and healthy:
Today her recipe is even more lovable because it's filled with the pantry items that we are all cooking with while we practice social distancing.
As long as you have oatmeal, you can use any combination of delicious additions to make yourself a bowl of cereal. We don't measure, we make a large container so that we can eat it all week. Just make sure that your sustainable muesli is comprised of about half oatmeal and half toppings no matter how large or small the batch.
Here is a standard ingredient list at my house: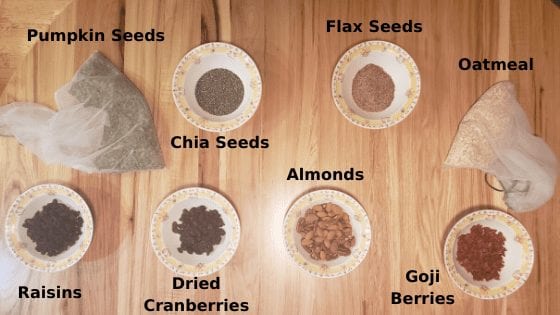 That's right! Just mix the oatmeal with a handful of the following: pumpkin seeds, raisins, dried cranberries, almonds, chia seeds, flax seeds, and goji berries. You can also add coconut, pecans, wheat germ…anything that tastes good to you.
Mix together and that's it!
We make a large batch in a big reusable container. Toss all the ingredients in, slap the lid on, and give it a shake. It's really that easy!
Tip:
Enjoy!
About the Author
Hi! I'm Jen!
I'm a freelance writer and travel blogger who quit my nine-to-five after my fiancé, Jeff, died of cancer at the age of 40. When he died, I realized that life is just too short to delay our dreams. Since my dream was to travel and write, I now travel and write full-time. Today I wear hiking boots instead of heels and collect experiences instead of things.
You might like