Perfect Day: Chestnut Hill, Philadelphia
Hey there! This post may contain affiliate links, which means I'll receive a commission if you purchase through my link, at no extra cost to you. Please see my legal page for more details.
I spent more than a decade in Chicago, so I take pride in being fluent in neighborhood-ese, the geography, jargon, best bars, and BYOBs in the diverse and distinct neighborhoods that spiral out from the city center ("the Loop").
So, I shouldn't be surprised when another city slaps me in the face with a neighborhood that simply kicks ass. But, somehow, I always am.
And so it was that I unexpectedly fell in love with a little neighborhood in Northwest Philadelphia that reminds me of a European village, but with a vibe that is distinctly Philly.
Chestnut Hill expands around its cobblestone-lined heart of Germantown Avenue, which is a mixture of history and modern sensibility. It's a neighborhood well worth the 25-minute drive from downtown Philadelphia.
This is my perfect Chestnut Hill day:
Breakfast sandwiches at Market at the Fareway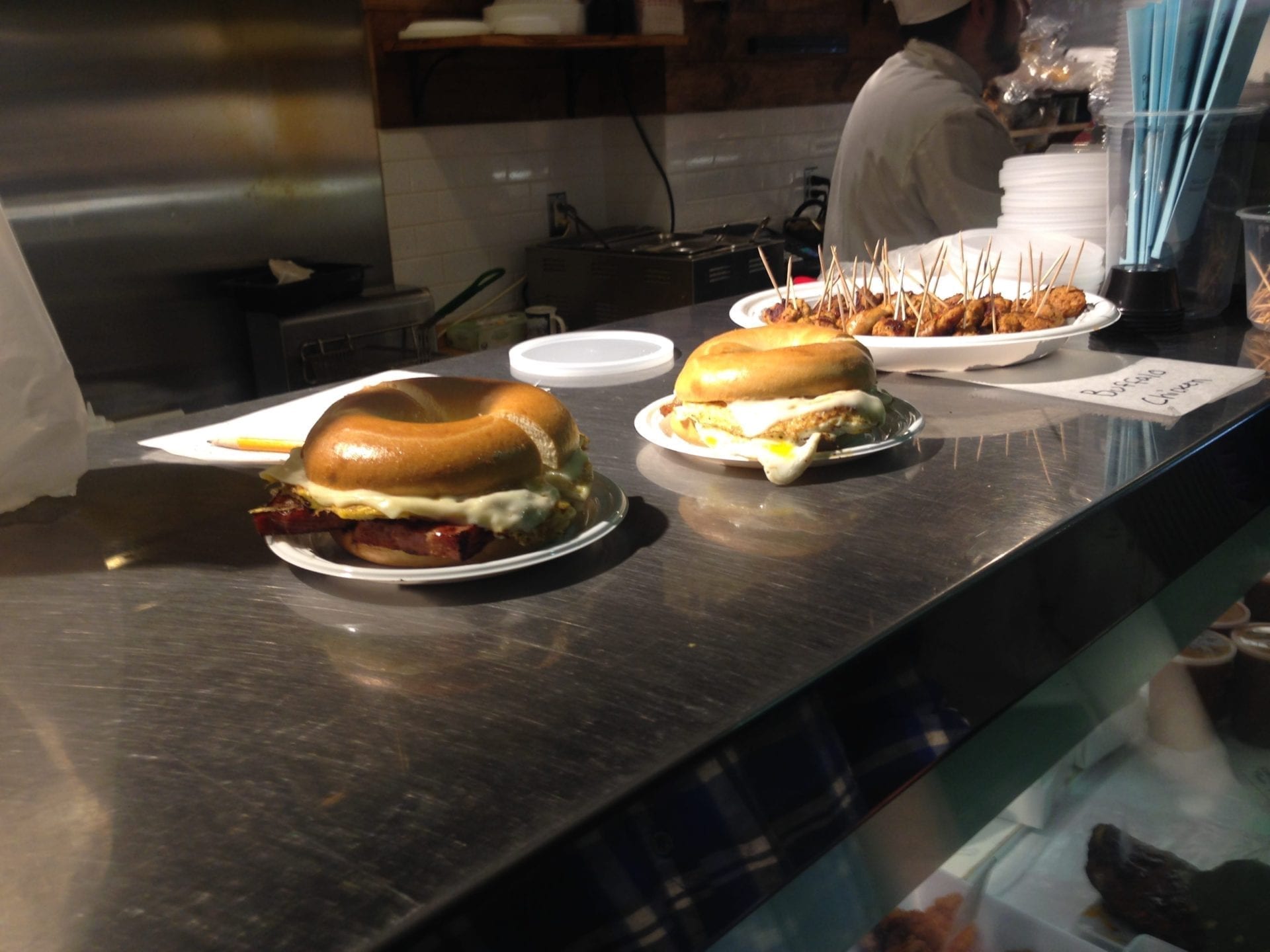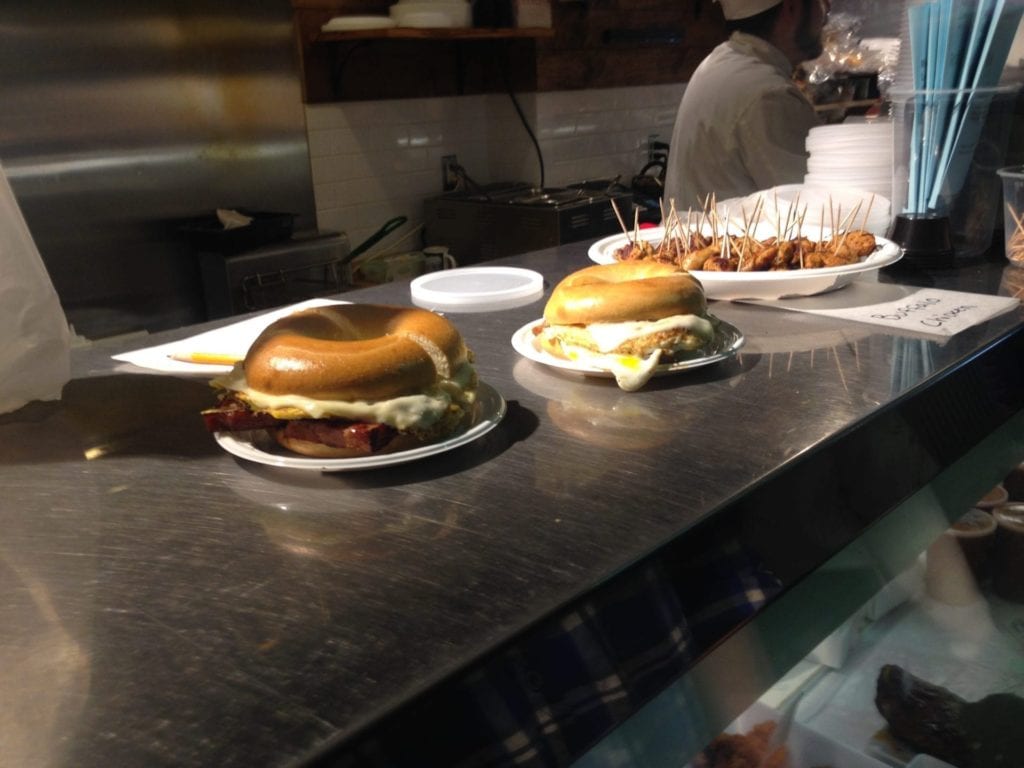 You know it's a legit neighborhood when it has its very own local market, and Chestnut Hill doesn't disappoint here. Grab a cup of coffee and order a breakfast sandwich loaded with eggs, cheese and bacon at the Fareway. Check out the seasonal flowers, fresh produce, slabs of local meat and unique cheeses while you wait. Afterward, stay for a while and play a little outdoor ping-pong, or stroll through the selections of local art.
Wander up and down Germantown Avenue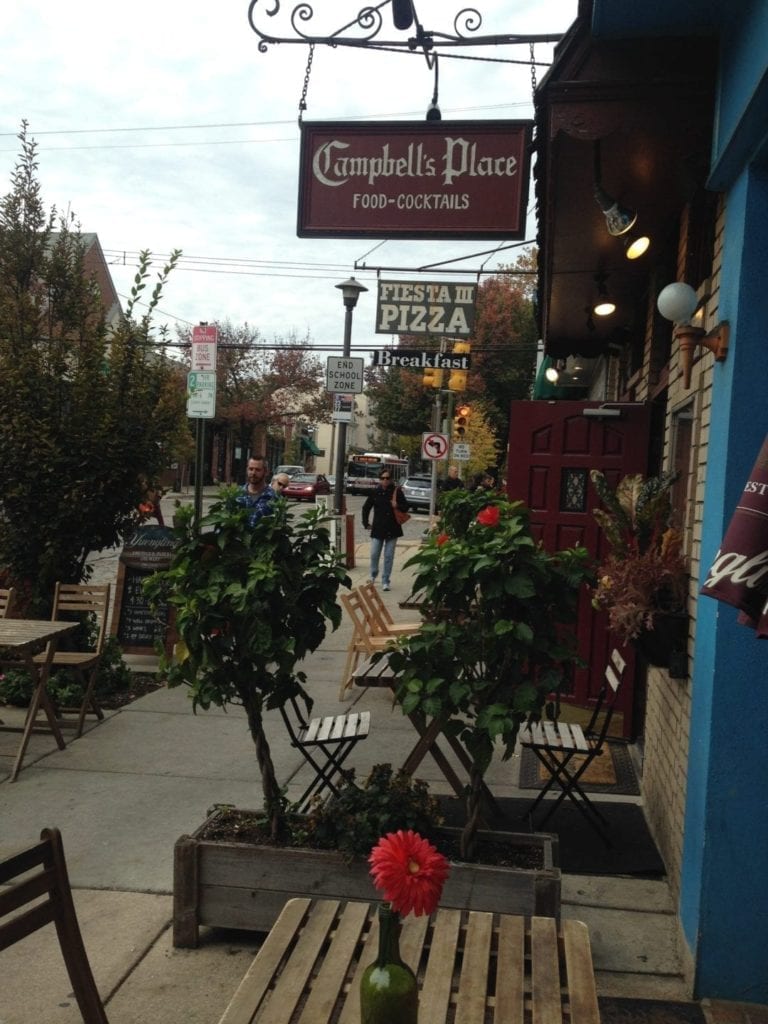 Just don't wander behind me, because I can't stop taking pictures of everything on this street from the European-style cobblestones, to the mailboxes, to the light posts to the benches – all with a touch of local artistry. You could spend an entire day just wandering Germantown Avenue, which is lined with bakeries, shops, restaurants, and pubs.
But, this time, we'll spend just half a day. Because…. Schmitter!
Lunch at McNally's Tavern
You may have heard of the Schmitter because it's one of the must-eats when you catch a Philly's game at Citizens Bank Park. But don't miss the real deal on the top of Chestnut Hill in the family tavern where this sandwich was created for a man known for his love of Schmidt's beer and steak sandwiches….with a twist. We're talking steak, grilled salami, tomato, fried onions, and cheese smothered in a special sauce (some kind of delightful mixture of ketchup, mayo, Tabasco, and Worcestershire) and tucked into a flash-broiled Kaiser roll. It's served with a side of chips and a chat with the locals who sit at the original bar purchased in 1921 when McNally's was the only place for trolley drivers to grab a bite at the end-of-the-line turnaround at the top of Chestnut Hill.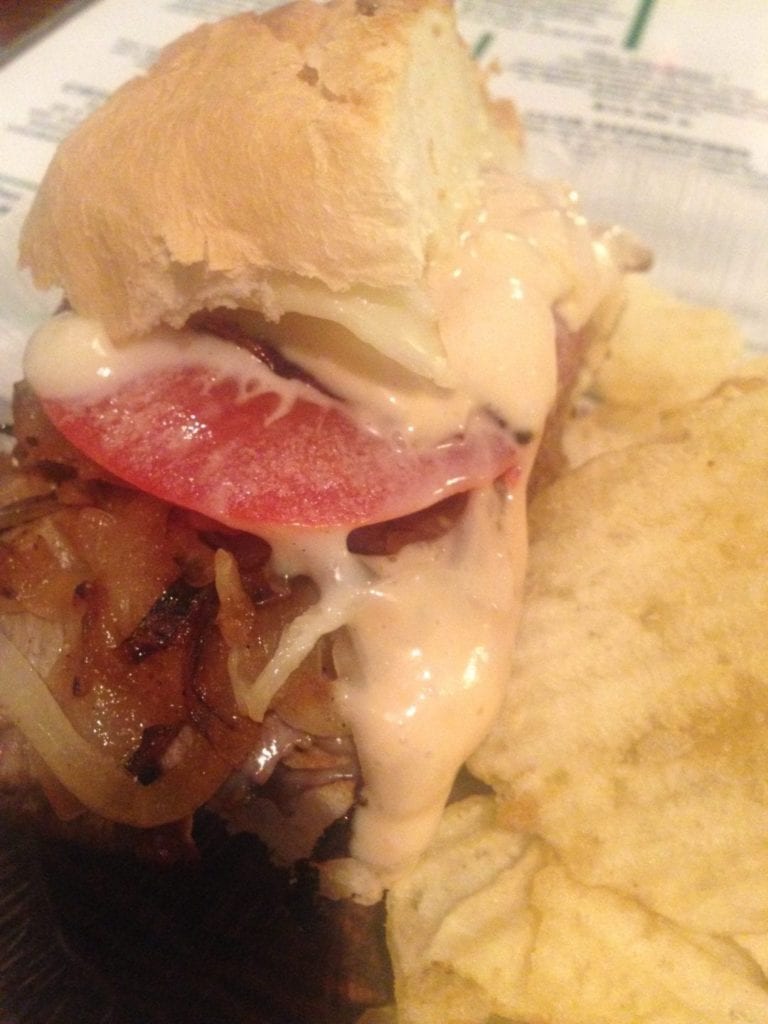 Morris Arboretum
Just a 10-minute drive from McNally's, discover the sprawling garden of the Morris Arboretum. It's the perfect way to spend an afternoon – and to work off that Schmitter. Grab a map and wander. But don't miss the Out on a Limb canopy walk where you can stroll between the trees or lounge in a huge hammock-like net high above the ground. Check out the sculpture garden and find the temporary installation of A Waltz in the Woods with its huts made entirely of willow saplings and large enough to play a quick round of hide-and-seek within.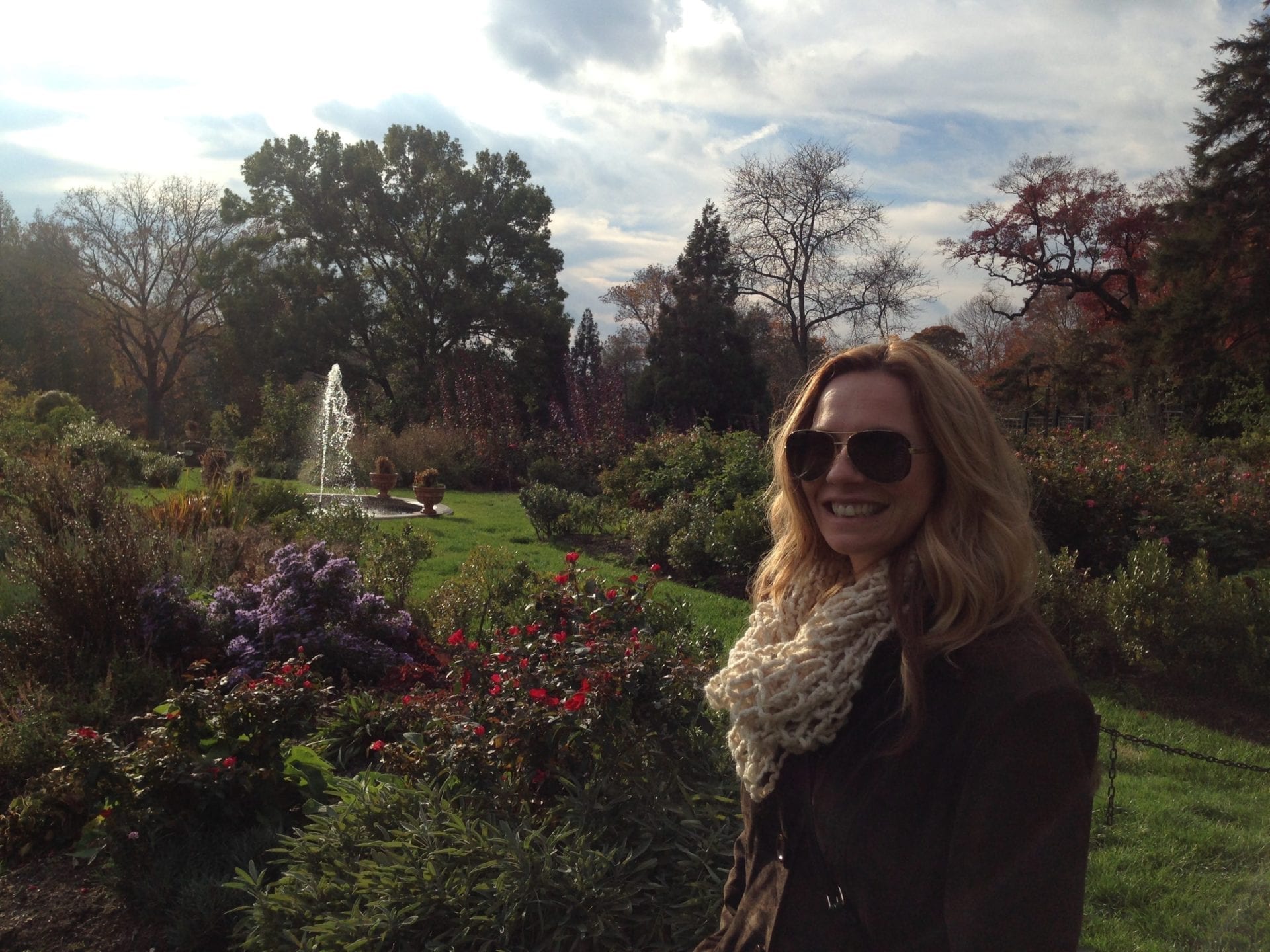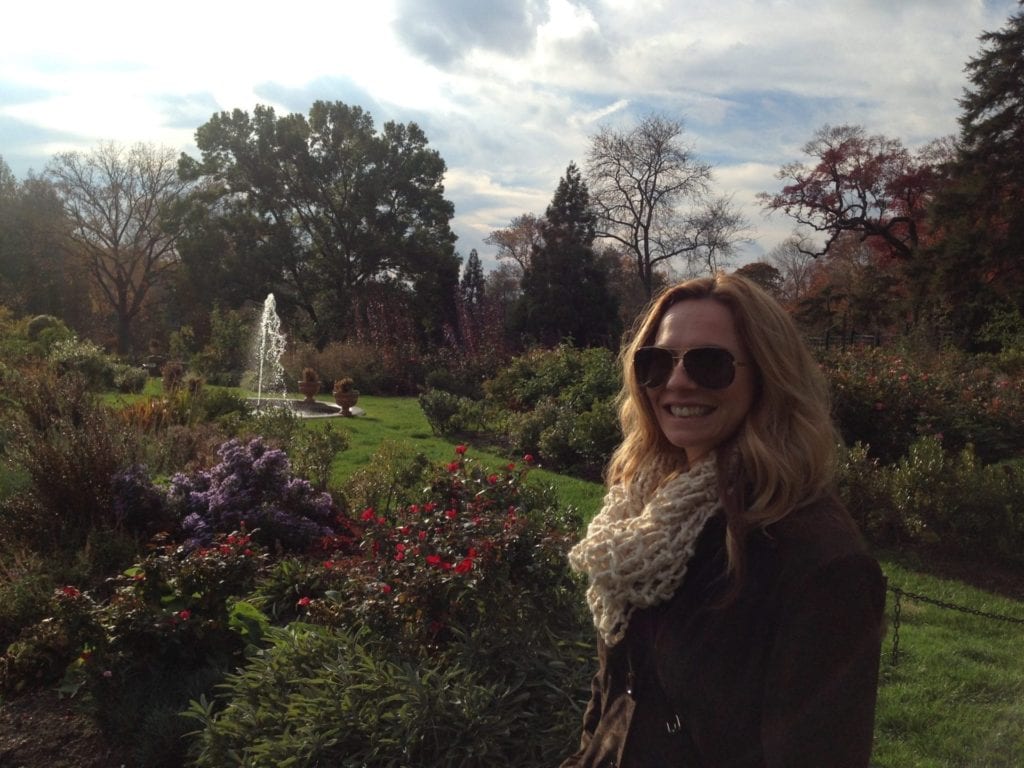 Dinner Paris Bistro
I consider myself something of an escargot connoisseur and the Paris Bistro's Escargot & Pernod Butter is a dish good enough to lick the mini cupcake pans it comes in. Or at least soak up the garlicky butter with tableside bread while enjoying a glass of wine from the respectable wine list and taking in the atmosphere of a noisy and cozy sidewalk café in the City of Light. The Steak Frites are tasty whether you go for the economical flat iron or the delectable New York Strip.
Nightlife
Check out who is playing downstairs in the Paris Bistro's jazz café (but get there early as it gets crowded fast), or swing over to the Mermaid Inn with its eclectic mix of entertainment on the corner of Germantown Avenue and Mermaid Lane. Personally, I like to cozy up to the bar at Campbell's Place for an after-dinner drink and to share stories of my Perfect Day with the locals.
Tips:
If it's not a Thursday, Friday, or Saturday, the Market at the Fareway is closed. But fear not. There are plenty of places for breakfast or brunch. For a sit-down experience, check out Cake, a converted conservatory that built a dining space right around many of the trees and plants of the original space. For a quick pastry, pop into Bradenbeck's Bakery and Ice Cream Parlor. Or pop in just to enjoy the smells of baked bread that will entice you from blocks away!
Schedule your trip for the Harry Potter Festival! Seriously, I meant that this neighborhood reminds me of Europe! For one weekend in October, Chestnut Hill is taken over by a Hogwarts-loving crowd who participate in a pub crawl, literary events, and a Quidditch Tournament. Don't miss it!
About the Author
Hi! I'm Jen!
I'm a freelance writer and travel blogger who quit my nine-to-five after my fiancé, Jeff, died of cancer at the age of 40. When he died, I realized that life is just too short to delay our dreams. Since my dream was to travel and write, I now travel and write full-time. Today I wear hiking boots instead of heels and collect experiences instead of things.