A Walking Tour of Hitler's Vienna
Hey there! This post may contain affiliate links, which means I'll receive a commission if you purchase through my link, at no extra cost to you. Please see my legal page for more details.
I hesitated before booking a guided walking tour of Hitler's Vienna. The name scared me a little. Would the tour in any way glorify the man? Would I be able to stomach 2.5 hours of learning about Adolf Hitler?
In the end, I am glad I booked the tour. In no way did our 2.5 hours of learning (which ended up being three hours!) glorify Hitler.
Map of this walking tour of Vienna
Instead, the tour started with an honest assessment of the anti-Semitic environment of Vienna in 1908, when a frustrated 18-year-old named Adolf moved to the city in the hopes of attending art school.
The reason Hitler came to Vienna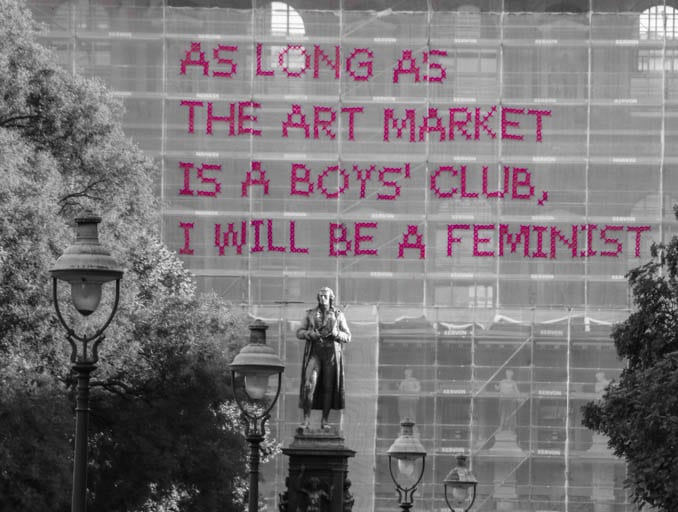 Hitler moved to the city to attend Vienna's Academy of Fine Arts, but the school twice rejected Hitler on the basis that his drawings were unsatisfactory. As we stopped in front of the school, which was then under construction and sporting a bold feminist statement sprawled in pink on its scaffolding, our guide wondered aloud how different the world would be if Hitler could only draw.
How different, indeed.
A Walking Tour of Hitler's Vienna includes cafés
Our guide then described a deflated young Hitler who sold hand-painted postcards on the streets of Vienna to pay for his bed at a men's boarding house.
Historians debate whether Hitler's racist views were first formed on the streets and in the cafés of Vienna, but our guide said that he certainly found some of his best clients in the Jewish quarter of the city, which may have fostered resentment rather than gratitude in a young Hitler.
It is confirmed that Hitler admired then-mayor, Karl Lueger who was known for his anti-Semitic views and for his oratory skills.
It's also confirmed that Hitler was a regular at Café Central as was Leon Trotsky, who was later killed in an assassination ordered by Joseph Stalin in 1940.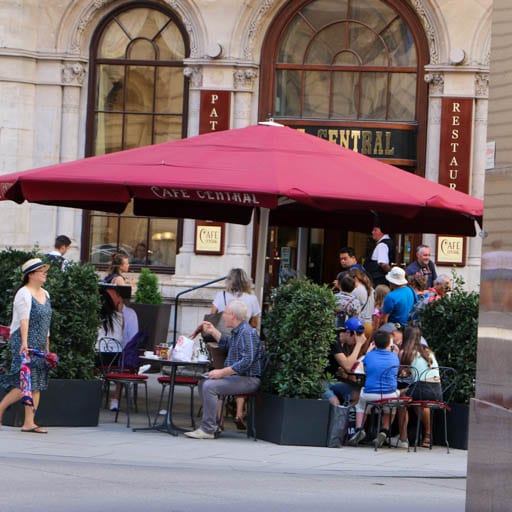 Despite the anti-Semitism of its mayor, Vienna and its Jewish Quarter prospered during the six years that Hitler lived in the city, and by the time an older Hitler re-entered the city to celebrate the annexation of Austria into Nazi Germany in March of 1938, an estimated 180,000 Jews called Vienna home.
An estimated 65,000 would not survive the coming war.
You will stand where Hitler gave his "reunification" speech
This is where Hitler gave a triumphant place upon his return to Vienna to celebrate the "reunification" of Austria and Germany.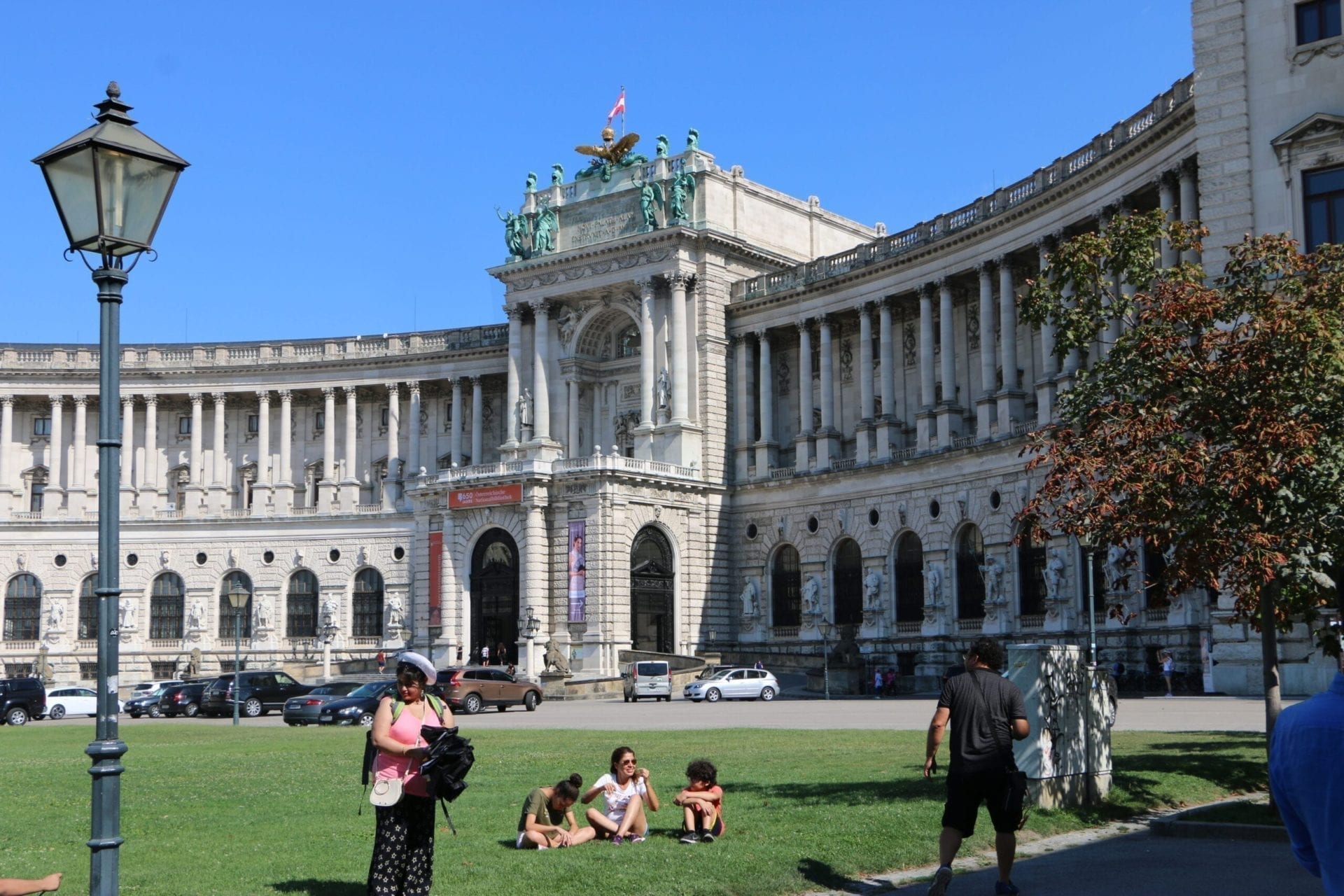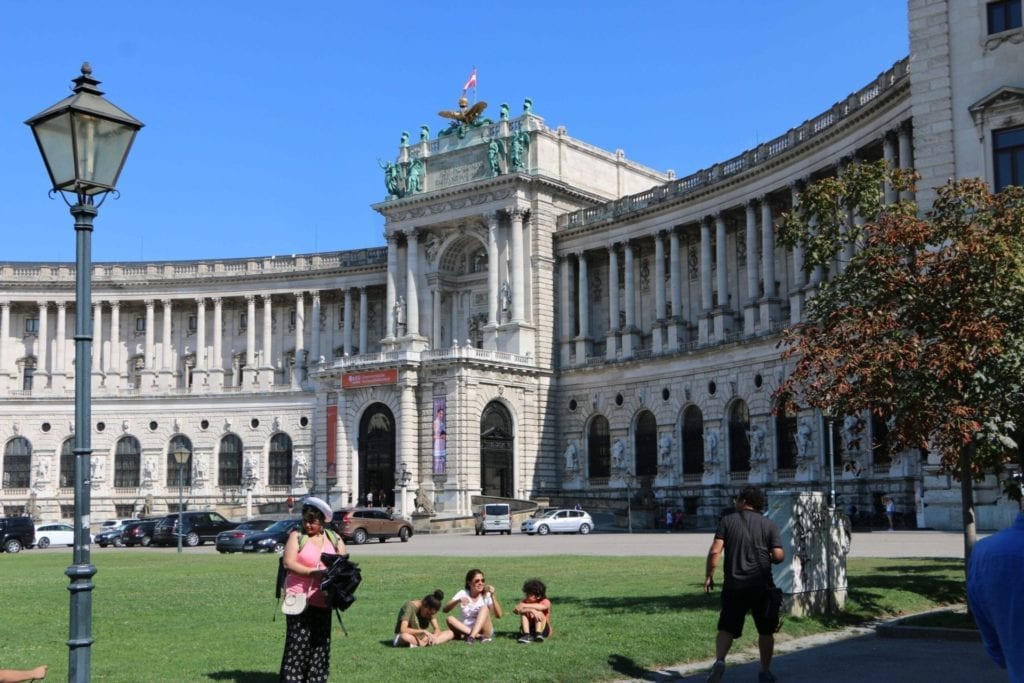 Of course, it is now deemed an Occupation rather than reunification. All the same, more than 200,000 people filled that lawn.
It must have been strange for the triumphant dictator to return to the streets of his youth. The same place where he scraped by with just enough for a bed in the boarding house and the occasional standing-room-only ticket to the Opera.
While 200,000 people came out to celebrate Hitler's triumphant return to Vienna, my guide noted that the silent majority stayed home.
I am writing this "Never Forget" series, in part, because of this statement.
It isn't that I dispute its accuracy. On the contrary, I fear its accuracy. I have often wondered if I would have had the courage to speak out as Nationalism and racism swept across Europe, and I can only hope that we all remember that the silence of the majority helped pave the way for the Holocaust.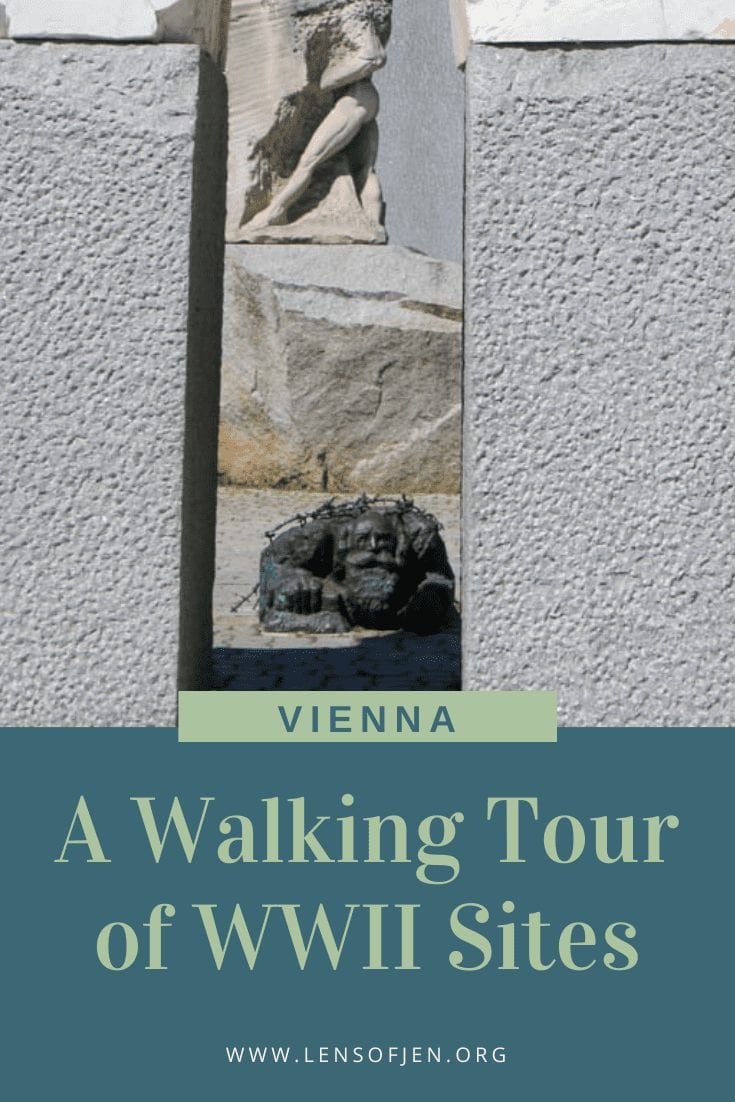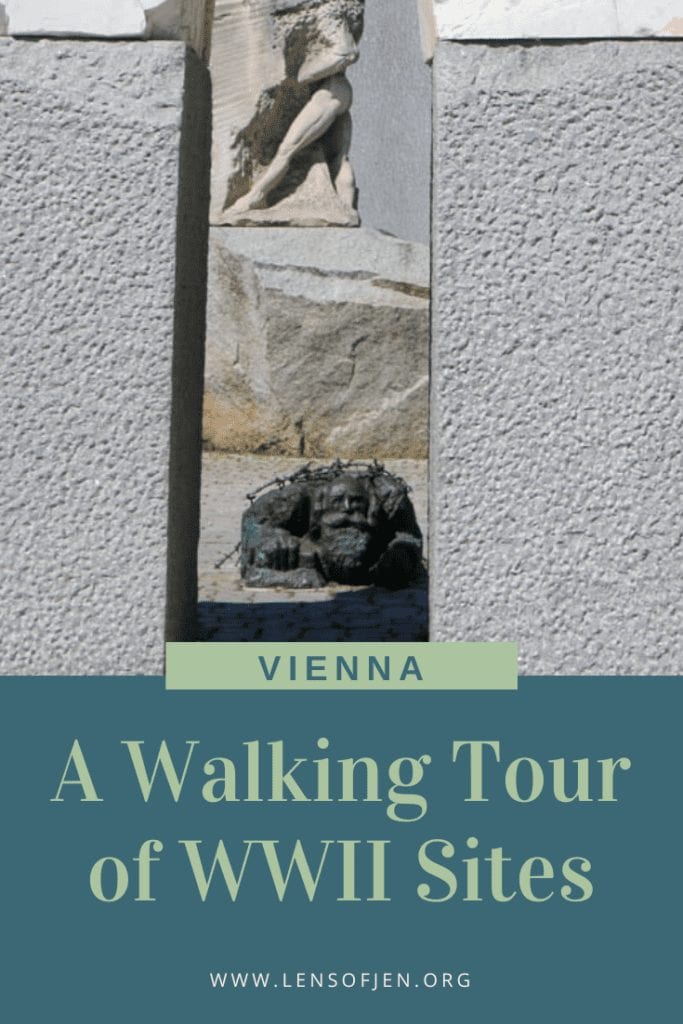 A walking tour of Hitler's Vienna means imagination
You must use your imagination to envision these structures that once stood in Vienna, because at this point, "Hitler's Vienna" quickly becomes a tour about the destruction of the city during WWII, and especially the destruction of the Jewish community.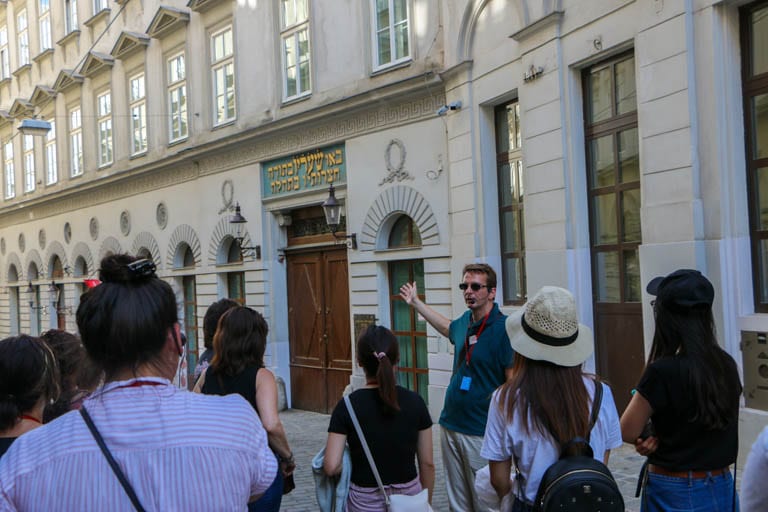 Of the 80-some synagogues and temples that once stood in the city, only one synagogue survived the deadly combination of the Nazis and the 100,000 bombs that were dropped on Vienna during the war.
Vienna's Monument Against War and Fascism
The site that struck me most on this walking tour of Hitler's Vienna was The Monument Against War and Fascism on Albertinaplatz, tucked behind the famous Vienna Opera House.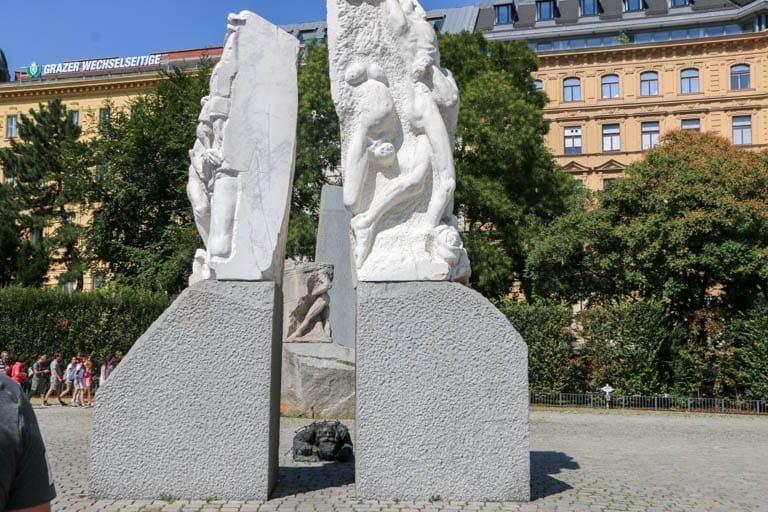 From this angle, you are looking through the "Gates of Violence," which depicts scenes of war and is meant to honor the victims of the Nazi regime (on the left) and all the victims of WWII (on the right). This part of the monument is carved from stone found in the quarry of the infamous Mauthausen concentration camp two hours east of Vienna.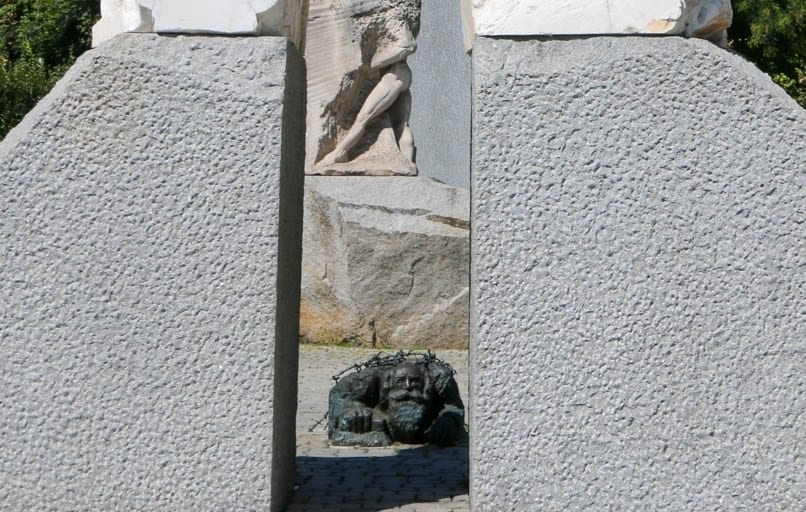 Beyond the gates, a bronze statue depicts a Jewish man on the ground and remembers the humiliations bestowed upon the Jewish community when, following the Nazi occupation, the Jews of Vienna were forced to clean the streets and scrub away anti-Nazi graffiti.
Beyond that stands the statue called "Orpheus Enters the Underground World". This is meant to honor all those who resisted the Nazis and all those who lost their lives in the bombings of Vienna.
This is sadly fitting because the entire monument stands on the spot of a former apartment building where hundreds of people were buried alive after the building was destroyed in an Allied bombing in 1945.
The Nameless Books: The Holocaust Memorial of Vienna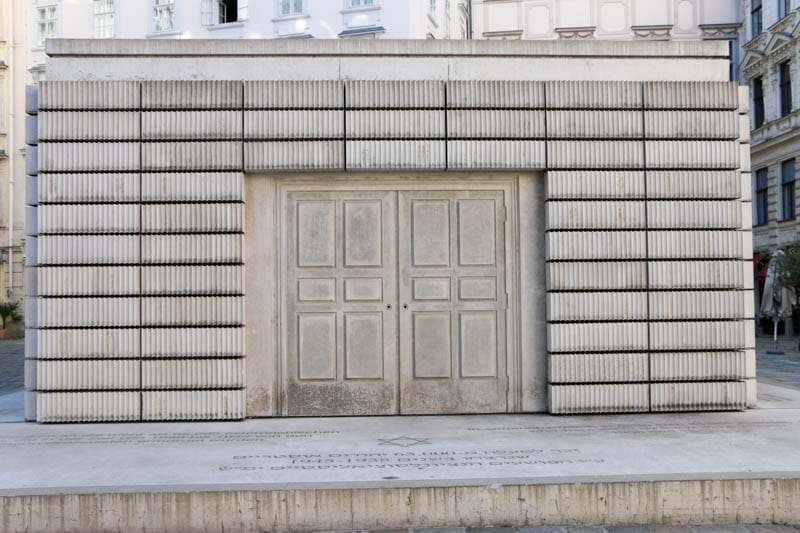 My tour guide said that the Holocaust Memorial that stands in Judenplatz is meant to be open to interpretation. Personally, I think the title, Nameless Books, says it all. The books are turned so that the titles are hidden, and I get the strong impression of blank pages, which leads me to think of the erasing of Jewish intellectual thought, and the erasing of life and memory.
The Former Hotel Metropole and Gestapo Headquarters of Vienna
Our walking tour of Hitler's Vienna ended on a grassy piece of land where nothing but a monument stands. This is where the Hotel Metropole once stood. It was converted into the Gestapo Headquarters during WWII where countless Vienna victims were tortured before being deported to death camps. The hotel was torn down after the war.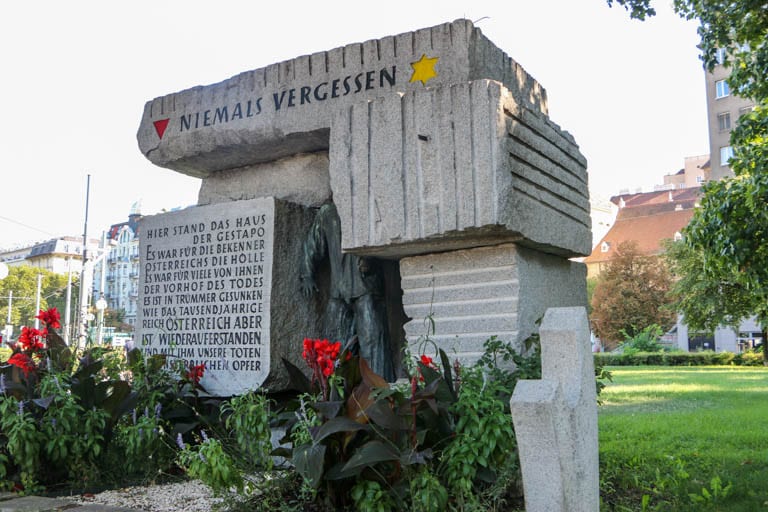 Niemals Vergessen means "Never Forget," and that seems like a pretty fitting place to end the tour and to end this post.


How to Take this Walking Tour of Vienna
I booked a GetYourGuide Tour and thoroughly enjoyed it, even though I typically avoid large-group tours.
In this case, the guide used a microphone and we all had earpieces so that we could easily hear him. He made sure that we did not block intersections or sidewalks and managed to find out-of-the-way spaces for us to stop and listen so that I did not feel like a nuisance tourist.
The cost was 27 euros and well worth it.
You can follow this blog post and use google maps for free, of course!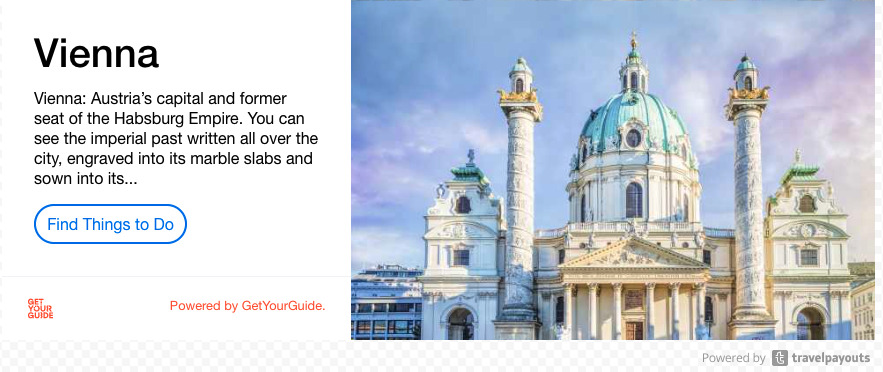 Where to stay in Vienna
Available hotels and homestays in Vienna:
More reading on WWII History
Please find my curated list of WWII non-fiction books here. Purchasing from Bookshop will allow you to support independent booksellers. Which is pretty cool in my book (pun intended).
About the Author
Hi! I'm Jen!
I'm a freelance writer and travel blogger who quit my nine-to-five after my fiancé, Jeff, died of cancer at the age of 40. When he died, I realized that life is just too short to delay our dreams. Since my dream was to travel and write, I now travel and write full-time. Today I wear hiking boots instead of heels and collect experiences instead of things.
You might like