Cycle for Survival: Putting a Positive Spin on Cancer
Hey there! This post may contain affiliate links, which means I'll receive a commission if you purchase through my link, at no extra cost to you. Please see my legal page for more details.
Update April 2020: Thanks to all who contributed to the Cycle for Survival 2020 event. Our team raised $10,000 and teams nationwide raised $40 million for rare cancer research. THANK YOU.
Since my partner died of cancer in a Northwestern Hospital bed on a sunny day in June of 2018, every return to our former home city of Chicago has meant an emotional collapse for me.
But not this time.
This time I returned for Chicago's Cycle for Survival event, joining Jeff's friends in remembering him – and joining more than 37,000 people in 17 cities to raise nearly $30 million (to date) for cancer research – in 2020 alone.
The Equinox in Chicago's Loop filled with 100 riders hitting the pedals at the same time – and hundreds of supporters cheering them on. The instructors donated their time and absolutely rocked the room with intense rides and dancing music. Every person in that room rode – or cheered – for someone. It was beautifully emotional.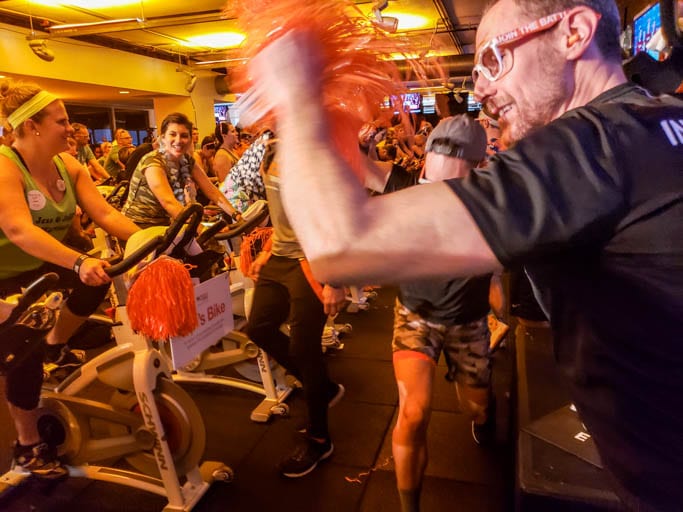 There were times when I cried, of course. But this was no collapse. This was feeling and loving the unstoppable momentum of a roomful of people who know what it's like to power through pain and loss – and to channel it all for good.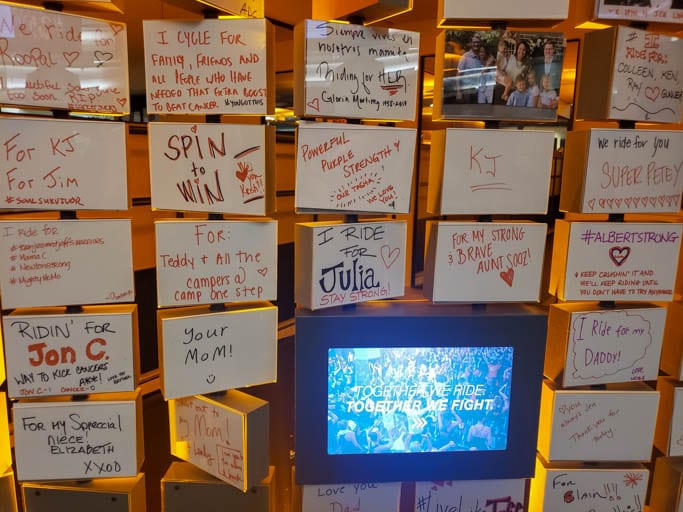 I was especially touched by the story of Cycle for Survival founder Jennifer Goodman Linn. Jen died at the age of 40, just like Jeff. And, just like Jeff, Jen had that irresistible, light-up-the-room energy that brings people together.
It was Jen's husband Dave who told the story of his late wife from a platform filled with bikes and a picture of her megawatt smile behind him. This too was powerful for me, because he knows what it's like to try to fill the void of losing a person who once gifted him with such a rare force of energy and love.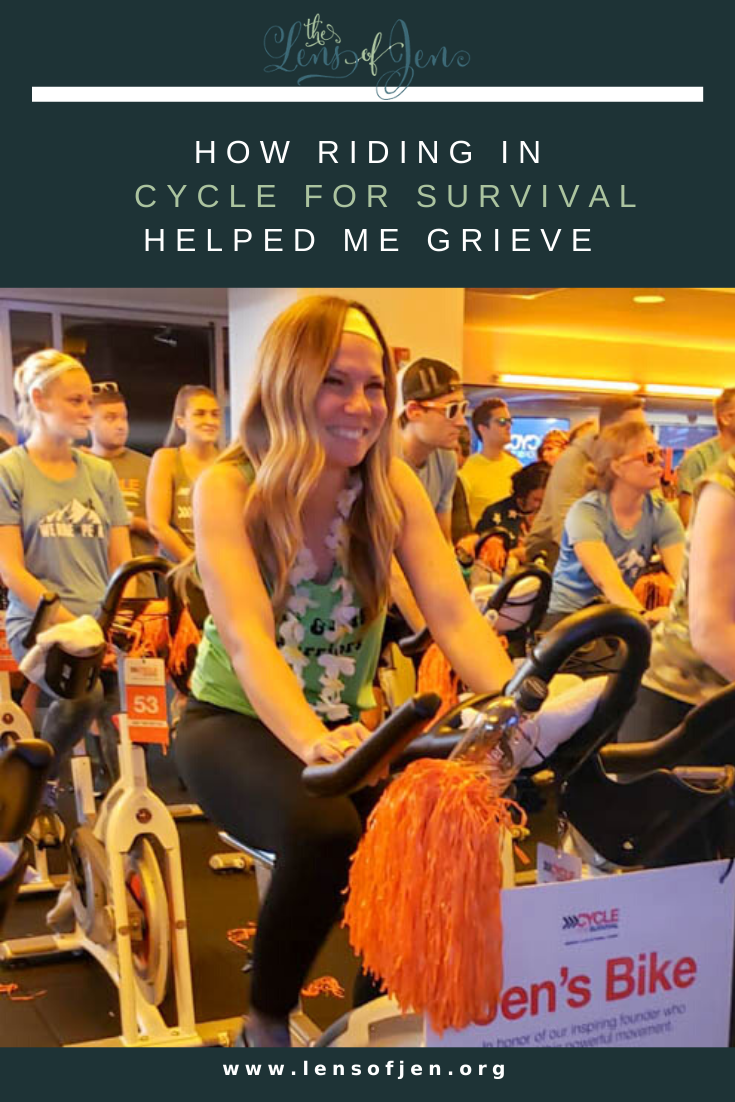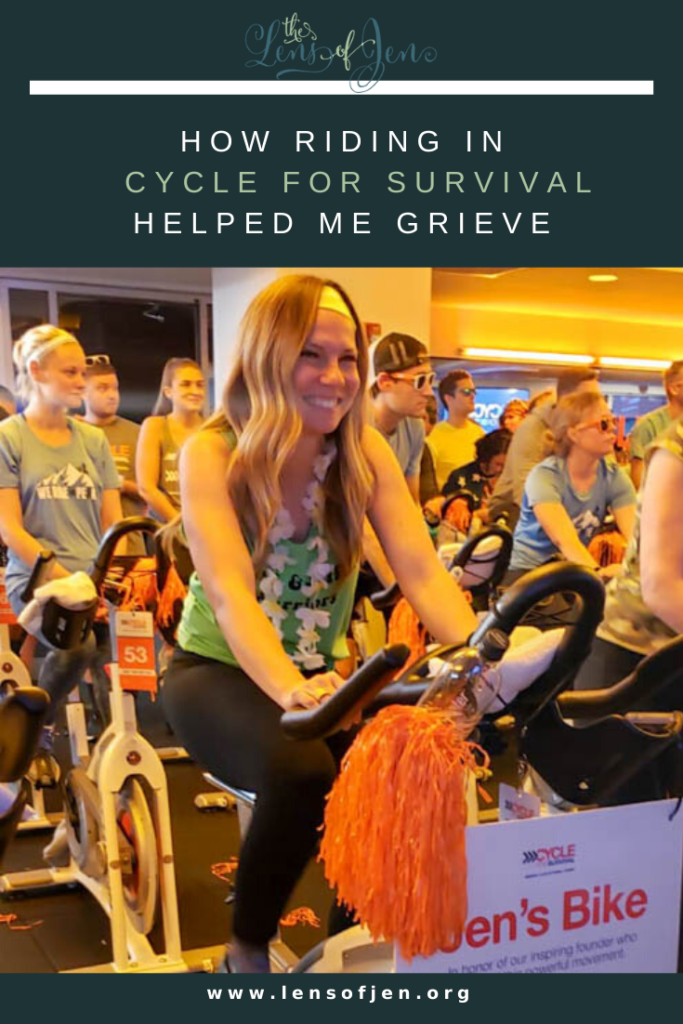 Dave said that Jen had a choice after she was diagnosed. And she chose to approach her life with joy even when her disease seemed insurmountable. And, when she died in 2011, Dave acknowledged that he, too, had a choice.
I sure can relate to that. Like Dave, I try to choose joy even when the waves of grief seem insurmountable.
There is a special bike at the Cycle for Survival events called "Jen's Bike" where survivors and caretakers take turns riding. The sentiment alone is a beautiful one. The Cycle for Survival founder knew how much survivors need that ride…and how much caretakers do as well.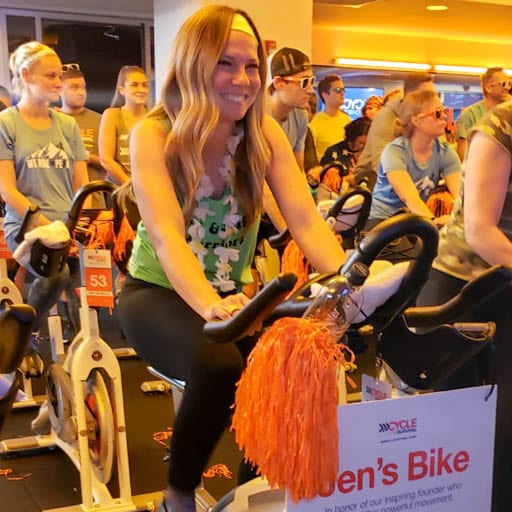 I was able to ride Jen's bike thanks to our team leader who has formed a team in Chicago for a decade now. Ever since she lost her friend, Jess, to cancer.
I needed that ride.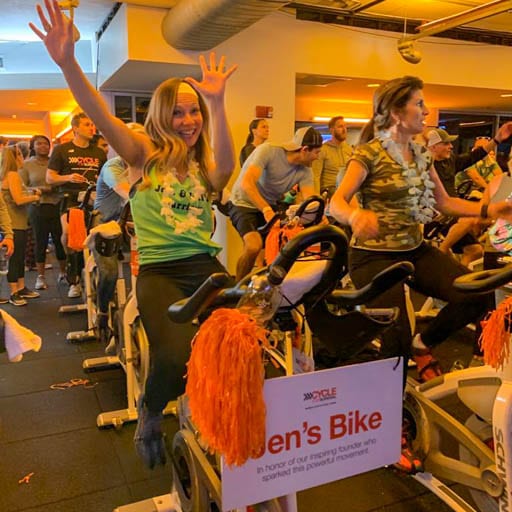 Riding that bike was one of the most powerful moments that I've experienced in my journey through grief. Through the grief waves, there are ups and there are downs, but joining my energy with cancer survivors, with caretakers, and with the legacy of those who we have lost to cancer – that was a high.
At the Cycle for Survival events, we all chose to spin into a future filled with joy and, if we have anything to say about it, a future without cancer.
Because ALL funds raised for Cycle for Survival go directly to rare cancer research at Memorial Sloan Kettering Cancer Center. And this part is really important to me since we lost Jeff in just four months from diagnosis to death:
All funds go to cancer research within six months of the close of fundraising.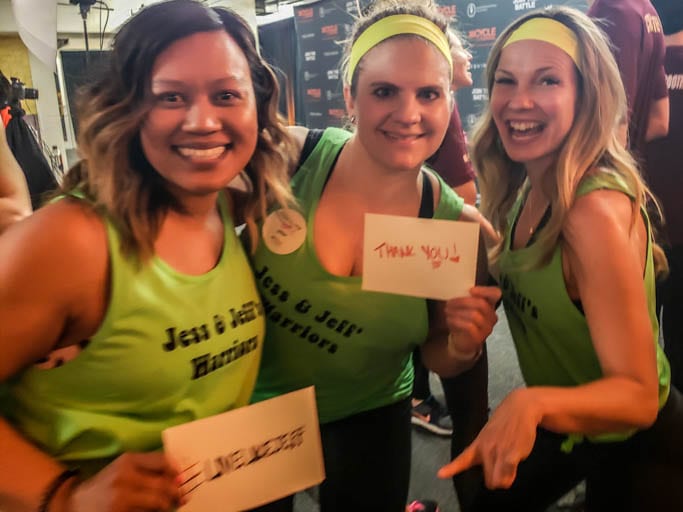 Since the event was just before Valentine's Day, an emotional holiday for me because that's the day that Jeff was diagnosed with esophageal cancer, I kept waiting to collapse under the emotional weight of Chicago, of memories, of cancer.
Instead, Cycle for Survival lifted me up.
#LiveLikeJeff
About the Author
Hi! I'm Jen!
I'm a freelance writer and travel blogger who quit my nine-to-five after my fiancé, Jeff, died of cancer at the age of 40. When he died, I realized that life is just too short to delay our dreams. Since my dream was to travel and write, I now travel and write full-time. Today I wear hiking boots instead of heels and collect experiences instead of things.
You might like