A Fatal Grace: Thick with Laughter and Layered with Meaning
Hey there! This post may contain affiliate links, which means I'll receive a commission if you purchase through my link, at no extra cost to you. Please see my legal page for more details.
A Fatal Grace got me thinking about life, death, and signs of life.
If you read Still Life, then you know the delight of picking up a Louise Penny novel, and you'll feel right at home going back to the quaint town of Three Pines.
(Note: Though it's not necessary to read all of the Chief Inspector Armand Gamache series in order, it makes sense to pick up the first novel before reading A Fatal Grace, which is the second in the series. Just do it – you're in for a ride!)
A Fatal Grace Plot Summary (No Spoilers)
All of our beloved friends are still in Three Pines, though some are much altered after the untimely death of Jane Neal (don't worry, that's not a spoiler: you learn about Jane's death in the first pages of Still Life).
Grouchy Ruth Zardo is still writing her poetry, the boys are still running the bistro, and Clara is still making her art. It's Christmastime and the thermometer is registering low, but spirits are running high in Three Pines – even though another resident of the small town was murdered.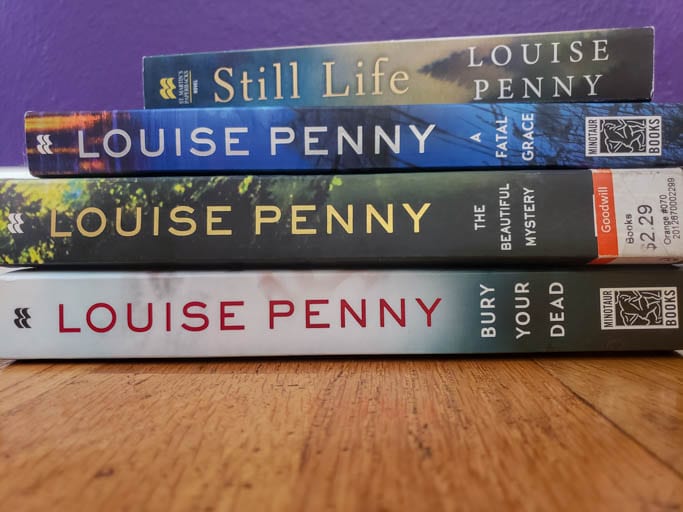 The dead woman was a member of the community, but not a beloved member of this tight-knit town – and that makes damned near everyone a suspect.
Fear not folks, Chief Inspector Armand Gamache is on the job!
After the previous investigation surrounding the death of Jane Neal, Gamache now counts many of the townspeople amongst his friends, making the task of investigating them a delicate one, to say the least. He expands his circle of contacts in this investigation to include the three elderly women of the town who we get to know quite well throughout the novel which, like the first book, is a page-turner. (Once again, it took me just two days to finish – and I even canceled some plans to keep reading!)
Once again, the group scenes are thick with laughter and layered with meaning. The reader gets to know the personalities through the group conversations in which Penny moves swiftly between points of view.
But it is a one-on-one conversation that had me re-reading this time around.
A Personal Connection to A Fatal Grace
There is a point near the end of the novel where Gamache sits down to speak with Émilie Longpré, one of the three town matriarchs. It's not surprising that they talked of life and death, considering Gamach is investigating a murder and considering the way-up-there age of Madame Longpré.
What is surprising – and what makes for remarkable reading – is the frank talk they have about finding signs. Signs that these two thoughtful characters felt pointed them toward their destinies.
Each had a tale to relate about how a person – perhaps unknowingly – did something that Gamache or Longpré chose to see as a sign. This got me thinking about signs and whether we stumble on them or whether we choose to see them when we need them. Or whether it's a little of both.
In this same conversation, Madame Longpré says this: "I only became really happy after my family was killed."
As his way, Gamache already understands, but the reader needs a little more to get to a place of comprehension. So, we hear about Longpré's devastating loss and her long journey through recovery. And, as Penny skillfully unpacks grief, I understood.
While Longpré would give anything to have her family back, their deaths woke her up. The Hell she had to go through to learn true happiness taught her to live differently; to live every day as though there won't be another; to pursue the things that lead to happiness and to drop the things that don't.
I understand that completely. It went through a deep, dark period after my late partner died of cancer, but I made changes in my life that led me to a much happier existence than that which I lived before I met Jeff.
ALL THE STARS for this book! Especially since we get lots of Ruth Zardo's poetry (which is really written by writers such as Margaret Atwood), and is a great bonus hidden within a great tale.
Who Should Read a Fatal Grace
If you love a simple but enjoyable novel, you will love A Fatal Grace. I am not a huge murder-mystery reader, but I love this entire series.
About the Author
Louise Penny lives outside a small village south of Montreal, quite close to the American border with her beloved dogs.
The inspiration for Armand Gamage is her late husband Michael to whom she was married for 20 years.
Penny came to writing later in life. She was well into her 40s before "Still Life," the first Gamache novel, was published. Before being published she was a journalist with the Canadian Broadcasting Corporation.
Find a Fatal Grace from an Independent Bookseller
If you are looking to support independent booksellers, please consider purchasing from Bookshop, an online bookstore that is doing amazing things for independent bookstores. By using this Bookshop link to purchase a Fatal Grace, ten percent of your purchase will support independent bookstores. You can also choose to support your favorite bookstore rather than the larger pool of independent shops.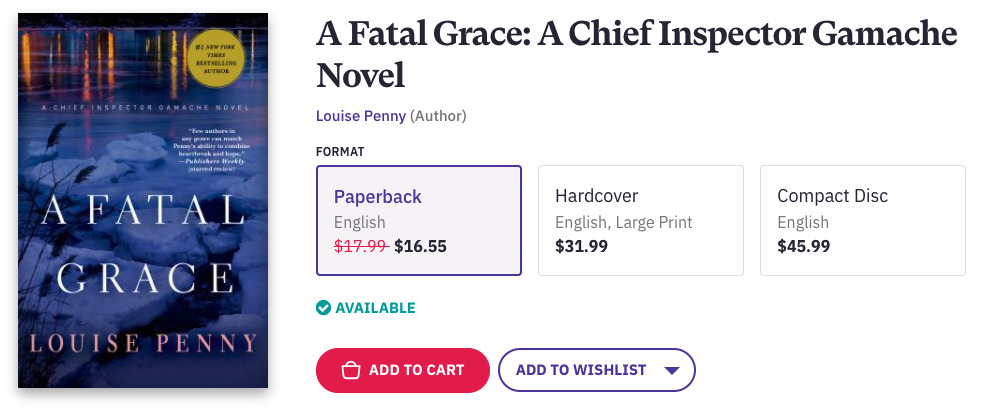 Bookshop gives away 75 percent of its profits to independent booksellers, authors, and book reviewers like me. They are also a certified B Corp, meaning a company that prioritizes the public good over profit.
You can also find links below to purchase The Nightingale on Amazon, Audible, and Kindle as well as Barnes & Noble and Nook.
Thank you for keeping the book community thriving!
About the Author
Hi! I'm Jen!
I'm a freelance writer and travel blogger who quit my nine-to-five after my fiancé, Jeff, died of cancer at the age of 40. When he died, I realized that life is just too short to delay our dreams. Since my dream was to travel and write, I now travel and write full-time. Today I wear hiking boots instead of heels and collect experiences instead of things.