Day 26 on the Camino del Norte: La Caridad to Ribadeo
Hey there! This post may contain affiliate links, which means I'll receive a commission if you purchase through my link, at no extra cost to you. Please see my legal page for more details.
The Day We Entered Galicia:
Day 26 on the Camino del Norte was a momentous one. Our pilgrimage had already taken us on foot through Basque Country, Cantabria and Asturias. Galicia was always the far-off region where we would end our trek and finally see the mystical cathedral of Santiago de Compostela.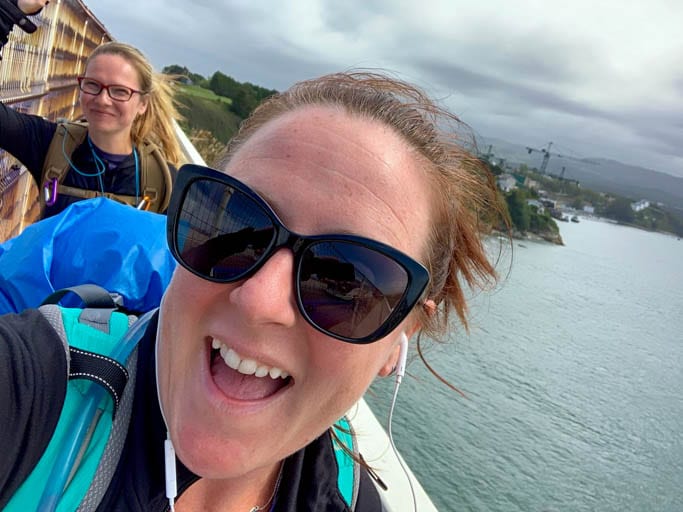 So, we quite literally danced onto the bridge that brought us out of Asturias and into Galicia. Lizz and I also hit 300 miles walked. That's 300 miles (483 kilometers) walked in 26 days!
A Room of One's Own
In Ribadeo, we splurged on an apartment that gave each of us our very own room, and we sprawled across huge beds that felt as big as Basque Country after so many nights in the bunk beds of albergues.
The quiet of the solitary night gave me space to think about my decision to go home. For more than one year, I had run from home and run from all the things about life that reminded me of the future I had once planned with my partner.
I was angry that cancer had robbed Jeff of his life and cheated me out of building a family with him.
But somewhere along The Way, as even the extreme beauty of the Spanish countryside grew monotonous, and as the pain and fatigue faded from all-consuming to background noise, I had time to heal. The muted sound of walking sticks on paths thick with wet leaves created a moving meditation that brought me peace.
I was, for the first time since Jeff's death, free of anger.
So, as we turned our eyes toward Santiago, I turned my mind toward home.
Where to Stay in Ribadeo
As we celebrated entering the final region of our pilgrimage, we sprang for our own room that we booked on Booking.com. Here are other available accommodations in Ribadeo:
Lessons Learned on the Camino del Norte:
They say that the first third of the Camino is about the body, the second part about the mind, and the third part about the soul. And that's mostly true. It took me a little longer to transition, but as we entered Galicia, I entered the soul phase and this is where the experience of walking the Camino de Santiago became what I had heard so many pilgrims describe as life-changing.
Tips from a Post-Camino del Norte Perspective:
If within your budget, splurge on your own room occasionally. It will help your sanity.
Our Pilgrimage Stats on the Camino del Norte After Day 26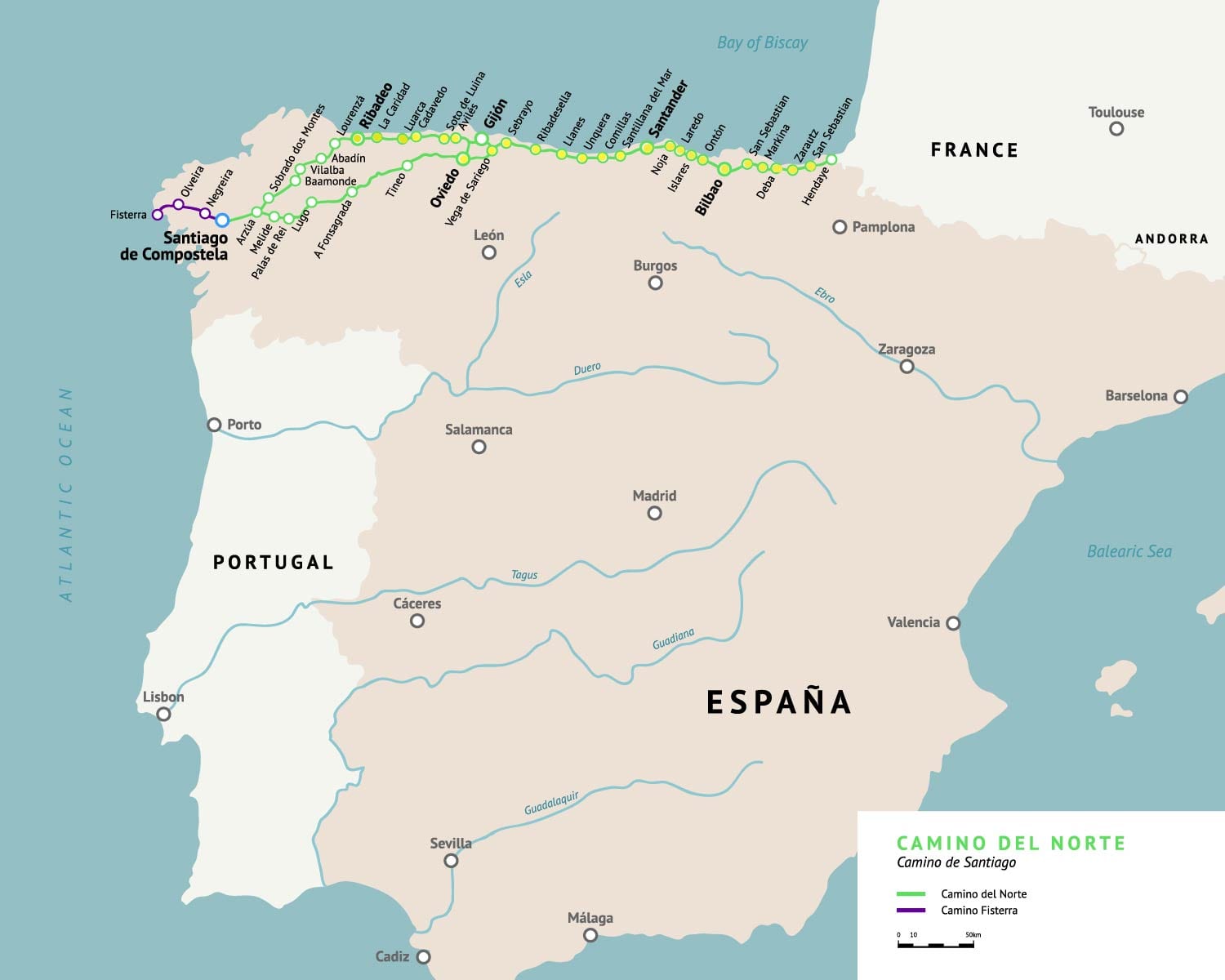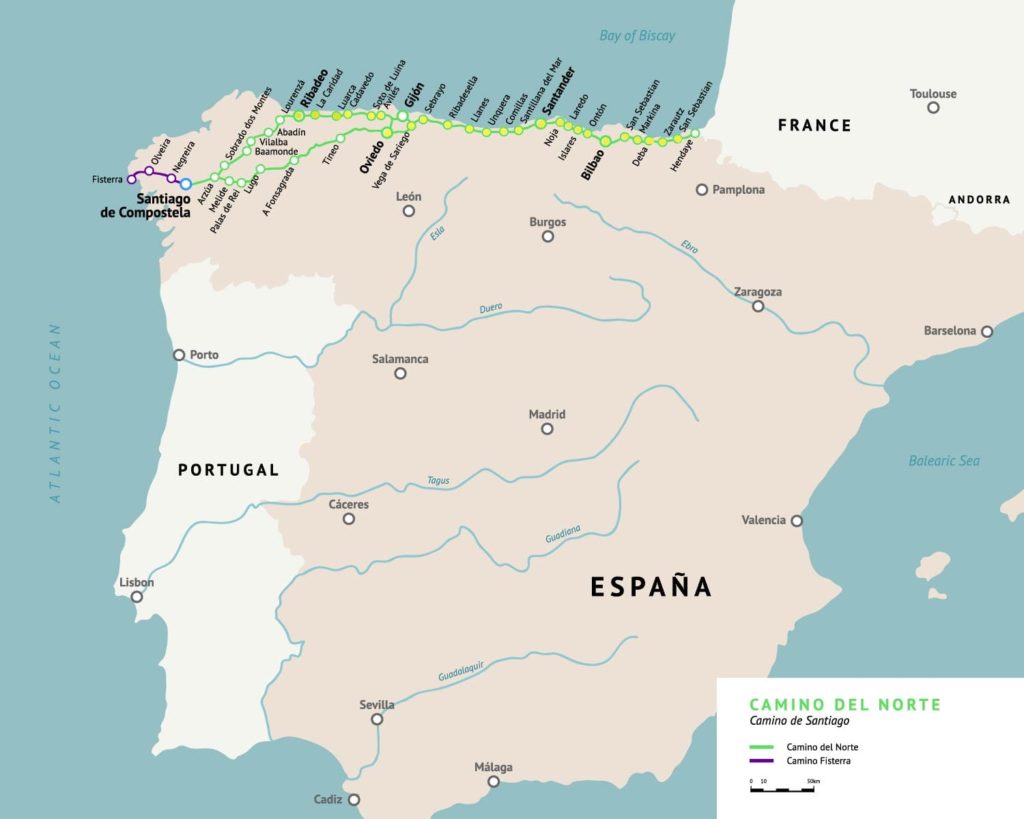 Stage Miles: 13
Actual Miles Walked: 14 (22.5 kilometers)
Bus forward Miles: 0
Total Miles Walked So Far: 312 (503 kilometers)
Additional Camino Resources
About the Author
Hi! I'm Jen!
I'm a freelance writer and travel blogger who quit my nine-to-five after my fiancé, Jeff, died of cancer at the age of 40. When he died, I realized that life is just too short to delay our dreams. Since my dream was to travel and write, I now travel and write full-time. Today I wear hiking boots instead of heels and collect experiences instead of things.