Day 34 on the Camino del Norte: Arzúa to Pedrouzo
Hey there! This post may contain affiliate links, which means I'll receive a commission if you purchase through my link, at no extra cost to you. Please see my legal page for more details.
The Day We Joined the Camino Frances:
On Day 34 of our pilgrimage, our route – the Camino del Norte – met the Camino Frances. There are seven established routes to Santiago but when people talk about "The Way," they are referring to the Camino Frances, the most popular of the seven routes.
Until this point, we recognized most of the pilgrims on the path. We had passed by them before, or they had walked by us, we had lunched with them, or shared a laugh over dinner.
That would no longer be the case. Lizz and I were almost overwhelmed when the paths merged. There so many cafés, bars, actual restrooms, and people. So. Many. People.
One person that we wouldn't see again, though, was our walking companion Alicia. She woke up in the hotel in Arzúa with her shoes still soaked through from our rainy trek from Sobrado and her spirits still a bit dampened. She put her flip flops on and marched out of Arzúa with no intention of stopping. She walked all the way to Santiago. That means 24 miles – in flip flops.
That girl is a badass and we wish her the very best.
For our part, Lizz and I took full advantage of all the places to stop – so many facilities! – and embarked on a pub crawl of sorts, meandering our way to Pedrouzo and meeting many new friends.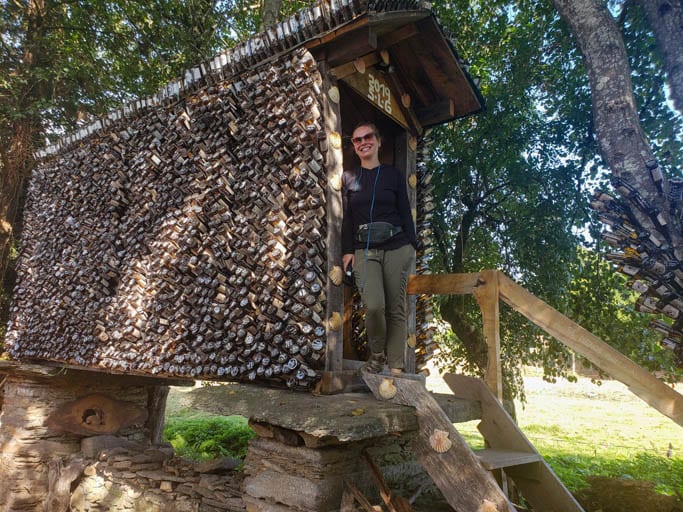 We even found an old friend among the throngs of pilgrims. Our pal George, who nearly got locked out of the monastery with us back in Sobrado, joined us for a beer in the rollicking Casa Tía Dolores where people strummed guitars, inspiring pilgrims to drop their backpacks and join in impromptu songs and joyful dances.
It seems mandatory at Casa Tía Dolores to write your name on a bottle and leave it in the stone walls that are covered in beer-soaked memories. So we did just that before joining the crowds moving toward Santiago.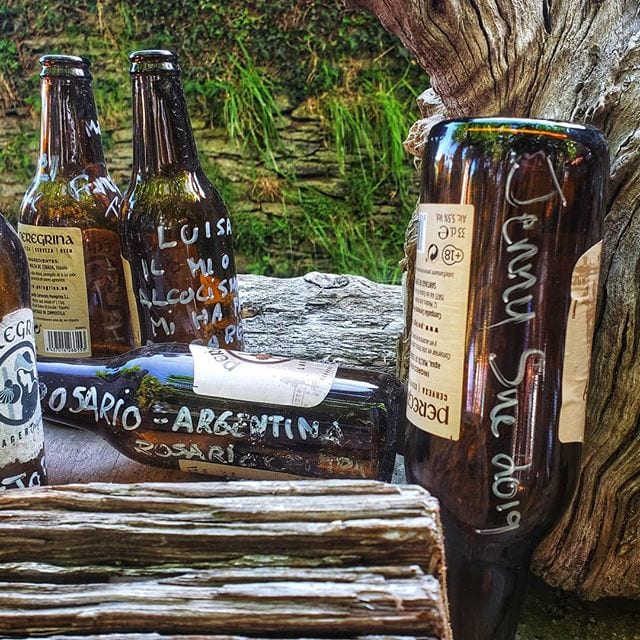 Once in Pedrouzo, Lizz and I called our friends and family, sharing our joy with the people in our lives who made it possible for us to embark on an experience of a lifetime – walking the Camino de Santiago.
Lessons Learned on the Camino del Norte
If you walk the Camino del Norte, it will be a little overwhelming when the Northern Way meets the Camino Frances in Arzúa. There will be so many people! But it's also a delightful and joyful day since everyone on the path will reach Santiago either that day or the next.
Tips from a Post-Camino del Norte Perspective:
Many people choose to walk all the way from Arzúa to Santiago, a grueling 24-mile day. I would break up the stage into two 12-mile days, drinking in the celebratory atmosphere. Plus, this way, you aren't dragging into Santiago. Instead, you are skipping!
Our Pilgrimage Stats After Day 34 on the Camino del Norte: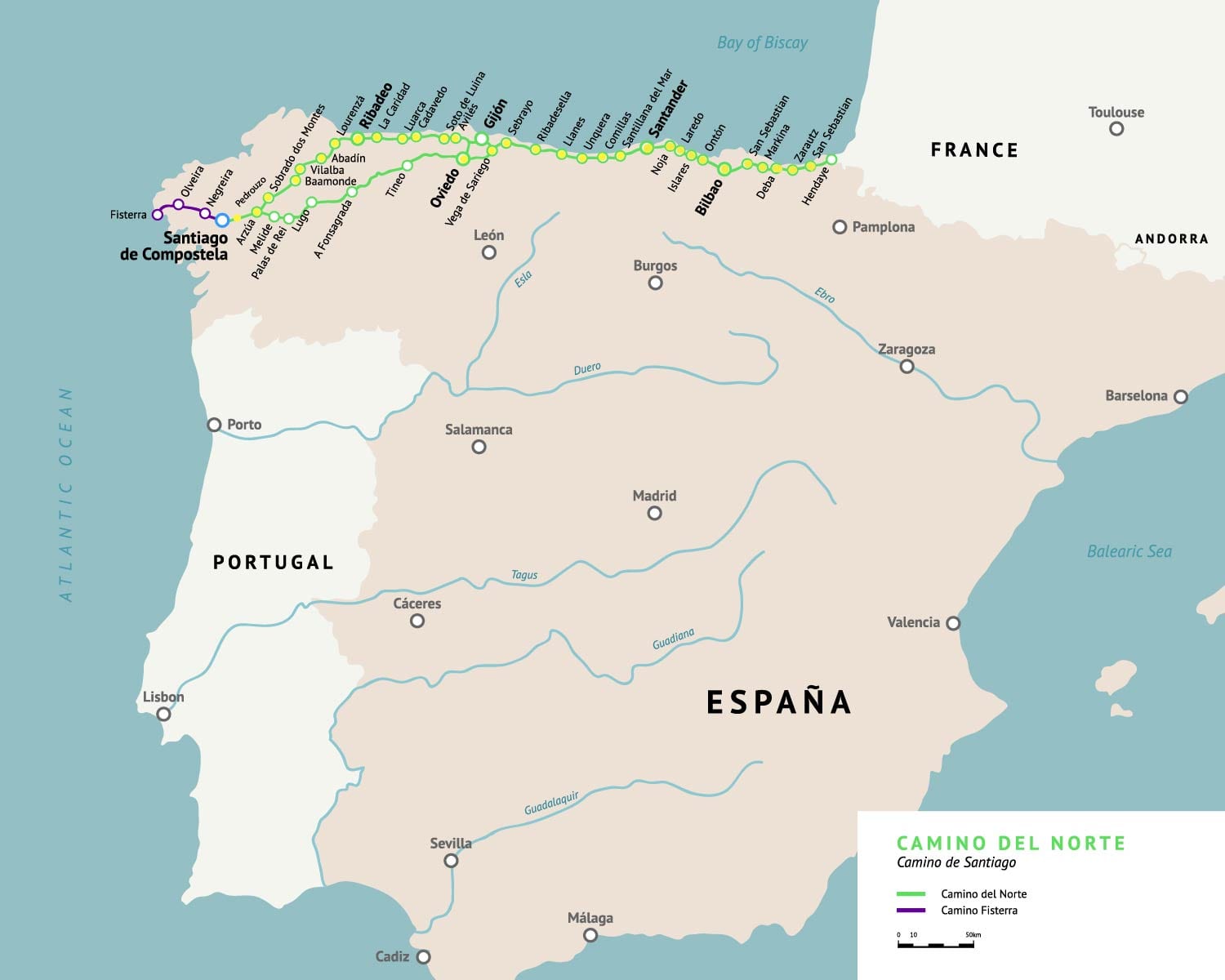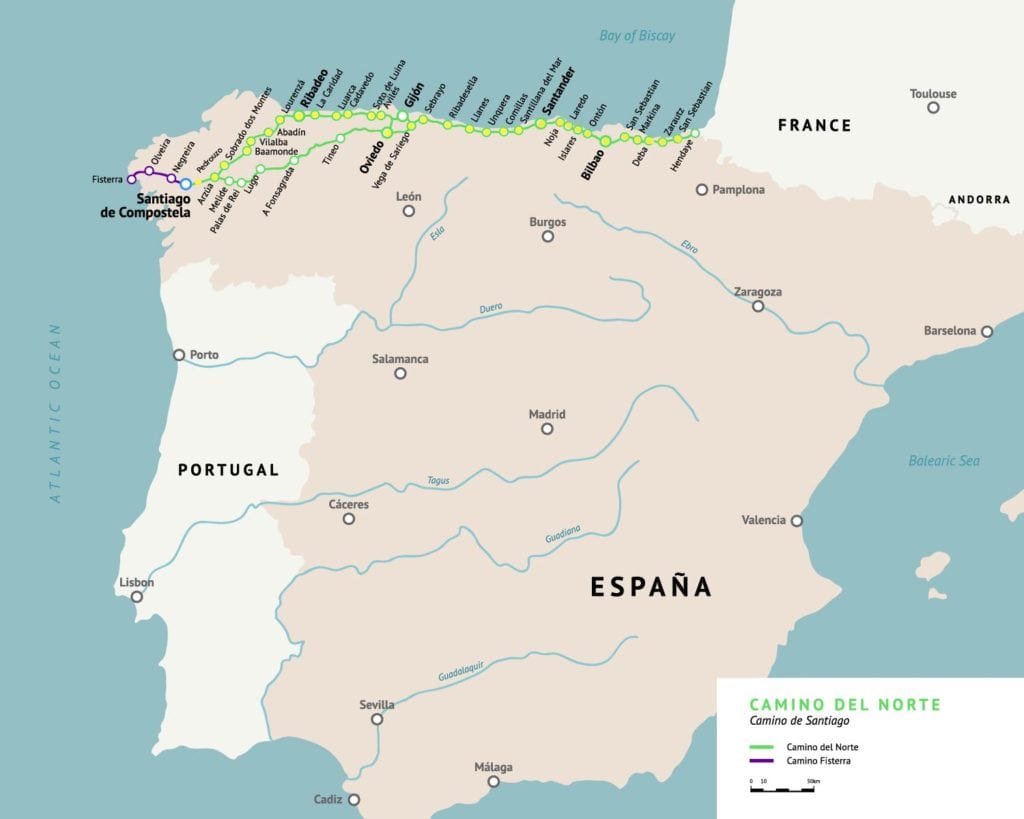 Stage Miles: 12
Actual Miles Walked: 13 (21 kilometers)
Bus forward Miles: 0
Total Miles Walked So Far: 426 (685 kilometers)
Additional Camino Resources
About the Author
Hi! I'm Jen!
I'm a freelance writer and travel blogger who quit my nine-to-five after my fiancé, Jeff, died of cancer at the age of 40. When he died, I realized that life is just too short to delay our dreams. Since my dream was to travel and write, I now travel and write full-time. Today I wear hiking boots instead of heels and collect experiences instead of things.