A Perfect Day Trip to Reims, the Capital of France's Champagne Region
Hey there! This post may contain affiliate links, which means I'll receive a commission if you purchase through my link, at no extra cost to you. Please see my legal page for more details.
If you're looking for the perfect day trip to Reims, look no further! Just 45 minutes from Paris by train, Reims is a quiet but sparkling destination, boasting more than 250 kilometers of underground champagne cellars carved into its historic hills.
With so many champagne houses to explore in the region, it was difficult to choose the best destinations for our group, but we narrowed it down to the simplest and bubbliest of equations: Which houses have the best wine tastings?
In the end, we came for the champagne and we found so much more.
Getting to Reims from Paris
My friends Sarah, JP, and I hopped on the train in Paris at Gare de l'Est on the Saturday morning of our perfect day trip to Reims. We got on just before 8:30 and, 45 minutes later, we were walking out of the tiny Reims central station, through a welcoming park, and straight into the plush red chairs of Le Café de Reims to fortify with espresso, café au lait, and croissants.
JP said this as we watched the town wake up around us, café owners setting tables and chairs atop cobblestones sidewalks, and townspeople moseying toward their favorite coffee stop with newspapers tucked under their arms.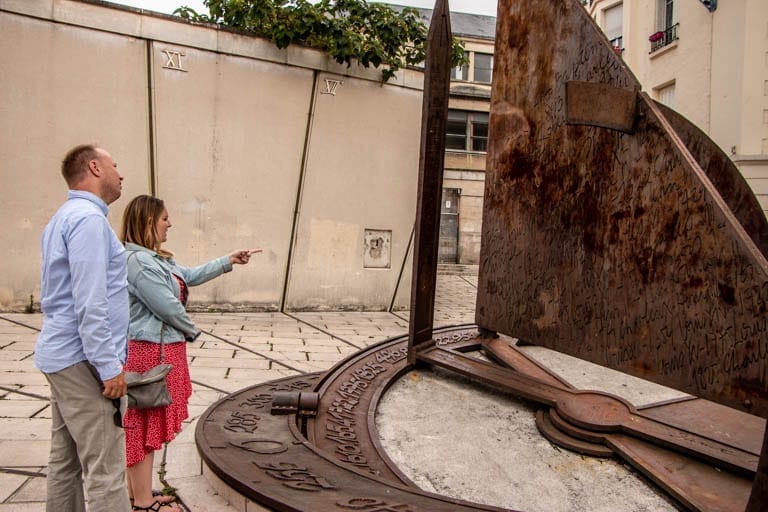 Reims Cathedral: The Place for the Crowning of Kings
The Notre-Dame de Reims, just a 12-minute stroll from the café and the train station, has hosted the coronation ceremonies of 25 French kings. But no tourists were clambering over one another for their Instagram shots. Just us and the beautiful UNESCO world heritage site before us.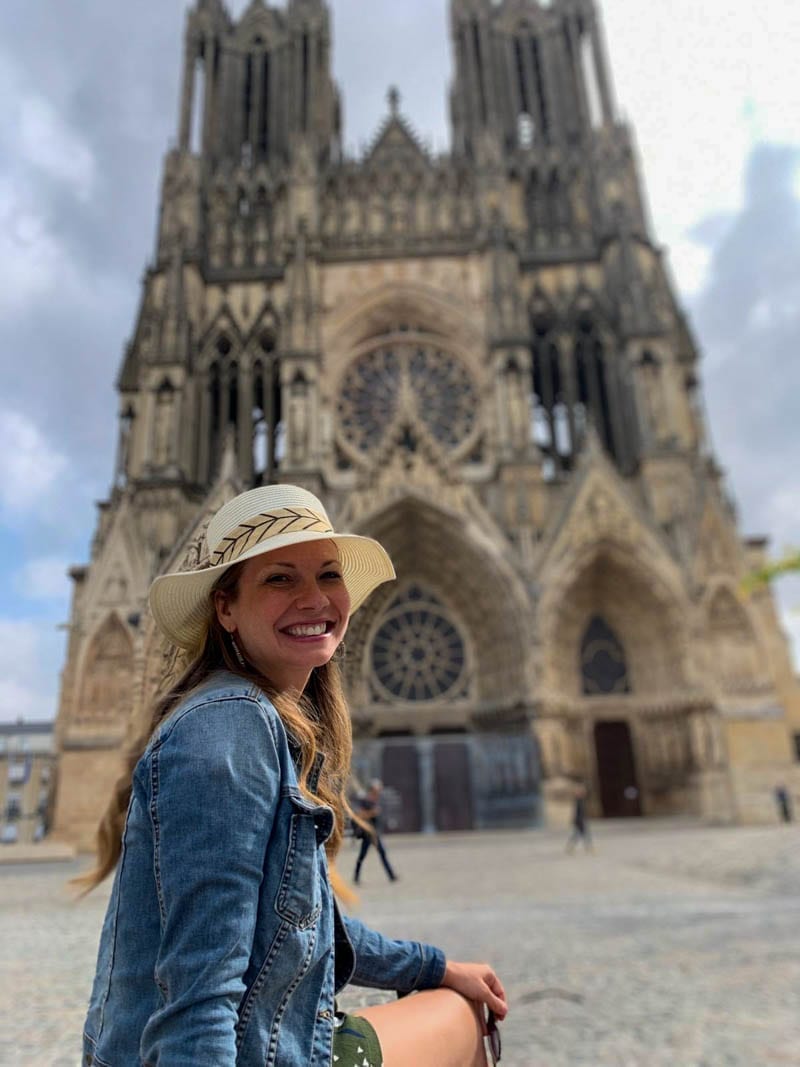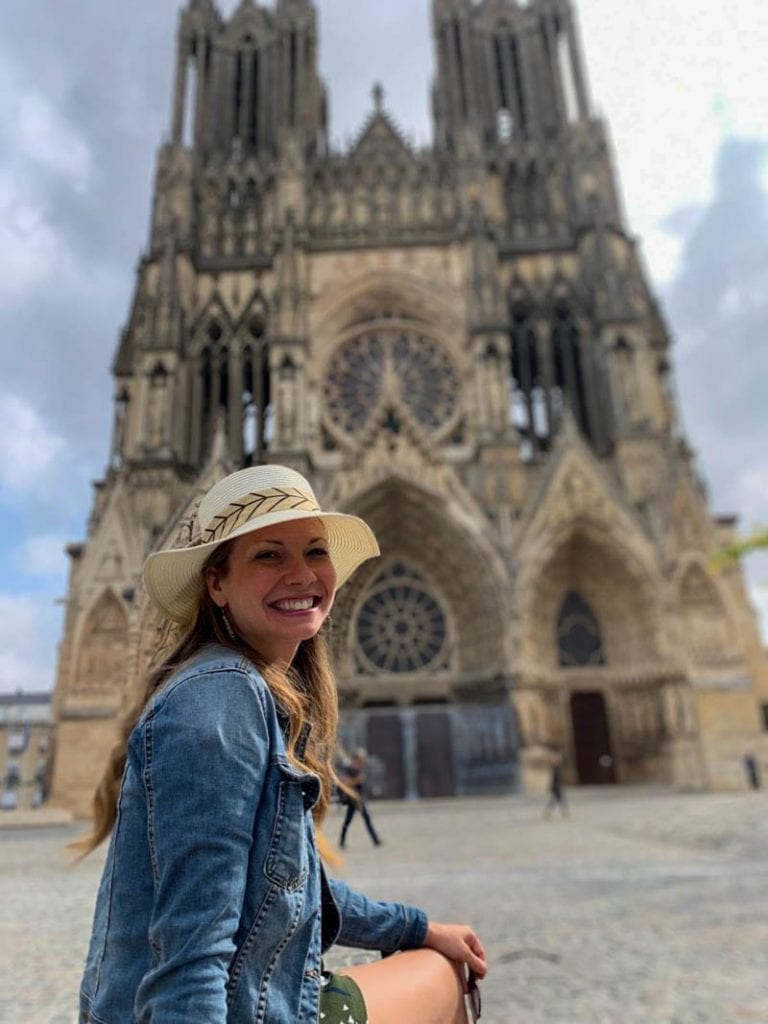 Construction started on the cathedral in the 13th century on the spot where Clovis, the first King of the united Frankish tribes, was baptized by Saint Remis.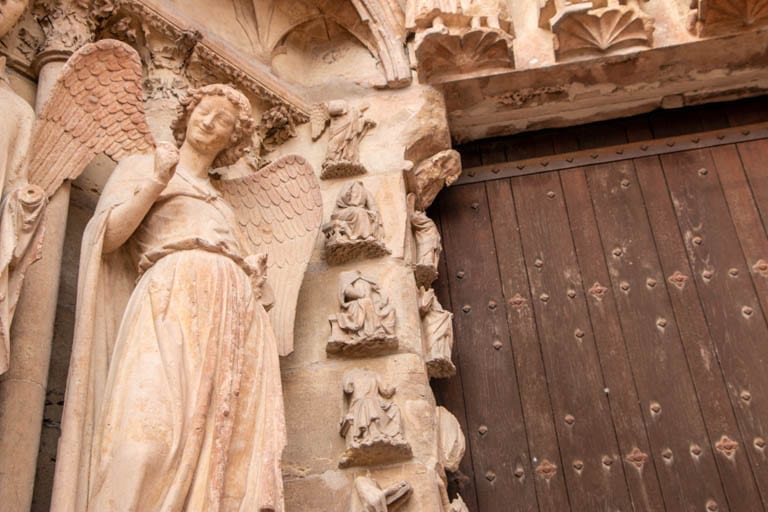 Sometime during the more than 100 years of construction, this Smiling Angel was placed by the massive cathedral doors, becoming a symbol of peace for all who entered for 600-some years – until the statue was destroyed by German shelling during WWI.
After the war, the Smiling Angel was restored, becoming a symbol of resilience.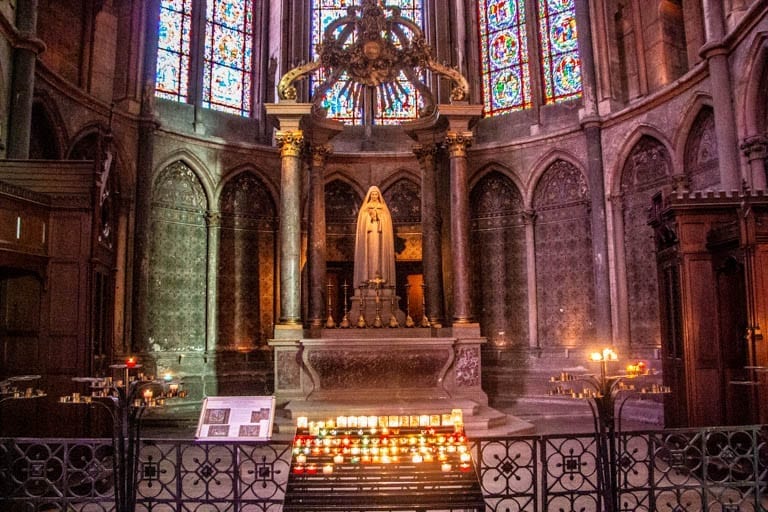 A fitting symbol for a town that was rebuilt after 95 percent of it was destroyed during the First World War.
The town population that remained behind for the constant barrage of German shells moved underground, setting up schools, hospitals, and markets in the wine cellars.
The Wine Cellars of Veuve Clicquot: The Second Stop on a Perfect Day Trip to Reims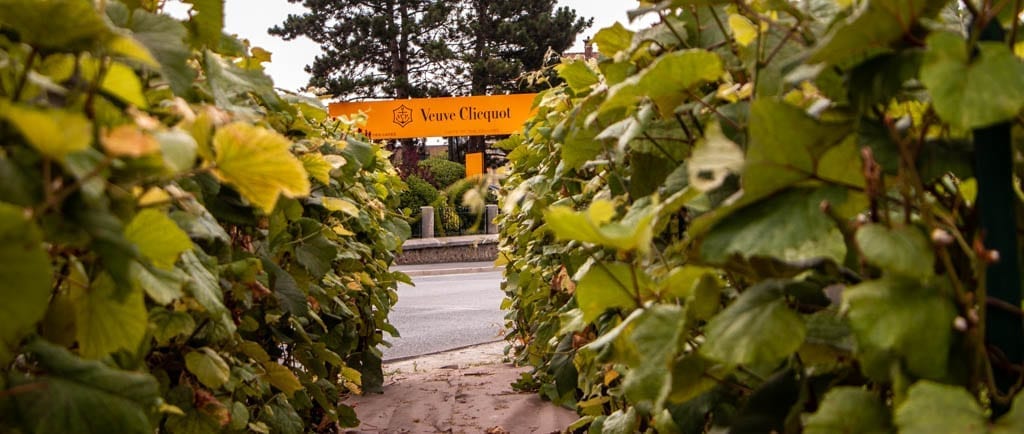 Just a 25-minute walk from the cathedral is the Maison Veuve Clicquot which has an underground network of 24 kilometers (15 miles) of tunnels and cellars that protected the residents of Reims during the war.
Today you can still see the markings on the walls that designated where civilians or soldiers should hide in the cellars.
Two-thirds of the champagne house's cellars date back to the Middle Ages and, along with the chalk quarries on the nearby Hill of Saint-Nicaise that were converted into wine cellars, they make up another UNESCO world heritage site.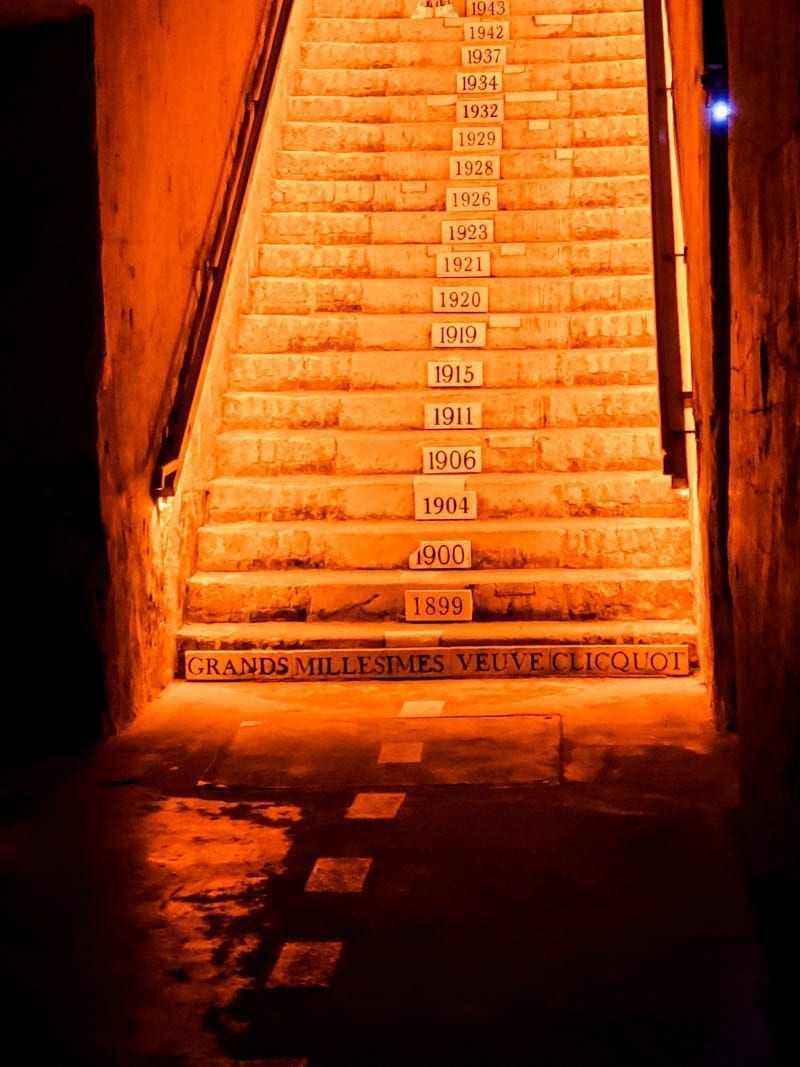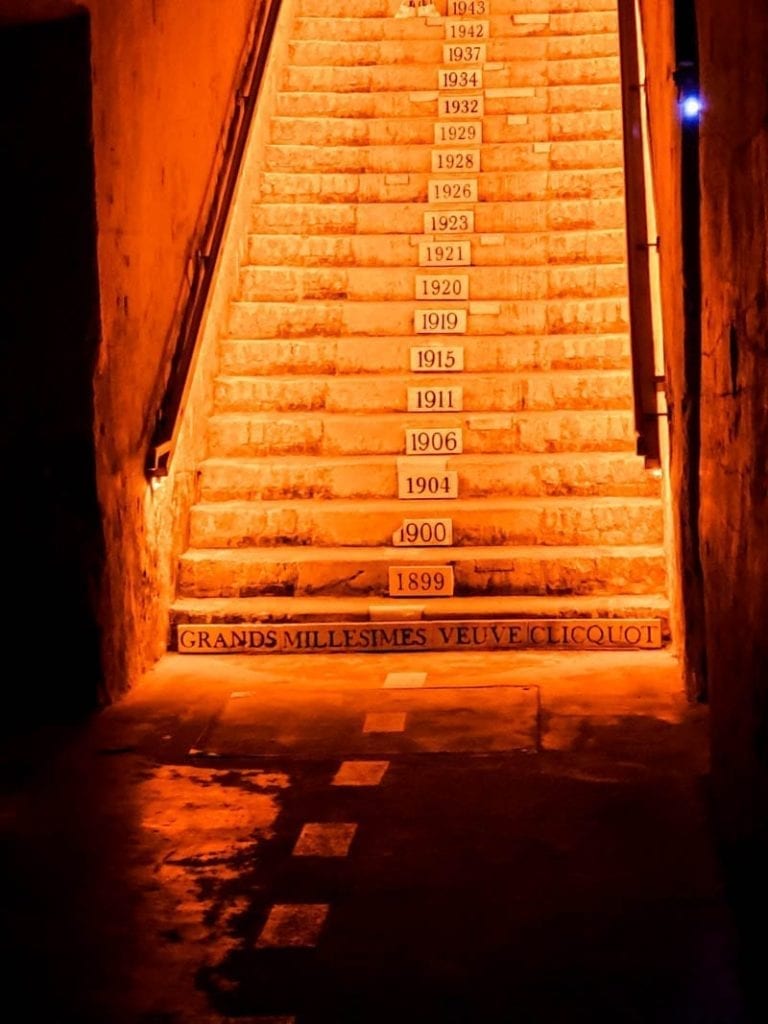 Taking the steep stairs to the cellars, it is clear why the limestone mines and underground chalk quarries were converted to cellars. The carving of the earth here started as early as the 3rd century by the Gallo-Romans in search of construction materials for Reims and the walls that surrounded it.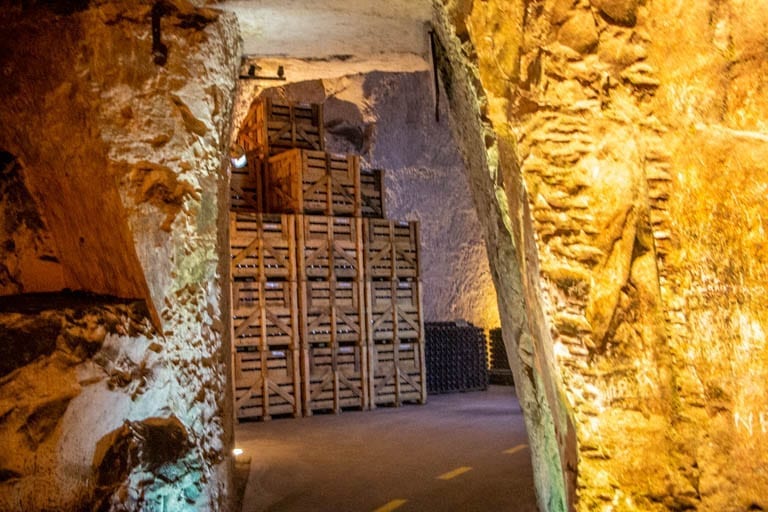 It's cold in those hollowed-out tunnels, like toe-curling cold, and the walls are wet and chalky to the touch. The chilly and humid conditions are perfect for aging champagne in a world untouched by the unpredictable behaviors of humans and Mother Nature above.
When I shared a few pictures from Veuve Clicquot, many people back in the states wrote to tell me that it is their favorite champagne. So it was no surprise to learn during our very informative tour that the top market for this wine house is the United States.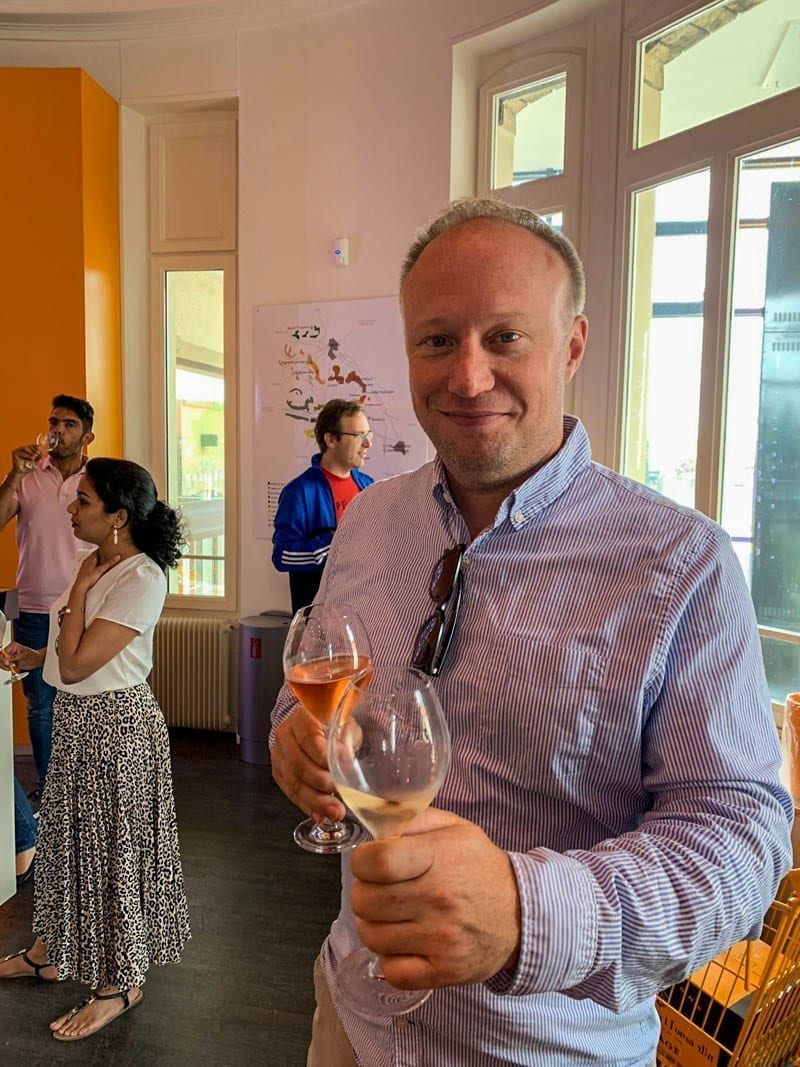 But it was the history that struck me. And I don't mean just the part about villagers living in those chilly wine cellars to survive a war. I am going further back here to Madame Clicquot and an inspiring display of female courage during an entirely different period of war and turmoil.
The Grande Dame of Champagne in Reims
The Napoleonic Wars were raging when Madame Clicquot's husband died in 1805, leaving her a widow (veuve means widow in French) at the age of 27. She asked her husband's father to let her take on her husband's wine business, saying she couldn't bear to lose her husband and his passion as well.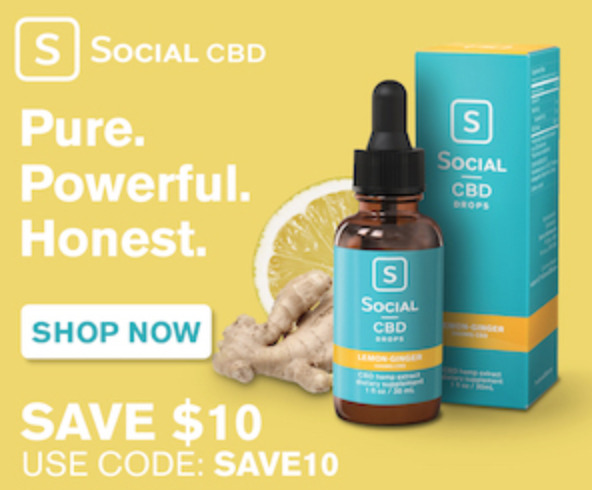 Within two years, the Veuve Clicquot was turning the male-dominated wine industry on its head. Literally. She turned champagne bottles upside down while aging them. This helped in removing the yeast sediment that was previously tolerated as part of a glass of champagne – albeit a chewy part.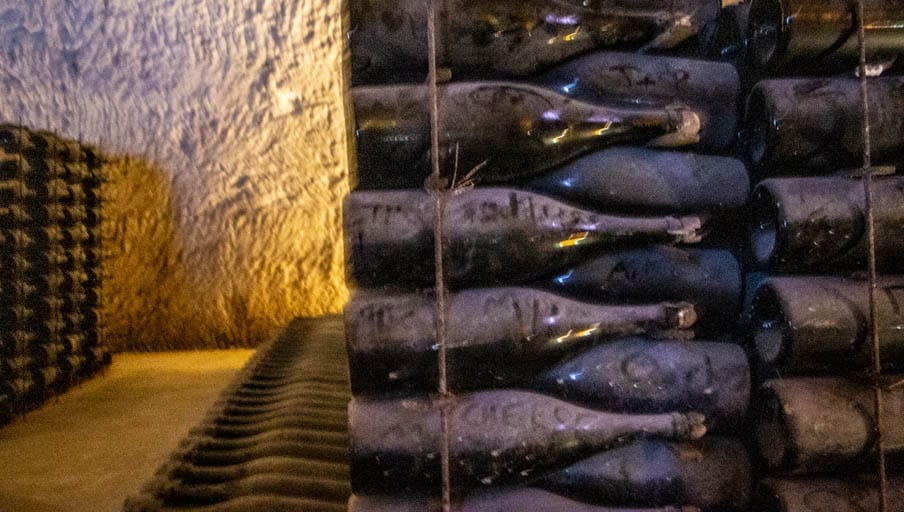 Not only that, but she also pioneered the modern-day rosé. Before the Veuve Clicquot, to make a glass of bubbly rosé, winemakers simply added elderberry. But the Veuve Clicquot blended wines to create the color and taste of rosé, and today 95 percent of champagne houses use this method.
She was a pioneer and a powerhouse. And, as an avid rosé drinker, she is now my personal hero!
Don't Miss the Ship-Wrecked Wine of Reims!
Just before heading up the stairs to the warmth of the tasting room, you will see the oldest bottle of wine at Veuve Clicquot. This bottle was recovered from a shipwreck in the Baltic Sea and the bottle itself comes from a time that the Veuve Clicquot would have been at the helm of operations in Reims.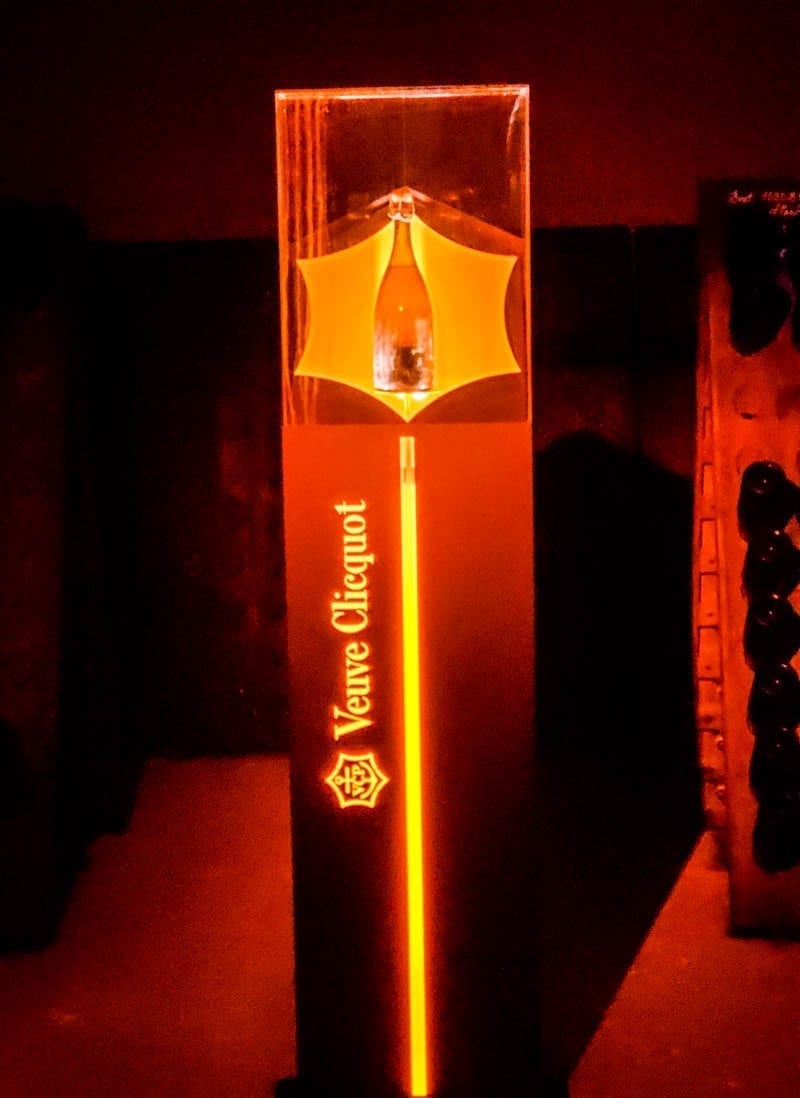 Third Stop on a Perfect Day Trip to Reims: Basilica Saint-Remis
We soaked up some of the rosés from the generous tasting pours at the Veuve Clicquot Visitors Center with the fresh bread and authentic Italian pasta dishes served at the nearby restaurant Il Gusto.
Then we strolled toward our next wine tasting by way of the Abbey of Saint-Remi.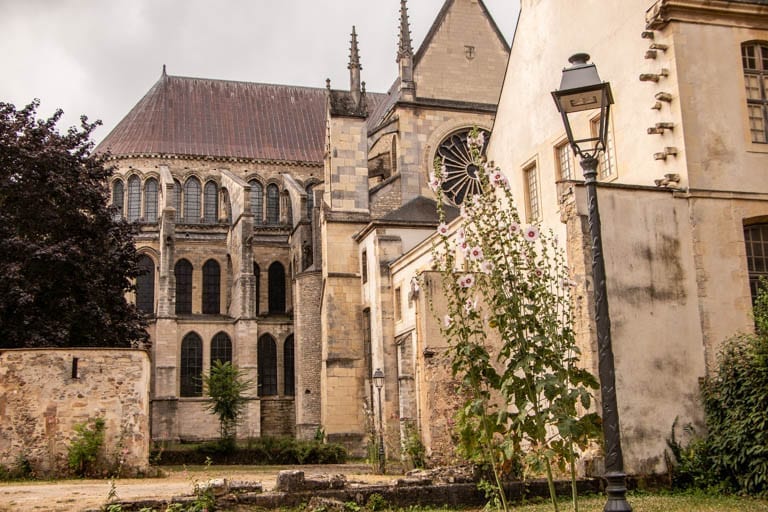 It was a beautiful day, so people lounged in the park-like atmosphere around the basilica, which dates all the way back to the sixth century.
Today it preserves the remains of Saint-Remi, that very same saint who converted and baptized King Clovis.
We couldn't stop in because there was a wedding going on, but the sounds of singing and celebrating that wafted out the doors toward our perch on the grounds eased any disappointment we may have felt at missing the interior.
Fourth Stop on a Day Trip to Reims: La Maison Pommery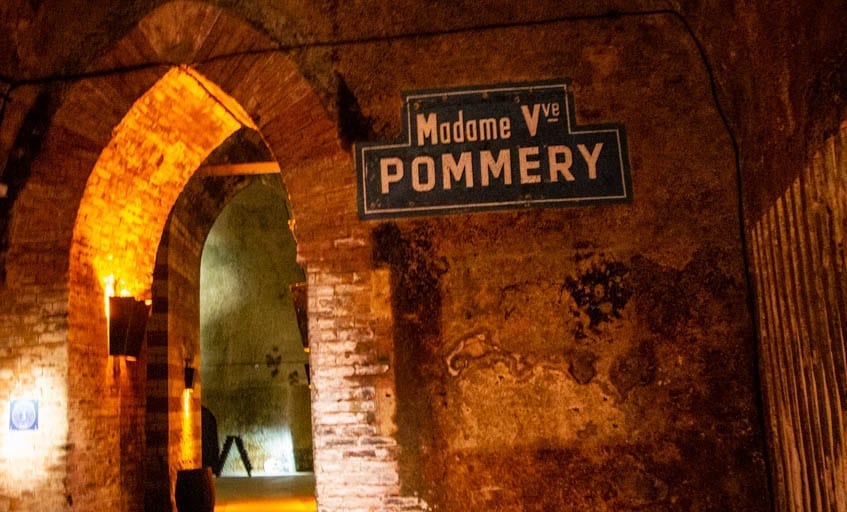 Just a few minutes walk back toward town, we entered the world of Madame Pommery. Some 33 years after the Veuve Cliquot paved the way for women winemakers in the area, Madame Pommery took over the family champagne business after her husband died.
She too revolutionized the industry. She launched a huge expansion project, buying and converting more of the chalk quarries of Saint-Nicaise Hill and building an Elizabethan-themed estate to attract English visitors and buyers. She also ditched the concept of solely sweet champagne and created a dry wine, the first commercially successful brut.
The atmosphere at La Maison Pommery is entirely different than that of the visitors center and cellar tour of Veuve Cliquot – in an utterly intriguing way.
Madame Pommery appears to me to be a bit of an eccentric. Her cellars are more art gallery than wine storage.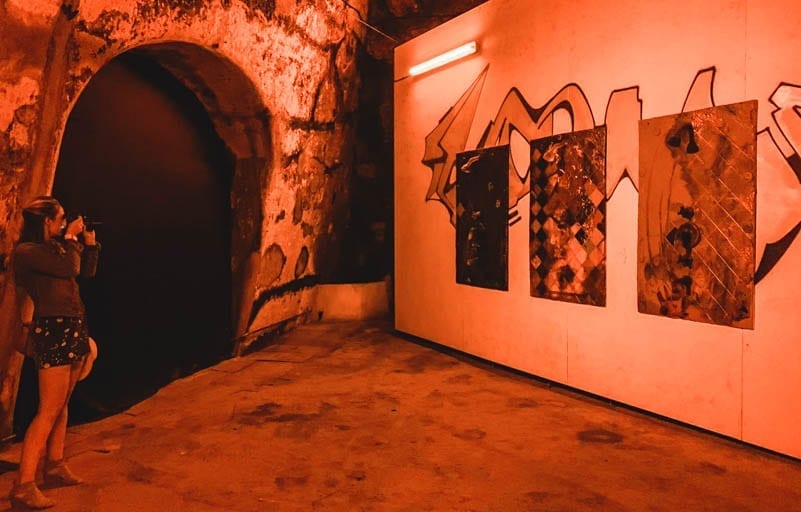 She commissioned artists to create sculptures that overlook the wine aging process.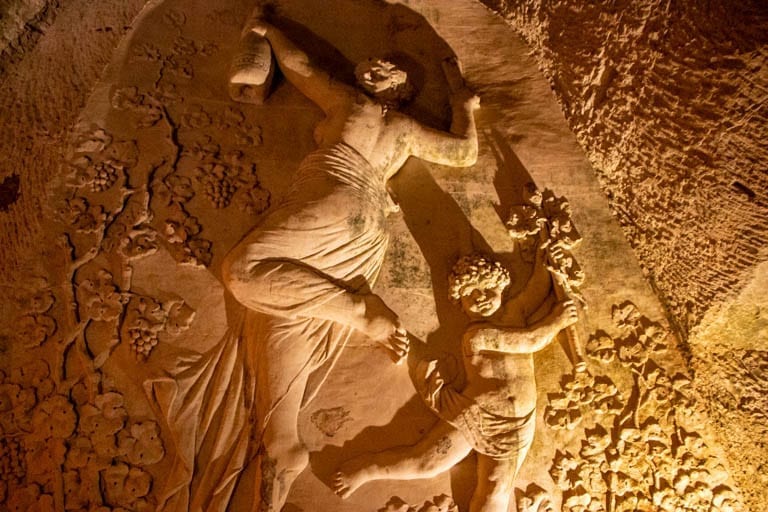 And I'm not sure what's going on with these rats sketched on the walls!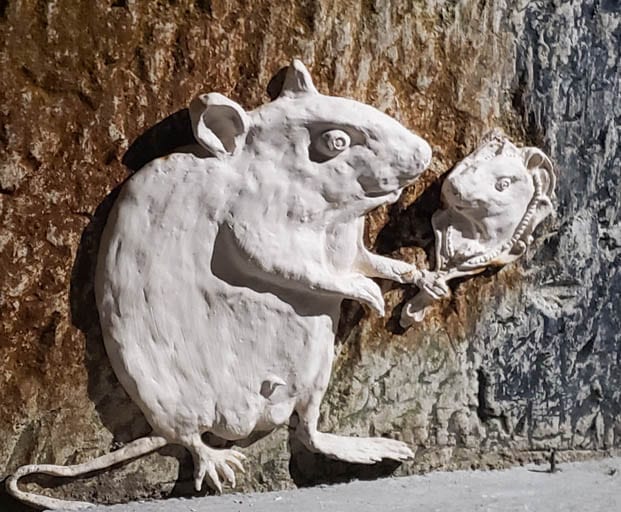 While they startled us at first, it became a game to find these anatomically detailed little guys all over the walls of the place.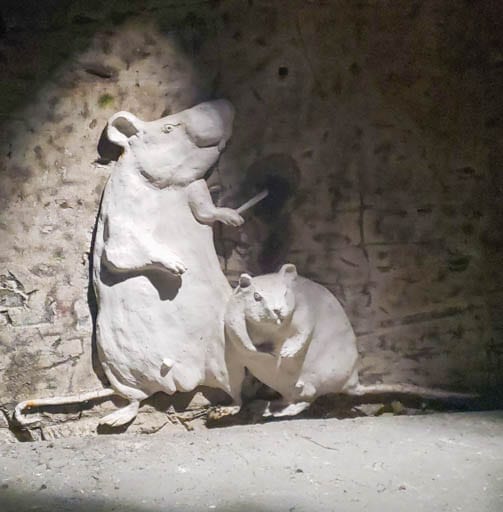 Today's keepers of Maison Pommery continue in this tradition, creating a mini Modern-Art museum where visitors wind through the cellars learning about champagne.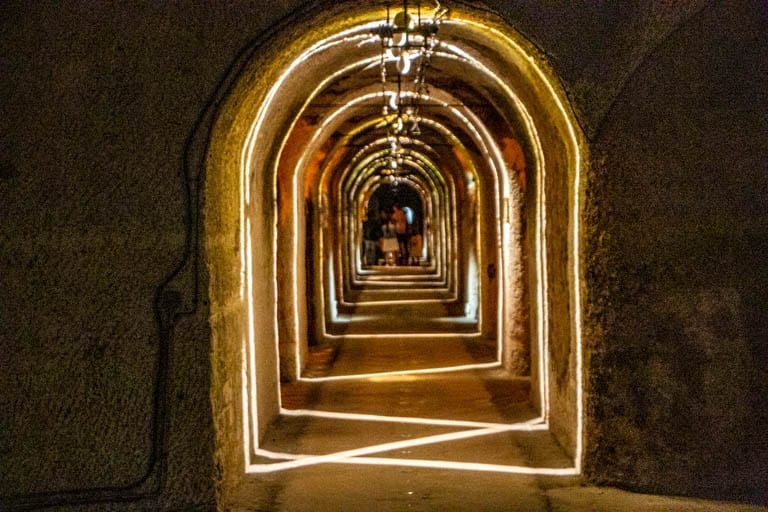 The museum idea makes sense since Madame Pommery was an expert marketer. We joked that she was probably the first to use the ubiquitous concept of walking through the gift shop to exit a museum!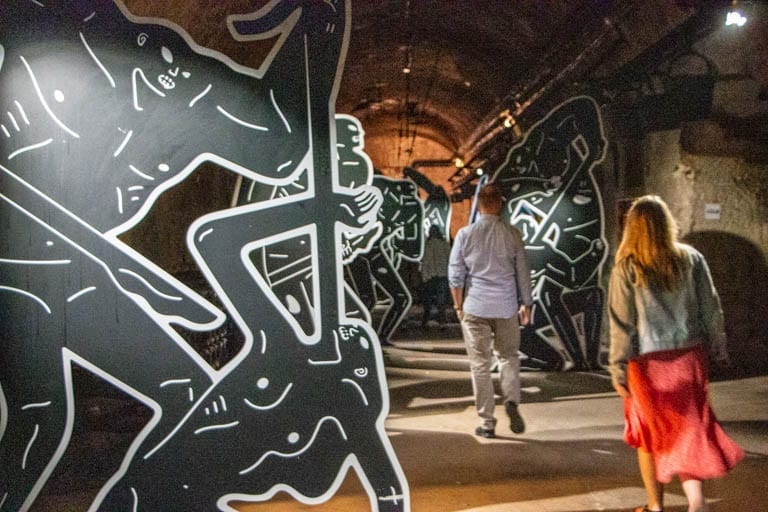 Something a bit more documented is that Madame Pommery was one of the first large-scale business owners in France to create retirement and health plans for her employees.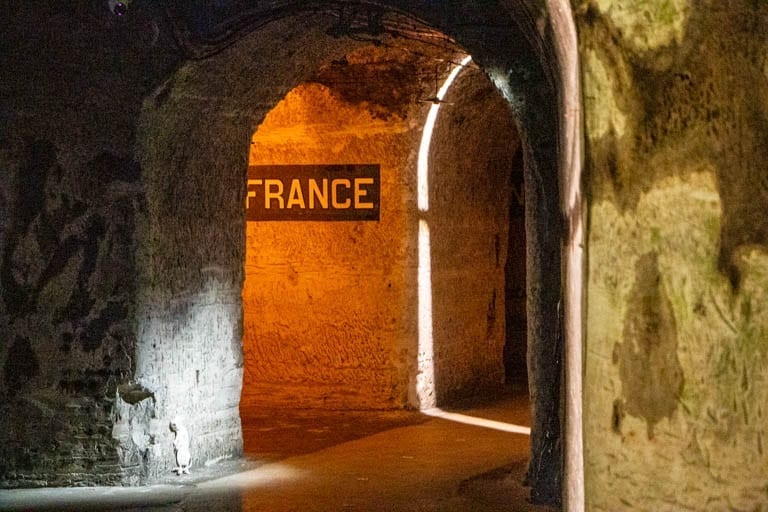 Of course, the whole experience ends with two glasses of that dry champagne that Madame Pommery championed (and a walk through the gift shop).
Back to Paris After a Perfect Day Trip to Reims
We walked back to town, but a shuttle is available at Madame Pommery's. We grabbed another glass of wine at a café near the Notre-Dame de Reims before heading back to the train station and on to Paris, feeling a little tipsy and very satisfied.
If you're going to stay over in Reims, here are available homestays and hotels in Reims:
The Quick Logistics for this Perfect Day Trip to Reims:
to tour or not to tour?
Getting from Paris to Reims
There are many times that I recommend a tour, but this isn't one of those times.
Organized private tours were fairly expensive and you aren't on your own schedule. (We saw one group of women getting rushed out of their wine tasting at Veuve Clicquot in order to get to the next stop. You could tell they just wanted to enjoy the bubbles and the company. )
It was very easy and fairly cheap to take the train. Booked in advance on Trainline.com, our tickets were $25 each way. We left from Gare de l'Est, which is an easy and safe train station in the 10th Arrondissement.
Just one stop and 45-minutes later, we were at Reims Ville, the central station in Reims. It was an easy and enjoyable walk through the town to the champagne houses. The disadvantage is that we didn't see vineyards, but we did see both historic churches.
With a rental car, you may see more vineyards, but driving naturally limits your ability to partake in the tastings.


Which Tasting Rooms Provide the Best Champagne Tasting Deals in Reims?
There are beaucoup options when it comes to the houses of champagne in Reims. We opted to buy our tickets in advance and to go for houses that would offer an immersive tour and two full glasses of champagne at the end (priorities!) We also opted for a walkable experience with a mixture of history, culture, and bubbles. That brought us to the town of Reims and the houses of Veuve Clicquot and Madame Pommery.
Don't Miss the Porte de Mars in Reims!
There is always one regret in a day trip because it's impossible to fit everything in. For us, the regret is that we didn't realize how easy it would have been to stop by the Porte de Mars, the remnants of a Roman arch built in the 3rd Century. This is literally on the way from the cafés near the cathedral to the train station. Don't miss it!
How much did this Perfect Day Trip to Reims cost?
About $50 for the round-trip train tickets from Paris, $40 for each tasting, and $30 for lunch. It was a $120/person day – and well worth every penny.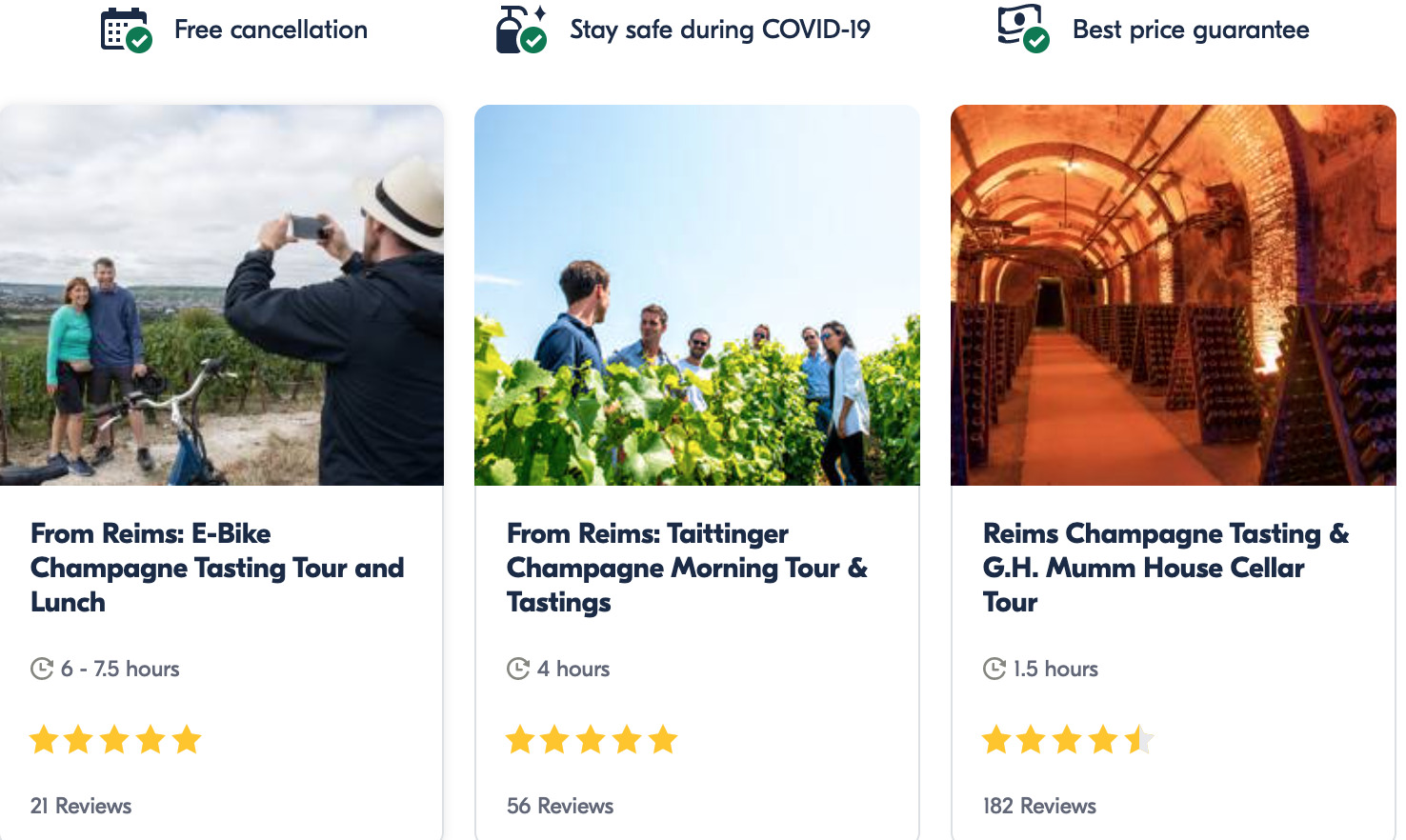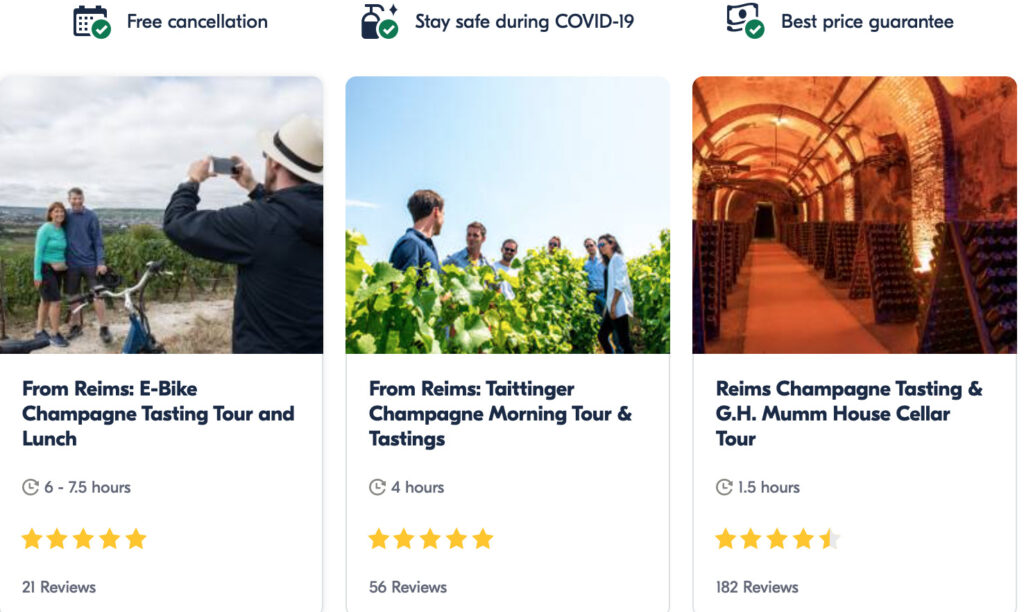 About the Author
Hi! I'm Jen!
I'm a freelance writer and travel blogger who quit my nine-to-five after my fiancé, Jeff, died of cancer at the age of 40. When he died, I realized that life is just too short to delay our dreams. Since my dream was to travel and write, I now travel and write full-time. Today I wear hiking boots instead of heels and collect experiences instead of things.
You might also like