Sustainable Stocking Stuffers (updated 2021)
Hey there! This post may contain affiliate links, which means I'll receive a commission if you purchase through my link, at no extra cost to you. Please see my legal page for more details.
Try these sustainable stocking stuffers and green gifts made by companies that are environmentally conscious and give the gift of green!
I've started giving sustainable stocking stuffers as a way to introduce friends and family to green products.
This year, I'm only including green gifts that are under $20. Because being green doesn't have to break the bank!
Added bonus: These sustainable stocking stuffers avoid Mother Nature's least favorite thing on our beautiful planet: plastic.
Related: Sustainable Suitcases & Travel Bags
Let's dive in!
Sustainable stocking stuffers for under $20
These green travel products are kind to the planet and kind to your wallet! 😉
1. Bamboo travel utensils
I have a bamboo travel utensil set just like this one that I carry with me at all times. I can't tell you how many times I've used this kit to avoid plastic silverware while traveling or at a picnic or even at a house party.
This little sustainable stocking stuffer makes a big impact during the pandemic with the increase of outdoor dining and single-use plastic utensils.
Price: $19.99 from REI or Amazon.
Related: Gift ideas for travel lovers (the ultimate green gift guide!)
2. A collapsible cup is the perfect sustainable stocking stuffer
If I'm traveling, then you can bet I have a collapsible cup with me right next to my bamboo utensils. It has come in handy quite a few times, including that time when I waited in line for hours after a canceled flight.
My collapsible cup combined with a mini bottle of wine saw me through that ordeal!
This cup is also great for flights, train trips, festivals, and so much more. It's saved me from using countless single-use plastic cups. Most recently, I brought my cup to an intimate concert venue that switched to plastic cups during the pandemic. They had no problem pouring my wine into this cup!
Price: $11.95 from Sea to Summit
3. Sustainable and natural deodorant with a holiday scent
The most common question that I get from people who are starting out on their sustainability journey is about deodorant. As in: How do I find a natural, plastic-free deodorant that keeps my pits smelling fresh?
I've tried a lot of different natural deodorants and, for me, the answer is a deodorant cream from Little Seed Farm. I just love these guys and their mission. I've tried many of their deodorants and the lavender works best for me, but the seasonal holiday deodorant cream seems like the best choice for a sustainable stocking stuffer.
The aluminum- and baking soda-free deodorant cream comes in a glass jar with a recyclable metal lid. I couple it with a bamboo applicator.
Beyond keeping me smelling fresh, Little Seed Farm is REALLY eco-conscious about shipping. There is no plastic packaging, you can opt to ship without the item box, and you can return your glass jar to the farm for reuse. My favorite part though? They ship with a packaging material called "puffy stuff" – biodegradable packing peanuts made from grain. The packing peanuts compost or dissolve in water!
Price: $11.99 for the deodorant and $3.99 for the (optional) bamboo applicator. Use this link to get 10 percent off.
You can also buy Little Seed Farm deodorant from the sustainable online marketplace EarthHero for $11.99.
4. Bamboo cotton swabs
The standard plastic-stemmed cotton swabs might seem small and insignificant when we toss them into the garbage, but they are a large part of the pollution problem in our oceans.
When I first started reading about the amount of single-use cotton swabs polluting our oceans, I tried to go entirely without cotton swabs. But that just wasn't comfortable for me. So, I found these sustainable swabs made out of sustainably grown bamboo and natural cotton.
Globally, we produce more than 300 million tons of plastic each year. Of that yearly production, more than eight million tons of plastic end up in our oceans.
Gift this sustainable stocking stuffer and help the people on your list reduce the plastic in our waters!
Price: $12.96 for a set of six boxes (100 count in each box) on Amazon. Tip: The six boxes can be slipped into different stockings for a sustainable gift. But make a note to the folks at Amazon to please ship without wrapping the boxes in plastic.
Or buy directly from The Humble Co. for $2.99 per box (count of 100).
Better yet, order from sustainable online marketplace EarthHero where five trees are planted for every order placed. Not to mention that this B Corp online platform commits one percent of profits to the planet, offsets the carbon emitted from shipping, and is aiming for zero waste in the workplace. The sustainable cotton swabs are $2.99 for a box of 100 on EarthHero.
5. Give organic dental floss for a unique sustainable stocking stuffer
You already know that dental floss comes in a small plastic container that is often not recyclable. But did you know that the floss itself is often made of nylon, which is a form of plastic?
This organic dental floss by the family-owned, women-led company Radius is certified organic, toxin-free, and botanical-based. Did I mention that it contains ZERO plastic?
Added bonus? It works just as well as standard floss and hurts even less.
Price: $12 for a pack of three on Amazon. Tip: Ask Amazon to skip the plastic packaging when shipping.
I'm also exploring a new plastic-free dental floss that definitely won't come with any plastic and will make an excellent sustainable stocking stuffer.
by Humankind has an ethically-made floss coated in vegan wax that comes in a plastic-free container.
Price: $12 for the sustainable floss and $3 for the plastic-free container. Or you can get the container for free with a by Humankind subscription. The shipping materials are paper and 100 percent recyclable.
Related: The best sustainable travel products
6. Pair the floss with toothpaste tablets
Ditch those toothpaste tubes that are nearly impossible to recycle with tablets. If you order from by Humankind, you will get a small glass jar with a silicone lid for storage.
These are the tablets that I use because I have a subscription, so that every month, I receive two refills of my toothpaste tablets in paper envelopes.
Price: The toothpaste is $15 for a two-pack and a mini glass container or you can subscribe for $12 (the container is free with a subscription), and two refill packets will come to you every month.
7. These sustainable stocking stuffers are a hug for your food!
This sustainable stocking stuffer is such a great green gift! Called Food Huggers: you just press in your leftover food – half a lemon or a tomato for instance – and the silicone hugs the food. Stick it straight into the fridge and no need for a plastic baggie. Plus these food huggers are fully reusable after a pass through the dishwasher.
My favorite is the avocado hugger because they help reduce the browning that usually occurs immediately after half an avocado goes back in the fridge.
These make for a great sustainable stocking stuffer because they will reduce the number of plastic baggies in the fridge (and ultimately in our landfills and waterways).
Price: $14.99 for a set of five huggers on Amazon. $11.99 for the avocado hugger.
8. Holiday soap from the farm
This year, I am a little obsessed with Little Seed Farm and its line of seasonal products. We talked above about the zero-waste packaging effort that the farm is making, but we haven't covered that this is a farm with the happiest of goats!
This goat's milk bar soap from the farm is such a fun and sustainable stocking stuffer!
Price: Goat's milk soap is $7.99 from sustainable online marketplace EarthHero and $7.99 directly from the farm.
Tip: Pair the soap with these all-natural bags, which are a sustainable, plastic-free way to store your soap. Added bonus: You can use them as gift bags to hold other sustainable stocking stuffers!
Price: $4.69 for a set of four soap saver bags on Amazon.
9. Sustainable lotion bars are a beautiful sustainable gift
There is no reason that lotion needs to come in giant plastic containers when sustainable bars are just as good. (Not to mention easier to travel with!)
I've tried a lot of lotion bars, and back when I was testing them all out, my favorite solution was the Moon Valley Organics Herbal lotion bar.
Price: The Moon Valley Organics Herbal lotion bar sells for $15.99 on Amazon or $11.99 from the sustainable online marketplace EarthHero.
You can check out all of the different sustainable lotion solutions that I've tried in the below post, which also includes a recipe card and video for making your own sustainable lotion bars (which make a great sustainable gift when placed in a small mason jar and tied with a bit of twine.)
Related: Read about more than a dozen sustainable lotion solutions!
10. Stuff that stocking with shampoo and laundry bars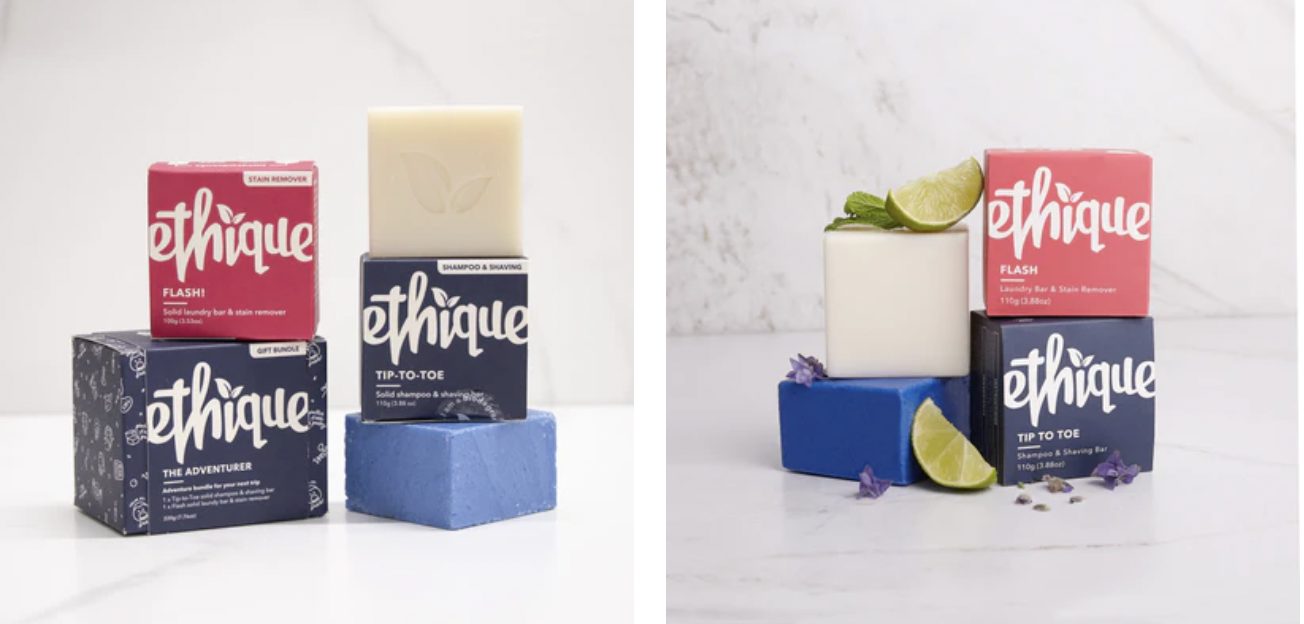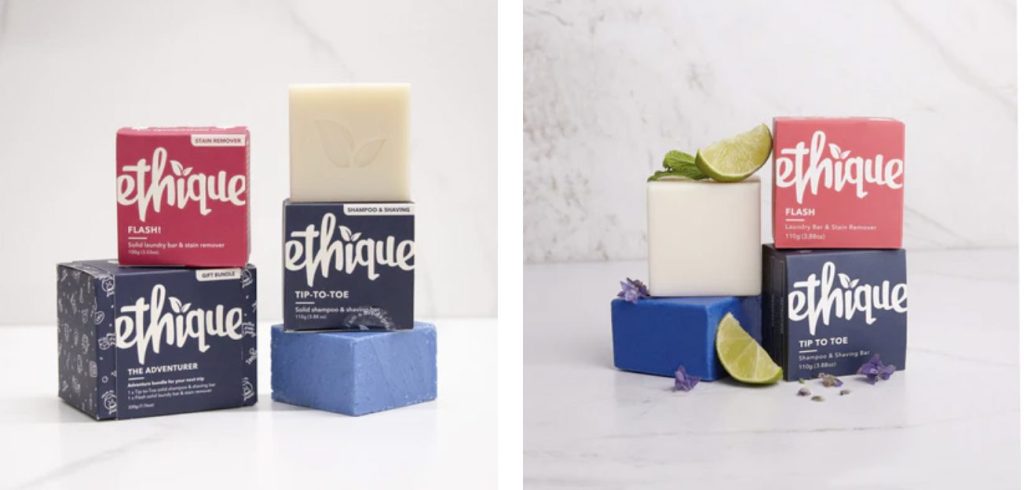 While we're on the topic of sustainable bars, have you thought about making the shift from plastic shampoo and conditioner bars to solids? I made the shift some time ago and my hair is actually happier for it!
You can find great starter sets of solid shampoo, conditioner, and even laundry bars for under $20 from the sustainable brand Ethique. Shop directly from Ethique or peruse Ethique's Amazon store here.
11. Reusable produce bags are the perfect sustainable stocking stuffer
I first got the idea for sustainable stocking stuffers when my mom gifted one of her reusable produce bags to a woman in the grocery line. I was a little embarrassed at first, but then that woman lit up like a Christmas tree at the unexpected green gift from a stranger.
These reusable produce bags are easily tucked into your grocery totes so they are available for fruit, vegetables, or bulk food items. Much better than the single-use plastic bags offered in the produce aisle.
Price: $13.97 for a set of five produce bags on Amazon.
Tip: Use produce bags and/or your sustainable soap saver bags (see above) as gift bags!
12. National parks passport
I absolutely love my Passport to the National Parks. If you know someone who is going to be traveling through the United States, this booklet where you get stamps at each visitor center is a really special gift.
Price: $12.95 from America's National Parks™ stores while a fancy, spiral-bound parks passport sells for about $25 on Amazon.
13. Instant Bug Bite Itch Remover
For the outdoor lover on your list, this reusable contraption removes the sting and itch from bug bites! It's one of the few items on this list made from plastic, but it is reusable and you'll never have to buy those hard-to-recycle tubes of Cortizone again! Plus it is chemical-free!
Price: A single bug-bite suction tool sells for $9.99 at Bug Bite Thing. If you have more than one stocking to fill, a two-pack sells for $18.99 on Amazon.
14. Sustainable socks complete your stocking!
Is a stocking even complete without socks? Here are some of my favorite sustainable socks for under $20:
Bonus: Sustainable stocking stuffers under $10
In researching this post of ten sustainable stocking stuffers under $20, I stumbled on this gem that is even less than that!
Handmade Beer Soap
This bar soap uses beer instead of water. Perfect for the beer lover in your life! Plus all soaps from the Craftsman Soap Co. are handmade with natural ingredients.
Price: $7.00 from Craftsman Beer Co. for a single bar or purchase a beer soap gift set on Amazon for $25 and split up the bars between different stockings.
Sustainable lip balm in festive, seasonal flavors
I have raved on about Ethique already, so I'll cut to the chase. They have a new lip balm that comes in a plastic-free, compostable tube!
It's made from sustainable, fairly traded ingredients from Rwanda, Ghana, and Somoa, and Ethique focuses on local growers and women-owned farming cooperatives.
Plus at two times the size of standard balms and chapsticks, this is a great deal!
Price: $8.54 on Amazon or $8.50 from directly Ethique
Related: 22 Ethical Brands Owned by Women
Thank you for your commitment to sustainability this holiday season!
Give these sustainable stocking stuffers and green gifts a try and maybe Santa will reward us all this year for being nicer to the earth.
For more sustainable living and gift-giving tips visit here. Interested in sustainable travel? Visit here!
And please consider subscribing for sustainable tips in your inbox.