Kuala Lumpur Street Food: Part One
Hey there! This post may contain affiliate links, which means I'll receive a commission if you purchase through my link, at no extra cost to you. Please see my legal page for more details.
This is part one of this Kuala Lumpur street food guide. For part two of this Malay Street food tour, visit here.
When I told people in Thailand that my next stop was Kuala Lumpur, multiple sources gushed:
"Oh, the food there is the best."
So, naturally, the first thing that I did upon arrival in Kuala Lumpur was to book a food tour touting the tastes of traditional Malay street food.
Let's dive in!
Finding the Kuala Lumpur Street Food Tour
I decided to walk the 30-minute distance from my hotel to our meeting point at the Kampung Baru train station and I couldn't believe the difference in the scenery as I left the reaching skyscrapers and glittering hotels adorned with rooftop infinity pools behind.
Kampung Baru remains a distinct Malaysian village in the center of the city.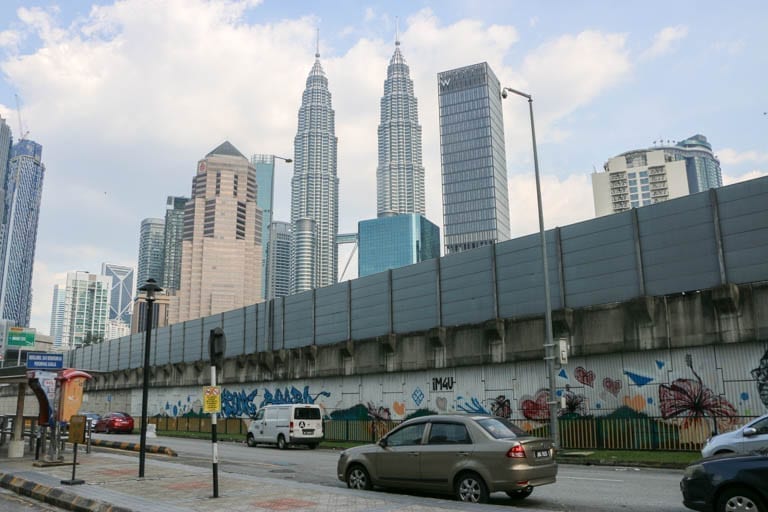 As our tour group gathered together standing nearly in the shadows of the iconic Petronas Twin Towers, our guide, Fadly, immediately explained to the group that he chooses to conduct his food tours in Kampung Baru not just for its convenient location, but because the village may soon be gone. It is slated for redevelopment due to its proximity to the city.
If you want to stay in the Kampung Baru neighborhood, peruse these available accommodations:
Fadly didn't dwell on this sad news long, choosing instead to brighten the group with his simple and delectable itinerary:
"We walk and we eat, we eat, and we eat."
The Three Kinds of Kuala Lumpur Street Food to Fight For
We started with the three types of street food that Fadly says all Malaysians will fight over since each person is devoted to a favorite Kuala Lumpur street food stand somewhere in the city:
Satay
Nasi Lemak
Burger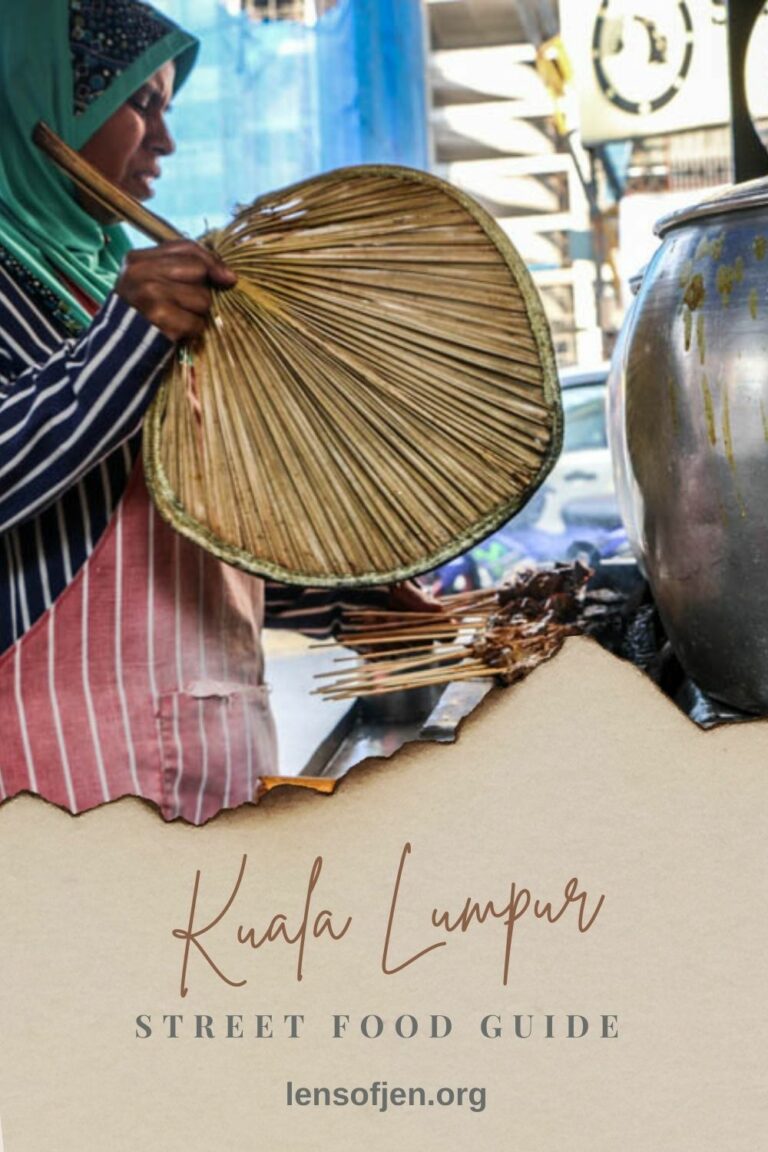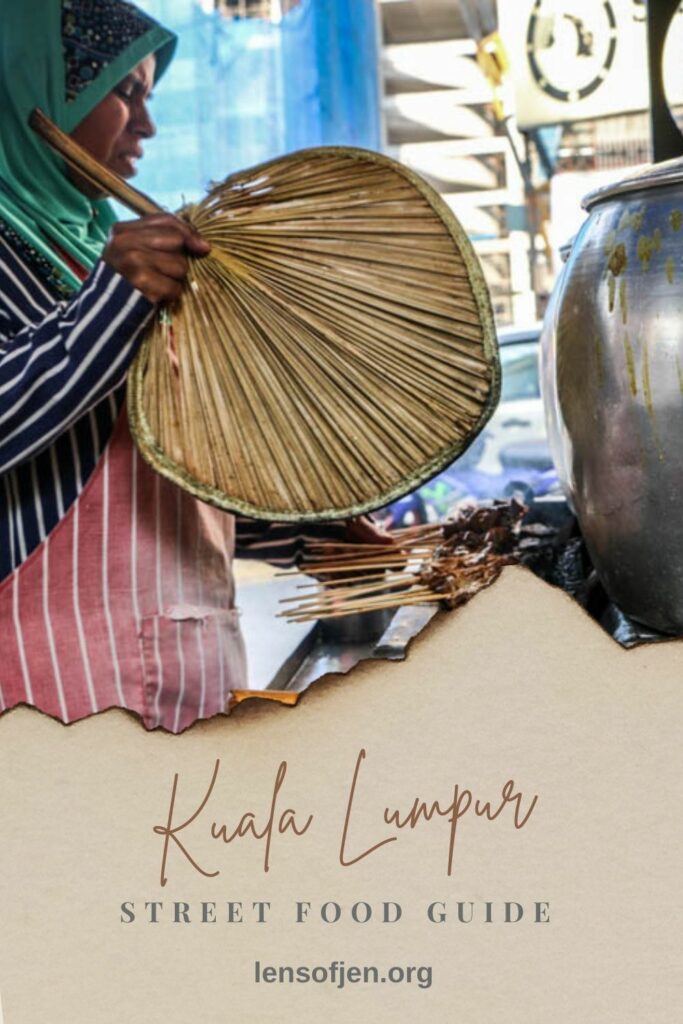 Wait? Burger? Like a Hamburger?
That's right, Fadly assured us as he stood next to his own favorite burger stand. But this one is a special burger. The patty is wrapped in fried egg and topped with "plastic cheese," grilled onions, white pepper, and Worcestershire sauce. The result?
"A candy burger!"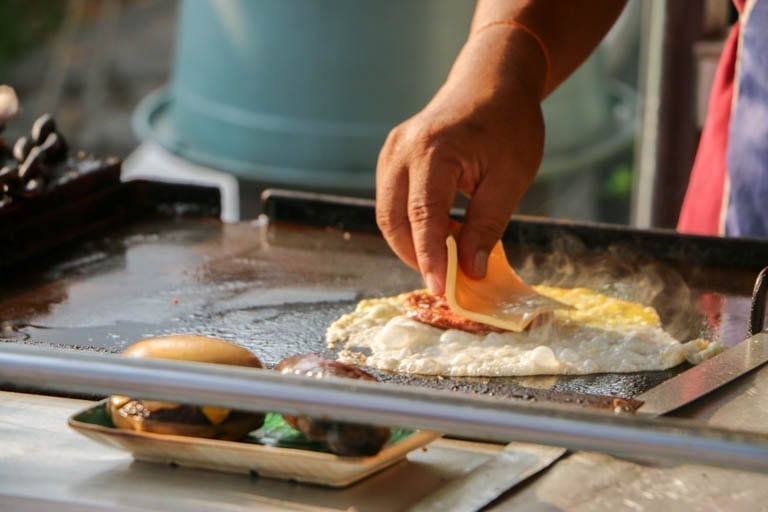 I'm not going to lie. This burger may not be healthy, but it is absolutely delicious and it does taste a little bit like candy, especially with the char of the grill mixing with the sticky sweetness of the sauce-encrusted bun.
Satay it Up with this Kuala Lumpur Street Food
Fadly's favorite satay stand sits on a non-descript corner with motorbikes zooming by and plastic chairs spread haphazardly around picnic tables. It must be like this, he assures us, gesturing his arms to take in the atmosphere complete with the wafting smoke from the nearby grill. Because he says:
"It's about the quality of the food, not the quality of the restaurant."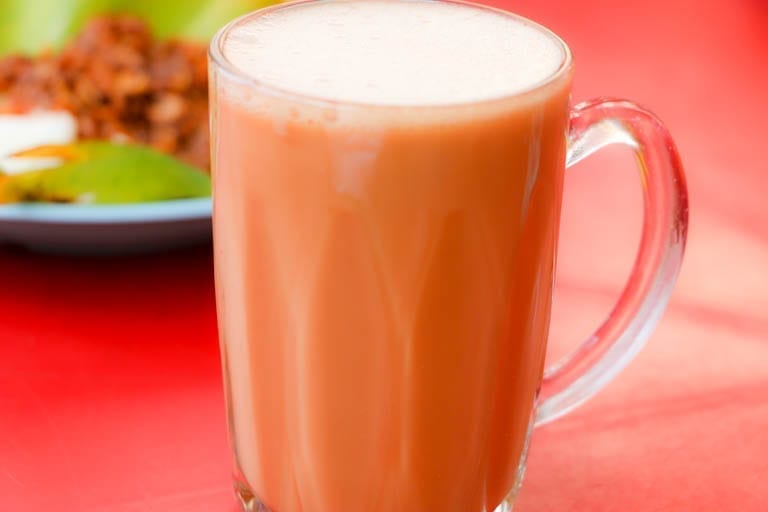 We started with steaming mugs of teh tarik, a mixture of black tea, condensed milk, and sugar, pulled through two different containers to bring out the flavors. This beverage is consumed from morning until night in Malaysia, despite the warm weather.
Beside our mugs, Fadly placed rice cakes topped with a sweet and spicy peanut sauce and crispy onions. A side of rice cake is common with satay, he explained, because the rice helped to fill the stomach when a family needed a little bit of chicken to feed a full family.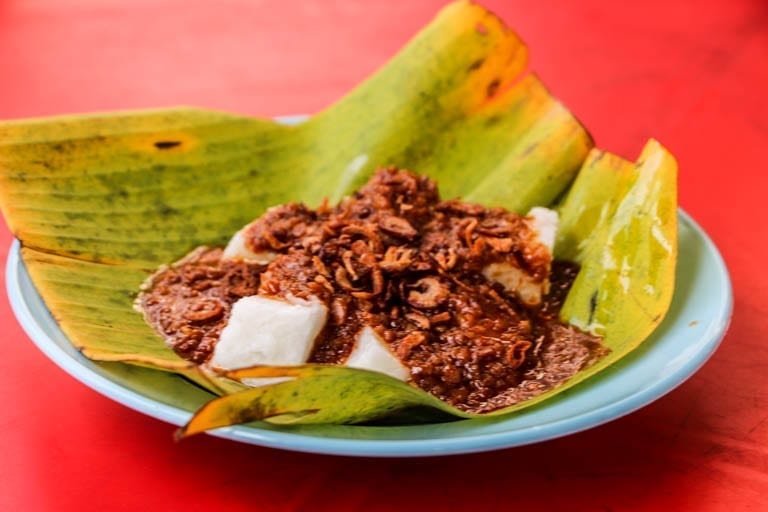 For this tour, there is much more than just a little bit of chicken, though. Fadly stacks two heaping plates of chicken, tripe, and tongue next to the rice cakes. The tender meat, spiced with lemongrass, ginger, cumin, and sugar, slides easily off the skewers. This is a Kuala Lumpur street food staple.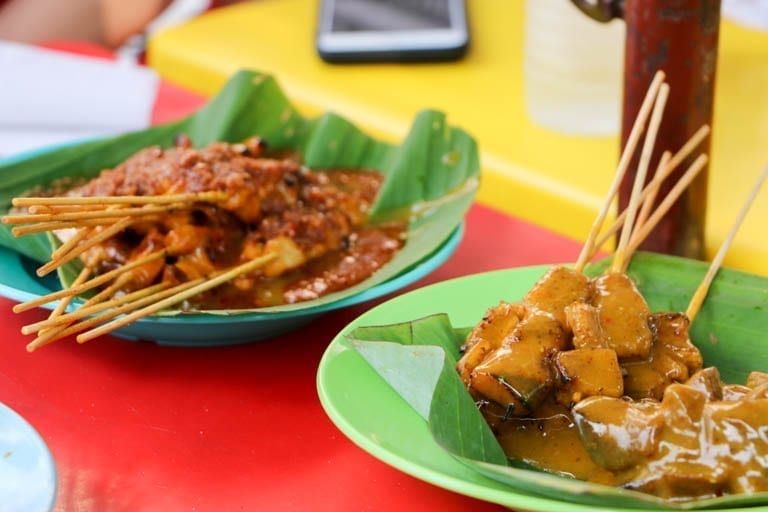 Nasi Lemak: My Favorite Kuala Lumpur Street Food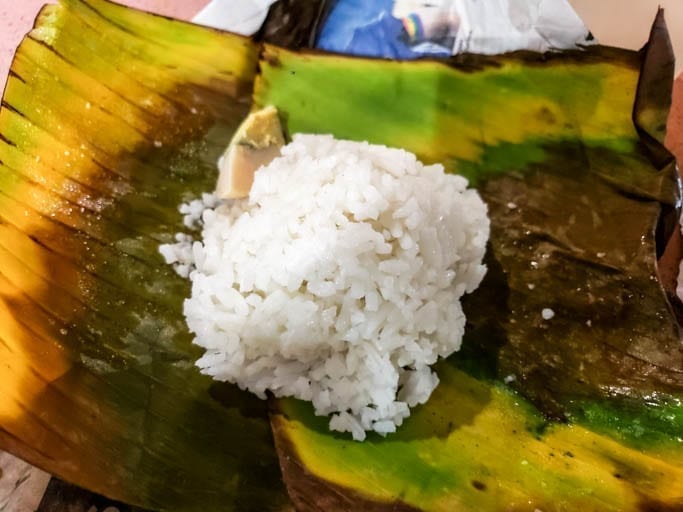 This is the moment that I officially fall in love with Malaysian food. Nasi lemak is a flavorful rice dish cooked with coconut milk inside a pandan leaf. It is served with a spicy chili paste and a variety of sides, including hard-boiled eggs and vegetables.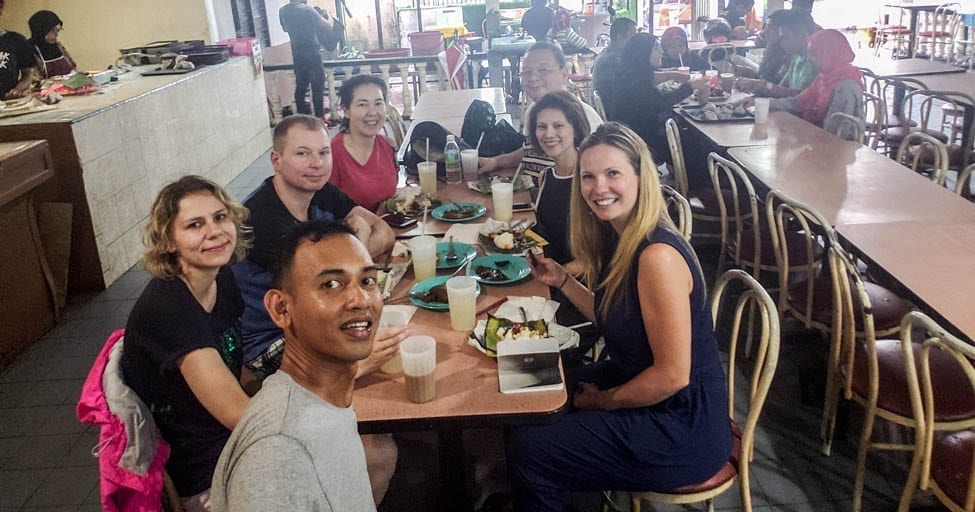 We piled ours high with a special, slow-cooked meat served – like most Malaysian meat – at room temperature and sides of deep-fried mashed potato.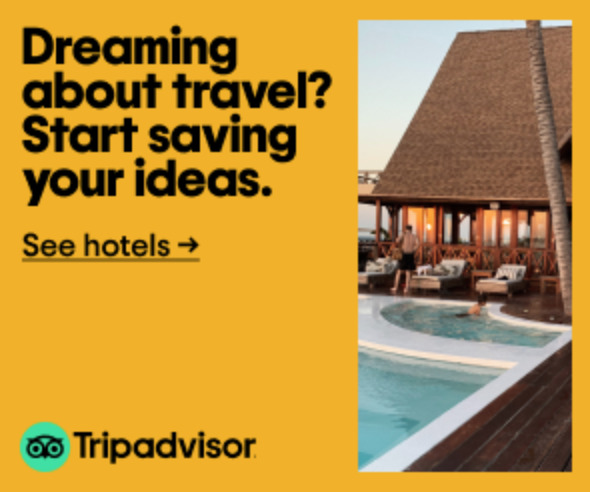 Sorry, Did You Say Cow Lung?
Fadly wisely withheld the nature of the meat that had a beef jerky texture and taste until after we tried it. But the cow lung, deep-fried and then cooked again in chili paste turned out to be one of my favorite dishes on the tour!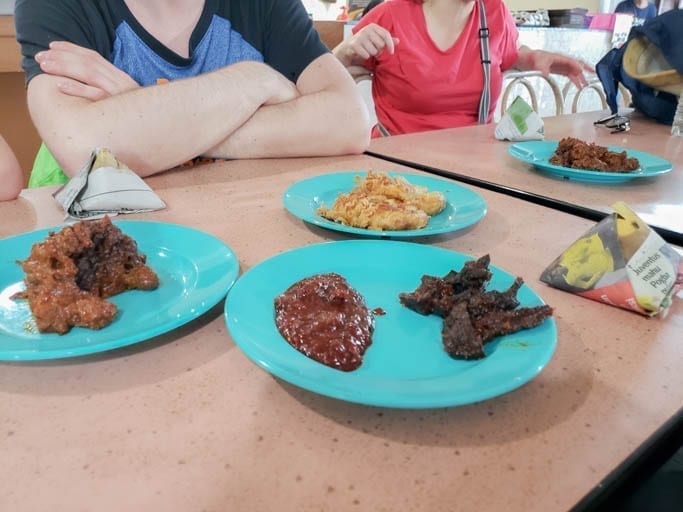 Stuffed Squid if you Please!
Fadly held up the huge squid, simmering in coconut milk and other juices, and had a good laugh at our wide-eyed reactions. He could sympathize. As a kid, he said, he avoided ketupat sotong. But, as he placed bowls of the squid stuffed with sticky rice, lemongrass, and palm sugar in front of us, he lamented the many missed years of enjoying this "dessert".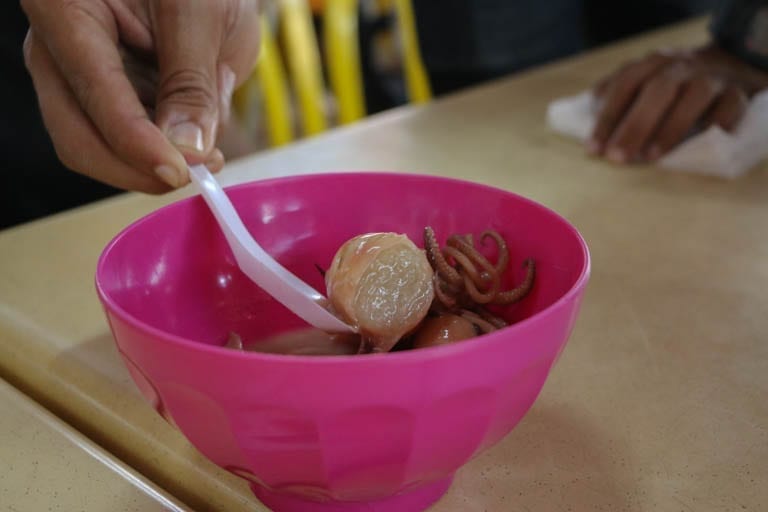 It did taste a lot like a dessert. I went back for seconds of the squid matched with deep-fried sweet potato that crunched from the palm sugar still cooking inside.
Drawing the Line at Blue Rice on this Kuala Lumpur Street Food Tour
Our last street-food treat was nasi kerabu, a rice that turns blue when cooked with the petals of a flower. Paired with egg, dried fish, and pickles, this one was a bit too fishy for my tastes, but most of the group devoured it.
Fadly wasn't even close to finished with us, but the skies opened up and a torrential downpour nearly washed out our experience at the farmer's market. Luckily for us, Fadly rustles up umbrellas and a plastic sack to cover his head, and we stick around for a colorful and flavorful adventure!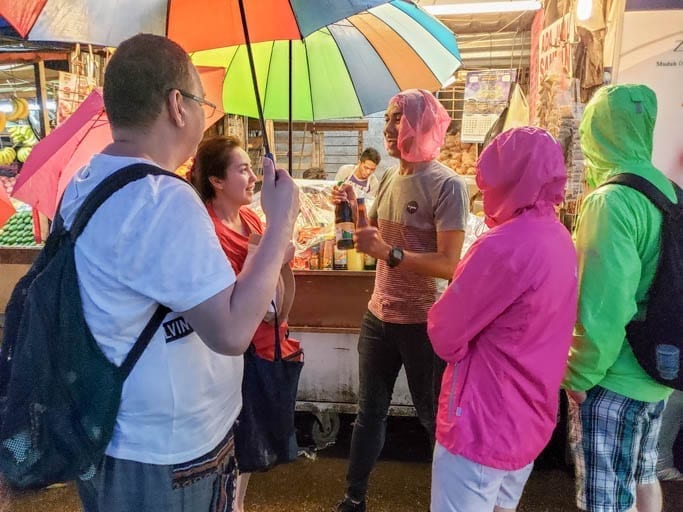 The Details on this Kuala Lumpur Food Tour
I am not sure if Fadly is still giving his tour in Kuala Lumpur. When I updated this post in August 2021, I couldn't find Fadly's Kuala Lumpur street food tour.
But I did find these Kuala Lumpur food tour options for you from TripAdvisor!
And here are other activities while in Kuala Lumpur:


About the Author
Hi! I'm Jen!
I'm a freelance writer and travel blogger who quit my nine-to-five after my fiancé, Jeff, died of cancer at the age of 40. When he died, I realized that life is just too short to delay our dreams. Since my dream was to travel and write, I now travel and write full-time. Today I wear hiking boots instead of heels and collect experiences instead of things.
You might also like