A Guide to Visiting Oradour-sur-Glane in France
Hey there! This post may contain affiliate links, which means I'll receive a commission if you purchase through my link, at no extra cost to you. Please see my legal page for more details.
First, brace yourself. Visiting Oradour-sur-Glane today is not visiting a place. It is visiting a place in time.
Oradour-sur-Glane is preserved to look exactly as it did after the smoke cleared on June 10, 1944, revealing the charred remains of a village as well as the remains of nearly all of its inhabitants.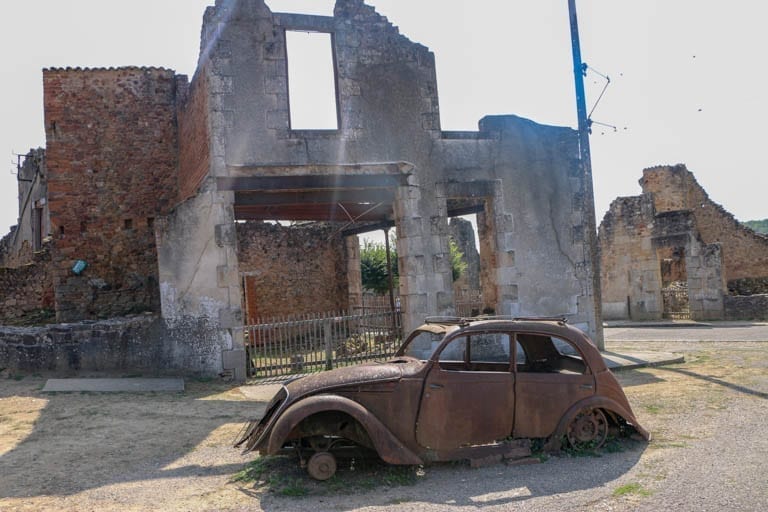 Once a quiet farming village in west-central France, Oradour-sur-Glane is now a museum of massacre and a memorial to the senseless loss of life during WWII at the hands of the Nazis.
Why did this Happen in Oradour-sur-Glane?
This is the question that is left unanswered when visiting Oradour-sur-Glane.
Why did a Nazi Panzer Division massacre an entire village? And why this particular village of Oradour-sur-Glane? Nobody really knows. The maddening truth is that nobody was safe from the horrors of the Nazi atrocities.
Logistics for Visiting Oradour-sur-Glane:
Where is Oradour-sur-Glane?
The village is near Limoges in the sparsely populated Haute Vienne department of France. It is a 4.5-hour drive southwest of Paris, a 2.5-hour drive northeast of Bordeaux, and a 4.5-hour drive due south of Normandy.
How do you get to Oradour-sur-Glane?
Visiting Oradour-sur-Glane does mean driving. You can take the train to Limoges and rent a car there. Europcar is available at the Limoges Railway Station. There is also an airport in Limoges. When I visited the Oradour-sur-Glane museum and village memorial, I was coming from France's Loire Valley. I hired a car at the train station at Saint Pierre des Corps and drove 2.5 hours south, doing it in a long but impactful day trip.


Where to stay when visiting Oradour-Sur-Glane?
If you want to stay near Oradour-sur-Glane, it's possible. You'll just need to do a little more legwork. Here are some available accommodations near the martyr village:
And TripAdvisor has a few accommodations near the memorial as well:


How much does it cost to Visit Oradour-Sur-Glane?
Visiting Oradour-sur-Glane is free of charge. There is, however, a charge to enter the Centre de la Mémoire. Information is outdated online, but I recall paying 8 euros. Budget 10 euro since prices may have gone up and sometimes there is a cost for parking (depending on the season). I found the audio guide unnecessary as all information is printed on the information panels throughout the museum.
What should you expect when Visiting Oradour-sur-Glane?
The village and museum open at 09:00 and closes between 17:00 and 19:00 depending on the season.
When you enter the former village, you will see a sign requesting silence. Not that you will need a reminder. The village is tragically beautifully with its remnants of daily life frozen in time by senseless flames and gunfire.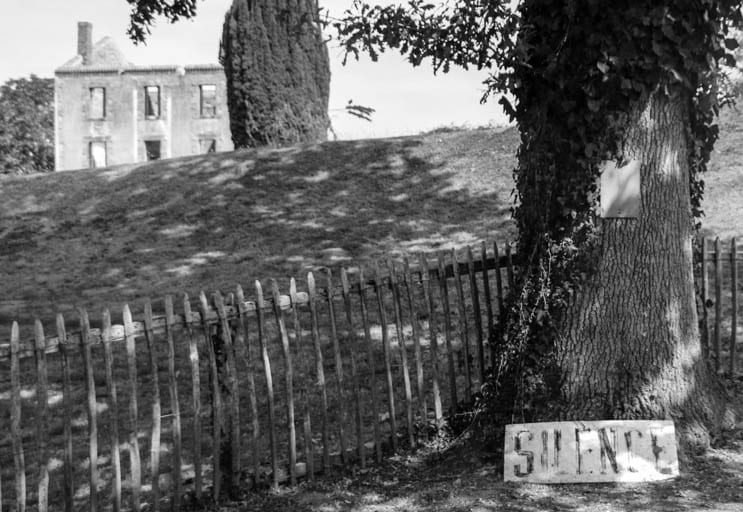 Wandering through the village, you will see a former café that likely bustled with activity on June 10, 1944. It was a busy day in the village because it was tobacco rationing day. You will see the remnants of daily life: a sewing machine, a car parked in front of a house, and the village church.
Inside the church, you will see where the women and children were trapped and burned alive. For more on the Oradour-sur-Glane massacre and my experience visiting the village, click here.
The Oradour-sur-Glane museum takes you through the entire day of June 10, 1944, and the events leading up to the massacre. Here you will learn about the villagers who died and the very few who survived. You will also learn about the Nazi Panzer Division that committed this WWII atrocity.
What NOT to expect when visiting Oradour-sur-Glane
Do not expect answers. There are none.
Why should you visit Oradour-sur-Glane?
It is our duty to remember. It is our responsibility to never forget.


More Reading on WWII and France
Please find my curated list of best WWII non-fiction books here. This list is on Bookshop, an online bookseller that supports independent bookstores.
About the Author
Hi! I'm Jen!
I'm a freelance writer and travel blogger who quit my nine-to-five after my fiancé, Jeff, died of cancer at the age of 40. When he died, I realized that life is just too short to delay our dreams. Since my dream was to travel and write, I now travel and write full-time. Today I wear hiking boots instead of heels and collect experiences instead of things.
You might also like