The Kecak Fire Dance in Ubud, Indonesia
Hey there! This post may contain affiliate links, which means I'll receive a commission if you purchase through my link, at no extra cost to you. Please see my legal page for more details.
The Kecak Fire Dance is a Balinese Hindu ritual This is how to watch the Kecak Fire Dance in Ubud.
Commonly called the Balinese Monkey Chant, the Kecak Fire Dance in Ubud is performed for tourists more than it is performed as a sacred dance in temples. Because of that, I was a bit hesitant to attend, but my tour guide, who became a friend, actually lives among the Ubud villagers that you see beautifully dancing and joyfully chanting in the video below.
He encouraged me to go while staying in Ubud; so I did. And I do not regret that decision.
Let's dive in!
About Bali and Ubud
Bali is a primarily Hindu island in the middle of Indonesia, which has the largest Muslim population of any country in the world.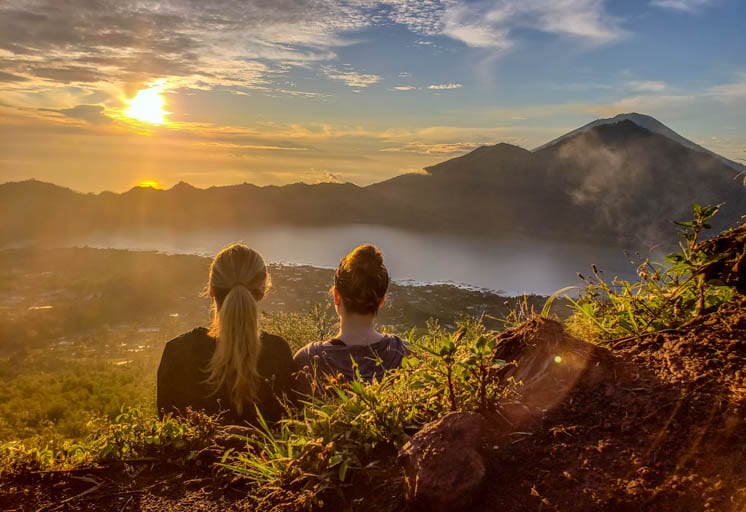 Balinese Hinduism is part of every aspect of life on the island, which is full of spirituality and ritualism.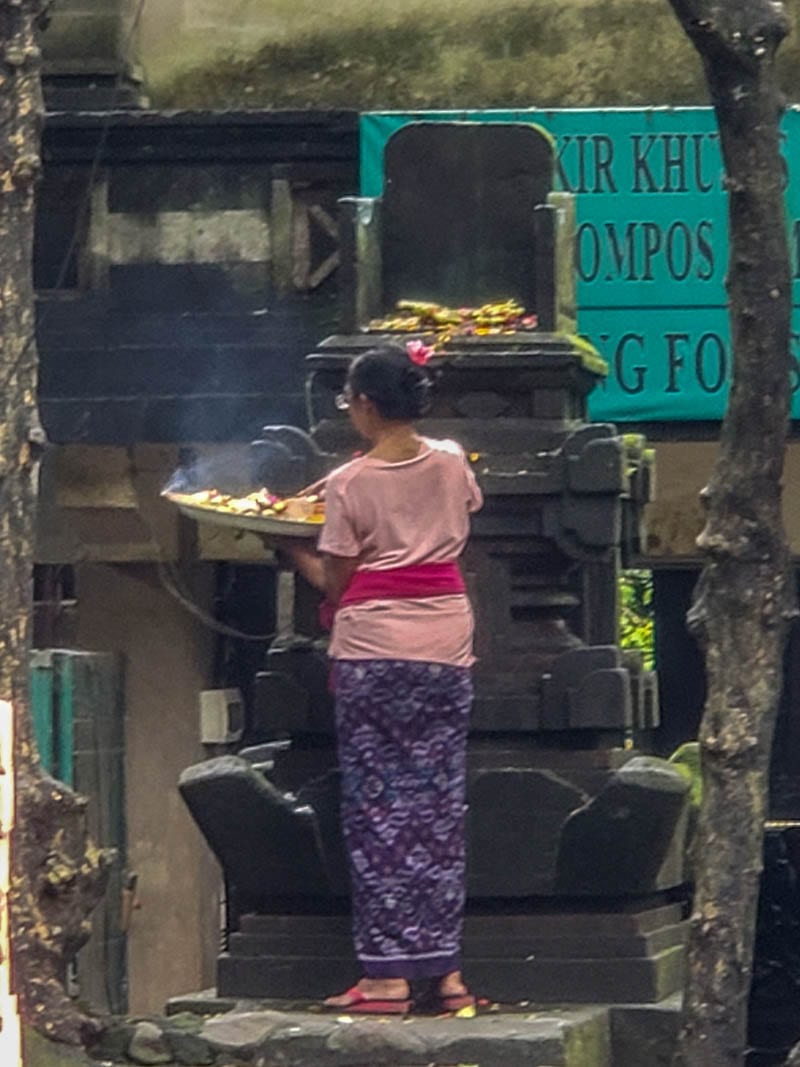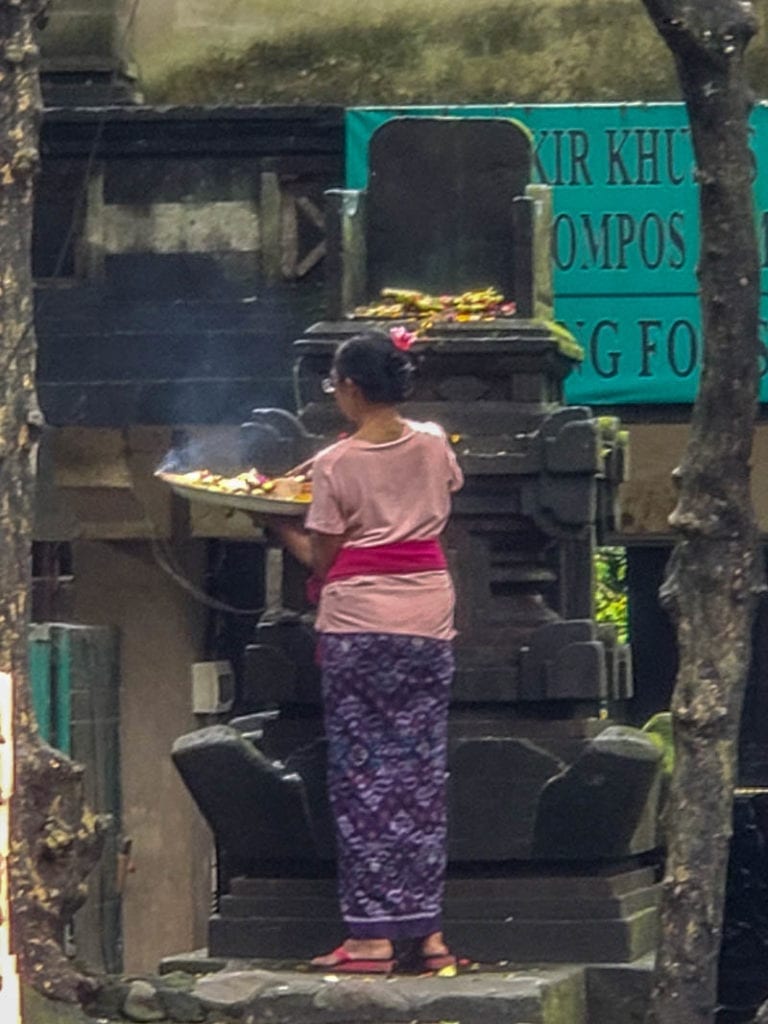 The island runs on rituals. When I was there, I joked with my Balinese friends that on Bali there are rituals for rituals. The reason I was there, in fact, was for the most sacred of all the rituals: the Day of Silence called Nyepi Day.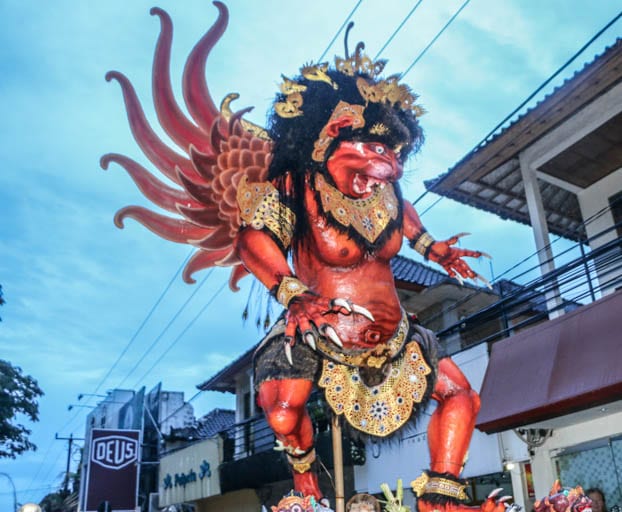 Ubud is in the jungle of Bali. It's just two hours from the popular beaches of Canggu and Seminyak, but it feels a lifetime away. It is a place where one feels very connected with the Earth and its rhythms. Maybe this is why yoga studios and holistic healers are everywhere!
There are also monkeys everywhere. You really are in the middle of the jungle in Ubud!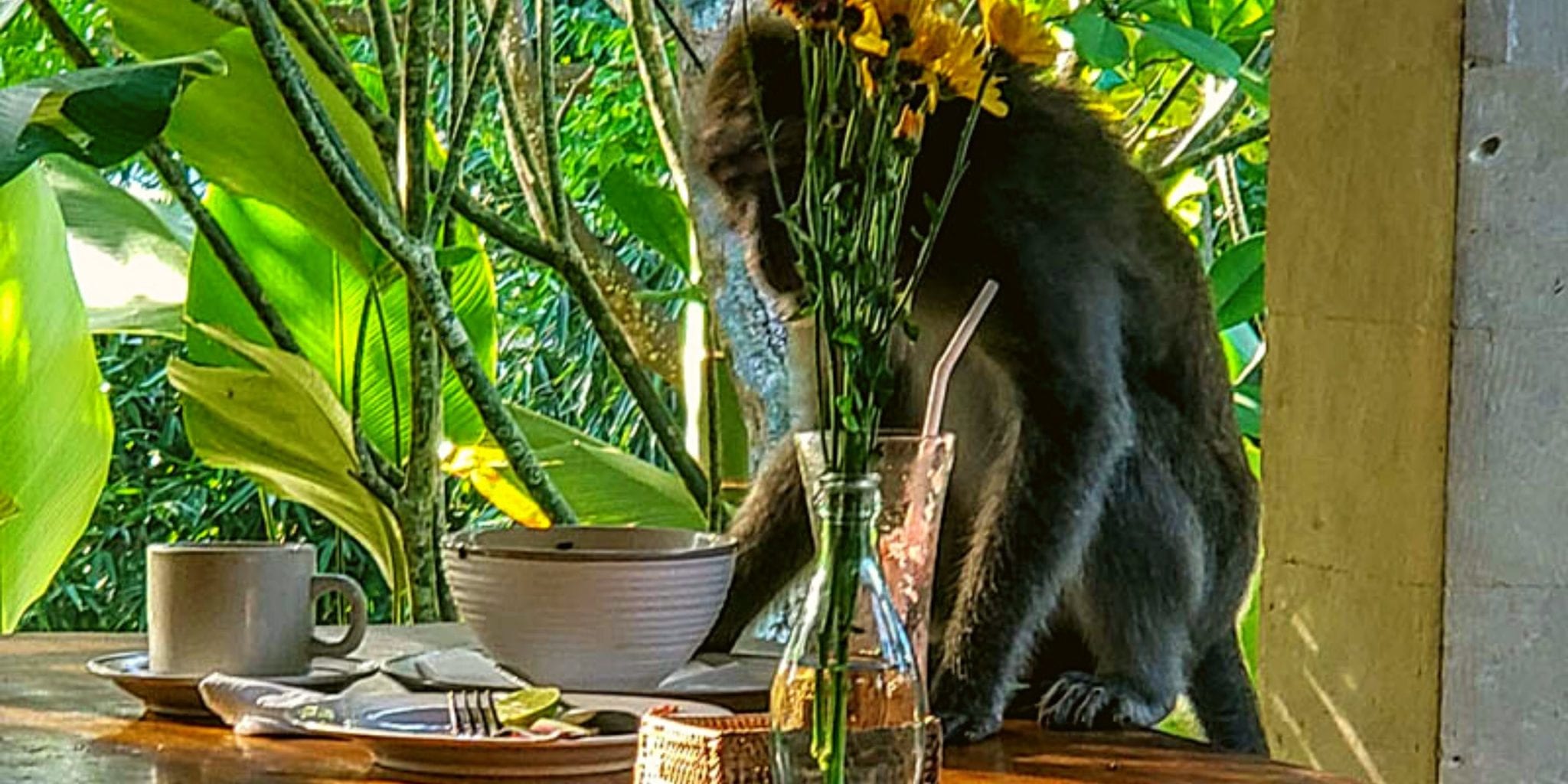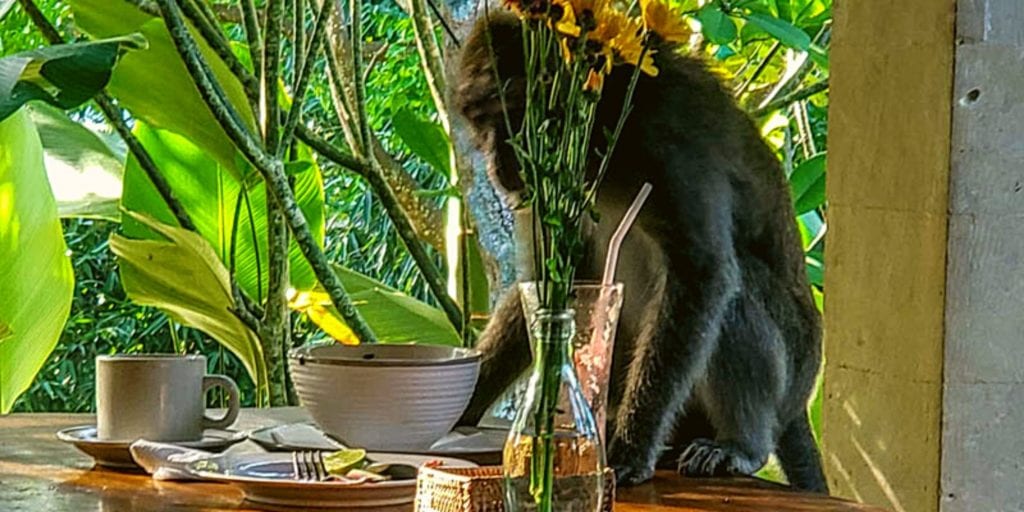 The Legend Behind the Kecak Fire Dance
The Kecak Fire Dance is an adaptation of the epic Sanskrit poem from ancient India: Ramayana.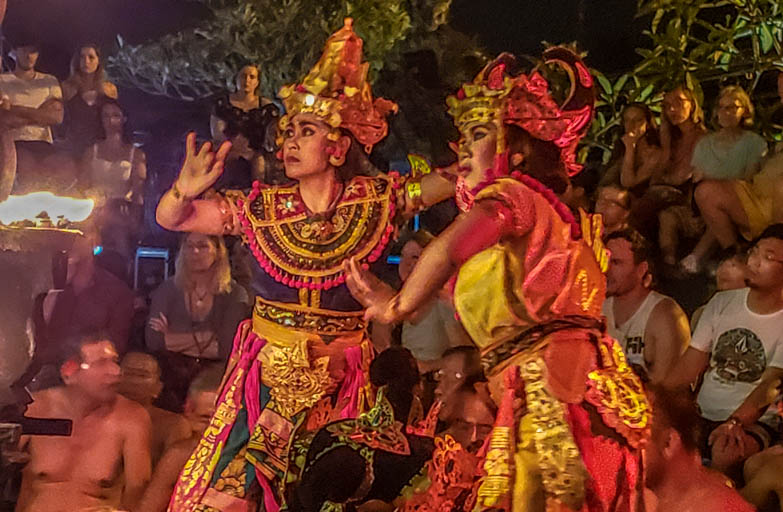 You know the one: the tale of Rama and Sita – a love story for the ages. Even if you don't know this legend, you've likely seen, carved into the walls of temples around the world, tributes to this tale of good versus evil and of love conquering all.
Deep in the forest, Sita is enchanted by a golden deer. She sends Rama after the deer who, by the way, really did give an audience-stealing, enchanting performance during the Ubud Kecak Fire Dance (see video above!)
But that cute little deer was a trick. Just a ploy to separate Rama from Sita by the demon King Ravana who lusts after Sita and kidnaps her.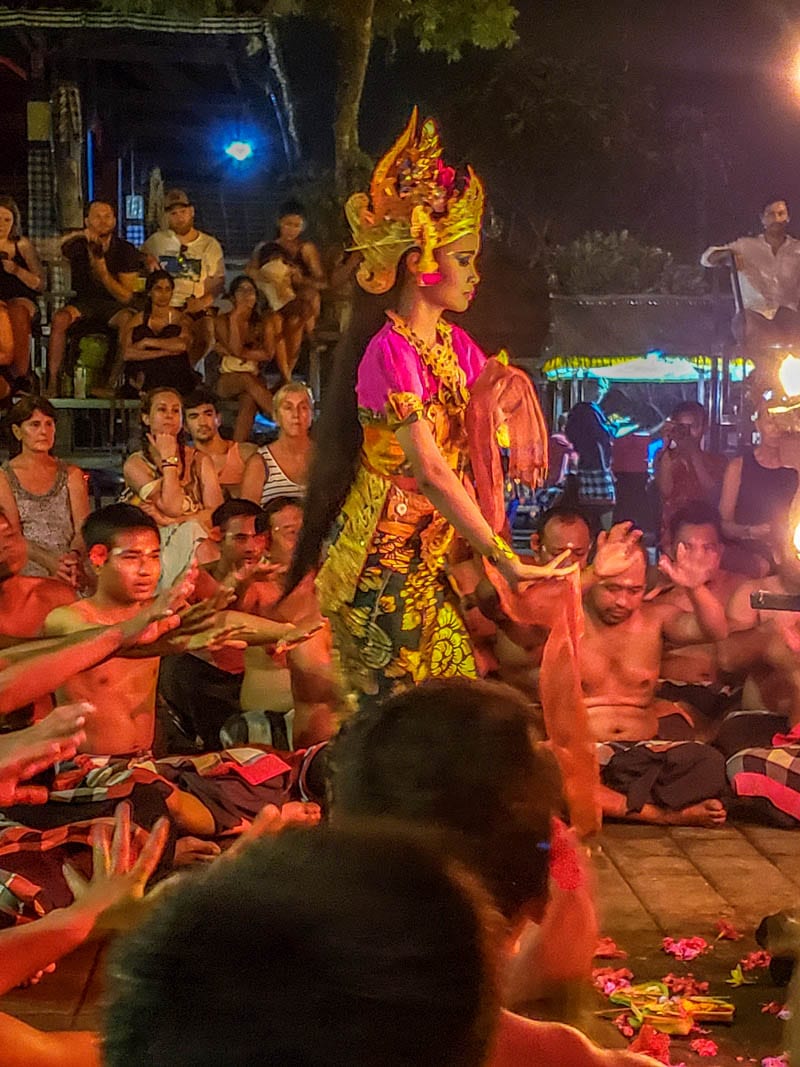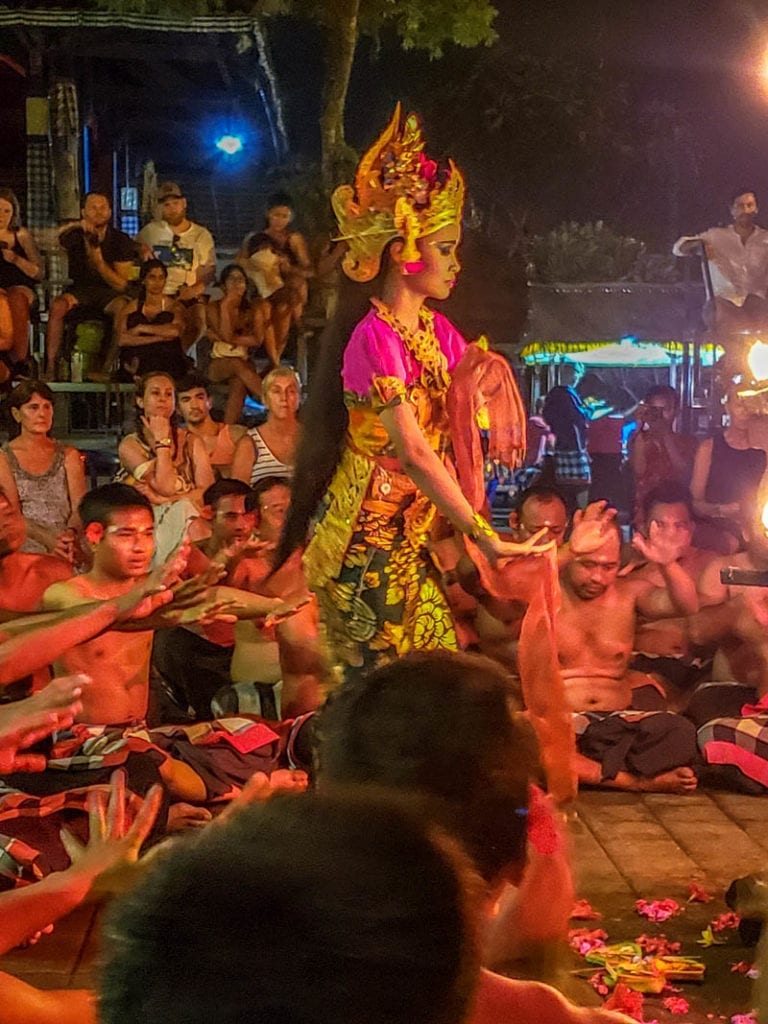 But fear not! The monkey warrior Hanuman is a friend of Rama and he can help. In fact, all of the forest seems to get involved in some way. There is searching and there are magically inspired battles. Evil magic causes a dragon to attack Rama and his fighters.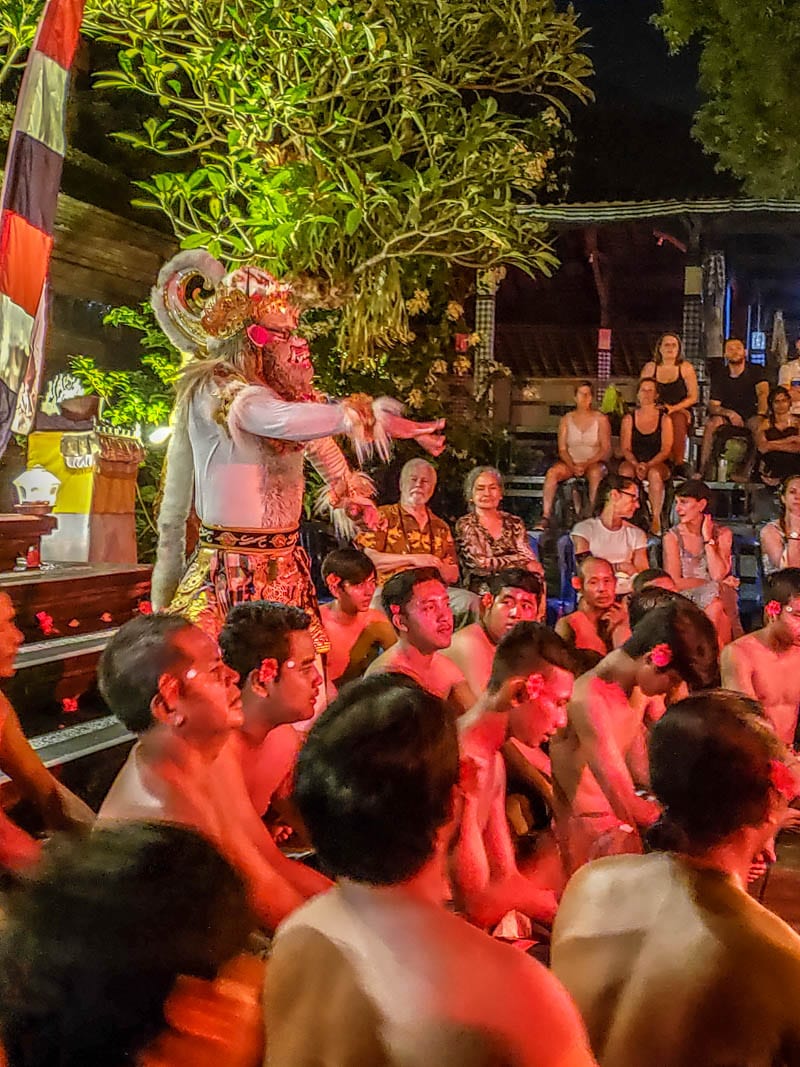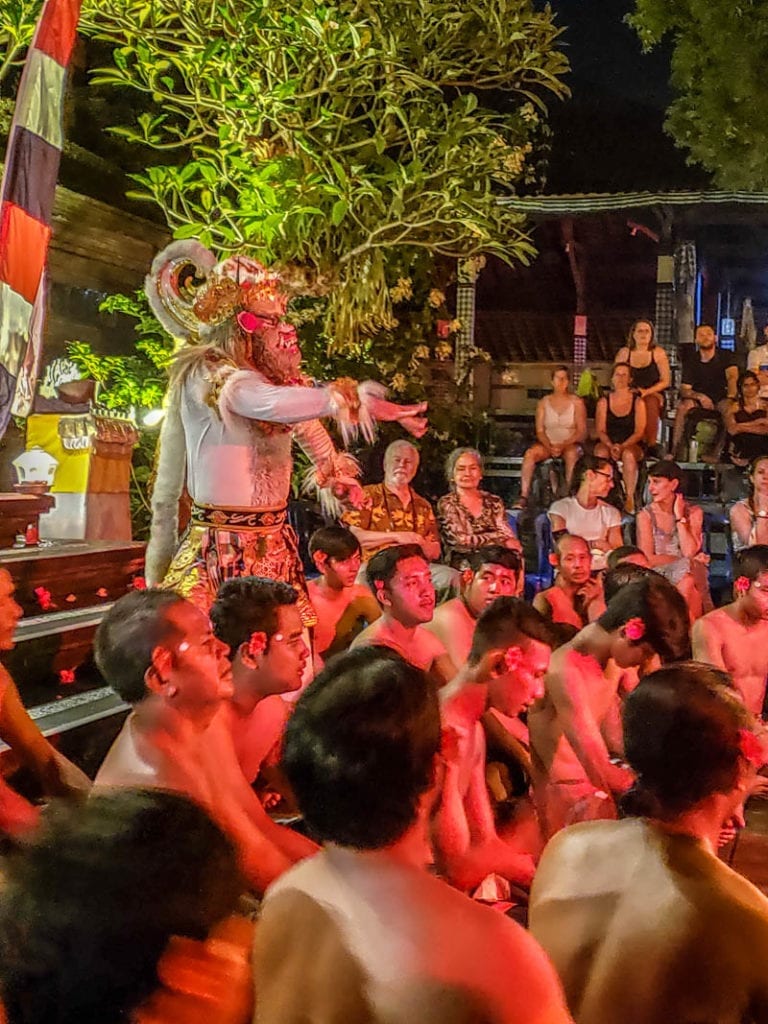 But with the help of the King of all Birds, and the King of all Monkeys, Rama wins back Sita, rescuing her from evil and they return to their kingdom.
Love having vanquished lust; good having defeated evil.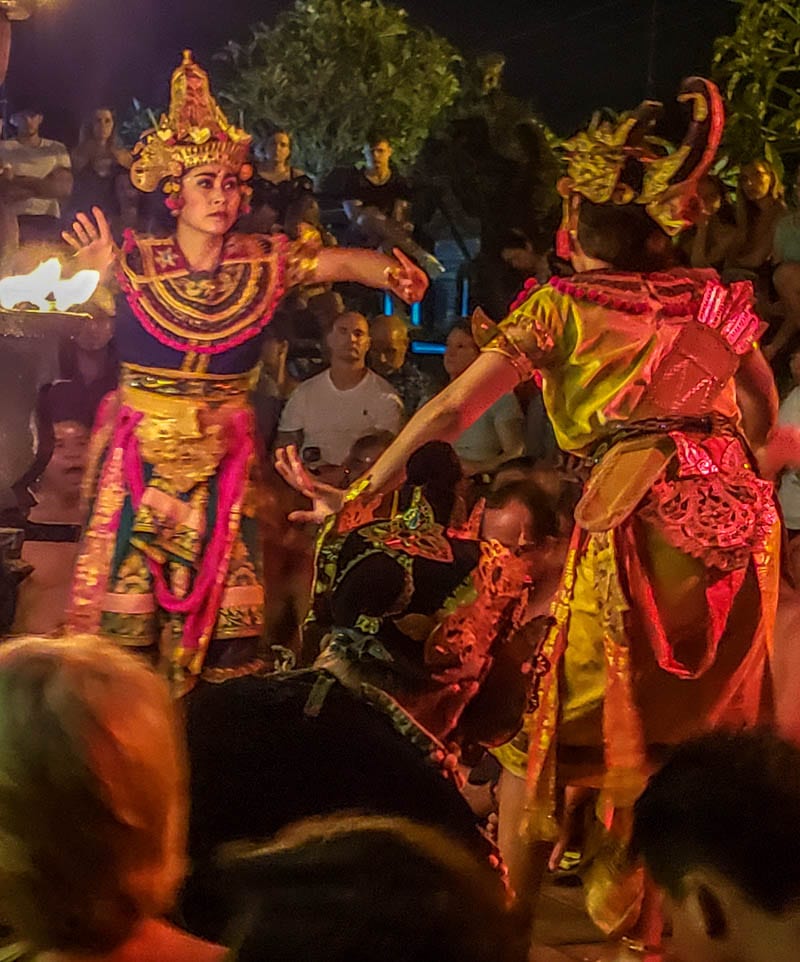 Walking on Coals after the Kecak Fire Dance
The Kecak Fire Dance in Ubud was loud and lovely and my heart was beating as fast as the drums. And that's when the dance circle was cleared out and they started stirring the coals.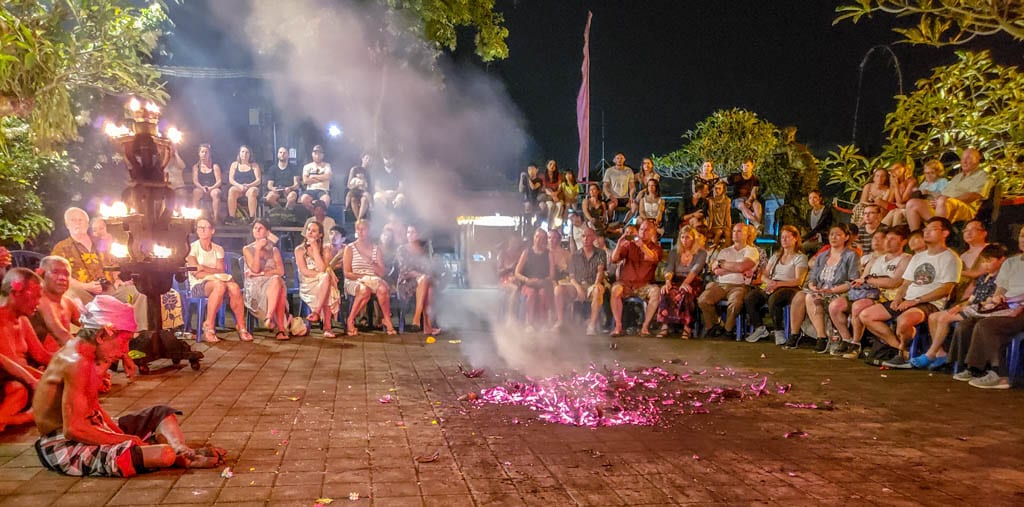 There is a tradition of a trance dance that goes along with the Kecak Fire Dance in Ubud. The Sanghyang Jaran is performed by a male dancer who circles the coals while riding a hobby horse. He dances and kicks much like a horse and then tramples through the hot coals, stamping and stomping repeatedly.
He seems unfazed by the heat and the belief is that he is, indeed, unscathed. The trance brought on by the chanting men around him and the spirit force within him is believed to protect him from pain.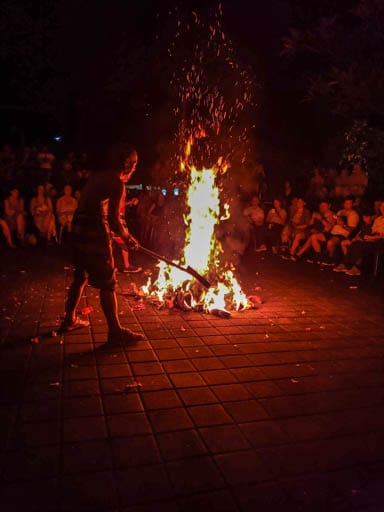 The Kecak Fire Dance and the Sanghyang Jaran date back to a time when the Balinese believed that dance and song and a cacophony of noise would keep spirits and sickness at bay. (This is why there is so much noise during the Nyepi Day parades.)
It was powerful. (See video at the top of this post for the coal dance.)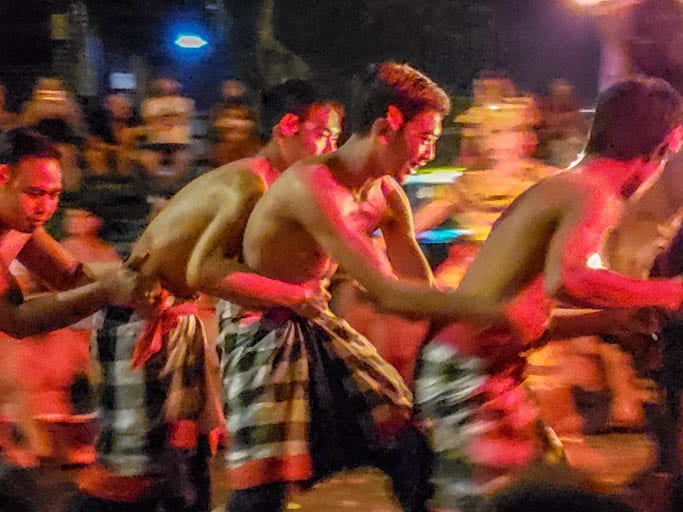 I did a lot of really cool things in the month that I spent in Ubud. Despite my initial hesitation, the Kecak Fire Dance sits right at the top of the list of things I really enjoyed.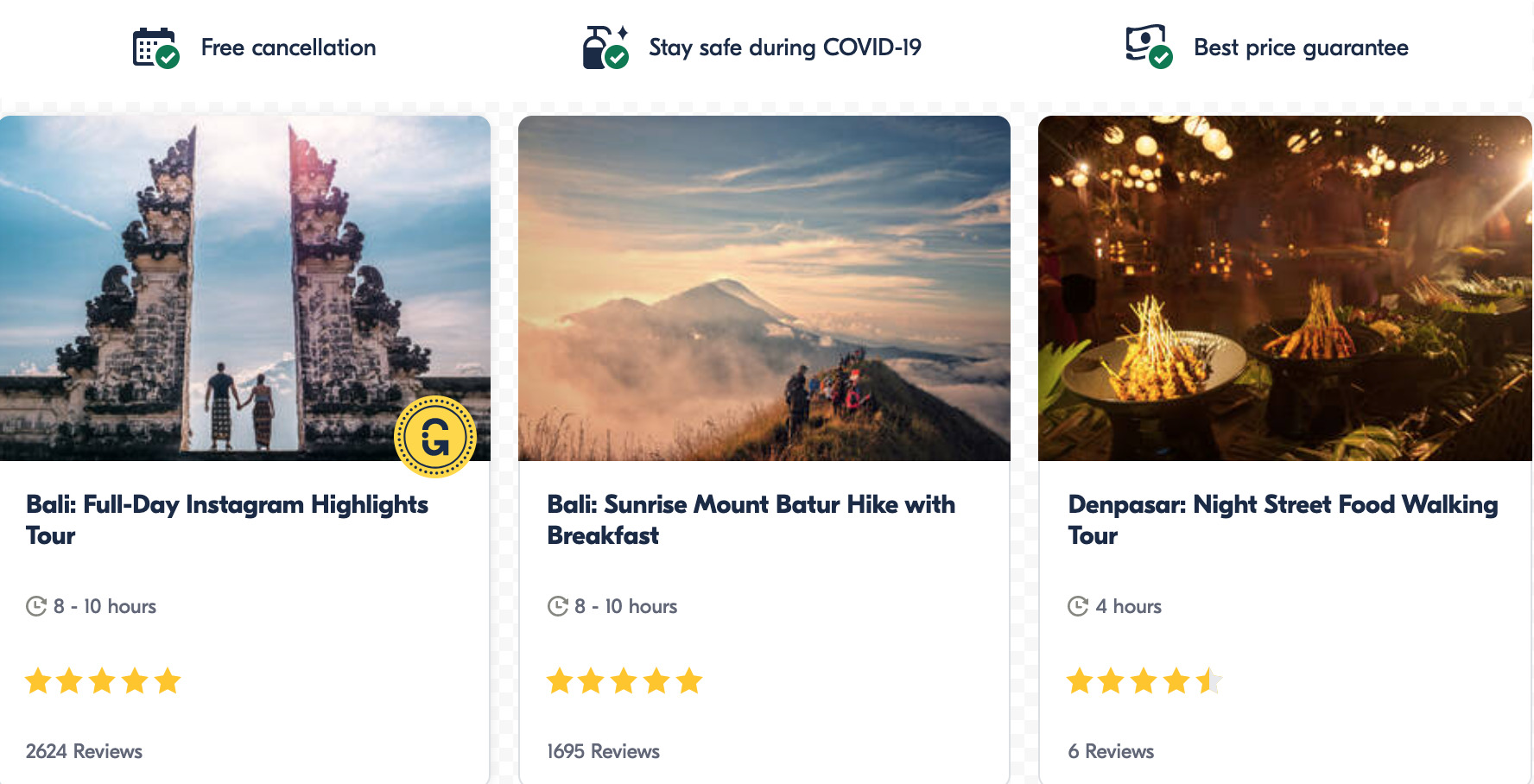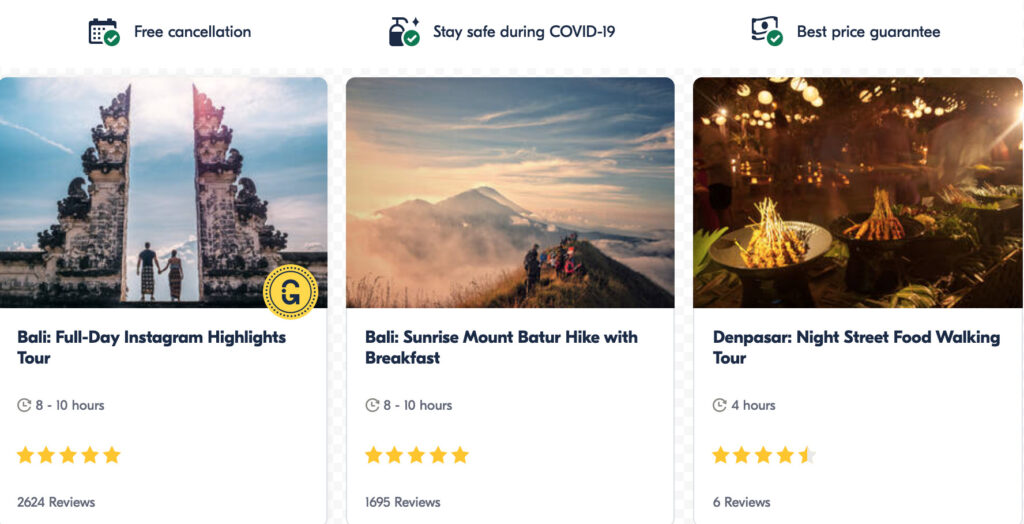 I would recommend checking out this village's Kecak Fire Dance if you are ever in Ubud.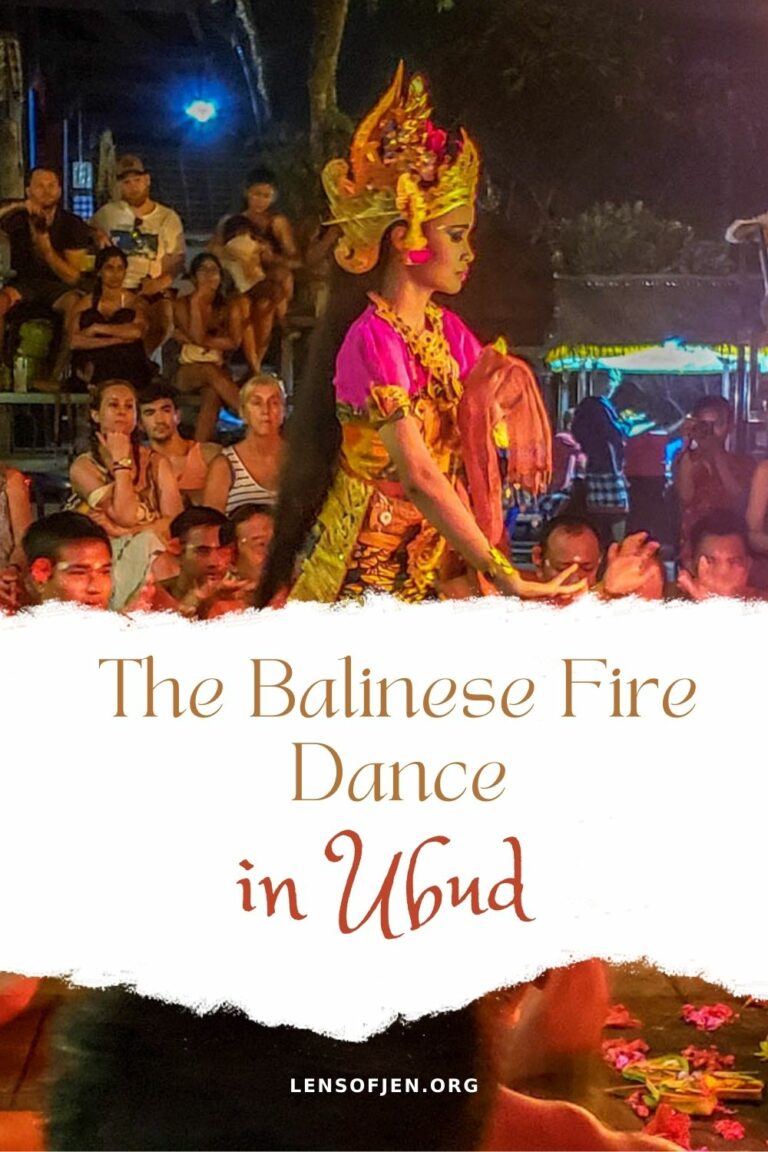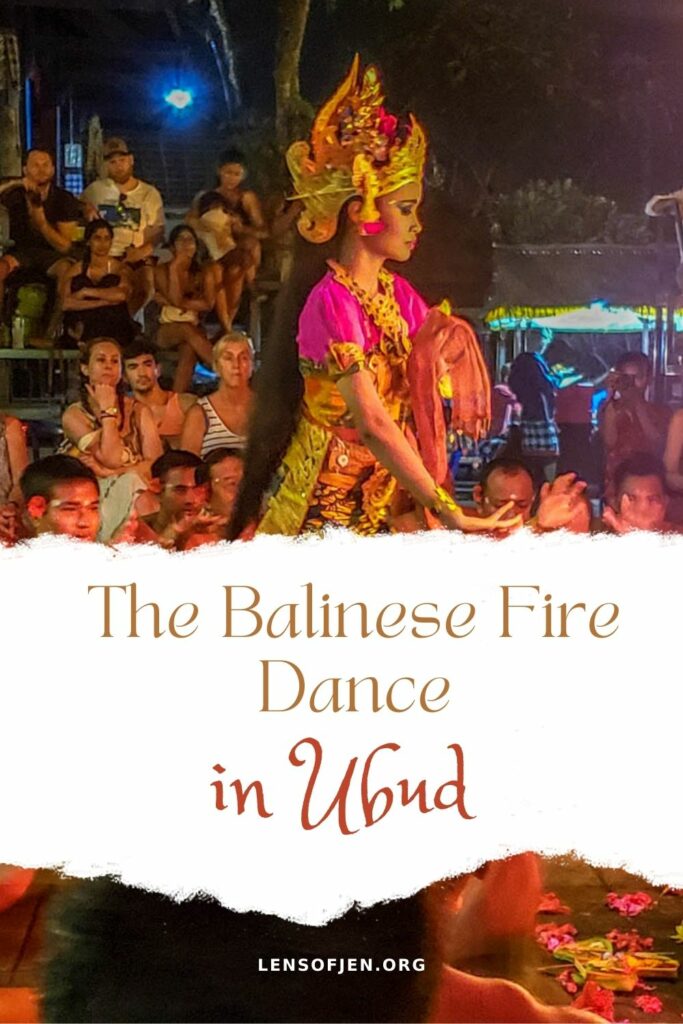 Just the Facts on the Kecak Fire Dance
Where to see the Kecak Fire Dance in Ubud:
There are performances all over Bali and the Bali Tourism Board keeps a list. As with many things in Bali, it's easier to ask around than to try to find anything online.
The Kecak Fire Dance that I attended in Ubud was an easy walking distance from the famed Monkey Forest Road.
Location: Jl. Suweta No.4, Ubud, Kecamatan Ubud, Kabupaten Gianyar, Bali 80571, Indonesia
How long is the Kecak Fire Dance?
It was about an hour long and there was a man selling water and cans of beer from a cooler.
How much does it cost to see the dance performed?
It was just under $5 USD. I bought my tickets at the front desk of the Ubud Bungalow where I stayed and where my friend, who lived in the above village, worked as a guide.
Where to stay in Ubud, Bali
I stayed at the Ubud Bungalow on Monkey Forest Road and absolutely loved it.
Here are more places to stay near the Monkey Forest of Bali: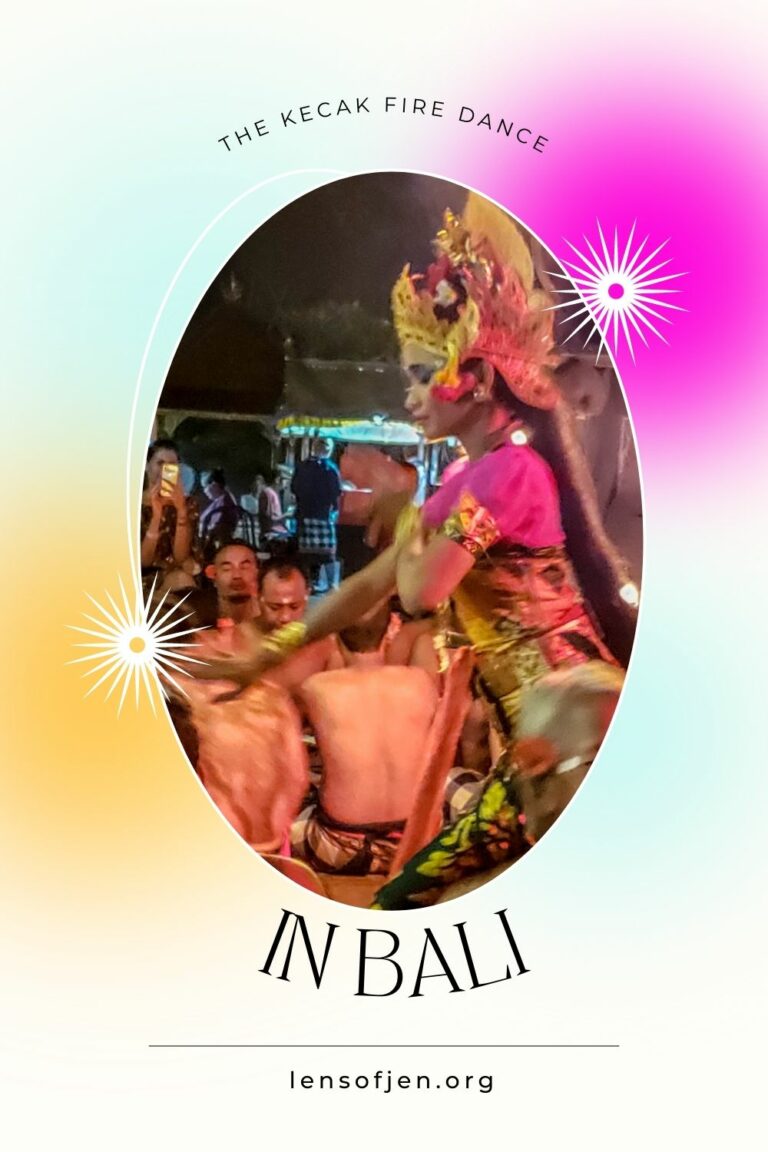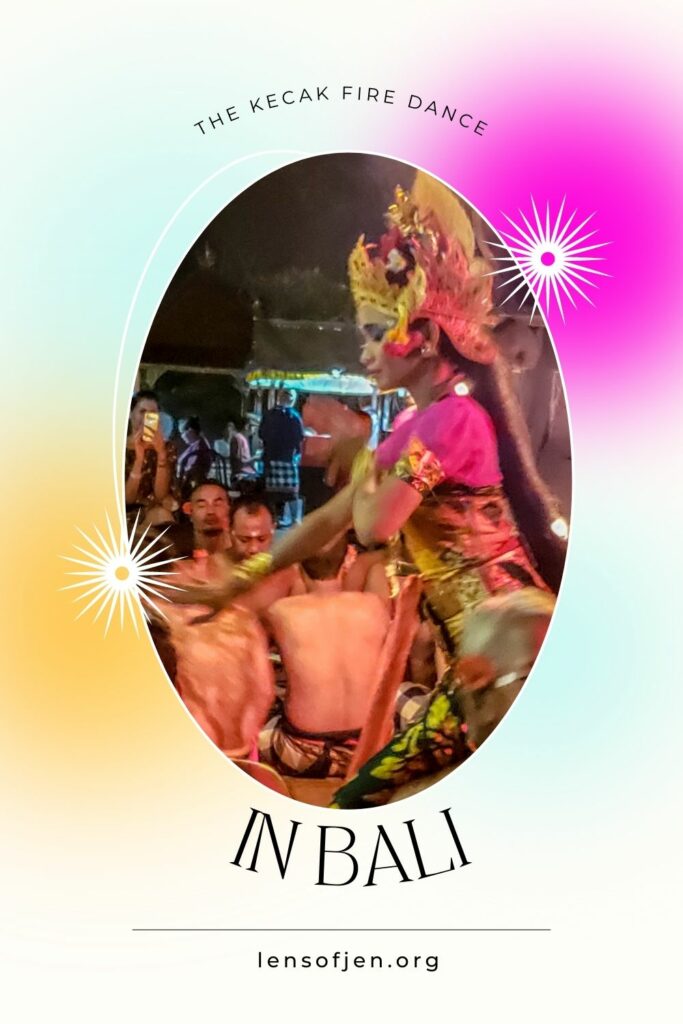 About the Author
Hi! I'm Jen!
I'm a freelance writer and travel blogger who quit my nine-to-five after my fiancé, Jeff, died of cancer at the age of 40. When he died, I realized that life is just too short to delay our dreams. Since my dream was to travel and write, I now travel and write full-time. Today I wear hiking boots instead of heels and collect experiences instead of things.
You might like
If you're looking for an epic two-week itinerary in Indonesia, check out this guide from my friends Carina and Philipp at BucketList2Life.com.