Looking for your sustainable spring wardrobe update? Want to shop ethically and sustainably, but don't have time to do all that research?? Check out your sustainable spring must-have items right here!
I don't know about you, but I now measure the success of a week based on how many days I managed to avoid putting on "real" clothes. I think we all just got used to comfortable clothes while we had to stay home.
That's probably why cozy spring staples are trending from head to toe and – good news! – there are some fantastic businesses, both small and large, that are meeting our need for cozy with our desire for ethical production and sustainable materials.
Let's dive in! (If you're looking for men's sustainable spring fashion, go straight there!)
Sustainable spring staples for women
The softest spring t-shirts and tanks
Talk about cozy! The prAna Foundation Short Sleeve V-Neck is 5 percent spandex and 95 percent TENCEL™ Modal fibers, which are extracted from naturally grown beech wood in an environmentally responsible pulp-to-fiber process. The resulting forest fibers are well-known for being seriously soft.
Sold by prAna, a company with a mission for creating clothing for positive change, you can trust that this is a t-shirt made for ethical lounging. Or, hey, give it a front tie to dress it up a little! This tee comes in a ton of colors that are great for spring layering. Cost: $45.
Prana also has a great selection of flowy, sustainable spring tank tops, like the fair-trade certified McKenzie Tank made of TENCEL™ Lyocell. Cost: $49
And the Chez Tank made of a blend of organic cotton and TENCEL™ Lyocell. Cost: $35
Cozy pants and jumpsuits for a kicking sustainable spring
I love Bohemian Mama for its commitment to handmade, sustainable, ethical, AND female-owned brands. All curated in one place. Beautiful. Here are some of their pantsuits and pants to love this spring:
Emery jumpsuit in french blue: Pair this delicious denim jumpsuit with comfortable shoes (see below) for a trendy and jaunty spring look. Cost: $188
The Alejandra romper with the stripes: Here it is, the bold colors paired with soft pastels that you'll see all season long. This comfy cutie plunges just right for a touch of sexy. Cost: currently 50% off at $116 (final sale)
The Kick Back pants in white linen: Bold colors may be in, but summer whites may always be a staple. These flowing pants pair well with a crop top. Cost: $88
The Zimmi pants in terracotta: This spring is all about bold color combinations (especially with oranges, reds, and pinks). Pair these bold (fringed!) terracotta pants with a soft pastel to meet the trend. Cost: currently 50% off at $69 (final sale)
Another sustainable place to look for cozy spring jumpsuits is Patagonia. Co-founder of the 1% For The Planet Club, this is a huge company that is hyper-aware of its impact on the environment. Patagonia's sustainability progress is reported here in minute detail (both the good news and the bad).
I'm particularly pleased that they kept 35 tons of plastic waste out of the oceans by turning fishing nets into the brims of hats.
Here are some of my favorite 2021 spring jumpsuits at Patagonia:
The fleetwith belted jumpsuit (above) is made of recycled polyester and spandex. Cost: $129.
The Garden Island jumpsuit is made with hemp and TENCEL™ lyocell (above). Cost: $129. And the June Lake jumpsuit (below) is made with TENCEL™ lyocell.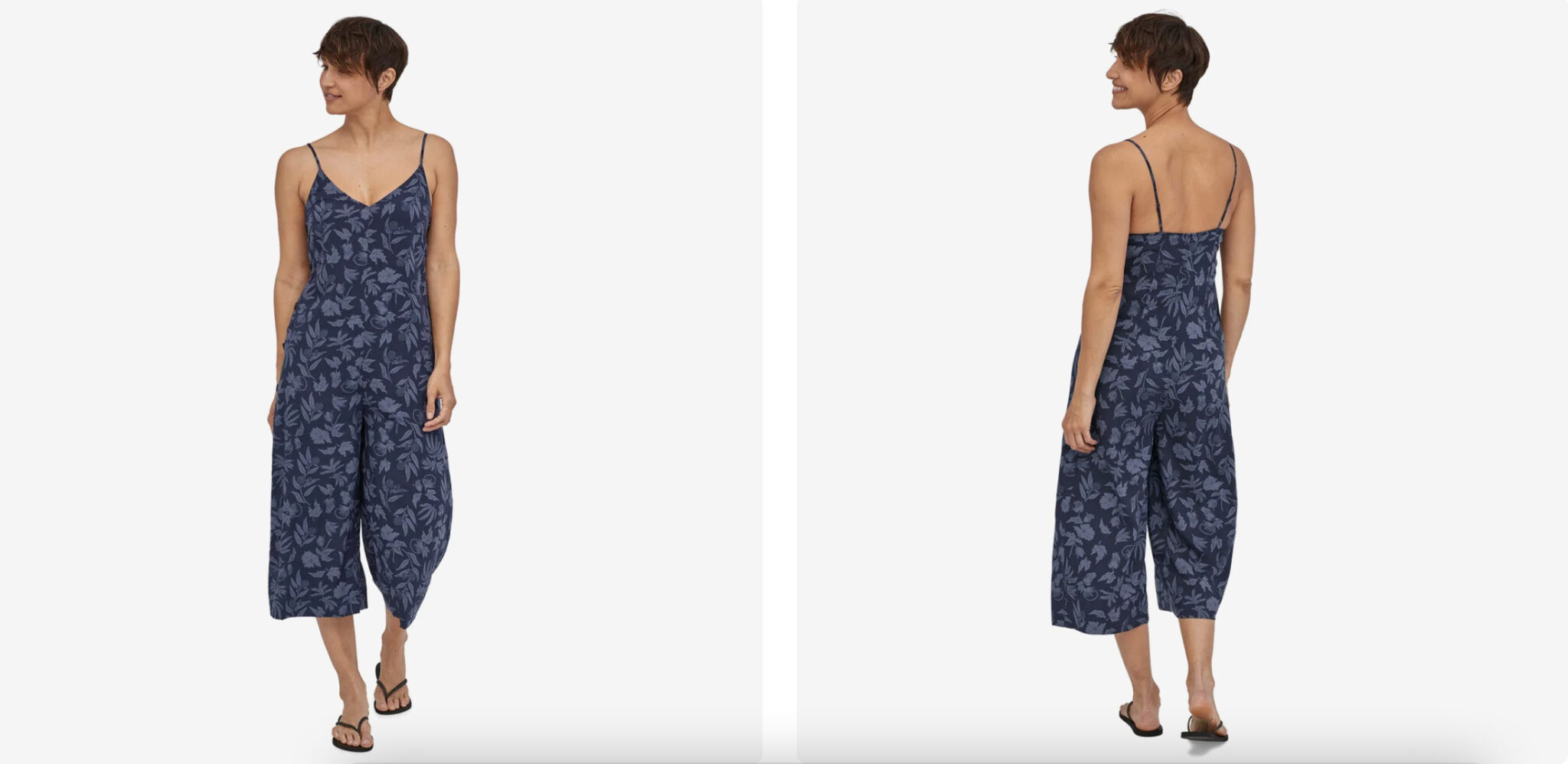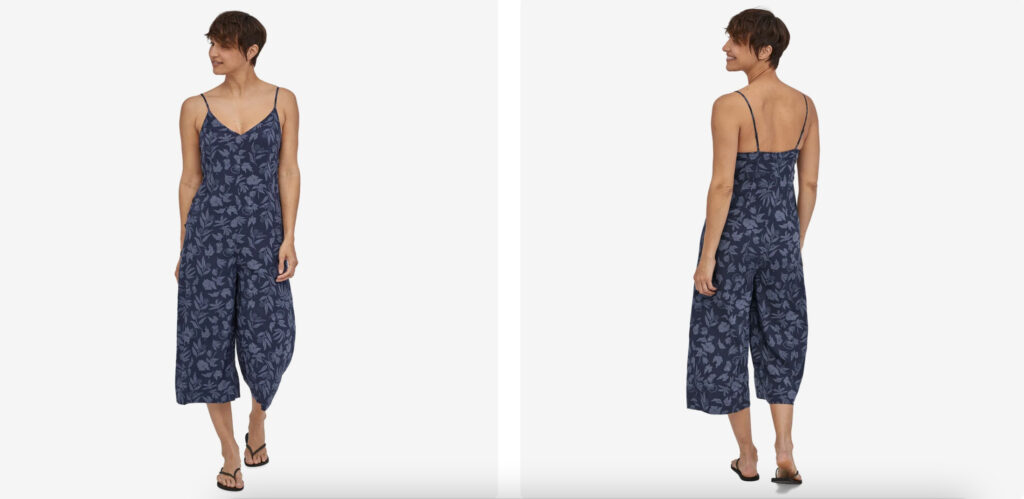 Fun fact: There is a difference between TENCEL™ Modal and TENCEL™ Lyocell. Modal fibers are made from raw beech wood while Lyocell is a form of rayon made from bleached wood pulp.
Slip into the season with these dresses made for spring
I love TAMGA Designs for their commitment to sustainable fashion through the use of renewable materials, the creation of recyclable garments, and a dedication to the workers who make the beautiful designs. TAMGA practices field to fashion, uses safe dyes, and employs workers who make a living wage in an ethical factory in Bali. My favorite part? Garments are packaged in a biodegradable bag made from vegetable starch – no plastic!
Here are some of the collection of flowy TAMGA dresses for spring:
Jeans made to ensure our genes live on
Jeans are baggier this spring. Much looser. Makes sense given our need for comfort (and the TikTok trend hating on skinny jeans!)
That's cool. WARP + WEFT has you covered in a fashionable and sustainable way. The mission of this family-owned company is mindful manufacturing, which is important when it comes to jeans because creating just one pair can take up to 1,500 gallons of water. A pair of Warps takes less than 10 gallons!
Read more about this denim made from scratch with cotton, Lycra, and Tencel (forest fibers!) in a factory with the highest in ecological and ethical standards. Beyond this commitment to sustainability, I also love the moderate price of these jeans and the fact that plus sizes are readily available at no additional cost.
Here are some sustainable spring denim trends:
Distressed (like really ripped up) is still in. The CDG – Vintage High Rise Straight meets the trend. Cost: $98
Faded black jeans will be big this spring for the ladies. The SXF Utility Straight in the color "smoke screen" is $98.
Straight leg and a high waist? On-trend. The ASE High Rise Straight is $98.
The boot cut is still in (much to my relief!), though we're trading the wide-leg for a slim boot-cut look this spring. The PDX – Bootcut is $98
Or how about the decaf denim pants made of, you guessed it, coffee! Roll them, stretch them, hike in them, these pants were made to live in. The fabric is even water-resistant and sun-blocking!
Sold by the good folks of Coalatree who started the company on a self-sustaining farm, the decaf denim exceeded its Kickstarter campaign goals and will be on its way to you soon. Plus you get free shipping and a free mask on purchases over $100.
These sustainable shoes will put a spring in your step
The folks at Allbirds are committed to creating a comfortable, durable shoe that will reduce the need for any other shoe in your closet. Made from wool and TENCEL™ Lyocell, with laces made of recycled plastic bottles and insoles made of castor bean oil, these shoes are sustainable through and through.
They make everyday sneakers to slip-ons and even weather repellent shoes for women and all the same plus boat shoes and high tops for men.
Prices for Allbirds shoes range from around $100-$125.
Sustainable spring accessories
Bags made of cactus leather!
The woman-owned company Tea and Tequila not only has beautiful clothes and accessories for spring, but they also have a beautiful story to tell. They work closely with their artisans and workers in indigenous communities, paying at least five times the minimum wage. Their packaging is biodegradable and they pay to plant a tree in deforested areas for every order they receive.
I love the Aventura Mochila laptop backpack made from cactus leather (completely plant-based and plastic-free) with colorful straps handwoven by indigenous women in the mountains of Chiapas in Mexico. Cost: $321.
Sustainable jewelry made from recycled materials
Woman-owned company Atom&Matter donates part of each sale to organizations that mentor young women across the globe. And you can't go wrong with a purchase here! Each piece of jewelry is made with recycled materials and ethically handcrafted. Not to mention how beautiful these pieces are!
I love the sapphire crescent moon pendant. Cost $100.
Sustainable (bamboo!) sunglasses and watches
I love my WearPanda bamboo sunglasses! Every time I wear them I get a ton of compliments, plus I know when I (inevitably) lose them I won't be adding to the lost plastic that ends up in landfills and waterways. In addition, WearPanda, a 1% for the planet company, donates to charity with every purchase.
Check out the selection of bamboo sunglasses here. And while you're there, check out how cool the watches made from bamboo and cork look!
Sustainable spring staples for men
The cozy but cool spring t-shirts
The prAna V-Neck T-Shirt for men is made with a blend of organic cotton and recycled polyester, so it's soft, comfortable, and built for spring layering. This Fair Trade Certified™ tee sells for $29.
Or you can "dress-up" that tee a bit and go for prAna's Wise Ass Journeyman selection. All the same materials just subtract the v-neck and add a laugh. Sells for $35.
Denim is loose and everywhere this spring
You read above about my love affair with WARP + WEFT sustainable jeans. If you're interested in learning even more about the sustainable factory with its in-house water treatment plant and its solar panels, visit here.
Here are some of the WARP + WEFT fashionable, sustainable denim jeans for men this spring:
Men are hitting the streets with straight-legged jeans sporting a cuff, pinwheel, or crop this spring. On top of that, baggy is back. The DUB – American Straight combines it all. Cost: $118.
While skinny is out, slim is still in. The AMS – Slim is a flattering cut that comes in a lot of different colors. Pair the cut with an orangy "brick" color to meet the bold color trend or a greenish "flagstaff" color to meet the workwear trend. Cost varies from $74-$98 depending on color.
This is what I mean by denim is everywhere. On bottom and on top! The ALW – Shirt Jacket is perfect for those spring days when the weather can't decide what to do! Cost: $108.
That skater look is in for everyone – even if you've never stepped on a board! The SEA – Jacket with its nod to the Seattle grunge scene brings together the denim-on-top look with the throwback to 90s grunge. Currently on sale for $46.
Or how about pre-ordering the newest, trendiest sustainable jeans of the season? The decaf denim pants are made of, you guessed it, coffee (and recycled plastic). Roll them, stretch them, hike in them, these pants were made to live in. Seriously, though, they are made with a unique anti-microbial fabric that slows the growth of bacteria, and they are water and stain-resistant. Mind. Is. Blown.
Sold by the good folks of Coalatree who started the company on a self-sustaining farm, the decaf denim exceeded its Kickstarter campaign goals, and will be on its way to you soon. Plus you get free shipping and a free mask on purchases over $100.
Men's sustainable fashion is all about comfort this spring
In the best news of 2021 (and 2020 for that matter!) sweatpants are actually in fashion this year! Yep, it's all about comfort and, luckily, the Coalatree folks who make denim out of coffee also make stylish joggers out of recycled coffee grounds! Cost: $89
Baggy pants and shorts
I mentioned Patagonia's commitment to sustainability above. That includes recycling, reusing, and end-to-end garment sustainability. Perhaps nothing exemplifies that commitment more than this fact:
The Sandy Cay pants and shorts are made from 100 percent recycled nylon Sandy Cay pants. How about that?! Cost: $99
The Patagonia Sandy Cay shorts cost $89.
If you loved these must-have sustainable spring items, please stay tuned for my upcoming list of the traveler's needs for a sustainable spring.
You may also like these tips for traveling without plastic water bottles or these eco-friendly travel products you will use forever. If you're all about ditching the plastic, check out these sustainable lotion solutions.
You can find all of my sustainable living and gift-giving guides here and my sustainable travel tips here. Please consider subscribing for sustainable tips in your inbox!